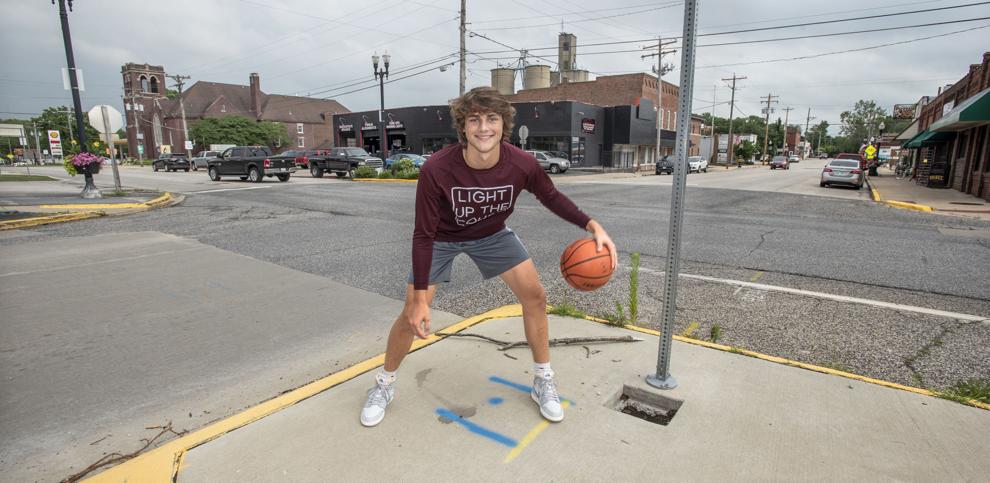 ST. JOSEPH — Trampoline.
Basketball hoop.
Instant Slamball venue in the Pence family's backyard.
How could they not? It became the go-to summer activity for brothers Ty and Jake Pence when the latter was in high school.
Every day. The competitors in them wouldn't have it any other way.
"I didn't take it easy on him, and he wanted to hammer dunks on me all summer long," Jake said of his younger brother. "We had plenty of games out there that ended up in tears or blood or our mom getting mad. Now, it's fun to go out there and see him play his own version of Slamball on a real court. He's fun to watch for sure. When people ask me about him, I tell them he's worth the price of admission."
There was no admission for Thursday evening's summer league games at Rantoul Township High School. So the small crowd on hand got to see Ty, a soon-to-be junior at St. Joseph-Ogden, rip dunk after dunk in a win against Paxton-Buckley-Loda for free.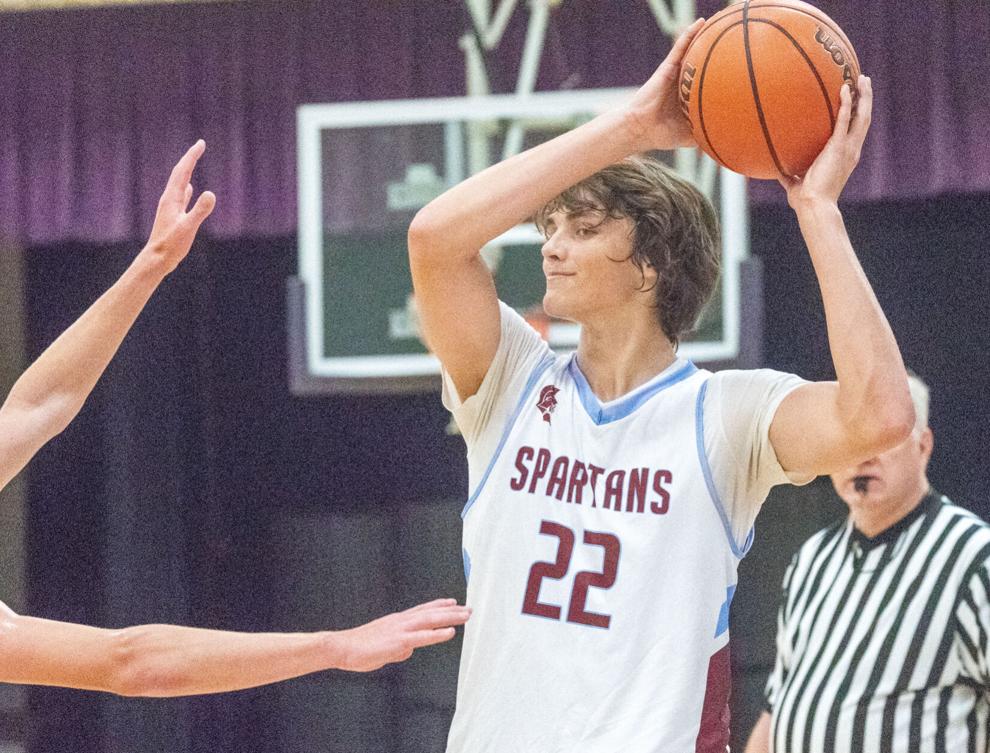 There was the pass he caught in the mid-post before making one move to the basket and finishing with a two-handed slam.
Or the pump-reverse jam he threw down in transition after forcing a PBL turnover. Or when he stormed through the lane for a dunk in traffic that got an audible, "Whoa!" out of the small crowd.
It wasn't hard to pick out the Division I recruit in the gym Thursday evening. The 6-foot-6, 191-pound Ty stood out physically. Then there were the dunks, given he was alone in playing above the rim.
But it wasn't just the physical presence or feats of athleticism. Those were simply the highlights that stood out a bit more starkly on top of a keen sense of court awareness, the ability to make the extra pass and hit the open man, the strength to finish through contact, lateral quickness to defend and a smooth three-point stroke.
The combination is what now six Division I programs have seen and decided to extend a scholarship offer. Western Illinois might have been first last October, but an Illinois visit and offer June 2 jump-started what's turned into quite the month with Illinois State, Bradley, Akron and Eastern Illinois also involved.
Did those around Ty expect it to happen this quickly? Maybe not.
But that the Class of 2023 guard has emerged as a legitimate Division I prospect isn't some big surprise.
Jake told his younger brother as much after they made the short trip to Champaign together and watched Illinois beat Iowa in the 2019-20 regular-season finale.
"I had watched him play plenty of times growing up," Jake said. "After that game, I told him, 'I think you can play at that level. I really do.' I'm not the type to just say that to say that. I'm a pretty realistic person. I genuinely thought that would be an option for him if he put in the work to get there. He's doing that."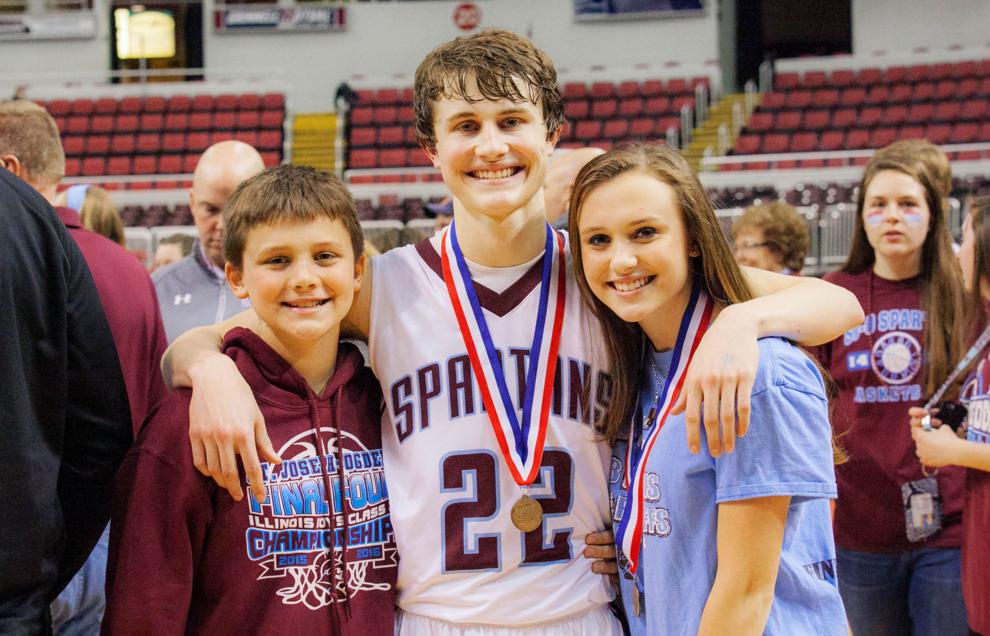 Growing up around the game
Using the phrase "born with a basketball in their hands" is admittedly cliché. It's also not far from the truth when it comes to Ty.
Two older siblings meant he was a constant presence on the sidelines for all three sports older brother Jake played at SJ-O and when it was time to head to softball to watch older sister Kenzie Pence, who now plays at Illinois State. Sports were understandably a big part of his life, and while he might have been "smoking wiffle balls in the backyard" at 5 years old, according to his older brother, basketball was always the go-to sport.
"He got to grow up watching his older brother play basketball," said Kendra Pence, Ty's mom. "He was the little guy on the side dribbling. As soon as there was a halftime, he was out there shooting. Then he's right behind their bench.
"He didn't play with cars or trucks. He played basketball. He had a Nerf hoop. I was working a lot, and he'd sit in the office with me. He would play his own full game when he's 2 years old. He'd play until he needed to rest, and then he'd get up and he'd shoot again."
Kendra sees having two older siblings involved in sports as an advantage for her youngest. That was particularly true during SJ-O's run to a Class 2A state basketball championship in 2016 with Jake one of seven seniors on that team that went 24-9 and beat Breese Central and Rockridge to win the title in Peoria.
"It definitely gave me an advantage," Ty said. "I grew up around the game. I was able to be in the gym."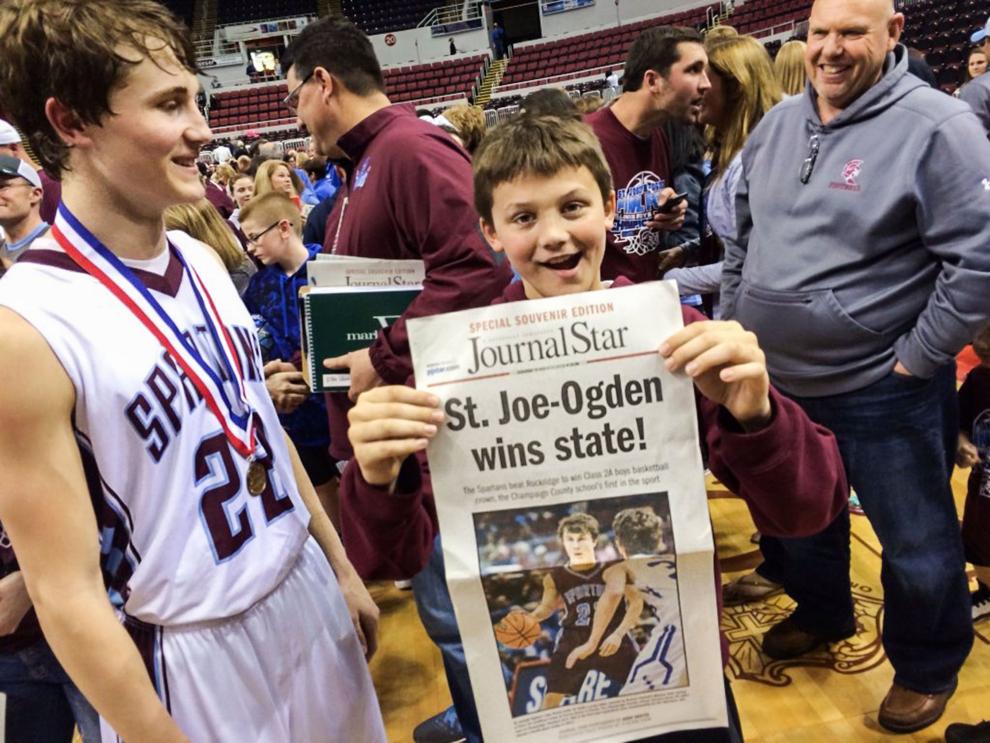 Family support
Midwest Prospect Academy coach Gavin Sullivan sees something of a parallel between Ty and Tim Finke. All three Finke brothers — Michael, Nick and Tim — played for Sullivan when Midwest Prospect Academy was still the Illinois Irish.
"It felt like those guys had something more to prove," Sullivan said. "When there time was there, it was just a different vibe. They had a little more oomph to them to show what they were about. I think those are very similar paths between Ty and Tim as they were coming through as sophomores. They were hungry and they were already trying to show they were that dude. It worked out for Tim, and it's definitely working out for Ty, as well."
Jake sees one of his younger brother's biggest strengths in his ability to process and retain information at a high level. Ty wasn't just a casual spectator for those SJ-O games growing up. He was watching with a purpose.
"He was able to see how we went about our business and how we approached sports," Jake said. "I think he was able to get some experience that way. He was around all of us a lot. After games, typically everyone came over to my house. Ty would be down there playing ping pong against my buddies and trying to beat them. It's cool to watch him try to basically replicate that. I hope he's able to get some of those same opportunities I was lucky to have."
Despite the age gap, Ty is close with his older siblings. Sports brought them together. A competitive Pence household — for everything from ping pong to backyard basketball to Bananagrams — kept it that way.
"I look up to both of them," Ty said about his siblings. "I've played (basketball) since I was in kindergarten competitively. I really think being around the game and playing it and being able to succeed in it has let me love it. My parents do a really good job of pushing me to work harder and seeing my brother and sister succeed, as well, I want to be like them. I want to succeed myself."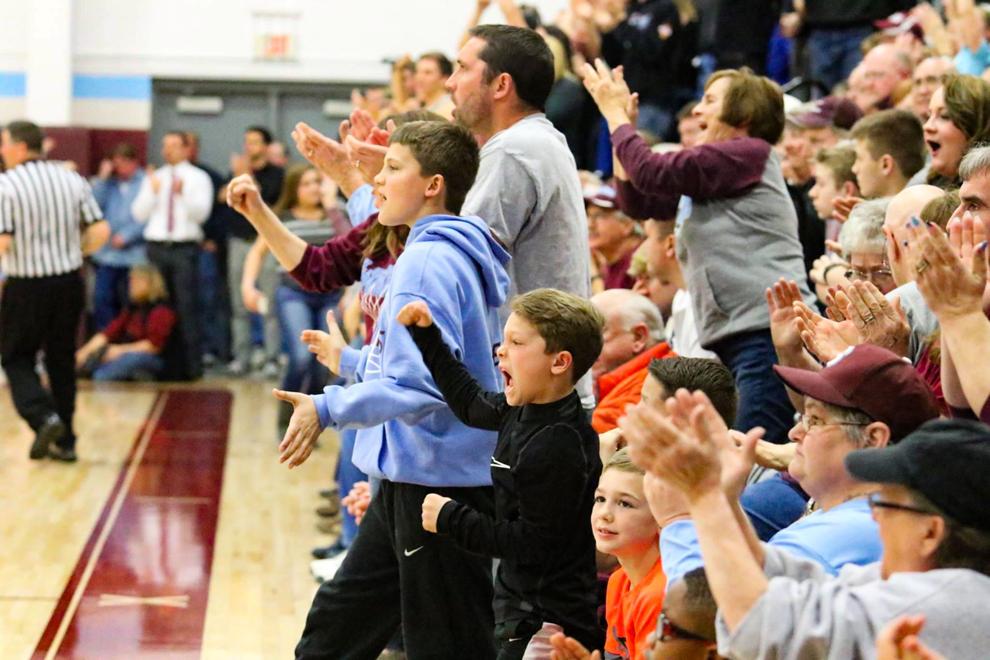 Dedicating himself
That's why Ty was back in the gym at 10 p.m. in mid-March.
SJ-O had just wrapped up its pandemic-shortened season with a 55-52 loss at Bismarck-Henning/Rossville-Alvin with their top player scoring 10 points. Well off his season average of 25.7 points per game.
A break in Ty's schedule wasn't coming, either. The spring AAU season with Midwest Prospect Academy was about to start. Not to mention the high school baseball season.
"He didn't like how he played that game," Kendra said. "He went straight to the gym. I went and got him at the gym at midnight, and I'm like, 'Dude, come home.' We're not telling him to go to the gym. That's just the drive that he has. We want to make sure it's not too much of his time. He puts a lot of pressure on himself."
Ty's schedule has settled into a bit of a routine in the back half of June after SJ-O's baseball team reached a Class 2A super-sectional. Wake up in time for lifting and running at 8 a.m. — more of a focus after not feeling like he was in basketball shape last weekend for a tournament at Normal West — and then breakfast and lunch at home before the Spartans either practice or play.
What Ty is doing now is a continuation of being challenged by SJ-O coach Kiel Duval after his freshman season. The onset of the pandemic created two paths. Duval told him some players would get better because they chose to. Others wouldn't.
"It was my option what I wanted to be," Ty said.
That his dad, Todd Pence, is the superintendent of the St. Joseph Community Consolidated School District for students in kindergarten through eighth grade, meant regular access to a gym in the last year. Taking advantage of that opportunity, putting in the work on his game, was still a choice.
Duval stressed getting in the weight room, too. Those efforts ultimately saw Ty basically triple his rebounding numbers from his freshman season and become a more consistent three-level scorer after mostly serving as a three-point weapon in the 2019-20 season.
The primary topic of conversation last offseason with Duval, though, was about winning. What it would take for Ty to push SJ-O to the type of success he watched his brother have with the Spartans.
"He really, really cares about winning," Duval said. "He knows these offers are great, but he wants to play in those big games. You go into one of those high school gyms and it's completely packed to the top, that's exactly what Ty wants. We've talked a lot about that.
"That's going to be our ticking point with him. How good do you want to be? What kind of games do you want to play in? If you want to play in these big games, we've got to find ways to win and find ways to make everybody better. That's something he does really, really well. He's a great leader, and he's getting better at that each day. We've been pretty proud of him, how he's pushed his other guys."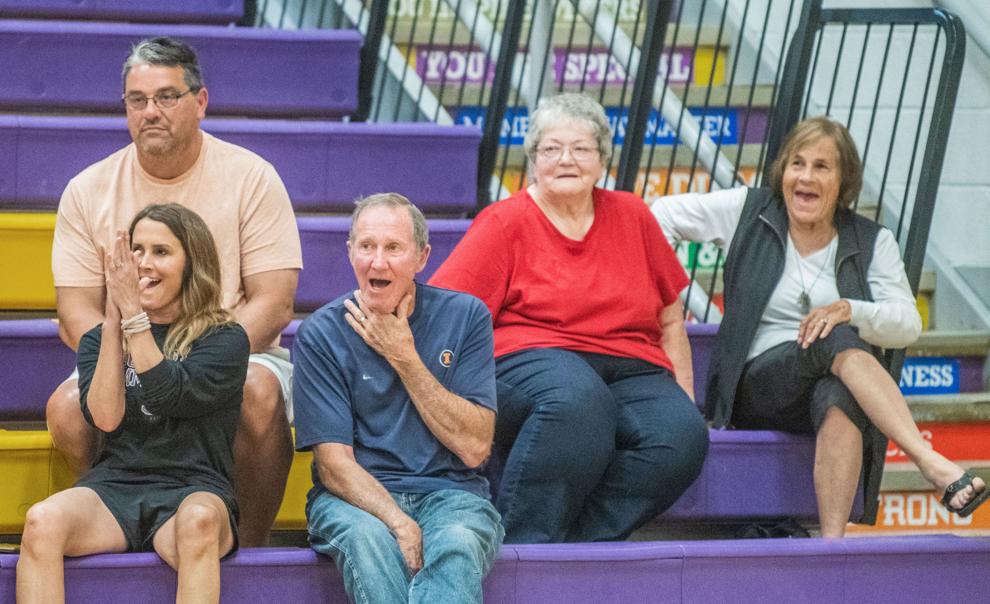 High praise from former Illini
Ty added to his workout repertoire last fall when he started spending one-on-one time in the gym with Trent Meacham.
The Centennial graduate and former Dayton and Illinois guard returned to Champaign a few years ago after the conclusion of a nearly decade-long professional career in Europe. He's worked with several area athletes, including Ty and Tuscola guard Jalen Quinn recently, since his return.
Not that he's taking credit for their successes.
"(Ty's) game is mostly his own development, his coaches in high school and his AAU coach," Meacham said. "I don't want to sound like I've been too big of an influence on him, but I really enjoy Ty. He's got a great attitude, he's a hard worker, and he's got a lot of ability. I think he's got big-time potential, and he's already very, very good. I'm just happy to play a small part in his development, and hopefully he feels like he has someone in his corner who's willing to encourage him and challenge him."
Ty said the growth in his ball-handling skills came because of his work with Meacham. Having the opportunity to talk about basketball, the recruiting process and anything else with a former Division I athlete has been important, too.
Meacham sees even more success for Ty in the near future — regardless of where he winds up playing at the next level.
"The reality is, Ty can be as good as he wants to be," Meacham said. "He's got great length, he's got great size and he's already a pretty darn strong kid for being 16 years old. He's a Big Ten level athlete. He has the physical tools to compete at a really high level."

The recruiting process
The next level will be a Division I program. Somewhere.
The Illinois offer early this month gave Ty's recruitment a serious boost. Eastern Illinois offered the same day, Akron was there with an offer on June 15 and both Bradley and Illinois State offered after visits on June 17 and this past Thursday. Another visit is scheduled for this coming Wednesday at Illinois-Chicago.
But that's still just the beginning. More offers will come in roughly the next 18 months.
"The University of Illinois is a dream for them," said Sullivan, who was on that visit with the Pence family. "I know with his brother going to U of I and being that close and being at a million games means a lot to have that offer. His family also knows it's a long process still. They've got to figure out what's best for them. It's not the same anymore now that there are multiple offers on the table."
Todd called this first real foray into the world of college basketball recruiting "humbling" after considering what all an offer entailed.
It's not just the scholarship. An offer is a six-figure yearly investment per player when everything from tuition to travel to food to coaches' salaries is taken into account. It's an investment a half-dozen Division I programs so far are willing to make for his son.
"You want it to be the right program," Todd said. "You want a place where he can contribute and grow as a young man, too. Meeting these coaching staffs, everyone that we've talked to we could see him playing for any one of them. … You want them in a place where the kids get along, they have high expectations for them and they get them involved in the community.
"It comes down to him making the decision. We're just here to try to make sure he gets to those places, meets the people. It still comes down to him. He's the one that's going to put the time in. Not us. It's very humbling to think our boy is good enough to play at that level and coaches see it."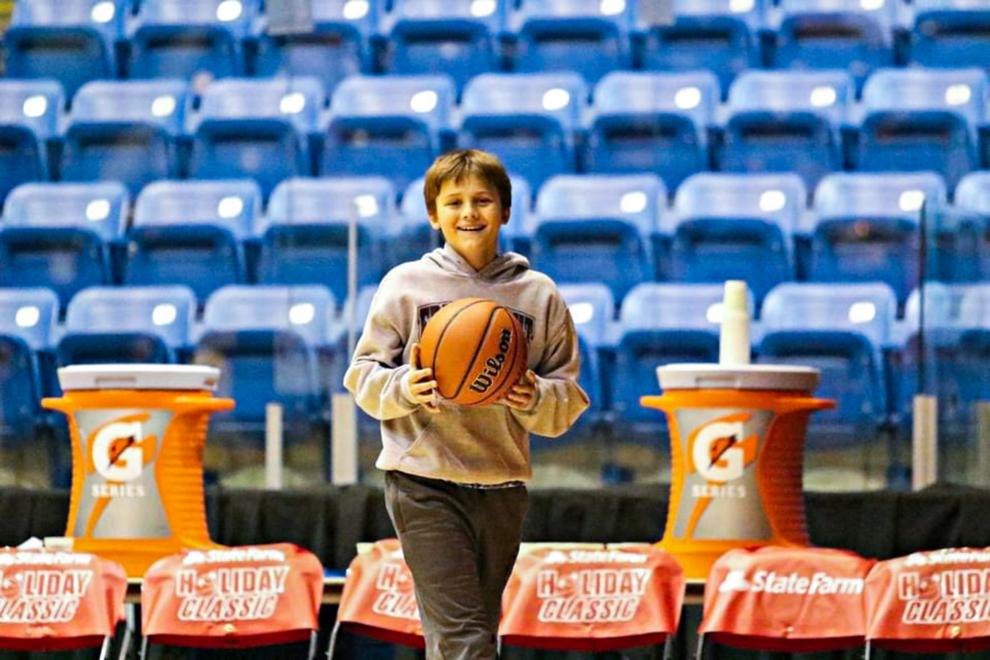 Enjoying the ride
The reality is a decision doesn't have to be made now. Ty said he was expecting his recruitment to pick up this month, including a few midnight phone calls on June 15 when coaches could contact Class of 2023 prospects directly, but still admitted it's been a little crazy.
Handling the "crazy" — handling the pressure of a recruitment that's jumped up to the Division I level with at least some high-major interest — is something the Pences are tackling as a family.
"As parents, you just want to be good parents and make sure your kid is doing things the right way," Todd said. "He's going to be harder on himself than we're ever going to be on him. Helping him understand he doesn't have to be perfect. No one makes every shot. What we expect as parents is you play hard, have fun and be a good teammate. Be a good leader out there."
Big brother has weighed in on the recruitment process, too. A goal? To not take everything too seriously and ride the roller coaster of emotions from good performance to potentially bad.
"You don't have to worry about Ty slacking off in school or getting caught up in the wrong crowd," Jake said. "That's not just Ty. What you have to worry about with Ty is feeling the highs and lows maybe too much of this process. … There's going to be a lot of good times and there will be bad times. I know he had a rough game not too long ago, and it felt like the world was ending. It's staying the course."