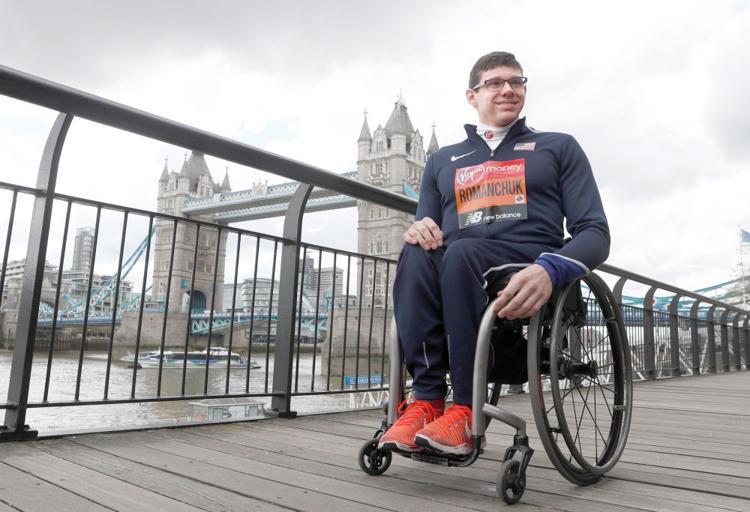 Calculating the differences in time zones, let alone regulating his sleep, became a dizzying experience for Daniel Romanchuk over three weeks following the New York marathon on Nov. 3.
After winning in New York, his sixth straight win in the four traditional major marathons, he headed to Dubai for the wheelchair track world championships, jumping nine time zones.
Then, he took off to Oita, Japan, where leapt forward another four hours and took part in the Oita International Wheelchair marathon. On Monday, he went back 15 hours when he finally returned home to Champaign.
"I went full circle," he said with a laugh.
The heavy travel and grueling racing schedule was by design.
Next August, he'll head back to Japan for the 2020 Tokyo Paralympics, where he'll likely be favored to win multiple gold medals in events that could range from the 400 meters to the marathon. In addition to its locale being just outside of Tokyo, the marathon in Japan approximated the marathon at the Paralympics, which happens after track races are finished.
"This was sort of a test run, you could say, with the Games coming up," he said. "How does all of the time difference and scheduling work, and how do I feel with all of the events? So this was kind of a big test, you could say."
For Romanchuk, every experience on the track against high level competition is valuable.
His marathon dominance and world records in the 800 and 5000 aside, he's still young and relatively inexperienced at 21 years old. The top two finishers in the 5000 meters at the world championships, for instance, were 37-year-old Prawat Wahoram and 33-year-old Marcel Hug. Hug, who dominated the wheelchair marathon circuit before Romanchuk came along, didn't win his first of 12 until he was 25.
While his marathon wins and world records make the case that he's the fastest wheelchair racer in the world, winning multiple golds at the Paralympics is far from a given.
Wheelchair races on the track, where space is at a premium, are more of a practice in tactics than road races. For instance, a racer like Romanchuk can lead for an entire race, but an athlete strategically saving energy by drafting can pull ahead and win during the final stretch. In Dubai, Romanchuk won the 800 meters but finished fifth in the 1500 and fourth in the 5,000. In Oita, he finished third, four seconds behing Hug, the winner.
"When you get into that mix with those guys," coach Adam Bleakney said, "you have to be in the right position and you have to do everything right. You can run (the 5000) eight times and you can have eight different winners."
There's also the matter of the travel accommodations. Romanchuk is used to traveling with his own routine along with his mother, Kim, who acts as his manager. He eats his own, simple diet and generally makes his own travel arrangements. In the Paralympics, he'll stay in the Olympic village and his accommodations will be managed. The world championships gave him a similar experience.
Bleakney has coached world class marathoners at Illinois since 2005, but in benchmark workouts, Romanchuk is in a category of his own. On the marathon circuit, he's already proven himself a generational talent, even though the even-keeled Parkland College student would never talk about himself in such glowing terms.
While the 2020 Paralympics won't be his first, he was an 18-year-old last time around who had little hope of medalling. For the first time, he has a chance to make his mark with a few gold medals at the highest level possible.
Now, it's time to take a break from competition for the winter and gear up for a busy year ahead.
"It's an important training bloc heading into the Games here," he said. "Right now, the year is done. We have a plan for how things are going to go, but we'll still be planning it over the next few months."