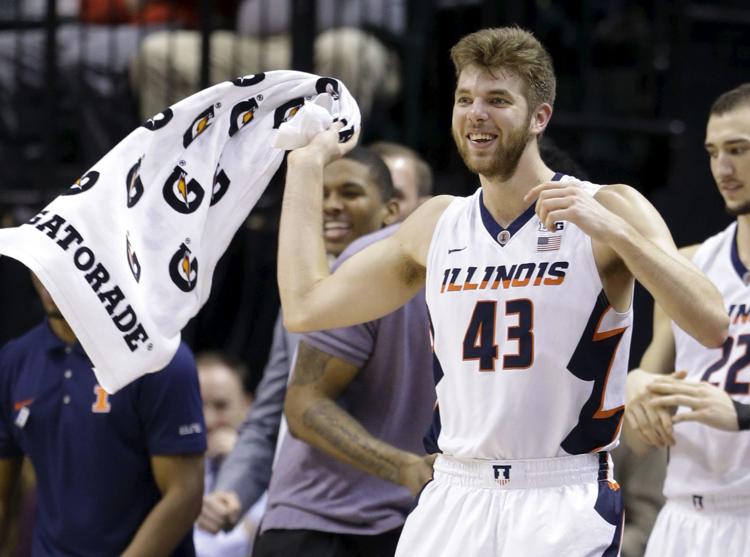 CHAMPAIGN — From all the questions about his weight in high school to his hair length at Illinois, from his decision to leave the Illini and to embark upon his final season of college basketball 1,600 miles away from his hometown, one constant never left Michael Finke's life.
Playing basketball.
The Champaign native and Centennial graduate, who played three seasons at Illinois before playing last season at Grand Canyon University in Phoenix, will get to continue playing basketball.
At the professional level.
The 23-year-old Finke is set to leave Monday night and begin his pro career in Poland with Legia Warsaw, a franchise in the 17-team Polish Basketball League. Finke agreed to a deal with the team, based in the capital city of Poland, last month. The immediacy of what Finke is about to start became more real this past Friday following a workout he had with fellow Champaign native, Centennial graduate and former Illini Trent Meacham.
"It's really come full circle," Finke said. "I was working out with Trent, and we've been training together the whole summer. It's funny because we took a picture after we were done, and then I was like, 'Wait, I think we took a picture here after my junior year of high school.' Pulling them up and looking at them, it's crazy how much time has gone by, but it's been a dream come true going through this whole process of having a good high school career, a good college career and now being able to play pro ball."
The 6-foot-10, 235-pound Finke compiled 1,116 points and 543 rebounds in his college career playing for three different coaches: three seasons with John Groce (Finke redshirted the 2014-15 season at Illinois) and one season with Brad Underwood at Illinois before this past season with Dan Majerle at Grand Canyon.
He learned three different systems, creating what Finke hopes is a solid template for his pro career. But with his ability to shoot the basketball — Finke finished his college days making 141 of 403 three-pointers for a 35 percent clip — and his size, he's eager to see how that fares in Europe.
"Since I was in high school, everyone has told me my game translates really well to the European style of play just as a big who can shoot it and stretch the floor," Finke said. "That's something I'm really anxious to get out there and see how it does translate. When I talked to the coach, he just wants me to be able to shoot off the pick and pop, take advantage of mismatches and be able to post up. That's something I've really worked on this summer is just working down low in the post and trying to get better on that. I'm really excited to get out there, meet my teammates, my coaching staff and get to work."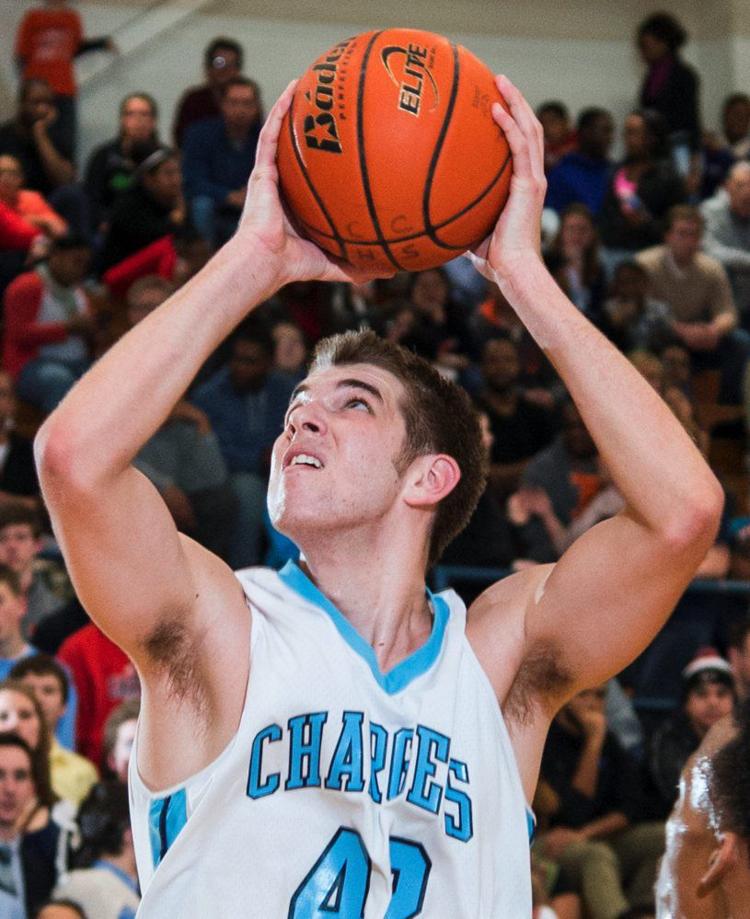 Finke said he stays in close contact with his former Illinois teammates, and one of them, Maverick Morgan, has played the past two seasons in Poland.
"He told me the basketball is pretty good," Finke said. "The team I'm on ... there's different leagues you can play internationally if your team's good enough. We'll play internationally, and to be able to play with all that exposure and different teams, that'll be good for me down the road and with my future. That was another reason why Warsaw sounded so good."
While Finke, the last two-time winner of The News-Gazette's All-Area Player of the Year honors when he did so in 2013 and 2014 starring at Centennial, seems confident and eager about starting his pro basketball career, it wasn't until this past season at Grand Canyon where he thought it might actually happen.
"This winter at GCU, I was still having a pretty good season and deciding, 'All right, do I want to go play pro ball or go get a real job?'" Finke said. "I was on LinkedIn, talking to different organizations. I went through a couple job interviews, but I just hit a point where I was like, 'You know what? My knees are feeling pretty good. My body's feeling pretty good. I feel like I can give this a shot and go out and make some money playing basketball.' Pretty much in my GCU career is when I was ready to focus on that and make it a career."
Finke earned All-WAC first-team honors in his lone season with the Antelopes, averaging 12.1 points and 5.1 rebounds and making 29 starts for a 20-14 team. He'll have mixed rooting interests, then, when the 2019-2020 college basketball season tips off. Both Illinois and Grand Canyon haven't released their full schedule for the upcoming season, but the Illini are widely anticipated to start the season with a game at Grand Canyon before playing at Arizona on Nov. 10.
Finke said the Illini should expect a 'crazy' atmosphere playing inside Grand Canyon's 7,000-seat GCU Arena, where the Antelopes averaged 7,170 fans last season.
"No disrespect to any Big Ten team — and I've played in every Big Ten arena and a bunch of big-time places on the road — but Grand Canyon University is the wildest atmosphere I've ever experienced," Finke said. "You can see videos of it, but until you see it in person, there's nothing like it. Our first exhibition game, we played a D-II team and the students were camping out for four days. There's no fraternity, sorority or anything like that. It's a dry campus, so no one's drinking or anything. That's their fun. It's unreal."
Having committed to Illinois in December 2012, Finke was a close observer the last time the Illini made the NCAA tournament in 2013. He's optimistic 2020 is the year the NCAA tournament drought for his former school.
"Everything I keep hearing from them is that this is the year, right?" Finke said. "They've got a lot of talent. With the type of system, especially defensively with how they get up in you and can cause turnovers, it can be a really good year for them. I hope nothing but the best for them."
And if he had a chance to do over committing to Illinois midway through his junior year at Centennial? He'd make the same decision.
"When I started getting recruited, I didn't know where I'd end up, but I had Illinois jerseys and my room was painted orange and blue growing up," Finke said. "To be able to live out a dream, represent my state school and my hometown school, it was awesome. I never took it for granted. It's something I'll look back on and always cherish."