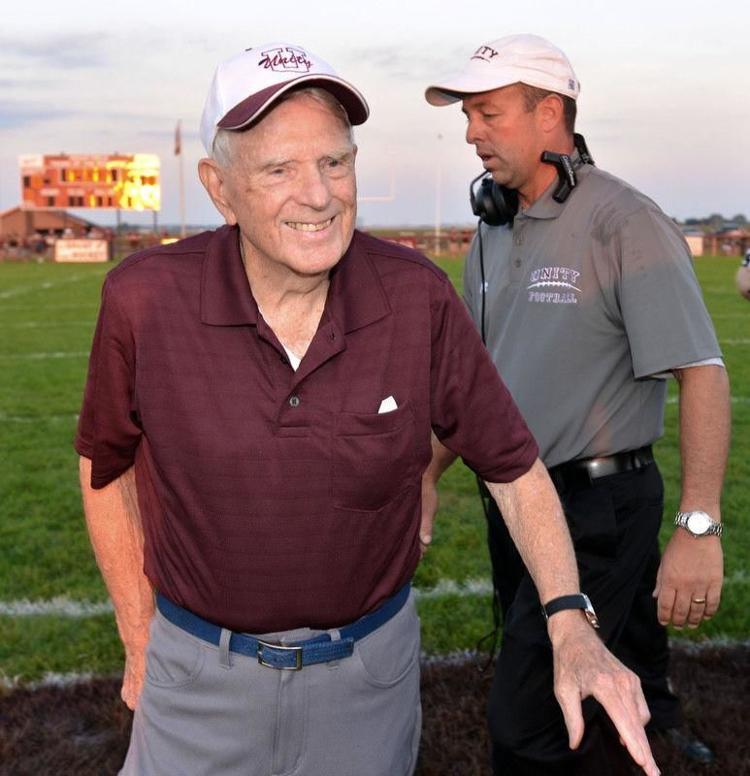 TOLONO — Oscar Hicks, a longtime Unity football coach for whom the Rockets' home field is named, has died. He was 93.
Hicks died Thursday in Tolono. He previously was living as a retiree in Arizona.
"He was a Unity guy through and through," Rockets football coach and athletic director Scott Hamilton said Saturday. "He was very well-respected. I just didn't hear anybody say anything bad about him."
Hicks oversaw the Unity football program from the 1955 season through the 1973 campaign, posting a 99-57-5 record in that time. This included an 8-0 run in 1967 and a 7-0-1 showing in 1963.
The IHSA did not conduct state football playoffs until 1974, otherwise Hicks likely would have led several Rockets teams to that stage. Fourteen of his 19 teams achieved at least five victories, the current benchmark for postseason qualification. Hicks' name was attached to Unity's football field in 1979.
"At 93 years old, he still had a memory better than mine," said Hamilton, the Rockets' football coach since 1994. "He remembered everything from every single game and every single situation, every player. It was pretty amazing."
Hicks also was Unity High School's principal and coach in boys' basketball, baseball, track and field and cross-country at one point or another in his career.