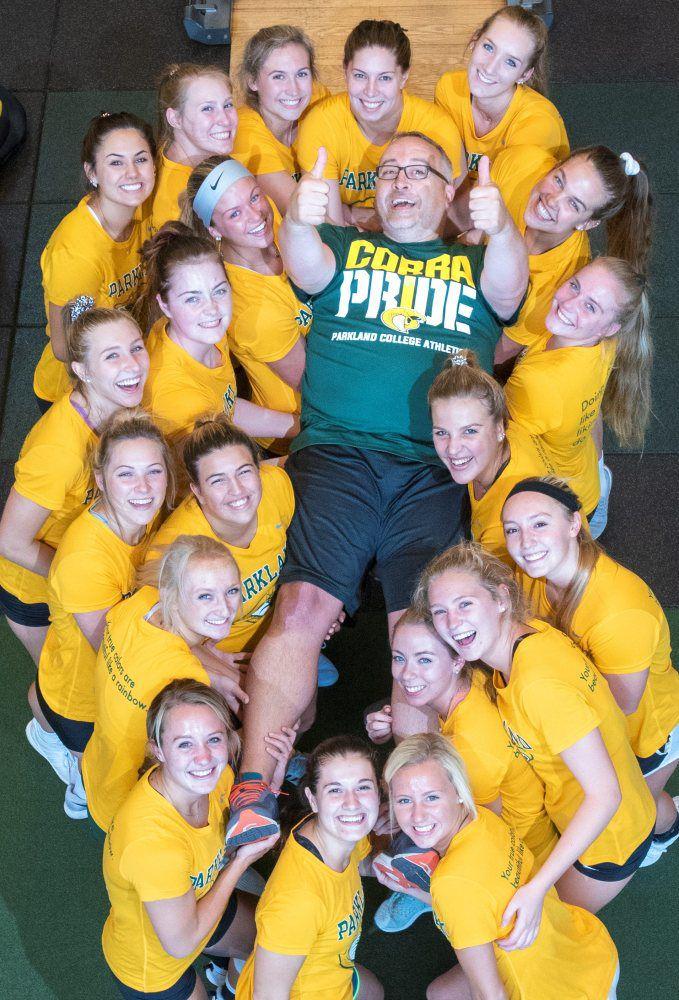 All Cliff Hastings has essentially done in his time coaching Parkland volleyball is win. And win some more. The 11th-year leader of the Cobras, posing above for a photo Wednesday with his players, recently earned his 500th career victory at Parkland, and carries a dazzling 504-48 record into Parkland's next match at 2 p.m. Friday against Central Nebraska in Cedar Rapids, Iowa. Before his top-ranked Cobras take their 16-0 mark this season to Iowa this weekend, Sports Editor MATT DANIELS caught up with Hastings to reflect on his milestone accomplishment:
The 500th victory happened this past Friday with a 3-0 sweep against Oakland Community College in Perrysburg, Ohio. But Hastings didn't actually realize he achieved that until a few days later back in Champaign.
Actually, the 500th win flew by everyone. On Tuesday, I was talking to a university coach who had a question about one of our players, and I went to our roster. In our conversation, I thought, 'I wonder when 500 is coming,' and lo-and-behold, we had hit it this past weekend. So it all kind of went under the radar.
Hastings' husband, Ron, bought a shirt, with the Parkland players signing it, and then the team had a low-key celebration with cupcakes on Tuesday.
It was our daughters' first day of preschool, so honestly, that was much more at the forefront of my mind on the day. Fortunately, they survived and loved it, so then we could breathe and eat a cupcake. I tried to explain the excitement of 500 wins with our 3-year-old daughters. The conversation went like this:
Daughter No. 1: Dad, what are these?
Hastings: Cupcakes for our 500th win.
Daughter No. 1: What?
Hastings: Cupcakes for our 500th win.
Daughter No. 1: May I have pink please?
Hastings: Of course
Cupcakes were the obvious priority, and I didn't disagree. They were good.
Hastings has won two national titles at Parkland and has guided the Cobras to at least 52 wins in each of the last six seasons. But his first match in charge wasn't a win. And, looking back on it, he's glad it wasn't.
I started my Parkland career with a loss to Cowley College in Kansas. They were ranked fourth in the preseason, and we were No. 9, so it was an amazing slugfest right out of the gate. I remember so vividly being disappointed that we lost, but I also remember thinking, 'This is where I'm meant to be.' I loved the fight that our kids had, and I loved how disappointed they were after the loss. They cared deeply about being successful, and I knew that was an attribute that I wanted to foster and recruit for the future. We ended up losing three times to Cowley in my first season, including in the national semifinals. They were painful losses, but so fun, and I think those close losses really helped frame what I wanted and what I expected for Parkland volleyball. So shoutout to Cowley for helping make us what we are today.
At the rate he's going, Hastings, a 2018 NJCAA Volleyball Hall of Fame inductee, could reach 1,000 career wins at Parkland by 2029 or 2030. But the main focus for Hastings is national championships.
I am thankful for the opportunity to spend my time with 11 years of phenomenal young women and assistant coaches who have helped us make Parkland volleyball a symbol of pride and success, both on and off the court. Since I literally spent seven seconds thinking about win No. 500, my superstitious side says I should max out on seven seconds thinking about win No. 1,000. While the win metric is interesting and fun, I've got tunnel vision on national championships for Parkland. Let's win another couple of championships first, and then we can turn to talking about 1,000 wins.