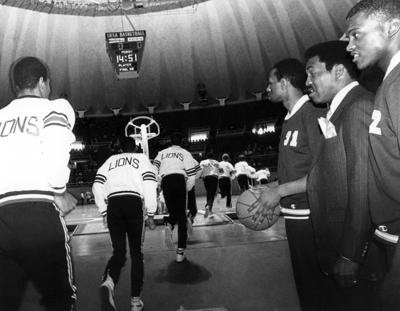 Champaign-Urbana vs. Peoria. To the victor goes the state boys' basketball tournaments.
But first, a question: Is the juice worth the squeeze?
In its heyday — arguably the 1970s to early 1990s — the answer would be an absolute, unequivocal "Yes."
The two-class tournament featured superstar players, dynastic teams and powerhouse coaches.
It was a must-see event at an iconic arena — the Assembly Hall.
Over time, the shiny red convertible started to fade. Crowds fell. Interest drifted elsewhere.
The state boys' basketball tournament became an afterthought in C-U. Just more dates on the busy local sports calendar.
Complacency set in. Few thought the tournament would be taken away.
"It lost some life," said longtime basketball recruiting guru Joe Henricksen.
Finally, after the 1995 version, it went away.
Peoria made the IHSA an offer it couldn't refuse. Carver Arena became the new home of the original March Madness. Except for the occasional NIT game, the Assembly Hall court sat empty in mid- to late-March.
Henricksen wasn't happy about the switch — at first, anyway.
"I was kicking and screaming against the move to Peoria," he said. "Within about two or three years, I admitted I was wrong."
Longtime Peoria Journal Star columnist Kirk Wessler saw it up close and personal.
"That first decade, it really was a phenomenal run of talent," Wessler said.
Henricksen, Wessler and others realized Peoria provided a spark for the flailing franchise. The crowds were vibrant and buzzing.
"How Peoria treated you, I just thought it was off the charts," Henricksen said.
Until it wasn't.
Peoria embraced the event as long as it could. The city held on tight.
Peoria's downtown economy started to change for the worse. The vibe and atmosphere in the building were different.
The tournament
went from must-see to an afterthought, just as it had in C-U.
"You're looking around and suddenly you realize, 'Holy cow, there's nobody down here anymore,'" Henricksen said.
Wrong way
Starting with the 2008 edition, the IHSA pushed through a plan to take the tournament from two to four classes.
No surprise, there was an uproar. Many didn't like it.
Henricksen's dad, Dale, had gone to the tournament every year since 1972, following it from Champaign to Peoria.
But when it went to four classes, he stopped attending. So did his friends.
"It hurt the brand of Illinois high school basketball," Henricksen said.
"It took a precipitous drop when they went to four classes," Wessler said. "A huge difference from one year to the next."
Attendance fell to
less than half of what it once was in a building that seats 11,433 for basketball.
Wessler opposed the changes, which seemed to be done to placate coaches in certain parts of the state.
"People who were on the bubble between A and AA," Wessler said.
Wessler saw the same thing when he worked in Texas and Missouri. There was always a group that wanted more classes. More trophies and championships means fewer disappointed fans.
Basketball in Illinois is following a national trend of falling attendance for high school sports.
The lure of a special weekend trip to the state tournament is gone. Four classes didn't help.
"They've lost those people," Wessler said. "You can't follow four tournaments."
If March Madness moves back to C-U, Wessler doesn't think the decision will devastate Peoria.
"It's a point of civic pride and the strong volunteer force still comes out," said Wessler, who left the newspaper in 2018 and is now in marketing at OSF HealthCare. "You talk to those people who have been doing it for 25 years. They used to enjoy it because there was a lot of energy around it. Now, it's like any other Saturday night. People just pack up and go.
"The community would not miss it because the spillover is not what it used to be."
Best foot forward
C-U bid five years ago to bring the boys' basketball tournament back to its former home.
At the time, renovation of the Assembly Hall into the modern-day State Farm Center was still a work in progress.
Today, State Farm Center is the prettiest basketball arena in the state (sorry United Center, but you are getting older).
Visit Champaign County President/CEO Jayne DeLuce hopes the almost-new building gives her community the edge it needs.
C-U has other advantages, too.
"The biggest difference between this time and five years ago is that everybody is all in," DeLuce said. "It is a better bid."
Area hotels took a fair share of the blame when the tournament left after 1995. They jacked up their rates for the key weekends.
Now, the hotels will keep the rates reasonable for the teams. A prudent step. Full hotels make more than empty ones. It's math.
There are 4,200 hotel rooms in the area. Most of them are a short drive away from the arena.
"It has been amazing to see the coordination between campus and community," DeLuce said.
Henricksen doesn't need any more convincing.
"I think Champaign is going to get this thing," he said. "I will be stunned and shocked if the move isn't made. I think it's a slam dunk this thing returns to Illinois."
The C-U of 2020 is a lot different from the one the IHSA left in 1995.
More hotels, restaurants, conveniences.
People who used to come to C-U for the state tournament won't recognize the place. Other than the iconic roof on the arena.
There is pride in the new building. And a great tradition. Dee Brown and Deron Williams played there. So did Ayo Dosunmu.
Long climb
The Illinois boys' basketball tournament isn't dead, but it is extremely sleepy — a condition that requires more than a fancy new venue.
Part of the problem has been a general drop in basketball talent across the state. Oh sure, there are smatterings of great players, but not to the level of the glory days of the 1980s, when fans couldn't wait to see LaPhonso Ellis, Marcus Liberty, Nick Anderson and the rest.
Henricksen calls it a five-year talent drought — the worst he has seen in 25 years following high school basketball.
The tournament will never again be like it was in the 1980s or '90s. But it can be better than it is right now.
Storylines help. And stars. When the next Kevin Garnett or Derrick Rose pops up, he will draw a crowd.
Wessler and Henricksen expect a lot of excitement if the tournament returns to C-U. But ...
All for naught?
COVID-19 forced the IHSA to cancel the 2020 tournament.
There are no guarantees it will be played in 2021, whether it's scheduled for Peoria or C-U.
It's nine months away.
"It has been greatly discussed," DeLuce said.
University of Illinois physicist Nigel Goldenfeld and bioengineering Professor Sergei Maslov are among a group of experts advising Gov. J.B. Pritzker on models of the coronavirus spread.
They said "that it's impossible to make any credible predictions about next March. We don't know how the virus will play out this summer and fall, let alone next spring."
They don't know if a vaccine will be available before the tournament, but are skeptical.
"Right now, central Illinois is doing well, but that's because we've been in stay-at-home for the last two months," they said. "Resurgences of COVID-19 are starting in some states that reopen, but whether or not that happens here will depend on other mitigation methods, such as contact tracing and isolation.
"We also don't know if the virus will return in the fall. That could easily happen, because we are nowhere near herd immunity, it seems."
At least the building is big enough (capacity 15,544) to allow fans to stay apart.
"In the unlikely event that the basketball tournament is able to be played, extreme social distancing will have to be in force or even no audience at all," Goldenfeld and Maslov said.
Crowds of cheering fans at an indoor arena worry the experts. The virus is transmitted by small droplets.
"This is the main way super-spreader events arise," Goldenfeld and Maslov said.
COVID-19 adds another layer of trouble for the ailing tournament. One more hurdle.
But we can hope for solutions. Maybe a change of venue is part of it.
Check back Monday.