CHAMPAIGN — Jonte Coleman heard the knocks against his basketball game.
He didn't commit to defense well enough. He wasn't big enough or quick enough to vie for playing time with a Division I program.
So, after Coleman graduated from Champaign Central in 2018, he went to work.
"I just trusted the process," Coleman said. "College is stressful. It wasn't easy. Plenty of times I felt like, 'Man, I can't do this anymore.'
"I stayed focused going through. It got me to Kankakee, and it paid off."
After two seasons with the Kankakee Community College men's basketball program, the former Maroon committed to coach Anthony Stewart's Tennessee at Martin program on Wednesday.
"Man, it feels good," Coleman said. "I've been working my whole basketball career for this."
Coleman recognized out of high school, if he wanted to continue playing competitive hoops, that his grades would necessitate going the junior-college route.
Central boys' basketball assistant coach Jason Thompson connected Coleman with incoming Kankakee Community College coach Alex Thorson, a former St. Thomas More and Unity athlete.
Thorson needed to recruit quickly to fill his first Cavaliers roster after being hired late in the offseason.
And that's how Coleman, typically a wing on offense, wound up playing forward and center as a 6-foot-4, 185-pound Kankakee freshman.
"I wasn't really playing on the ball too much. I was setting screens and popping screens," Coleman said. "I couldn't showcase my actual skills a lot because I wasn't hands on the ball like my original position."
Coleman did offer a glimpse at the future, though, by draining 61 three-pointers and converting attempts from distance at a 31 percent clip.
After a summer filled with putting up shots and being pushed both physically and academically by mother Tinisha Grider and father Ossie Coleman, Coleman slid back to a more natural guard role for his sophomore season.
"I'm knowing I'm playing my position," Coleman said. "I'm knowing I'm touching the ball. I'm knowing I'm coming off ball screens. And I'm like, 'Now I'm playing my game. Now people know what I can do.'"
If they didn't at the beginning of his final season with the Kankakee men's basketball program, they figured it out by the time the Cavaliers wrapped up a 21-11 campaign.
Coleman finished just shy of 45 percent in three-point shooting accuracy, nailing 111 of 247 shots from beyond the arc. He rated second on the team with 424 total points, averaging 14.1 per game while starting all 30 games for the Cavaliers — the only player to do so.
Coleman was informed fairly early in the season that he was on pace to break Bobby Dixon's program record of 110 threes, set during the Cavaliers' 2003-04 season.
But he went into Kankakee's final regular-season game, on Feb. 20 at Kennedy King College in Chicago, needing five triples to surpass Dixon.
"I wanted to get it before the postseason," Coleman said. "In my head I only hit four threes. Everybody else was like, 'You broke the record.' I forgot I hit a three right before halftime."
Even before Coleman etched his name in Cavaliers history with that last push, he was receiving interest from various four-year colleges.
Division II coaches from the University of Charleston, Texas A&M-Commerce and Flagler (Fla.) College — as well as several NAIA teams — reached out to Coleman about his next basketball step.
Coleman estimates it was about two weeks ago when UT Martin got in on the Coleman sweepstakes.
He assumes it was because Thorson and his staff circulated Coleman's Kankakee highlights on Twitter.
A subsequent Zoom conference call left Coleman believing the Skyhawks were the right fit for him.
"They told me ... 'You can shoot the snot out of the ball,'" Coleman said. "That's what they were lacking the past few seasons."
UT Martin compiled a 9-20 record last season, finishing in 10th place in the 12-team Ohio Valley Conference and not qualifying for the eight-team OVC tournament.
The Skyhawks carried just two seniors on Stewart's most recent roster, his fourth overall.
Coleman has been working alongside fellow Central alumnus Qwentin Peacock, also a Kankakee sophomore, since the COVID-19 pandemic began shutting down sports nationwide in mid-March. The pair actually spent a month and a half with Peacock's mother in Florida, working out seven days a week.
"It's a big difference from JUCO to Division I," Coleman said. "We have limited weights and limited fitness center hours versus a 24-hour weight room and a 24-hour open gym. I really want to focus on getting my ball-handling down pat."
Because of the pandemic, Coleman currently must wait to actually meet up with his new UT Martin teammates. When he does, he'll be one of just a few local products suiting up in D-I men's basketball.
"(Wednesday) I was stoked the whole day," Coleman said. "I feel like I got a whole bunch of weight off my chest because I'm proving all the haters wrong and all the people that doubted me.
"It's just the beginning. I'm not done trying to shock Champaign."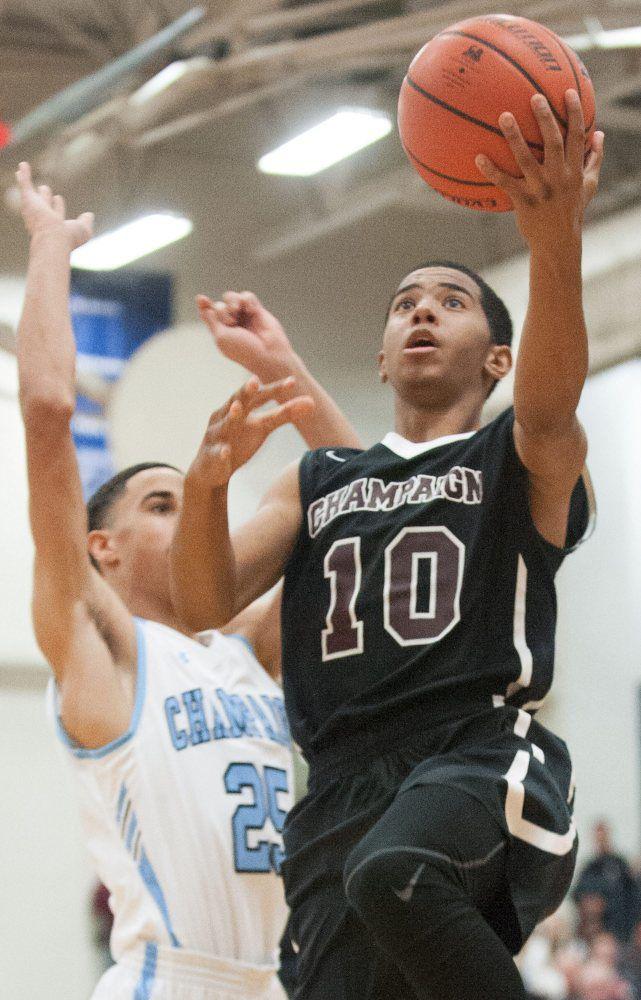 Tough group to crack
The News-Gazette's coverage area includes plenty of high school graduates currently in Division I athletics, but not too many on that stage in men's basketball specifically. Here's a look at the crew 2018 Champaign Central alumnus Jonte Coleman joined Wednesday when he committed to UT Martin:
NICK FINKE
College: Army
High school: Champaign Central (Class of 2016)
At Army: Finke saw the biggest workload of his college career as a junior last season, coming off the bench in 21 games and putting up 15 points, 25 rebounds and 10 assists last season.
ZACH GRIFFITH
College: Illinois
High school: Fisher (Class of 2017)
At Illinois: From team manager to walk-on, Griffith scored his first career college points in 2019-2020 while appearing in eight games, totaling six points, four rebounds and an assist.
TIM FINKE
College: Wright State
High school: Champaign Central (Class of 2018)
At Wright State: Champaign-Urbana's all-time leading scorer with 2,015 points and the 2018 News-Gazette All-Area Player of the Year had to redshirt his first campaign with the Raiders after transferring from Grand Canyon in 2019.
KENDLE MOORE
College: Colorado State
High school: Danville (Class of 2018)
At Colorado State: The 2017 News-Gazette All-Area Player of the Year has started in all but one game since joining the Rams, and he averaged 9.0 points, 2.2 assists and 2.2 rebounds last season while hitting nearly 44 percent of his three-pointers.
JONTE COLEMAN
College: Tennessee Martin
High school: Champaign Central (Class of 2018)
At UT Martin: Coleman on Wednesday committed to the Skyhawks after spending two junior-college campaigns with Kankakee, most recently putting up 14.1 points per game and setting the Cavaliers' single-season mark for three-pointers made.
SEAN HOUPT
College: Bradley
High school: Danville (Class of 2019)
At Bradley: Houpt saw the hardwood in 14 games as a true freshman and put up 15 points, hauled in seven rebounds and dished out three assists for the Missouri Valley Conference tournament champions.
GRANT COLEMAN
College: Milwaukee
High school: Mahomet-Seymour (Class of 2020)
At Milwaukee: Coleman will join the Panthers after they posted a 12-19 record in the 2019-2020 season, with Coleman featuring 2020 News-Gazette All-Area first-team honors among other things on his resume.