CHAMPAIGN — One is older ... and taller. One was a star in high school, while the other modestly calls himself "a role player."
So, there are some differences between Coleco Buie and Anthony Figueroa.
But they have much more in common. Raised in Champaign. Products of Centennial High School, where they learned from the late Coleman Carrodine.
Division I athletes. Pro basketball players. Parkland College coaches (Figueroa in charge and Buie his assistant).
Oh, yeah, as of Saturday night, they are also both Hall of Famers. Buie and Figueroa will be honored this weekend in Centennial's powerhouse third Hall class. They join Jacob Bushue (soccer), Andrew Cotner (baseball, football), Ken Crawford (baseball, basketball, football), Stephanie Dueringer (cross-country, track), Payton Johnson (swimming), Tammy Seward (basketball, softball), Marni Tobin (swimming) and Dustin Ward (baseball, football).
"It will be exciting, no doubt," Buie said.
Buie, Figueroa and the rest of the class will be introduced before Friday's varsity basketball game against Urbana.
The induction ceremony is Saturday at Savoy's Regent Ballroom. If Parkland had stuck to its original basketball schedule, Buie and Figueroa would have missed the shindig.
The Cobras were supposed to play in Quincy, 196 miles away.
But Parkland was able to flip to a home game against John Wood on Saturday at 3 p.m., giving Buie and Figueroa plenty of time to make it.
Memory lane
Back in the day, Figueroa couldn't wait for the rivalry games against Central and Urbana.
"We didn't lose a lot," Figueroa said. "We had some very good teams, very good players."
Two games stick out for Buie. His junior year, the Chargers went to Danville and knocked off the highly-ranked Vikings.
His senior year, he got the best of Rantoul star Kareem Richardson, breaking the single-game scoring record at The News-Gazette tournament against the Eagles.
When Centennial called and told Figueroa he was a Hall of Famer, what did he think?
"I thought they had the wrong number," he said.
"I figured at some point, if it was deserving, then I would get in," Buie said. "I didn't know if it was going to be sooner or later. But I'm happy to be in."
Buie was born in Milwaukee and moved to Mississippi. He came to Champaign in fourth grade, attending Kenwood Elementary, then Jefferson Middle School and Centennial. He lived on Fourth and Bradley.
After starring at Centennial, he spent a year at Chicago State and a year at Wabash Valley. He finished at Missouri State.
Next, Buie went on a basketball journey that took him to Spain, France, Germany, Austria, Hungary, Argentina, Bolivia, the CBA, ABA, IBL. Lots of stamps on his passport.
"I had a good run," Buie said.
After years of pro basketball, Buie took a position at Centennial as a parent liaison. He spends the early part of the day at the high school, then goes to Parkland for the Cobras' practice.
Dynamic trio
Buie actually joined the Parkland staff before Figueroa. He was an assistant to Nate Mast for the 2011-12 season.
Figueroa took over prior to the 2012-13 season. It was his first time as a head coach.
The third assistant is Liam Slesinski, a Champaign Central graduate. What Buie and Figueroa call "that other school."
"It makes our staff kind of unique," Figueroa said. "You have all three of the coaches who are local guys, who went to school here, who know the landscape of the local athlete pretty well."
Of the five Illinois players on the current Parkland roster, two are from Champaign: Central's Sam Beesley and Centennial's Tommy Makabu.
"Recruiting takes its own shape from year to year," Figueroa said. "We would always like to have local kids on the roster. Ideally, that would be fantastic. Some years it works out. Some years it doesn't."
Smooth transition
Figueroa and Buie clicked from the start.
"He's been here the whole time, so I don't know anything else," Figueroa said. "It's about a comfort level. A guy that understands you. You understand him. You don't necessarily agree on everything, but you know where each other is coming from."
Their differences mesh well together. A nice balance.
They both want to play fast. They both have an aggressive mindset on the court.
Figueroa was three years behind Buie at Centennial. When Buie completed his senior season, Figueroa was a freshman.
"I knew who he was," Figueroa said. "When we were both in college is when we got to know each other better."
Figueroa never imagined they would be on the same staff. But he is thrilled how it worked out.
The feeling is mutual.
"It means a lot just to be with somebody I went to high school with," Buie said. "We've always been good friends."
Buie was a huge help for Figueroa in the early days. He knew the returning players.
"I needed him here," Figueroa said. "He clued me in on some things."
Figueroa admits he is not easy to work for all the time.
"I just want everything to be perfect," Figueroa said. "We all know that there is no such thing. But trying to attain it can be frustrating and joyful all in the same breath."
Figueroa likes to argue. His assistant understands.
"Buie knows how to deal with everybody," Figueroa said. "I don't think there's anybody Buie can't deal with."
Ask Buie and he comes up with a string of positive traits about the boss.
"He's super organized, so that helps me with my organization," Buie said. "He's super knowledgeable. He's a tireless worker."
In their eighth year together, Buie and Figueroa are in "kind of a groove."
"We've been really successful," Figueroa said, "especially the last five years."
The current team is 13-4 and has taken five of its last six.
Back where it all started
Figueroa grew up in west central Champaign, in an area bordered by Mattis and Prospect avenues.
He moved a lot as a kid, attending multiple elementary schools: Robeson, Dr. Howard and Westview. Then, Jefferson Middle School and Centennial.
He left for college, first at Chicago State followed by Millikin. Figueroa spent time playing professionally in Puerto Rico, then decided to try coaching.
He served as an assistant in high school (Centennial, St. Thomas More) and college (Lackawanna College, Millikin).
With the Chargers, he coached the freshmen and helped the varsity during Trent Meacham and Steve Holdren's senior year.
"A very good varsity team that year and the freshman team wasn't bad either," Figueroa said. "That was my first year coaching. (Former AD) Stan Lewis and (coach) Tim Lavin gave me a shot."
Being at Parkland is similar to his time at Centennial. Figueroa is home.
"It's a comfort level," he said. "You know where everything is. You know a lot of people wherever you go."
His mom, Terry, comes to the games. That's one advantage of Figueroa coaching in his hometown.
"It's a good thing," he said.
Top of their class
Parkland College will induct its next Hall of Fame class at halftime of Saturday afternoon's men's basketball game. Here are the honorees:
Will Bailey
An assistant men's basketball coach to Travis Ford at St. Louis, Bailey helped the Parkland men's basketball team reach a No. 1 ranking during the 1994-95 season and an eventual trip to the NJCAA national tournament. He averaged 18 points with the Cobras, led the country in assists and went on to finish his college career at UAB.
Neeley Hawkins
A second-team All-American during her softball career at Parkland, Hawkins helped the Cobras place fifth in 2004 and second in 2005. Now living in Findlay, Ohio with her husband and two daughters.
Devon Munch
The first-ever Parkland men's soccer player to receive NJCAA All-American recognition, the former standout defender with the Cobras led the 2008 team to a 17-1-2 record. Now living in Ontario, Canada.
Matt Neaville
The Urbana graduate starred with the Cobras' men's basketball team, averaging 26.2 points to rank fourth in the country during the 2005-06 season. Played professionally and now teaches physical education at Urbana High.
Rachel Robinson
Volleyball standout with the Cobras in 2006 and 2007 went on to play at Evansville after earning M-WAC Player of the Year. Now resides in Boise.
Jennifer Sykes
Volleyball standout in 2008 and 2009 was first-team All-American with the Cobras. Continued college career at Bradley and now lives in Racine, Wis., where she is a chiropractor.
Best of the bunch
Former Centennial quarterback Dustin Ward (below) is among 10 former Charger standouts getting inducted this weekend into the school's Hall of Fame. A look at who will be inducted — and who has already been honored: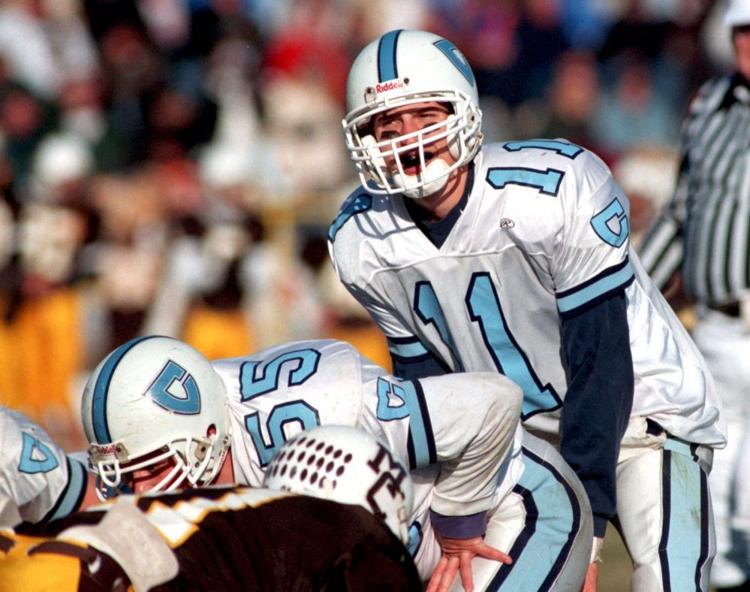 NAME SPORT(S) CLASS OF
Jacob Bushue Soccer 2010
Rayvonte Rice Basketball 2010
Mikel Leshoure Football/Basketball 2008
Katherine Reutter Olympian 2006
Payton Johnson Swimming 2005
Michael Alexandrov Swimming 2003
Megan Bushue Soccer 2003
Annie Parrett Basketball 2003
Reggie Hodges Football/Basketball 2000
Dustin Ward Football/Baseball 1999
Gia Lewis-Smallwood Basketball/Volleyball/Track and field 1997
Candy Phillips Track and field 1996
Kindal Shores Tennis 1996
Anthony Figueroa Basketball 1995
Nichole Millage Volleyball/Softball 1995
Stephanie Dueringer Cross-country/Track and field 1993
Ben Beyers Track and field 1992
Coleco Buie Basketball 1992
Ken Crawford Baseball/Basketball/Football 1990
Jamie Fairbanks Golf 1990
Tammy Seward Basketball/Softball 1990
Marni Tobin Swimming 1990
Matt Herges Baseball 1988
Andrew Cotner Baseball/Football 1987
Cindy Lawrence Basketball/Volleyball/Track and field 1986
Roger McClendon Basketball/Baseball 1984
Bonnie Blair Olympian 1982
Mike Carroll Football/Basketball/Track and field 1980
U.S. Davidson Basketball/Track and field 1973
Steve Ward Football/Basketball/Baseball 1972
Ed Jenkins Football 1970
Alan Dilley Swimming 1969