Top of the Morning, May 2, 2021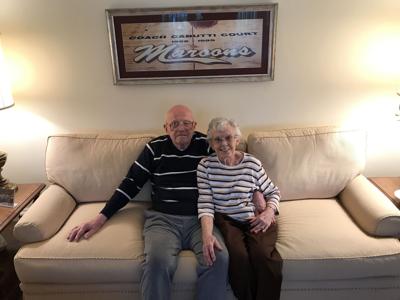 His name still will be on the new basketball court when Champaign Central High reopens Combes Gym in late November.
Better yet, Lee Cabutti will get a chunk of the old court — at least a part with his name on it — when it's dug up later this month.
That's the word from Austin Barton, a 28-year-old Urbana resident in the know. He's an O'Shea Builders project manager who has been helping coordinate Central's renovation since 2017. And he's about to become part of the family.
On May 22, Austin and Emma Cabutti will get married. Emma's dad, Mark, is Lee's son.
Lee, 96, and his wife, JoAnne, 91, celebrated birthdays on April 5 and 9, respectively. The Champaign power couple is excited to attend the wedding — and also looking forward to watching the Maroons unveil new Coach Cabutti Court next season.
Austin recently was able to accompany Lee on a tour of Central's new fieldhouse, a spiffy complement to Combes Gym on a growing campus. He admitted to feeling "a little bit of pressure" to make sure the new gym floor is just right, but is honored to play a part.
"I think he'll be proud," Austin said.