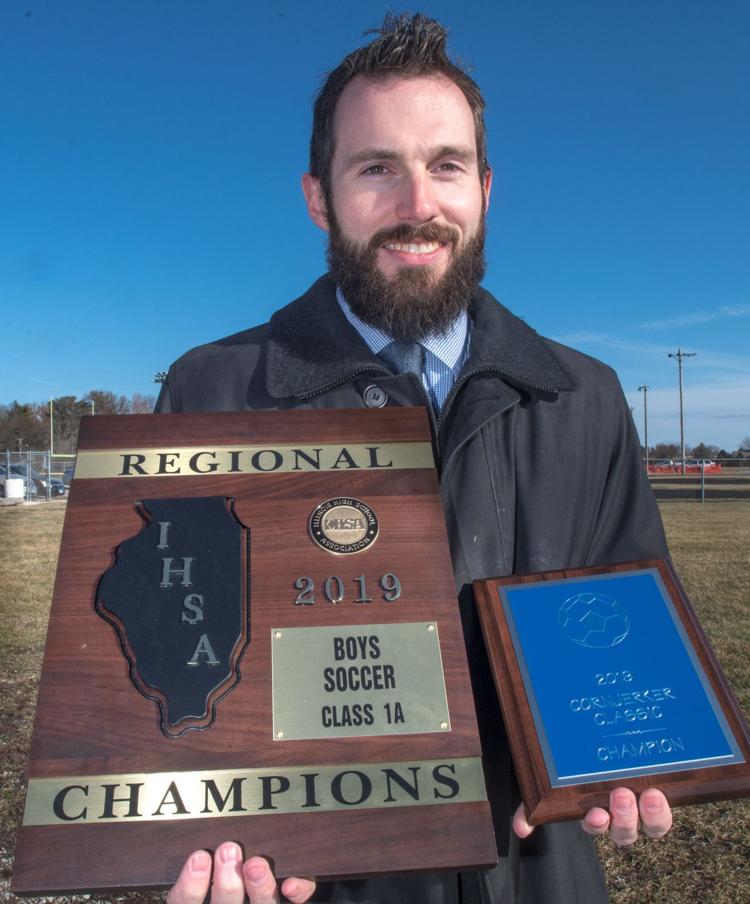 Why he's Coach of the Year: When his current seniors were freshmen, Burkybile's Sages won three matches. They ran that total all the way up to 20 this season with just three losses and a tie otherwise as Monticello secured its first regional championship since 2014 and rattled off a nine-match win streak at one point.
Season highlights: "Winning the Cornjerker Classic. Hoopeston Area was undefeated when we went up against them in the finals of that tournament. We beat them 2-1 in a close match, so that was definitely one of them. The regional, we go to Warrensburg and play Warrensburg, and to score three goals in the last 17 minutes when we were down 3-0 most of the game, that will definitely stick with me. And the regional championship game, to beat Cornerstone, who beat us last year, was a nice cap to the season."
A few of my favorites: My favorite food is steak. ... My first car was a white 1994 Toyota Camry. ... My dream vacation destination is Norway, although I'm not big on travel. ... My favorite sporting event I've attended live is the Indiana-Illinois game, when Tyler Griffey made the layup to beat No. 1 Indiana. My wife and I were there. ... My favorite professional/college sports teams are the St. Louis Blues and Illini. ... My favorite band is Rush. ... Three items on my bucket list are to do a half-Ironman, to be a small-time farmer when I retire and to start a blog.
What I enjoy most about coaching: "The analytical side of it. Putting the right players in the right positions, the right formations. High school soccer is kind of difficult in that the field you play on is so different game to game. Kind of adapting to those kind of challenges (is great). I like putting all of those pieces together."
Honor Roll: Past News-Gazette All-Area boys' soccer Coaches of the Year
YEAR    COACH    SCHOOL
2019    Dan Burkybile    Monticello
2018    Nick Clegg    Champaign Central
2017    Randy Blackman    Urbana
2016    Randy Blackman    Urbana
2015    Phil Anders    Uni High
2014    Marty Price    Blue Ridge
2013    John Klaber    Hoopeston Area
2012    Randy Blackman    Urbana
2011    Phil Anders    Uni High