LaGRANGE PARK — As a sixth-grader, J.J. McCarthy decided he wanted to hang out with the Nazareth Academy football team.
It made perfect sense. The school was close to home. And the Roadrunners were a top high school program.
McCarthy's dad, Jim, asked coach Tim Racki if his young son could attend workouts.
"He was a skinny kid then," Racki said. "He could hardly even throw the ball. But he was beyond his years maturity-wise.
"I said, 'Bring the kid out.' He was there for 6 a.m. workouts."
J.J. hit it off with the team and the staff.
"He loved it so much," Jim McCarthy said. "He loved the way they accepted him."
Turned out to be a great move for Racki and Nazareth.
Five years later, J.J. (short for Jonathan James) is all grown up (6 feet, 2 1 / 2 inches, 190 pounds). And is the best high school football player in Illinois.
After helping Nazareth win the state 7A title in 2018, Michigan-bound J.J. is back in the finals. The Roadrunners face Chicago Mount Carmel in the 7A championship Saturday at DeKalb's Huskie Stadium. Kickoff is at 4 p.m.
As a sophomore, J.J. completed 182 of 240 passes for 3,289 yards and 36 touchdowns.
He stayed on a roll this season. With one game left, he has hit 181 of 290 passes for 2,704 yards and 33 touchdowns.
He was an easy choice as the 2019 News-Gazette All-State Player of the Year.
In the 84 years of the team, J.J. is the first underclassmen to be named POY. (Editor's note: underclassmen weren't considered for the team until 1996).
"It means a lot, knowing that my hard work is paying off," J.J. said. "It wouldn't have happened without my coaches and teammates especially, and my family. They're the ones that put this all together. All the credit goes to them."
J.J. showed POY form in last Saturday's 42-14 semifinal win against Rolling Meadows, completing 20 of 27 passes for 350 yards and five touchdowns.
No rush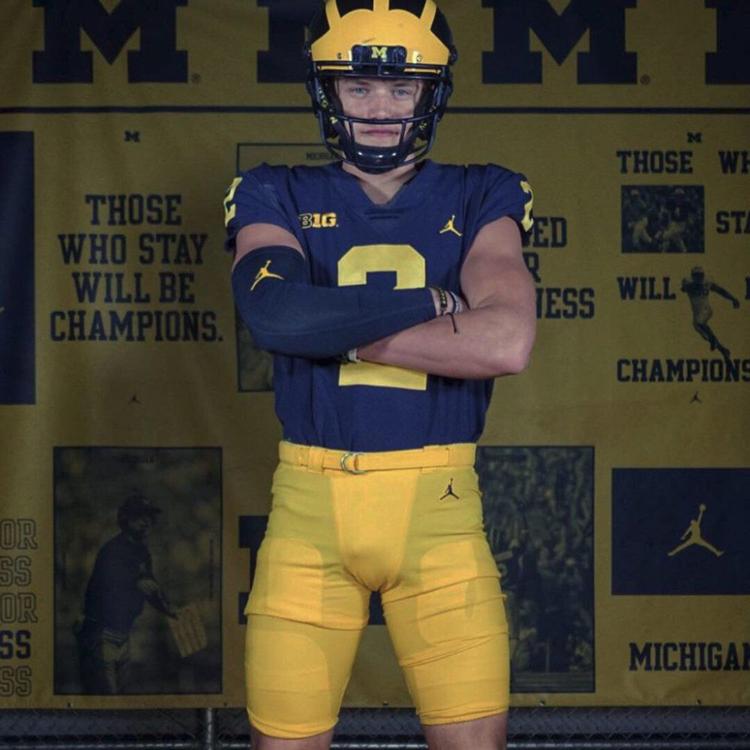 Racki knew J.J.'s potential when the player arrived as a freshman. He didn't want to force the player on the field before he was ready.
In conversations with J.J.'s parents, Jim and Megan, they came up with a plan.
"They trusted me," Racki said.
J.J. was no ordinary freshman. Before he played a down for Nazareth, he already had a scholarship offer from Iowa State. The first of many (including Illinois).
"He came to us with a lot of fanfare," Racki said.
J.J. wasn't exclusively with the Nazareth varsity right away. Instead, he split time among the freshman, JV and varsity teams. A bit of each.
"That was the best decision I ever made," Racki said.
It allowed the rest of the players to get a chance to know J.J.
"The kids realized, 'Wow, he's a great guy. He's humble,'" Racki said. "'He's selfless. Wants his teammates to do well.'"
Racki wanted to eliminate any concern that J.J. was bigger than the team.
"It worked," Racki said. "The people, the teachers, the kids that don't play football at Nazareth love this kid. He is very humble and grounded and that's thanks to his mom and dad."
J.J. still wasn't very big. About 5-foot-9 1 / 2, 150 pounds.
"His freshman year, I remember praying that he would grow," Racki said. "He had a growth spurt from his freshman to sophomore year."
As a sophomore, J.J. moved in at quarterback. He led a team that was with loaded with talent and experience.
"He was surrounded by three-year starters," Racki said. "He earned their trust in the summer before his sophomore year."
J.J. kept their trust in his first game as a starter against St. Louis Lutheran North. On his first pass, J.J. fired a missile to teammate Michael Love for a 40-yard gain. It let everyone know "the kid is ready."
"I stopped in my tracks and just watched," Racki said. "We were all silent. I said, 'Did I just see that?' He hit him right in the hands."
The play calmed his nervous parents.
"He belonged," Jim said."It was pretty awesome."
There were more magic moments to follow.
J.J. played hurt in the state title game against St. Charles North. Earlier that week, during practice, J.J. fractured his thumb on a teammate's helmet.
Racki kept the injury quiet. J.J. saw a hand specialist on Thanksgiving Day, who suggested he sit out.
"J.J. said, 'I'm playing.' His parents signed a waiver for him to play. And it was his throwing hand, too," Racki said.
It apparently didn't matter. J.J. threw for 201 yards in a 31-10 win.
"That's actually when the offers started pouring in," Racki said. "When coaches heard, 'He risked playing the state title game with a broken thumb against the doctor's wishes and he still plays. I want that kid,'" Racki said.
Stick stuff
While football is certainly J.J.'s first love, there was competition earlier in his life.
At a young age, he excelled at hockey as a right wing.
"If he chose hockey, he'd probably be in Quebec right now, playing at the highest level," Racki said.
J.J. combined both sports as a freshman at Nazareth.
"He earned that opportunity to play," Jim said.
J.J. played for the Chicago Young Americans.
"He loved it," Jim said. "He loved the guys. But it literally came to the point where he was going to miss football stuff because of hockey. He had to decide."
No surprise, the quarterback in football liked setting up his teammates in hockey.
"I miss hockey so much just because of the team aspect," J.J. said. "I loved the contact in hockey. I'm not going to lie. Hockey is such an awesome sport."
Hockey helped him in football. And vice versa.
"When you're a quarterback, you need to be comfortable in chaos," Jim said. "Once you become comfortable, the game slows down for him."
Once McCarthy decided to concentrate on football, he went all-in. He studies the game away from the field and puts in endless hours.
"There are a couple of natural abilities I got from my parents," J.J. said. "But there's a lot of stuff I worked really hard on. I found my weaknesses and did everything I could to make those weaknesses turn into great tendencies."
He has learned to use his arm more than his legs. As a sophomore, he would scramble for big yards.
This season, J.J. is trying to stay in the pocket and trust his linemen to protect him.
"He was Tom Brady-like against Batavia (in the quarterfinals)," Racki said. "He's understanding defenses better and not just relying on his athleticism."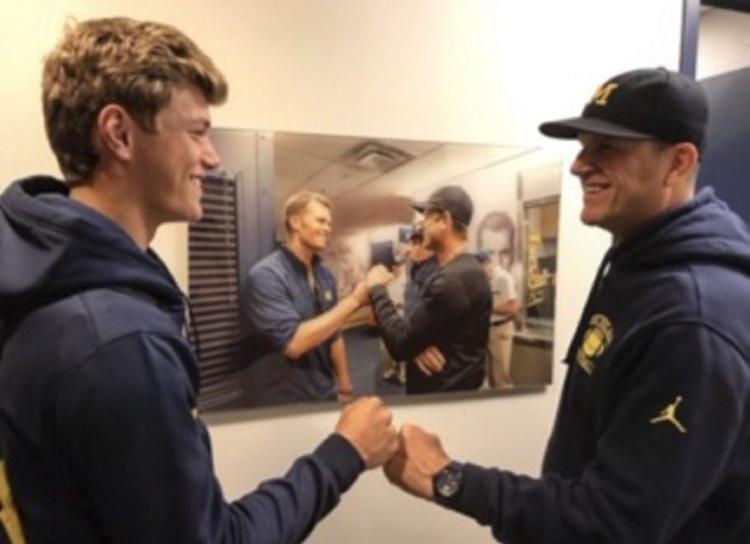 Future Wolverine
J.J. has 30-plus FBS offers. From across the country.
Rated the No. 6 pro-style quarterback by Rivals.com, he is No. 27 in his class.
On May 11, he picked Jim Harbaugh and the Wolverines.
"I know the end game for him is he wants to be in the NFL," his dad said. "That's great. We're going to champion him to go as far as he can with that sport. But you always have to set your sights on Plan B. You've worked your tail off to get the grades that you have, so let's concentrate on the schools that are you going to give you the best opportunity to get that great degree."
Racki thinks McCarthy will thrive at Michigan.
"He wants to be the best," Racki said. "If you want to be the best, you've always got to look at what your weaknesses are and get better. The guys that rely solely on talent never reach their peak. That's not J.J."
Away from the field
The McCarthys live in LaGrange Park. J.J. has an older sister, Caitlin, who is a sophomore studying computer science at Nebraska. His younger sister, Morgan, is a freshman at Lyons Township.
"He is such a great brother to his sisters," Jim said. "He really loves his sister a ton. They talk a lot."
J.J. is close to a 4.0 student. He takes honors courses and was academic all-state.
The 16-year-old drives a Jeep Wrangler. It was a present from his parents
"My dad made a promise to all the kids," J.J. said. "If they get a full ride, he'll buy them a car."
Jim changed the promise when all of J.J.'s offers started.
"He was telling me, 'It needs to be signed on the bottom line,'" J.J. said. "I kept bugging him about it. He said, 'OK, if you get 10.' I got 10 before I could get my license."