GIBSON CITY — This wasn't a foreign concept to Gary McCullough.
The 65-year-old estimates he's delivered a play-by-play radio call for "well over 1,000 basketball games" under the Gibson City-based WGCY banner, located at 106.3-FM on the radio dial.
So, on its face, Gary sitting next to Ross Brown — filling in for Gary's son, Frank — during a Dec. 10 boys' matchup between host Gibson City-Melvin-Sibley and Tri-Valley shouldn't have been unusual.
It's been typical for Gary and Frank to work side by side during football and basketball games over the last 20 years, by Frank's count.
Two aspects were different about this specific call, however.
First, Gary was in the role of color commentator instead of play-by-play voice.
That brings about the second reason for this broadcast's importance: Gary hadn't worked a GCMS sporting event since early in the Falcons' 2018 state-championship football season.
Why?
A heart attack in August 2018. Followed by a second heart attack two months later in October.
Followed by a colorectal cancer diagnosis in November. And a pair of 6 1/2-hour surgeries last year ­— first in January and then in August — that removed both a "softball" sized tumor and pieces of vital organs.
Gary isn't out of the woods, either, as he's facing 11 rounds of chemotherapy following those procedures.
But Gary is well enough to return to what he loves. He even got back on the play-by-play side of things last Tuesday night, when the GCMS boys' basketball team played at Fisher, courtesy Frank having a tooth removed and being encouraged to limit speaking in the aftermath.
"I thought to myself in the middle of the game — I realized how much I had missed it," Gary said. "I was very fortunate to have people step in for me, but I'm back and looking forward to the future."
★ ★ ★
Gary's past, present and future are enveloped by WGCY.
He founded the station, after all, as a 29-year-old in 1983. Gary works there full-time with wife of 45 years, Debra, son Frank and daughter Ashley.
"I wanted to have a radio station before I turned 30 years old," Gary said. "There's not many mom-and-pop operations left, and that's exactly what we are."
The Gibson City High School and Lake Land College graduate took on multiple gigs at other area stations in the years prior. Among them were a rugged Sunday morning shift after working the Saturday night role at one particular location.
Even before that, Gary made it clear he knew how he'd spend his working career.
"When we were in high school together, he started out playing records in the basement for me," Debra recalled, "and said, 'This is what I want to do when I grow up. I want to be a disc jockey on a radio station.'"
Some of their favorites included The Partridge Family's "I Think I Love You," Sonny and Cher's "I Got You Babe" and Young Rascals' "How Can I Be Sure."
"Your 1960s stuff," said Gary, who also cited listening to Lou Boudreau-called Chicago Cubs games as a source for sportscasting inspiration.
The McCulloughs did have a chance to merge their facility with stations out of Paxton, Farmer City and Hoopeston, according to Debra, several years ago.
"We said, 'Nope. We're not doing it,'" Debra recalled. "I just told Gary, 'I can't give up control.'"
Gary was a fixture from 6-8:15 a.m. weekdays on WGCY prior to his health issues.
GCMS athletic director and football coach Mike Allen and GCMS boys' basketball coach Ryan Tompkins both recognize Gary not only as a sports broadcaster, but also the first person many folks in Gibson City might hear at any given sunrise.
"'Good morning, everybody.' I can still hear those words," Tompkins said. "When that wasn't there, it really hit people hard."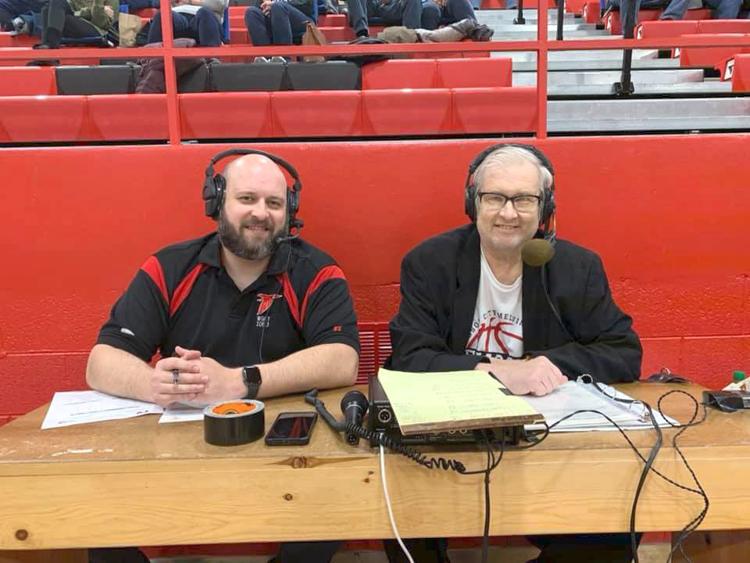 ★ ★ ★
Neither Allen nor Tompkins had the best start to what has become a pair of long tenures leading their respective Falcon programs.
Allen didn't win a game in the first of his 19 seasons. Tompkins began his 18-year stint roaming the basketball sidelines with a 5-23 mark.
Even when the wins didn't ensure on the football field or basketball court, Gary offered encouragement.
"Ryan and I look up to Gary like a big brother," Allen said. "He's extremely good to us, extremely supportive. ... He means the world to us."
It was like facing the prospect of losing a family member when Allen and Tompkins learned of Gary's first heart attack in almost 18 months ago.
For Debra and her children, that was a very real possibility.
"He had 100 percent blockage in the widowmaker (artery)," Debra said. "But we only live a few blocks from the hospital, so I got him in the van and got him up there right away, and they said that probably saved his life."
Gary bounced back fairly well from this scare. He got back to work relatively quickly, even calling some regular-season GCMS football games.
"Within just a couple days he was out, went out and watched a practice," Frank said. "(The players) all went up and shook his hand. As far as I was concerned, it was something he was going to have to deal with, but it was in the past."
Gary was wrapping up an on-air session the following October when he suffered a second heart attack.
"My body got real hot, and I knew what it was because I had one before," Gary said.
Gary had four stents placed in two spots to prevent future heart trouble.
That couldn't stop what hit him next. A blood test showed irregularities that eventually led to Gary receiving his cancer diagnosis.
"We look at his heart attack as a blessing in disguise because, if he hadn't had the heart attack, they would've never caught the cancer," Debra said, "because he really had no symptoms."
Gary spent a month at Champaign's Carle Foundation Hospital, shuffled between different floors of the building while a host of specialists tried to determine if Gary was well enough after his heart attacks to undergo a critical first cancer surgery.
"I was in an induced coma, on a ventilator," Gary said. "For a couple weeks, I was completely out of my mind. In fact, I got so out of control they had to wrap my hands in bandages."
As much as Gary appreciates Carle's Dr. Paul Tender and other medical professionals who aided him, he saves his highest praise for Debra.
"I say the doctors saved my life," Gary said, "but my wife here is the one that helped me survive."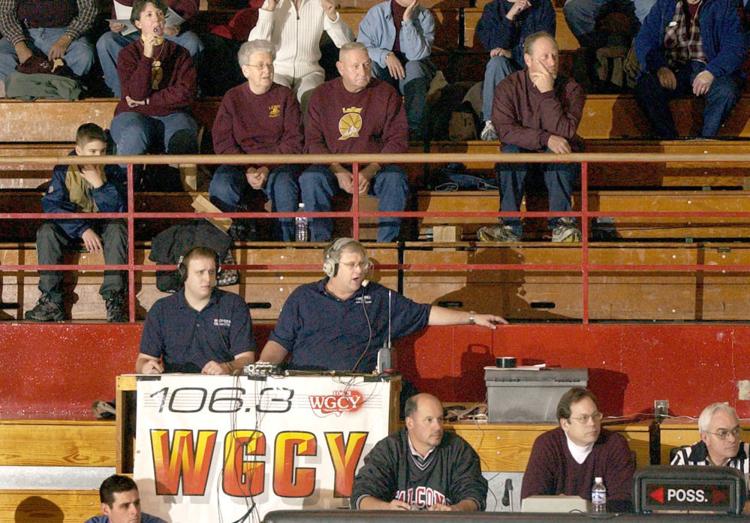 ★ ★ ★
The trio of Debra, Frank and Ashley took full control of WGCY with Gary out of commission, aided by a few part-time employees.
Ashley handled meetings with Frank's clients and produced on-air commercials. Frank stepped into Gary's morning role and assumed play-by-play duties during sports broadcasts.
"They grew up around it," Debra said. "Ashley was only 6 weeks old when the station went on the air, and Frank was 4 (years old)."
"I guess our kids were destined to be in radio — their initials are AM and FM," Gary added. "I didn't realize that for years and years."
In addition to making hospital trips and providing at-home care for Gary, Debra oversaw the entire radio operation.
"She always wanted to be the boss," Gary said with a smile, "so she had her opportunity."
"My biggest fear through the years was going to be what were we going to do down there if anything ever happened to Gary," Debra added. "And I was worried about it."
Turns out, they had no reason to be. Business went on as usual despite the other three McCulloughs balancing concern for Gary with their daily radio responsibilities.
"They just took over completely in my absence and didn't miss a beat and kept things rolling," Gary said. "That was the first time in 35 years that I missed probably more than a couple days of work."
Amid this discussion comes one particular point that causes Gary to choke up: Frank putting on the play-by-play headset for football with Tompkins as his color guy.
"I would sit home and listen to the games, and I was so proud," Gary said. "So proud of my son for stepping in like that. I didn't know he could do that, and he did and did a great job."
From Frank's perspective, he was prepared for the moment not only because of what he soaked up earning a degree at Parkland College.
"To be honest, everything, I've learned from (dad)," Frank said. "I still feel 95 percent of what I transmit over the air is a reflection of him and what I learned from him. Certainly it was scary at first, but you take the bull by the horns and do what you've got to do."
★ ★ ★
Another aspect of Gary's downtime causes tears to well up in his eyes. Same for Debra.
"Remember the day you came home from the hospital from the first heart attack?" Debra asked Gary. "The Gibson City High School cheerleaders met us out in the yard and did the school cheer for Gary."
This was just the beginning of a massive outpouring of support for Gary and the McCulloughs from the GCMS community.
It included moments such as all of the GCMS boys' basketball athletes fist-bumping Gary before the first game he attended when feeling well enough.
Such as a continuous flood of comments on the WGCY Facebook page, from friends and listeners wondering when they'd hear Gary on the air again.
Such as a stack of cards so high Gary's not sure he'll ever get to its base.
"The community support was just overwhelming," Frank said. "You don't realize sometimes how much someone is appreciated and, in this case, loved by the community ... until something like that occurs."
Both Gary and Frank heaped plenty of praise upon Allen and Tompkins for their frequent visits to check up on Gary.
"All those good things I say on the radio about them," Gary said, "I guess paid off."
When told about the appreciation, Allen's first reaction was, "That's Gary."
"To see him get better now, it's just amazing," Allen said, "and I was so relieved to have him back to himself. Feeling good, feeling full of energy."
"Seeing him for the first time (after Gary's cancer diagnosis), there were a lot of emotions," Tompkins added, "because of him being a great guy who has been by our side and supported us for a lot of things."
Gary's presence constantly was felt at GCMS sporting events even when he couldn't attend.
One example was Allen's football players wearing pieces of purple tape on their helmets, with Gary's initials inscribed on those strips.
It couldn't totally make up for the fact Gary didn't get to call either the second straight state championship for GCMS football in 2018 or GCMS boys' basketball making a run to the state tournament last March.
But it didn't go unnoticed by Gary. Just like Frank taking over at play-by-play. Like the cheerleaders offering an impromptu display at the McCulloughs' house.
Each gesture, bit by bit, took some of the sting out for Gary when he wasn't behind a microphone.
He's easing back into a routine, too. Gary plans to take a couple of the weekday morning shifts back from Frank and continue joining his son on GCMS basketball broadcasts.
Gary McCullough's radio history won't be defined by heart attacks or cancer.
And, as significant of speed bumps as those may have been, he's refusing to let them end his historic career.
"I just love it," Gary said. "As long as I enjoy it and people enjoy the broadcast, I can see doing it until that time."