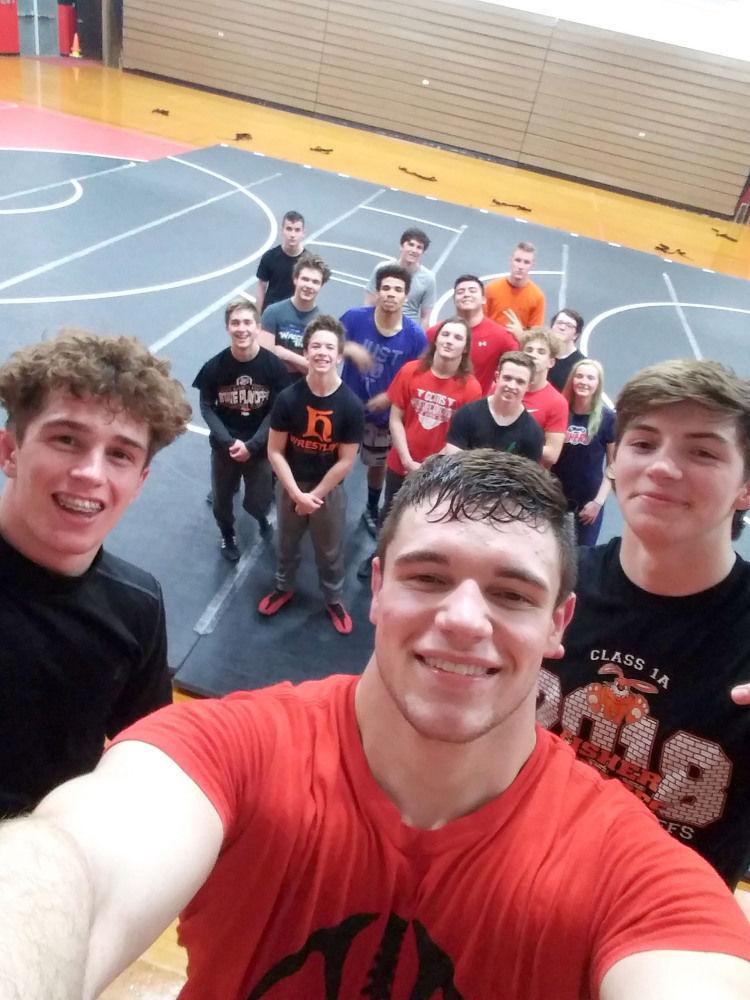 Cale Horsch, Payton Kean and Kaden Gream | GCMS/Fisher
Why they're co-Athletes of the Week: Horsch and Gream, two Fisher juniors, and Kean, a GCMS senior, propelled the Falcons' wrestling team to first place at the 12-team Argenta-Oreana Bomber Classic, titles at 126 pounds, 145 and 195.
From Horsch: "It was very important to the team to get the win at Argenta. The team went into the day knowing we had a shot to win the tournament, but we needed everybody to wrestle six hard minutes and the team did just that in every match. The three of us winning titles was huge in helping the team secure the win, especially since we were in second as a team going into the placing matches."
Gream needs tickets to see ... DaBaby, because he is my favorite artist.
If Kean could choose one superpower, it would be ... the Force, from "Star Wars."
The social media platform Horsch uses most is ... Snapchat, because it is so easy to use, plus all my friends have Snapchat, too. So it is super easy to talk to anyone I want to whenever I want.
Gream's biggest pet peeve is ... cutting weight.
Horsch's best wrestling memory is ... Being in the Grand March of the state finals my freshman year. It was an amazing experience to live, especially since my older brother was with me during the Grand March. That experience was everything I had dreamed of, besides losing in the finals and getting second.
Kean's most embarrassing wrestling memory is ... almost walking out on the mat with my singlet on backwards at a home meet.
Before a meet, Gream ... paces back and forth and then slaps his coaches' hands.
After a meet, Kean ... eats!
In five years, Horsch sees himself ... graduating college and ready to start my career as a vet or an athletic trainer, hopefully somewhere warm all year long like California or South Carolina.
Honorable mention: Wayne Bowns, Blue Ridge basketball; Mason Buckles, LeRoy basketball; Raef Burke, Westville basketball; Josh Delfino, Hoopeston Area basketball; Hugo Garza, Arcola basketball; Ben Gavel, Unity wrestling; Termarion Howard, Centennial basketball; Michael Miller, Arthur Christian School basketball; Khailieo Terry, Champaign Central basketball; Trey VanWinkle, Paxton-Buckley-Loda basketball.
Natalie Schroeder | Watseka girls' basketball 
Why she's Athlete of the Week: The junior erupted on the score sheet when the Warriors needed her most, hitting four three-pointers in the fourth quarter of a 44-36 win over Milford and finishing with 21 points. She went on to produce eight points in a victory over Tri-Point, seven points in a win at Iroquois West and 13 points in a win versus Fisher.
From Schroeder: "The first half of the game I only had three points, but the mindset was I can't stop shooting because obviously my team needs me. So I've got to keep playing my game, keep shooting, can't stop scoring. But once we found our groove, we started talking more and, in between the third and fourth quarters, we were like, 'We've got this.'"
I need tickets to see ... the Super Bowl. I like football probably out of all the sports because they still go hard in professional sports.
One movie I could watch over and over again is ... "Elf." It gets funnier every time.
If I could choose one superpower, it would be ... to fly, so I could go anywhere.
The social media platform I use most is ... Snapchat. That's probably most where I talk to people. It's easy.
My biggest pet peeve is ... when you tell somebody something and they don't listen the first time.
My best basketball memory is ... making it to the Sweet 16 last year. The energy in the gym and the whole (atmosphere) at the end. You just go all out every game toward the end.
My most embarrassing basketball memory is ... when my shoe fell off and I had to play defense for two or three possessions. Talk about trying not to slip.
Before a game ... I eat a Subway sandwich.
After a game ... I go home and just rest before I've go to do my homework.
In five years, I see myself ... graduating college and being in the medical field.
Honorable mention: Graycie Copsy, Cerro Gordo/Bement basketball; Bella Dudley, Tri-County basketball; Renni Fultz, Monticello basketball; Jenna Mozingo, Blue Ridge basketball; Lilly Null, Sullivan basketball; Savannah Oregeron, Mahomet-Seymour basketball; River Rosales, Ridgeview basketball; Marissa Russo, Tuscola basketball; Ali Watson, Hoopeston Area basketball; Taylor Wells, St. Joseph-Ogden basketball.