DANVILLE — It would be understandable if Gage Reed never wrestled after March 2, 2013.
That wasn't going to happen, though.
There's no getting past the reality. Gage's father, Jason Reed, died of a heart attack suffered that day at one of Gage's wrestling meets in Pontiac. Jason was 39 years old.
"He walked away after my match," Gage said, "and then I went up to the stands. And instantly, as soon as I got up there, I just heard people yelling at me, ... 'We've got to go, we've got to go.'"
Then a fourth-grader, Gage was off the mats for all of a week and a half, by his estimation.
"My first match was a little rough," Gage said. "Pretty sure I won it, and I think that's what made my mom so happy for me was because I won it."
Gage continues to make his mom Kristal happy in that way. Including last month with a Class 1A 113-pound state championship.
The News-Gazette All-Area Wrestler of the Year overcame issues that might normally arise in a season — academic struggles and issues making weight — to collect a 43-3 record and his first-ever state title.
What Gage battled through before his junior campaign with the Oakwood/Salt Fork wrestling program just makes his podium-topping performance all the more special.
"It's like full circle," Kristal said. "Everything finally came where we wanted it to be."
★ ★ ★
Both Mike Glosser and Vince Chambliss have known of Gage's wrestling prowess since his youth grappling days.
Glosser, Oakwood/Salt Fork's coach, in particular felt Gage could reach his current status one day. In fact, Glosser and Jason planned on it.
"We had this mapped out. We had it drawn out, everything we needed to do to get Gage to win a state championship," Glosser said. "And the day that (Jason) passed away, you never know how things are going to turn out or the way the story's going to get written."
Still, Glosser recognized as far back as when Gage was in second grade that "I had a little stud wrestler."
Chambliss, coach of the Storm Youth Wrestling Club on which Gage wrestled from age 10 through his junior high years, agreed.
"He had all the technical ability and fire at a young age," Chambliss said. "The brakes got thrown on there after the devastation."
Gage believes he wouldn't have started wresting at all had it not been for his late father, describing him as "probably the biggest influence that I ever had."
"All I remember is third grade, I literally came home and was just like, 'Mom, I'm going to wrestle,'" Gage said. "And my dad was so pumped to hear it."
Not necessarily because Jason had any wrestling background himself. It was just something different for him to oversee after helping his daughters in soccer and softball.
"When Gage first started, he had a lot of drive and was very competitive in the sport at a very young age," Kristal said. "That fueled his dad even more."
★ ★ ★
Everything changed after Jason's untimely death.
Gage didn't stop wrestling, but the adults around him noticed he was approaching the sport differently.
"It was a struggle after his dad passed away initially with wrestling for a few years," Kristal said. "I did not think he was going to stay with it. It was pretty rough."
Chambliss witnessed the same grappling ability that made Gage such an exciting prospect. The mental side of the sport was a different story.
"I knew we were walking on eggshells," Chambliss said. "The difference with Gage at that young age, he always worked hard and wrestled as hard as he could, but he lost a little bit of the burn to want to take it to the next step."
Glosser rose as a significant influence for Gage and Gage's younger sister, Payton, during this time. It was fitting since Glosser making an appearance at Gage's elementary school back in the day birthed Gage's wrestling love.
"He's basically my brother at this point," Gage said of Glosser.
"We needed Gage to know that, yes, you lost your number one. You lost your biggest fan," Glosser added. "But there's a lot of people in the world that still love you, and if you keep doing the right things you're going to have people getting your back for the rest of your life."
So Gage kept plugging along on the mats. He felt junior high was when he really started to rediscover his focus, even though he never placed at the Illinois Kids Wrestling Federation state meet.
"I was doing so much more offseason (work), but not compared to now," Gage said. "In junior high, my biggest goal was just to get to state."
★ ★ ★
Supporters like Kristal, Glosser and Chambliss saw a more concrete change in Gage come ninth grade.
And Gage acknowledges reaching high school gave him a boost when it came to wrestling.
"It was a whole completely different setup," Gage said. "Having Ren (Dazey, a 2018 Oakwood graduate) as a practice partner my entire freshman year is probably what helped me to get to this level."
Glosser quickly received an idea of just what Gage hoped to achieve on the prep stage.
"The first day Gage comes into practice, I asked him, 'What's your goal?'" Glosser said. "And he looked me right in the eyes and said, 'I'm going to be a state champ.' And this is something that we always knew back whenever we used to talk to his dad and we used to say that, but the way he looked me in the eyes and said it, it was like, 'All right, this kid might really believe it.'"
Kristal gives Glosser considerable credit for Gage harboring this mindset.
"That gave him a little bit of fire, knowing his late dad already had a plan with Glosser," Kristal said. "Even as Gage was younger in grade school, after his dad passed away, he would go to Glosser and speak to him, and he just helped him along the way emotionally through a lot of things."
Chambliss tried to help reignite the flame inside Gage as Gage prepared to move on from Storm Youth Wrestling Club.
"I kind of backed off a little bit (for a while), didn't ride him as hard as I did some other kids," Chambliss said. "Eighth-grade year, I had the mentality of, 'If I'm going to help this young man, I'm not going to (lay off).'"
At the end of the day, no one could motivate Gage more than Jason.
"I could tell him I got first place at a tournament last weekend, and he'd be picking me up, up and down," Gage said, "swinging me around just celebrating like there was no tomorrow.
"And I knew if I would've told him I won state, it would've been a whole ordeal. It's pretty cool to know that I can just play it out in my head and know what would happen."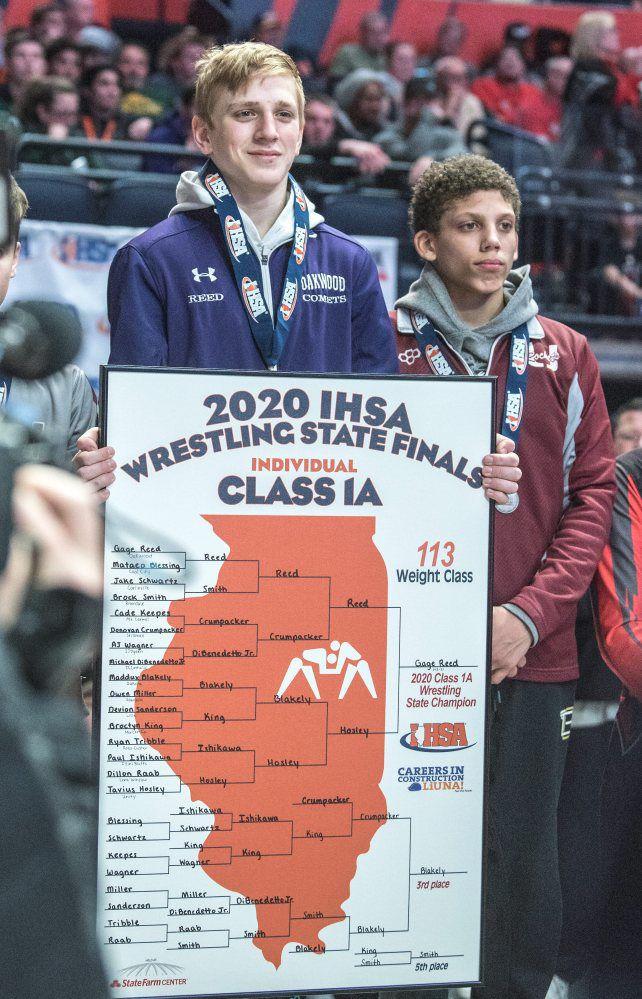 ★ ★ ★
Gage entered State Farm Center last month with the No. 1 seed in his 113 weight class in 1A and didn't let go. He faced challenges, such as a 4-2 sudden victory in the quarterfinals and a 3-0 championship match decision over Unity's Tavius Hosley, but Gage never buckled.
"I knew in my head that nobody was going to beat me," Gage said. "I knew that I was the best in my bracket. I knew that nobody there was going to stop me from getting my goal."
That didn't stop Kristal from being "a nervous wreck" all tournament long. But she and Gage's stepdad, Matt, worked out an interesting system with Gage.
"Gage and I did not text each other prior to matches, and we did not see each other prior to matches," Kristal said. "On the other hand, Matthew ... would talk to Gage, pump him up, all kinds of different text messages, just give him all kinds of different support to go out there and do what he needed to do.
"It was like, this is working so it's what we're going to keep it at."
Gage knows exactly the effect high-stakes matches have on his mom.
"She especially loves it when I call them close. That's probably her favorite part," Gage said sarcastically. "She gets so mad at me when I do that to her, especially at state. She's a little mad at me for that one."
No one in Gage's camp could be too upset once he wrapped up his inaugural state championship.
"The eruption out of our crowd right there was just outstanding," Chambliss said. "One of the IHSA videos has me and (Salt Fork freshman) Reef (Pacot) side by side, and I've got a picture of it — me and him are just screaming, hollering during Gage's match."
Glosser was going through a different range of emotions alongside O/SF assistant coach Bryce Ivey — another of Gage's listed wrestling influences — as the two sat matside for Gage's final with Hosley.
"There was six, seven seconds on the clock, and if you watch the video, my coach, he leans over and he kind of pats me on the leg," Glosser said. "It kept me calm. It kept me from really losing my cool or my emotions in the moment."
Glosser found time to let tears flow afterward. So did Gage and Kristal.
"It was overwhelming," Kristal said. "Gage finally said something to me late that evening after we were home and everything had kind of calmed down. ... Gage mentioned how proud his dad would be of him."
On a different level, Gage's outcome was even more gratifying because of what occurred early in the regular season, when Gage was nearly ineligible because of academic woes.
And because of what occurred Jan. 7, when O/SF took on Unity in a dual match.
"He missed weight," Glosser said. "I suspended him. I didn't let him wrestle a potential state final matchup (with Hosley) because he didn't do what he said he was going to do.
"You could tell that it broke his heart. He knew that he let us down. He let himself down. And it never happened again."
It's what Gage had to do to make sure he continue honoring Jason the correct way.
"If he was still here, probably would've been stuff broken at the State Farm Center because I know he would've been freaking out so much," Gage said, "and I know he would've loved that. I can just know that I've been keeping my promise to him."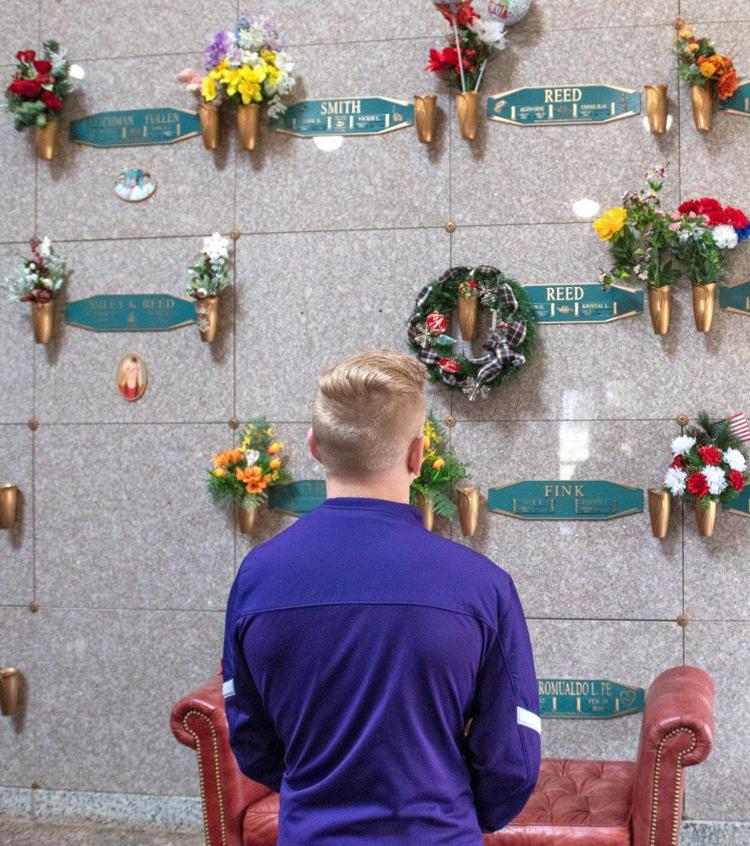 ★ ★ ★
Gage frequents the Danville-based Sunset Funeral Home Memorial Park — Jason's resting place.
"We come here every Fathers' Day. We come here every birthday," Gage said. "It's kind of hard for me with sports and stuff going on to come here as much as I want."
Asked what he discusses with Jason in these times, Gage pauses to collect himself.
"We kind of just touch base with him, I guess," Gage said. "Talk with him about what's going on and … what's going on with me, my parents, sisters. Especially my little sister, Payton, I always try to tell him everything that's going on with her because she's a little trouble."
Gage picked up the tradition of visiting Jason's resting place from one of his older sisters, Allyson. He also wanted to follow in her footsteps as it pertained to military service, with Allyson going into the Navy.
"I'm going to take a little step from that path," Gage said.
Wrestling is the reason.
"After winning state, I asked him, 'Is this still what you're wanting to do?'" Kristal said. "He said, 'Well, I think I may want to pursue some more wrestling,' because I think he's in that mindset now and more focused, and he knows what he can do. And I'm going to support him in anything he does."
Gage's support system is a centralized theme in any wrestling-related discussion. Sisters Cierra, Allyson and Payton. Mother Kristal and stepdad Matt. Coaches Glosser, Ivey and Chambliss.
And his father. Jason is never far from his heart.
"Without him, I don't think I would've gotten into it," Gage said. "I don't think I'd push as hard, and I don't even think I'd be here today without him."
Honor Roll: Past News-Gazette All-Area Wrestlers of the Year
YEAR ATHLETE SCHOOL
2020 Gage Reed Oakwood/Salt Fork
2019 Luke Luffman Urbana
2018 Justin Cardani Centennial
2017 Justin Cardani Centennial
2016 Wesley Kibler St. Joseph-Ogden
2015 Wesley Kibler St. Joseph-Ogden
2014 Josh Wallick GCMS/Fisher
2013 Cameron Mammen Urbana
2012 Austin Armetta Mahomet-Seymour
2011 Andy Hoselton Prairie Central
2010 Guy Kirby GCMS/Fisher
2009 Andrew Brewer Mahomet-Seymour
2008 Kyle Dooley Monticello
2007 Kyle Dooley Monticello
2006 Billy Gallo St. Joseph-Ogden
2005 Brian Lange GCMS/Fisher