Questions about Illini football? We've got answers
Before Illinois kicks off the season against Nebraska next Saturday, we asked nine different media types who cover the Illini their thoughts on Bret Bielema's program: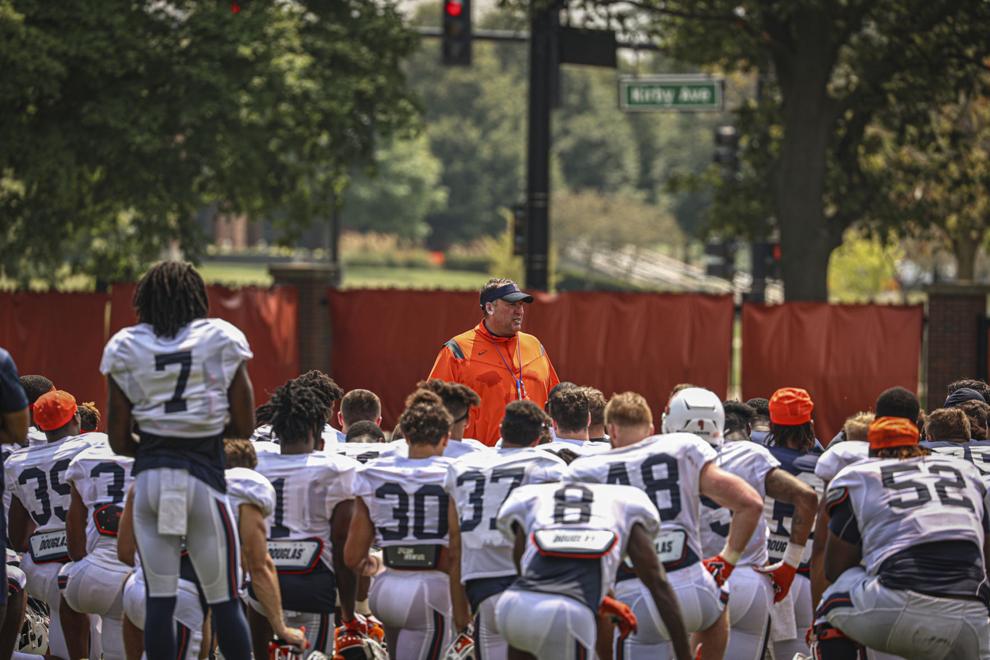 If Bret Bielema and the Illini are able to beat Nebraska in Week 0, what does that do for the program's national brand moving forward?
A win would be significant on a number of levels.
Illinois plays Nebraska every year, so beating them in Bielema's debut would give him and the program some immediate credibility within the West Division.
Also, this is by far the biggest game of Week 0, a unique showcase opportunity when people are craving college football and a normal season. I'm not sure we will get that entirely, but the sight of Illinois winning a game in its home stadium with fans on national television is about as perfect a debut as you can draw up for a program that has been struggling as long as Illinois has been.
You don't want to draw too much from one win or loss, but Bielema can begin to re-establish himself in a division he knows well and a league where he's won before.
And just with the math and the remaining schedule, a home win gets Illinois closer to a bowl appearance, which would qualify as success in Bielema's first year there.
— Adam Rittenberg, ESPN.com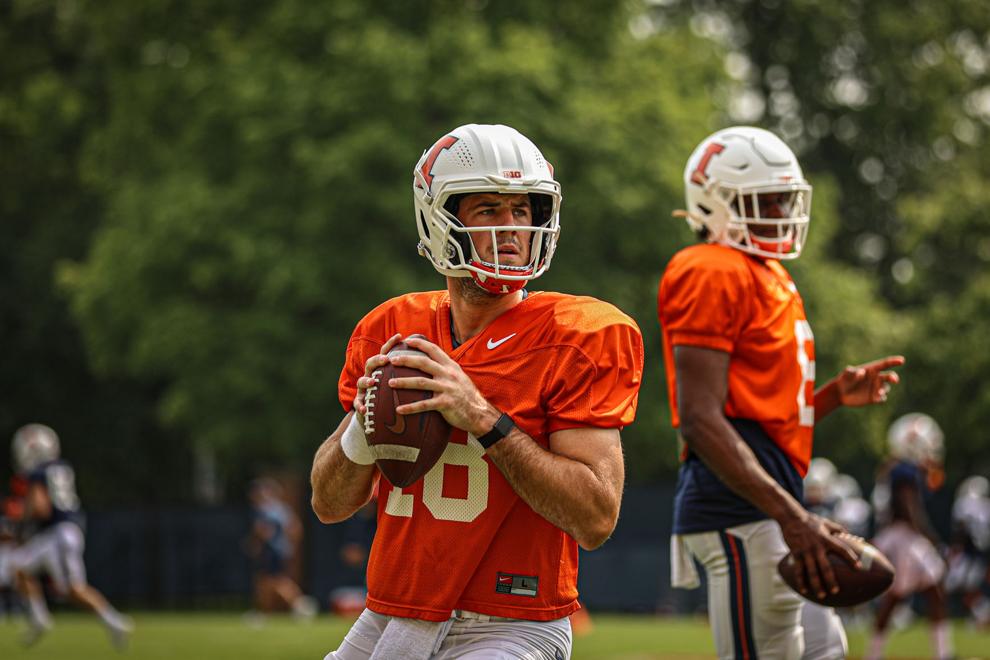 Fans can attend games again at Memorial Stadium. So what's one home game current Illini students should be fired up to attend this season?
The season opener against Nebraska on Aug. 28.
The main reason? The return of fans.
The Big Ten showdown marks the first time students and fans will be in attendance at Memorial Stadium since Nov. 30, 2019. The coronavirus pandemic robbed countless students around the country of that experience last season, and first-year Illini coach Bret Bielema expects a full house for his debut.
Illinois students should also be excited for Bielema himself, who had a lot of success when he was the head coach at another Big Ten school, Wisconsin. Bielema coached the Badgers from 2006-12 and won three straight Big Ten championships.
In the past, Bielema has excelled with a strong running game at Wisconsin and Arkansas, but he and the rest of the program have remained silent about what students and fans can expect this upcoming season, which simply adds to the anticipation. All of us can speculate about schemes and game plans, and I've even done my fair share as a sports reporter, but the truth is, nobody outside of the team truly knows.
What better way for students (and the rest of us) to find out than a Week 0 game against Nebraska?
— James Boyd, Decatur Herald & Review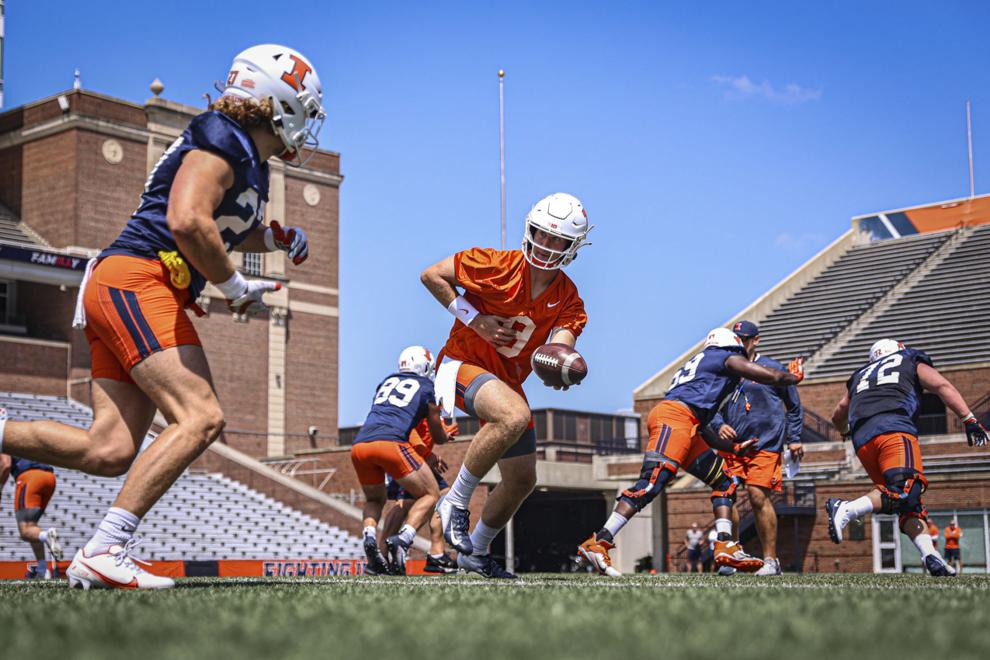 Brandon Peters: All-Big Ten quarterback this year or backup to Artur Sitkowski by mid-October?
I'd probably lean more towards possible All-Big Ten quarterback than being benched seven games into the season.
The reviews have been pretty good from the new coaching staff and Peters seems to be running with the opportunity in his final year of eligibility by embracing what he's being asked to do from a leadership standpoint.
It's hard for me to imagine a healthy Peters isn't starting for Illinois, and I know he's been inconsistent at times in his career. This offense probably fits his strengths a bit better as a pro-style passer who can make the throws he's asked to make within the offense.
Now, I'm not sure he's an All-Big Ten quarterback, either. I don't know if he's a quarterback who is in the top half of the Big Ten. In fact, he may not be.
But I think he can still be really serviceable and make some important throws on this team. I just don't see him getting benched unless it's a total disaster, which sounds like an unlikely scenario.
It might be worth looking at last year, given the time he missed with COVID-19 and Isaiah Williams' skills clearly being a better fit for the old system, with a grain of salt. His whole year was interrupted really before it began. He was lackluster against Wisconsin in the opener (8 of 19 for 87 yards) but may have turned in the best performance as an Illini (18 of 25 for 205 yards) when he returned against Nebraska; that form just never came back.
With the job seemingly his to lose and (hopefully) a more normal season, I think he does enough to keep the starting job all season.
— Joey Wagner, 247sports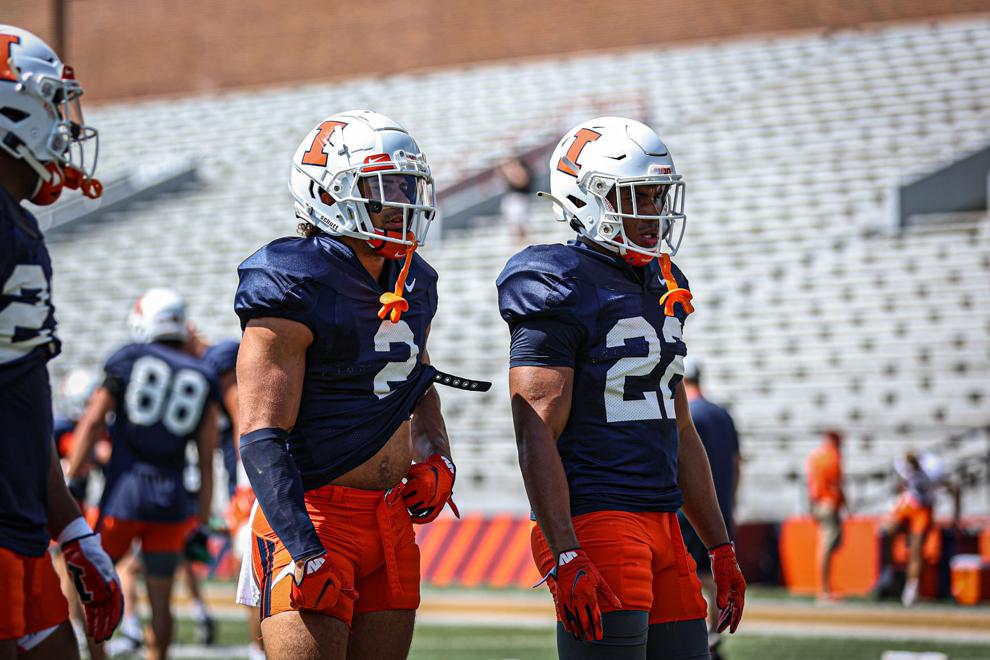 Transfers litter Bret Bielema's first roster at Illinois. Who is one newcomer Bielema has added that you're intrigued to see?
While there will be a large group of newcomers suiting up in the Orange and Blue this fall, I'm most intrigued to see what running back Chase Hayden will provide to the Illini backfield.
Illini fans got their first glimpse of what Hayden can do on the field during the spring game, as he broke a 27-yard touchdown run weaving through a sea of defenders.
A run that provided even more excitement to what the offense can do on Saturdays this fall.
Bret Bielema has coached his fair share of NFL running backs, including Montee Ball, James White and Melvin Gordon. During Hayden's freshman season at Arkansas, Bielema thought: "He could have been one of the more significant (running backs) I had."
While his college career hasn't panned out the way it initially appeared, both are happy to have reunited four years later. Both Bielema and offensive coordinator Tony Petersen have had long careers successfully running the football, and the running-back room seems ready to take advantage of the opportunities.
Hayden is currently taking reps behind likely starter Chase Brown, but Brown, Hayden and redshirt freshman Reggie Love should all see plenty of reps and touches this season. Don't forget about Mike Epstein, either.
The history of the coaching staff, coupled with a potential starting offensive line that brings 179 career collegiate starts back, should help get the ground game out to immediate success, with Hayden sure to see his fair share of touches every week.
— Nico Haeflinger, WCCU (FOX) and WICS (ABC) sports director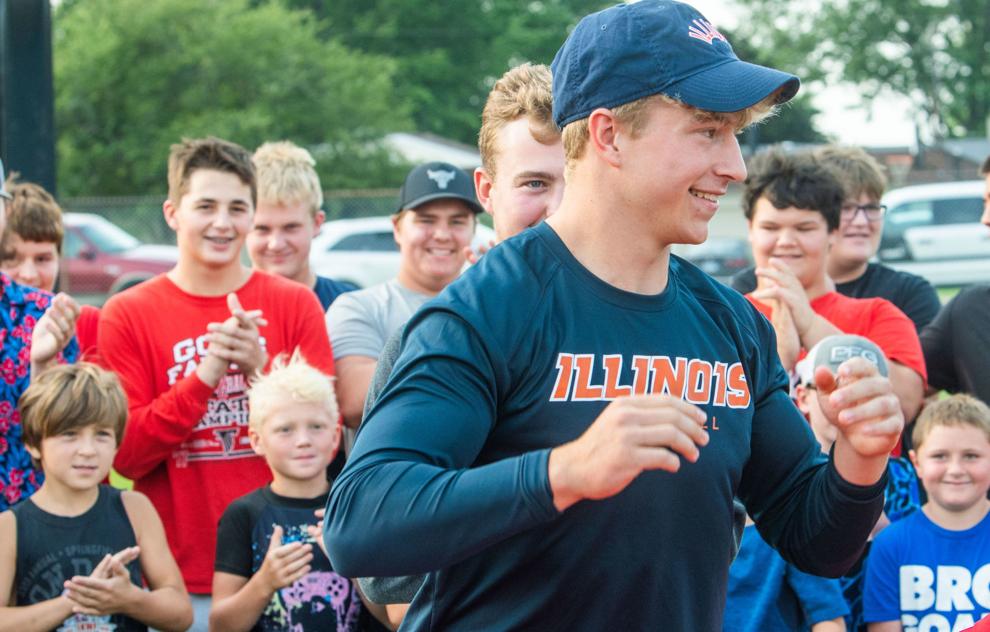 Recruiting. Recruiting. Recruiting. What are your impressions of how  Bret Bielema has gone about this since his hiring and what are your  expectations for the 2022 class when it's all signed, sealed and delivered?
Recruiting under Bret Bielema has gone just about the way I expected — which isn't a bad thing. Bielema and his staff certainly have given a jolt of enthusiasm and energy on the recruiting trail for Illinois football. Unlike Lovie Smith's staff, this is an experienced college football staff that knows how to play and succeed at the modern recruiting game.
The staff has made huge strides with in-state recruiting, winning Power Five battles for running back Aidan Laughery, wide receiver Eian Pugh and outside linebacker Jared Badie. While they haven't landed a top-10 in-state prospect in the Class of 2022, they've added eight prospects ranked between Nos. 10-30 in the state — a sweet spot for Illinois and one Smith struggled to land. Bielema unsurprisingly has done well to land physical offensive linemen, tight ends and running backs, and the staff added four wideouts so far.
That said, there is just one top-500 prospect in this class, three-star IMG Academy wideout Shawn Miller out of Florida, and the Illini are struggling to land a four-star headliner. That's not all too surprising given the Illini's on-field struggles for more than a decade. Illinois also has just two defensive commits in the Class of 2022 and has needs to address on the defensive line and in the secondary.
This is going to likely be a development program, but the good news is that Bielema succeeded doing that in the Big Ten not too long ago. Wisconsin never signed a top-30 class under Bielema and still won three Big Ten championships. Illinois has signed just three top-50 classes since 2010, and Bielema's first class has a solid shot to be the fourth. His first class at Illinois seems a small step in the right direction, but the true evaluation will come in three or four years when these prospects are upperclassmen.
— Jeremy Werner, 247sports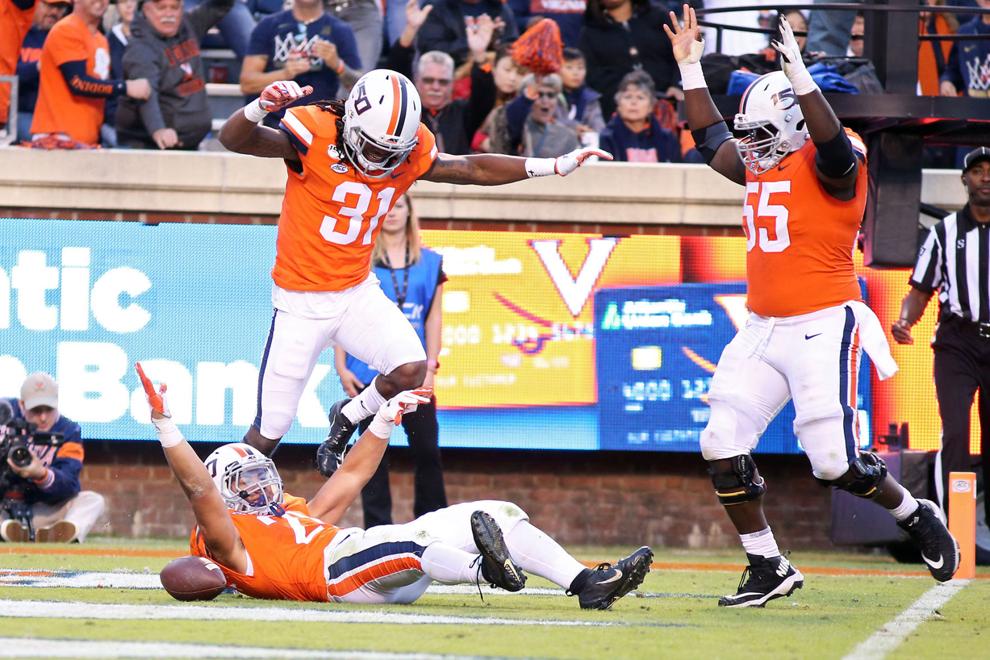 With road games in 2021 hopefully looking like road games pre-pandemic, how important is the first one this season at Virginia?
It will certainly be good to see fans back in the stadiums for college football in 2021.
The game at Virginia on Sept. 11 represents the first game away from Memorial Stadium for Bret Bielema's Illini. That, in itself, makes it one to highlight on the schedule. Four Big Ten road games will follow.
Illinois is likely to be a slight underdog against Bronco Mendenhall's Cavaliers, a team that went 5-5 last season before opting out of a bowl invitation. Each of Virginia's five wins last season came at home, including a victory over 15th-ranked North Carolina.
Illinois went 2-6 during the pandemic 2020 season. The highlight of the season was a win over Nebraska in Lincoln. So Bielema has some guys who know what it feels like to win away from Memorial Stadium's Zuppke Field.
Road games this season will feel more like normal with fans in the stands. The fact that Illinois has 22 super-seniors and other experienced players might put the Illini in position to better handle the underdog on the road situation.
The trip to Virginia in Week 3 should offer an indicator of how the Illini might handle later trips to Purdue, Penn State, Minnesota and Iowa. A road win or two would certainly enhance the Illinois goal of qualifying for a bowl game.
— Steve Kelly, WDWS 1400-AM/WHMS 97.5-FM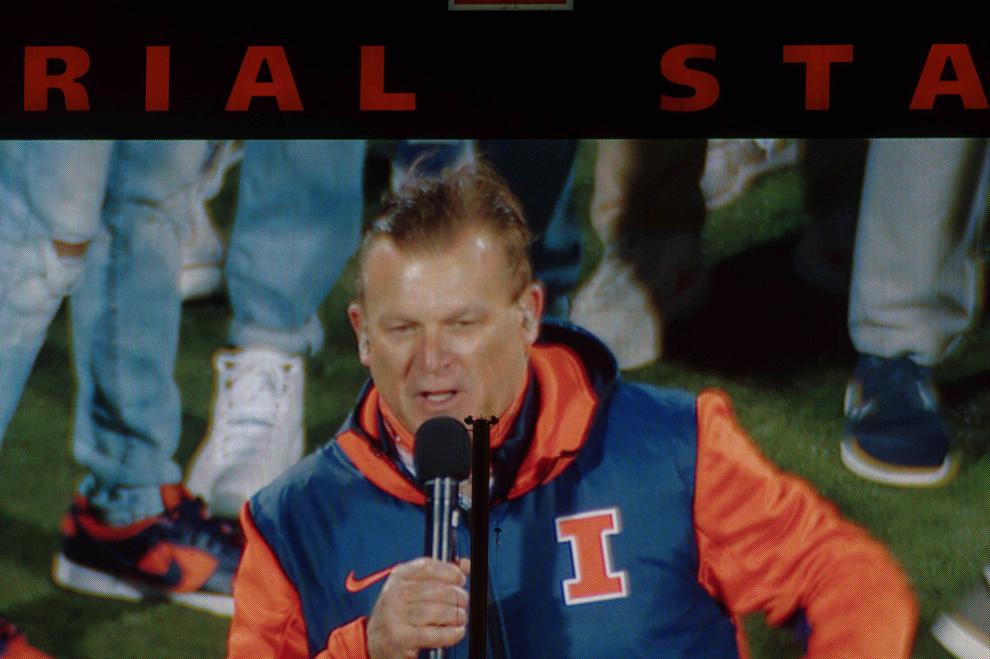 By the time November rolls around, should Illini fans expect to make plans for a bowl trip or focus solely on Brad Underwood's basketball team?
The Illini are in a good spot to rack up some wins early in the season, but they'll need to pull some upsets this year if they want to go bowling.
Getting to five wins before November is possible, but they have a tough stretch to end the regular season with Minnesota and Iowa on the road
I think this final stretch will have big implications for their bowl eligibility this year, which could make for an exciting month for the program.
Illinois basketball is getting back their National Player of the Year candidate in Kofi Cockburn, so Brad Underwood's squad should be expected to play through March. There's plenty of time for basketball, so don't give up on Illinois football in November. They could surprise us with a trip to a bowl game.
— Marlee Wierda, WCIA (CBS) sports REPORTER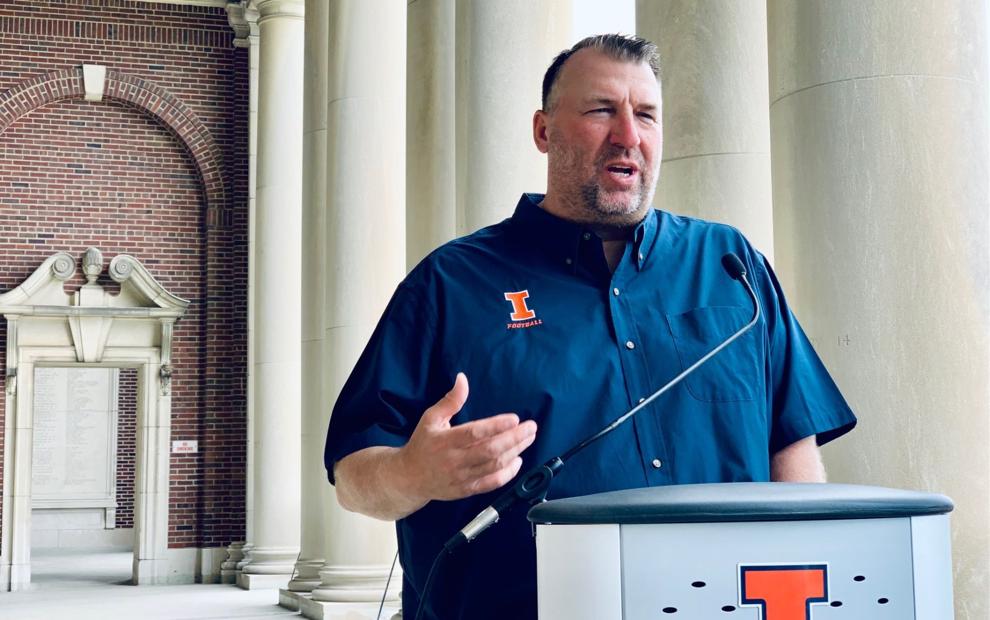 When Bret Bielema stands behind a podium, he handles media questions differently than his  predecessor, Lovie Smith. How does this play in Peoria and does it even matter?
I have to admit. I was a doubter when the Illini hired Bret Bielema. I remembered Bielema as the Wisconsin coach who ran up the score on other teams. At his introductory press conference, I asked him about his reputation as an arrogant, cocky and full-of-it coach at Wisconsin. I was caught off guard when Bielema started his answer with, "Well, you know, Jim, it's a great question, and we all grow."
Bielema's answer about growing as a man and coach impressed me and so, too, did his response that he never wanted to be adversarial toward a question and rather wanted to hear and listen. Adversarial pretty much describes the local media's relationship with previous Illinois coach Lovie Smith. Personally, I had remarkable respect for Smith, the man and the coach. But I never felt like Smith embraced his job as the Illini's coach, nor his dealings with the Illini media. He was short with his responses and often seemed bothered to even be taking questions from the media.
Two weeks after getting the Illini job, Bielema joined me via phone on my Saturday morning ESPN Peoria radio show.
Just before we went on the air, Bielema asked me how long the interview would take. I said likely 8-10 minutes if that was OK. He said, "I have you blocked for half an hour so take your time." I was shocked.
Does a 30-minute interview on Peoria radio help Illinois win football games? No. Does it help recruit Peoria area athletes? Probably not.
Does it show Peoria area Illini fans that their coach is not just media-friendly, but cares about sharing his Illini plan and vision with the entire state? Absolutely.
Illini fans in the Peoria area are counting down the days until the season opener versus Nebraska. They feel they have a coach now who cares about the state and wants a winner for Illinois. That is a message Bielema has effectively spread through the Illinois media for the last eight months.
— Jim Mattson, WEEK (NBC) sports director in Peoria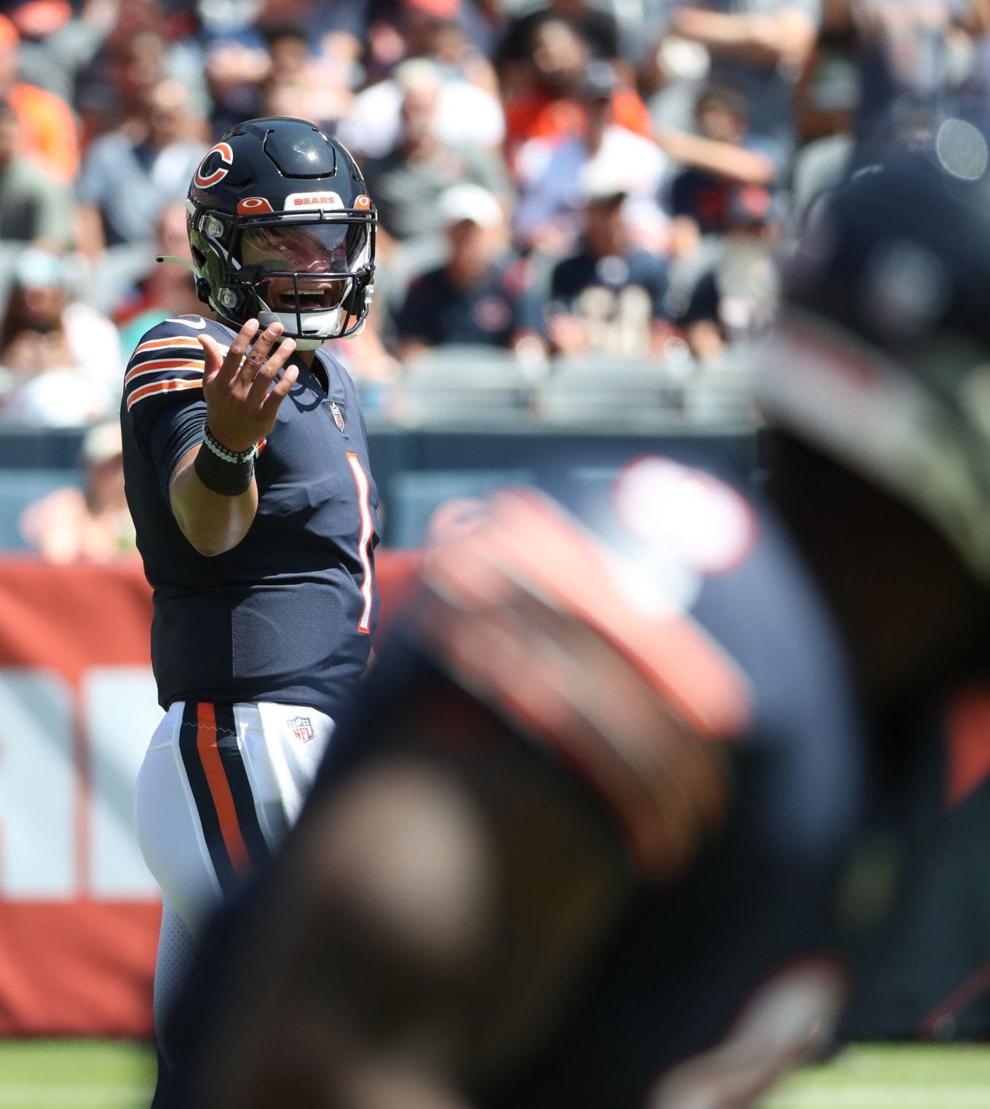 When Chicago sports fans aren't wondering when Justin Fields will start for the Bears or whether Tony La Russa can lead the White Sox to a World Series title, what do the Illini need to do in order to generate a bit of buzz in Chicago?
Just win, fellas. And not a little. Get into the Top 25. Contend in the Big Ten West.
This stuff is obvious, but there's no road to meaningful buzz in Chicago without it.
That was easier than the truth, which is that I lived in a different state from 2000 to 2017 and probably don't have the best handle on the dynamic between Illini football and sports fans in Chicago. Frankly, the relationship disappoints and somewhat baffles me.
That might be because I'm a college football kind of guy in a decidedly NFL — and pro sports — town. There doesn't seem to be frustration here when the Illini are bad, which is the prevailing sentiment in lean times wherever the college game is king.
Instead, the Illini fall on the pay-no-mind list. I'm speaking generally, but Chicago has a way of utterly tuning out college football and basketball teams that lose. It's going to take a lot to bridge that divide.
It has nothing to do with Northwestern, either. A common mistake I see many Illini fans make is assuming the Chicago media favor the Wildcats over the Illini. Sit in the Ryan Field press box on any given Saturday, and you'll learn how untrue that is. Northwestern wins — not always — and lives on the pay-no-mind-list here.
Another fallacy, perhaps illuminating, perhaps not, came in March as Illinois and Loyola headed each other's way in basketball. I noticed much talk from Illini fans — yes, on social media, which is its own strange animal — that "Chicago" wanted to see the Ramblers win. Really, I think people here who enjoy basketball and the NCAA tournament were interested in both teams. But Illinois more so; there are more Illini fans here than there are Ramblers and Wildcats fans put together, and by a wide margin. Maybe in some respects, Illini fans have to get out of their own way a bit.
But for football to move the needle here, it's going to take lots of big games over the course of more than one season. It's a big ask.
Can Bret Bielema pull it off? That's the bigger question.
— Steve Greenberg, Chicago Sun-Times