Quick hits | Maryland 20, Illinois 17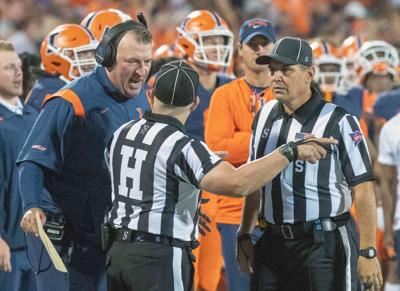 What happened
Illinois gave Maryland enough time to score — twice — in the final five minutes of Friday night's game at Memorial Stadium, and the Terrapins took advantage. One drive ended in a touchdown. The other in a 32-yard field goal by Joseph Petrino as time expired to give Maryland the come-from-behind victory and push the Illini's losing streak to three.
What it means
Losing to Maryland might have cost Illinois more when it comes to how the fan base perceives the program than either of the losses in the two preceding weeks. It might have been just a three-point defeat, but crumbling in the closing minutes on offense (for sure) and defense (they got hung out to dry) finished killing the momentum from that Week 0 win against Nebraska.
What's next
Illinois (1-3, 1-1 Big Ten) will continue conference play on the road at Purdue. Another one of those "winnable" games when projecting out the season before it started, the Illini have dug themselves a hole in what is objectively the easier half of their schedule. Losing in West Lafayette, Ind., could be a final blow at any hopes of the Bret Bielema era starting with a winning season.
What was said
"We're two games into the Big Ten season, and believe me I wish we had a win today, but you can't force the process. You can't get them to learn anything they haven't learned, and as coaches as well, there's things we need to go through to understand better. I think to stick to the message is exactly what we want to do, not change it." — Illinois coach Bret Bielema
Scott Richey is a reporter covering college basketball at The News-Gazette. His email is srichey@news-gazette.com, and you can follow him on Twitter (@srrichey).