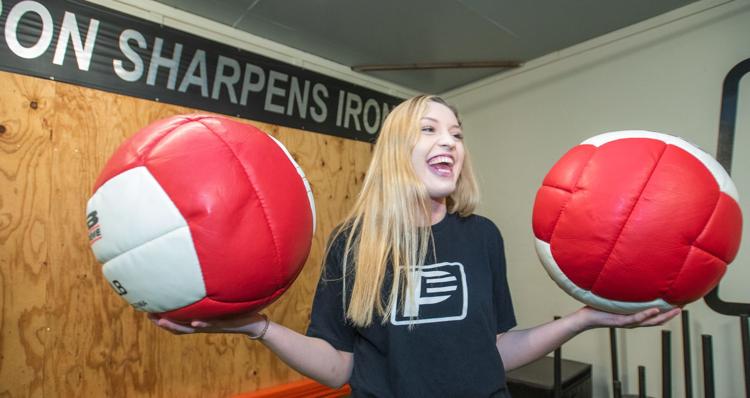 CHAMPAIGN — Allie Trame is present at the Perform Every Day fitness center, even if the St. Thomas More senior isn't physically inside the building.
The Champaign-based complex's owner, Joe Yager, clips out local newspaper articles featuring his high school and college athletes.
Trame appears multiple times in the large cluster of ink, her smiling face taped to a wall inside one of several training rooms. It's a by-product of her first three impressive years with the Sabers volleyball program, which generated two state trophies and a News-Gazette All-Area Player of the Year honor in 2018.
"This gym is just like a big family," Trame said. "It's ... just a place where you can come in and you can trust everything that's said here. Just kind of a place to get away from things if things are hard in life."
Trame's newsprint presence at the facility will grow, too, because the 6-foot-2 middle blocker is our repeat All-Area volleyball Player of the Year based on her impressive 2019 season.
The recent University of Alabama signee provided valuable leadership as STM's lone senior amid a coaching change and required move up to Class 3A postseason competition.
Trame compiled nearly 3 1/2 kills per set and guided the Sabers to a 35-win campaign and 3A regional championship, adding one last piece of hardware to STM's haul during her tenure.
"It honestly still feels so surreal," Trame said. "It doesn't really feel like I'm a senior. (Monday) was my last full day of classes. ... I guess it hasn't really sunk in yet that I'm going to be done."
★ ★ ★
"Done," of course, just applies to high school volleyball.
Trame is far from finished in her sport of choice.
She'll spend roughly six months focused entirely on preparing for Division I volleyball with the Crimson Tide after graduating from STM mid-semester.
"Just becoming stronger, first of all (is key)," Trame said. "Also, just focusing on getting better at one small thing every day during practice.
"I think that's really big, instead of thinking about, 'Oh, I need to get better at these 10 things.' Kind of breaking it down and thinking, 'OK, today I'm going to work on this little thing in my blocking or this specific thing when I'm hitting.'"
Trame was pretty good at both of those with the Sabers, tossing in nearly a block per set as a senior to go with a 3.46 kills average.
That said, for as good as Illini Prairie Conference volleyball was in 2019, comparing it to what transpires in Alabama's league — the SEC — would be an apples-and-oranges deal.
Trame knows this. She recognizes "it's going to be a lot more intense."
Perform Every Day, she contends, will make that adjustment significantly easier.
Trame's worked out there for about two years, directed to the establishment by former STM volleyball players such as Olivia Nogle and Kennedy Smith.
Yager's business brings in plenty of high-achieving young adults from across the area. Like Trame and her younger Saber pals — Caroline Kerr, Anna McClure and Maci Walters.
Like Champaign Central senior Connor Milton, a University of Illinois baseball signee. And like current minor-league baseball players Jeff Lindgren, Jake Snider, Joe Aeilts and Alec Barger, all of whom have Champaign ties.
"We really push each other, and we look out for each other," Trame said, "whether it's the volleyball girls or the baseball guys or all of us together."
That might result in playful, competitive banter between the STM crew and other local prep volleyball players, primarily from Central. It also might bring out an impromptu volleyball game among all attendees after a workout is complete.
At the core of Trame's time inside Perform Every Day, though, is the desire to be the best athletic version of herself.
"Working out here has made me a lot stronger, physically and mentally," she said. "Coach Yager's big on having a lot of core strength and not doing too many weights until you're strong enough. So I just think kind of slowly building that and getting the base things ... really helped a lot."
★ ★ ★
Trame's last run with the Sabers in 2019 featured several key differences from the previous ones.
The easiest to identify was Trame being the only senior on the roster, following the graduation of a three-senior group that included starters Kayla Brandon and Haley Elam.
"I (had) so many great girls that were leading me as I was starting high school that I just kind of took after them, and they just really showed me what it was like to be a leader," Trame said. "That made it really easy to help lead these girls."
There was another aspect to this interesting dynamic that Trame enjoyed.
"They're so much fun to be around," Trame said of the all-underclassman unit that surrounded her. "We're such great friends that it's not really like one person is leading the whole team. It's just like everyone's leading and everyone's doing the right things. That's always really nice."
Simultaneously, there was the transition from Stan Bergman to Kelly McClure roaming the sideline, as well as the aforementioned move to Class 3A caused by the IHSA success factor.
McClure being a former college volleyball player herself at Illinois also benefited Trame in that McClure could suggest points of emphasis for Trame as she entered the beginning stages of readying for Alabama.
Not that Trame had eyes only for what lay ahead.
"It wasn't just about me going to Alabama," Trame said. "By doing these things I was helping the team and really focusing on helping everyone, not just focusing on helping myself."
That meant Trame, as has been the case in years past, was the imposing force at the net who could aggressively swat the ball to the floor or throw her hands up to knock down a foe's attack.
Amid all the change around her, Trame stuck with her style.
It pushed STM within one victory of the Sweet 16 in 3A. Assisted the Sabers in losing only to Tri-Valley and Rochester (twice) throughout the season, at one stage rattling off 22-match win streak.
Was the cumulative result another state championship, as in Trame's sophomore season of 2017?
No, but that wasn't the end of the world.
"I just focused on helping our team be the best we could be and just having fun," Trame said, "because, in the end, there's always going to be a winner, always going to be a loser, and as long as we knew we were giving our best and we were having fun doing it, then there's no regrets."
Honor Roll: Past News-Gazette All-Area volleyball Players of the Year
YEAR    ATHLETE    SCHOOL
2019    Allie Trame    St. Thomas More
2018    Allie Trame    St. Thomas More
2017    Mica Allison    St. Thomas More
2016    Kylie Michael    St. Joseph-Ogden
2015    Kylie Michael    St. Joseph-Ogden
2014    Lexi Wallen    St. Thomas More
2013    Lizzy Barnard    Unity
2012    Lauren Cloyd    Centennial
2011    Mariah Coleman    Heritage
2010    Morgan Leach    Centennial
2009    Cori Harris    Centennial
2008    Alexis Braghini    Centennial
2007    Lucy Coleman    Monticello
2006    Ali Omahen    Schlarman
2005    Kylie McCulley    Clinton
2004    Kylie McCulley    Clinton
2003    Amber McKean    CPCI
2002    Melissa David    Champaign Central
2001    Carly Hill    Monticello
2000    Carly Hill    Monticello
1999    Julie Leman    Champaign Central
1998    Jenn Rousey    Champaign Central
1997    Kate Hill    Monticello
1996    Heather Wilson    Rantoul
1995    Amanda Ennis    Champaign Central
1994    Sigele Overstreet    Champaign Central
1993    Lori Greenwood    Champaign Central
1992    Missy Erixon    Tuscola
1991    Missy Erixon    Tuscola
1990    Melanie Ward    Prairie Central
1989    Jane Prasse    Hoopeston-East Lynn
1988    Mindy Thompson    Shiloh
1987    Jill Doty    Hoopeston-East Lynn