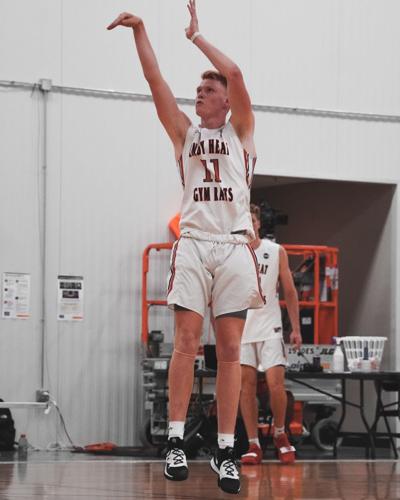 CHAMPAIGN — A brief smile crossed Brad Underwood's face when he was asked about the value of Luke Goode being pressed into point guard duty as a high school junior. And what value it might add to his game.
The Illinois coach appreciates a versatile skill set. When that skill set includes high-level passing? Underwood is even more intrigued.
Full disclosure: That was my question during Wednesday afternoon's Zoom call to discuss Goode signing his National Letter of Intent to play for Illinois starting with the 2021-22 season.
Goode's junior season at Fort Wayne (Ind.) Homestead was intriguing because of the series of events that put the ball in his hands even more than usual. Really, it was just one event. An injury to Zak Krueger, the Spartans' starting point guard, that sidelined him in the second half of the season and put the ball in Goode's hands even more than expected.
Goode still managed to improve as a score during the 2019-20 season, but his growth came as a ball handler and a passer as he learned to run an offense on the fly.
"He's so multi-dimensional," Underwood said. "He's an elite passer no matter where you put him. It was a different role because he became maybe a little more facilitator than scorer. He's a guy that attracts a lot of attention because of his ability to shoot the basketball. To grow your game being able to play the point guard spot is going to do nothing but help him in his future plans as he moves to the collegiate level."
Goode at the point, though, wasn't what Homestead coach Chris Johnson wanted in the second half of the 2019-20 season. Krueger's ability to penetrate and get to the basket meant opposing defenses couldn't over help on Goode. They had to contend with that dribble drive action.
"It really hurt us," Johnson said. "The kid that went down for us is an impact point guard. We were expecting big things. He had a great junior year."
Still, Johnson said Goode handled his shifting role with grace. Goode wound up averaging 17.6 points, 7.2 rebounds and 3.1 assists. All were improvements from his sophomore season. They just maybe didn't improve as much as they could have had Goode not been tasked with running Homestead's offense in the final month-plus of the season.
"Did it help him last year with his numbers? I'd say no," Johnson said.
The benefit of hindsight, though, is Goode does see how adapting as a point guard helped his overall game. It taught him how to get his teammates open. He learned how to run an offense. His ball handling and overall decision-making are now both improved.
"At the point guard position, the focus should be distributing the ball and make more passes and handle the ball rather than putting up big scoring numbers," Goode said. "Just putting it all together and being able to play my normal position again will be very beneficial to my game."
That's the plan at Homestead for the 2020-21 season. If it goes off as scheduled, of course, during the ongoing COVID-19 pandemic. Goode won't be running the point anymore.
"I'll be making a lot of different plays," he said. "Instead of bringing it up the floor, I'll have the ball out of my hands so I'll be able to move off of screens and move without the ball. Being on different spots on the floor and the opportunities I have with the ball will be a lot different."
Opposing defenses won't be able to focus all their attention on the 6-foot-7, 200-pound future Illini either. The Spartans got an infusion of talent when three-star junior guard Fletcher Loyer — the younger brother of Michigan State guard Foster Loyer — moved from Clarkston, Mich., to Fort Wayne. Loyer is another legitimate option, having averaged 23 points, four assists and four rebounds as a sophomore in Michigan. Goode and Loyer also played together this summer with the Indy Heat.
Expectations are high at Homestead. High enough that a state title — like the one the Spartans won six years ago behind Caleb Swanigan and Jordan Geist — is the goal.
"We have all the tools," Johnson said. "We have the talent."
Goode will be the centerpiece of that potential state title run. Back in his normal position, but with added depth to his game after being pressed into playing point guard.
"He's going to work extremely hard to do whatever he possibly can to put us in a position to be successful," Johnson said. "As a coach, that's rewarding. You want kids to have the 'we' attitude rather than the 'me' attitude. That's what he's going to continue to do for us this year.
"Any time you have to handle the basketball, it's going to make you better. It's going to make you mentally stronger and tougher. I think that will help him at the next level. … This year with the kids we have back and a couple move-ins, it's going to make him that much better because he's taken off that point guard role."
Scott Richey is a reporter covering college basketball at The News-Gazette. His email is srichey@news-gazette.com, and you can follow him on Twitter (@srrichey).