Separated by state line, Illinois and Indiana take different prep football paths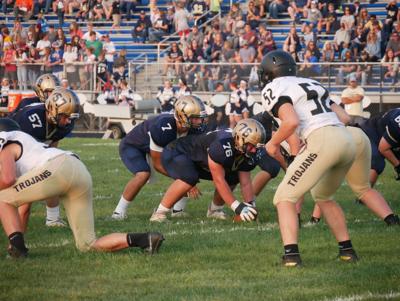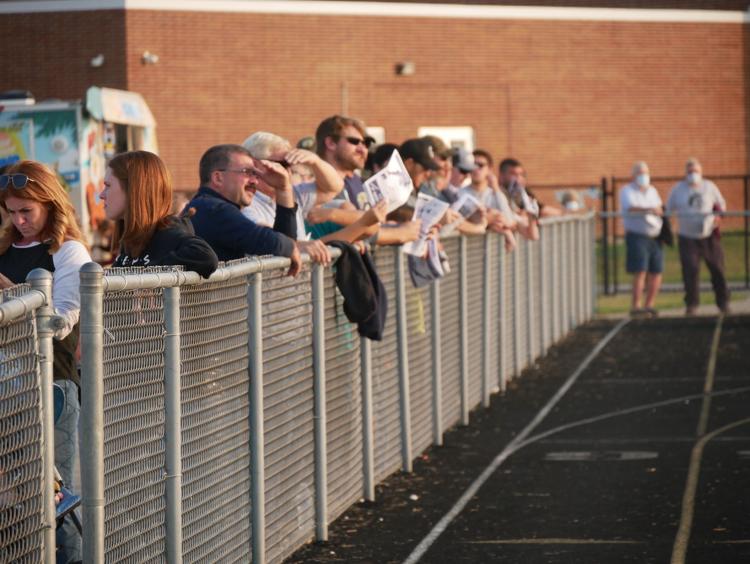 The Friday night lights are shining bright across the Midwest these days.
In Indiana. In Iowa. In Kentucky. In Missouri. In Ohio. In Wisconsin. And very soon in Michigan.
High school football currently is taking place in nearly all of these states, with Michigan set to begin Friday after its fall season initially was tabled in response to the COVID-19 pandemic.
Then there's Illinois.
Barring a Michigan-style reversal by Illinois officials — both within state offices and the IHSA — the Friday night lights will remain shut off until early March.
IHSA Executive Director Craig Anderson announced Friday that he's issued a letter to Gov. J.B. Pritzker and Deputy Gov. Jesse Ruiz seeking permission for the IHSA and its Sports Medicine Advisory Committee to regain control of "determining the resumption of IHSA sports and activities."
But even that couldn't totally rouse the hopes of football fans, as Anderson also said no discussions have taken place about resuming postponed sports.
Illinois, for lack of a better term, is in a bubble when it comes to fall football in the year 2020.
"You see every state around us in a certain mile radius playing football," Villa Grove/Heritage coach Heath Wilson said. "I'm hoping every day I'm going to hear something that says, 'Hey, you can start next week.' ... I don't know if that's even going to be possible."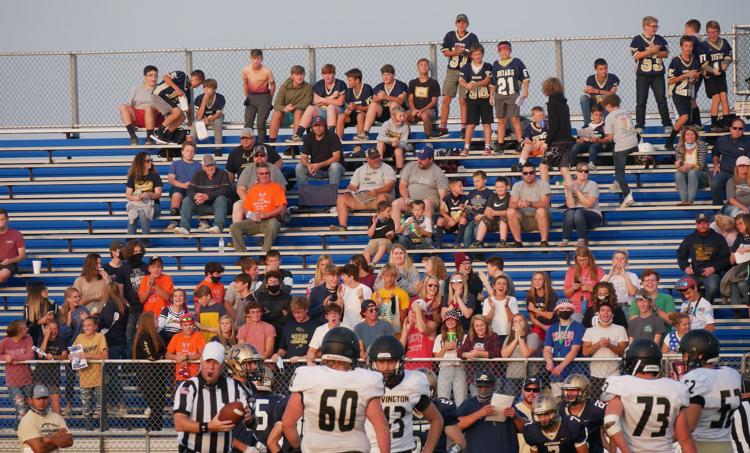 ***
Those associated with the Fountain Central football program were wondering not long ago if they'd get to experience a fall football season.
Fountain Central High includes 306 students and is located in Veedersburg, Ind., about 25 miles from Danville.
The first two contests on the Mustangs' 2020 football slate were wiped out by COVID-19 concerns — for their opponent Week 1 and for themselves Week 2.
"It's crazy how many messages come across the board of people looking for football games right now," Fountain Central athletic director Jason Good said. "Right around Wednesday, we start getting all these cancellations and people looking for games. We're seeing matchups in our state that haven't happened in some cases ever."
The Mustangs finally engaged in a season-opening kickoff on Sept. 5, when they visited Frontier in Chalmers, Ind., and lost 32-18. On Friday, Fountain Central hosted rival Covington. The Trojans' first three weeks were unimpeded
"You're almost on pins and needles because Fountain Central had a case of COVID," said Mustangs baseball coach Adam Acton, whose son is a freshman on the Fountain Central football team. "It's almost like a relief when you see the players on the field and it's like, 'Hey, it's probably going to be played.'"
***
Eric Stalter can't recall a year in his life in which he had to worry whether high school football would be played around him.
The 1987 Fisher graduate spent four seasons with the Bunnies' football program. His dad, brother, stepsons and nephews played at the high school level. Stalter has been a member of Fisher's chain gang for 25 years.
"A little devastated," Stalter said of his reaction to July's IHSA Board of Directors decision that moved football from fall to spring.
"It was such up in the air of just the difference that the different states were taking with this."
Stalter, Fisher National Bank's community president and CFO, said he appreciates a desire to keep people safe amid the pandemic but also believes high school football can be conducted in the current environment.
"The school has gone over and above to protect the kids," Stalter said. "The kids are still in P.E. They're still around each other. There's a way to do it appropriately.
"I envisioned it would probably even be less fans, which to me is blasphemy not having the entire community out there watching a football game on Friday night. But if that's what it took for these kids that have put in all this work for all these years (then it'd be OK)."
Like Stalter, Rochester coach Derek Leonard is a prep football lifer. His dad, Ken Leonard, has been Springfield Sacred Heart-Griffin's football leader since Derek was 3 years old. The younger Leonard has helped Rochester to eight state titles in the last 10 years.
"I was hurt for the kids," Leonard said. "I wasn't stunned, but I feel bad for the kids. ... Now I feel especially bad because people are changing (in other states) and we're not."
Leonard's main frustration with pandemic-era prep athletics is what he views as a politicization of COVID-19 and safety guidelines surrounding it.
"You get pulled two different ways in the world right now, and it's crazy," Leonard said. "What I'm finding out is the hypocrisy in the whole thing is crazy — from the virus to how we're handling the virus. Some states are going full blown, and we're the total opposite."
Indiana, of course, is on the former side of that ledger.
"It's strange," Leonard said. "My dad went to a game in Indianapolis, and it's like a different country across the border."
***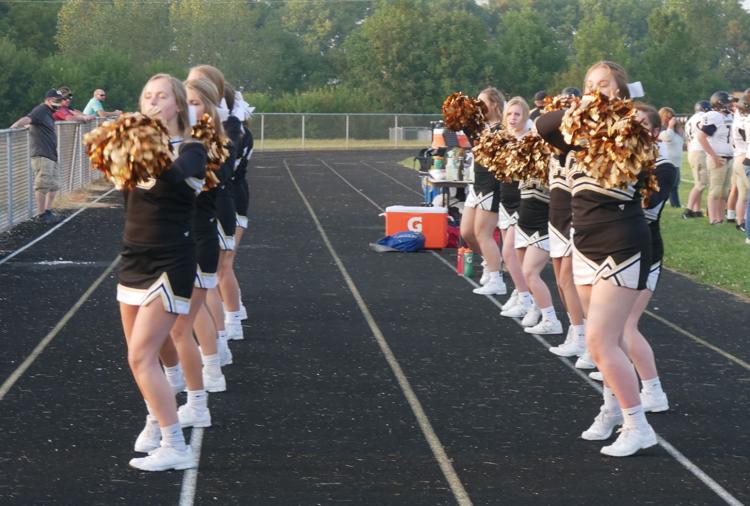 Covington visiting Fountain Central for football normally would bring nearly everyone from each community out of the woodwork. Good acknowledged Friday that some fans likely stayed home for precautionary reasons.
Regardless, the Mustangs' football facility is not permitted to be filled to greater than 50 percent of its 4,000 capacity. Good estimated fewer than 800 backers would show up across the board.
Fans are slow to trickle in before a more steady flow commences about 15 minutes ahead of the 7 p.m. kickoff. Signs next to both of the field's ticket windows indicate a protective face mask must be worn to ensure entry.
Most comply with this. Some masks come off once supporters find their spot in the home bleachers, visiting stands or along the field-surrounding chain link fence. All in Fountain Central's student section are wearing a mask by night's end.
"It went pretty well," Good said of hosting the large-scale event. "A little bit of added stress with ... trying to get them to follow social distancing and mask policies. The overwhelming response from attendees was they were grateful they were able to come."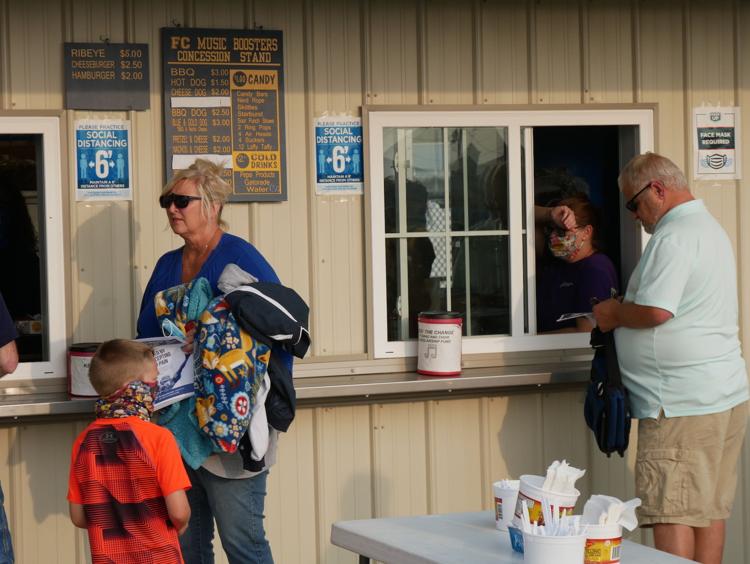 Concessions are available at a centralized location with two windows. The usual smells of hamburgers on a grill and popcorn fill the surrounding air. A Kona Ice truck sits not far off as the lone outside vendor on campus. Food and drink order-takers are wearing masks, as are two women handing out game programs. One of those women also wears purple medical gloves.
"I applaud Indiana's decision to let it happen," Acton said. "I know there's some parties that think it's crazy or whatever, but ... whether they play football or not, they're going to be intermingling outside of school.
"So it's good to let these kids experience high school like it's supposed to be experienced — as close as you can get."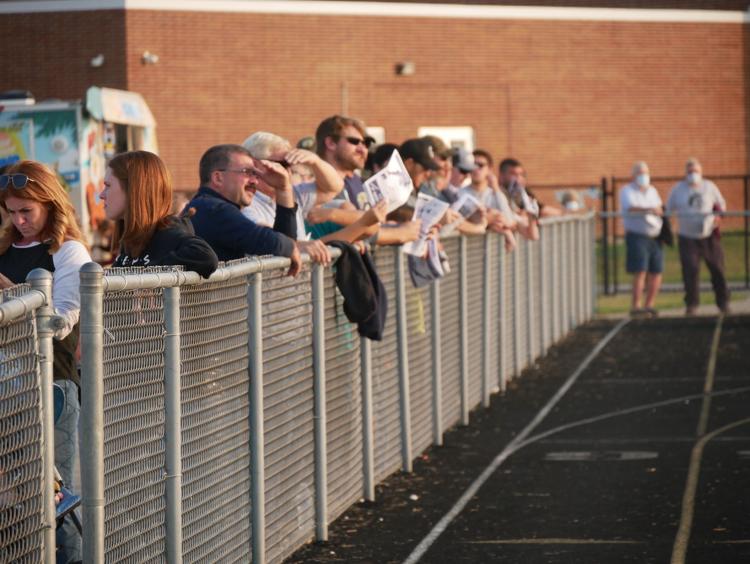 Josh Kirkpatrick is a 1997 Mustangs alumnus who went on to play on Purdue football's offensive line from 1997 through 2000. His son is a senior on this year's Fountain Central squad.
"It means a tremendous amount (to play) because they had a horrible season last year, and they want to right the ship," Kirkpatrick said. "Then they thought they might not get the opportunity to. ... One of the boys tested positive, and then they all got sent home. And then my boy tested positive, but he's asymptomatic and after 10 days he came back to school."
Kirkpatrick, a local farmer, wasn't filled with fear after his son's positive test.
"Not for me," Kirkpatrick said. "It's something serious to take into account, but I don't think it's a reason to quit living my life."
Capt. Anthony Corapi didn't want his son, Thomas, playing football until he reached high school and became more physically developed.
"I've been building him up for it, and he's been excited watching, waiting," the Navy navigator said of his son, a St. Thomas More freshman. "And finally he's in high school and he's like, 'Oh, I can finally play.' And then being crestfallen that, 'OK, now you're got to wait another six months to maybe play in the spring' ... (and) we were all disappointed."
Corapi grew up in New York and played football throughout his youth, saying "it was a defining sport for me to give me confidence and to help me develop into a man."
It's hard, as a result, for Corapi to watch recent nationally-televised high school games with Thomas and try to explain why those kids are playing while the Sabers are not.
"He looks at me and I'm like, 'I know. I hear you, man.' It's frustrating," Corapi said. "We weren't really given a choice to say, 'OK, there's risk. But if you're willing as a parent, are you willing to have them participate?' And I always felt like that was the thing that has never been considered."
***
***
One of Stalter's nephews is Cale Horsch, a Fisher senior and a Bunnies football captain this year. Stalter finds himself "really surprised" by how Horsch and his teammates are adjusting to their football schedule being altered.
"Honestly, I think I was more devastated than he was," Stalter said. "It was strange. But he had the attitude of, 'It's not over. We have the opportunity. We can work harder.'
"I was proud to be his uncle and hear him say that. ... As a former football player, I'm thinking, 'Man, I don't think I would've said that.'"
A varied music playlist blares over the loudspeakers as fans file into both sets of bleachers at Fountain Central's football field. Neither seating area is filled to capacity. That won't change as late afternoon turns to night.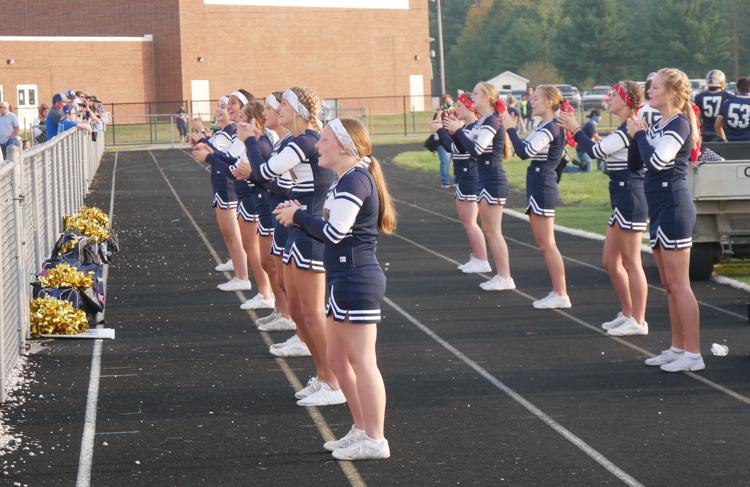 Covington's team marches onto the field first. The Trojans are lined up in rows of two behind coach Tyler Campbell. A short time later, the theme song of former professional wrestler Hulk Hogan replaces other sounds among the Fountain Central fans.
It's an appropriate day for "I Am A Real American" to play, since this game is taking place on the 19th anniversary of the Sept. 11 terrorist attacks. Coach Ryan Hall's Mustangs break through a small paper banner, each holding an American flag as they dash in front of the stands.
A couple of cowbells clang, courtesy two female Fountain Central fans. It'll be a recurring theme on the evening.
It's time to play football under a mostly sunny sky and in a mid-70s temperature with a slight breeze.
"Other than wearing these stupid masks, yeah, it's pretty normal," Kirkpatrick said. "There probably won't be as many (fans) as normal, but overall it's got that Friday night feel."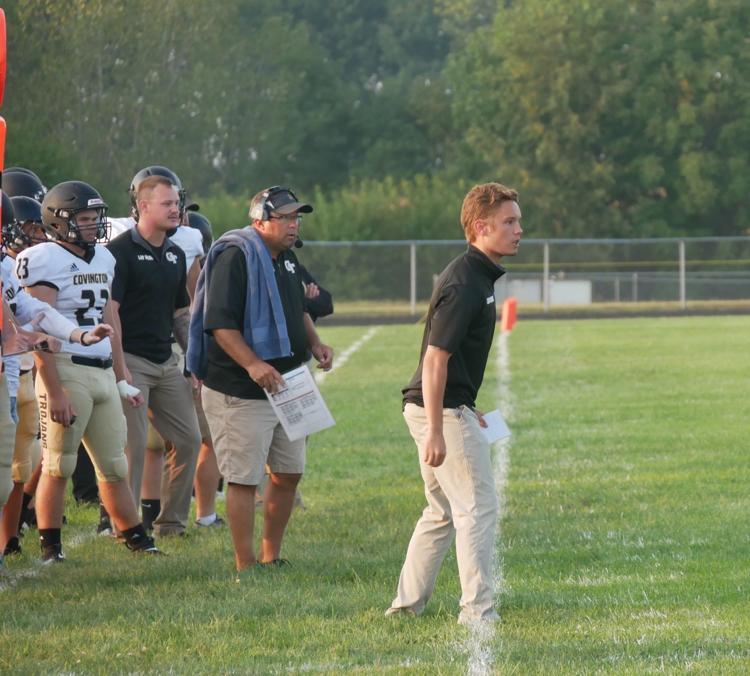 ***
Those typical football sounds aren't present right now in Illinois communities, including Villa Grove.
"It's quiet," Blue Devils coach Wilson said. "You don't see people out in the community excited about Fridays. ... Hopefully it will change in the spring."
One of the reasons Jon Adkins applied for the Mahomet-Seymour coaching vacancy that he eventually filled in February 2019 was the community's love and passion for football.
Even with the Bulldogs' latest campaign delayed until springtime, Adkins saw fans' "overall roar and excitement" when M-S recently posted its revised football schedule for this school year.
"Everybody's handling it differently, but I also do know that everybody's ready for the spring," Adkins said. "(Publishing the schedule is) giving fans the optimism of hope that there is still going to be football."
No matter the fate of 2020-21 prep football, the question will linger about fans being allowed to attend games in person.
Stalter said the response to that in Fisher is a collective chuckle.
"We've got an alleyway right behind our football field, and when we played Central A&M last year in the playoffs they closed down the road and had flatbeds up," Stalter said. "I'm like, 'That's fine, we'll just line our pickup trucks on the other side of the fence, and we'll scream louder from there.'"
***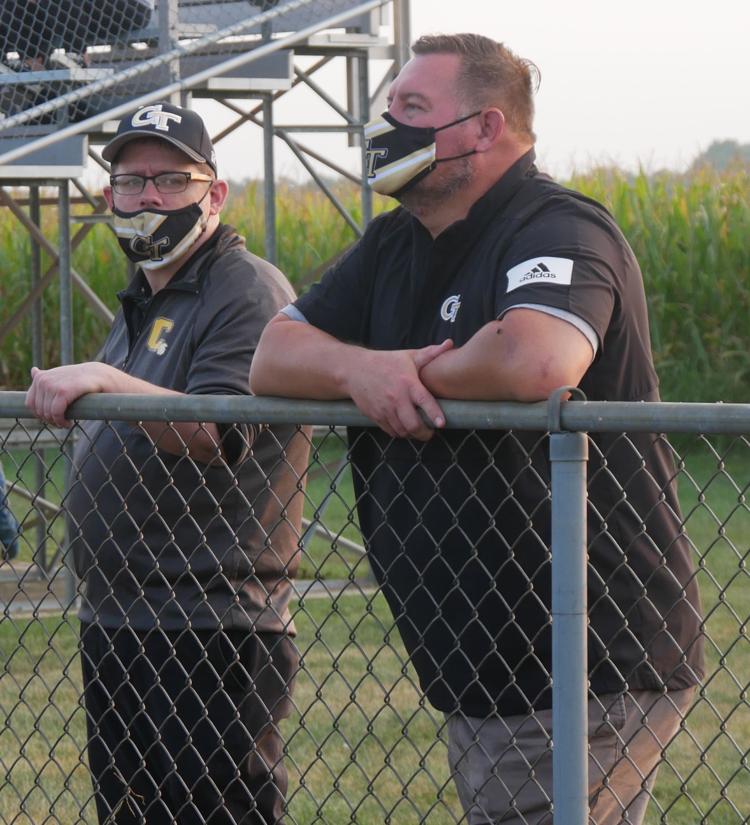 There is plenty of hooting and hollering throughout the Covington-Fountain Central showcase.
Most fans are intently watching, starved for live football in the pandemic age. Some younger attendees are off in surrounding green spaces tossing around footballs. A few others play on a spate of large tires.
Cheerleaders pump up each crowd with typical routines and formations. They use pom-poms for some.
Some folks on each sideline wear a protective face mask, especially medical personnel. A few coaches and kids also wear them, while others have them resting around their throat.
The halftime scoreboard shows Covington ahead 14-8. Veedersburg's best youth footballers are recognized at midfield during intermission, followed by a short routine from the cheerleaders.
The second half is much more lopsided. The visiting Trojans pull away for a 42-14 win over the Mustangs.
There is supposed to be a postgame tipping of helmets by players on opposite sides of the field instead of a handshake line. It doesn't quite pan on that way, seemingly because of frustration over a perceived lack of sportsmanship toward the end of evening.
The Trojans quickly leave the field once the situation is sorted and are on their bus in less than 30 minutes.
"We talk all the time about every game's a blessing, and it's never been more of a relevant statement than this year," Campbell said. "When I go down to lay down at 9, 10 p.m., I might wake up at 7 a.m. and it's gone."
The Mustangs huddle on the field as their frustrated coaching staff offers a brief assessment of the night's happenings. After they break, a few kids connect with family members while others head off to their locker room.
"They don't want to lose to Covington. ... But they're excited to play, I agree," Hall said. "They're at home. Not the end of the world. It's only Week 2 for us. It's Week 5 or whatever for them."
That comment does bring up an interesting dynamic for sports organizations playing through the pandemic. How do their leaders handle the loss of games when teams experience a positive COVID-19 test?The one thing working in Indiana high school football's favor is that all teams qualify for the postseason regardless of record.
"Think of how many more reps they get on a Friday night," Hall said. "There's a huge advantage, but it's today's world. We've told them, 'You've got to deal with adversity and things aren't always fair.'"
***
Illinois' prep footballers — as well as volleyball and boys' soccer athletes — are familiar with pandemic-related athletic inequality.
They're unlikely to receive the chance to compete in a traditional state tournament, if the IHSA's approach to its active fall sports and their postseason series is any indication.
"You can't replace that motivation and that goal," Rochester coach Leonard said. "As a coach, my goal is to make these kids play to their ceiling. I truly believe that. But for a kid, it's hard to sell that."
Both Stalter and STM parent Corapi said they realized their competitive football careers likely were over after graduating from high school. As such, they know what getting the chance to play can mean to kids who one day will occupy those same shoes.
"It's not the end of the world if you don't get to play, but for some kids it's the last opportunity to step on the field and compete in something," Stalter said. "I didn't have the talent to play at the next level, and I knew it. But I enjoyed every minute of playing."
Adkins is applying a largely optimistic outlook to his thoughts on prep football's immediate future, including his club's revised Week 1 game versus visiting Taylorville.
"It's going to be one of those bittersweet moments," Adkins said, "of those kids getting the opportunity to be out on the field on a Friday night with potentially some people in the stands and hopefully the smoke from the grill rolling."
Perhaps some of the sights, sounds and smells of Illinois' next high school football season will change based on pandemic-related restrictions.
But some of those old, familiar feelings ultimately will prevail. Even if the schedule starts in March instead of August.
"It'll give goosebumps that first night, that's for sure," VG/H coach Wilson said. "Once that Friday gets here and that week building up to it, gameday, I think all the things will come back into the natural feeling of what it would be like in the fall — but just a little bit chillier."