CHAMPAIGN — The NHL and NHLPA first funded a feasibility study for the addition of college hockey at five universities across the country in June 2017.
Illinois was the first, with the results from the study revealing in March 2018 that a Division I program in Champaign could become a successful venture.
Actually adding a hockey program at Illinois hasn't been quite as easy. Two years later, though, Illinois athletic director Josh Whitman was prepping to take a step toward doing just that.
"Candidly, we were bracing and preparing for a big announcement as early as next month," Whitman said Monday. "We felt like we had put everything in the order that we needed. We had all the partners around the table. We had a good, solid plan to move it forward. Then, of course, everything changed."
The fallout from the coronavirus pandemic claimed all remaining winter and spring NCAA sports. Nearly all Illinois athletes, save for some international students and a few others that chose to remain in Champaign, left campus. Whitman and the entire Illinois athletic department are working from home.
Current sports are on hold. So, too, are plans for future ones at Illinois.
"We were really close on the hockey thing," Whitman said. "I think we continue to remain very excited about the project and very optimistic about its future — particularly the impact it would have on our community. There are some people who have suggested it could be a very helpful re-ignition to Champaign-Urbana and to helping our economy come back online following the pandemic.
"We're going to continue to monitor it. We're still in very active conversations with all the different partners who have come around the table to help move that forward. I'm hopeful that's a short-term pause and not a long-term no."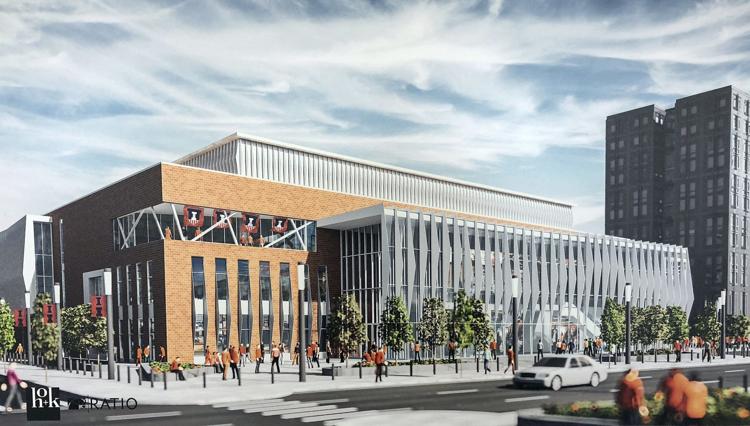 Getting to the point of a potential announcement, though, was an arduous, three-year process. Whitman had some early optimism, with the promise of multiple seven-figure gifts in 2018.
That led to a tentative goal of having a decision — one way or the other — about Division I hockey at Illinois by the end of that year.
That flexible deadline passed without an answer. By the middle of 2019, Whitman said Illinois had come close on multiple occasions to making hockey official at Illinois and was still trending in a positive direction. Whitman expressed more optimism and confidence last October and considered Illinois in "the red zone" on a hockey decision in early March of this year.
Then, a global pandemic threw up a wholly unexpected road block not quite two weeks later.
"I think everybody knows we've been working through this now for over three years," Whitman said. "The same thing that's kind of happened with the virus in terms of confronting obstacles and coming up with creative solutions, we had worked through that systematically over the last year-and-a-half or two years with hockey. Each obstacle that we were confronted with forced us to re-evaluate and look for creative solutions. We were able to do that on all the different fronts."
Whitman opted not to share too many specifics about who Illinois had added as partners on its hockey venture. Those partners, though, have helped make hockey more likely.
"We had some other key partners I think come into line the last several months that gave us a lot of confidence that we were going to be able to move this forward," Whitman said. "I think that we're now in the process of reconnecting with all those partners. We've had a couple conference calls to see where everybody's at in light of this new environment. By and large, most people and most organizations remain very comfortable with this new situation.
"There are a couple other entities that are also kind of seeing how this is going to play out in terms of their own financial picture. It made it evident it was wisest for all of us to take a short pause here and make sure each of the different entities remains committed and capable of the support necessary to get it done."
Illinois had also done some internal work to move closer toward its hockey goal. That included some reallocation of resources within the athletic department.
"We'd done some fairly dramatic cost savings exercises where we felt like, 'Here's a chance for us to reallocate some funds from Place A to Place B knowing that we were trying to improve the situation for volleyball and wrestling and men's and women's gymnastics,'" Whitman said. "We remain as excited about that project as we've ever been. Clearly for so many different people — businesses locally and much more broadly — there's been so many implications from this entire situation. I would say the downtown arena and hockey project is at the top of that list. … That may require a slight pause as we sort some things out, but it doesn't do anything to diminish the enthusiasm we have for the project and the optimism we have for the future of it."