Athletes want to play. Coaches want to guide those kids. Athletic directors want to host and coordinate games.
But how much will Illinois' high school basketball programs be able to engage in these activities during the 2020-21 season?
Will there be a season at all? If so, what will it look like?
These are just a few of a seemingly endless number of questions on the minds of local prep basketball types during the COVID-19 pandemic.
"To be 100 percent honest, there is concern," Tuscola boys' basketball coach Justin Bozarth said. "We try to remain optimistic on what we can and can't do. Locally, I know that particularly at the high school, I feel like we've done a pretty good job of setting the kids up to have those opportunities. But ultimately that's not something that necessarily will be in our control."
That lack of control is something competitors in all sports are having to come to terms with as the pandemic continues to dominate headlines.
The IHSA's revised fall season — featuring golf, cross-country, girls' tennis and girls' swimming and diving — so far has gone off without a hitch in The News-Gazette coverage area.
But most of those sports take place outside, and swim and dive has been handed strict guidelines to go forward indoors.
What will happen when fall turns to winter and basketball players, along with wrestlers and boys' swimmers and divers, get the chance to show they can safely participate in their sport?
Will they receive such an opportunity at all?
"I really hope (IHSA and state decision-makers) just take into consideration us kids," Villa Grove/Heritage senior Kyleigh Block said. "Personally what I live for is sports. This is what I wake up and look forward to. I hope they take that into consideration, even if that means adding restrictions.
"Just let us play in any way they can. Just let us play."
The IHSA's winter season is slated to begin Nov. 16. If basketball were to tip off today, however, no traditional games would be contested.
Basketball is considered a medium-risk sport in Illinois Department of Public Health literature. As of now, that means players can't do more than practice and compete in intra-team scrimmages.
It's not clear when that will change, either, as the IDPH's document on the subject does not specifically address when basketball could improve from Type of Play Level 2, which it currently resides in, to Type of Play Level 3, which ongoing IHSA fall sports presently are in. Level 3 allows events between opposing teams on a restricted basis — involving schools in the same athletic conference or EMS Region, the latter a term used in "Restore Illinois" plan boundaries.
"As hopeful as I am, I think something drastically is going to have to change before Nov. 16," Monticello athletic director Dan Sheehan said. "If nothing changes before Nov. 16, we're not playing basketball. We're not wrestling. My personal opinion is that we're in this all-sports policy either until there's a vaccination or we get through this and say, 'OK, we're back to normal.'"
Fall preparation
Basketball players will be offered a sense of the pandemic's version of normal when IHSA fall contact days begin Monday. Teams not currently in-season receive up to 20 days to work out in ways similar to their June and July forays.
St. Joseph-Ogden junior Ella Armstrong and the Spartans' girls' basketball team went through some summer contact experience. It was something in which Armstrong found great benefit in.
"It was really nice to be back and playing with my teammates," Armstrong said. "It was good to see all of them and to reconnect, have chemistry again and do what I love to do."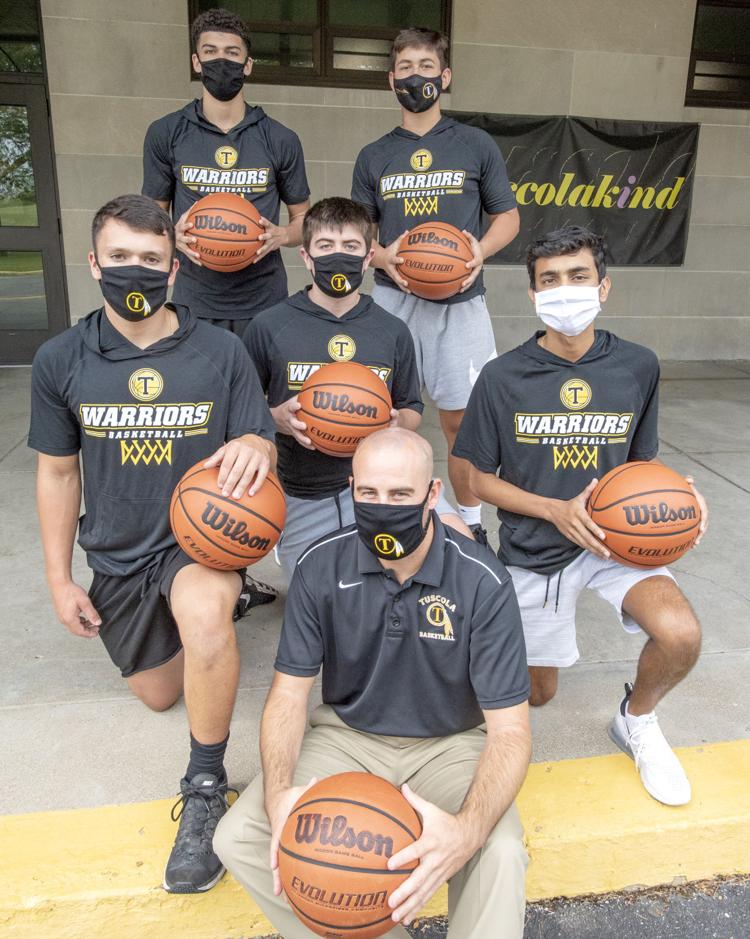 Tuscola junior Jalen Quinn, a two-time News-Gazette All-Area boys' basketball first-teamer who less than a week ago picked up an offer from Southern Illinois, has spent close to two months logging repetitions with his AAU club, the Illinois Wolves. The program hasn't traveled to any tournaments because of, Quinn said, safety concerns harbored by its coaching staff.
Quinn, like many other athletes, is trying to balance the desire to improve his game with the need to follow safety protocols in order for basketball not to be taken away.
"It's definitely a different way of playing basketball. None of us are used to it. It's just something we have to get used to now," Quinn said. "I feel like there's a change in course. In Tuscola, everyone's trying to do their part and wear a mask all the time, just disinfect stuff after touching it and do the little things to get the bigger picture."
AAU experiences
Playing during the pandemic hasn't been a foreign concept to some of the area's best.
Block, a reigning All-Area second-teamer, suited up for the Illinois Aristocrats in AAU action. Prairie Central senior Trey Bazzell, an N-G All-Area boys' basketball first-teamer last season, played for Midwest Prospect Academy during his most recent AAU stint.
Both described different but tenable basketball experiences on the summer circuit.
"Some (tournaments) say no mask, no entry," Block said. "We had to walk on certain sides of the building. Also, our benches, there were just seats and they were all 6 feet apart. ... We had to wear masks until we got to play, until we got to our benches, and after we finished we had to put the mask back on."
"Everything is staged outside the building, so you're kind of sitting in the grass about an hour before the game starts, getting checked in," Bazzell added. "You can have a 20-minute warmup (or) you can have a one-minute warmup, so you just have to stay ready for that."
Could Block and Bazzell see such measures and others successfully being deployed to make high school basketball a reality this winter?
"(The AAU tournaments) made it work pretty well, and there's going to be a lot more teams at that stuff than there's going to be at a high school game," Bazzell said. "I definitely think that can work."
Likely no big events
Hypothetical scenario: IHSA basketball goes on as currently scheduled.
What does the regular season look like?
One near certainty at this point is no tournaments.
The latest versions of holiday showcases across the state already have been canceled, and most teams are scheduling only single games.
IHSA restrictions pertaining to the number of games a team can play in a week and how many teams can physically be at a gym at the same time make running a tournament essentially impossible unless those restrictions change.
Urbana athletic director Steve Waller's basketball teams don't host any tournaments, but his boys' team participated in the Kevin Brown Memorial Tournament of Champions last November in Washington and the Legends of Winter Roundball Classic last December in St. Louis. The former's 2020 iteration in central Illinois is already canceled.
"Bigger events are going to be really tough to host," Waller said. "There's too many moving parts and too many things that can go wrong."
Danville boys' basketball coach Durrell Robinson made tournaments a staple of his team's schedule last season, his first in charge.
The Vikings participated in the Lincoln Thanksgiving Tournament and the storied Pontiac Holiday Tournament, as well as four one-day shootouts that bring together teams that might not otherwise meet in one location.
"It's tough because those are the things that the kids look forward to. ... Those are exciting times," Robinson said. "Especially Pontiac, where our kids can be seen by college coaches. So that's the biggest hurdle about that, but we've just got to be safe more than anything."
Unity girls' basketball coach Dave Ellars last year led his team through the Falcon/Bunnie Tip-Off Classic run by Fisher and Gibson City-Melvin-Sibley, as well as Bismarck's BSN Classic. Those events accounted for nine of the Rockets' 32 games in a season that saw Unity win a Class 2A regional title.
"That's always a good growing experience for the kids," Ellars said. "They're together for two or three days a lot. ... The kids got to be around each other, especially kids that played JV last year and moved up to varsity. I always thought that was a pretty good portion of it."
Scheduling quirks
Multiple local ADs and coaches have indicated their basketball teams will contest a largely conference-based schedule this season.
The Illini Prairie Conference falls into that category, with the majority of its games only coming against league foes.
"We do feel the Illini Prairie is one of the most prestigious conferences, and we're proud of our success," Sheehan said. "We decided ... to do a home and away versus everybody."
The second meeting between each IPC team will count toward league standings, a setup meant to work around any possible delay to the start of the IHSA's winter sports slate.
There's mixed reaction to such scheduling.
"I was excited that we were actually going to get to play, but I'm a little upset because it's not exactly how I wanted it to go," Armstrong said. "I wanted to play everyone on the schedule. But at least we're still going to get out there."
"The rescheduling of everything is kind of a nightmare for the athletic directors," Ellars added. "This was kind of a simple way to play something at least so we could play some games."
The Big 12 Conference is taking a similar approach, though Robinson said Danville will look for matchups against a few other EMS Region opponents. The Vikings' girls, according to the team's schedule posted online, plan to face Hoopeston Area and Mahomet-Seymour in addition to their Big 12 foes.
"I'm thinking of putting myself in (the athletes') shoes," Robinson said. "I want the best experiences for them, the best memories they can live on. The biggest thing is just keep playing and making sure we have a season."
Bozarth and Tri-County girls' basketball coach Joe Morrisey both lead teams within leagues — the Central Illinois Conference and Lincoln Prairie Conference, respectively — that aren't quite big enough to schedule as the IPC and Big 12 will.
But both coaches are looking forward to the opportunities this can afford their kids.
"There's not an easy win in the conference. Everybody is pretty competitive," Morrisey said. "I think we're going to play Paris. We're trying to pick up Charleston and still play something. ... We're trying to play some of our local teams that will make us better as the year goes on."
"Actually, to me, it's pretty exciting to look at our schedule," Bozarth added. "We looked at our (EMS) region, and we're going to play teams that we really predominantly have never played — Vandalia, Effingham St. Anthony, Newton. ... I said (to Tuscola AD Ryan Hornaday), 'At this point, the kids just want to play games.'"
Attendance matters
Athletes, coaches and ADs all are aware those games may transpire with few or no fans in attendance.
The state's rule limiting gatherings to 50 people or less would apply to anyone inside a gymnasium — players, coaching staff, officials, scorekeepers and media. With how many individuals that typically would include on game night, the door hardly is left open for any fans.
"It's not something any of us players or coaches or parents want to see happen," Quinn said. "I know everyone obviously would love to have fans there, but at the end of the day that might not happen."
All of the current athletes who spoke with The News-Gazette for this story said they could move past the lack of fans if it meant getting to play games. But that doesn't make it enjoyable to consider.
"It would be very weird," Armstrong said. "I personally like a lot of noise when I play. ... The crowd amps us up and helps us get confidence to beat teams."
Bazzell said the Hawks were a hot commodity in Fairbury last season, winning 24 games and receiving a No. 1 seed in the Class 2A playoffs.
"Our home games were packed," Bazzell said. "We had people standing in the doorways at some. That's what made it even more fun to be a part of was having the crowd there."
Block said fans being held out of games could provide a potential breaking point for some athletes, causing them to find other ways to get in the zone when necessary.
"The atmosphere is kind of the motivation to really get after it," Block said. "But I think both teams would know this is still serious. It's still a game. I think after playing maybe a quarter it'd feel normal."
Bozarth shares Block's sentiment regarding the tie between crowds and motivation.
"You'll quickly find out how much it means to certain individuals," Bozarth said. "Everybody can get up and play and get excited to play in front of a gym that's 100 percent capacity. ... Now you're going to find out how much does it mean to somebody when you've got to self-motivate."
Morrisey and his Titans are used to significant support as well. The group has qualified for each of last two Class 1A state tournaments and has brought a large contingent of fans to Normal's Redbird Arena for its state tournament games.
"Crazy," Morrisey said when asked what it'd be like to coach a game without fans. "It'd be just like playing in practice. We've been winning a little bit and get good crowds, and it helps. ... We play harder at times when the crowd gets going."
Having no supporters inside a gymnasium could have one advantage, according to Waller.
"You have as much bleacher space as you want (for players)," Waller said. "It's a pretty easy, quick thing to analyze where ... somebody would sit and make sure 6 feet of social distancing it maintained. I think that's an easy logistical thing to work through."
Providing a purpose
Still, it's difficult for some to see the positives right now when there also are many uncertainties associated with these potential changes.
"Those are the things that are irreplaceable," Robinson said. "But whatever we can do to make it best for these young men, I suggest we do it."
Another unlikely element of this basketball season is state tournaments.
The IHSA is not holding state series in any of its fall sports. It's uncertain what it might look like for winter sports.
"Obviously I would love to have a postseason to make a run with my teammates. I think that's a big possibility," Quinn said. "I don't think (potentially not having a state tournament) changes the way I prepare, personally. Every day I work out, every time I work out, I'm trying to get better than I was the last day."
Morrisey knows better than almost anyone locally in recent seasons the importance playing in a state series can have on a program and its community — or, in Tri-County's case, communities.
"You've got to set goals. We always talk all the time, we want to win every quarter, every possession," Morrisey said. "(But) it's not always about winning. ... We're a pretty close group. I always call them my family."
So maybe schedules won't look exactly as they normally do. Perhaps fans won't be packing gyms. And maybe there won't be state tournaments to possibly reach. State Farm Center in Champaign is slated to host the boys' basketball state tournament for the first time since the event went away in 1995.
But as long as there are high school basketball games of some caliber, happiness and relief will be rife among area teams.
"It's very important, especially being from Danville," Robinson said. "We always worry about kids, especially here in town, because the streets, they're so easy. So when we have sports, at least that's occupying them right now."
"High school kids, if they don't have anything to be motivating them I know they can be lured into bad decision and really take a bad hit on their life," Bazzell added. "A lot of people depend on sports. It brings a lot of purpose into people's lives."