Sunday Special | Impact of coronavirus on local sports community (April 26, 2020)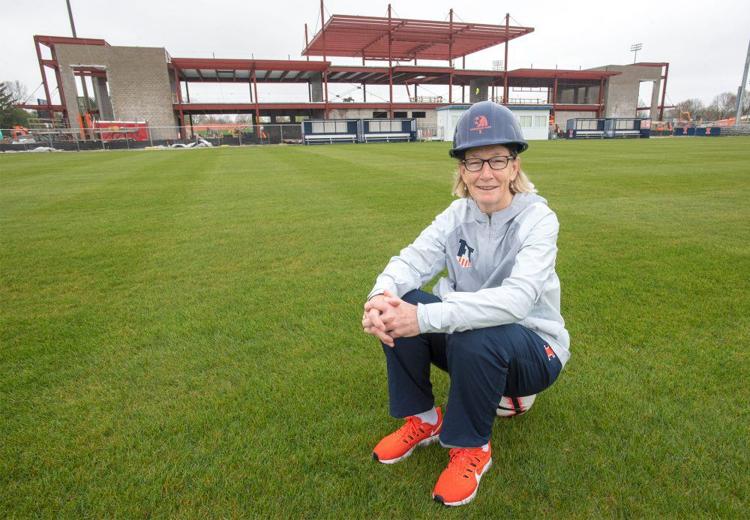 THE DIVISION I COACH

'One of the things that's pretty easy for me to do is close my eyes and think about what it's going to look like with a full stadium'

Since the coronavirus pandemic effectively has kept all Illinois coaches working from home in the last six weeks, Janet Rayfield hasn't seen her program's new home venue much.
Demirjian Park is still under construction, with beams and concrete blocks outlining what the future seating area for the Illinois women's soccer program will look like.
"I've been pretty good about staying at home," said Rayfield, who collected her 200th victory at Illinois and wrapped up her 18th season in charge of the program last fall. "I volunteered last weekend and again this past week at a local church off Windsor, so I'll swing by there if I get the chance, but I've only since it a few times since all this happened."
Before the pandemic put a halt to college sports, Rayfield said the projected completion date for soccer matches at Demirjian Park — part of the construction taking place at the site located off St. Mary's Road in Champaign will also affect a new track and field home for the Illini — was near the middle of the 2020 season.
Under normal circumstances, that would typically fall in late September on the calendar.
The Illini's first scheduled home match for the 2020 season is set for Aug. 23 against Texas A&M, but Rayfield isn't sure if that will actually happen on that date.
"I think that's a long shot, just to be completely honest," she said. "There's a real process from getting together as a team for the first time and having athletes who are ready to compete at that level in terms of training, physical preparation and injury prevention. We certainly want to make sure it's safe from the COVID-19 standpoint, but also to do it safe from an injury standpoint. That might delay the start date as much as the COVID-19 decisions that have to be made."
Rayfield said she meets virtually with her team at least three times a week.
"We all are learning to appreciate just the small daily interactions we have that we're missing right now," Rayfield said. "When you get to see your team every day and have individual conversations and bump into your colleagues, a lot of exchange takes place that now takes a Zoom call or a phone call or three phone calls."
The Illini played their final seven home matches of the 2019 season at their new venue last season while it was still under construction and would likely have done so for a few matches in 2020.
Even then, that doesn't stop Rayfield from thinking ahead about what could unfold at Illinois' newest athletic facility.
Especially if fans are able to attend and enjoy sporting events in the future like they did before the pandemic hit.
"A friend of mine said, 'You have to have joy,' in getting through this," Rayfield said. "One of the things that's pretty easy for me to do is close my eyes and think about what it's going to look like with a full stadium at Demirjian Park and our players coming out of the locker room and onto the field. Some of the visions really keep me smiling about what the future holds for us.
"I don't even know now what the projected completion is, and we don't even know when our season will start, but for me, that future vision has no date on it."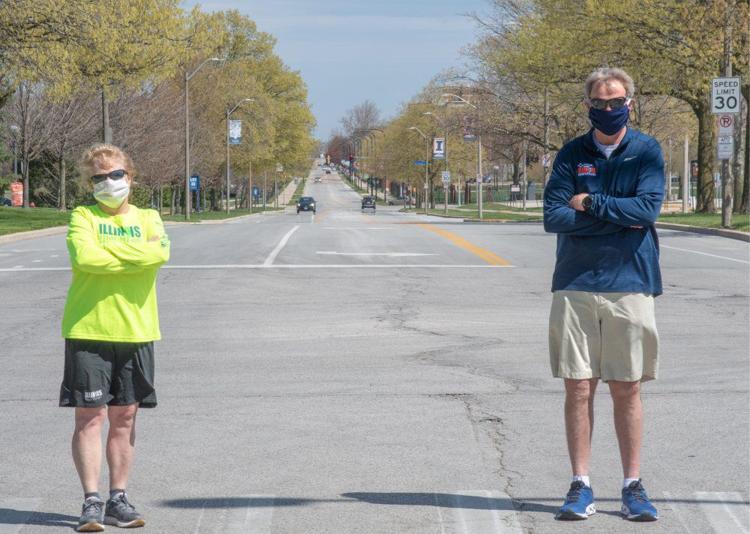 THE MARATHON CO-DIRECTORS

'Whenever the next race weekend comes, it will be great'
Saturday was supposed to find Mike Lindemann and Jan Seeley exhausted.
In a good way.
The Christie Clinic Illinois Marathon co-directors would have overseen the completion of the 2020 race weekend, wrapping up the event's 12th year in Champaign-Urbana.
But the coronavirus pandemic ruined those plans, with Lindemann and Seeley announcing they hope the event can take place in October later this year.
"It's always hard to make decisions that will affect thousands of people, but our goal from the very beginning was to make sure everyone could have a great experience during race weekend and to take the steps needed to put on the safest event possible — not just for our runners and volunteers, but our community as well," Seeley said. "We were working on several options weeks before events were canceled or postponed, with the runners' and our great volunteers' safety at the forefront. Our medical directors were brilliant in advising us. What may have looked like a premature postponement announcement on March 12 was quickly, and sadly, validated in the weeks that followed."
Lindemann said the marathon is working closely with officials from the University of Illinois, along with Champaign and Urbana officials, in order to determine the next step of the marathon and if it could happen at some point in 2020.
Thousands of people descend upon C-U for marathon weekend, which includes an expo, a 5K, a 10K, a half-marathon and a youth run, among other events, spread out during the course of three days.
"With the fluid nature of the pandemic, things are changing day to day," Lindemann said. "We adhere to state and local guidelines and requirements. Our main message right now is for everyone to be as safe as possible. Whenever the next race weekend comes, it will be great."
Along with all the runners who compete in marathon weekend, hundreds of workers — ranging from marathon staff, medical personnel, police officers and public works staff — and volunteers come together to help carry out all the tasks needed for the weekend.
"Our goal each and every year is to make the Christie Clinic Illinois Marathon race weekend experience one of the best our runners and walkers will ever have," Seeley said. "All the support of the community makes our jobs so much easier. We cannot say enough about the community we all live in."
Seeley, 60, is originally from Boston. She was married 26 years to her late husband, Joe, who passed away in 2012, and has two sons: Jake, 29, and Paul, 24. She is trying to get outside a few times a day for runs and walks to cope with the pandemic.
"I definitely need that," Seeley said. "Mindfulness meditation and a steady diet of calming classical music are also helpful. Zoom sessions with my family and friends is my lifeline."
Lindemann, 63, is the full-time owner of Body n' Sole Sports in Savoy and has been for 41 years. He and his wife, Liz, have three daughters: Laura, 35, Allie, 30, and Rachel, 27. Like Seeley, Lindemann is getting outside often during the pandemic.
"I am doing a lot of walks to clear my mind and reflect," he said. "I am also doing what's possible at Body n' Sole to keep people running and walking for their mental and physical well-being."
Both Seeley and Lindemann would love to see a marathon weekend take place in Champaign-Urbana in 2020. But only if it is safe to do so.
"It's not a question of how badly we would like to see a 2020 Christie Clinic Illinois Marathon race weekend take place," Seeley said. "The challenge is: can we provide a great experience and keep everyone safe at all times? There will always be another day to run or walk. Being safe is the most important thing right now."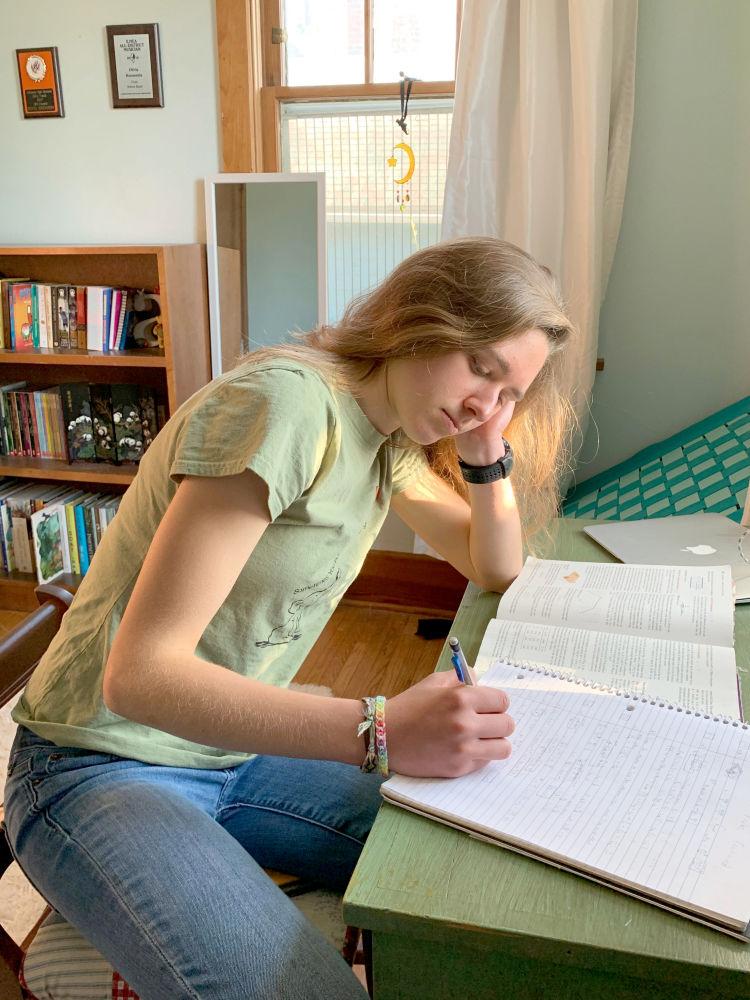 THE ACADEMIC ALL-STATE ATHLETE

'The main motivation for doing well in school is sheer enjoyment'
'The main motivation for doing well in school is sheer enjoyment'
Olivia Rosenstein was slated to spend this past Monday night at the DoubleTree Hotel in Bloomington with other standout high school student-athletes from across the state.
Part of the Illinois High School Association's 26-person All-State academic team, the Urbana senior planned to attend the banquet celebrating all of her hard work both in athletic arena and in the classroom, along with the rest of the honorees.
The coronavirus pandemic, however, halted those plans.
Rosenstein did receive a packet from the IHSA last week with a medal and information on all the recipients. A video version was also produced and sent to the honorees.
"It was both impressive and heart-warming," Rosenstein said. "I was pretty sad I wouldn't be able to attend. It would have been nice to give some appreciation to my teachers and administration at the event, who helped a lot in making everything I've done possible."
Rosenstein not only excels in the classroom, but on the track.
The standout distance runner finished second in state last season in the 1,600-meter run at the Class 2A girls' track and field state meet. After earning a fifth-place finish during the 2A state meet and News-Gazette Runner of the Year plaudits in the fall during her final cross-country season at Urbana, Rosenstein was poised for a big spring with the Tigers.
But all that won't happen after the IHSA officially canceled spring sports on Tuesday.
Rosenstein said she is still running nearly every day, though. With good reason.
She'll continue to pursue a running career in college when she attends MIT, the prestigious private university in Cambridge, Mass. She plans to major in biological engineering.
Which makes sense when Rosenstein lists math as her favorite subject to study, just in front of biology and world history.
"Math is at the core of many scientific fields, making it invaluable to understanding other topics," she said. "I love the logical rules and applying them to creatively solve problems."
Rosenstein's passion for her academic work is clear. Simply put, she seems to relish learning and finding out more about the world.
"For me, the main motivation for doing well in school is sheer enjoyment," Rosenstein said. "I put effort into my papers for Enlish and history because I like the challenge of creating something original that actually forces me to think, not because I'm focused on the grade."
A bonus for the senior: the relationships she's built up with her teachers.
"I like to make them proud," Rosenstein said.
Much like Rosenstein has made the Urbana community feel the same way. Even amid a pandemic.
"Seeing society come together to implement social distancing, provide for those in need as the economy struggles and support medical workers as they risk their health for the greater good has been truly astounding," Rosenstein said. "Even small things, like encouraging sidewalk chalk art or local grocery stores reserving morning hours for the elderly and immunocompromised, makes me appreciate the good in the world as the negative persists."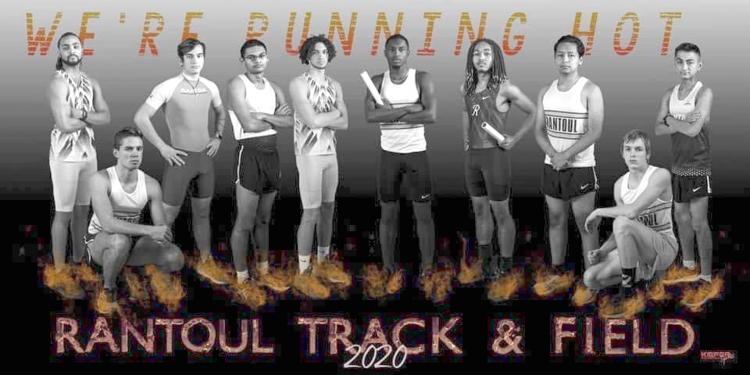 THE HIGH SCHOOL TEAM

'We were going to bring home one of those trophies'

Mitch Wilson couldn't wait for the final Saturday in May.
The Rantoul boys' track and field coach already had a vision of what would transpire after two days' worth of competition at the Class 2A state meet.
"No team at RTHS has ever brought home a team trophy from state competition," Wilson said, "so nobody knows what it's like, but I am telling you: we were going to bring home one of those trophies this season."
Rantoul returned state qualifiers in seniors Dillon Harper, Jerry Harper and Treven Lewis, along with sophomores Robert Buford and Tayon Swift. Jerry Harper placed third in the 400-meter dash last season with a time of 48.51 seconds, while he and Buford made up half of the 1,600 relay that also finished third in state (3:21.95). Lewis, Dillon Harper and Buford were part of the 400 relay that placed seventh in state a year ago.
But the Eagles won't get a chance to improve upon those efforts after the IHSA canceled all state events for spring sports this past Tuesday because of the coronavirus pandemic.
"Our seniors are impacted the most because they don't get a redshirt year or a do-over, our juniors seem OK and thankful they have another year, our sophomores are still bummed but realize they have two more years and our freshmen think that high school is never going to end," Wilson said, "We will never know what this group of young men were really capable of. We can only speculate."
Still, Wilson feels the worst for his seniors. Along with Jerry Harper, Dillon Harper and Lewis, Jaden Adkins, Lance Cloninger, Jon Gossett, Bart Hernandez, Vincent Loosa, Raj Patel, Mauricio Sebastian and Luke Zech had their prep track and field careers with the Eagles end abruptly.
"I am truly sad for our seniors because they will never get this season back," Wilson said.
Two track and field invitationals the Eagles host never transpired this spring.
The first happened on March 14 with the Rantoul Indoor Invitational canceled at the Armory on the University of Illinois campus shortly after the pandemic was starting to filter its way through the United States.
The second happened with the cancellation of the Rantoul Invitational, slated to take place outside on April 11 at the Roger Quinlan Track and Field Complex, with perennial power East St. Louis set to make the trip.
"We had 30 schools ready to compete at the Armory," Wilson said. "If you look at the teams that were scheduled to be here on April 11 for that meet, you are talking about one of the best track meets in the state."
Another bittersweet moment for Wilson on April 11: sunny skies and mild temperatures.
"We had perfect weather," he said. "That day was tough for everyone in our program."
Wilson said he and his assistant coaches, Nick Cole, Jeremy Dixon and Drew Sharrick, have checked in frequently with members of the team throughout the pandemic.
He's quick to credit the work Cole, Dixon and Sharrick have done not only during these uncertain times, but also in helping build the program to where it's at.
"After each conversation that I have, I tell them if you need anything, call me," Wilson said. "This pandemic is hard on adults, so I can only imagine how some of our guys are feeling right now. We want them to know that we are here to help if them if they need us."
For now, that's all they can do.
The 2021 state meet is scheduled for May 27-29 at O'Brien Stadium on the campus of Eastern Illinois University in Charleston.
Wilson is eager to see what next year's team can do, while also remembering the efforts of those athletes who didn't get to see their high school careers end on their own terms.
A recent Zoom call with Phillip Hall, a Danville graduate now running at Illinois, reinforced another lesson Wilson hopes to implement in the future.
"He said, 'One of the biggest pandemics in this country is that we are always too busy,'" Wilson recalled. "I totally understand that now being forced to take a break. We get so caught up in the business of our everyday lives that we forget to take time for ourselves, our families, friends and loved ones. I can promise you, though, that when this pandemic ends and as the 2021 season approaches, the fire will reignite."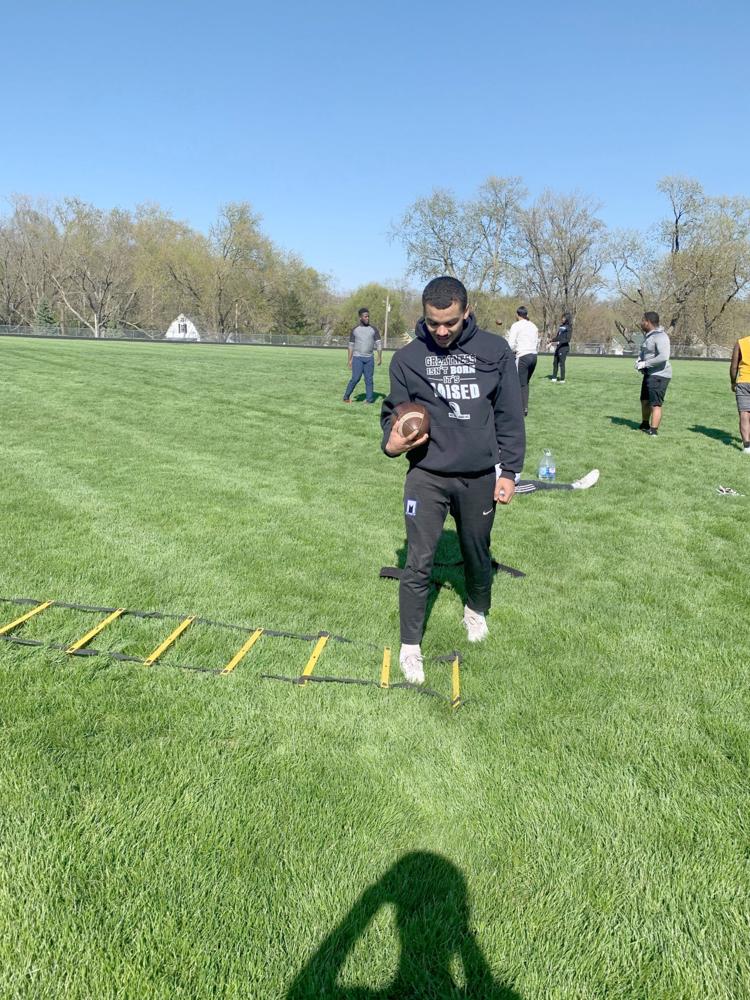 THE HIGH SCHOOL RECRUIT

'My favorite thing to do is play football'
Devin Miles had a big spring planned out.
The 5-foot-10, 160-pound running back from Danville has a chance to play college football, after all.
The News-Gazette's Player of the Year during the 2019 season boasts offers from Illinois State, Western Illinois and Kentucky Wesleyan at the moment.
"I'm looking for a great program," he said, "and somewhere that would make me feel like I'm home while I'm there."
Miles already has found comfort playing with the Vikings, helping lead his high school to the Class 6A playoffs last October while racking up 1,726 rushing yards and 26 touchdowns on 192 carries.
He also led Danville with 13 receptions for 294 yards and four touchdown catches to go along with a punt return for a touchdown and a kickoff return for a touchdown.
Oh, and he also collected 50 tackles and two interceptions playing linebacker.
"Nothing really surprised me of anything that I did because my coach and I knew what was going to be coming at me coming into my junior year, so every day, we were working so I could be ready," Miles said. "What surprised me was my team. Everyone was locked in and showing they wanted it by working hard every day to have the year we had."
The work allowed Danville to finish with a 6-4 record, including 5-3 in the Big 12, and reach the playoffs for the fourth time in the last five seasons.
"My sophomore year wasn't like that," Miles said. "I could tell they didn't want to have another year like that."
Along with the three offers Miles already holds, he said he has received interest from schools like Michigan State, Iowa State, Wyoming, Indiana Wesleyan, Indianapolis, Montana, Northern State, South Dakota and Southern Illinois.
"Before this virus, I had planned on going to a couple of junior day events and spring practices at a couple of schools, along with some school camps and national ranking camps," Miles said.
A solid boys' basketball player who saw time at guard for the Vikings this past winter, Miles was also a sprinter on the track and field team, too.
And with spring sports wiped out this season because of the virus, it's made Miles reflect more this week on what he achieved last football season.
"I'm proud of everything I did, but there's always more thinking what I could have done," Miles said. "I've just got to work to get better and ready for my senior year."
All the while preparing himself to make an important choice: his future college home.
"My favorite thing to do is play football," Miles said. "Now that I've got to wait a little longer to get back on the field with my brothers and play something I love is just making me more eager."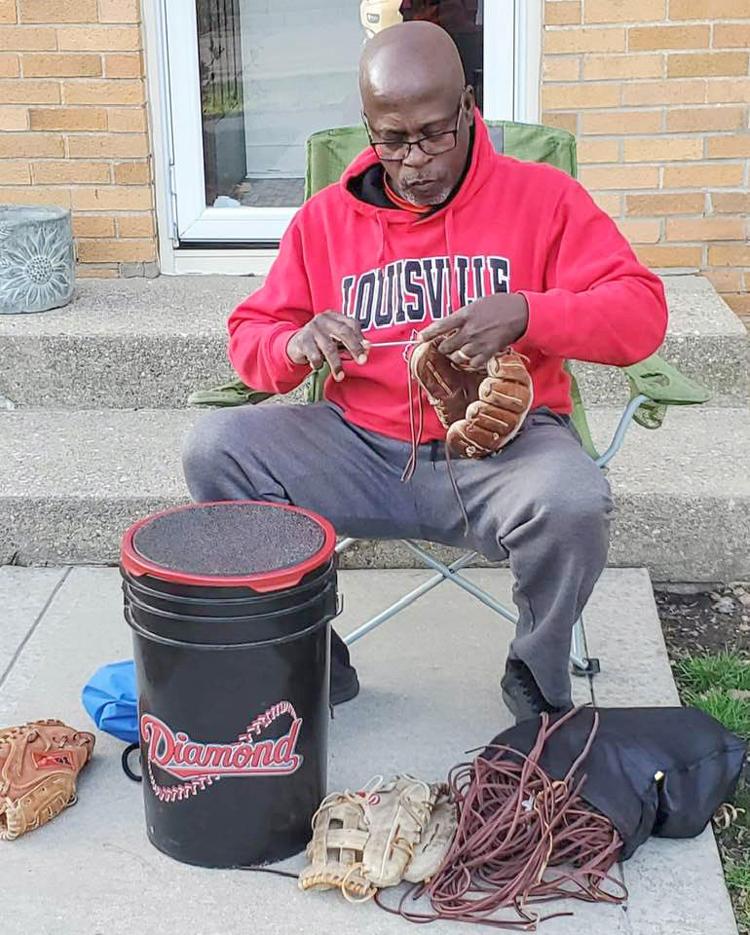 THE BASEBALL JUNKIE

'People develop a passion for their gloves, so restringing them is a way to keep the glove useful'

Delroy Robinson appreciates a good baseball glove.
But the 62-year-old Champaign resident and lifelong New York Yankees fan also appreciates a discarded one. Perhaps one that has seen better days.
"I started restringing gloves when I was a teenager in the Bronx," he said. "We didn't have the money to purchase new gloves, so this was a way to make one last a very long time."
Hence, a lifelong dedication to the craft was born. One Robinson still practices to this day.
Just this past week, Robinson performed work on restringing three gloves for people in the community, a way to stay connected to the game he holds near and dear to his heart.
Especially when there is no baseball at the moment because of the coronavirus pandemic.
"People develop a passion for their gloves, so restringing them is a way to keep the glove useful," Robinson said. "I enjoy seeing people's faces when I return the refurbished glove to them, for gloves tend to have sentimental value."
Robinson and his wife, Micki Ostrosky, typically spend their spring and summer at baseball fields, watching their son, Cameron, play the game he loves.
Cameron is a 6-foot-5, 182-pound right-handed pitcher and 2018 Champaign Central graduate who has signed to play baseball at Louisville starting with the 2021 season.
He spent the past two seasons pitching at John A. Logan College in Carterville.While attending his son's games throughout the years, Delroy has been asked to help restring a glove a time or two.
During the game. So he knows what he needs in order to complete the objective. Namely, good leather.
"Finding good leather locally can be a challenge," Robinson said. "I often had to go out of town to replenish my supply. Last summer, a good friend was at the State Fair and a vendor was there selling leather strips. My buddy supplied me with a variety of colors and lengths, so I am set for a while."
Robinson's restringing hobby started out with crude tools: a hanger and a screwdriver.
"Years later, they developed needles that you can purchase at a sports store, and this makes it so much easier," Robinson said. "Depending on the glove, it might take me less than 30 minutes to restring or it might take me several days."
One of his longest projects? Restringing a new glove for one of his son's travel teammates with his school colors.
"That task took me about a week to complete," he said.
Another restringing project Robinson thinks back on fondly: restoring a glove from the 1930s.
"I was concerned about the integrity of the leather," he said, "but I was able to bring it back to life."
Cameron is back home since John A. Logan's season came to a halt last month amid the pandemic.
Father and son have put their handyman skills to use, constructing a plyo wall for Cameron to practice his pitching against.
But this baseball family is eager for their sport of choice to resume.
And to see Cameron pitch at Louisville in 2021. The elder Robinson already has an idea for what he'll keep stashed in his car.
"We are thrilled that Cameron will have the opportunity to play for a program such as Louisville," the elder Robinson said. "Hopefully we will get to watch them make a trip to Omaha to play in the College World Series. I promise to bring my bucket that has my tools of the trade for restringing gloves along on that road trip."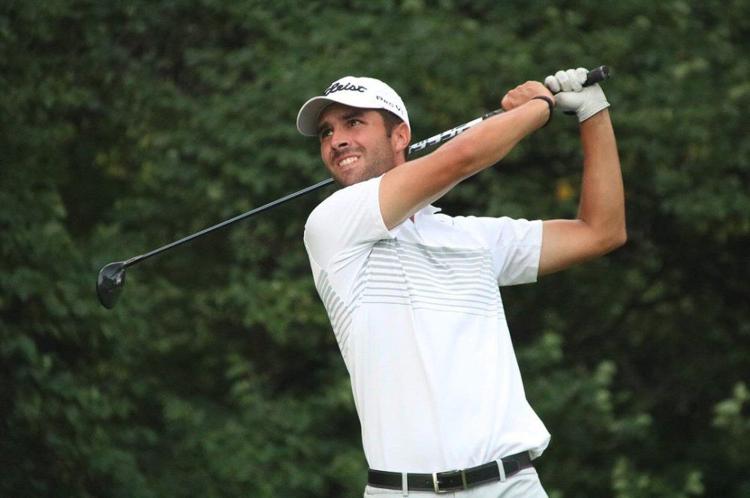 THE LOCAL GOLFER

'I took for granted being able to simply go to the course whenever I wanted'
Corbin Sebens is usually out on a golf course in the spring.
Just not so much the last six weeks because of the coronavirus pandemic.
"My golf-related activities have been relatively minimal," Sebens said. "I have a putting green at home, which I have been using to at least roll some putts, but that is the extent of it."
The 30-year-old Sebens, who had a superb high school golf career at Monticello before later playing the sport in college at Parkland and Eastern Illinois, has coached the Parkland golf team since 2015.
He's keeping tabs on his current roster and potential future Cobras during the pandemic.
"Recruiting never stops for college coaches," Sebens said. "I have been keeping in touch with my team a couple days a week, making sure they are staying on top of their online classwork and staying healthy. This is also an important time for me to start planning and preparing for the future and upcoming fall season."
Parkland has played in the last three NJCAA Division II national championship tournaments and the Cobras were aiming for another return trip this spring. Sebens was confident his latest group would reach that goal, with three All-Americans in Mason Ghidina, Scott O'Brien and Evan MacLean leading the way this past season.
"I feel for my players," Sebens said. "The guys had a great offseason and their mindset was starting to shift towards the postseason. This team was especially motivated to another deep postseason run and bring a national championship back to Champaign."
Instead, Sebens and the players found out their season was canceled last month just before they boarded a plane to Florida for their annual spring break trip.
"Life happens, and while this is a seemingly unprecedented time, I completely understand with the decision to cancel the season in order to keep everyone safe and healthy," Sebens said. "It's unfortunate and disappointing to not have a spring season, but we are looking to return stronger than ever."
Sebens is looking forward to his time on the area golf scene, too, since he's become a staple at local tournaments, like the UI Open and other events, in the summer since his high school days.
"I enjoy being around all the guys and competing against one another," he said. "There are a lot of really good players in the area, so it makes you stay on top of your game if you want to continue to compete at a high level."
Golf courses in the state are set to open again this upcoming Friday, with restrictions in place. Sebens echoes the sentiment of many avid golfers in the area who are eager to resume playing.
"I took for granted being able to simply go to the course whenever I wanted to get some work in or play," Sebens said. "With everything being shut down, it has been very challenging keeping golf in the forefront. It will be nice to get back out and start seeing the ball fly again."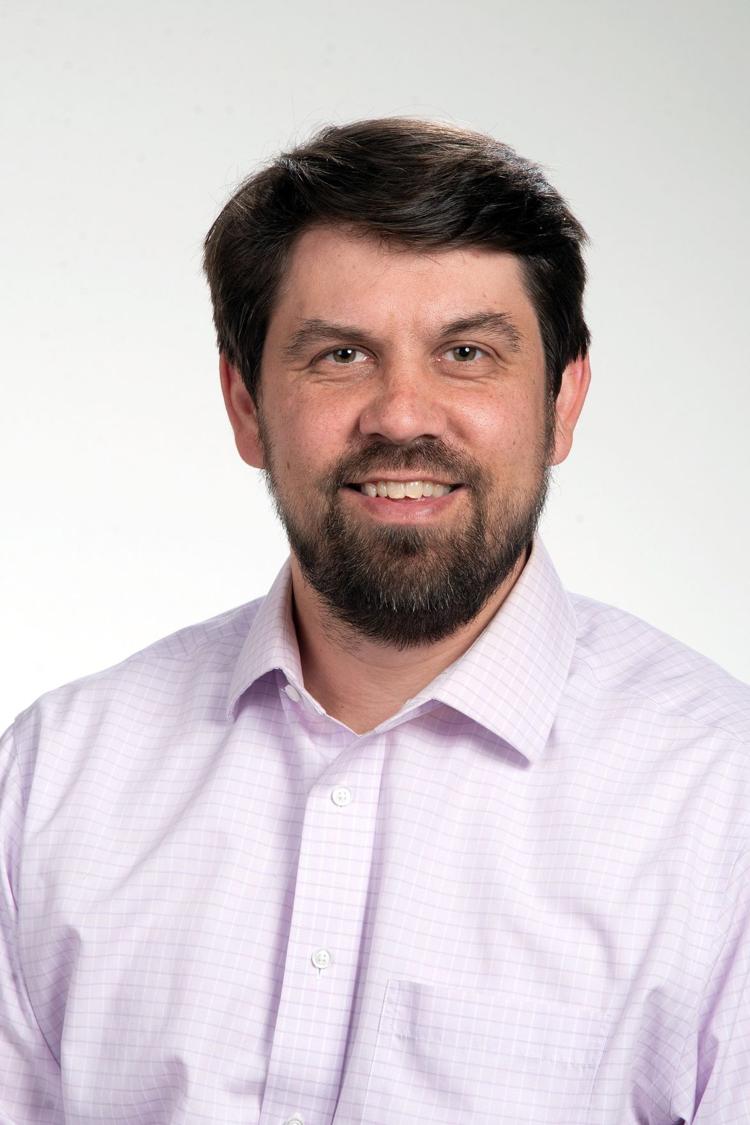 THE RADIO BROADCASTER

'I just love calling the game and being around it'
The 2020 Illinois baseball season is one Scott Beatty will remember.
Maybe not for the reasons he was initially hoping for, though, when the first pitch was thrown on Feb. 14 during the Illini's season opener against Milwaukee in Winston-Salem, N.C.
Almost a month later and 13 games in, the season was canceled because of the coronavirus pandemic. Thus ending Beatty's first season as the play-by-play announcer for Illinois baseball games on WDWS 1400-AM.
"It was a punch in the gut, even though you could see it coming," Beatty said. "Of course, it all makes sense why. But sports was the first thing to experience a shutdown. I was definitely down for a few days. Even now with warmer weather, I sometimes think, 'I could be at the ballpark right now.'"
The 40-year-old Beatty had filled in for longtime broadcaster Dave Loane for a few early road series in past seasons. But with Loane retiring in August, this was Beatty's first full season, with the Illinois graduate set to call all 51 regular-season games, any Big Ten tournament games and any NCAA tournament games.
Of the Illini's 13 games played, Beatty only called one at Illinois Field in Champaign (an 11-8 Illinois win against Chicago State on March 3) with road trips to Winston-Salem, Myrtle Beach, S.C., Frisco, Texas, and Elon, N.C., making up his weekends from mid-February until the second weekend in March.
The week the season was canceled, Beatty was again about to hit the road and help juggle radio coverage with Illinois men's basketball and baseball.
The host of 'SportsTalk,' on WDWS, Beatty left the morning of March 12 to head to Indianapolis to host a special two-hour 'SportsTalk' show that was set to air from 4-6 p.m. at the site of the Big Ten tournament and then make the drive south to Carbdonale for a three-game baseball series between Illinois and SIU-Carbondale that was set to begin at 6 p.m. on March 13.
Needless to say, he never reached either destination.
Veteran WDWS producer/engineer Ed Bond called Beatty while he was near Crawfordsville, Ind., and told him to turn around since the Big Ten tournament was canceled. Hours later, the Illini baseball season was canceled as well.
Despite the brief season, Beatty said a highlight was calling the Illini's 1-0 win against No. 13 Texas A&M on Feb. 28. Illinois starter Ty Weber matched Texas A&M ace Asa Lacy, who is touted as possibly the first pitcher selected in the 2020 MLB draft, before Illini shortstop Branden Comia delivered the only run of the game with an RBI single to score Illini center fielder Taylor Jackson in the bottom of the eighth.
"It was key leaders on the team coming through for the win," Beatty said, "and with a crowd of more than 6,000, you couldn't script a better early-season college game."
While Beatty didn't get to broadcast a potential run by the Illini in Big Ten or a second straight trip to the NCAA tournament for the program, he's trying to find solace now in what the pandemic has brought: more time to spend with his wife, Christina, and the couple's two children, Elliott and Elaina, more time to get involved with his church and a chance to slow down a bit.
Still, Beatty is looking forward to the 2021 season. And a full slate of games to call, from mid-February well into May hopefully.
"There's always an element of fun because it is baseball after all," Beatty said. "But more so I say it was fulfilling work. I just love calling the game and being around it."