The area sports world is still on hiatus because of the global health threat caused by the coronavirus pandemic. As he will until the crisis subsides, Sports Editor Matt Daniels spent the week telling the stories of those affected by the pandemic in a variety of ways.
The junior college coach: 'The best way to keep them safe is also to give them
something to do, which is why we can't take away basketball'
Alex Thorson had his whole spring mapped out. The 26-year-old Kankakee Community College men's basketball coach and his assistant coach, Devin Johnson, knew exactly what AAU tournaments and high school showcases they were going to attend.
What players they were interested in seeing. And how they were going to go about filling out upcoming rosters for the Cavaliers program.
But the COVID-19 pandemic halted all of those plans, forcing Thorson — a 2012 graduate of Unity High School and Philo native — to alter his approach.
Enter PowerPoint presentations and Zoom calls.
Thorson created his PowerPoint slides geared around three central themes: academics, family atmosphere and basketball.
"Within this PowerPoint, we discussed these three categories as well as put together a virtual tour of campus," Thorson said. "That way, our athletes could get a feel of where they would be going the following year since they could not come to physically check out campus. We got on Zoom calls with these recruits and their families so they could understand who we were and what we expect from our program. Most of these Zoom calls last about three hours in which we walked the recruit and his family through every step, just like we would when they came on campus."
Thorson, who started his high school career at St. Thomas More before transferring to Unity for his final year, wrapped up his second season in charge of KCC in late February, with the Cavaliers posting a 21-11 record. Also the lead recruiter for the admissions office at KCC, Thorson called Bourbonnais home prior to the pandemic, but has spent the better part of the last three months back in Philo, working remotely.
He has not seen his players in person since the team left Kankakee when the pandemic started happening in mid-March. So no in-person meetings, study tables or workouts.
"I call each of them at least three times a week to make sure they are staying on top of all their schoolwork and workouts," Thorson said. "They had to shift their focus from being on campus every day to having to hold themselves accountable. When everything hit, we had to figure out how to be able to transport everybody back to their homes."
The process didn't end there, with Thorson checking to make sure his athletes had all the necessary tools to finish their academic work.
"KCC was great at ensuring every student that needed a laptop was provided to them so they could complete all of their coursework," Thorson said. "Then it was my responsibility, as well as our academic checker, Bryce Shafer, to constantly log on and check all of their coursework to make sure that they completed it in time. I have become a full-time tutor over the phone now that we do not have study table."
When he's not keeping tabs on his players, conducting virtual recruiting visits or sitting in on Zoom calls with other college coaches, he has spent time with his family — mom Kathy works at St. Thomas Catholic Church and School in Philo, dad Mark manages the CVS Pharmacy on Green Street in Champaign, younger brother Zack is a teacher at Ludlow Grade School and assistant boys' basketball coach at Paxton-Buckley-Loda and younger brother Sam operates heavy machinery.
Along with trying to improve his golf game.
"I have had a group of eight guys that I have been playing golf with about four days a week," Thorson said. "It is kind of scary how good we are getting at golf, but that is definitely one of my main hobbies as well as fishing."
But basketball is his passion. Has been since he was a youth through his high school days to his time playing at Olivet Nazarene University and then the two seasons he spent as a graduate assistant at Olivet Nazarene before landing the KCC head job when he was just 23 years old.
He's more than eager for the season to tip off in November. No matter what restrictions he might have to encounter or adapt to.
"Basketball isn't a sport where you can create social distancing," Thorson said. "We will have to do our due diligence to make sure that our players aren't running fevers or showing signs of COVID-19. If they aren't, then basketball should take place just like it normally does. We have the technology now a days to run games with 15 players on each team, three coaches, three referees and four people on the scorers' table. Then, we can stream the games online if that is what the state of Illinois decides upon. My goal is to keep our players safe, but the best way to keep them safe is also to give them something to do, which is why we can't take away basketball."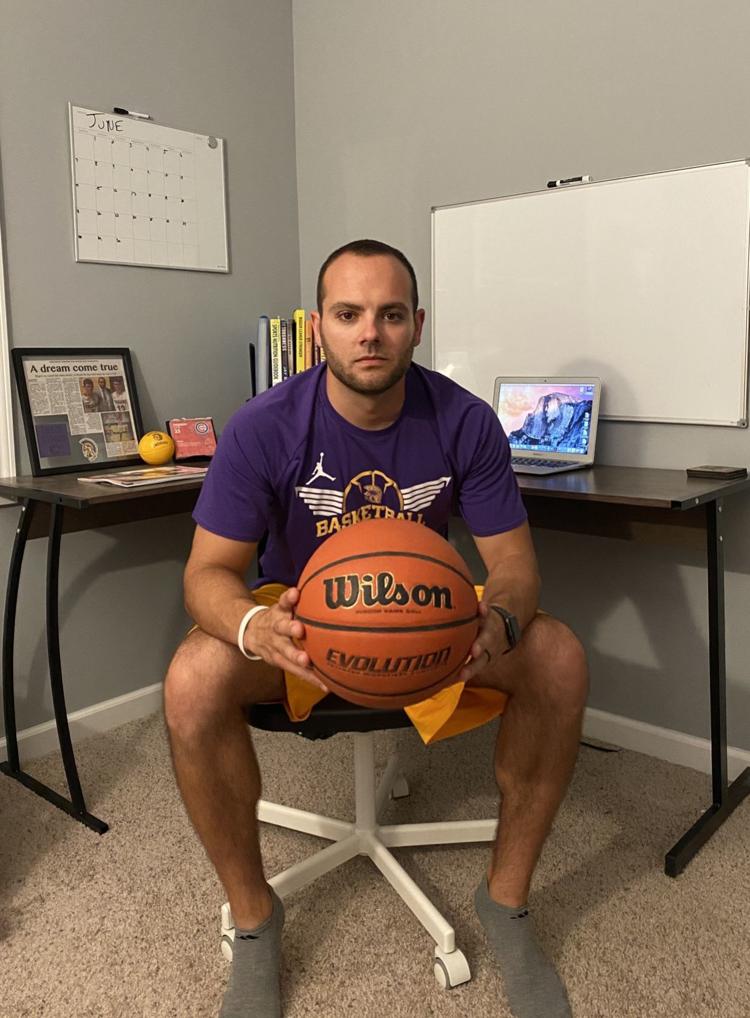 The first-year high school coach: 'I'm chomping at the bit to coach that first game'
Wade Rogers doesn't need any introduction to Robert Beazley Gym in Armstrong.
He knows it well. Knows the look of the setup when the dark wooden bleachers are pulled out. Knows where the purple and gold stand out in various pockets of the high school gymnasium.
The 25-year-old grew up going to games there, watching the Armstrong-Potomac boys' basketball team play. Grew up playing games there, getting the chance to represent the Trojans on the court from 2009 to 2013.
And now that he's all grown up, he'll get to coach games there, too.
"I have had the vision of being a head varsity basketball coach since I was a young boy," Rogers said. "I'm chomping at the bit to coach that first game."
Rogers interviewed to become the A-P boys' basketball coach this spring and landed it in mid-April after long-time local coach Deon Mennenga — who previously coached at Rantoul, Fisher and Bismarck-Henning — resigned from the position after two seasons in charge of the Trojans. A-P has experienced some lean years on the boys' basketball front, with the program last recording a winning season in 2006, going 23-8 under Bill Mulvaney and winning a Class A regional title, the program's last piece of postseason hardware.
But Rogers, a 2013 graduate of Armstrong Township High, has fond memories of what the program was like under the direction of Mulvaney, who is currently the school district's superintendent. The Trojans won seven regional titles from 1990 to 2006, including two sectional championships as well under the old two-class system.
"The first memories I have of A-P basketball games had packed crowds, and everybody knew that A-P crowds were the best around," Rogers said. "Not only at home, but they traveled better than anyone, too. I remember it being fun because those teams were really talented, but they were also very disciplined and fundamentally sound. It didn't matter who A-P played. They were going to play their game. That is what I want of my teams as well."
Rogers served as an assistant coach each of the last two seasons at A-P, which saw the Trojans struggle to post a combined record of 8-49. Prior to his return to help coach A-P, the 2018 Eastern Illinois University graduate served a season as an assistant coach at Sullivan under Chet Reeder, who is now the boys' basketball coach at Teutopolis.
"I would consider him my mentor and someone I go to with coaching advice," Rogers said.
Like, perhaps, how to handle prepping for his first season amid a global health pandemic. Rogers said the Trojans have worked on weight training and agility drills the last two weeks once the IHSA approved guidelines earlier this month about what schools and teams could do. Before that, Rogers would send his players drills and workouts they could do at home.
"I was in constant contact with them and also tried to make sure their mental health was doing fine," Rogers said. "It's been a rough time, but I know everyone is in the same boat."
Rogers said he had his sights set on holding team camps this summer, along with possibly a team overnight camp in Quincy or Greenville, to help his players get better prepared for the upcoming season.
"But once the pandemic hit, it kind of halted those plans," Rogers said. "The summer is huge for a small school team. Unlike big schools, our numbers aren't always big. We need everybody to play, and the ones who do play need to be in tip-top shape come November. The summer is also time to work on individual skill sets and things that we should not have to use a ton of practice time on in November because they should be working on them all summer long. Not that we won't hit fundamentals in November, but it's critical to use the summer time to really focus on individual fundamentals."
The chance to coach boys' basketball at A-P isn't the only sport Rogers will oversee. He was set to spend his first season in the dugout coaching the A-P baseball team this past spring before the pandemic canceled the 2020 season.
"I was very bummed about not getting to start the baseball season," he said. "I was feeling really good about our group and how they were going to perform this year. The worst part was not knowing. We kept waiting and waiting for good news — but it never came."
For now, Rogers is gearing all his preparation towards teaching and coaching. He's a physical education teacher at Armstrong-Ellis Grade School and Armstrong Township High School and his wife, Meghan, is a third-grade teacher at Potomac Grade School.
Of course, the past three months have also given him time for home improvement projects on the couple's house in Gifford.
"I did some cosmetic work to the outside of our house and put some plants and rock down," he said. "We've both come to realization that we aren't Chip and Joanna Gaines by any means, though."
That's OK. He'll spend the next five months making sure he's doing his part in trying to revitalize the A-P boys' basketball program that features returning starters in seniors-to-be Rylee Showalter and Jayce Townsend, along with other key contributors in seniors-to-be Austin Rosenberger and Gary Jones and juniors-to-be Luke Gordon and Brody Howard. Plus, the eighth-grade boys' basketball team at Potomac Junior High made the Class 1A state tournament this past winter.
"It's a nice mixed group of ages, and I'm excited to see them compete every day in practice," Rogers said. "To get the program back to a successful standpoint would mean the world to me. I have very high expectations of what this group can do, and I will try to spend every day not only making them better players and teammates, but young men as well. To be successful, you have to set a goal and vision and believe that you can obtain it. That is what I constantly tell these guys, and I fully believe in them."