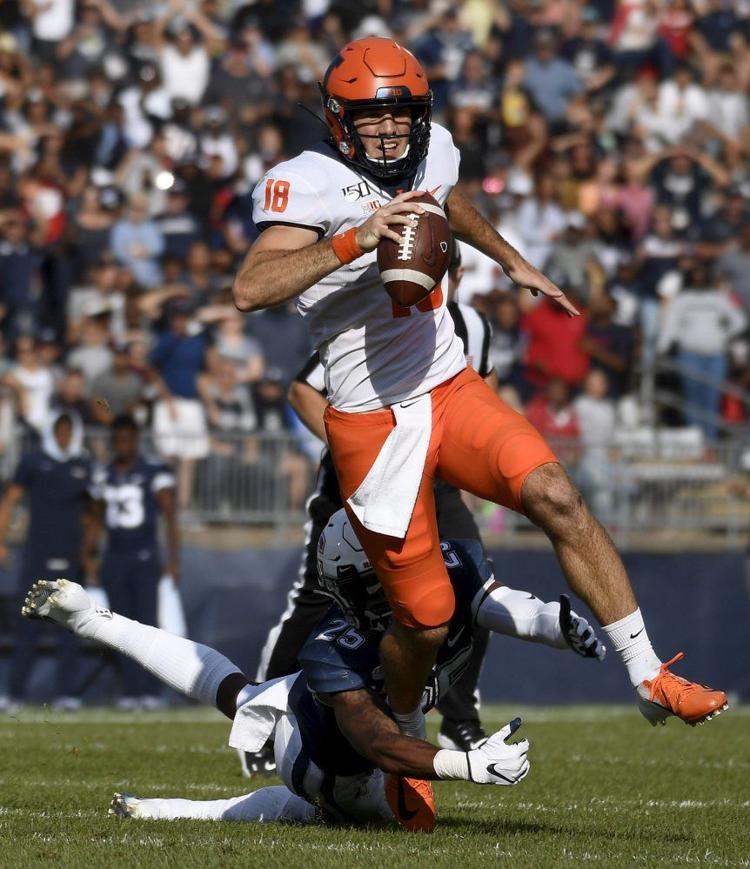 Illinois vs. the University of Connecticut in an NCAA college football game, Saturday, Sept. 7, 2019, in East Hartford, Conn.
It wasn't pretty.
Lovie Smith's Illini dug a 13-0 hole and, for much of Saturday afternoon in Connecticut, they were their own worst enemy.
But football victories are too precious to discount, even against a troubled foe like UConn, and so we tuck away a 31-23 triumph with one final suggestion: "Act like you've been there."
Poise was a missing ingredient as the Illini committed three turnovers and nine penalties — two 15-yarders on silly celebrations — to keep hopes alive for the outplayed hosts.
With the soon-to-be independent Huskies loading up to blunt the UI ground attack, UI transfers are becoming hometown heroes: Former Michigan quarterback Brandon Peters completed 24 of 35 passes for all four TDs, nine of those completions going to USC pickups Josh Imatorbhebhe and Trevon Sidney, while USC's Oluwole Betiku Jr. led the "D" with another 31/2 sacks.
Don't be too hard on Lovie's defenders. They held UConn to 10 net yards on the ground, speared two interceptions and have now permitted just one touchdown in two games.
Mistakes happened
A half-dozen first-quarter faux pas (slips, blunders, indiscretions) reminded the Illini what can happen when you're on the road and off your feed. Some of them:
(1) Peters' early sideline pass turned into a 52-yard pick-6, and he also threw behind a wide-open Daniel Barker before connecting on 14 of his next 16.
(2) UConn freshman Cameron Ross turned a short pass into a 40-yard gain to set up a field goal.
(4) Four major penalties before halftime stunted UI efforts, and another promising drive backfired when Ra'Von Bonner got stuffed on a 4th-and-1.
(5) And then, when Illinois surged ahead 24-13 on James McCourt's 53-yard field goal — a shorter kick would have given Army the upset of Michigan earlier on Saturday — and Dre Brown returned the second-half kickoff 68 yards, Illini fans relaxed ...  only to see a first-down fumble on Peters' handoff to Champaign native Dominic Stampley.
Questions still remain
It became a tug-of-war with sharp momentum swings.
And that's not unusual. Look what happened at Colorado, where the hosts scored 24 fourth-quarter points and upended Nebraska — the UI opponent in two weeks — 34-31 in overtime. For all these teams other than Alabama, Clemson and maybe Ohio State, we shouldn't allow anything to surprise us.
Right now, it is appropriate to ask what happened to the Illini running game. It was so productive last year. Has the absence of Mike Epstein (permanently) and Reggie Corbin contributed? Has Illinois cut back on QB misdirection and option runs to protect Peters? Counting redshirt freshman Jakari Norwood's 50-yard breakaway, the Illini rushed for just 130 yards in 35 carries, and had 24 rushes of 3 yards or less (counting the last two in victory formation). Put simply, that's bad.
And where will Smith find safeties for next Saturday's game against Eastern Michigan? Tony Adams left the field and didn't return, and Stanley Green drew another targeting disqualification. It's mighty thin back there, but sub Michael Marchese had a 29-yard return on an interception, so ...
Point is, the Illini got by Saturday despite a rash of mistakes. And excuse me for pointing out these faux pas when we should be celebrating the first nonconference road win since 2007 ... although, I'm pleased to point out that Illinois won bowl games against Baylor in 2010 and UCLA in 2011, both in their home states.