Ten included in latest Centennial Athletic Hall of Fame class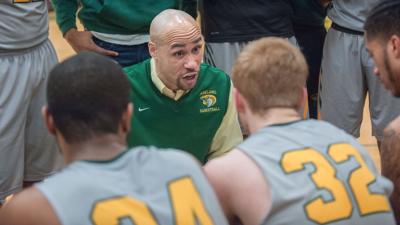 Centennial High School's third Athletic Hall of Fame class is set to include, among others, a former Illinois football quarterback and the current coach of Parkland men's basketball.
Chargers athletic director Tony Millard on Monday released the 10-member Class of 2020, which will be officially inducted Jan. 25.
-- Coleco Buie, 1992 graduate, basketball
-- Jacob Bushue, 2010, soccer
-- Andrew Cotner, 1987, baseball/football
-- Ken Crawford, 1990, baseball/basketball/football
-- Stephanie Dueringer, 1993, cross-country/track and field
-- Anthony Figueroa, 1995, basketball
-- Payton Johnson, 2005, swimming and diving
-- Tammy Seward, 1990, basketball/softball
-- Marni Tobin, 1990, swimming and diving
-- Dustin Ward, 1999, baseball/football
Some of these individuals still are directly tied to the sporting world by their prep ventures.
Buie and Figueroa both hold roles with Parkland men's hoops, the former as an assistant coach and the latter as its head coach.
Ward is a 2003 Illinois graduate who tossed for 1,946 yards and 13 touchdowns in a four-year career under center and currently serves as offensive coordinator for Catawba College football in North Carolina.
Bushue is presently a professional soccer player with FC Haka in Finland. Cotner had a three-year minor league baseball career in the New York Mets' system and now is an assistant coach for Parkland baseball.
The induction celebration will commence with an open house event during the Jan. 24 boys' basketball game between Centennial and Urbana, followed the next day by the group's Hall of Fame inclusion during a ceremony at Savoy's Regent Ballroom. Ticket information will be released this fall.