Thirty-three individuals have been chosen as first-teamers for our 2022 all-state football team, and another 100 athletes are special-mention selections.
FIRST TEAM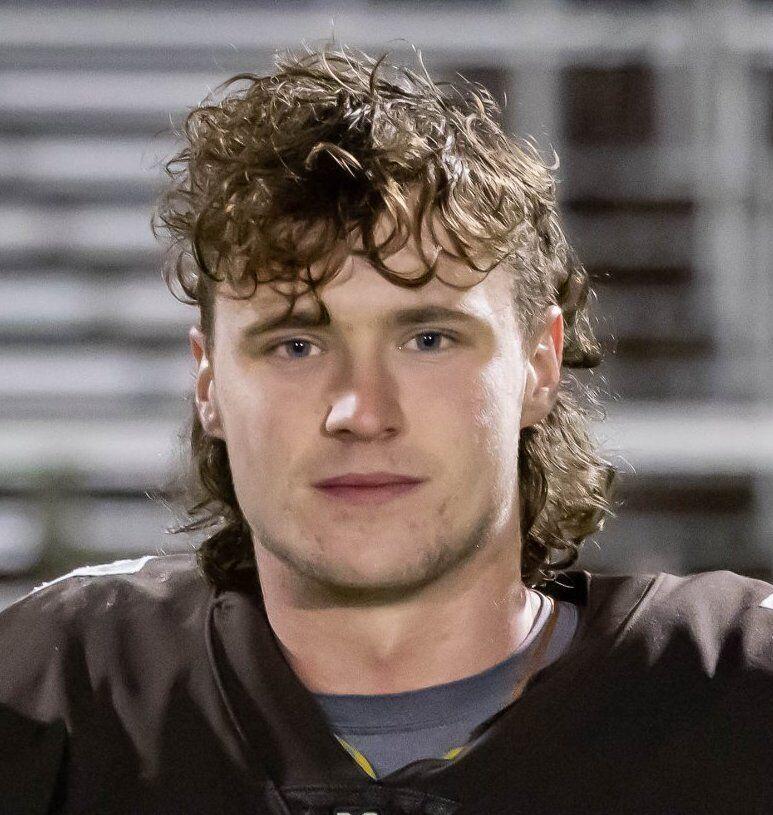 Blainey Dowling
Senior quarterback, Chicago Mt. Carmel
6-foot-2, 200 pounds
Uncommitted Dowling has thrown for 2,712 yards and 37 touchdowns, helping Caravan to Class 7A state final.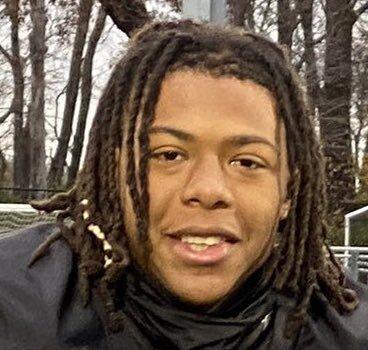 Ty Lott
Senior quarterback, Springfield Sacred Heart-Griffin
6-foot-2, 190 pounds
Repeat all-state first-teamer has tossed 36 scoring passes on 2,537 yards, added eight rushing TDs for 4A finalist.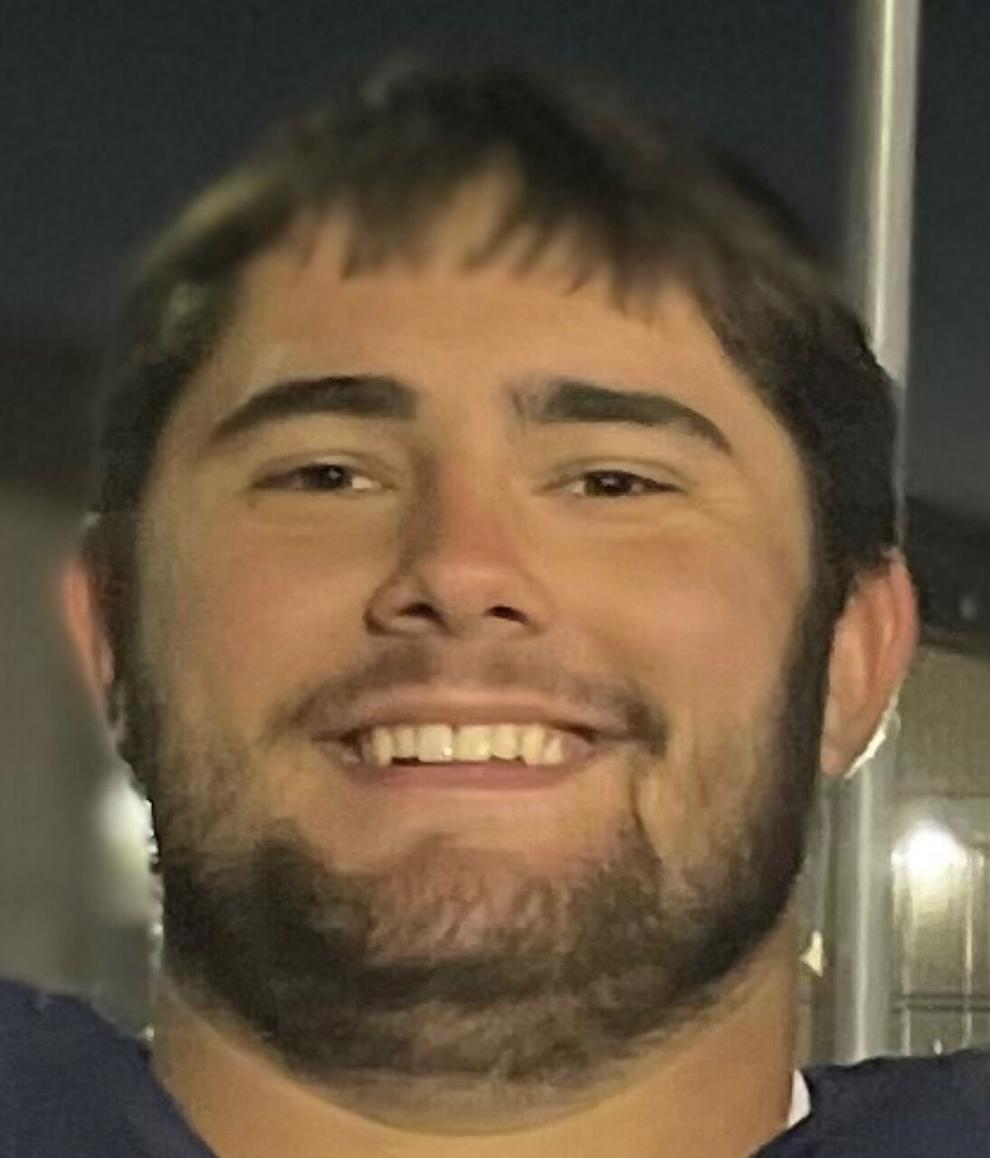 Keeton Reiss
Senior quarterback, Rochester
6-foot-1, 260 pounds
Being offered as college fullback, he threw for 2,623 yards and 27 touchdowns, rushed for 525 yards and 19 TDs.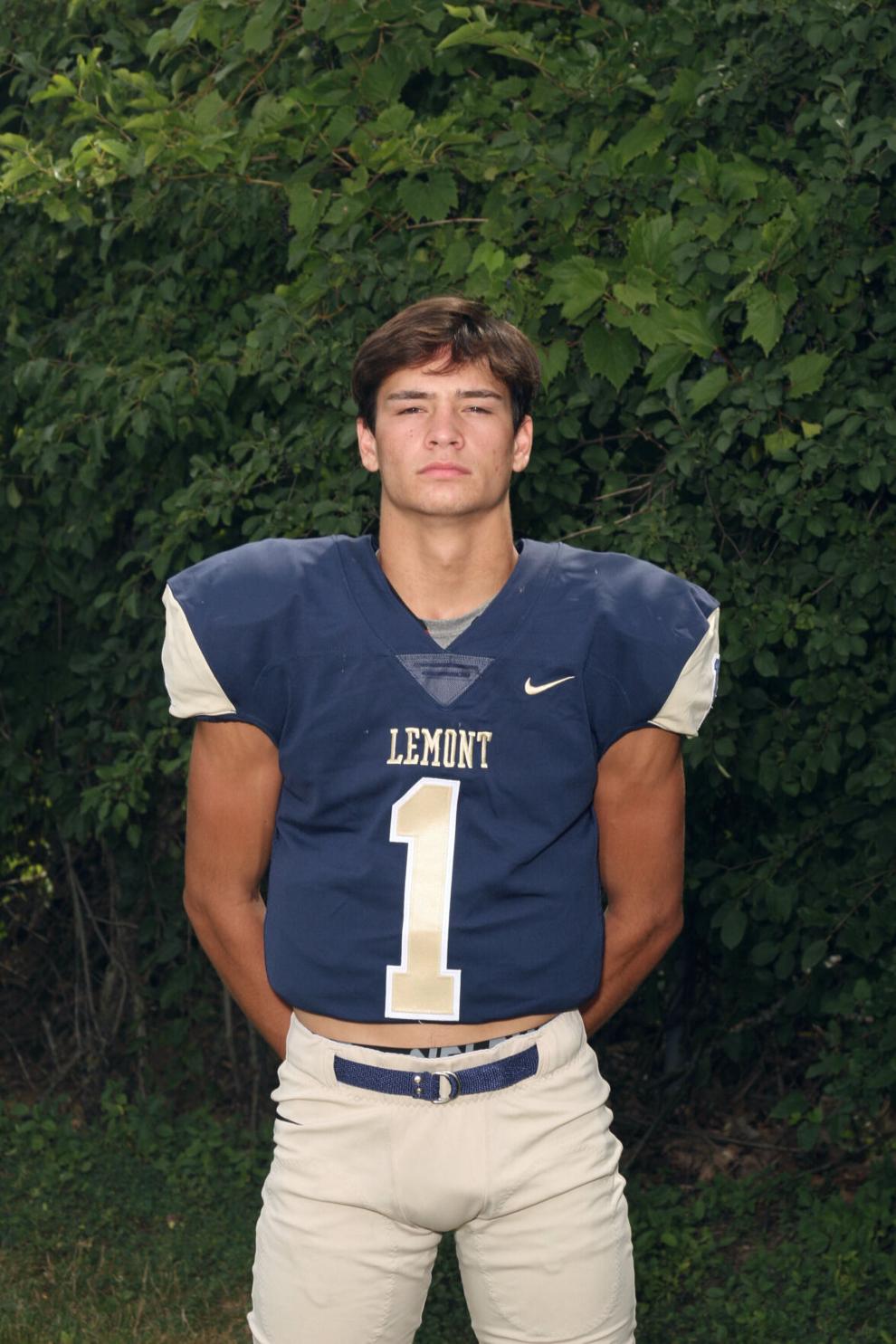 Payton Salomon
Senior quarterback, Lemont
6-foot, 175 pounds
Salomon completed 75 percent of his throws for 2,617 yards and 38 TDs, helping Lemont crack the 6A semis.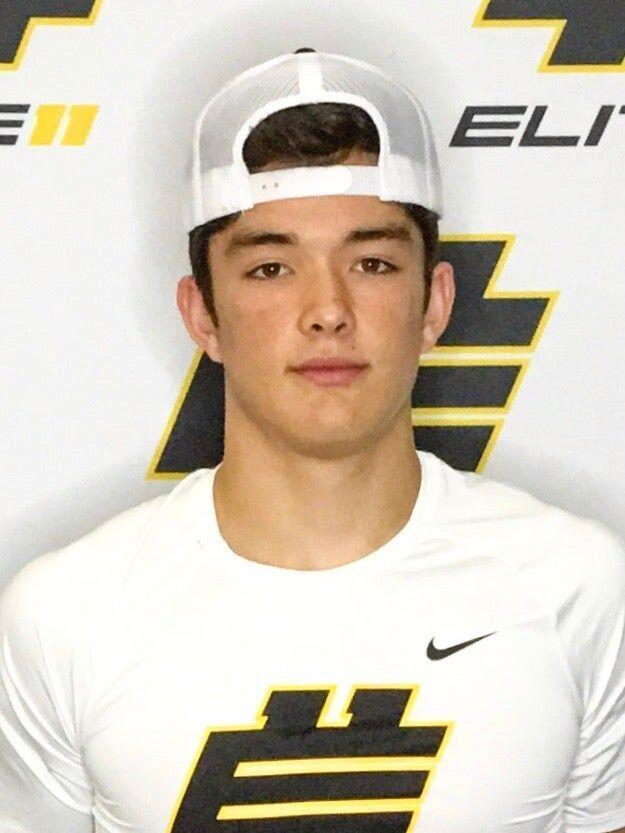 Jake Stearney
Senior quarterback, Loyola Academy
6-foot-3, 185 pounds
Colgate commit boasts 2,149 passing yards and 34 touchdown passes ahead of Class 8A state championship.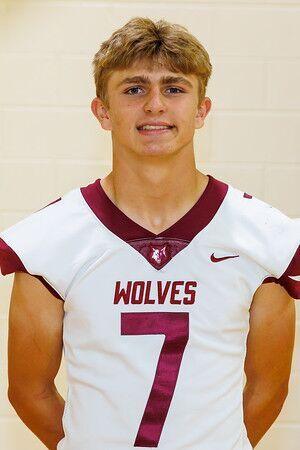 Tyler Vasey
Senior quarterback, Prairie Ridge
6-foot, 180 pounds
Player of the Year erupted for IHSA single-season rushing yards record (3,776), has 52 run TDs before 6A state final.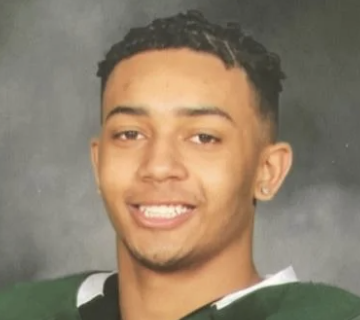 Kaiden Miller
Senior running back, Grayslake Central
6-foot-3, 215 pounds
Holds nine different Rams records after generating 2,681 all-purpose yards this year, leading to 27 total touchdowns.

Blake Regenold
Senior running back, Tri-Valley
6-foot-2, 195 pounds
Has rushed nearly 300 times for Class 2A state finalist, amassing 2,368 yards and 32 TDs. Also sports 63 tackles.
Malachi Washington
Senior running back, Peoria
5-foot-11, 205 pounds
Averaging more than 200 rushing yards per game, including nearly 400 plus five TDs in a Class 5A semifinal win.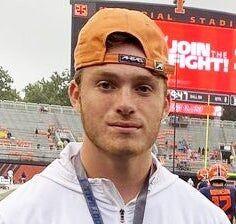 Frank Covey
Senior tight end, Prospect
6-foot-2, 185 pounds
Future Northwestern athlete racked up 69 catches for 1,374 yards and 25 touchdowns for the nine-win Knights.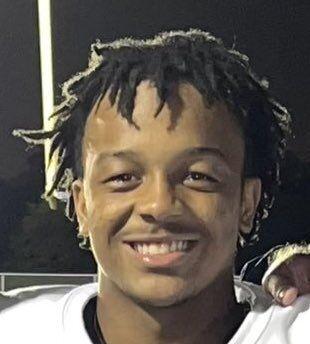 KJ Parker
Junior wide receiver, IC Catholic
5-foot-11, 170 pounds
Iowa, Iowa State, Wisconsin have offered athlete with 33 catches for 996 yards, 15 TDs entering Class 3A state final.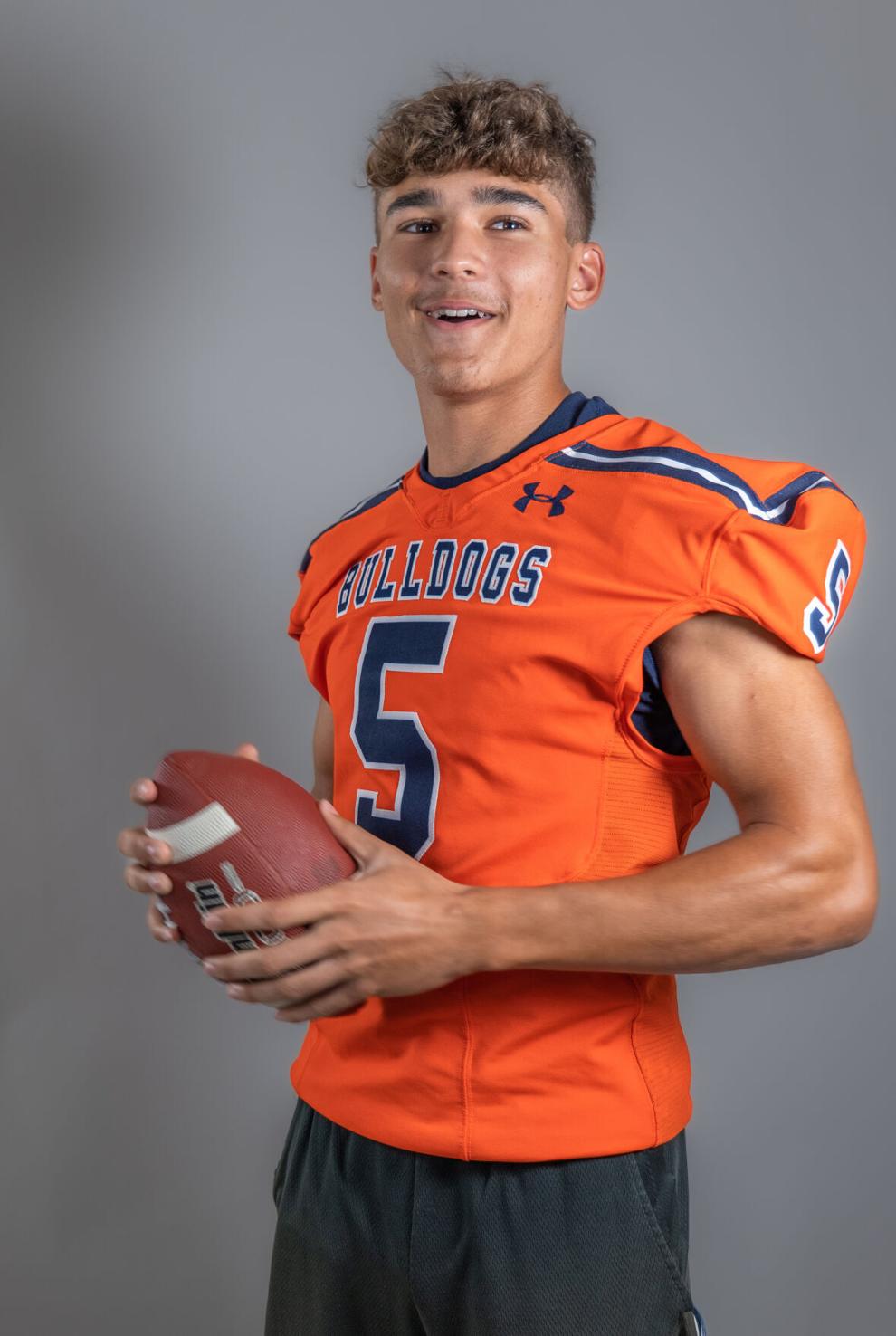 Quenton Rogers
Senior wide receiver, Mahomet-Seymour
6-foot-2, 195 pounds
Snared 59 passes for 1,141 yards and 18 TDs, rushed for nine TDs — two in a 5A quarterfinal — for 11-win Bulldogs.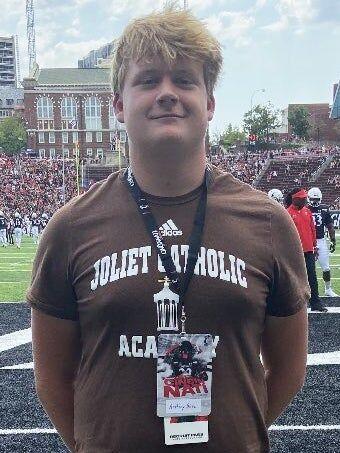 Anthony Birsa
Senior offensive lineman, Joliet Catholic
6-foot-5, 270 pounds
Northwestern commit helped Hilltoppers average nearly 40 points per game as part of an eight-win campaign.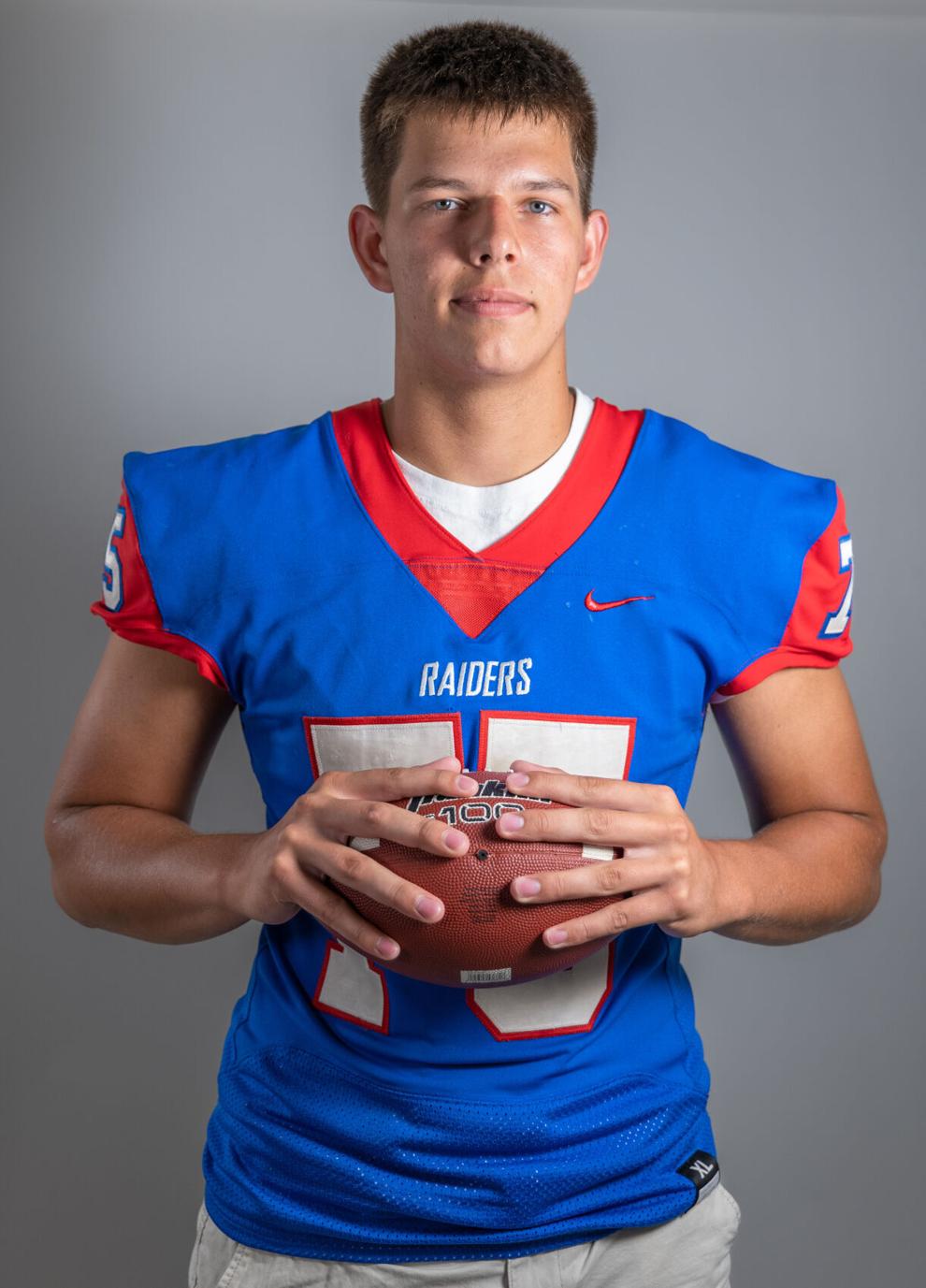 Cannon Leonard
Senior offensive lineman, Iroquois West
6-foot-9, 265 pounds
Iowa pledge follows in older brother Clayton's footsteps as an all-stater, aided Raiders in averaging 33.8 points.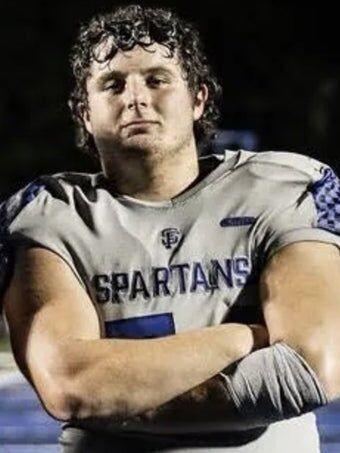 TJ McMillen
Senior offensive lineman, Wheaton St. Francis
6-foot-3, 275 pounds
Illinois commit generated 108 pancake blocks on offense, 68 tackles on defense in 11 games for 4A semifinalist.
Miles McVay
Senior offensive lineman, East St. Louis
6-foot-6, 358 pounds
Will prepare to play at Alabama after Class 6A state final, which Flyers enter averaging 45.5 points per contest.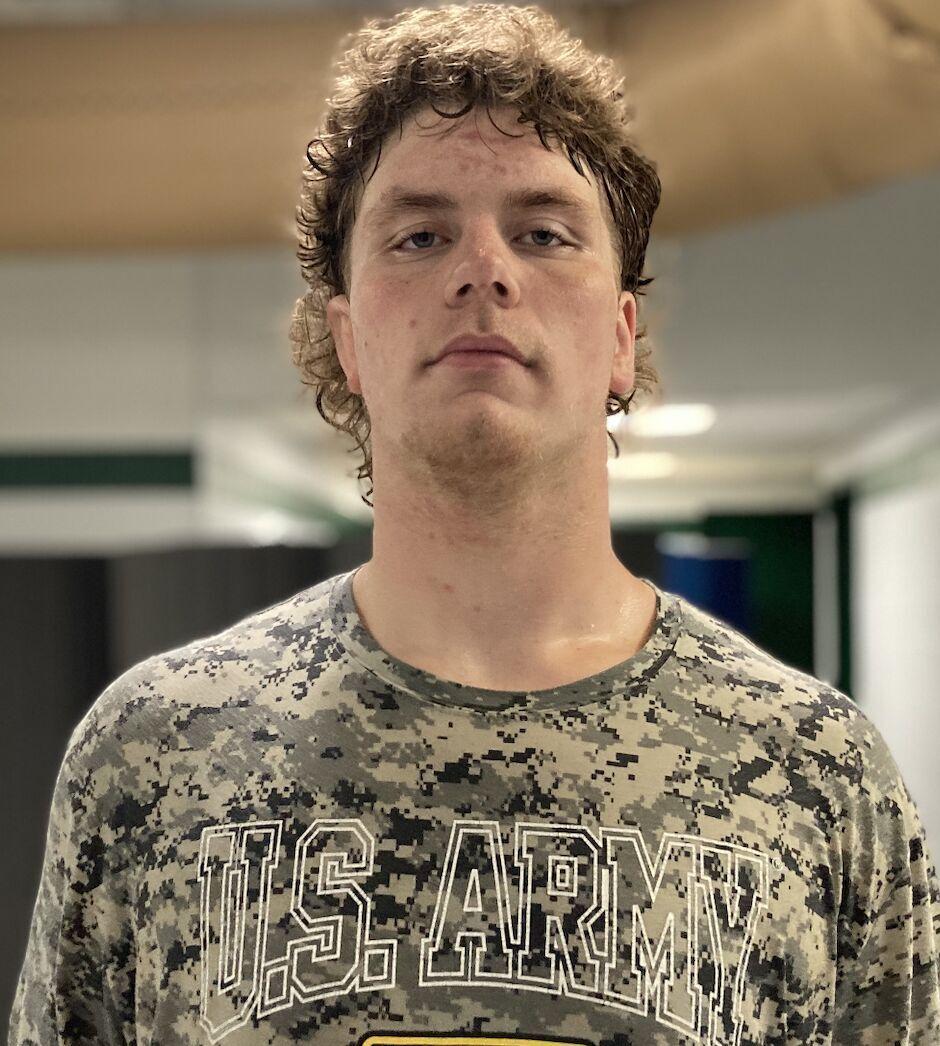 Chris Terek
Senior offensive lineman, Glenbard West
6-foot-5, 310 pounds
Wisconsin will welcome Terek after he played role in Hilltoppers averaging 34.4 points en route to 8A semifinals.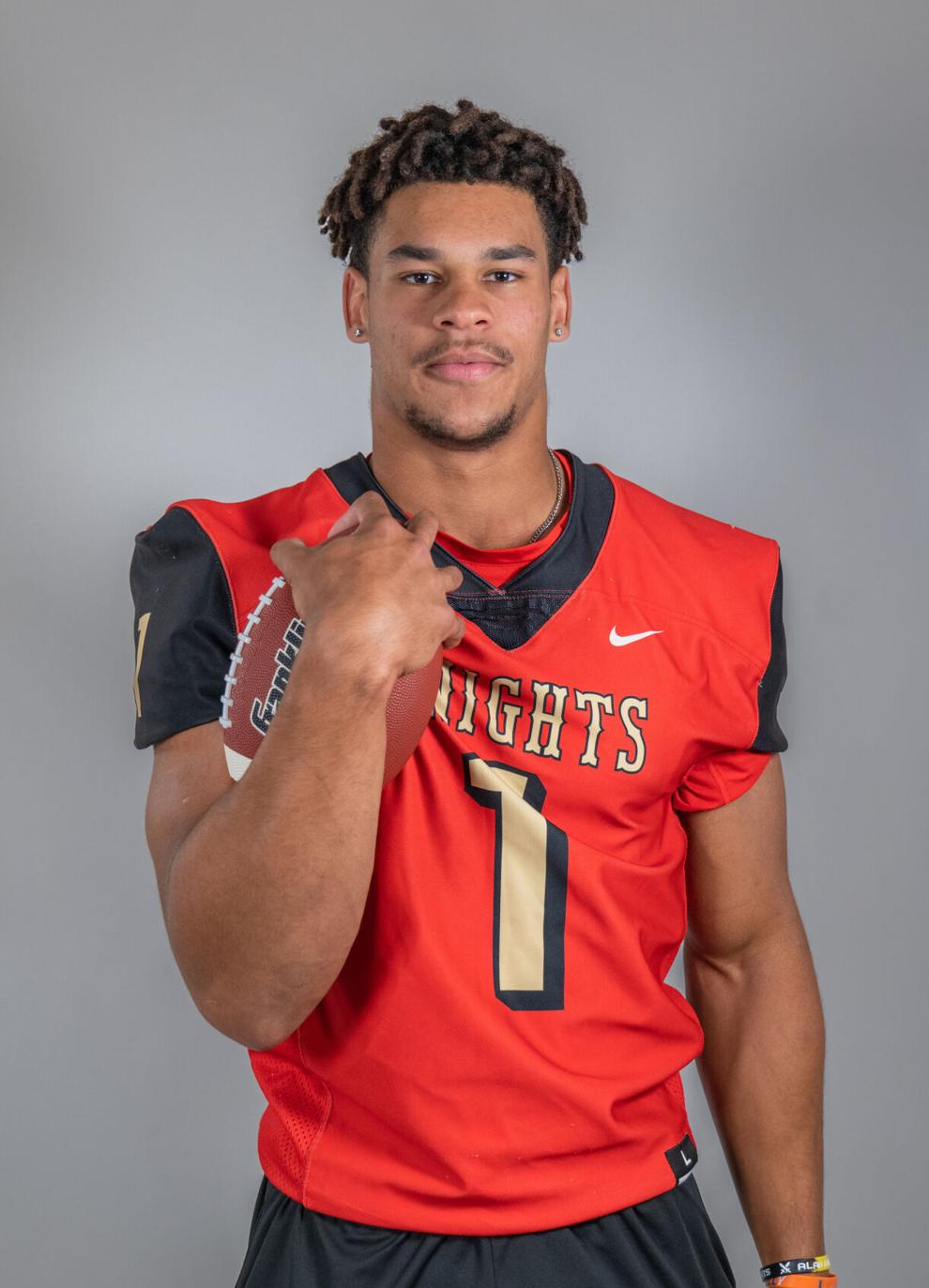 Kaden Feagin
Senior all-purpose player, Arthur-Lovington-Atwood-Hammond
6-foot-3, 235 pounds
Future Illini rushed for 1,637 yards, threw for 695 yards and had 36 total touchdowns. Also made 82 tackles.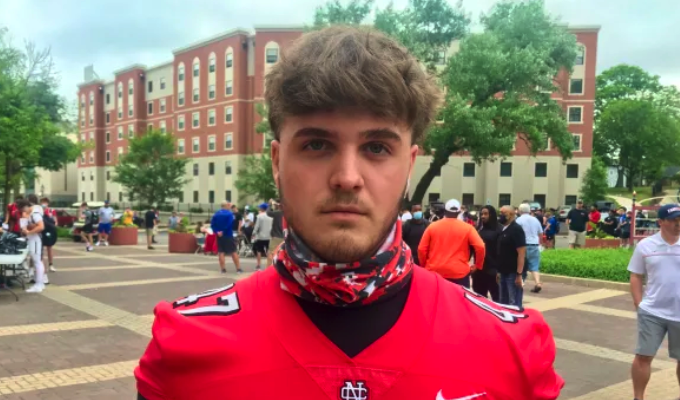 Andrew Laurich
Senior defensive lineman, Yorkville
6-foot-5, 265 pounds
Will head to Colorado State after harassing opponents to tune of 28 tackles for loss, eight sacks for 10-win team.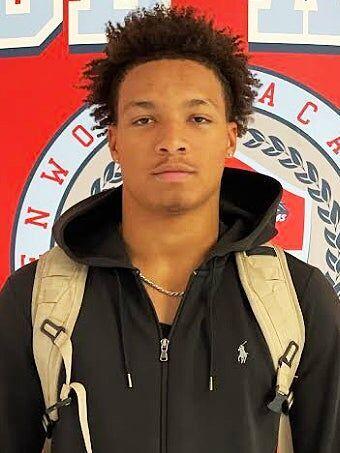 Marquise Lightfoot
Junior defensive lineman, Chicago Kenwood
6-foot-5, 215 pounds
Holds six Big Ten offers and provided Broncos 122 tackles, 15 tackles for loss, nine sacks, 18 QB hurries this year.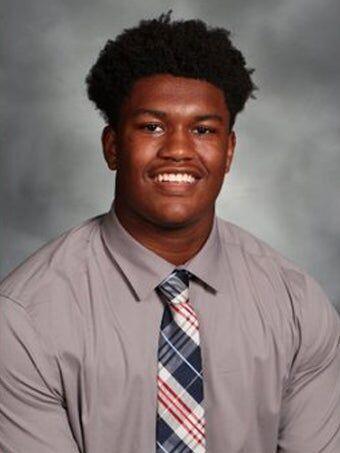 Roderick Pierce
Senior defensive lineman, Brother Rice
6-foot-3, 290 pounds
Wisconsin commit disrupted opposing offenses, recording 21 tackles for loss, 3 1/2 sacks and 14 QB hurries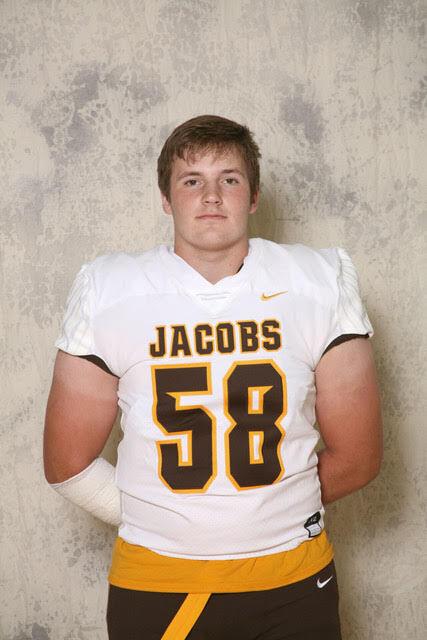 Will Seibert
Senior defensive lineman, Jacobs
6-foot-3, 255 pounds
Johns Hopkins pledge piled up 16 tackles for loss, 12 sacks while founding a non-profit sports equipment group.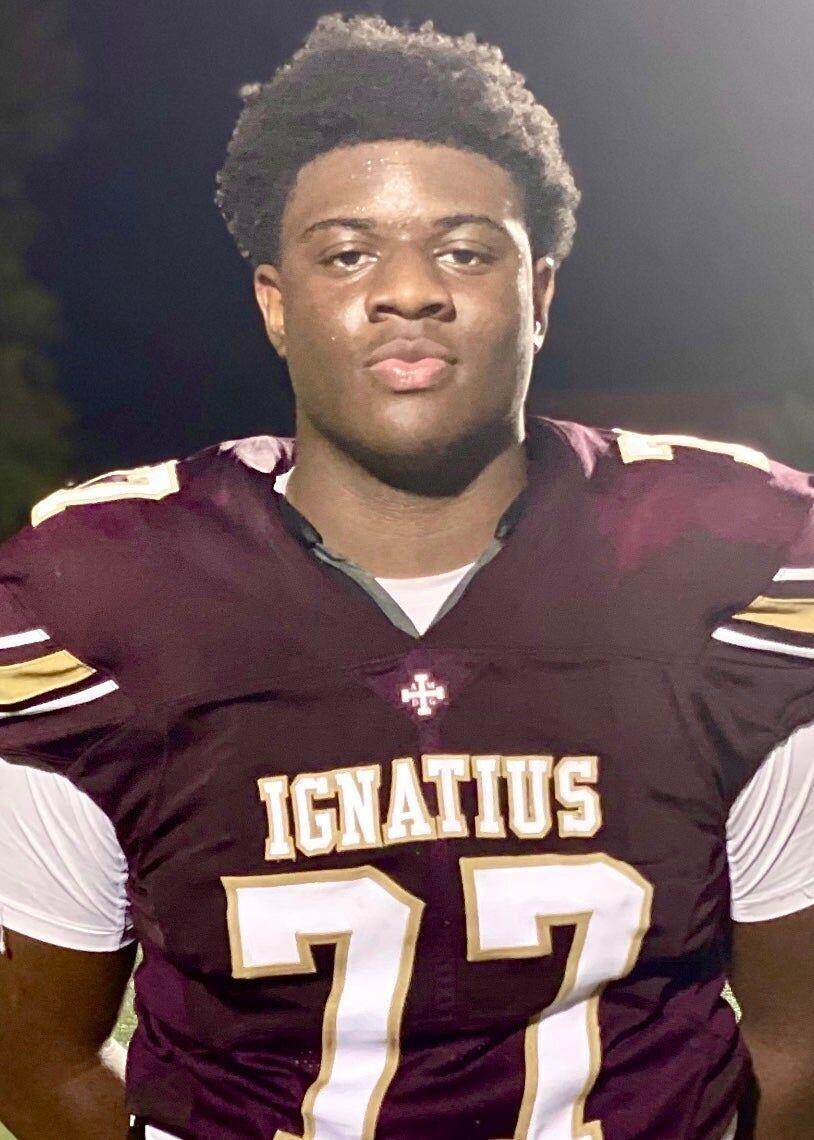 Justin Scott
Junior defensive lineman, Chicago St. Ignatius
6-foot-5, 310 pounds
Carries offers from Alabama, Notre Dame and numerous Big Ten schools, helped Wolfpack to Class 6A semifinals.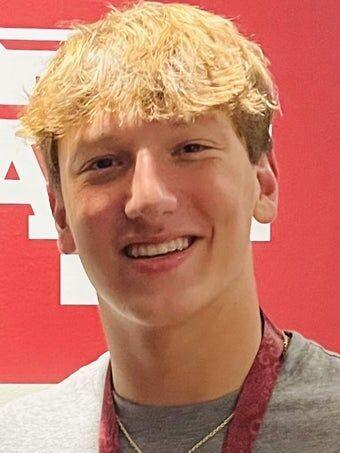 Christian Bentancur
Junior linebacker, Marian Central
6-foot-5, 235 pounds
Boasts 32 Power Five offers; had seven sacks and one pick-six on defense, 54 receptions for 1,058 yards on offense.

Cole Dutkovich
Senior linebacker, Naperville Neuqua Valley
6-2 210
Naperville Sun's Player of the Year contributed 121 tackles, five sacks, four forced fumbles for eight-win team.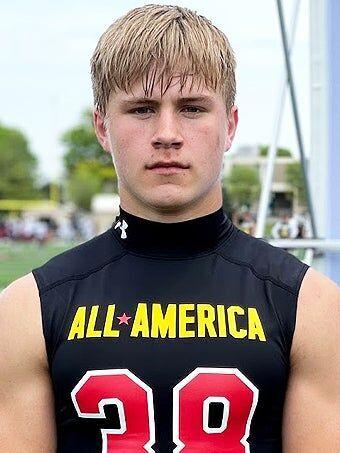 Tyler Jansey
Senior linebacker, Batavia
6-foot-1, 215 pounds
Entering 7A state final, Wisconsin commit has notched 120 tackles, 16 tackles for loss, nine offensive touchdowns.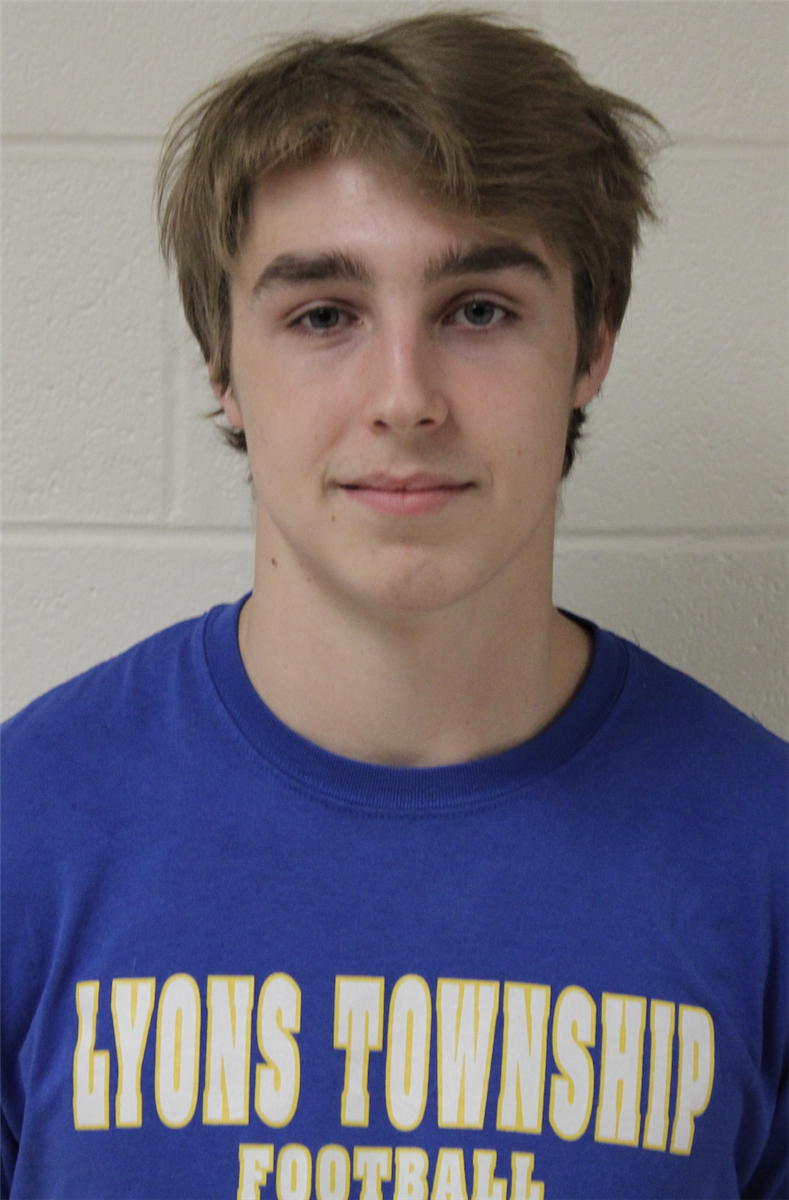 Danny Pasko
Senior linebacker, Lyons
6-foot-1, 205 pounds
Lions' first quarterfinals berth since 2012 came on back of Pasko's 72 tackles, 15 sacks. Added five rushing TDs.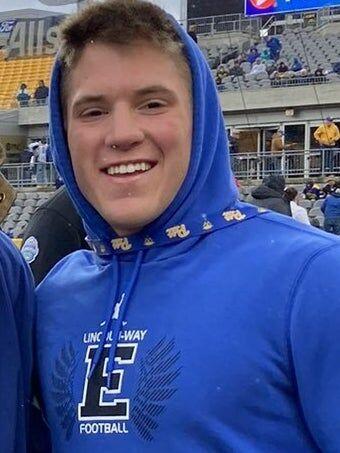 Jake Scianna
Senior linebacker, Lincoln-Way East
6-foot, 225 pounds
Has played season on a torn ACL, yet possesses 87 tackles, seven tackles for loss, two sacks before 8A state final.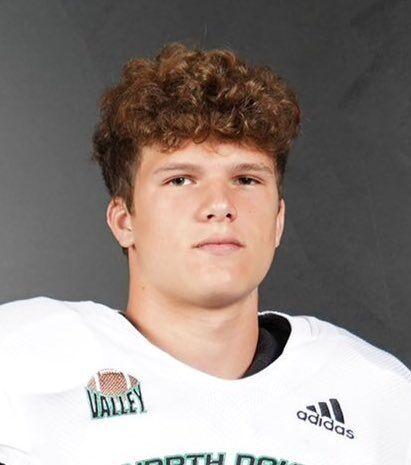 Tyler Erkman
Senior defensive back, Lake Zurich
6-foot-1, 185 pounds
North Dakota commit's skill set includes picking off five passes on defense, catching nine TD passes on offense.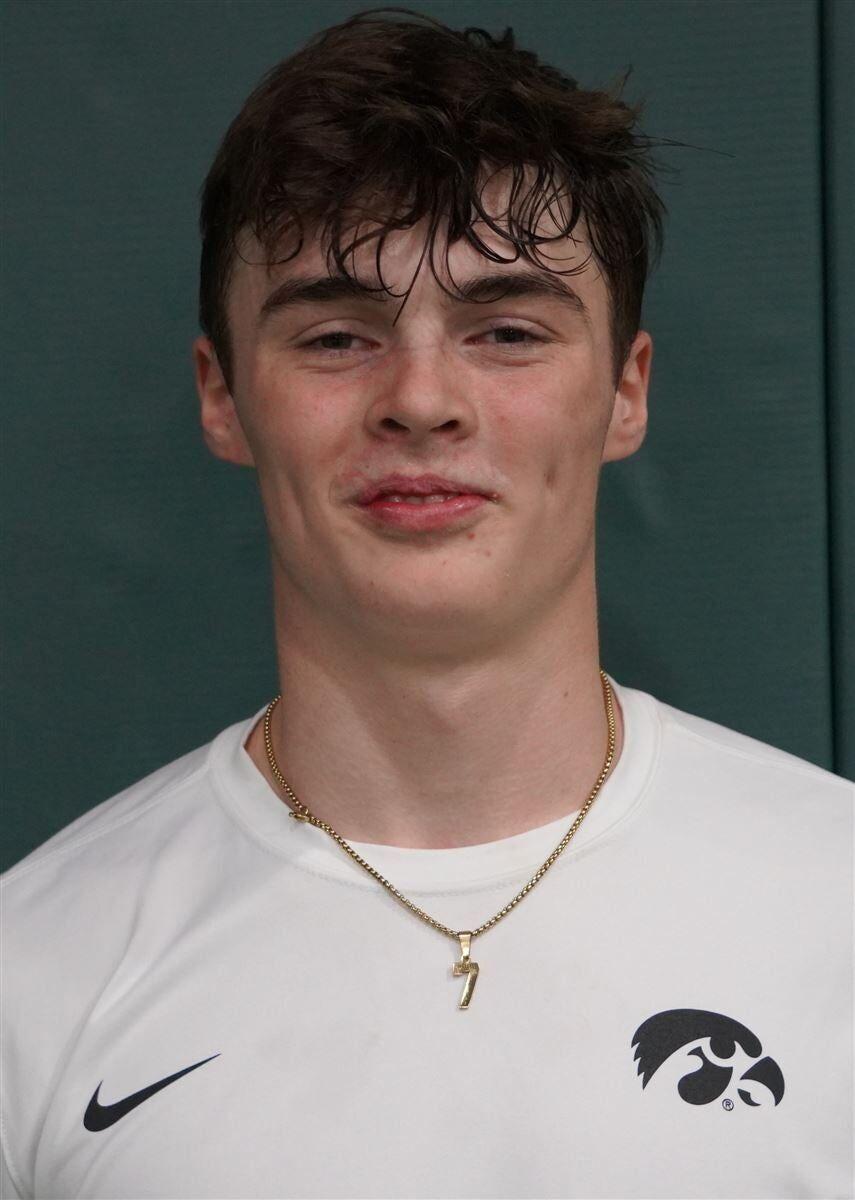 John Nestor
Senior defensive back, Marist
6-foot-1, 185 pounds
Eventual Iowa athlete logged four interceptions along with 52 tackles, five tackles for loss for a 7A semifinalist.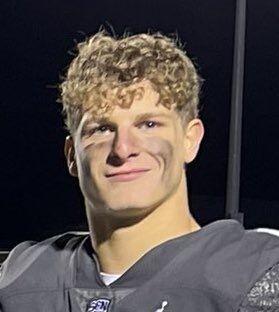 Drew Surges
Senior defensive back, St. Charles North
6-foot-2, 185 pounds
Did it all for 7A quarterfinalist, making 96 tackles with six tackles for loss, rushing for 12 TDs, catching six TD passes.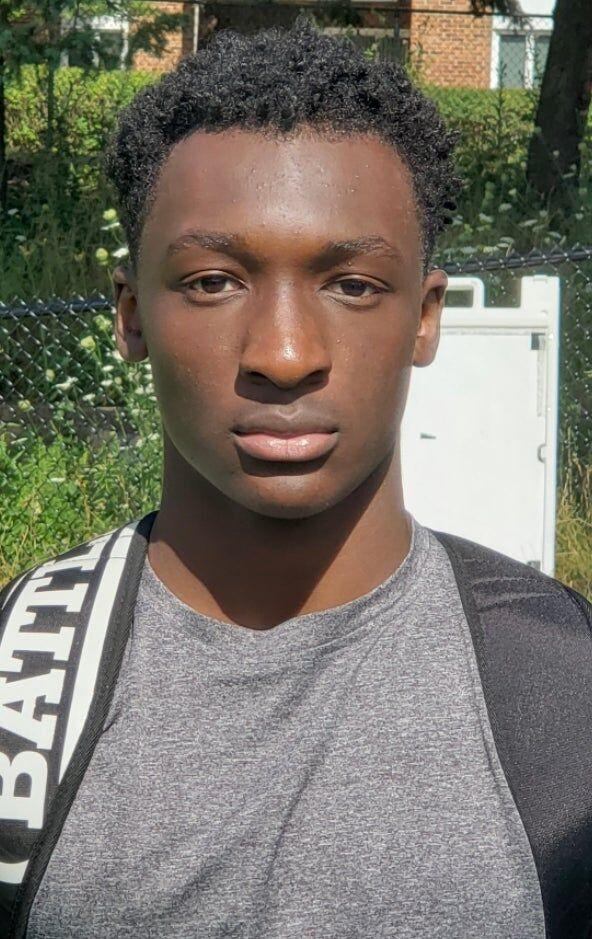 Justin Taylor
Senior defensive back, Nazareth Academy
6-foot-1, 185 pounds
Wisconsin commit helped Roadrunners recover from 2-4 start to make 5A state final, scored twice in quarterfinals.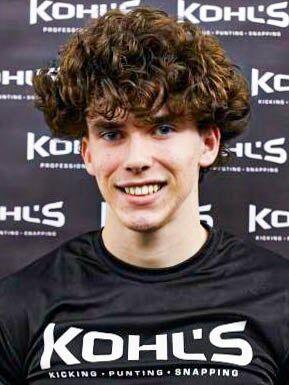 Conor Talty
Senior kicker, Chicago St. Rita
6-foot-1, 195 pounds
Alabama pledge went 36 of 36 on PATs, 17 of 19 on field goals with a long of 51 yards for Class 7A semifinalist.
SPECIAL MENTION 100
QUARTERBACKS
ATHLETE SCHOOL HT. WT. YR.
Teegan Davis Princeton 6-2 170 Sr.
Matthew Hagy Vandalia 5-10 165 Sr.
Kohen Hoots Jacksonville Routt 6-0 180 Sr.
Bradyn Little Quincy 5-11 185 So.
Max Lynch Pana 6-0 170 Sr.
Dennis Mandala IC Catholic 5-10 165 Jr.
Eli Meier Sycamore 6-0 175 Sr.
Alesio Milivojevic Wheaton St. Francis 6-2 200 Jr.
Keeton Reiss Rochester 6-1 260 Sr.
Jake Seman Williamsville 5-11 170 Sr.
Blayne Sisson Mt. Carmel 6-1 175 Jr.
Matt Vezza York 5-11 180 Sr.
Brad Vierneisel Prospect 6-1 185 Sr.
RUNNING BACKS
ATHLETE SCHOOL HT. WT. YR.
Devon Clemons Murphysboro 5-8 185 Sr.
Kaden Farrell Ridgeview/Lexington 5-10 199 Sr.
Drew Fehr Prairie Central 6-2 190 Sr.
Garrett Gensler Rochelle 6-1 200 Sr.
Michael Hackman BHRA 5-9 165 Sr.
Johnny Kobler Forreston 6-3 240 Sr.
James Kwiecinski Lincoln-Way East 5-11 180 Sr.
Gunar Lobdell Lena-Winslow 6-0 184 Sr.
Lleyton Miller Decatur Lutheran 5-9 165 Jr.
Mac Resetich Spring Valley Hall 6-1 210 Sr.
Evan Rivera Mt. Vernon 5-10 200 Sr.
Steven Siegel Richmond-Burton 6-0 210 Sr.
Brian Stanton Plainfield South 5-10 190 Sr.
Breyahn Townsend Bremen 5-10 185 Sr.
Kanye Tyler Pekin 6-0 180 Sr.
WIDE RECEIVERS/TIGHT ENDS
ATHLETE SCHOOL HT. WT. YR.
Lynel Billups-Williams Crete-Monee 5-11 170 Sr.
Dash Dorsey St. Francis 5-11 175 Sr.
Malik Elzy Simeon 6-3 198 Sr.
Declan Forde Loyola Academy 6-2 175 Sr.
Carson Grove Hersey 6-0 175 Jr.
JT Jeter Macomb 6-2 170 Jr.
Allen Middleton Mascoutah 5-11 180 Sr.
Madixx Morris Sacred Heart-Griffin 6-0 187 Sr.
Michael Prokos Crystal Lake South 6-0 180 Jr.
Jalen Smith O'Fallon 6-4 190 Sr.
Garrett Taylor Salt Fork 6-6 255 Sr.
Deakon Tonielli Oswego 6-6 215 Sr.
Brayden Trimble Mt. Zion 6-0 160 So.
Cam Williams Glenbard South 6-2 185 Jr.
OFFENSIVE LINEMEN
ATHLETE SCHOOL HT. WT. YR.
Austin Barrett St. Charles East 6-7 285 Sr.
Jacek Blaszynski Lemont 6-3 285 Sr.
Anthony Cunningham Belleville East 6-4 305 Sr.
Alex Hamrick Chatham Glenwood 6-0 250 Sr.
Justin Hemmersbach Morris 6-3 265 Sr.
Charles Jagusah Alleman 6-6 308 Sr.
Josh Janowski Lincoln-Way East 6-2 275 Jr.
Zach Michaels Plainfield North 6-2 270 Sr.
Paris Patterson East St. Louis 6-6 345 Sr.
Chris Peura Seneca 6-2 230 Jr.
Cooper Starks Virden North Mac 6-5 320 Sr.
Jacob Welch Johnsburg 6-6 295 Sr.
DEFENSIVE LINEMEN
ATHLETE SCHOOL HT. WT. YR.
Ethan Aghakhan Stevenson 6-3 245 Jr.
Brooks Bahr Loyola Academy 6-6 270 Sr.
Ben Bielawski Downers Grove North 6-1 225 Sr.
Jake Davies Yorkville 6-7 250 Sr.
Henry Engel Lena-Winslow 6-3 260 Sr.
Iose Epenesa Edwardsville 6-4 245 So.
Christopher Farrell Lisle 6-6 280 Sr.
Reese Finch Rockridge 5-10 160 Sr.
Jaylun Nelson Triad 6-2 330 Sr.
Mack O'Halloran Downers Grove South 6-4 240 Sr.
Eddie Turek Lyons 6-4 265 Jr.
Kyus Root Unity 5-9 180 Sr.
Asher Tomaszewski Chicago Mt. Carmel 6-4 275 Sr.
Emmet Wolf Maine South 6-3 233 Sr.
LINEBACKERS
ATHLETE SCHOOL HT. WT. YR.
Matt Brummer St. Teresa 6-1 192 Sr.
Bryan Dieker Mendon Unity 6-1 185 Sr.
Dominic Dixon East St. Louis 6-0 180 Jr.
Isaac Genenbacher Camp Point Central 6-3 200 Sr.
Zyire Griffin Urban Prep/Bronzeville 6-1 245 Jr.
Brandon Harvey Centennial 6-0 210 Sr.
Brennan Houser Mahomet-Seymour 6-1 205 Sr.
Matt Kingsbury Chicago St. Rita 6-3 230 Sr.
Brock Leenerman Normal West 6-1 185 Sr.
DeShaun Manning Huntley 6-0 175 Sr.
Aiden Riser Maroa-Forsyth 6-0 190 Sr.
Logan Rooney Plainfield North 6-2 215 Sr.
Jack Sadowsky Batavia 6-2 230 Sr.
Matthew Senteney Annawan/Wethersfield 6-0 185 Sr.
Jackson Stratton Quincy Notre Dame 6-1 200 Sr.
Noah Taylor Lemont 6-1 195 Sr.
K'Vion Thunderbird Kenwood 6-1 205 Sr.
Michael Tringali South Elgin 6-2 215 Sr.
Cory West Sacred Heart-Griffin 6-1 195 Sr.
DEFENSIVE BACKS
ATHLETE SCHOOL HT. WT. YR.
Leontre Bradford East St. Louis 6-2 190 Jr.
Kaiden Droste West Central 5-8 165 Sr.
Jailen Duffie Gurnee Warren 6-0 160 Sr.
Brody Engel Genoa-Kingston 5-9 160 Sr.
Jyaire Hill Kankakee 6-1 170 Sr.
Colin James Wilmington 5-8 160 Sr.
AJ Mulcahy Durand-Pecatonica 6-3 205 Sr.
Chase Newman Morrison 6-3 170 Jr.
Owen Relander Mercer County 6-3 185 Sr.
Bryce Revermann Breese Central 6-0 145 Sr.
SPECIALISTS
ATHLETE SCHOOL HT. WT. YR.
Ian Davis Carbondale 5-10 170 Sr.
Declan Duley El Paso-Gridley 6-2 200 Sr.
Danny Vukovic Lake Zurich 6-1 200 Sr.