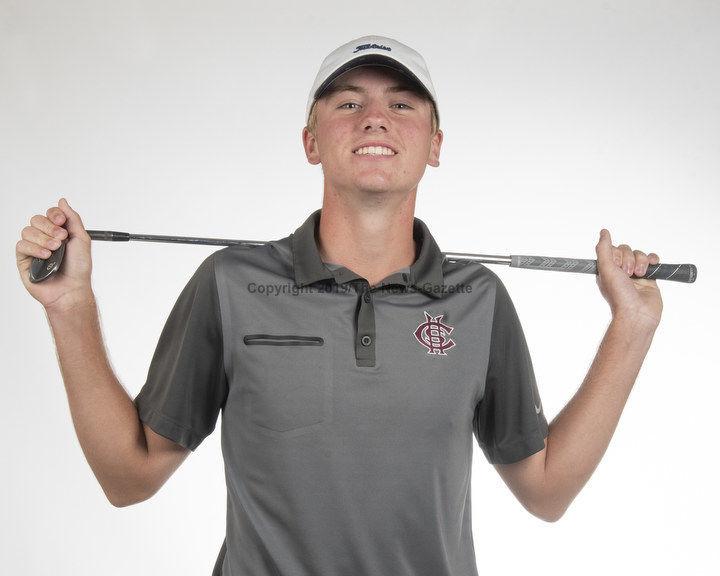 In volleyball
Blue Ridge 2, Cumberland 0. Nadia Beadle smashed nine kills for the visiting Knights (9-0), who recorded a 25-23, 25-14 win in Lincoln Prairie Conference action. Gracie Shaffer added 23 assists and Jenna Mozingo boasted 18 digs for Blue Ridge.
Cerro Gordo/Bement 2, Decatur Lutheran 1. Seven kills from Shelby Strack and six apiece from Kali Walker, Riley Brandenburg and Haven Daly helped the visiting Broncos (3-5) to a 25-13, 23-25, 25-16 LPC victory. Ella Mann notched 25 assists for CG/B.
Champaign Central 2, St. Joseph-Ogden 0. Mira Chopra accounted for 10 kills and six digs as the visiting Maroons (5-6) picked up a non-league win over the Spartans (5-2) — 25-22, 25-20. Elise Bossenbroek and Katy Shockey clubbed eight kills apiece for Central.
Fieldcrest 2, LeRoy 1. After taking the first set 25-21, the host Panthers (4-5) couldn't prevail in Heart of Illinois Conference action, dropping the next two 25-22 and 25-17. Paige Cooper's nine kills, Morgan Shreves' 27 digs and Megan Claunch's 25 assists topped LeRoy's chart.
Flanagan-Cornell 2, Gibson City-Melvin-Sibley 0. Jessica Freehill cooked up eight digs and four kills for the visiting Falcons (4-5), who stumbled 25-15, 25-22 in HOIC play. Mady Schutte added six assists for GCMS.
Heritage 2, Arcola 0. Bri Struck accounted for six kills and five digs as the visiting Hawks (9-2) clipped the Purple Riders 25-13, 25-21 in an LPC event. Olivia Sorensen contributed 11 assists and five aces for Heritage.
Heyworth 2, Fisher 0. Leah McCoy's five digs and four kills couldn't guide the host Bunnies (3-7) to HOIC success, as they fell 25-15, 25-14. Kylee Bishop (five digs, four assists, three kills) and Kallie Evans (four digs, four assists) also stood out for Fisher.
Judah Christian 2, Cissna Park 0. The visiting Tribe (8-2) won its fifth consecutive match, this one in 27-25, 25-21 nonconference fashion versus the Timberwolves (2-7). Jenna Barnhart (nine kills) and Abby Fredrick (20 assists) jolted Judah. CP received 11 assists from Mikayla Knake and 11 digs from Kristin Walder.
Mahomet-Seymour 2, Mattoon 1. Ainsley Ranstead's balanced stat line — eight digs, seven kills and five aces — keyed the visiting Bulldogs (7-3) in a 21-25, 25-22, 25-14 Apollo Conference success. Kayin Garner dished out 28 assists for M-S.
Normal Calvary 2, Uni High 0. Despite seven aces from Dani Burgstrom, the host Illineks suffered a 25-12, 28-26 East Central Illinois Conference setback.
Okaw Valley 2, Arthur-Lovington-Atwood-Hammond 0. Three kills apiece from Cheyenne Chupp and Charley Condill didn't equate to a win for the visiting Knights (3-7), who dropped a LPC match 25-21, 25-16.
St. Thomas More 2, Paxton-Buckley-Loda 1. Double-digit kills from both Anna McClure (15) and Allie Trame (10) aided the host Sabers (4-1) in a 20-25, 25-14, 25-22 nonconference comeback versus the Panthers (8-1). Caroline Kerr handled 32 assists for STM. PBL was paced by Addison Oyer (15 kills, nine digs) and Abbie Schmidt (17 assists, 10 digs).
Unity 2, Clinton 0. The visiting Rockets (11-0) maintained their perfect record, topping the Maroons (1-5) 25-15, 25-18 in a non-league contest. Emma Bleecher's eight kills, Jalyn Powell's 18 assists and Ella Godsell's 13 digs spurred Unity. Tori Burke (five kills) and Delaney Woodbury (14 assists) led Clinton.
Watseka 2, Hoopeston Area 0. Kinzie Parsons' nine kills and Raegann Kochel's eight kills keyed the attack for the host Warriors (5-5-1) in a nonconference success — 25-11, 25-18 — versus the Cornjerkers (2-6). Sydney McTaggart (15 digs) and Grace Smith (10 assists) also helped Watseka's outcome.
Westville 2, Armstrong-Potomac 0. The host Tigers (3-0) picked up a Vermilion Valley Conference victory — 25-22, 25-10 over the Trojans (1-5). Maizy Lawnicki and Corinn Crippin both turned in seven kills for Westville to go with 11 assists from Jasmyn Meeker. Emma Franzen's eight kills and Lily Jameson's 14 assists keyed A-P.
In boys' soccer
Bismarck-Henning/Rossville-Alvin 7, Rantoul 3. Although Gedardo Mateo-Hernandez compiled two goals and one assist for the host Eagles (1-4-1), the Blue Devils (5-0) still pulled away in a nonconference tilt.
Champaign Central 9, Danville 0. Santiago Rodriguez turned in a hat trick for the visiting Maroons (7-1-2) in a Big 12 Conference victory over the Vikings (4-4). Cooper Carson (two goals) and Ethan Gulley (one goal, two assists) also contributed offensively for Central.
Fisher/Gibson City-Melvin-Sibley 2, St. Joseph-Ogden 0. Following a scoreless first half, Ethan Kasper beat the opposing keeper twice for the visiting Bunnies (8-1-1) in a nonconference win over the Spartans (1-5-1). Parker Rollins boasted a three-save shutout in net for Fisher/GCMS. Hunter Ketchum soaked up six saves in goal for SJ-O.
Grant Park 8, Watseka 0. Andrew Heuring gobbled up 25 saves in goal for the visiting Warriors (0-6), who couldn't slow a non-league enemy.
Hoopeston Area 7, Georgetown-Ridge Farm/Westville 0. Rhys Root and Cameron Flint each scored twice and assisted once for the host Cornjerkers (6-0-1) during a Vermilion Valley Conference victory over the Buffaloes (0-7). Neil Williams added a goal and three helpers for Hoopeston Area, which received a netminder shutout from Payton Berlin.
Iroquois West 3, Beecher 2. Diego Camarena notched all of the goals for the host Raiders (7-2), the last on a penalty kick to ensure a nonconference win.
Meridian 5, Arthur-Lovington-Atwood-Hammond 2. Both Scott McClain and Manaye Morfey dented the twine for the visiting Knights (2-3), but it wasn't enough to avoid a non-league loss.
Oakwood/Salt Fork 5, Schlarman 0. Brady Tevebaugh recorded a hat trick for the visiting Comets (3-3-1) in a VVC triumph over the Hilltoppers (0-6). Colin Merritt netted a goal and assisted on two for O/SF. Schlarman's Jason Craig turned in nine goaltender saves.
St. Thomas More 2, Bloomington Cornerstone 0. Slava Boehm collected both goals for the host Sabers (5-1-3) during a non-league success, assisted by Moni Nwosu and JP Hoffman. Emery Rulon earned the shutout in goal.
Urbana 9, Uni High 1. William Arana turned up a hat trick for the host Tigers (4-1), who dispatched the Illineks (2-2-4) in a non-league tilt. Miguel Lemus and Seydou Mukadi also beat the enemy keeper twice for Urbana, and Lemus added two assists.
In boys' golf
At Danville. Logan Hoshauer and Reed Sperry put up the two best outings at Wolf Creek Golf Club, their 39-46 combo leading Oakwood past Salt Fork 195-214. Mac Hill's 50 led all Storm golfers.
At Farmer City. Despite Blue Ridge's Aaron Jayne snagging medalist position with a 38 at Woodlawn Country Club, the Knights had to settle for second place behind Tri-Valley, though ahead of Clinton and Fisher (166-185-205-256). Jackson Dempsey's 47 and Bradley Grieser's 52 led the Maroons and Bunnies, respectively.
At Monticello. William Ross was the lone athlete to shoot below 40 at Monticello Golf Club, his 39 pushing Monticello past Mahomet-Seymour 172-183. Tanner Buehnerkemper added a 44 for the Sages to offset a 45 from the Bulldogs' Jacob Louis and a 48 from Brandon Collins.
At Savoy. Damien McMullen's 44 at the U of I Blue Course wasn't enough to lift Centennial past Mattoon in a 172-186 decision. Close behind McMullen were fellow Chargers Jack Stickels (45) and Kody Skelton (46).
At Sheldon. Watseka's Jordan Schroeder posted the best total at Shewami Country Club with a 40, allowing the Warriors to stave off Bismarck-Henning/Rossville-Alvin and Westville 176-180-209. Lukas Ball's 42 also aided Watseka and tied him for second with the Blue Devils' Izaiah Lusk. Kenny Clarkston's 49 paced the Tigers.
In girls' golf
At Fairbury. Prairie Central outlasted Watseka and Blue Ridge, 203-219-230, at Indian Creek Golf Course behind a runner-up display from Katelind Winterland (47), as well as Miah Bachtold earning a share of third at 51. The Warriors' Natalie Schroeder soared to medalist recognition with a 40, while the Knights were paced by Ashlyn Voyles' 51.
At Mahomet. Alaina Bowie cruised to medalist status with a 71 at Lake of the Woods Golf Course, guiding St. Thomas More to the team crown in the Champaign County/Piatt County Tournament. The Sabers' collective 319 easily outpaced runner-up Monticello (385). Backing Bowie were Mia Kirby and Sammy Miller, each with an 82 to share second place. Molly Stringer's 83 led the Sages, Ainsley Winters' 100 was best for third-place Mahomet-Seymour, Camryn McClard's 113 keyed fourth-place Centennial and Cassie To's 91 grabbed top billing for Champaign Central.
In boys' cross-country
At Monticello. Tuscola's Mason Day and Logan Wallace gave the Warriors the two best clockings at Allerton Park, their 3-mile times of 18 minutes, 18 seconds and 18:40 leading the program to a 38-98-108-110 win over Argenta-Oreana, Tri-County and Sullivan. The Bombers' Ryan Woodruff (18:58) and Tyler Heldt (19:06) finished 3-4 overall.
At Oakwood. St. Joseph-Ogden's Ethan Blackburn and Tad Pettit finished 1-2 in a 2-mile race through Kickapoo State Park, pacing the Spartans in a non-scored triangular versus Armstrong-Potomac and Oakwood/Salt Fork with times of 12 minutes, 53.66 seconds and 12:56.66. The Trojans' Marshall Gudauskas placed third in 13:03.39, while the Comets were keyed by Ethan Brewer in 15:02.59.
In girls' cross-country
At Monticello. Brynn Tabeling turned away all comers at Allerton Park, with the Tuscola runner's 3-mile time of 21 minutes, 45 seconds good for first as the Warriors defeated Argenta-Oreana 51-70 in the team chase. The Bombers' Heidi Heldt took runner-up status in 22:57, narrowly ahead of Sullivan's Tori Turnbaugh (22:59).
At Oakwood. Charlie Mabry traversed 2 miles at Kickapoo State Park in 14 minutes, 35.62 seconds to win the title in a non-scored triangular with Oakwood/Salt Fork and Armstrong-Potomac. The Comets' Grace Davis wasn't far behind, posting the best time of the entire O/SF program at 14:44.41. The Trojans were led by Carlyn Crozier in 16:50.15.
In girls' tennis
At Champaign. Alexis Jones, Sydney Cochrane and Brooke Sholem each picked up wins in singles and doubles for Champaign Central during an 8-1 nonconference win against Mahomet-Seymour at Lindsay Courts. Bulldogs' Annie Bao and Mrinali Kesavadas prevented the shutout at No. 1 doubles.
At Gibson City. Danville dropped just five sets across six singles matches en route to a 9-0 non-league victory over Gibson City-Melvin-Sibley. Five Vikings — Lexi Ellis, Emma Towne, Ava Towne, Josy Hotsinpiller and Lauren Shillo — all won in singles and doubles. Lanie Celeschi and Lexi Darbutt put up the Falcons' best performance, falling 8-5 at No. 3 doubles.
At Urbana. Maddy Swisher, Noelle Schacht, Ashley Mills and Audrey Horn each accounted for a singles and doubles victory as St. Thomas More ran off with a 9-0 nonconference win over Urbana at Blair Park. The Tigers' Sanjana Paul contested the tightest match, falling 6-3, 6-4 at No. 4 singles.
In girls' swimming
At Danville. Although Danville earned first place in seven of 12 events, Champaign Central used its depth to obtain a 100-76 dual victory. The Maroons' Samantha Cook scored wins in the 100- and 200-yard freestyle at 1 minute, 0.48 second and 2:10.37, respectively to pace Central. The Vikings were led by Lela Wagner's triumphs in the 100 butterfly (1:07.74) and 200 IM (2:24.41).