CHAMPAIGN — Jordyn Poulter casts a rather lengthy shadow on the Illinois volleyball program.
The Aurora, Colo., native finished her career third all-time in program history with 5,156 assists.
And the 2018 AVCA First Team All-American and Big Ten Setter of the Year was the only Illini setter ever to also top 400 blocks and 1,000 digs in a career.
Currently standing in that shadow? Sophomore Mica Allison and redshirt freshman Diana Brown. One of them — maybe both depending on coach Chris Tamas' decision — will replace Poulter in the Illini lineup ahead of the team's season opener on Aug. 30 at Tennessee.
But Tamas doesn't want either Allison or Brown to be Poulter. Neither does Poulter.
"I think that whatever ends up happening with the setting position — if they share it — then they're both going to make it kind of their own," Poulter said. "I hope there's not a ton of comparison because every team is a new group and there's a new dynamic.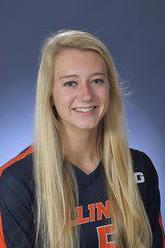 "I hope they really just own whatever they're going to bring to the team on the court. I think that's an important part of the team's success this season. I'm excited to see what they do."
Brown learned from Poulter every day throughout the 2018 season during her redshirt season. The 6-footer out of Colubmus, Ohio, considers Poulter a role model.
"But a lot of times Chris says to me, 'You're not Jordyn Poulter. We need you to be Diana Brown,'" Brown said. "I think that really helps me. She did have a very, very great career here and she'll go down in history, but I'm hoping to make my own impact."
Which setter will move into the rotation is still to be determined. It could still be both. Tamas ran a 6-2 offense with Brown and Allison during Illinois' spring season. His directive to both has been "do what you do best."
"From my standpoint, I teach a lot to a system," Tamas said. "We want to make sure we're good with that system of play. They're both learning new things. That's just part of being at Illinois. A lot of the work came over the summer. We gave them a sheet, 'Here's stuff you need to work on,' and away they went.
"Jordyn was Jordyn. That's about it. A great player, but now we've got two other great setters in the gym to battle it out every day. ... We'll see who wins the job or if it's two of them or any combination of what we can do. The job is to win the rally and win the point. You try to do that for six rotations. However we can construct the six rotations to make sense, then that's the way we do it."
Allison made it a competition this spring after transferring from Auburn. The St. Thomas More graduate earned SEC All-Freshman Team honors in 2018 after starting every match for the Tigers.
Allison brings the on-court experience.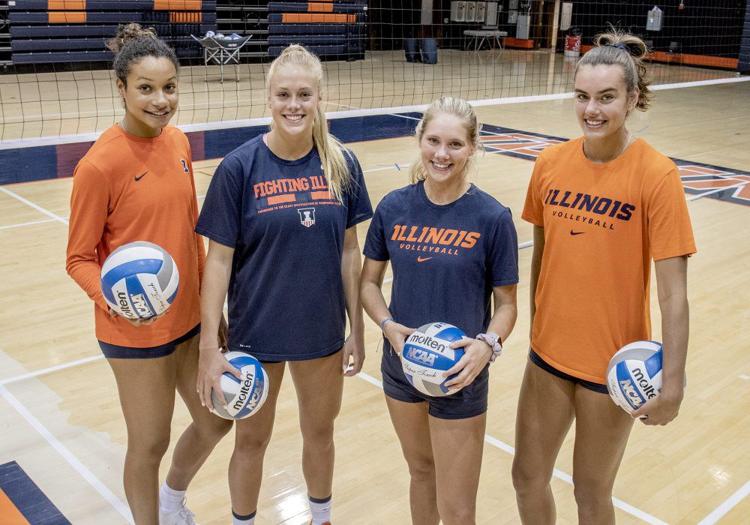 "Her serve is great," Brown said. "I'm very jealous that she's left-handed. She makes tricky sets look good. She's just an all-around good volleyball player."
Brown can counter with better insight into Illinois' system given her full year working with Tamas and Poulter.
"Communication," Allison said was Brown's biggest strength. "She's really good at figuring out what someone wants, and she'll do her best to do that. We know that we're pushing each other to be better. Ultimately, that's what's going to be best for the team. It's fun to come in the gym and have some competition every single day and get after it."
What Tamas has this preseason is options. And, in some ways, similar ones. Both Brown and Allison were AVCA Under Armour All-Americans in high school and top-50 recruits in the 2018 class, with Brown ranked 45th and Allison seventh. They both also got some international experience this summer with USA Volleyball, with Brown playing in Italy in the World University Games and Allison in Japan alongside Illini teammate Jacqueline Quade.
"They both do phenomenal things," Tamas said. "They wouldn't be here if they didn't. They both have USA experience. Just excited to have them compete in the gym. They work hard and get after it. It's tough to make any separation right now. We asked them to compete and we asked them to get better, and that's what they're doing."