Want to purchase today's print edition? Here's a map of single-copy locations.
Sign up for our daily newsletter here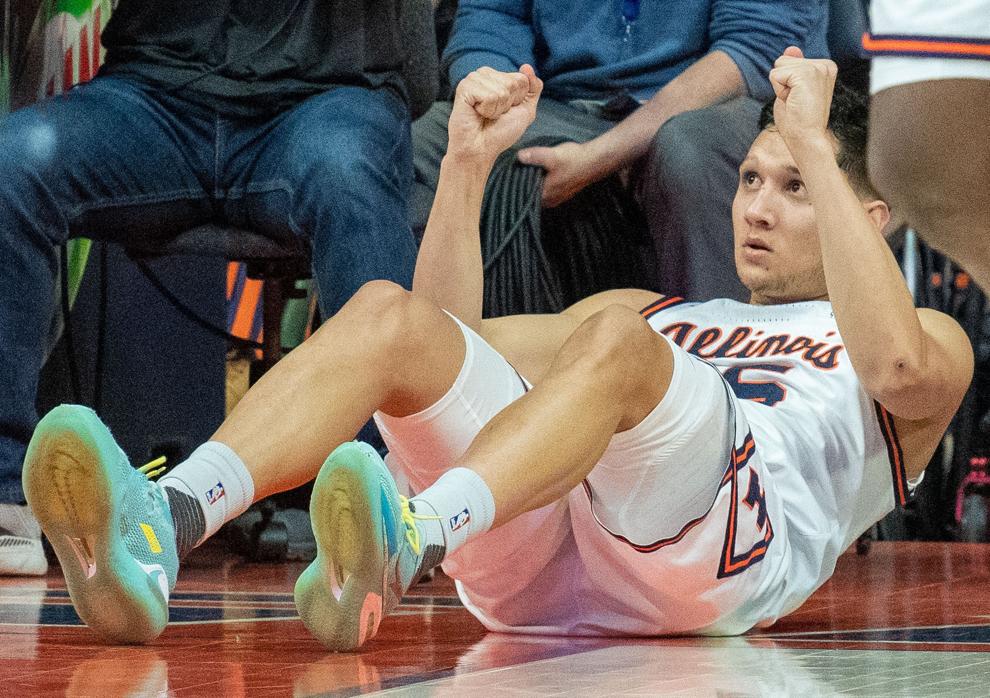 CHAMPAIGN — The final game of Illinois men's basketball's 2021-22 season offered a glimpse to the future in at least one regard.
RJ Melendez's freshman campaign ended with him seeing 20 minutes of playing time during the Illini's 68-53 loss to Houston in the second round of the NCAA tournament.
It constituted a season high for Melendez's on-court presence. The 6-foot-7 guard produced nine points, two rebounds and three assists with his share.
This spike in Melendez's playing time was a byproduct of coach Brad Underwood seeking some sort of remedy to Illinois' struggles versus the Cougars. Fellow freshman guard Luke Goode saw a minutes bump, too, with 19 in that game.
But after the loss was finalized, Underwood likely also recognized both Melendez and Goode could be seeing such minutes more frequently in the 2022-23 season.
That might be true for Goode, if he wasn't out with a foot injury. It certainly has been accurate for Melendez.
Underwood, however, wants to see even more of Melendez in future games.
"He needs to find more time. We need to get him on the court more," Underwood said Monday afternoon, leading up to the Illini (13-6, 4-4 Big Ten) hosting Ohio State (11-8, 3-5) at State Farm Center for a 6 p.m. Tuesday tip-off.
"He's playing the best he's played all year," Underwood continued. "He was very good against Indiana (on Thursday). I'm excited about him. ... He's simplified the game for him, which is just playing hard and defending at an elite level."
Melendez is averaging just north of 21 minutes and has started 11 games so far. He averaged 8.5 minutes with one start and 22 games played last season.
"I'm trying to do an impact whenever I'm in the starting lineup or off," Melendez said Monday. "When I'm coming off of the sixth man, I see some stuff on the court that could probably help the team out. ... It's just something that's like a different perspective."
Underwood has praised Melendez repeatedly for his defensive efforts, which helped the Illini hold four consecutive opponents below 70 points prior to Thursday's 80-65 loss versus Indiana.
The coach also is pleased with how Melendez is stepping up from a vocal perspective.
"He's a guy who's been here. He understands our culture," Underwood said. "(He's) talking freshmen through it. He's always talking to guys on the sideline. ... And he's (in) constant communication, which he wasn't early. When you get that, you get guys talking about 'us' and not about 'me.'"
Melendez credits now-departed Illini like Kofi Cockburn, Da'Monte Williams, Trent Frazier and Jacob Grandison for mentoring him last season and helping him to understand what's required of leaders — verbally and physically — in Illinois' system.
"I've still got a long way to go leadership-wise, but I feel like I'm doing a pretty good job trying to involve the freshmen in everything we do and how our culture stance is just win and effort," Melendez said. "You've just got to sacrifice your body and everything you've got on the court, so we can get to that finish line we've got in mind."
Underwood previously has said Melendez's defensive intensity will keep him on the court more than anything else. But getting the offensive piece to click also wouldn't hurt his value.
He's averaging 6.6 points, boosted by a three-game stretch in late November and early December during which he tallied between 13 and 17 points each game. Since then, Melendez has reached double figures scoring just twice.
One of those was Thursday against Indiana, with Melendez turning in 10 points on 4 of 8 shooting plus four rebounds and one steal in 22 minutes off the bench.
"I know an easy shot's never going to be available for me, Melendez said, "so I've got to do the extra things so that the team can be able to win."
Five of Melendez's points against the Hoosiers came in the first half's final 48 seconds, via a fastbreak dunk and a buzzer-beating three-pointer.
Those buckets pulled Illinois to a 43-33 halftime deficit, providing hope for a comeback after the Illini trailed by as many as 19 points in that first half.
"It just gave the whole team a little boost," Melendez said. "It's good to see the ball go in. It just gives me a little more confidence."
Underwood contends that Melendez playing stout defense inevitably will lead him to better offensive performances.
"Don't clog your mind with, 'Oh, man, I've got to make this shot,' or put pressure on yourself to make every shot. The game doesn't find you when you do that," Underwood said. "When you play hard, the game of basketball usually finds you. And your shots go in because you're not worrying about it and you get them in the flow of things."