SAVOY — Benjamin Bosmans-Verdonk is on the University of Illinois campus.
Bernard Kouma is not.
And Brad Underwood has yet to participate in a hot yoga session with his athletes.
Kendall Gill Golf Benefit 2019
The 30th annual Kendall Gill Golf Benefit at the University of Illinois Orange and Blue Courses in Savoy on Monday, July 8, 2019.The event benefits the Cunningham Children's Home.
Those were among the topics the Illini men's basketball coach discussed Monday prior to the 30th Kendall Gill Golf Benefit, hosted at the University of Illinois Golf Course.
Underwood wasn't involved in any driving, chipping or putting — same as last year, although for a different reason.
Instead of dealing with a bum knee, like he did last year, Underwood instead found himself preparing for team workouts Tuesday and Wednesday ahead of both a recruiting period and the program's upcoming Italy trip later this summer.
"They're probably not going to be maybe as intense this time of year," Underwood said of those workouts, another of which happened earlier Monday.
"We're going to break them up a little bit," he continued. "We'll do a lot of individual work in those as well to try to clean up some things fundamentally."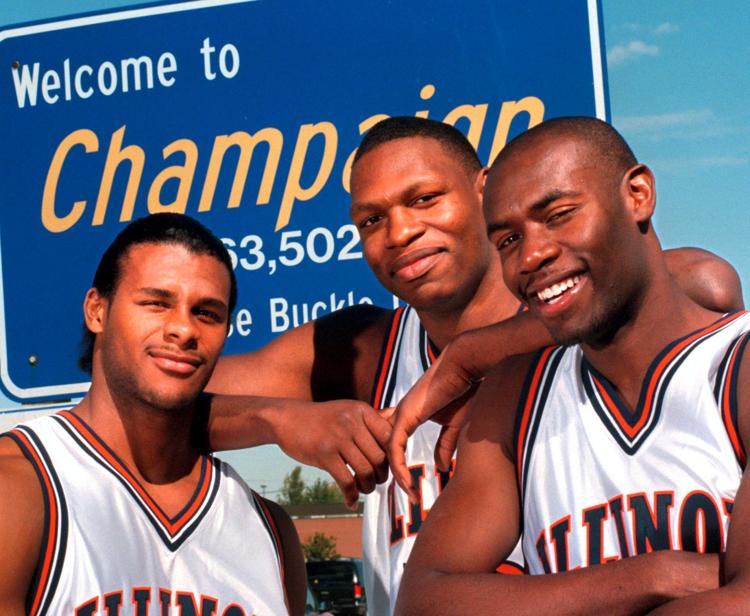 Bosmans-Verdonk, the 6-foot-7 Belgian who signed with Illinois last month, will be involved in those proceedings despite not being enrolled in classes at Illinois.
Underwood said the Illini staff couldn't get Bosmans-Verdonk into the classroom for an eight-week session that began in early June, but the big man is permitted to participate in any remaining summer practice days.
"He got in (last) weekend, and he's doing all the paperwork needed with physicals," Underwood said. "We expect to have him on the court (Tuesday) with us as we start preparing for Italy."
Getting Kouma through the NCAA eligibility center process is the last remaining hurdle to clear toward a full roster before the Illini head to Italy.
Kouma also can be on that trip, as Illinois associate athletic director Benjy Wilber recently told The News-Gazette. Kouma has not, however, been cleared by the NCAA eligibility center to slide into the Illini's plans this summer. At least not yet.
"Everything is in a wait-and-see mode," Underwood said. "All we keep doing is checking with our people every day to see what the latest is. ... We're hopeful and would love to have him on the Italy trip with us."
When Underwood's pupils hit the floor Tuesday and Wednesday, they'll be taking a bite out of their NCAA-allotted 10 practices for this summer session. Underwood said they'll probably be conducted in a two-a-day format.
That goes against the grain for what Underwood was instituting earlier in the offseason.
"We get four hours on the court which ... to be quite honest, we have not been using," Underwood said.
The reason, he continued, is to give strength and conditioning coach Adam Fletcher more time to work with the current roster.
Among Fletcher's tactics is the aforementioned hot yoga, described by the Mayo Clinic as "a vigorous form of yoga performed in a very warm and humid studio."
"Yoga's just a piece of it — to help them stretch, to help their flexibility, balance. All those things play into being a successful athlete," Underwood said. "I think they're really fond of the hot yoga."
Underwood is as well — from the standpoint of having it benefit his players.
What about his own use of the workout?
"Haven't done it yet," he said with a smile, "but probably wouldn't hurt to do that."