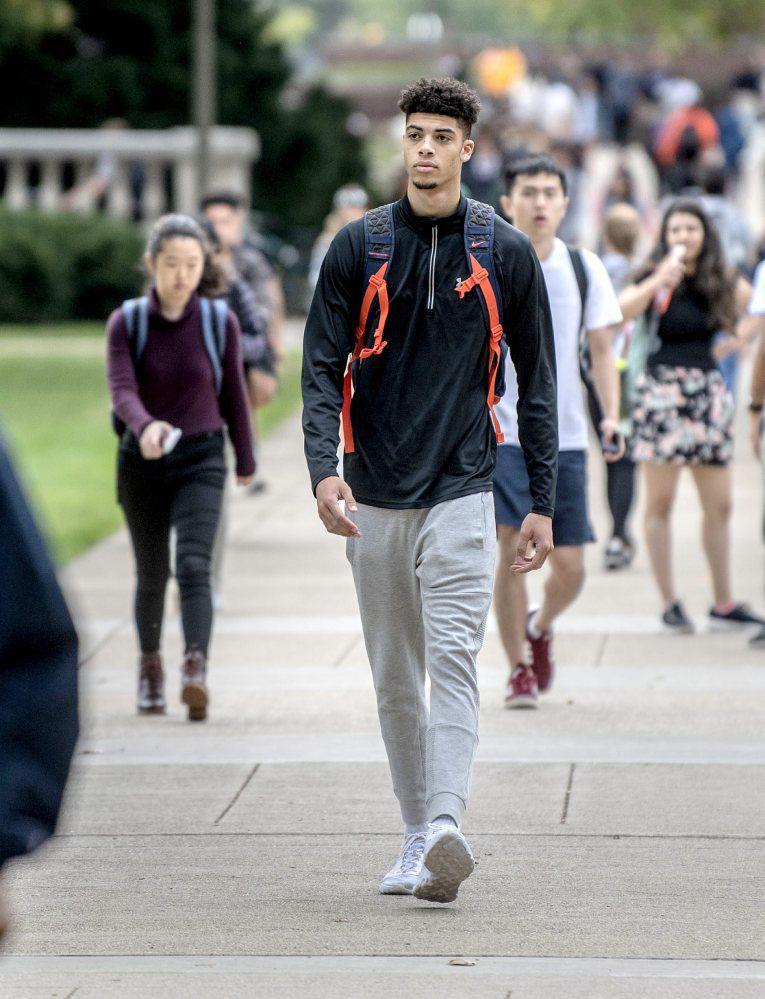 CHAMPAIGN — It's known as "The Dunk" in the Hutcherson family. Just some friendly, yet competitive, driveway basketball between father and son five years ago. Except this time son hit father with an inside-out crossover and then slammed one home on him.
Quite the play for a then-16-year-old Austin Hutcherson.
"He'll tell you he could probably still beat me, but he can't," Hutcherson said of his father, Eric. "He's slow now. We played a lot back in the day. We don't play anymore because I dunked on him one time. He used to beat me back in the day, but not anymore."
Given a chance at rebuttal, Eric Hutcherson concedes it's the truth.
"I need to talk to him about family secrets," Eric said with a laugh. "We have had a series of family basketball 2-on-2 games. By the way, my wife (Linda) is a deadeye shooter from 3, so watch out.
"I tried to defend it and it ended in what is now known as 'The Dunk' that finished my playing career. But I can still beat him now if I really wanted to because I would back him down to the block and get layups all day."
"The Dunk" aside, Austin Hutcherson developed a reputation for his outside shooting prowess during two seasons at Division III Wesleyan (Conn.) University.
And it's easy to see why he drew the attention of a half-dozen high-major Division I programs this summer when he put the idea of transferring up two levels on the table. The 6-foot-6, 175-pound guard has a smooth, fluid shooting stroke and can get his shot off with ease.
The full package — that shooting ability plus high basketball IQ and sneaky athleticism — sold Illinois coach Brad Underwood. After a whirlwind month of recruiting, Hutcherson signed with the Illini in early August to sit this upcoming season before having two seasons of eligibility left with the Illini.
How he ultimately landed in Champaign in the first place, though, meant following a fairly unique path.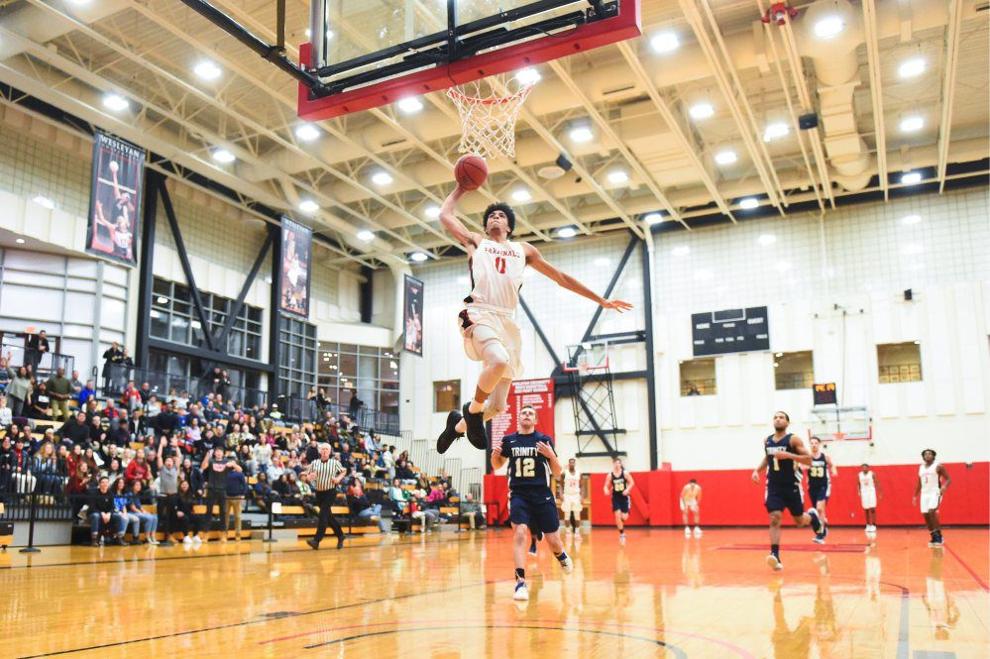 ● ● ●
It all started with a YouTube highlight reel. Hutcherson posted his top plays from his sophomore season at Wesleyan in May, like most of his teammates, and then didn't think much more about it. Working out with Tim Burns — a noted basketball trainer in New York — was his focus.
The feedback Hutcherson was getting from some of the players he was working out with — from 2008 McDonald's All-American and 2014 Euroleague champ Sylven Landesberg to NBA guards Kemba Walker and Shabazz Napier — changed his perception.
"We were playing together and they were like, 'You're too good for D-III. You should make the jump to D-I.' I didn't expect anything just because of the short time limit, but I got my film out there," Hutcherson said. "It was just verification. Here and there when I was playing (high-level AAU) I was playing against high-major guys and doing well. I always knew I could play at this level. It was just about getting enough exposure."
The highlight videos and full game film Hutcherson sent out drew the attention of several high-major D-I programs. Illinois was the first to reach out in early July, and then the likes of Notre Dame, Creighton, Marquette, Stanford and Northwestern followed.
"It was kind of crazy," Eric Hutcherson said. "It went from zero to 100 overnight, but it was really a great experience for him. Coach Underwood was the first to call. They called and were like, 'Listen, we've seen your tape and we're impressed. We've seen enough from your game footage, and we'd like for you to be a part of the Illini family.'"
The response wasn't anything that Austin Hutcherson expected.
"I didn't expect the Big Ten or the Big East to come calling," he said. "I thought it would be more mid-major schools — like schools I was talking to when I was back in high school. It got to the right people. I'm a shooter and everyone needs shooting, so I think my game translates to any level."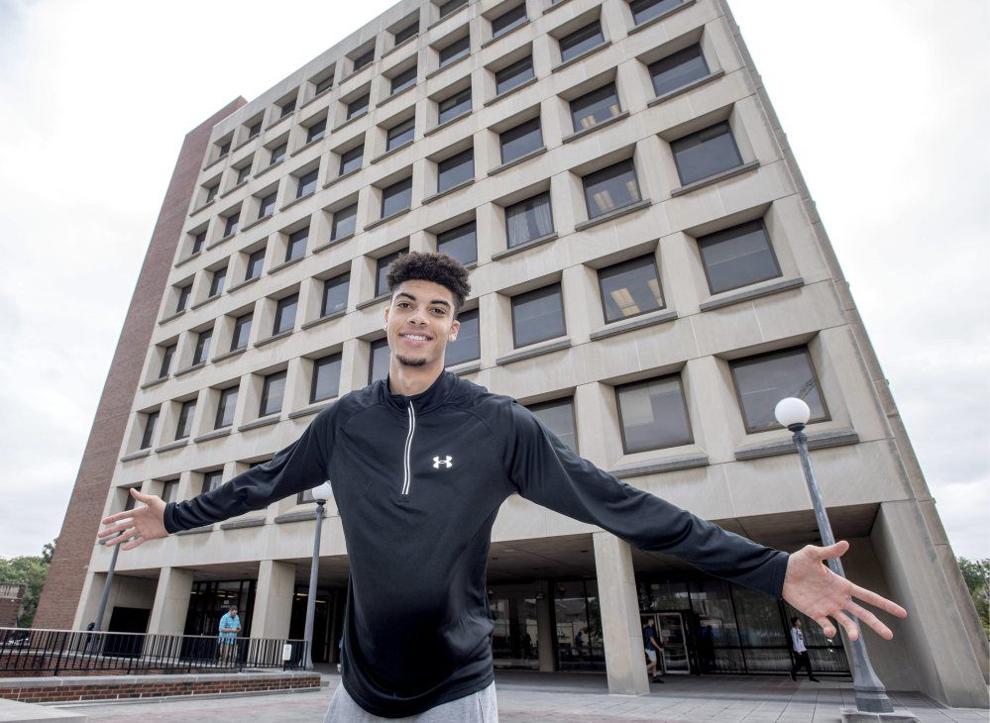 ● ● ●
Hutcherson essentially epitomized "lightly recruited" as a high school prospect out of The Hun School in Princeton, N.J. A couple rather extraordinary circumstances — neither that he could control — dictated that.
Hutcherson was in a car accident in the fall before his sophomore season with the Raiders. The other driver ran a red light. Hutcherson ended up with two herniated discs in his back. He wasn't 100 percent healthy until the midway point of his junior year.
"I probably came back a little bit too early just because it felt good," Hutcherson said, "but obviously with a back, it's a little tricky."
Then came the second round of injuries. Plural. Hutcherson was undercut in a scrimmage, fell, lost some teeth and broke both his jaw and wrist.
"He handled it extremely well," The Hun School coach Jonathan Stone said. "Injuries are a part of the game, but nobody likes going through them. He always was there whether he was hurt or not and always kept a positive attitude and tried to keep the big picture in mind and keep things in perspective."
Even if it did affect how he was recruited.
"I lost my sophomore and junior AAU years, which is the biggest thing," Hutcherson said. He did manage to play a month in the summer for Sports U at the end of his junior year, but it wasn't enough.
"Schools already had their guys, already had their offers out," Hutcherson said. "I played my senior year and just decided I'm not going to wait until spring to attract D-I attention. I really embraced the D-III thing and decided that would be my tryout."
Hutcherson and his family have played the "What if?" game concerning the injuries he suffered in high school. Ivy League and Patriot League teams showed some interest during his senior season, but it was more along the lines of a potential redshirt or taking a postgraduate season at a prep school or even walking on.
"When he left here to go to Wesleyan, I knew he was going to be really successful there," Stone said. "It was never a doubt. I knew it was a little bit of a steal for them to be honest. I think he could have gone Division I right out of high school."
Going the D-III route at Wesleyan, though, worked out even better than the Hutchersons expected. Hutcherson was named D3Hoops.com's Northeast Co-Rookie of the Year after his freshman season, and he earned first-team All-NESCAC honors as a sophomore after elevating his game and production in nearly every way possible.
"In a dumb luck way this has worked out better than it would probably have worked out if he went D-I right away," Dad said. "The injuries helped him deal with adversity that other guys didn't have to deal with. I think that's really matured him. That also created an urgency with him like, 'I've already lost time, so I'm not losing any more.'"
Underwood appreciates the path Austin Hutcherson took in getting to Illinois. It wasn't always easy, and the Illini coach values players who embraced challenges along the way.
"I'm a sucker for the Thomas Walkups of the world that don't have a scholarship offer and then get one and capitalize on it," Underwood said in reference to the former Stephen F. Austin star he coached with the Lumberjacks. "Hutch is that guy. He's that guy that had some tough, tough scenarios and some tough breaks. Yet he has persevered and he was found a way to make it."
Austin Hutcherson is pretty sure had he been healthy during his high school career or waited for D-I offers as a senior, he'd have wound up at a low- or mid-major program and still be there today. Wesleyan coach Joe Reilly helped elevate his game even more then he thought was possible.
"The D-III thing really brought out a new mindset in me as far as my game," Hutcherson said. "When I was in high school, I wasn't necessarily a scorer, per se. I was more of a playmaker and played point guard and ran the offense. When I got to Wesleyan, they really put the ball in my hands and made me the focal point of the offense. It allowed me to see a different side of me as far as basketball.
"I knew I was good, but scoring wasn't always my biggest thing. Being able to really run the show there allowed me to see that I can score, I am a volume shooter and I can shoot a high percentage. More and more confidence comes with that, and I think that's why I was able to make the jump here."
Leaving Wesleyan wasn't an easy decision, though. That was mostly because of Hutcherson's relationship with Reilly — one he characterized as "father-son."
"He really embraced me and allowed me to shine, and I'll never forget that," Hutcherson said. "Obviously he was a little sad and shocked at first, but once the process started moving, I don't think he would have let me come back just knowing his personality. It's big to have someone who believes in you and allowed you to do what's best for you and not necessarily him."
Ultimately, the pull of high-major D-I basketball proved too strong. Even if doing so this offseason bumped up the Hutcherson's timetable by a year if a transfer was going to be the plan. Part of that was the feedback the family got. Transferring now to sit one season and play two was seen as much more attractive than transferring a year from now, sitting one season and playing one.
"He would have been the Wesleyan all-time leading scorer," Eric Hutcherson said. "He probably would have been an All-American. He could have been D-III Player of the Year. Do you do that route and play four years at Wesleyan and be the baddest in all of D-III and let the league find you? Or do you try your hand and see if you can play with the big dogs?"
Big dogs it was.
"It was like, 'I've got to go now because it's either now or never,'" Eric Hutcherson continued. "You've got validation from three high-major programs that have all seen you. Played pickup at Creighton and held your own just fine. Shot around with some of the guys at Notre Dame, and that was fine. He said, 'Dad, I'm ready to go.'"
● ● ●
Seems like Hutcherson was right. The early returns from his first month at Illinois are positive. Everything Underwood saw from the highlight videos to the full game film is being replicated each day at Ubben Basketball Complex as the team preps for the official start of practice this coming week.
"First of all, he's an extremely high character and high IQ kid," Underwood said. "That part of everything translates no matter what level you play at. Then he is an elite shooter. He wins, consistently, most of our shooting contests.
"He's got a 6-101 / 2-inch wingspan, which I really like. He's a sneaky athlete. He's kind of a glider, yet he always finds a way to get by you. He's got a full set of skills."
Skills that the Illini won't get on the court in game action until the 2020-21 season. That's fine with Hutcherson. He knew the score when he decided to transfer to Illinois, and he knows he needs the year to both learn Underwood's system and work with strength and conditioning coach Adam Fletcher to get stronger. Illinois' player development plan was one of the top selling points in Hutcherson's second recruitment.
"The second night on my official visit, we were at coach's house," Hutcherson said. "He had a presentation of all the ways they were going to make me better. They pulled up stats that I had never seen before, like how I finish with my left hand compared to my right hand. Just seeing the way they develop players and how in depth they go into making their guys better was the biggest thing."
Hutcherson isn't the only one that will have to be patient this season. Underwood will, too, in waiting to get one of his newest guards on the court. Of that, the Illinois coach said, there was no doubt.
"We all know patience is not one of my strengths," Underwood deadpanned. "It's also really exciting to know the development piece is in place. ... He can hit the ground running. I'm excited about having guys that are sitting out and know everything that we can do. A grad transfer, they're learning on the fly because they have to play. He doesn't have that pressure of learning and getting stronger and having to be productive on the court. He can take it a little slower, yet I'm excited about the gains he's already made and will continue to make."