Sign up for our daily newsletter here
Drop in a question of your very own BY CLICKING HERE or by emailing Kathy Reiser at mailbag@news-gazette.com
Another busy week at Mailbag World Headquarters: questions about expanding outdoor dining in downtown Champaign … improving accessibility at Lincoln Square Mall in Urbana … light pollution in Mahomet … which area rail crossings are due for an upgrade … and what's (possibly) cookin' at a former steakhouse in Champaign.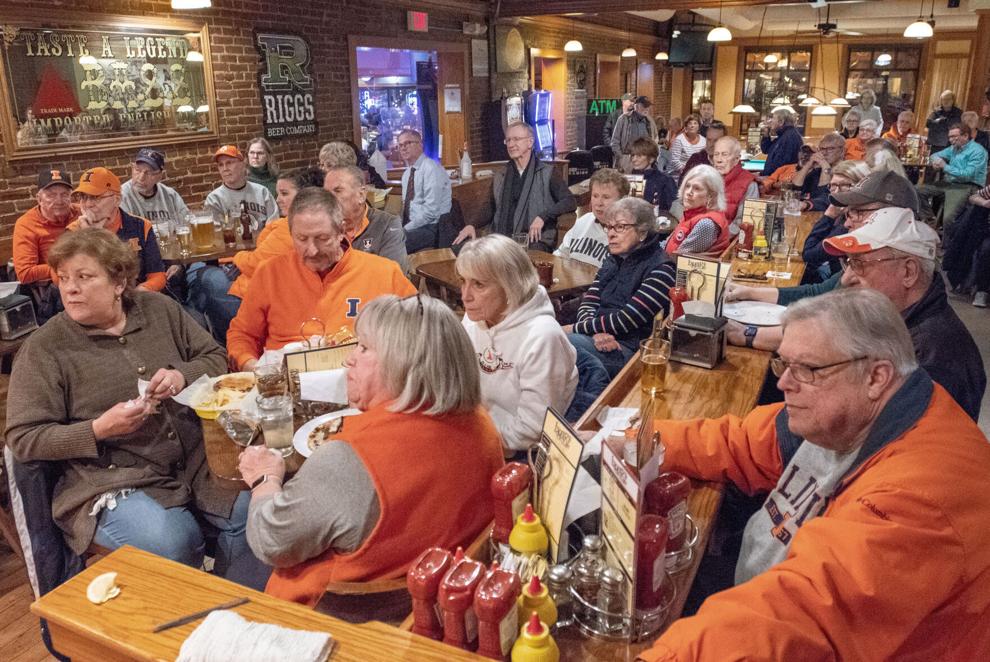 Peanuts at the Esquire
"Will peanuts ever come back at the Esquire in downtown Champaign? It's not the same without them!"
Co-owner Jaclyn Sampson says there are no plans to bring back the help-yourself boxes of peanuts at this time. Some patrons miss them, while others have said they're glad that they can now enjoy a meal or drinks in the company of family members or friends who have peanut allergies.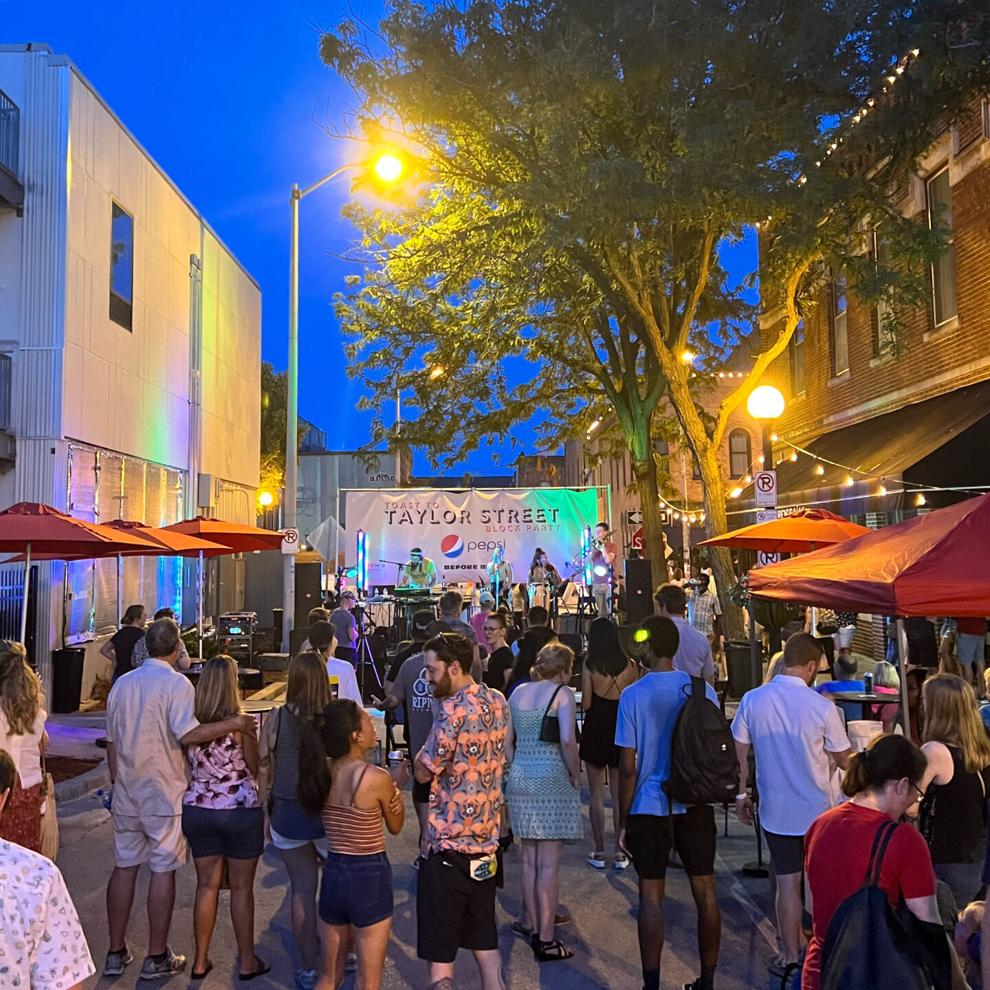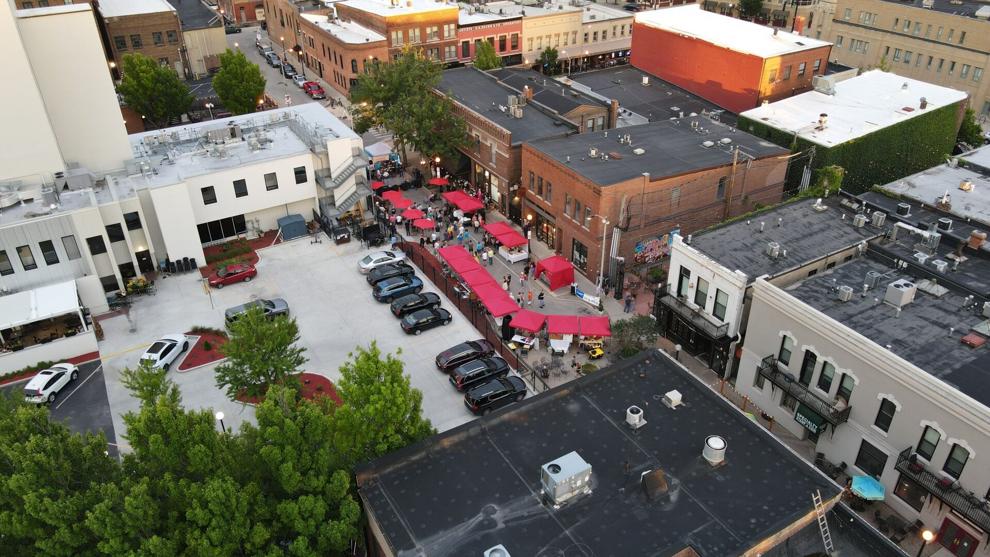 Future of Champaign's Taylor Street
"I was just looking at a map of downtown Champaign and was wondering if there are any plans to close the rest of Taylor Street east toward Walnut Street? For years, the bank drive-through limited that possibility. But now that a restaurant has replaced the bank, it seems the closure could add to a better pedestrian experience and give more outdoor dining space to KoFusion and Farren's Pub."
There may be some good news on that front, said the city's senior planner for economic development, T.J. Blakeman. "The city's 2022 Capital Improvement Plan includes funding to develop design concepts to replace our oldest downtown streetscape on Neil Street (Main to University) and Park Street (Randolph to Neil). Additionally, the proposed 2023 Capital Improvement Plan will include an option for council consideration to include Taylor Street in that study.
"These portions of streetscape were installed when the Neil Street pedestrian mall was removed in 1986 and are now nearing 40 years old. This study will take a fresh look at these areas and design their replacements to meet downtown's current needs. Should the city council agree to include Taylor Street in the study, staff will look at what an extension of the Taylor Street plaza might look like, what the challenges are to extend it, and what opportunities exist to create additional outdoor dining and gathering space in our thriving downtown."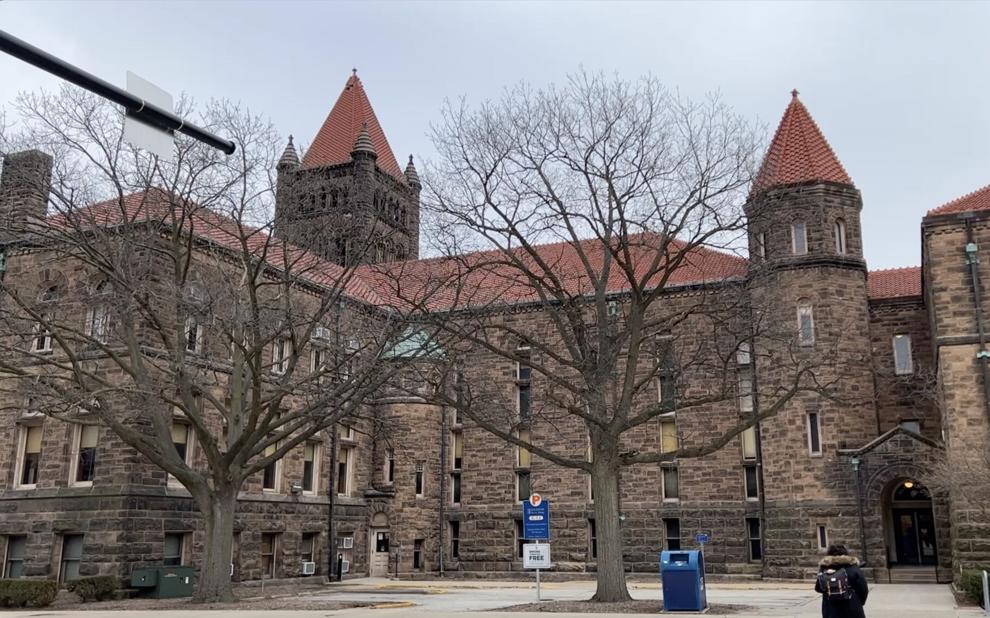 Playing scales on the Altgeld chimes
"Around midday last Saturday (Jan. 21), I was walking on the UI campus … and I heard a very slow scale being played on the UI's Altgeld Hall chimes. It sounded like C-C-D-D-E-E-F-F-G-G, and so on. This happened several times over the course of an hour. Are the chimes undergoing some kind of maintenance, testing or tuning?"
"I figured this would get some people's attention, but I wasn't expecting the News-Gazette," said Michael Broussard, Altgeld Hall chimesmaster and UI Ph.D. student in musicology. "Since we expect renovations to begin on Altgeld Hall soon, we — meaning myself and our registered student organization — are currently working on a recording project to produce some CDs before the tower is temporarily shut down for the renovation project.
"Those notes you heard were for the purposes of a sound test I was doing with a professional recorder who works with the School of Music. It was to test the various frequencies of each bell on different microphone setups to figure out the best area/recording equipment to use for when we do the recording sessions. A mundane task, but necessary."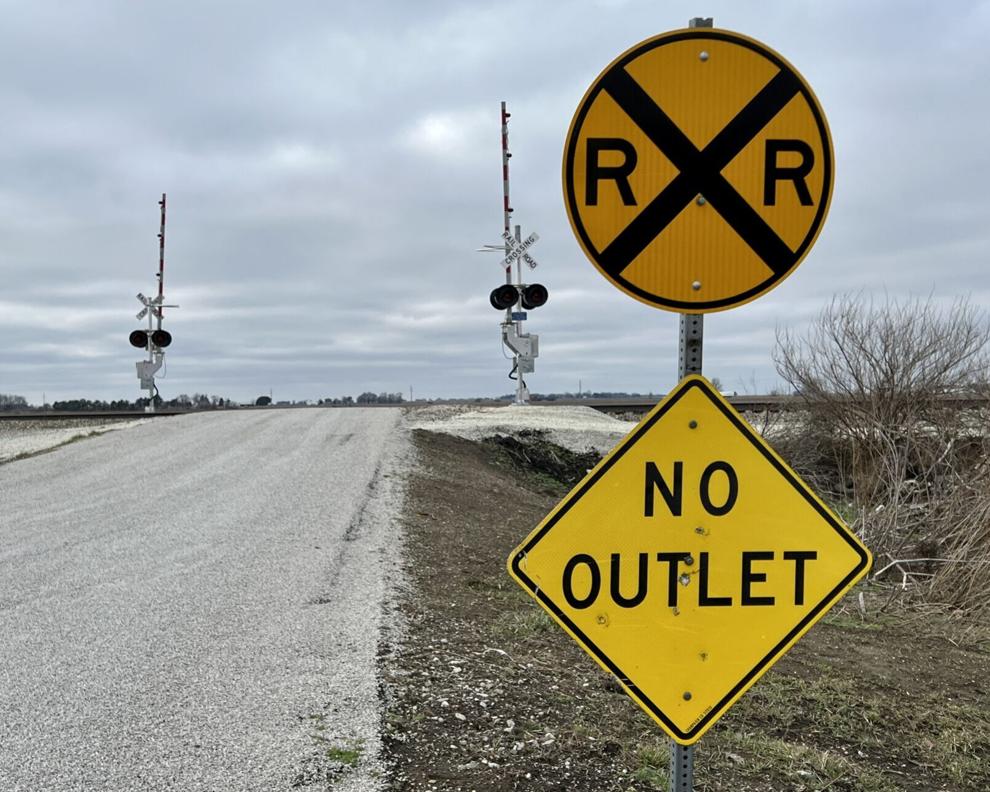 Rural rail crossing upgrades
"Last fall, at least two Canadian National (formerly Illinois Central) railroad crossings between Champaign and Paxton — that previously only had crossbuck signs — received all-new crossing gates and lights. Both of these are on dirt roads that dead-end at I-57, and only see light, occasional agricultural traffic. A good example is at CR 2300 N, two miles north of Leverett. Is this just a routine upgrade, or is this part of a larger plan to increase the track speeds between Paxton and Champaign? Seemed an odd place to invest so much money."
CN spokesperson Julien Bédard said, "The improvements your reader is referring to are happening on an Amtrak route under the Illinois Commerce Commission (ICC) Crossing Safety Signal Improvements Program. The focus of the program is to increase safety at grade crossings on Amtrak routes."
ICC spokesperson Vicki Crawford tells us three more rural crossings in the News-Gazette's circulation area will be part of the ICC's program for the 2023 fiscal year. They are:
— Champaign County near Tolono, County Road 500 North
— Champaign County near Pesotum, CR 100 N
— Douglas County near Tuscola, CR 1550 N
Seven more crossings — two in northern Iroquois County and five in Marion County — also are in the ICC's program for the next two years. Most of the 10 crossings in east-central and southern Illinois will be upgraded, but "at least two of the (10) crossings will be reviewed for closure. Closures generally occur with incentive funds by agreement, but may require a formal administrative law process if a railroad and highway agency are not in agreement."
Crawford said the crossing upgrades are routine, and none of the planned improvements are related to a speed increase for Amtrak trains. "There are 878 public highway-rail crossings in Illinois where Amtrak trains traverse. For over 20 years this has been part of the Commission's safety program to address Amtrak routes with crossings' warning device improvements (lights & gates), bridges, closures or connecting routes. There are 39 crossings remaining that are equipped with passive devices — crossbuck and yield signs — that are either under Commission order, in the Commission's program, or under program review by Commission staff to determine feasibility of closure."
She said these Amtrak rail crossing upgrades are funded by the State of Illinois Grade Crossing Protection Fund, generally at 95%, with 5% paid by the Canadian National Railroad. CN is responsible for ongoing maintenance of the crossings.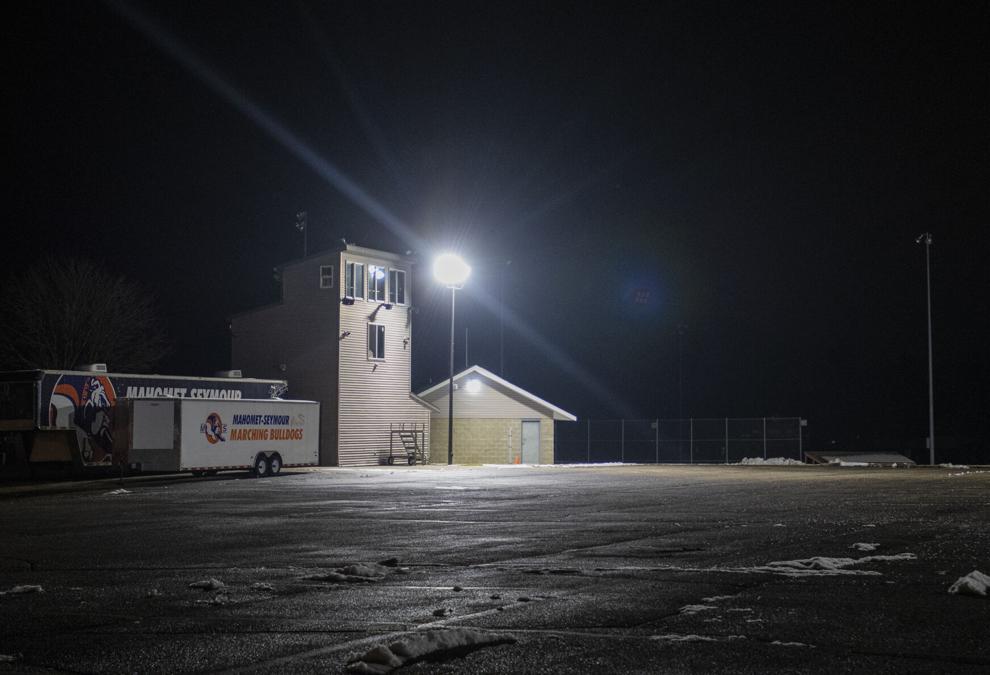 Every-night lights at MSHS
"Why does the Mahomet-Seymour High School band practice lot/parking lot have its stadium lights on every single night? The light pollution is horrible for neighbors. The band is not practicing in the evenings and the space is not used as a parking lot unless there is an event at the high school."
MSHS principal Chad Benedict said he'd love to visit with this neighbor to learn more about her concerns. Meantime, he says, "Our parking lot lighting is on timers. They are set up to ensure safety for anyone who uses them. With our growing student population and many different events, the parking lot is used well into the evening hours many days of the week."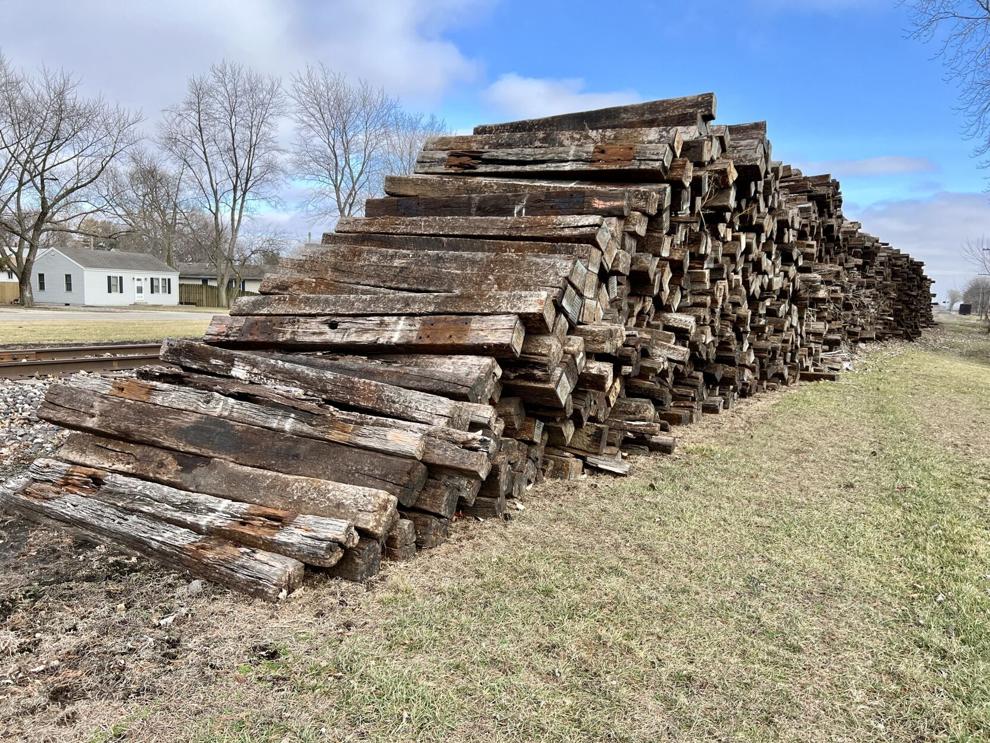 Railroad ties an "attractive nuisance" in Mansfield
"A very large pile of railroad ties along the railroad tracks in Mansfield has been there since last summer/fall. It is in the middle of town and almost a block long! How long can the railroad legally allow them to stay there? It looks to be a hazard – an 'attractive nuisance' – that children might decide to climb or play on."
Vicki Crawford with the Illinois Commerce Commission said, "the ICC's Rail Safety Section contacted the Norfolk Southern Railway regarding the ties and they have a third-party recycling contractor. Today (Jan. 17) the NS received an update that the contractor has gondola cars en route. We anticipate the ties will be removed within 30 to 60 days."
The regulations are not solely based on the time the ties have been stored on the railroad right-of-way, she notes. "However, there are regulations with removal/remediation requirements when there are sight-line obstructions with nearby highway-rail crossings (within 500 feet), drainage obstructions, or environmental concerns with runoff into waterways. A federally certified ICC track inspector will review the area for these concerns."
So it sounds as if the ties should be gone by the time another outdoor-play season rolls around.
Activity at former Alexander's Steakhouse
"I noticed a dumpster behind Alexander's Steakhouse in Champaign. Anything we should know? Maybe a remodel and plans to reopen? We can only hope!"
The City of Champaign's Building Safety Division is reviewing a permit application for the building at 202 W. Anthony Drive. The permit is for an interior remodel of the restaurant, according to building safety supervisor Randy Smith. No word on whether it's being remodeled to reopen as a steakhouse, or if the owners have some other concept in mind for the building.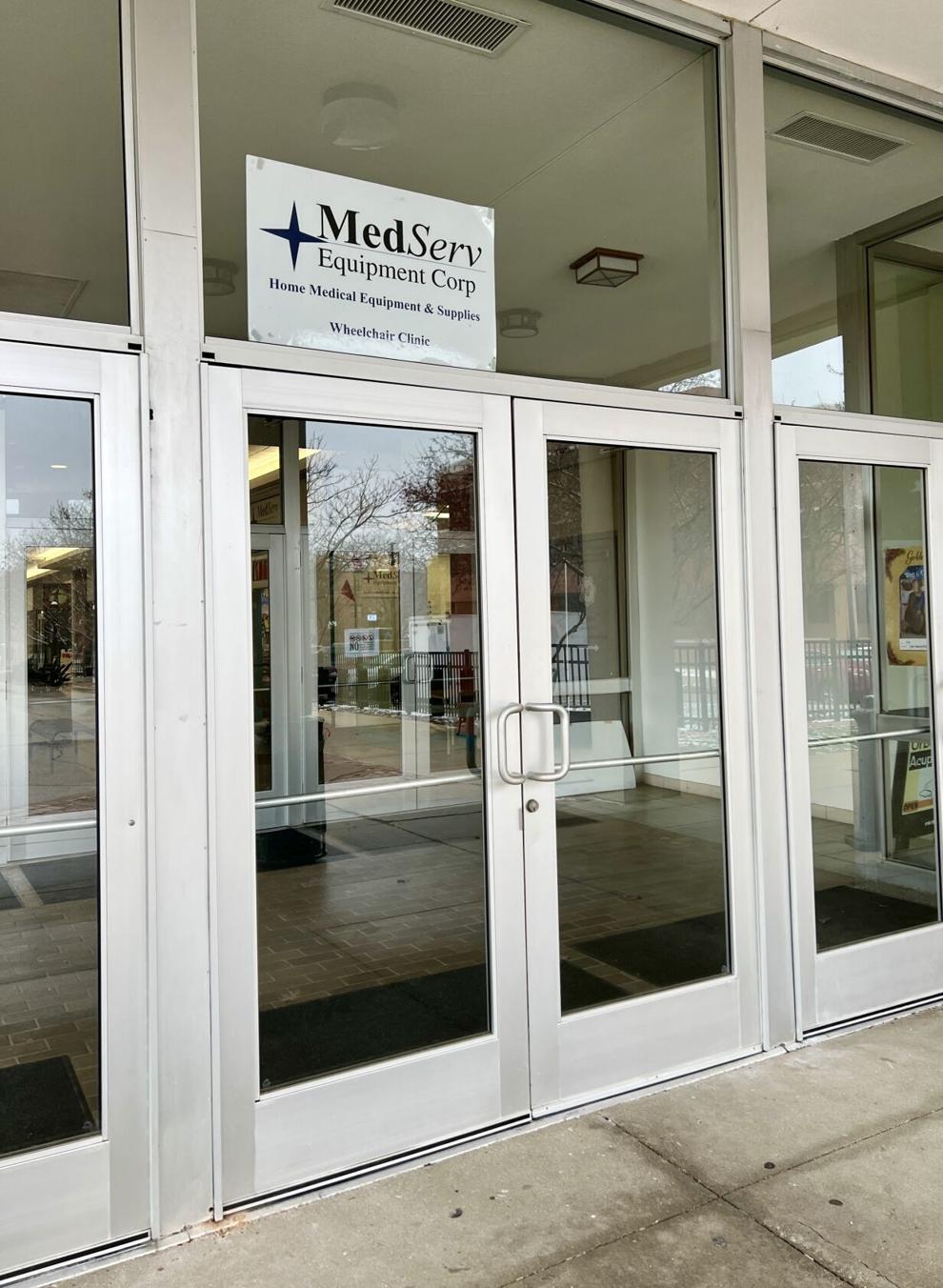 Accessible doors at Lincoln Square Mall
"With all the Lincoln Square Mall renovations being done to coincide with the opening of the Hotel Royer later this year, isn't it time for them to install automatic doors at all entrances? Especially since one of the newest occupants in the mall is MedServ, which provides wheelchairs and other equipment to handicapped people with mobility issues? Now seems like an excellent time for LSQ owners to provide mobility-impaired folks with the access to the mall that they deserve and that the federal Americans with Disabilities Act says they should have."
Some improvements are coming soon, according to Hannah Smith, the mall's property manager.
"As the reader may know, Lincoln Square is the only enclosed mall in the United States to be listed on the National Register of Historic Places by the U.S. National Park Service. Therefore, we try to balance preservation and renovations based on the economic and non-economic purposes."
Smith said power-operated doors were installed at the mall's south entrance about 10 years ago, "and we are currently in the process of finalizing quotes for the installation of power-operated doors at the east entrance" — the one nearest MedServ. "Our architects, Architectural Expressions, have provided us with pertinent codes for ADA design including the 2009 International Building Code (current edition adopted in Urbana), 2018 Illinois Accessibility Code, and the 2010 Department of Justice Standards for Accessible Design."
East Curtis Road improvements needed
"East Curtis Road, between South First Street and Route 130, has become a heavily traveled road during C-U's morning and evening rush hours. Yet, it still is a country road. At the least, it needs a yellow center line – and eventually conversion to a major street. Is it in line for these improvements?"
County highway engineer Jeff Blue tells us Curtis Road from First Street to Illinois Route 130 is an Urbana Township road with a seal coat (oil and chip) surface and two-foot gravel shoulders. It is classified as a 
"major collector" and has an average daily traffic (ADT) count of 3,350 vehicles. Blue says the Regional Planning Commission performed a corridor study on that stretch of road in 2017. "Its conclusion was that the future of Curtis Road should include a rural roadway with 12-foot driving lanes and an 8-foot shoulder to accommodate the traffic as well as bicycles and pedestrians. Unfortunately, there was no funding identified to upgrade the roadway."
On the question of adding a center line stripe to the road, the Manual on Uniform Traffic Control Devices Chapter 3B Standard says center-line markings "shall be placed on all paved urban arterials and collectors that have a traveled way of 20 feet or more in width and an ADT of 6,000 vehicles per day or greater. Center line markings shall also be placed on all paved two-way streets or highways that have three or more lanes for moving motor vehicle traffic."
"Curtis Road does not meet the criteria for this standard throughout the corridor," Blue said. "The seal coat roadway varies in width from 18 feet to 20 feet along the corridor. Also, markings do not typically adhere well to an oil and chip roadway. The Township Highway Commissioner has informed me that he plans to place material along the edges this summer to help solidify the shoulder, and also plans to put a fresh oil and chip surface on the road, as well."
Was there a creamery on Logan Street?
"I seem to remember a creamery — possibly on Logan Street in Champaign — in the late '50s or early '60s. Our grandmother did some kind of quality control for them and we kids would get a carton of chocolate milk from the production line when we went with her on some days. I can't seem to find anything about it anywhere. Am I dreaming?"
I looked at the Champaign County Historical Archives' C-U city directories from the late '50s and early '60s, and found no dairy-related businesses on Logan Street during that timeframe. But there were a couple of dairies in Champaign within several blocks of there.
The one closest to Logan Street at that time was a Beatrice Foods facility – listed under Dairy Products, Wholesale – at 132 S. Market Street. From the listing, I couldn't tell whether it was more of a warehouse or an actual milk-processing facility that could have put a grandma's quality-control talents to good use. Also in the late 1950s/early '60s, Beatrice Foods' Meadow Gold had a plant at 415 E. University Avenue in Champaign. It later moved to Kenyon Road.
Another dairy-related listing was for 608 S. Neil Street – just south of Green Street, between Neil and the railroad tracks. This was in the late 1950s. It was sometimes listed as Producers Dairy … sometimes as Prairie Farms … and sometimes as Prairie Farms, a Division of Danville Producers Dairy. (Prairie Farms' original name was Producers Dairy.)
How 'bout it, readers? Anyone else have memories of visiting a dairy processing plant in or near downtown Champaign during the late '50s or early '60s … and getting their own small carton of chocolate milk? Let us know at kreiser@news-gazette.com!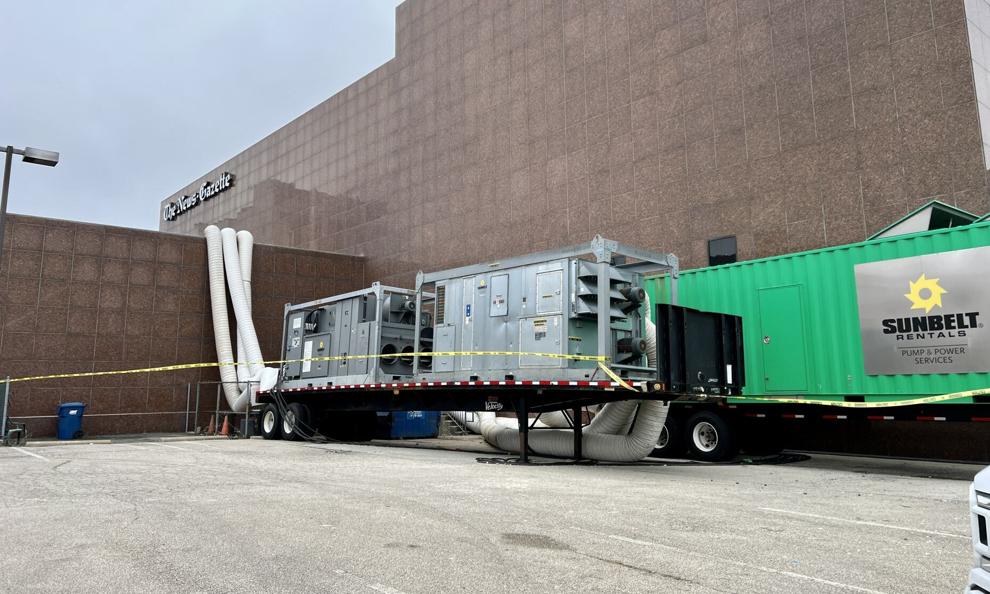 What's going on at the old News-Gazette building
"Would you update us about what type of operation is happening at the former News-Gazette building these last few weeks? There's a huge generator in the back parking lot, with pipes going into the building."
Champaign Fire Department spokesperson Randy Smith – who also serves as the city's building safety supervisor – says the Building Safety Division does not have a permit or plans under review for 15 Main Street in downtown Champaign. "However, the Champaign Fire Department did respond on December 28 for water pipes that had broken within the building during the cold weather that had occurred that week.  What your reader is seeing may be related to the water removal."
Flashing yellow arrow not activating
"I was wondering what causes some intersections along U.S. Route 45 in Urbana, that were equipped for the flashing yellow light, to not activate the flashing yellow light? Does the flashing yellow only activate at certain times of the day? I've been in the southbound Goodwin Avenue left-turn lane at University Avenue several times when I am the first or second car to arrive at the intersection and the southbound light turns green but the turn lane light stays red, and then you have to wait through another light cycle."
From IDOT engineer Kensil Garnett: "At times, the flashing yellow arrow may appear to not be active. This can occur if either no turning vehicles are detected or if the turning vehicle is detected a split second after the point in the cycle that the controller would bring up this indication. Missed detection can occur if a vehicle does not stop at the right spot or if our detection devices are malfunctioning.
"Our Traffic Operations unit has been monitoring the intersection since the concern came to our attention but have not witnessed it. If there is a certain time of day that this has been happening, please let me know so that we can focus our efforts as there are different signal timing programs for various times of day."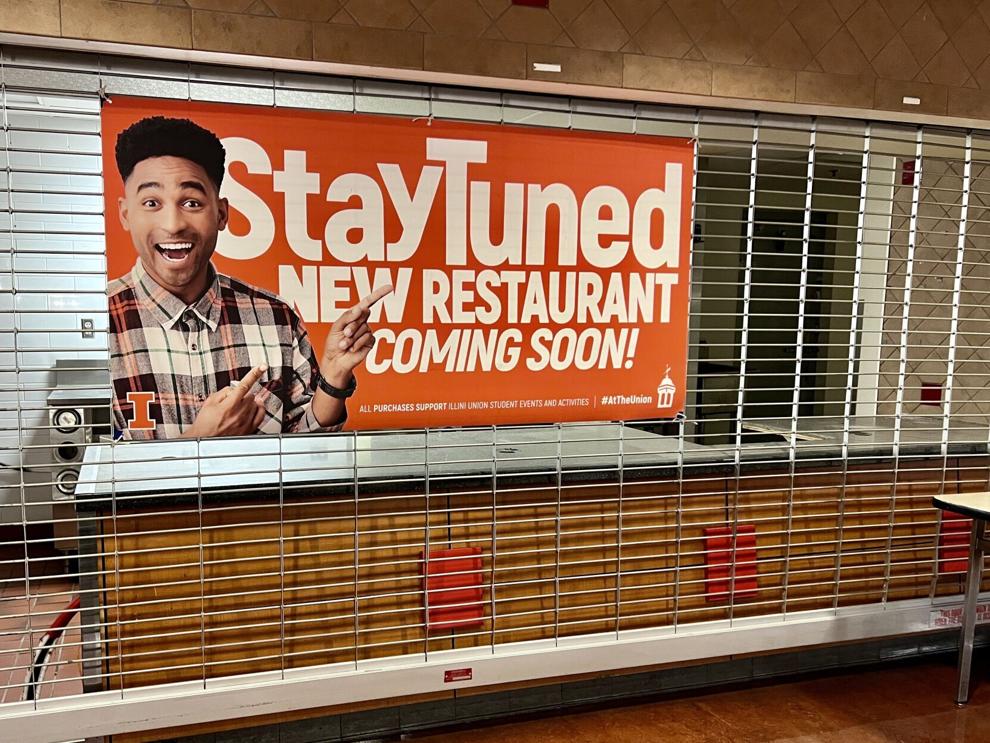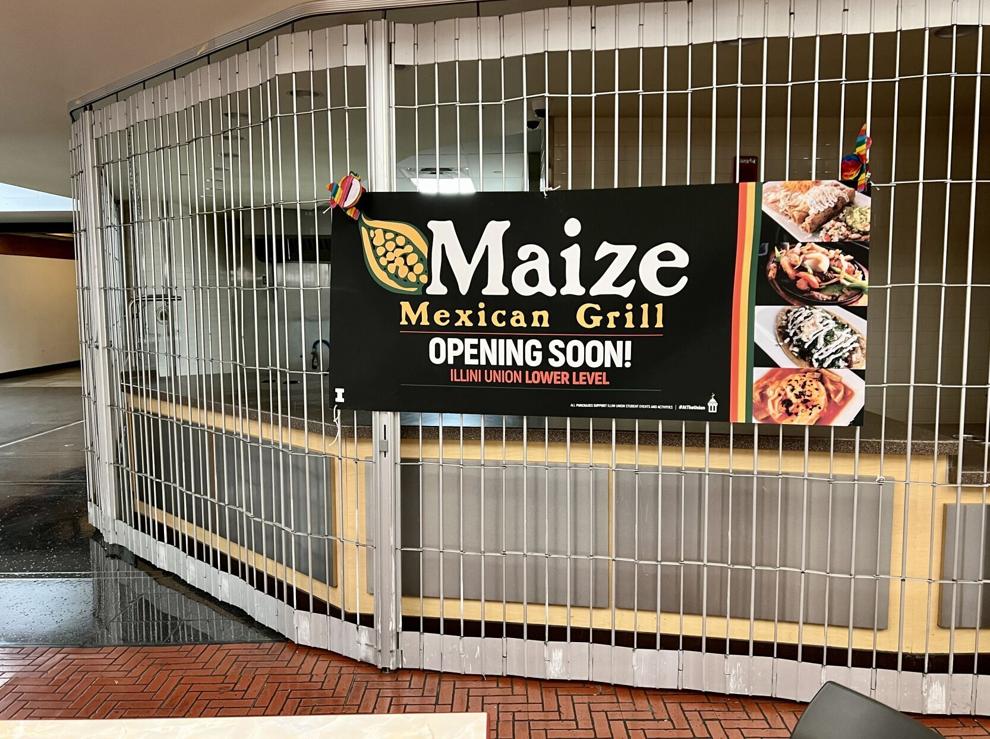 Dining options at the Illini Union
"I was wondering about the Illini Union and the lack of food options there, especially in the basement where there used to be five different options and for quite a while there has been one or two. I was curious if there are plans to expand the offerings. I look at the renovations done at the Bone Student Center at ISU in Normal as an example of what the Illini Union could be."
The website for ISU's Bone Student Center lists six eateries: Timbers Grille, The Landing, McAlister's Deli, Star Ginger, Qdoba Mexican Eats and Starbucks.
Four food and drink establishments are open in the Illini Union as the spring semester is underway: Einstein Bros. Bagels on the lower level, and Tropical Smoothie, Just Bee Acai and Starbucks on the first floor. Illini Union marketing director Erik Riha said two new restaurants — Maize Mexican Grill and Thai Fusion — will be coming to the Union's lower level during the 2023 spring semester. "Staff are also working with potential partners to fill the other available location," he said.
Pipe network SE of Urbana
"The last few years I've seen drain pipe being installed in the fields on the SE corner of High Cross and Windsor Roads in Urbana. Over the last few months an extensive network of pipes is going in. Is this something more than field drainage?"
Not as far as county zoning administrator John Hall knows. We also checked with Urbana zoning administrator Kevin Garcia, thinking the pipes might relate to some sort of a city project even though the fields lie just outside the city limits. Nope.
Winner, winner, rabbit dinner
Last week's online Mailbag featured a question from a reader who wanted to know where she could buy fresh or frozen rabbit meat. A couple of helpful folks got in touch this week, to let us know that frozen rabbit is almost always in stock at Beachy's Bulk Foods in rural Arthur. The address is 259 N. CR 200E, in Douglas County.