Questions for Kathy Reiser? Just click here or email kreiser@news-gazette.com
As a follow-up to recent Mailbag questions about electric vehicle (EV) chargers in the area, Urbana Mayor Diane Marlin tells us there is a brand-new Tesla Supercharger — with eight stalls — available at the Urbana Casey's, 2100 E. University Ave. Now, on to this week's questions: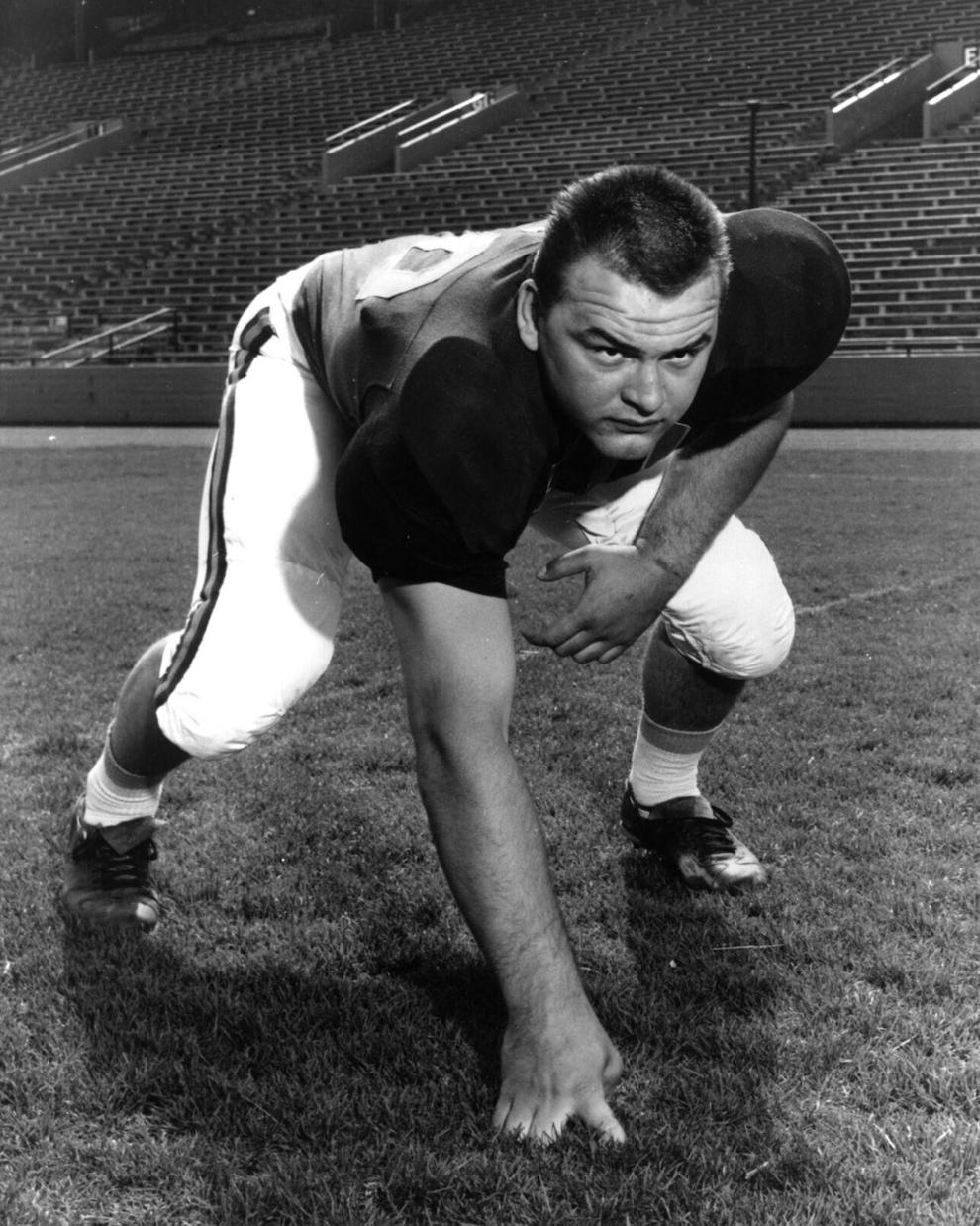 Dick Butkus at Orchard Downs
Sometimes, the most ordinary Mailbag inquiries turn out to have the coolest stories behind them. Last week we ran a question about a building being demolished in the UI's Orchard Downs family-student housing complex. The answer led reader Fred Green to drop us a note saying that this particular building once was home to UI and Chicago Bears football Hall of Famer Dick Butkus. The building was brand-new back then, and Green said Butkus was, "in need of married student housing and thankfully Notre Dame frowned on that!"
The UI's student life and culture archivist, Ellen Swain, confirmed that Butkus came to the UI in 1961 and lived at 1819 Orchard Place in Urbana during the 1963-64 and 1964-65 school years. He signed with the Chicago Bears in December of 1964, according to the Daily Illini.
Swain referred us to an article at encyclopedia.com, which said Butkus married his high-school sweetheart in 1963. He had grown up in a blue-collar, Lithuanian family on the south side of Chicago and "traveled out of the way to attend Chicago Vocational High School because its coach, Bernie O'Brien, was a University of Notre Dame graduate.
"Enamored as Butkus was with Notre Dame, however, he opted instead for the University of Illinois. Notre Dame at the time banned married players, and he was considering marriage to his high school sweetheart, whom he eventually married," the article said. "In Illinois, Butkus saw an up-and-coming program run by new coach Pete Elliott."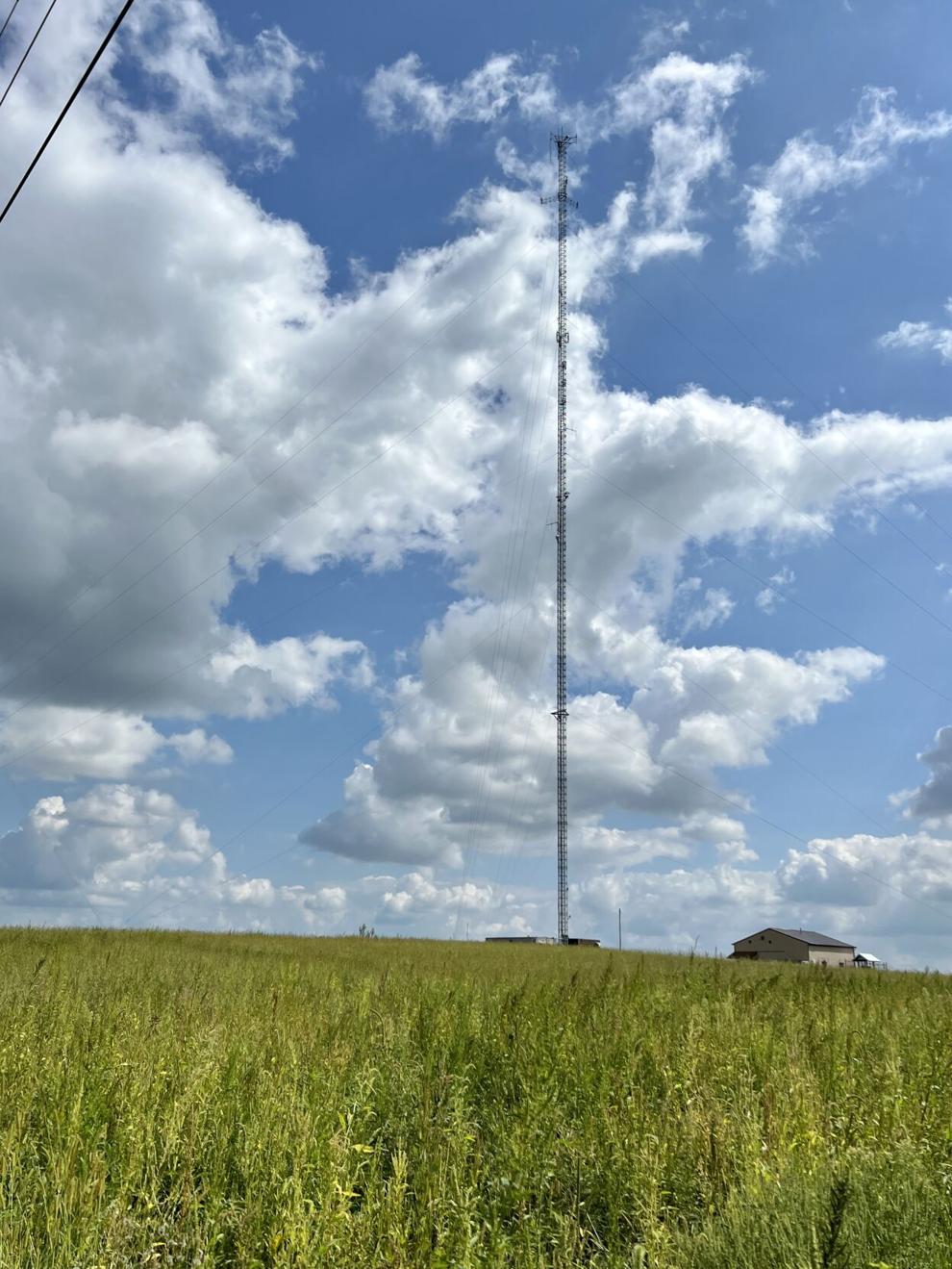 Highest point in Champaign County
"The internet lists Yankee Ridge as the high point of Champaign County. Has the artificial hill at Colbert Park in Savoy passed it for the county crown?"
There are (at least) two different Yankee Ridges in Champaign County — the topographical Yankee Ridge northwest of Champaign, and the residential subdivision by that name in south Urbana. Janet Camarca, an assistant research scientist with the Illinois State Geological Survey, said the Yankee Ridge between Champaign and Mahomet still claims the title for highest elevation in the county.
"According to the most recent LiDAR data — sensor data that shows accurate elevation heights to less than or equal to 9.25 centimeters — from 2020, the highest point in Champaign County is 856.4 feet," she said. "This high point is still in the northwestern quadrant of the county and halfway between the city of Champaign and the village of Mahomet, near Lindsey and Goldfinch roads." She said this relatively high piece of ground also is known as the "Champaign moraine," and is an ideal place for the communication towers located there.
"As most of us are aware, Champaign County is relatively flat, which is the result of the Wisconsin Glacier plowing over the landscape 20,000 year ago. As this glacier receded, what was left behind was a pile of glacial till – soil and rocks the glacier picked up along its way." This created a geologic feature called a moraine.
According to the same LiDAR data collection from 2020, the man-made hill at Colbert Park is only 763.8 feet high. "This hill is indeed striking as it abruptly rises from the flat surrounding land, which is on average 735 feet across the county," Camarca said.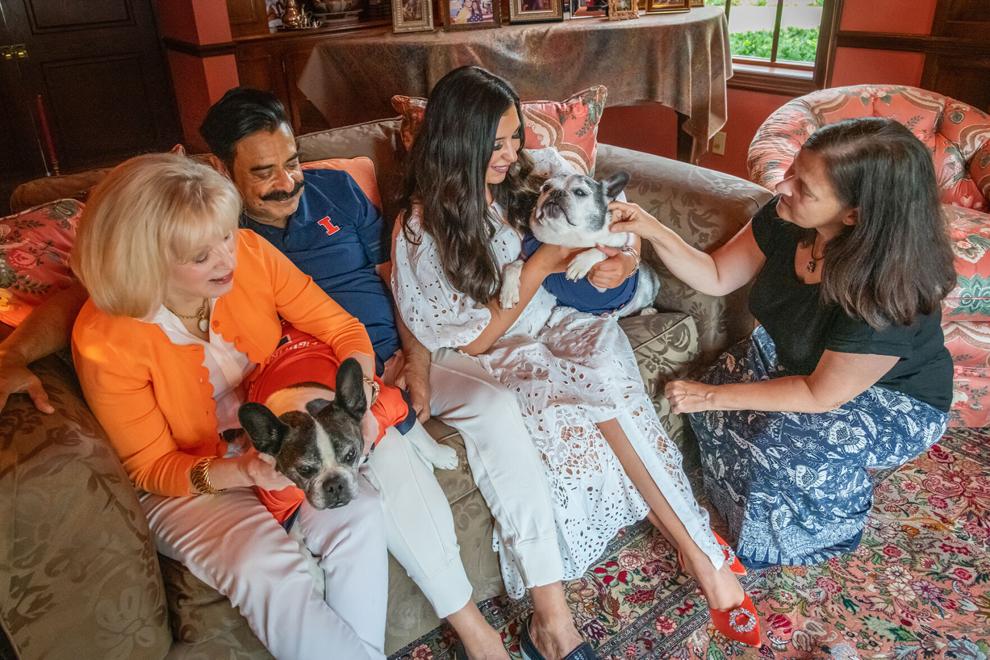 New Vet Met wing
As the News-Gazette reported on Sept. 8, a $15-million donation from Shahid Khan and family, with matching money from the UI, will fund a new cancer-treatment facility at the College of Veterinary Medicine. A reader wrote in to ask:
"Where is the new Vet Med wing going to be built? Will it be attached to the Small Animal Clinic?"
Dr. Laura Garrett, clinical professor of oncology, said the new addition will be built "somewhere at the east end of the Small Animal Hospital." That's where the hospital's current oncology service is located and also where the wing that houses the linear accelerator was built in 2019. The linear accelerator is the college's advanced machine for radiation treatments.
Vet Med spokesperson Chris Beuoy says the exact siting/footprint of the new wing is to be determined. "It's complicated by how much stuff resides underground outside the hospital," she said. That "stuff" includes underground waterways, as well as various necessary utilities and mechanicals.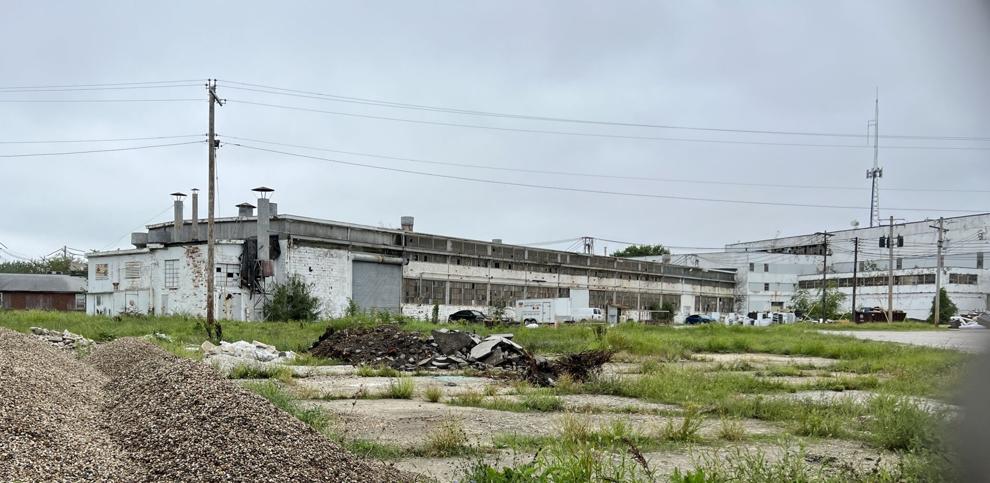 Old C.S. Johnson plant
"What is the status of the old C.S. Johnson facility on Kenwood Road? Is it used for anything anymore? If not, why does the city not require it to be demolished?"
My Mailbag predecessor, Tom Kacich, ran a short history of the C.S. Johnson plant back in January. The facility, which manufactured concrete-making machinery, closed about 20 years ago. It is on a 9-acre site just south of Springfield Ave.
City planning director Bruce Knight said he believes the property's owner, CPM Management LLC, still uses it for storage of equipment and materials for their rental properties. It is zoned I-1, Light Industrial, so warehouse is a permitted use.
Code-compliance manager Tim Spear said he's assigned an inspector to check the exterior of the buildings at this location. The inspector can address any broken windows or other exterior issues found at the buildings. He asked us to remind readers that they can submit a complaint about properties in the City of Champaign anytime by e-mail at neighborhoodservices@champaignil.gov, or by phone at (217) 403-7070. Readers also may submit an online form at champaignil.gov/neighborhood-services. Spear said the form is primarily for nuisance cases, but there is a place to address exteriors of houses.

Converting old videotapes to digital
"Is there anywhere in the area that converts old VHS or other size videotapes to a USB flash drive or other digital media?"
We turned to Good Vibes' Steve Suderman and long-time audio/video engineer Roger Francisco for suggestions. "I have referred people to DVD Memories Preserved, although I haven't used them," Francisco said. "They've been around for quite some time. Google 'VHS to digital' and they'll be listed there with a five-star rating. I see PM Productions, which is part of Illini Studios, is also listed and also has a five-star rating."
Suderman had similar suggestions for those seeking local vendors: "We have referred people routinely to DVD Memories (dvdmemoriespreserved.com) and nobody ever complained they'd been steered wrong. I know little about the PM folks (pm-productions.com), but it looks like they're well-equipped to do the job also. Both very local."
For do-it-yourselfers, some friends of mine who are moderately tech-savvy have had good luck using a video-capture device or "video grabber" they bought online or at an electronics store. This is a simple device with RCA cable receptacles at the one end for the output from the VCR, and a USB connector plug at the other end for the device that will store the converted video. Some include the needed cables, though others may not.
While I can't speak from my own experience, my friend Mark Finley gives rave reviews to the Vidbox video conversion kit that cost him well under $100. "Very affordable and easy to use," he says. The only caveat is that the user must have both a functional playback device (like a VCR) and a digital storage device for the converted video. Vidbox is just one brand name; there are others, as well. Another friend, Tina Veal, says she's converted a large number of tapes to digital files using an Elgato video capture device. It, too, retails for less than $100 and requires the user to have a working playback machine as well as a destination device for the converted video.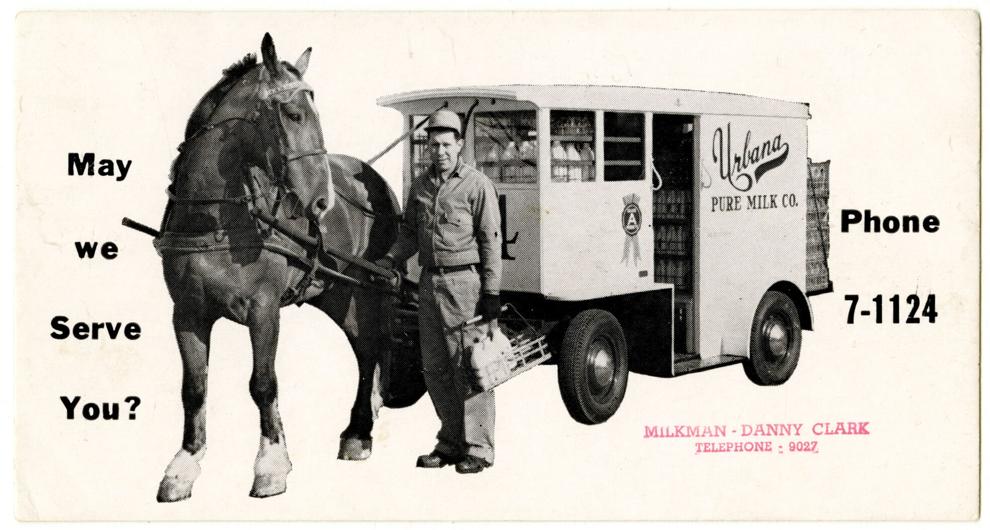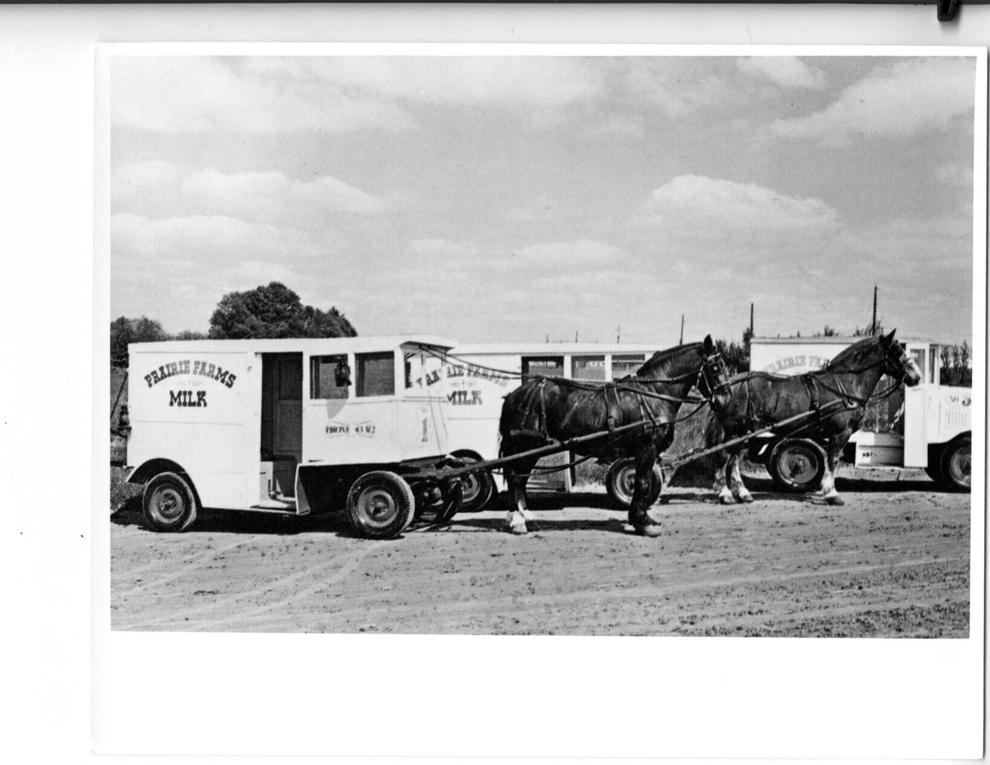 Urbana Pure Milk horse-power
"As a young kid, I recall seeing a milk wagon pulled by a horse(s) in the late 1950s or early '60s in Champaign in the very early morning hours. Do you know how long they used horses? Any other information you can find would be great!"
The Urbana Pure Milk Company used at least one horse-drawn wagon to deliver milk to local homes right on up 'til the dairy was sold to Prairie Farms in 1968. Milkman Danny Clark used to get to work by 3:30 a.m., load up the wagon, and start his route by 4 a.m. In the summer, he had to ice down the milk to keep it cold. Thunderstorms could spook the horse. And in winter, he would put chains on his horse's hooves for better traction on snow and ice. The horse knew the route as well as Clark did — where to stop, and where to turn around as Clark hopped off the wagon to make deliveries.
According to a Reminisce Extra magazine article written by his niece, Clark started delivering Urbana Pure Milk products by horse and wagon in 1941. "As far as we know, Danny was the last milkman in the state of Illinois — and maybe the entire country — to use a horse-powered delivery wagon," Ann Clark wrote. (His calling card, from about 1954, is pictured.)
Prairie Farms Creamery also had used horse-drawn wagons in the Champaign area. But there was no stable at the new Prairie Farms dairy when the company acquired Urbana Pure Milk. Plus, it had become too difficult to find spare parts for the horse-drawn wagon and special rubber shoes for the horse.
Danny Clark apparently had turned down earlier opportunities to switch to a gasoline-powered delivery vehicle. He preferred using real horse-power because a horse "always started in the winter." His faithful horse Wishbone was retired to pasture in 1968, and Danny used a refrigerated truck on his route for another 10 years.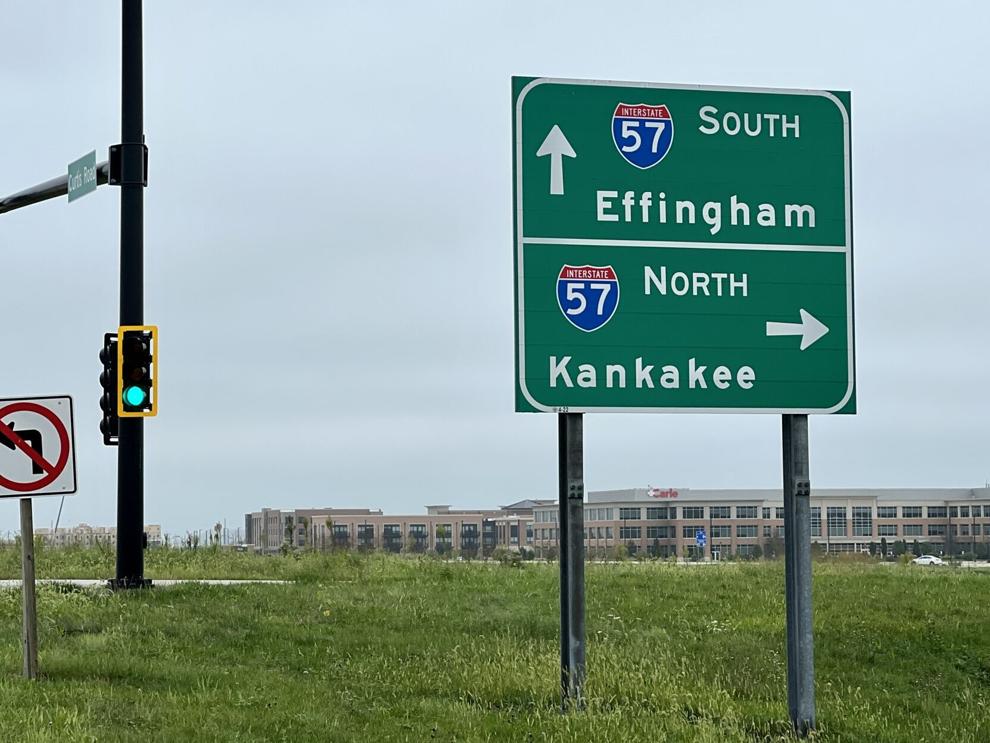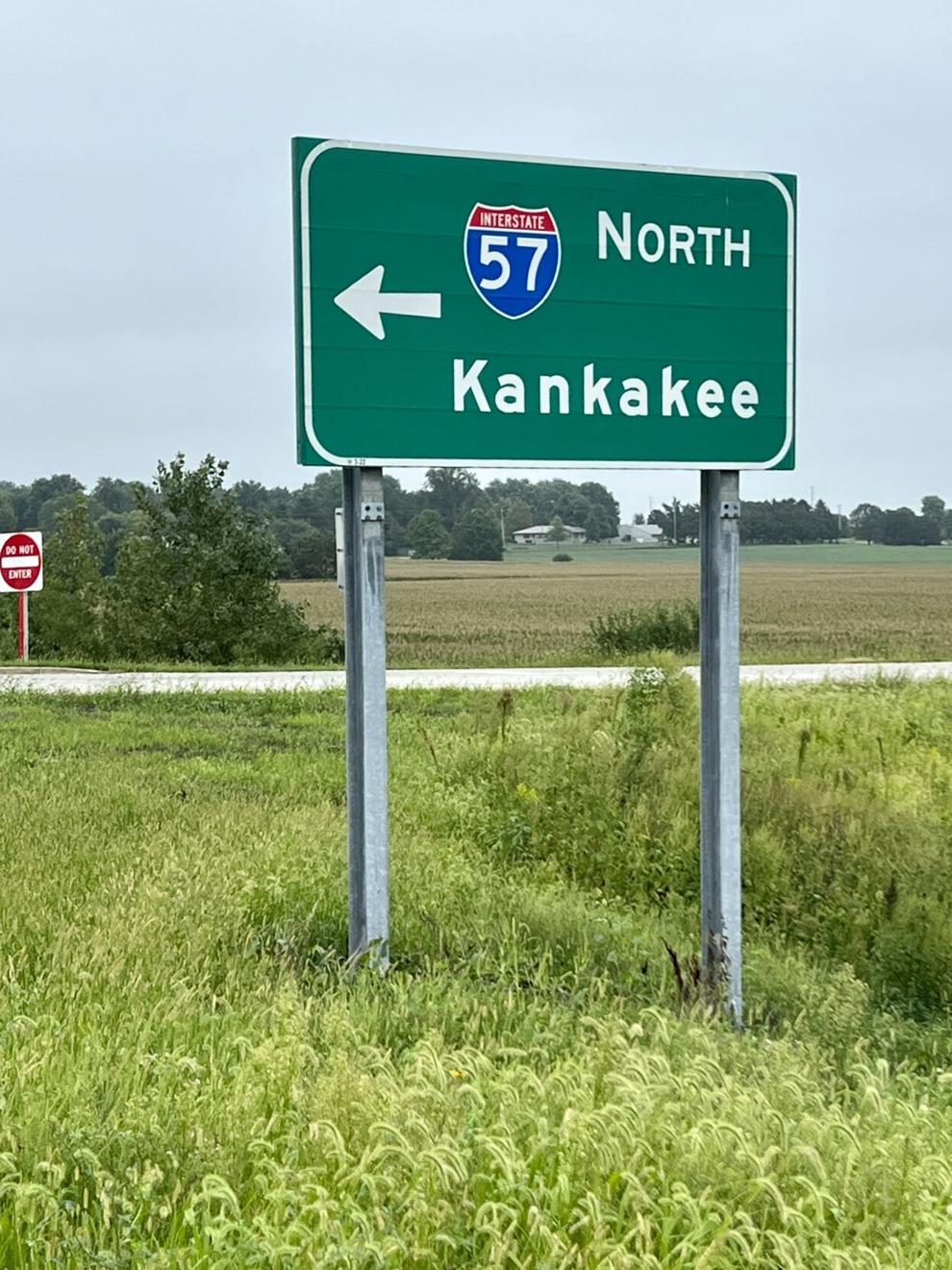 I-57 signs at Curtis Road
"A few years ago, I seem to remember a Tom's Mailbag question about why directional signs at the I-57 Curtis Road interchange — essentially, at the south end of Champaign — told motorists the northbound lanes would take them north TO Champaign. Which made no sense at all! I don't recall the reasoning behind putting "North — Champaign" on the signs, but I think I remember IDOT saying they'd stay that way. The signs were changed a few months ago. They now indicate that the northbound lanes of the Interstate head toward Kankakee, rather than from Champaign to … Champaign. Why the 'sudden,' though welcome, change?"
The change was made to comply with Federal Highway Administration mandates for maintaining retro-reflectivity, according to IDOT's Kensil Garnett. And "as the city of Champaign continues to grow, there are areas of land adjacent to the Curtis Road interchange that are incorporated into the city. As such, the 'control city' was changed to Kankakee since folks leaving Curtis Road northbound are already in Champaign."
There, now. Don't you feel better?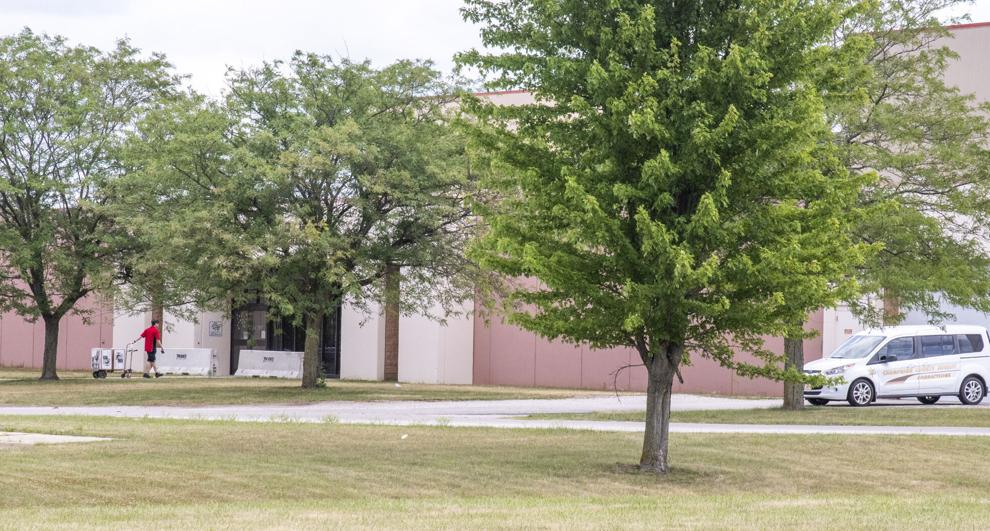 Costs of housing county inmates
Several questions this week about the Champaign County (Satellite) Jail:

"How much does it cost daily to house a person in our Satellite Jail? How much does it cost daily to house a person in an out-of-county jail? Which counties are we currently contracting with for jail space? On average, how many round trips per week do CCSO staff have to make to these out-of-county jails? And is our county jail's official name still the Satellite Jail? Or has that changed with the recent closing of the other jail in downtown Urbana?"
The Corrections Division of the Champaign County Sheriff's Office manages the county's jail and inmate population. Sheriff Dustin Heuerman said the daily cost to house an inmate within Champaign County's facilities is $65. It costs $60 per day to house an inmate outside the county, and Champaign County currently contracts with the Macon, Piatt and Kankakee county jails. On average, CCSO staff make about four out-of-town trips a week to an out-of-town jail.
As for the name of the local jail, "it is still commonly referred to as the Satellite Jail, which I expect will gradually change as we get more used to having only one facility" within Champaign County, Heuerman said.
Understanding ChamCo COVID numbers
"Can you clarify C-U Public Health District COVID reports? Today (9/14), the website lists '12 currently hospitalized' and '2 hospital admissions (due to COVID-19).' Does that mean two people who were admitted because of COVID compared to people admitted for non-COVID reasons (e.g. appendix, gunshot, heart attack, etc.) that also tested positive for COVID? Are those two hospital admissions due to COVID-19 over some period of time? Just "2" by itself doesn't mean anything. That number has been the same for a while and is hard to interpret."
C-UPHD administrator Julie Pryde says the "currently hospitalized" number is the number of Champaign County residents currently in the hospital, being treated for COVID infections. The "hospital admissions" number is the number of new COVID-related admissions during the most recent Illinois Department of Public Health reporting period – typically the day before the numbers are posted.
It's always possible that the number of newly admitted patients will be the same from one day to the next; for example, two Champaign County residents may have been admitted on Tuesday, two more on Wednesday, etc. The "new admissions" number is part of the formula used to determine if a county is in the high, medium or low transmission category, Pryde said.
She adds that the numbers on the C-UPHD website are for Champaign County residents ONLY. As a large regional hospital, Carle treats many COVID patients who live in other counties. To see Carle's total numbers — including the number of COVID patients from all counties — visit the Carle website at carle.org/Home/COVID-19-Resources/Carle-Health-COVID-Numbers. OSF Hospital numbers are reported in C-UPHD's COVID numbers if patients are from Champaign County.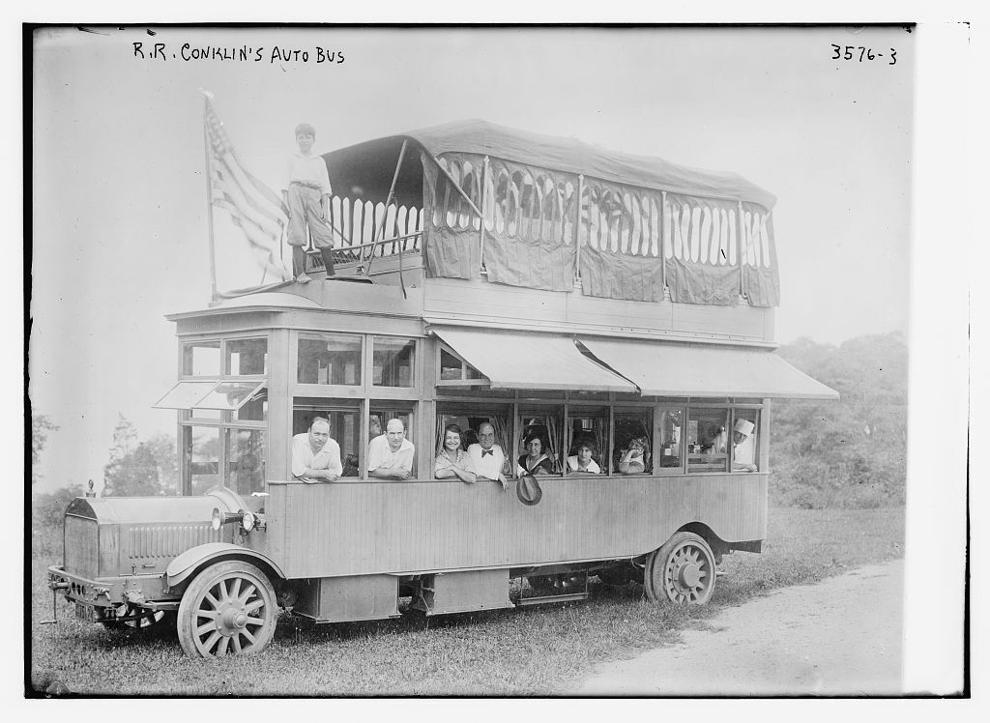 Roland Conklin commemoration
"Are there any local commemorations of Urbana's Roland Conklin (1858-1938), who, among many other things, invented the motorhome? (The many other things, by the way, include donating the money for the UI's Alma Mater, founding the North American Trust Company, developing several well-known urban neighborhoods, and founding the National Railways Company of Cuba.)"
An impressive résumé for a fellow most area residents probably have never heard of! Neither the Champaign County Historical Archives staff nor Champaign County History Museum president T.J. Blakeman was aware of any local historical markers or other commemorations in Conklin's honor.
A quick search of the web turned up this Library of Congress photo that I was sure had a great story behind it.
While Conklin's Gas-Electric Motor Bus Company did not build the first-ever motorized camper, it did build the most luxurious version of the early "house cars" for Conklin and his family.
Built in 1915, the pictured 25-foot, 8-ton "Gypsy Van" had 44 windows with awnings, screens and shades, according to Roger B. White's book, Home on the Road: the Motor Home in America. The upper deck was fitted with a folding top, side curtains, seats, lockers and a motorcycle for side trips. It had solid rubber tires.
Paved roads were few and far-between, and the Gypsy Van even carried its own motor-driven winch and 15-foot steel-and-plank bridge – just in case.
The stylish interior featured convertible sofas, a roof-mounted water tank, wash basin and shower, generator, fully equipped kitchen, dining table, bookcase, phonograph, electric lights, and two vacuum cleaners – one for upholstery and one for clothing.
Champaign County's longest-lived person
"Last winter, long-time city resident Ruth (Kuhn) Youngerman passed away at age 107. I'm sure you know how closely linked the Kuhns and Youngermans are to Champaign history. One wonders: has anyone in Champaign County ever lived to an older age than Ms. Youngerman? Has anyone born in Champaign lived longer?"
We're not aware of anyone older than age 107 currently living in the county, but maybe a reader will know of someone. We checked with the Champaign-Urbana Public Health District, where deputy registrar Erika Soule found that Ms. Youngerman was the oldest person to die in Champaign County in the past 10 years. Four others passed away at the age of 106. The oldest so far in 2022 (as of late August) died at age 104.
Records that go back more than 10 years are kept by the Champaign County Clerk's office, where staff tell us their death records are indexed only by name and file number. So at this time, they do not have the ability to search by age at time of passing.
It's hard to say whether anyone born in Champaign might have lived longer than Ms. Youngerman. It's always possible someone who was born here may have moved elsewhere and lived to an even older age. But as far as we know, she holds the record.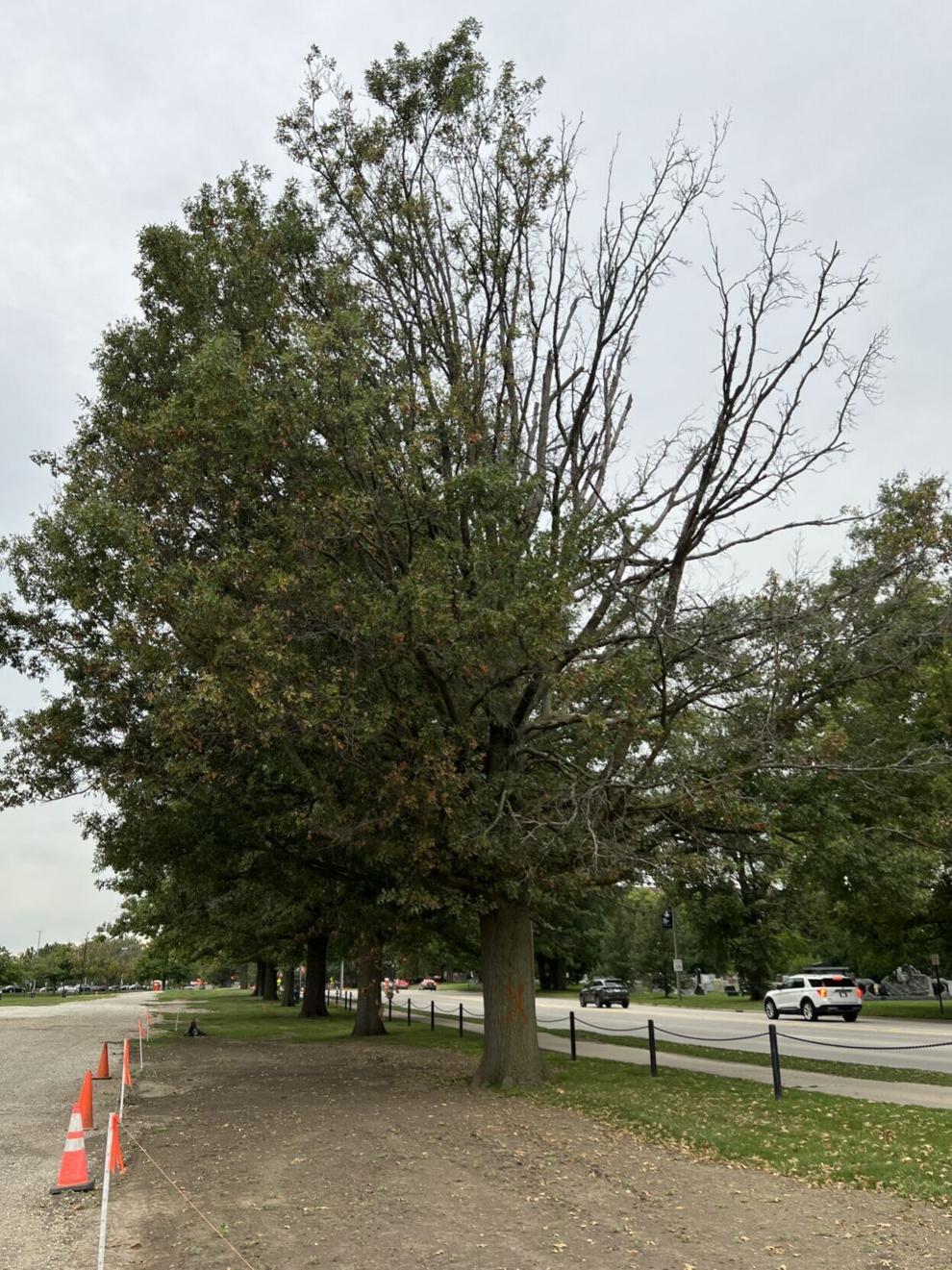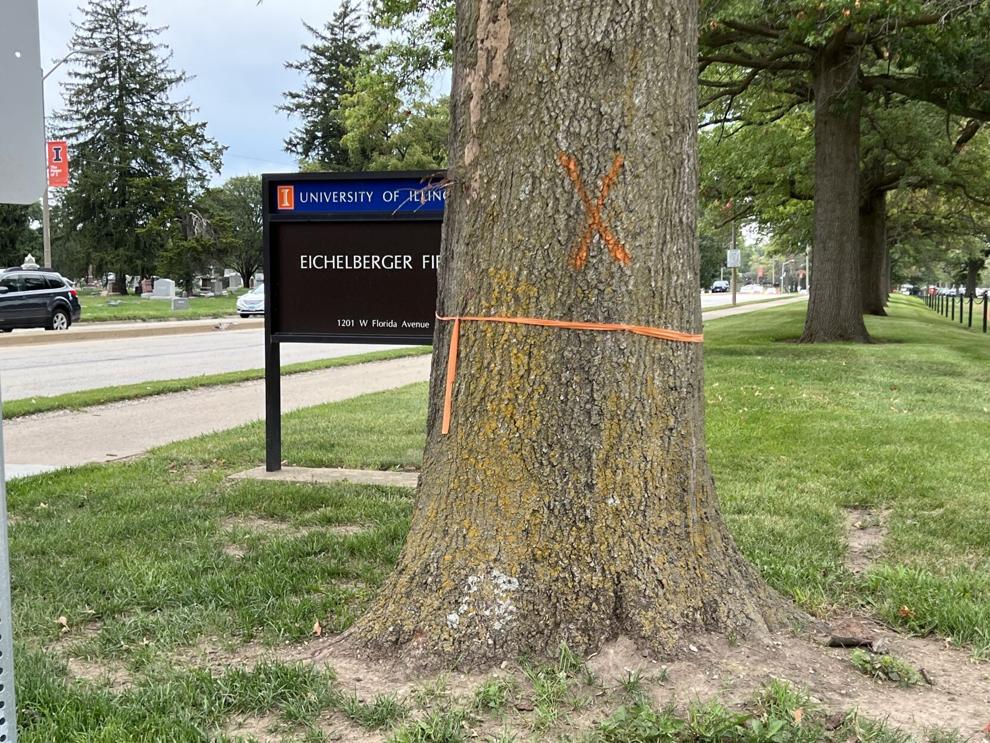 UI trees marked for removal
"Several large dead or dying trees seem to be marked for removal on Florida Ave. near the UI baseball and softball complexes. What kinds of trees are they, and do you know what caused their decline? Will they be replaced?"
University landscape architect Brent Lewis confirmed that several declining trees are being removed and replaced along the Kirby Avenue/Florida Avenue corridor and Fourth Street.
"Overall tree age, localized soil compaction, high pH soils, and drought conditions have contributed to their continued deterioration. The Fourth Street trees are sugar maples, while the trees on Florida Avenue and Kirby Avenue are pin oaks. Due to the large numbers of red oak and pin oaks in this area, other types of native trees will be placed to diversify the plantings," he said.
ADA sidewalk cutouts
"A question about Americans with Disabilities Act sidewalk cutouts: most of these cutouts are referred to as directional. I notice more of this type being constructed recently. Why that shape rather than the fan shape used in most cities across the country? The directional style is nothing but an accident waiting to happen because the design allows a collection of wet soil, wet grass clippings and leaves, and worse of all the pile of snow due to plowing the street.
"Another issue is the orange plate nailed over the cutout. This plate aggravates the collection of debris and can come loose, creating a potential tripping condition. The original purpose of the orange plate was to provide cluing for those who have vision issues. Whereas the fan shape design allows the street sweeper to clean the area, for snow plow to drop the blade and clear snow, and within the design are clues for the vision impaired. When will the city adopt the fan shape design only?"
Kris Koester with Champaign Public Works said the history of the city's preference for directional ramps is based on past input from the PACE Center for Independent Living, "related to what is desirable for visually impaired pedestrians.
"As the name suggests, the directional ramps provide a clear directional component pointing the pedestrian in the direction of the receiving ramp across the street, which can be more beneficial to those with visual impairments." The City of Champaign has different types of ramps used across the city, including some that are fan-shaped.
"Each corner represents its own puzzle," Koester said. "Factors such as elevation differences between the adjacent properties and sidewalk, the street and sidewalk, existing grades and drainage of the street, location of storm inlets, location of both above- and below-ground utilities, and presence of mature trees, can pose different types of challenges when designing a ramp.
"On my daily, multiple walks, I notice various types of curb cuts throughout the area. Both types of sidewalk ramps mentioned in the question meet ADA guidelines."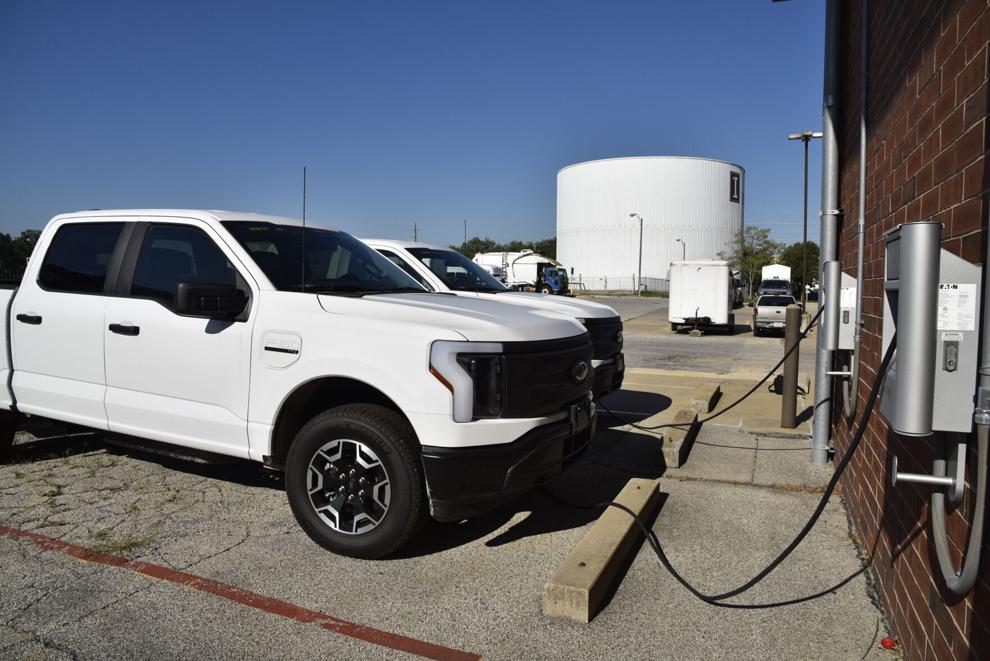 Diversifying local fleets with EVs
"I was quite impressed to see a Ford F-150 Lightning — Ford's all-electric version of the F-150 truck — being used as a facility service vehicle on the U of I campus the other day. I was also very shocked to see it since only a few thousand have been delivered so far.


"Are there any plans for the UI/City of Champaign/Urbana/MTD/etc. to add electric vehicles to their fleets of service and utility vehicles? These vehicles that only drive short trips around campus or around town seems like the perfect use case for an EV and could potentially save a lot of money on fuel. I've already seen Urbana parking enforcement driving around in an electric Nissan Leaf so it seems like they have already had the same idea."
We checked in with several public entities that use large vehicle fleets, to see what kinds of EVs and hybrids they're using now and what their near-term replacement plans are.
Kris Koester, City of Champaign: "The city has had one fully electric Nissan Leaf as part of the parking enforcement fleet for the past seven years. In addition, we have five Ford C-Max Hybrids used for parking enforcement. Seven other hybrid vehicles are used by other city departments including the fire, police, neighborhood services and public works departments."
Vince Gustafson, Urbana Public Works: "At this time the city has one electric vehicle in service. Six hybrid vehicles are utilized for operational needs including parking enforcement. The city currently does not have the charging infrastructure for additional EVs. However, expanding this capability is being given consideration in future facilities planning efforts."
Mark Schultz, Urbana Park District: "UPD currently has two hybrid vehicles in our fleet. It is a park district goal to seek bids for electric and hybrid vehicles and to begin converting our fleet over to hybrid and alternate-fuel vehicles in the next five years.
Steve Breitwieser, UI Facilities & Services: "F&S added two brand-new 2022 Ford F-150 Lightnings to its transportation fleet over the summer. The all-electric crew cab pickup trucks with an approximate 200-mile range were some of the first to be produced and delivered in the Midwest. The vehicles will be charged at the Garage and Car Pool and utilized by the Transportation & Building Services and Utilities & Energy Services divisions.
"Creating a more sustainable fleet is an ongoing F&S initiative to help reach target goals in the university's Illinois Climate Action Plan (iCAP). Significantly decreasing fuel consumption already earned F&S accreditation as a sustainable fleet from the National Association of Fleet Administrators for establishing a proactive approach to managing its vehicles and protecting the environment. The UI was the first Big Ten campus to receive this designation."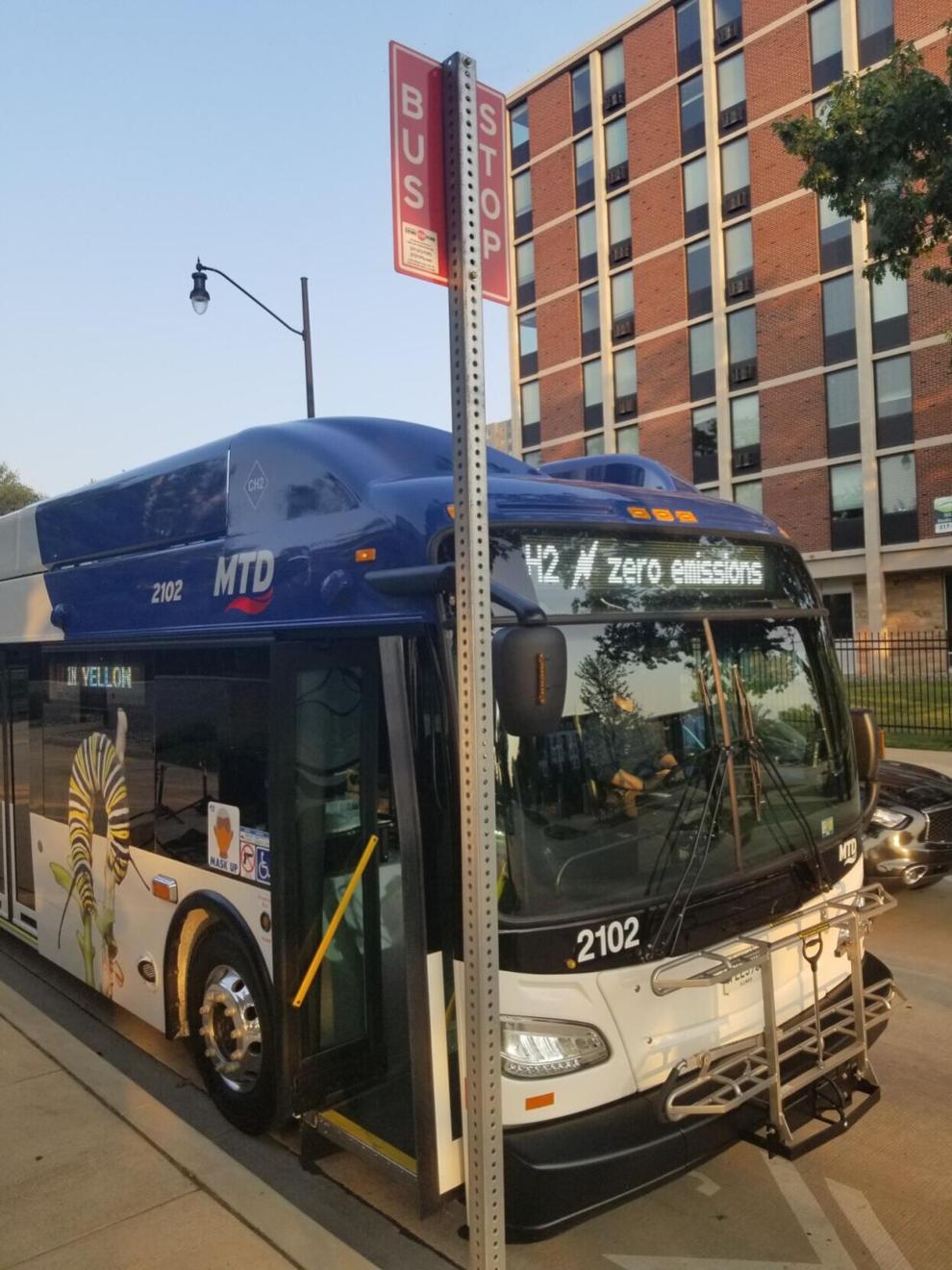 Karl Gnadt, C-U Mass Transit District, focused his answer on buses: "MTD has already introduced electric vehicles into our bus fleet. It's important to remember that battery electric vehicles are NOT the only electric vehicles. We have two 60-foot articulated hydrogen fuel cell electric buses. These are 100% electric. The electric motors are powered by batteries that are charged with a hydrogen fuel cell. We produce the hydrogen onsite using electrolysis that is 100% powered by the district's own solar array. So not only are we not burning any diesel fuel in these vehicles, we are not charging them on the grid! Another purchase of 10 additional hydrogen fuel cell buses should occur in the near future."