The mailbag this week is like a Christmas stocking stuffed with an array of goodies: a time capsule at Parkland College, an update on the big H Mart store planned for South Neil Street, "peace poles" sprouting around Urbana, more work on West Bradley Avenue and complaints about roadwork on south U.S. 45.
Also, property taxes, lengthy school bus stops, the big Sixth & Daniel development, Parkland College's enrollment fall, a mini Christmas village display, updating the Carle property tax case and what to do with those beautiful orange News-Gazette delivery tubes.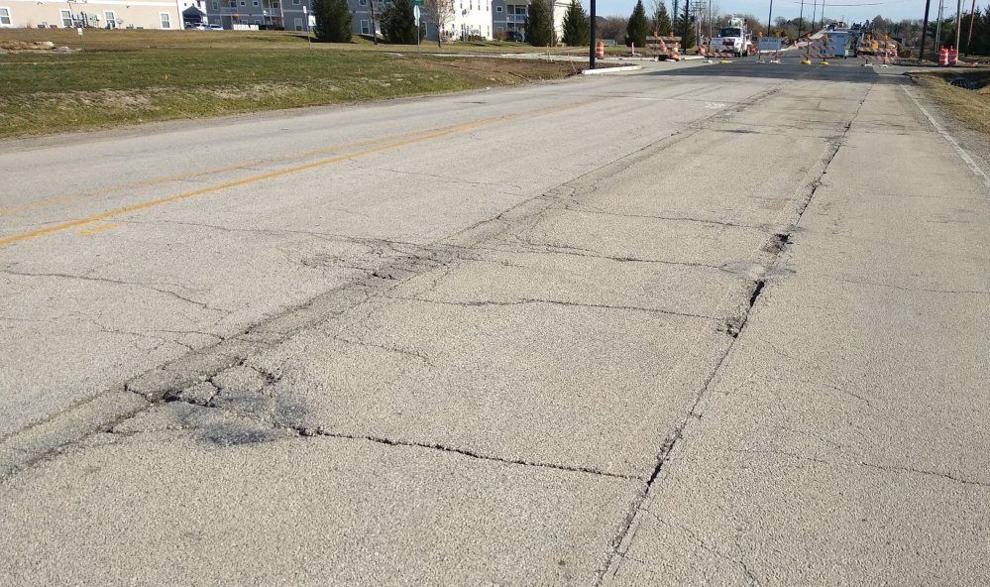 West Champaign road work
"Are they planning on resurfacing Bradley Avenue from Bluegrass to Staley after the bridge work over I-57 is done? The road is in need of serious repair."
"In 2020," said Champaign public works spokesman Kris Koester, "IDOT will return to the I-57 bridge and complete some items left over from this year's work. Additionally, the city of Champaign will have projects to address Bluegrass to Staley on the west side of the bridge as well as Alpine Drive to Duncan Road on the east side of the bridge. Additional information about the work will be forthcoming in 2020."
Countdown clock
"Can you ask our pal Kris (Koester) why the pedestrian countdown at 4th and Green flashes a quick 55, 44, 33, 22, 11, 00 at the end of its cycle?"
The problem was a faulty countdown timer and will be replaced, said Koester.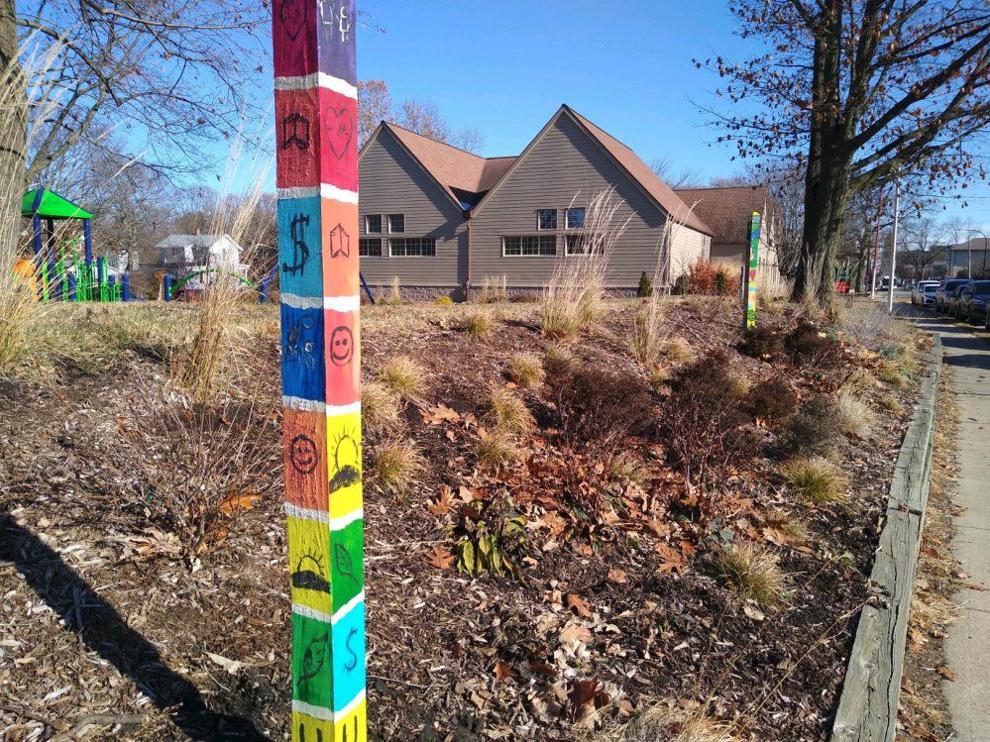 Colorful posts
"What are those colored poles at the Phillips Rec Center in Urbana?"
Those are called "peace poles," according to Urbana Park District Executive Director Tim Bartlett.
"The UPD Arts and Culture staff team has been a leader in working to introduce this fun and meaningful community art project. Our key partner for the project is the Urbana Rotary Club," said Bartlett. "The Urbana Rotary Club recently received official designation as a 'Peacebuilder Club' in the fall of 2019 — the only Champaign County Rotary club with this designation. Rotary International is a strong believer and supporter of Peacebuilder clubs.
"Both the UPD and Urbana Rotary intend to raise funds to help cover the costs of creating the peace poles over the next few years. Our goal is to spark passion and direction for peace within Urbana. Jointly we will continue working with other groups like the city of Urbana, Urbana School District, Urbana Free Library, Urbana Township, Champaign County, Krannert Center and other local units to create and display more posts around town. In addition, we have collaborated with Champaign County Community Coalition to begin working within various neighborhood youth to engage them in peace-building activities and events — like creating these colorful symbols of peace.
"Both the UPD and Urbana Rotary want to engage with all of our Urbana neighborhood associations to engage their friends and neighbors to build peace poles. Our ultimate outcome is to get everyone in town working on creating peace poles, having fun and working together to place them in public rights-of-way, parks, schools, public buildings and other highly visible locations to bring the community together."
The most recent "plantings" of peace poles are those along Springfield Avenue at the Phillips Recreation Center, Bartlett said.
"These posts were created during the UPD's fall staff retreat. All of our staff had a great teambuilding exercise in coming up with park and recreation themes to paint the lively posts to represent the many aspects of the Urbana Park District," he said. "If groups or individuals are interested in helping please contact me at the UPD at 217-367-1536."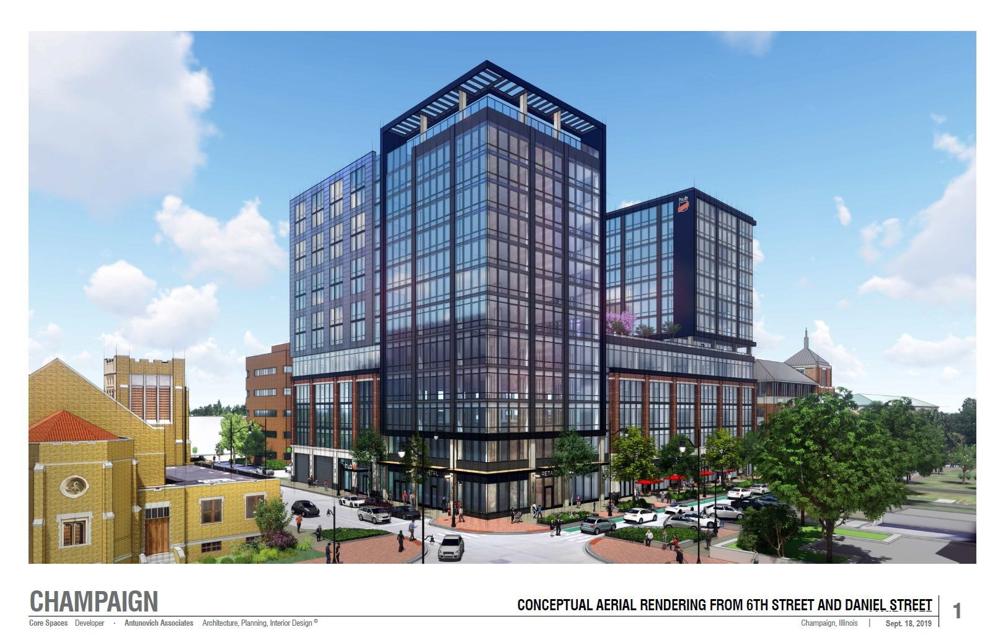 Kam's property
"I must be missing something. Is the new building going to cover the razed Kam's lot? How could the landowner rent the land, if someone else owns the building on top of it? Wasn't former Illini football player Stan Wallace the owner of Kam's in the '70s?"
The Sixth & Daniel project — a 12-story mixed-use development featuring ground-floor residential, two floors of office and upper floor residential, developed by CORE Spaces — would be on the old Kam's lot as well as most of the rest of Daniel Street between Sixth and Wight streets.
(Here's a link to a new Champaign Planning and Development Department website where you can check permitted and some planned developments)
Developer Tom Harrington Jr. said Sixth & Daniel project is being built on land owned by other people under long term land leases.
Parts of the Sixth & Green project now under construction — the 18-story mixed-use development known as "The Dean" — also use long-term leases, he said.
"Instead of selling it they lease it for a very, very long term," he said.
As for Stan Wallace, he operated Stan's Gridiron and Stan's Sportsworld in Campustown in the 1960s and '70s.
Property tax increases
"A recent editorial in The News-Gazette referred to 'skyrocketing property taxes.' But in Champaign County we have property tax caps that are supposed to limit property tax increases. What's the reality?"
In Urbana most people paid less in taxes this year than they did a year or two ago, tax records show.
In Champaign tax bills were up, but that was because of the voter-approved property tax increase for the Champaign school district. Voters OK'd a $183.4 million bond increase in 2016 that has raised the overall tax rate.
Tax rates in most communities were less this year because of the sale of the county nursing home.
Of course, Illinois is a big state and property taxes and rates aren't the same everywhere. The property tax situation is much worse in Chicago suburbs where some property owners have endured yearly increases for a decade.
Parkland's enrollment decline
"The answer to the question concerning Parkland College's parking lot contained a shocking statistic, enrollment has fallen 30 percent to 40 percent in the past 10 years. Why is that and are other community colleges seeing similar drops?"
Parkland's enrollment decline is not out of the ordinary.
Illinois community college enrollment dropped from 347,277 in 2007 to 293,4517 in 2017, according to Illinois Board of Higher Education statistics.
Nationally, according to a recent report by the American Association of Community Colleges, since a peak enrollment in 2010, "total community college enrollment has dropped each fall, declining by more than 1 million students (14.4 percent) between 2010 and 2017."
The most oft-cited reason for the falloff is the economy.
"Community college professionals frequently claim that the economy is an important driver of community college enrollments," said the report. "Of particular note during the time period investigated is the Great Recession, which economists indicate began in December 2007. While the recession technically ended in the second quarter of 2009, solid job growth was not seen until 2011."
While the unemployment rate and the economy are not the only drivers of community college enrollment, the report said, "it is a critical factor to consider when analyzing community college enrollment."
Other factors include fewer students graduating from high school and the cost of a community college education.
Neil Street work
"Last week, road workers drove down Neil Street dumping gravel. Now tiny rocks hit vehicles driving on the busiest street in town ... and the potholes remain. How was this work supposed to 'fix' the road, and does the person making these decisions have any qualifications?"
and
"When is the state going to clean up all of the gravel they poured on route 45 going out to Savoy while making repairs? I now have multiple small chips in my windshield because of it. And who do I now speak with to file a claim?"
District 5 maintenance crews are working on pothole repairs between the Savoy Walmart and Springfield Avenue on U.S. 45 (Neil St.), said IDOT District 3 engineer Kensil Garnett.
"The pothole repair is done using a 'spray patch' of asphalt emulsion and rock. It is a very sticky material that has to be top coated with plain aggregate to prevent it from being picked up and pulled out of the hole by passing traffic," said Garnett. "We realize that the top coat does leave some rock on the pavement that gets scattered around by passing motorists. Normally this does not last too long after the repair. The loose rock either gets pushed down into the actual patch or works its way to the edge of the road. The 'spray patch' is a very cost effective repair that is relatively durable.
"This section of U.S. 45 is included in the Rebuild Illinois 2020-2025 multi-year program and will be resurfaced."
According to IDOT, you should report any incident and qualifying claim directly to the IDOT transportation district office in the area closest to the location of the incident so that we may expedite our response to you. A claim form can be sent to you via mail, fax or email from the IDOT district office responsible for the investigation of your claim. In Champaign County that is the IDOT District 5 office at:
13473 IL Hwy. 133, P.O. Box 610
Paris, Illinois 61944-0610
Telephone: (217) 465-4181
H Mart update
"Can you update us on the status of the H Mart planned for Neil Street? Went to one on Thanksgiving Day here in Portland OR, it is an amazing store."
H Mart's development team has been in communication with planning and development staff as it continues to work through the design of the planned Neil Street grocery store, said T.J. Blakeman, Champaign senior planner for economic development.
H Mart told The News-Gazette last year it planned to build at the former Illini Swallow charter bus company site on Neil Street just south of John Street.
"We continue to offer assistance in understanding and navigating the development process and requirements. We look forward to seeing their submitted plans and hope to see the store open soon," Blakeman said.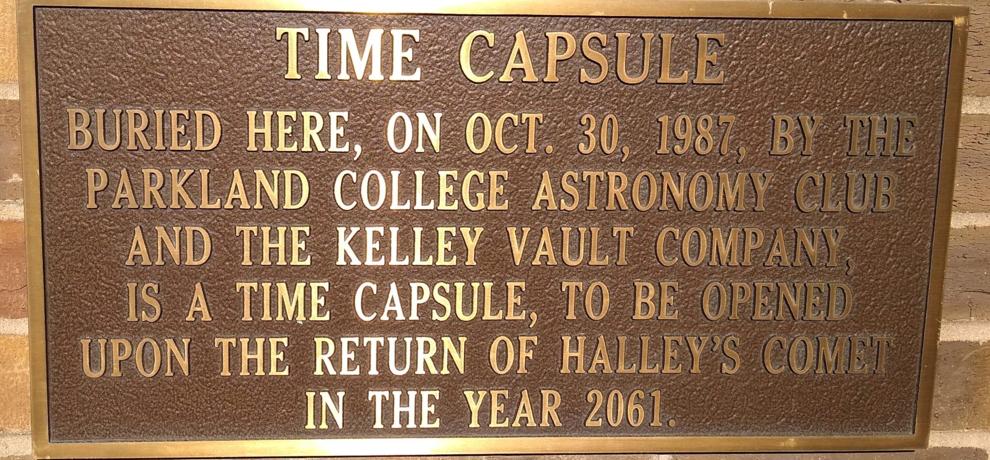 Parkland time capsule
"A followup to (the recent) story about Starkel Planetarium at Parkland College. Can you tell us what was buried in the time capsule to be reopened in 2061?"
David Linton, Parkland's first astronomy instructor and former director of the planetarium, said he had to ask his son if he remembered what he put in the time capsule.
"He quickly responded to my text," said Linton. "A red Transformers coloring book. My favorite one. You promised me that if I was present when the capsule was opened, they might give it back.
"Other items that I recall:
1. Photos of the Titanic, sent to me by a former student, who was photographer onboard the first sub to visit the wreckage in July of 1986.
2. A bottle of wine, which should be well-aged in 2061.
3. A pair of 1985-vintage tennis shoes.
4. A local Ag expert put in seeds from Champaign County corn and soybeans, thinking those varieties might have qualities that had been lost by 2061.
"5. Parkland Computer faculty put an old (in 1986!) computer to show our descendants how primitive technology was, late in the 20th Century."
Linton said "we solicited items for the time capsule from anyone and everyone — requests were made in The News-Gazette and on WDWS 'Penny For Your Thoughts.' Marilyn Sinclair brought her entire elementary school class to the planetarium to see the items submitted by her students, as they were placed into the capsule.
"Bonnie Kelly, Parkland College board member and owner of Kelly Vaults in Urbana, donated a burial vault to serve as the capsule. It had an abundance of room to fit all the submissions into it.
"As for 'Penny for Your Thoughts,' Dr. James Kaler (from the University of Illinois Astronomy Department) and I were guests on that show one fall morning in 1985. We talked about Halley's Comet — its history, what it was and where to look for it in the sky, and fielded questions called in by listeners. To prepare for that, I had visited the Urbana Free Library and looked back to newspaper articles from 1910. I found a mention in the society pages of a young girl who was hosting a group of friends to watch the comet. The address showed the house to have been on University Avenue, roughly across the street from the current location of the Dairy Queen.
"By 1985, the comet could not have been seen there because of the increased light pollution — even though Earth had passed through the tail of Halley's Comet in 1910. In that same issue, I found that Roberson's Department Store was offering a sale on men's suits - with a gold coin being given to each purchaser.
"I always closed my talks on Halley's Comet by quoting from the writings of naturalist Loren Eiseley, in which he described sitting on his father's shoulder to watch the Comet in 1910. It was one of his fondest memories from his youth. He hoped to live long enough to see its return, but passed away in 1977."Linton said he gave a series of "Halley's Comet Lectures" (close to 60 lectures of them to more than 1,000 people) and that some of the listeners had seen the Comet in 1910.
David Leake, the recently retired director of the planetarium, also recalled that the officers of the CU Astronomical Society signed a letter to the people of 2061.
"Personally, I copied my observations of Halley's Comet on acid-free paper and included those along with a note to my future children (I wasn't married at the time)," he said.
Linton — who is now professor emeritus of Physics & Astronomy at Eastern Illinois University — emailed me one final thought about the time capsule: "One last thing that I recall that was placed into the time capsule was a question for the future from a long-suffering Chicago Cubs fan: 'Have the Cubs won a World Series YET?'"
Farm machinery crash
"If a motor vehicle is involved in a collision with farm machinery at fault on the road, how is the resulting ticket and repairs handled? Would the farmer be ticketed and affect his/her drivers license? Do farmers carry insurance for this type of situation?"
From Champaign County State's Attorney Julia Rietz:
"I reached out to Captain Shane Cook at the Sheriff's Office for help on this one. Neither of us could think of a case involving a ticket issued to someone driving farm machinery," she said. "Captain Cook provided me with a link to a page from the University of Illinois Extension regarding Safe Movement of Farm Machinery on Public Roadways. According to the link, IDOT reported 45 fatalities in seven years involving farm machinery on public roads. The link also has good information on lighting and signage requirements
She provided another link to a handout from the Illinois Farm Bureau with detailed information about Illinois motor vehicle rules for Illinois farmers
"There are also very specific licensing requirements and weight restrictions for farm trucks used to haul grain or livestock, as outlined in the handout. Also, on page 31 you will find good information about traffic laws and their applicability to 'implements of husbandry,' or equipment designed for agricultural operations that can be driven on public roadways," said Rietz. "Generally speaking, the same traffic rules apply as far as speed limits, obeying traffic control devices, and lane usage."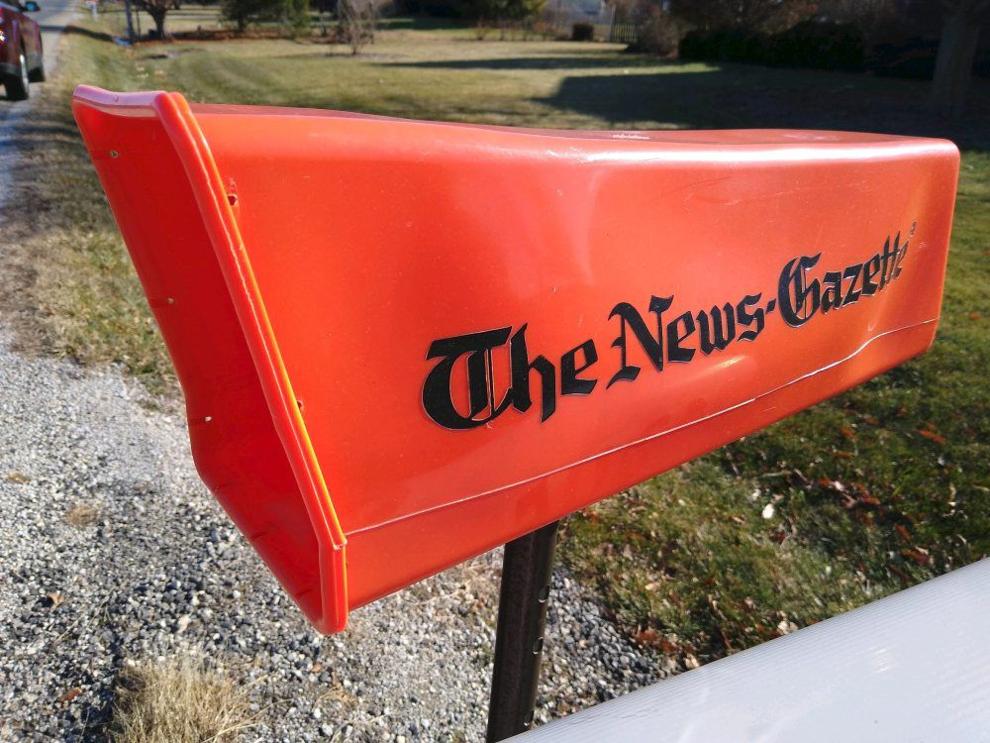 Newspaper tubes
"Now that The New-Gazette is again being delivered by mail, what should be done with the orange tubes that were used by the carriers to deliver the paper?"
You can either dispose of them or bring them to The News-Gazette at 15 Main St., Champaign, where they will be recycled, said Bob Cicone, The News-Gazette's circulation director.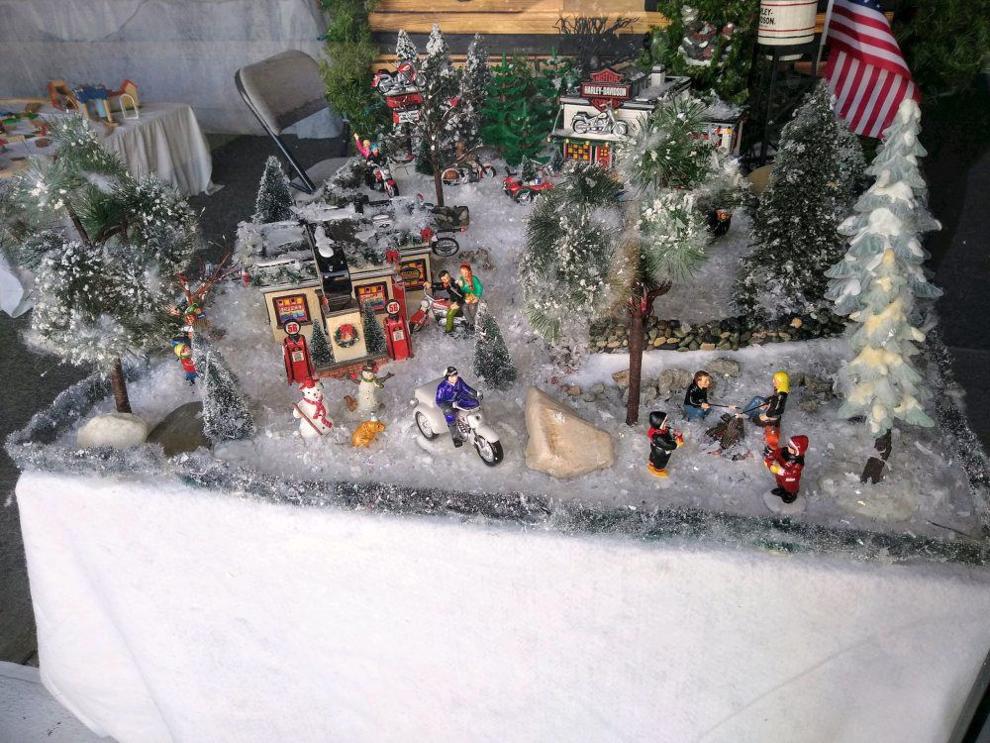 Holiday Wonderland
"Is the Snow Village display that used to be at Lincoln Square going to be around this holiday season?"
Yes, the Christmas village display is now at the west end of the Neil Street Commons strip mall at 505 S. Neil St., just east of the Champaign Public Library.
It features more than 500 Department 56 lighted houses and accessories that can be viewed for free.
Hours are 1 p.m. to 8 p.m. Fridays, Saturdays and Sundays this season, and from 1 to 8 p.m. Monday Dec. 23 and 1 to 5 p.m. on Tuesday, Dec. 24.
Admission is free but donations to the American Cancer Society are encouraged.
Carle property tax case
"What's the status of the tax case involving Carle and the city of Urbana? Wasn't there supposed to be a decision in mid to late summer of 2019?"
The weighty case involving retroactive property tax exemptions for the period 2004 to 2011 is still before Circuit Judge Randy Rosenbaum, who heard testimony and arguments on it last winter. Written arguments were submitted in June. A decision could come at any time.
Downtown Urbana development
"When will construction begin at the site of the demolished Goodyear building on South Vine street in Urbana?"
That issue was addressed in the mailbag in October. Brandon Boys. Urbana's economic development manager, said that Green Street Realty's townhomes project is expected to be completed prior to December 31, 2020 as required by the Redevelopment Agreement. He said that city staff was reviewing building plans and that the developer expects construction to start in the spring of 2020.
School bus stops
"How long can school buses legally stop traffic? I sat 12 minutes on the 1600 block of Market Street in Champaign Monday morning waiting behind a bus that had its flashing stop sign engaged (and other cars had been there longer than me). Does the school district and Champaign police know that traffic is tied up for such long periods on this block? I'm all for keeping students safe as they board/unboard a bus, but 12-plus minutes as people try to get to work seems extreme. Can a better solution be implemented?"
Champaign school district spokesman David Brauer said that "Unit 4 bus drivers are advised not to engage the stop sign until students are loading and disengage once the last student is aboard the bus."
"The district created common stops on its routes (similar to the MTD) so travelers can avoid those areas with longer load times," Brauer said. "Each student is allotted no less than 15 seconds to load and stops that have more students will take longer to load. The particular stop referenced in the question has between 15-50 students loading on multiple buses between 7-8:15 a.m. and again unloading from 2:15-4 p.m."
There is no state or local law that limits how long a school bus can be stopped, said Champaign Police spokesman Tom Yelich.
"The safety of students has to be the top priority," he said. "A bus driver should take as long as possible to safely accommodate students."
If your route to work is along a school bus route, Yelich advised planning accordingly and leaving a few minutes earlier.