Tom's #Mailbag, Jan. 31, 2020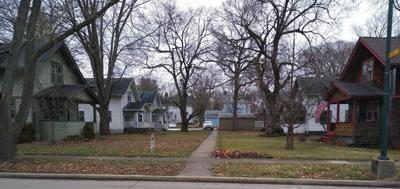 Drop your very own questions into Tom's Mailbag by clicking here
Questions this week about quite a collection of shoring at a University of Illinois parking structure, a restaurant closure, a hotel reopening, whether a UI official received preferential treatment and property taxes for the Carle at the Fields development. Also, tinted automobile windows, flags at half-staff, roadway concerns, vacant houses in Champaign, News-Gazette clickbait, historical photographs of North Champaign, a corner lot cleared in Urbana and dogs rescued in Champaign.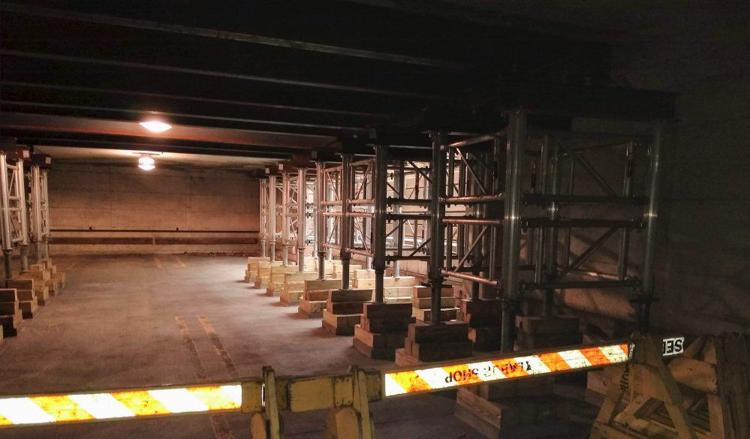 Parking garage supports
"The University (of Illinois) parking structure at the corner of Fifth and Daniel has had an impressive array of support beams set up in its lowest level. Is there reason to fear for the structural integrity of the garage?"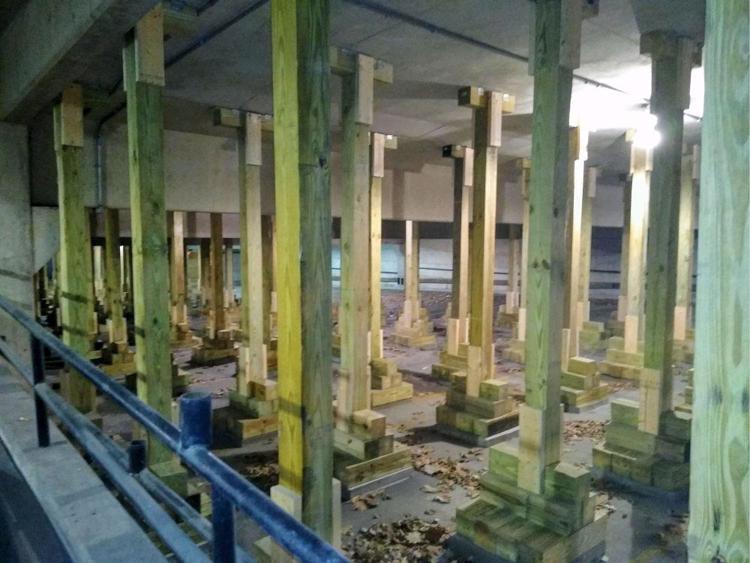 Yes, that is quite a sight at the subterranean level of the 50-year-old structure.
Both central campus parking structures (C7 at Sixth and John and C10 at Fifth and Daniel) received an investigation by consultants in July to test the structural integrity of the parking ramps, said Marty Paulins, the UI Director of Parking.
"After evaluation, the recommendation from the consultants was to shore the lower ramp of C10," he said. "Both structures will undergo comprehensive capital improvement work expected to begin in the fall of 2021. The project will include steel reinforcement of the decks, façade improvements, upgrades to electrical systems, new lighting, and an elevator addition to C10."
Both structure were built in 1970, he said.
Special treatment?
"I was wondering if the state's attorney's office gave preferential treatment or more clearly turned a blind eye to the issue of domestic battery when it drew the conclusion that it would not file criminal charges against Jennifer Dillavou for striking her husband. It seems to me that historically the office of the state's attorney would override the desires of the battered and file charges to protect the victim. It appears to me that academic, social and economic status has played a political role in the state's decision. Was the action of the state's attorney's office consistent with its past decisions and actions?"
Here's the story the questioner is referring to.
And here's the response from Champaign County State's Attorney Julia Rietz:
"I would suggest that the academic, social and economic status of the parties is the reason why this situation was reported in the local news, not the unique nature of the resolution of the case. Domestic violence crosses economic and social divides. But regardless of the background of the parties, our charging decisions are made based on the totality of the circumstances of the case and the likelihood of conviction at trial.
"Domestic violence is a particularly difficult type of case to review. We do not have a 'must charge' policy, although some departments do have a 'must arrest' policy. It is not unusual for us to decline to charge a case despite the fact that an arrest was made. That does not mean the arrest was improper; it just means we have a different burden of proof at the charging stage. It is not uncommon for domestic violence victims to come to us and request that we not file charges, tell us it was a misunderstanding, take responsibility for the situation, or refuse to cooperate with us.
"We have victim advocates who address these issues with abuse victims on a daily basis. To not consider the wishes of the victim when making these decisions is seen as another form of power and control over the victim. Certainly, we do not always follow the wishes of the victim when she or he requests that we decline a case, particularly when there is evidence of a history of abuse, when there are independent witnesses, when there are children involved, or when there is evidence of injuries, weapons, substance abuse or threats or coercion from the abuser.
"In those circumstances, protecting the victim, the children, and the community override the wishes of victim. But without going into great detail about the facts of this case, when there are no independent witnesses, when there are conflicting versions of the events, when there is no history of abuse, when there are no injuries or children involved, and when the parties wish to address their marital issues outside of the criminal process, then there is little likelihood of a conviction at trial given all the circumstances. Under those circumstances, declining to file charges is the appropriate resolution and has absolutely nothing to do with the status of the parties involved."
Flag display discrepancy
"Driving around town, one can spot the U.S. flag at half-staff at some locations and full-staff at other locations. Why is there a discrepancy? The flag code indicates when the U.S. flag should be flown at half-staff, but it seems like none of the conditions raised in that section of the code apply."
The most likely explanation is that Gov. J.B. Pritzker ordered the flag to be flown at half-mast. That has happened twice in recent weeks. On Jan. 16, he ordered "that all person or entities covered by the Illinois Flag Display Act are to fly the flags at half-staff in honor and remembrance" of SPC Henry Jarrett "Mitch" Mayfield Jr. of Hazel Crest until sunset on Saturday Jan. 18.
Eight days later Pritzker issued a similar order to honor and remember SPC Miguel Angel Villalon of Aurora until sunset Jan. 25.
SPC Mayfield was killed in a terrorist attack in Kenya. SPC Villalon was killed when his vehicle was struck by a roadside bomb in Afghanistan.
The Illinois Flag Display Act covers government facilities in Illinois, including state government facilities, public schools, county courthouses, city and village halls, public parks and university buildings.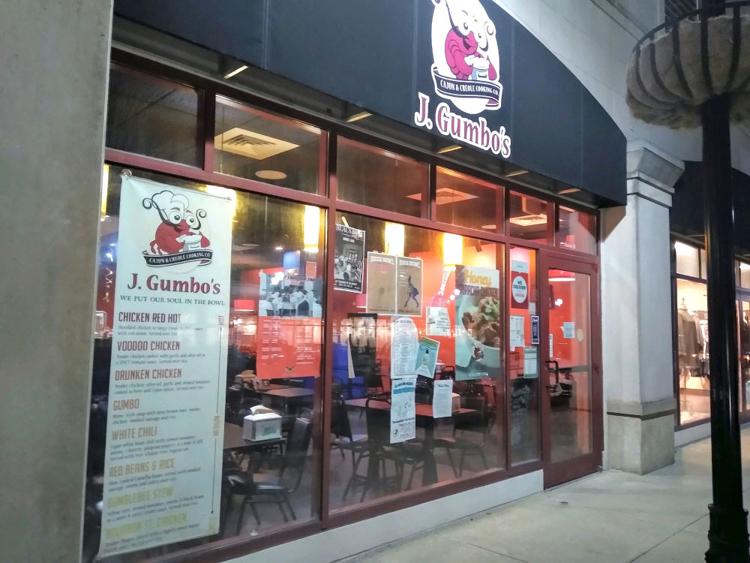 J Gumbos-Urbana
"I noticed that JSM's commercial branch has the current J Gumbos space listed as being available to rent in February 2020. Are there any plans for the restaurant to close, or have they simply not renewed their lease?"
The business at 700 S. Gregory in Urbana is closing today, an employee said.
Later the management posted on Facebook: "The store will close permanently at 7 p.m. (Friday). We would like to extend the sincerest thanks to our staff. Their hard work and dedication has kept us going these last few years. Please be patient with them as they deal with our limited supply and final customers.
"And you! Without your support as customers, we would not have be able to create the community we did. You all are awesome. Thank you."
J Gumbo's opened in Urbana in 2012.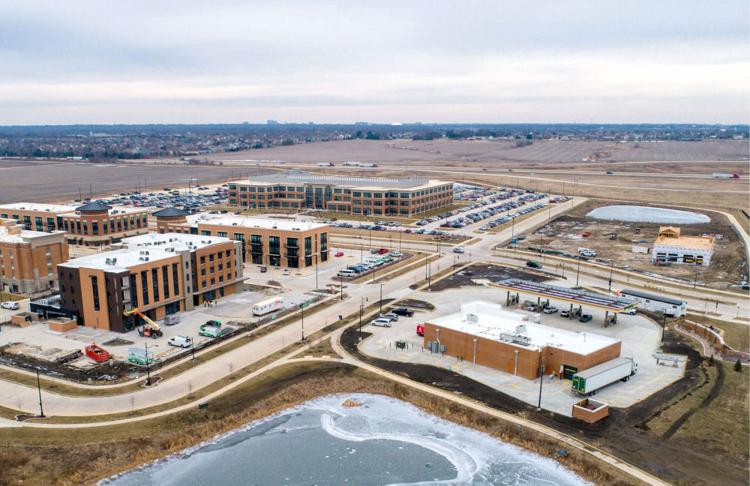 Carle at the Fields taxes
"How much of the new Carle at the Fields pays real estate tax? Were there any city rebates or grants to start the development?"
Last question first: there were no city incentives for the Carle development, said Champaign Planning and Development Director Bruce Knight.
As for property taxes paid, the issue is going to the Champaign County Board of Review in February.
Carle is seeking property tax exemptions for at least two parcels in the Carle at the Fields development, according to Elizabeth Burgener-Patton, a member of the Champaign County Board of Review. Citing its charity care provided, Carle wants exemptions for 3310 Fields South Drive, an office building, and for 3105 Fields South, an outpatient services building. Both buildings have an assessed valuation of more than $11.6 million.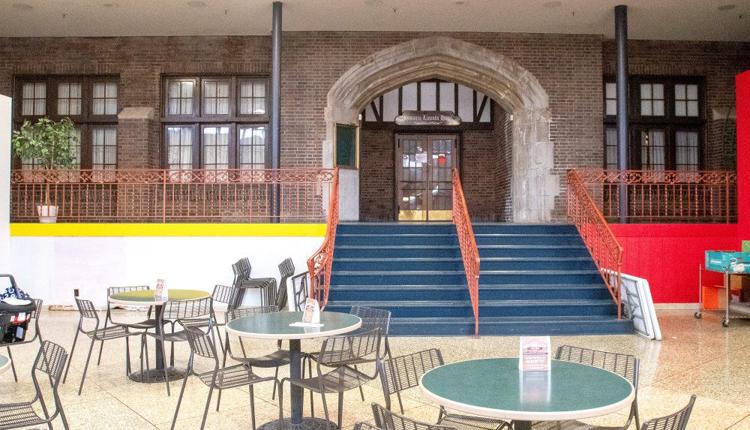 Urbana-Lincoln/Jumer's/Urbana Landmark Hotel
"With the Lincoln Hotel finally sold, surely the new owners aren't going to continue calling it the 'Landmark Hotel.' In my opinion it must be the absolute worst name ever. It is a landmark, you don't name it 'Landmark.' Removing Lincoln's name from anything in Illinois also makes it pretty darn obvious the previous owners had never been to Illinois before in their life."
Urbana Mayor Diane Marlin said she hasn't heard anything about what the new owners (Icon Hospitality LLC) will name the 96-year-old hotel. But in most cases the new owners of the hotel have changed its name. The only time that didn't happen was in the 1950s and '60s when it went through two ownership changes — the biggest being in 1965 when it was sold to retailer Carson, Pirie, Scott and Co. — but remained the Urbana-Lincoln. That was its name for 53 years of its existence.
Interstate Drive bump
"When driving across North Prospect Avenue on Interstate Drive, the intersection is like a giant speed bump. Prospect Avenue is much higher than Interstate Drive, so there is a fairly abrupt change of height when driving on Interstate Drive. Is there any chance of them raising Interstate Drive near the intersection to better ease that transition?"
The bump is the result of the concrete pavement expanding and contracting with temperature changes over the years, said Kris Koester of the Champaign Public Works Department.
"As the concrete expands with higher temps it pushed on the asphalt, creating a bump over time," he said. "This is most commonly addressed by grinding the bump. Public Works is aware of the issue and will work with a contractor to have it resolved, in the meantime drivers are encouraged to use caution."
The contractor was at the site this morning, Koester said, smoothing the bump.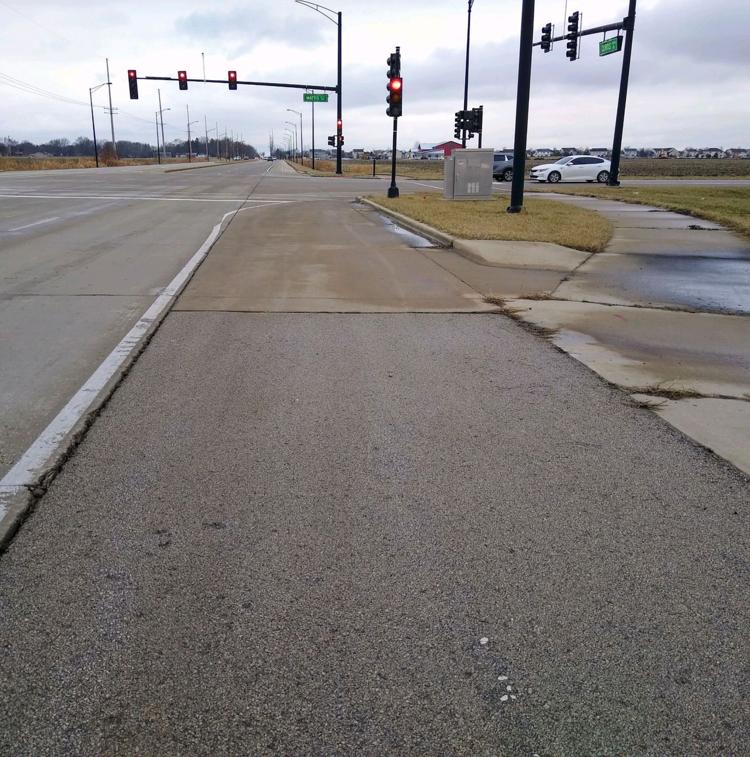 Infrastructure geekdom
"Two questions, both about roads, because I'm an infrastructure geek:
"(1) On westbound Curtis Road to northbound Mattis Avenue, there is no official right-turn lane. However, there's a very wide shoulder on the north side of Curtis, and many drivers have begun to use it as an 'informal' right-turn lane. Other drivers turning right are staying in the actual lane, so that there may be two cars next to each other, both turning right. This looks like an accident waiting to happen. Are there any plans to create an actual right-turn lane here?
"(2) It seems that often in bad weather, or sometimes at other random times, green lights that are normally only called when a vehicle is present are changed to an alternating cycle of red/green that's independent of whether a vehicle is present on the 'call' street or not. (Example: Windsor and Galen.) What criteria are used for making this decision?"
Here's more from Kris Koester: "In response to the first question related to the intersection of Curtis and Mattis, there are currently no plans to create a right turn lane at this location.
"Right turn lanes are added based on the volume of turning traffic or when a lane drop takes place across an intersection. Neither is currently applicable at this location. In addition, the shoulder is also a bike lane along Curtis Road. While bikes can move over to the sidewalk at the intersection, they also have the right to continue west in the bike lane. The drivers using the shoulder are in violation of the vehicle code and can be cited.Regarding question No. 2: "Your reader is likely witnessing a part of the design of the video detection equipment. In bad weather (fog, heavy rain, snow, sun glare) if the equipment cannot determine if a vehicle is present or not, it will automatically assume vehicle presence and will go to a side street even if there is no traffic present. It will stay in this mode until it can determine if there is a vehicle present.
"If it is not related to bad weather, there could be a detection equipment malfunction. In this case, it will call up the side street every cycle whether there is a vehicle there or not. Then it will stay on recall until the problem is fixed. If the public notices something like this they should report the issue to Public Works. We follow up on each request and verify the intersection is operating correctly and, if it is not, make any necessary repairs/changes."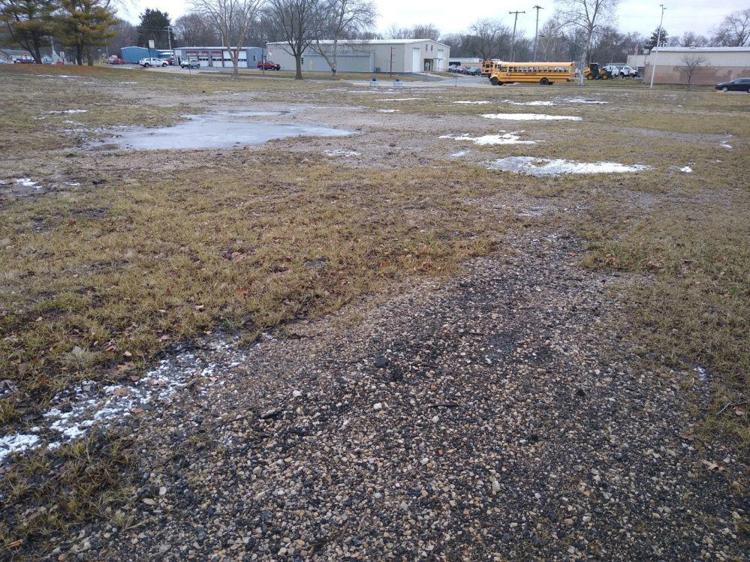 Cleared site in Urbana
"Any update on the status of the family restaurant that was to be built at 1301 E. Washington, Urbana? After demolishing the existing building, it doesn't appears that anything is happening toward construction."
Lorrie Pearson, Urbana's community development director, said the city sold the property at 1301 East Washington at public auction to Ed and Michelle Salfelder.
"The new owners have satisfied the only requirement of the sale, which was to demolish the existing structure and parking lot," she said. "While the Salfelders have publicly expressed an interest in new construction at this site that would serve the neighborhood, no specific plans for redevelopment have been announced to date."
We've tried several times to reach Ed Salfelder for more information but never heard back.
State law on tinted windows
"Can you find someone please to clarify the law on tinted windows. I had a friend who purchased a car from her daughter (who had been driving the car with tinted windows for a couple years) and shortly after purchasing it, was pulled over and told that she must remove the tinting. I know others who have been told the same thing yet I know of many others in my neighborhood who continue to drive with fully tinted windows (all around the entire car)."
Sgt. Christopher Watson of the Illinois State Police said it's all contained in the Illinois Vehicle Code (625 ILCS 5/) under "ARTICLE V. GLASS, WINDSHIELDS AND MIRRORS. Here's the link.
In brief there are exemptions to the window-tinting law for certain medical conditions such as "systemic or discoid lupus erythematosus, disseminated superficial actinic porokeratosis, or albinism, which would require that person to be shielded from the direct rays of the sun."
Also other auto owners can get an exemption if their car "is used in transporting a person when the person resides at the same address as the registered owner of the vehicle and the person is afflicted with or suffering from a medical disease which would require the person to be shielded from the direct rays of the sun, including, but not limited to, systemic or discoid lupus erythematosus, disseminated superficial actinic porokeratosis, or albinism."
You need a certified statement or letter from a physician to get the exemption.
Vacant homes
"I just read your column in today's paper (Saturday, Jan. 25), in reference to a home on Kenwood Road, Champaign. There are several homes on Kenwood Road that are an eyesore. One in particular is at the corner of Kenwood and Sangamon (south side of Kenwood). This house has been vacant for about five years. The yard has not had upkeep and neither has the house. It is overgrown with weeds, etc. I am wondering if the city has a ordinance for vacant houses."
Tim Spear, the acting code compliance manager in Champaign, said yes, the city has an ordinance that addresses vacant residential structures.
"The city does not require that all vacant residential structures be registered with the city unless other conditions are present. These may include exterior housing violations or more than one nuisance violation for the same issue within six months. If the property is found to be vacant and have other qualifying conditions, then the property is required to be registered with the city of Champaign," he said. "Regarding the property at the corner in question, I believe that the address in question is 1205 Kenwood Road. We have had several nuisance cases (overgrown vegetation mostly) at this property over the years, but only one case in the past two years."
If you have a question or complaint about properties in Champaign, contact the Neighborhood Services Department by phone at (217) 403-7070 or submit an anonymous complaint online.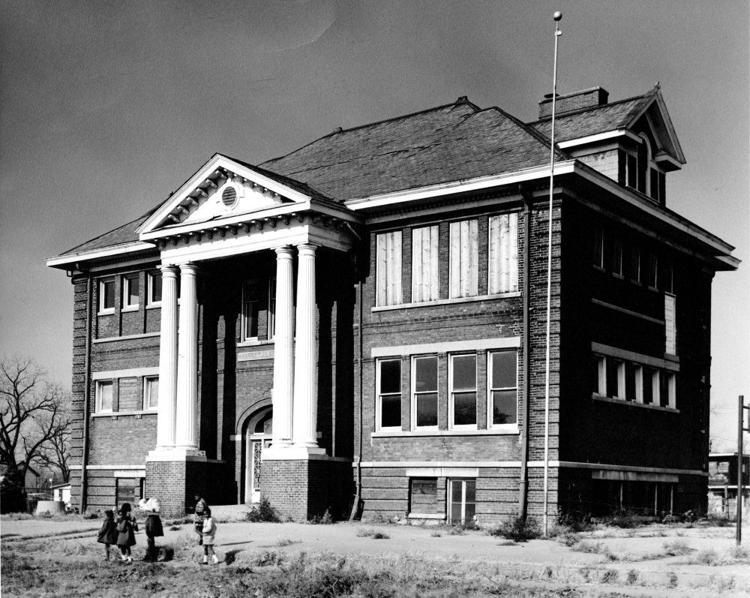 North End photos
"Where do I find pictures/maps of the North End of Champaign? I grew up in the area across from (J.W.) Pirtle's former radio station and would like to know if the city had pictures of that area in their archives. I went to Lawhead and Willard grade schools and graduated from Champaign High School, now Central. We are getting ready for the 65th class reunion and I would like to have something to bring to it."
The Champaign County Historical Archives at the Urbana Free Library has historical photos of the North End, said archivist Karla Gerdes, such as photos of Willard and Lawhead schools. There also are files of photos funder subjects such as "urban renewal," "black-ownwed businesses," "musicians and bands," "churches" and more.
The staff at the historical archives, on the second floor of the Urbana Free Library, is very helpful.
Also, T. J. Blakeman, who is president of the Champaign County Historical Museum, said he has some photos of the neighborhood, including this one of Lawhead School.
N-G clickbait
"After reading Tom's Mailbag on Saturday on The News-Gazette website, I scrolled down. There were links to some other stories but for each one there were at least three links for clickbait. How much does The News-Gazette make off each of these annoying links?"
Google pays a fraction of one cent for every hit, said Paul Barrett, the executive vice president and publisher of Champaign Multimedia Group. It's not quite a revenue stream, more like a revenue trickle.
Incidentally The News-Gazette is hardly the only publication doing this. A story this week in the Columbia Journalism Review noted that even the deep-pocketed Washington Post, owned by Jeff Bezos, uses clickbait — fluffy, insubstantial stories — to generate readership and profits.
"The Post has effectively built a diverse monetization strategy to win in the age of the mega platforms while delivering for both audience and advertising partners," a spokesperson told writer Hamilton Nolan, "and most importantly clearly demonstrating quality journalism can be profitable."
Rescued animals
"I was wondering if you could find out which animal rescue organizations took in the poor doggies rescued from the Mark and Wendy Richards dog hoarding case from the 1300 block of West Springfield Avenue. I sure would like to help if I can, and I can only find that some of them went somewhere in McLean County."
We asked State's Attorney Rietz if she could help us with this one. Here's her response: "Thanks to your reader for being concerned about the Springfield Avenue dogs. The dogs that were able to be rehomed have all been placed with other agencies in Illinois and Indiana and we are not aware of any that are available for adoption at this time. Champaign County Animal Control appreciates the public's support and accepts donations to aid in caring for the animals that come through its doors."
Golden Corral property
"This is a Golden Corral question of sort, but not about them coming to our great city. I don't really care if they come or not, I'm not a fan. My question is did they purchase the land at 1202 W. Anthony Drive? If so, do they still own it? If so, do they intend to put it back on the market?"
1202 W. Anthony is owned by Hawary Holdings LLC of Orlando, Fla. The property was purchased in 2018 for $465,000. According to a 2014 online story Ahmed El-Hawary operated several fast food franchises including a Golden Corral restaurant.