Tom's #Mailbag, Nov. 29, 2019
Submit your questions by clicking here and Tom will chase down an answer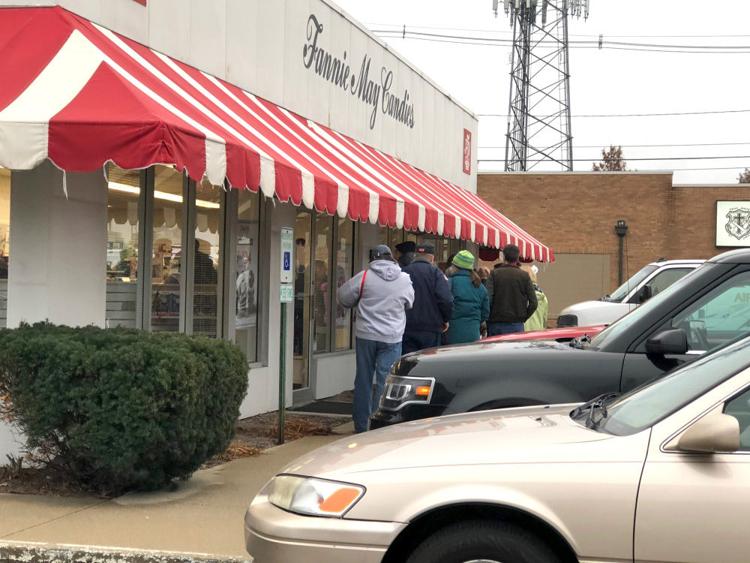 Hope you're enjoying your Thanksgiving weekend. And your Black Friday shopping.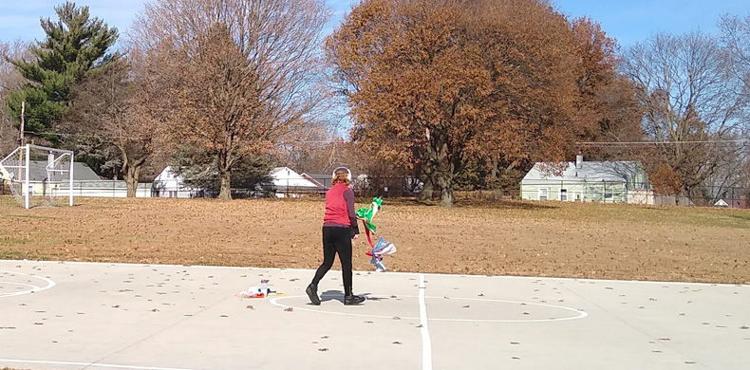 Park twirler
"There used to be a woman that twirled her baton — mostly in Hazel Park in Champaign — rain or shine, almost year-around. Numerous articles have been written about her over the years. I haven't seen he in her accustomed spot for some time now — whatever happened to her?"
Bonnie Reynolds is fine and back at it her normal place on the basketball court at Hazel Park.
She did miss three weeks earlier this year after she had hip replacement surgery. And more recently she was absent when she cared for a friend who had back surgery.
But she said she can usually be found at Hazel Park every morning where she runs through a 1 1 / 2-hour routine of music and twirling.
"This is so magical. I play my music and after three or four songs the magic just takes over," said Reynolds, 64. "I wish that everyone could find something that entertains them and allows their spirit to soar."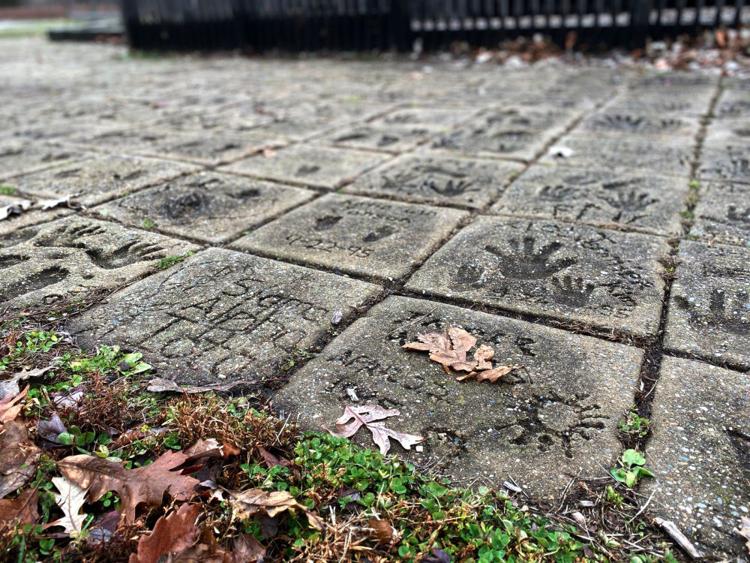 Meadowbrook Park stones
"Enjoyed your piece on plans to refurbish Meadowbrook Park in Urbana. What's to become of the cement panels with handprints of families who donated money toward building the wooden structure lo those many years ago?"
and
"I read your article about Prairie Play or 'the wood park' as my daughter called it. She has her handprints there from when she was little. Will these be staying or do families have an opportunity to take their stone if they are going to redo the playground? I wasn't sure if that issue has come up. She is 26 years old and still loves to go see them."
and
"I realize that Prairie Play isn't scheduled for replacement until 2021, but wonder if the following information is available: 1. Will the collection of cement squares with handprints be removed or will they remain in place? 2. If they are to be removed, will families be able to claim their squares?"
Tim Bartlett, executive director of the Urbana Park District, said there has been some cursory discussion about what to do with the blocks.
"One idea was that we tie it to our fundraiser (for the Prairie Play replacement)," he said. "If you were a part of it come and claim your stone, if you'd like to have it. Take it home. Put it in your garden. Celebrate it.
"We probably don't want to reuse them because some are old and at the end of their useful life. And for those that aren't claimed maybe we can recycle or reuse them."
Campustown development
"I see that they've blocked off the corner of Daniel and Sixth Street with fencing. Will they finally be demolishing those buildings? Has the city announced what will be built there?
"A demolition permit was issued on Nov. 22 for 602-618 E Daniel St." said Randy Smith, building safety supervisor with the city of Champaign. "There is currently a permit under review for 812 S. 6th for multi-family residential and retail."
The developer, said Champaign Planning and Development Director Bruce Knight, is Core Spaces, based in Chicago.
The company's website describes the property as The James and describes it as a nearly 350,000 square foot development with more than 20,000 square feet of retail.It will have 322 housing units with 658 beds. It appears to be 16 or 17 stories high.
The company develops, acquires and manages housing projects in many college towns, including West Lafayette, East Lansing, Ann Arbor, Madison and Minneapolis.
South Champaign work
"What is being built on Fourth Street south of St. Mary's Road? There is a lot of activity there."
"There is currently a two-story building being built at 1907 S. Fourth Street. The permit was issued on Oct. 22. Building Safety doesn't have any information on who the tenant might be yet," said Randy Smith.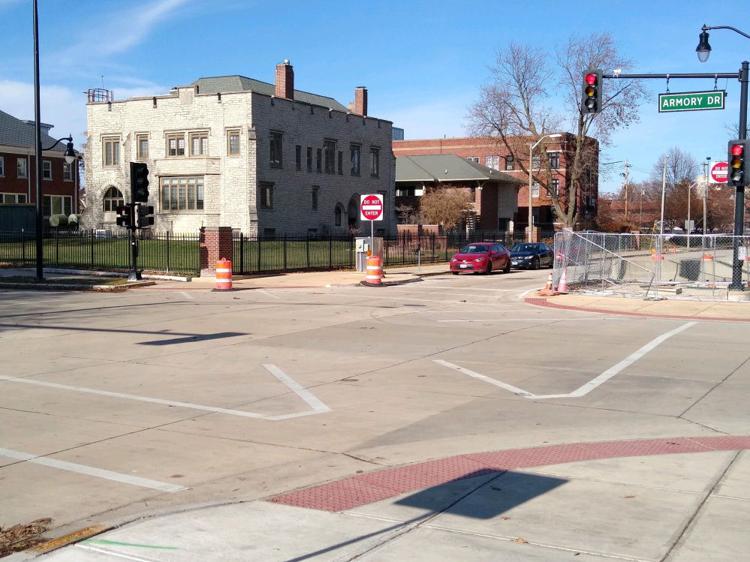 Campus traffic lights
"The traffic lights at the intersection of Armory and Sixth are much, much better than before MCORE (the Multimodal Corridor Enhancement project in Campustown), so credit where that's due. However, the green signal for traffic facing north coming up Sixth is very short during the day. Because there is no turn lane or arrow, this results in a lot of backup during busy stretches, such as when classes let out. This backs up traffic in the library lot, the entrance of which becomes completely log-jammed. Meanwhile, pedestrians are weaving between cars like mad and bikes are flying down the street. (I invite you to visit campus and watch the library lot entrance at, say, 1:50 to 2:10 on a weekday to get a sense of how insane, inefficient, and even dangerous this is.) Is there any chance the green signal could be extended somewhat in order to prevent this severe back-up?"
Steve Breitwieser manager of communications for University of Illinois Facilities & Services, thanks you "for identifying a traffic signal operation issue at this intersection. Following MCORE Project 4 construction along Armory Avenue, the signals were set differently from the previous configuration that allowed both protected left and right turns for vehicles traveling northbound.
"After review, the signal configuration at the intersection will remain in its new sequence with two vehicular traffic cycles (one for each of north/south and east/west vehicular traffic) and then a pedestrian scramble cycle. The east/west cycle also now includes counter-flow bicycle traffic from a protected bicycle lane on Armory Avenue from Wright Street to Sixth Street.
"The signal setup is different than what has previously been used at this location, but adding a dedicated pedestrian scramble cycle will help to improve pedestrian safety and address heavy foot traffic more efficiently at this location, which is a campus transportation priority."
During the UI's winter break, Breitwieser said, the intersection will be adjusted to act four-way stop.
Dead trees
"On the east side of the CVS at Green and Neil streets are six or seven dead trees. They have been dead for the past four years at least. Who is responsible for removing these trees and why has it taken so long?"
Those are not city-owned trees. The CVS property is owned by the Kermit Nogle Trust of Champaign.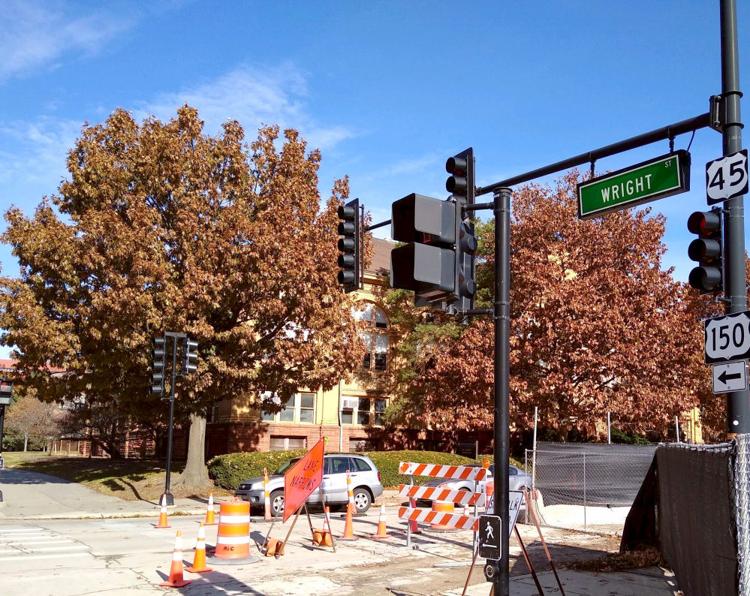 Divided Wright Street
"Given that Wright Street is the dividing line between the cities of Champaign and Urbana, I am wondering where the exact border is (Is it the middle of the street, or just off of one side of the street?) and how the two cities perform municipal services on it. Who is responsible for maintaining sidewalks, street lights, garbage collection, etc.?"
There's not a simple answer, said Champaign Public Works spokesman Kris Koester.
"Viewing a map of the city of Champaign shows the boundaries zig-zag on all sides," he said. "To this specific question regarding Wright Street, I'll focus on the area that serves this function — which is mainly from Bradley Avenue to near St. Mary's Road.
"As to garbage collection, both cities have open markets for private licensed haulers.
"Wright Street between Bradley Avenue and University Avenue is 'split' down the middle for boundaries between Champaign and Urbana. Wright Street between University and Springfield Avenue is IDOT jurisdiction, with sidewalk and parkway responsibilities split between Champaign (west) and the University of Illinois at Urbana Champaign (east).
"Wright Street between Springfield Avenue and St. Mary's Road is city jurisdiction (pavement to the back of the curb on the east side of the street), with various responsibilities (sidewalks, parking meters, lights, trees, underground utilities) shared on the east and west between Champaign and UIUC; with Champaign-Urbana Mass Transit District maintaining the transit plazas.
"The main exception to this is that Mt. Hope Cemetery is fully in Urbana, so the boundary in that section is along Fourth Street between Pennsylvania Avenue and Kirby Avenue."
Interstate ramp damage
"What's with the truck tire ruts permanently embedded into the pavement on I-74? The worst is at the eastbound Neil Street exit ramp. This became readily apparent during snow/ice events. Looks like the microsurfacing work they just finished didn't turn out so well."
IDOT Region 3 Engineer Kensil Garnett said that as the work was being performed, "a semi slipped behind the closed lane prior to the microsurfacing curing and rutted the new surface. At the time this happened, it was determined placing a third lift of microsurface would create a worse situation than what was there.
"It was agreed to let the issue go through the winter snow season and if it posed any problems or showed any signs of being a maintenance issue, the contractor will be required to mill it off and replace the two lifts of microsurface."
Champaign student tablets
"Per available online budgets, (the Champaignschool district) has spent over $2.2 million for tablets and associated costs during the past three fiscal years. I was wondering what the future budget for technology in Unit 4 schools looks like and when those decisions are made each year. I was also wondering who made the original push to provide every student with a device. There is growing research that shows technology in schools has little impact on learning outcomes (grades, test scores, etc.), can hinder social development, and also puts students at risk due to data harvesting of personal information."
We got this response from the school district's information technology department:
"Champaign Unit 4 is committed to providing a learning environment that will prepare students for the future, both in academics and in the technical skills that they will need in life. As more of the educational resources that the district uses in instruction and assessment are based on digital platforms, it is important that we provide students the tools and access required at school.
"Champaign Unit 4 Schools has worked over the past four years to build a one-to-one student Chromebook environment for grades two through 12, while constantly evaluating our fiscal responsibilities to the community. Each year, the number of devices required for the following year is calculated and used to post a request for proposal per the district's policies. This RFP is evaluated and approved by the board of education at regularly scheduled public meetings. The number of devices and cost per device may vary from year to year. This process is consistent with what other districts in the area and state are doing with student technology.
"Unit 4 takes student privacy and the protection of student data very seriously. Educational resources are evaluated internally to prevent issues related to personal data on the internet. In addition, Unit 4 employs several content filtering and classroom resources to ensure student safety and a positive learning environment.
"We believe that equitable access to education for our students is of paramount importance to our schools and our community. As the expectation that students have access to online resources outside of school has grown, so has the digital divide that disproportionately affects our low-income families. Beginning in 2018, we have allowed high school students to take devices home to ensure that all of our students have access to the resources they need to be successful. We are also utilizing grants and federal funding to ensure appropriate and equitable access to technology for all our students.
"Champaign Unit 4 Schools continues to implement technology in the district through a thoughtful and deliberate process based on available research and data. We have invested in several outside audits and developed a District Technology Planning Committee to guide important decisions related to how we utilize and secure technology in the District. We are continually working to ensure the best educational environment for our students, and to best prepare them for college and the careers of the future."
Carle caller ID
"Can you find out why Carle won't turn on caller ID? I get a lot of spam calls so I don't answer numbers I don't recognize. Even those that appear from the 217 area code are more often spam than not. However, many businesses turn on caller ID, and I'll answer those.
Calls from Carle clinics and hospital, however, come from all sorts of local numbers, and none of them are identified as Carle. They will leave voice mail, but of course they're busy and when I try to call back I too have to leave a message. I get that they may want me to call back a different number than the one they call me from, but if they just would turn on caller ID I could pick up in the first place."
Carle spokeswoman Laura Mabry has good news for you.
"Patients concerned about how Carle shows up on their Caller ID can expect some positive changes in the coming months. Carle is upgrading the phone system that today only shows a phone number, not the organization's name," she said. "Still, with many people receiving calls on a host of devices with a host of security and user-preference settings, Caller ID remains an imperfect mode of identification."