Tom's #Mailbag, Nov. 8, 2019
Ask our veteran reporter a question by clicking here
It's almost like a Mailbag greatest hits edition: Farm Aid, Costco, Golden Corral, South Prospect Avenue, Champaign's road repair backlog, electronics recycling, Cardinal Road and Union Square.
But there are also answers about the Bradley Avenue bridge, Christmas movies, WILL vehicle donations, Olympian Drive, yard waste options, roof work at the county's Brookens Center and Brendt Christensen's whereabouts.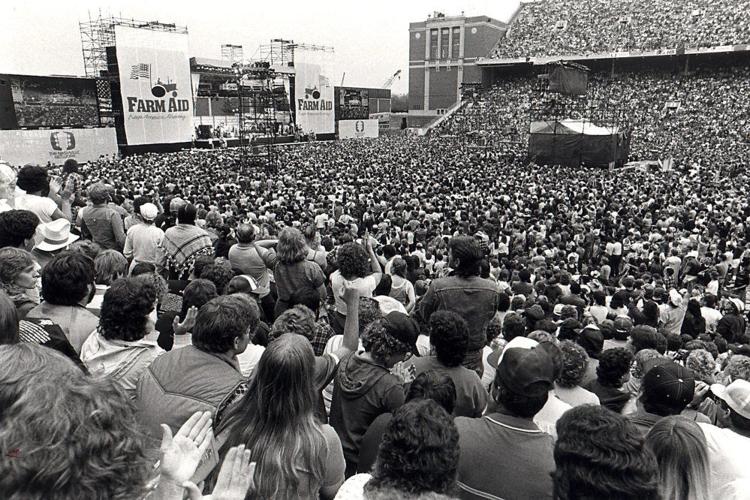 Return of Farm Aid?
"Next year is the 35th anniversary of Farm Aid which has been performed every year since then. Have any of those that can put something like this together tried to get the show back for this anniversary? Memorial Stadium does not have games scheduled for 3 weeks at the end of September and beginning of October next year, I'm sure the local hospitality people would love a fall jolt of people."
"The university was proud to have hosted the original Farm Aid concert, but we have not been approached about an anniversary performance. We did pursue the 30th anniversary year, but the organizers did not respond to our inquiry," said University of Illinois spokesperson Robin Kaler.
And Jennifer Fahy of Farm Aid said the organization isn't that far along in planning the 2020 event.
"Due to us working with so many different artists who are all touring we often have to hold our announcement longer than we wish we had to," she said. "There definitely won't be an announcement until 2020."
Last year's Farm Aid was held in southern Wisconsin at the Alpine Valley Music Theatre. Rolling Stone reported that 37,000 people attended the concert that included Bonnie Raitt, Willie Nelson, Neil Young, John Mellencamp, Luke Combs, Tanya Tucker, Lukas Nelson, Yola and more.
Since the 1985 show at Memorial Stadium (78,000 in attendance) Farm Aid has gone to Austin; Lincoln, Neb.; Indianapolis; Irving, Texas; Ames, Iowa; New Orleans; Louisville; Columbia, S.C.; Tinley Park (1997, 1998 and 2005); Bristow, Va. (1999, 2000 and 2016); Noblesville, Ind.; Burgettstown, Pa.; (2002 and 2017); Columbus; Seattle; Camden, N.J.; New York City; Mansfield, Mass.; St. Louis; Milwaukee, Kansas City; Hershey, Pa.; Saratoga Springs, N.Y.; Raleigh, Chicago; and Hartford.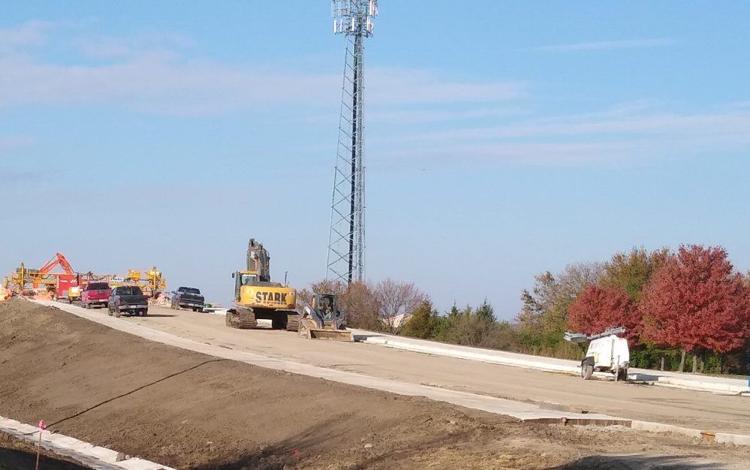 Bradley Avenue bridge
"What's the latest news on the Bradley Avenue overpass? I recall the end date was supposed to be 11/15, but it doesn't look that close to being done."
You're correct. Maybe it will be a month later, according to Kensil Garnett, Region 3 engineer for the Illinois Department of Transportation.
"The bridge deck for the Bradley Avenue project was poured on November 4th. The items left to complete include sidewalk and parapet concrete on the deck, sleeper slabs and approach pavements, (hot mix asphalt) pavement, bridge deck grooving and striping. The contractor also has some pavement widening on the east end of the project to complete. The contractor has bridge painting and seeding that will have to be completed in the spring of 2020. Weather permitting, the roadway should be opened to traffic in mid-December."
Next electronics recycling event
"Is there another community electronics recycling event scheduled soon?"
Susan Monte, the county's recycling coordinator, said the next residential electronics collection event is planned for Saturday, May 16, 2020.
Online registration will open around the beginning of April 2020, she said. The online registration webpage is: ecycle.simplybook.me. The event is for residents who live in participating communities in Champaign County.
In the meantime Monte said there are several free year-round local recycling options —with the exception of most TVs — and that information about those options is at the website of the Champaign County Environmental Stewards at ccenvstew.com.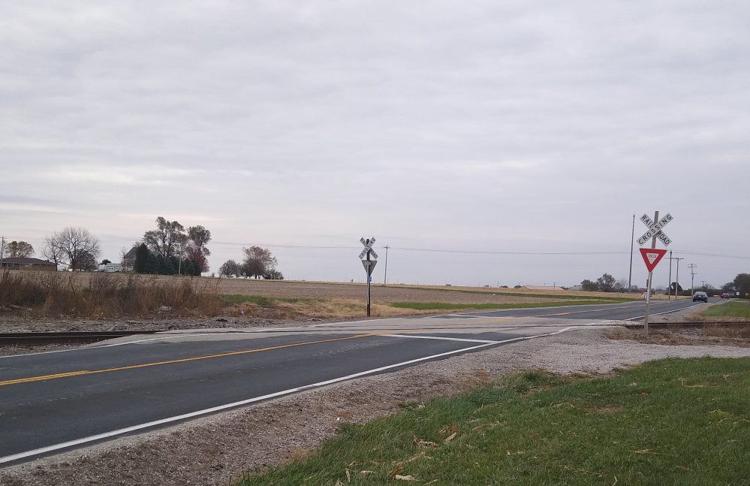 Cardinal Road crossing
"There seems to be increased traffic on Cardinal Road over the past three to five years. Are there any plans to add some sort of lights/warning system for the train that goes to Andersons? The track crosses Cardinal Road at a sharp angle where hills and corn can make it difficult to see if a train is approaching."
Keith Padgett, Champaign Township road commissioner, noted that there was a fatal automobile accident at the crossing in 2014. He said that the Illinois Commerce Commission is looking into putting a skewed crossing gates and a cantilevered signal at the Cardinal Road crossing.
And Aaron Toliver, railroad safety specialist for the ICC, confirmed that the Cardinal Road crossing will receive funding assistance for automatic warning devices.
"A stipulated agreement for the funding assistance from the Illinois Grade Crossing Protection Fund is being prepared for circulation to the Norfolk Southern, the township highway commissioner and the Illinois Department of Transportation and should be ready shortly," he said. "Once a stipulated agreement is received and executed by all, the parties would typically have one year to complete any work that may be assigned to them."
Padgett said that at times the Cardinal crossing and the Duncan Road crossing are blocked by grain cars backed up from The Andersons grain elevator. That's why the township maintains a short gravel road parallel to the tracks to help local residents get around when the crossings are blocked, he said."It does get blocked out there during the harvest season," Padgett said. "The trains really don't care. They run across it whenever they want to and if you drive through there and get caught you just have to turn around and go back. That's the way they look at it."
Padgett said that Cardinal Road is classified as a 5,000 vehicles a day road although it's likely busier now because the nearby Bradley Avenue bridge is closed.
"Cardinal Road is a busy road. Be aware that there could be a train across there. Pay attention," he advised.
More on Cardinal Road
"Two-part question about northwest Champaign roads. First, did Duncan Road at Interstate 57 connect before the interstate was built, and is there any potential to ever have it connected via an overpass? Second, who is responsible for the upkeep of Cardinal Road? They slightly improved the turnoff at Bloomington/Cardinal by grinding some of the pavement smooth, but just beyond that the road is very rough, the shoulder is eroding away, and the asphalt coat is wearing thin to the point where the chip and seal road is showing through."
Duncan Road was a through road before Interstate 57 was built, according to a 1950 map that Champaign County Engineer Jeff Blue consulted. As for another bridge being built there, I wouldn't want to encourage that expenditure. You can go one mile east on Mattis Avenue or one mile west on Staley Road to get beyond I-57.
As for your question about Bloomington and Cardinals roads, Travis Sherman of the Hensley Township road district said that the turnoff is state of Illinois right of way.
"We tried to fix it the best we can but we don't have he resources to fix it the way it should," he said. "We've talked to the state numerous times and Jeff Blue at the county has talked to the state and for whatever reason they don't want to fix it. That is a rough intersection. We're kind of in limbo about that."
Christmas movies at the Virginia
"Is the Virginia Theater going to show 'The Polar Express' around Christmastime for The News-Gazette members? My family enjoys watching the movie on the big screen but they haven't played it for a couple of years."
No, but this year's list of Christmas movies at the Virginia includes:
"Christmas in Connecticut" Dec. 16
"Miracle on 34th Street" Dec. 17
"White Christmas" Dec. 18
"A Christmas Carol" Dec. 19
"It's A Wonderful Life" Dec. 20 and 21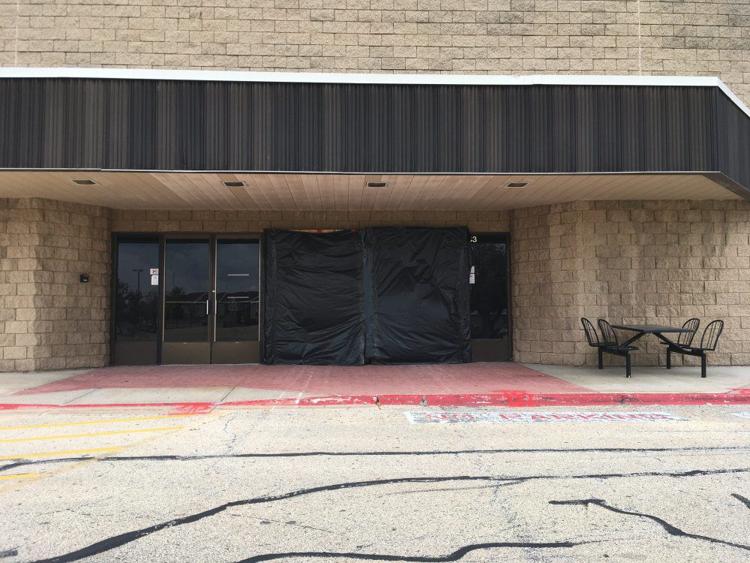 Costco in Champaign
"Any updates on the rumored Costco coming to town? I need them hot dogs."
"The Costco plans are still moving forward as planned," said Champaign Assistant Planning and Development Director Rob Kowalski. "It is still expected that the Bergner's building will be demolished by Brookfield Properties (owner of Marketplace Mall) beginning this month and continuing through winter.
"Costco is expected to begin building their store in May and be open in November 2020. Obviously, it's a very complex redevelopment involving an active mall that is heading into the holiday shopping season. So, we're just going to have to be patient as we wait for those glorious hot dogs."
A building permit for a Costco fueling station was approved by the city on Nov. 1.
The city council approved a final plat for the 19.3-acre Brookfield Properties Retail Subdivision No. 1 site last month. That includes the 13.5-acre site that will include the 150,000 square foot Costco store.
Union Square tenants
"Are any other businesses besides Starbucks coming into the Union Square strip mall?"
"Absolutely," said John Carson of Ramshaw Real Estate, "we are currently working with several other tenants. Leases are not finalized at this point but once they are we look forward to announcing them."
Yard waste options in Urbana
"Local collection started this week in Urbana. They do not pick any bags that have obvious sticks ... also yard waste. What options are there?"
Scott Tess, who is Urbana's sustainability & resilience officer, said the Landscape Recycling Center in northeast Urbana provides disposal for landscape trimmings including leaves, brush, sticks and bulk wood. The fee schedule for disposal is at landscaperecyclingcenter.org. You can hire a waste disposal company or landscaper if you need assistance hauling landscape trimmings to the LRC, he said.
Olympian Drive extension
"Is Olympian Drive ever going to be connected to U.S. 45, or is it doomed to forever end at North Lincoln Avenue?"
There are no immediate plans to do so although that was envisioned as a long-range option when the Olympian project, north of Champaign-Urbana, was introduced decades ago.
"The (right of way) would likely have to be purchased by the county since it is not in a municipal boundary. The funding would need to be some sort of special opportunity where the local share is reduced significantly," said Champaign County Engineer Jeff Blue. "The decision to do it would be based on need and development patterns in the area. As of now there is nothing in the works to extend it beyond Lincoln Avenue."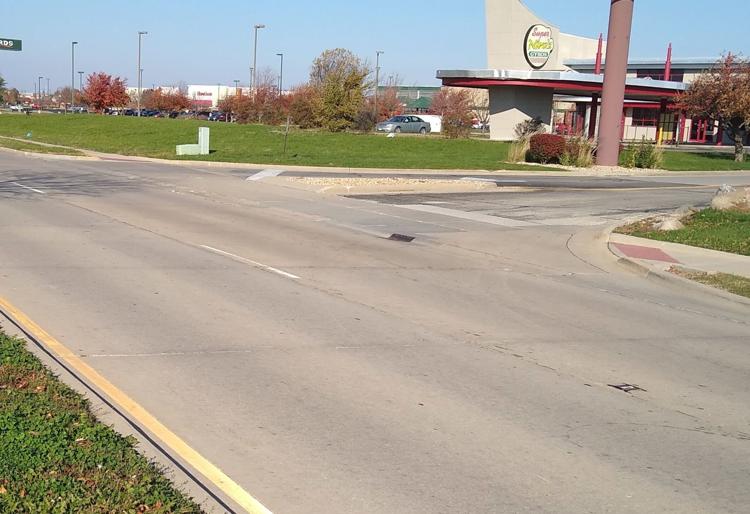 North Champaign streets
"I've looked for, but cannot find, previous articles concerning the roads surrounding the North Prospect shopping area. It would amaze me that no one has written about them. I feel like I'm driving on square wheels when I drive down Meijer Way and Town Center Boulevard. Wasn't anyone held accountable for the poor construction of these roads?"
This is what you call a First World problem because the pavement simply makes an odd noise.
Here's Champaign Public Works spokesman Kris Koester: "The streets in question were constructed between 1991 and 1998, so they are about 20 to 30 years old. The original design was a 20-year pavement design following the subdivision requirements of the time. The main issue with the locations is the requirements during that era did not include load transfer (metal bars connecting the individual panels to each other. The bars help the panels deal with heavy vehicle loads (such as trucks and buses) as the weight transfers from one panel to the next. Without load transfer, the heavy loading at the edges of each panel eventually rock the panel and create a bump. "This is obviously not ideal but the only way to 'solve' the issue is to reconstruct the pavement. If asphalt were placed over the top each and every bump would reflect through that new service in a couple of years and things would be back to square one. While the ride is not smooth and the incessant thumping can be annoying, the pavement is still serving its purpose and does not present a hazard.
"Taking into account the condition of other roads throughout the city reconstruction of these streets does not compete well with other capital project needs for the limited dollars available for projects. When a panel presents more than an annoyance (it is severely faulted or is cracked into several pieces) individual panels or sections of pavement are replaced through the Emergency Infrastructure Repair Program. The repairs to these streets includes load transfer whenever possible."
South Prospect Avenue project
"When are they going to open South Prospect (Avenue in Champaign and Savoy) phase 2 and 3? What is the penalty on the contractor for being late? Will it be imposed?"
Kris Koester again: "The plan is that, by the end of November, all of the Prospect pavement will be poured; Prospect and all side road connections will be open to traffic; temporary striping will be done; and the streetlights will be up and operational.
"The project will be shut down over the winter and the contractor will be allowed 30 additional days next spring to complete the sidewalk, multi-use path, permanent striping and surface restoration. We also plan, within a week or so, to have Prospect and all side roads open to traffic on Stages 1 and 2 (everything north of the church)."
There is no penalty, Koester said. The contractor requested an extension which was approved by the Illinois Department of Transportation, Champaign and Savoy. Some of the delays were due to unmarked utilities on plan specs, and there were other issues as well, he said.
Champaign road projects backlog
"I see people asking questions about road repair, and part of the answer includes comments about backlogs, setting priorities and limited budgets. For the city of Champaign, how deep is the backlog for road maintenance?"
Koester with the hat trick: "As of 2018, our maintenance backlog was estimated at $65 million, in current year dollars. Our annual construction budget for pavement maintenance is $4 million. If all streets stayed in the same conditions and costs remained the same, we would estimate it taking close to 20 years to complete the backlog. In reality with pavement conditions changing and construction costs inflating, it is likely there will continue to be a similar backlog.
"Another thing of note, these maintenance dollars do not represent larger sections of roadway that are in need of upgrades to a complete street (South Mattis Avenue; Windsor Road and Kirby Avenue west of Staley). An example of these types of projects is the current South Prospect Avenue work (Curtis Road to Windsor Road) with a price tag of approximately $5 million. The rough estimate of the backlog of these types of projects is an additional $65 million.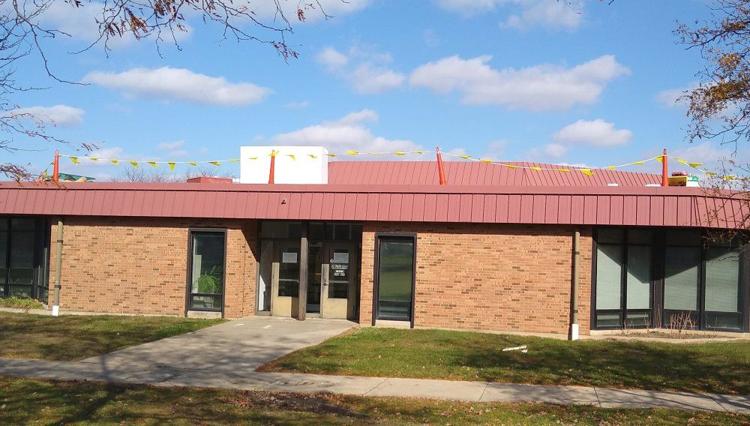 Brookens roof project
"How much is the roofing job on the county complex costing and what is the scope of the work?"
Dana Brenner, who is the facilities director for Champaign County, said the county is replacing the Brookens POD 100 membrane roof, approximately 25,000 square feet, that was installed new in 1996.
"This roof replacement project represents 25 percent of Brookens Administration Center total roof. Advanced Commercial Roofing of Champaign/Urbana was the low bidder on this project for $209,400," he said. "In 2016 we replaced the POD 200 membrane roof, approximately 25,000 square feet. Langlois Roofing Inc was the low bidder on that project for $172,107."
WILL vehicle donations
"Over and over for months WILL has run the same short spots encouraging donation of old automobiles. Have they been worth it? How many vehicles have been donated to WILL in the last six months?"
"Thanks for this question," said Danda Beard, development director for Illinois Public Media. "We're pleased with our vehicle donation program. With it, people have a simple way to dispose of an old vehicle, support programs they love on public TV and radio, and sometimes, reduce their tax bill.
"We increased on-air promotion of it in the last few months, as your reader notes. Since May 1 of this year WILL received 72 vehicle donations from longtime Friends of WILL and from Friends who've never before made a gift to our stations. More than 85 percent of our donors told us they heard about vehicle donation through spots on WILL Radio or TV (others from our website or information in Patterns magazine, our program guide.)"
Christensen imprisonment
As a follow-up to a question from last month, the U.S. Bureau of Prisons now reports that convicted murderer Brendt Christensen is at FTC Oklahoma City. That is described as an administrative security federal transfer center. It has a listed population of 1,257 male and female offenders and houses offenders and parole violators who have yet to be assigned to a permanent prison.
Christensen was sentenced to life in federal prison in July for the 2017 murder of University of Illinois visiting scholar Yingying Zhang.
Golden Corral silence
"When are they going to build Golden Corral restaurant in Champaign IL 61821? I and my wife ate at the Golden Corral before. The people want a Golden Corral here in Champaign, IL 61821."
Golden Corral had a building permit for 1202 W. Anthony Drive but it expired on Oct. 23. The company has not responded to repeated inquiries about its interest in a restaurant here and no one from the city of Champaign has heard from GC.
There apparently are no plans for a Golden Corral in 61820, 61821, 61822, 61824, 61825, 61826, 61801, 61802 or 61803.
But a Golden Corral is under construction at 1102 Avenue of MidAmerica, Effingham, IL 62401. That is 79 miles south of Champaign on Interstate 57. Bon appetit.