Tom's #Mailbag, Oct. 18, 2019
Ask our veteran reporter a question by clicking here
The downtown sections of Urbana and Champaign get some Mailbag love this week, particularly two hotels — one almost 100 years old and another about to begin construction.
There also are questions about marijuana sales, development along Cunningham Avenue in Urbana, the Mahomet Aquifer, a Taco Bell in Mahomet, a Golden Corral in Champaign, loud TV commercials, naprapathy, right turns on red, a University of Illinois basketball player's major and the old Champaign County Nursing Home.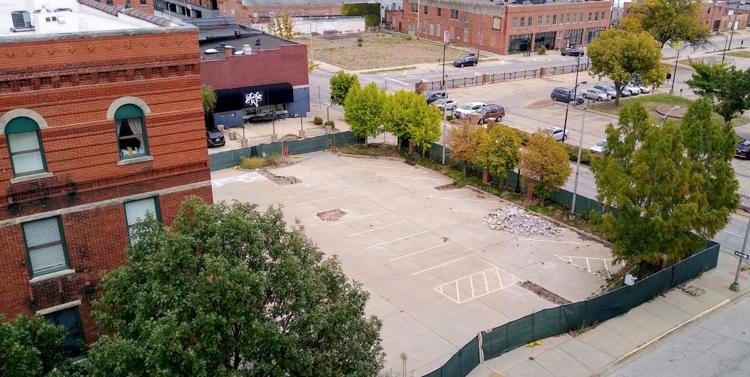 Downtown hotel parking
"I read your update about the new downtown Champaign hotel (the Marriott Aloft at Neil and Hill streets) and the agreement to lease parking within the city parking deck south of the hotel. Last Saturday night, I circled through the parking garage, to the top, waited for a chance to turn around since someone had parked in the turnaround space, and then went all the way to the bottom, without finding a space. How many spaces will the 132-room boutique hotel lease, and where will the displaced people have to park? This possible problem, of course, will be compounded if the city actually moves forward redeveloping the Neil & Washington streets parking lot. We finally have a 'destination' downtown, and I don't understand why the city would now make it harder for people to go downtown, jeopardizing the hard work of the last two decades."
So you'd prefer the city not collect as much money as possible to pay off its investment in the parking deck?
Here's Rob Kowalski, Champaign's assistant planning and development director: "By agreement, the city will lease 100 spaces to the hotel on the top floor of the Hill Street Parking Deck. The hotel will pay full price for those leases. It was agreed that they would be on the top floor to minimize inconvenience to short-term, hourly parkers who typically prefer spaces on the lower levels. No existing lease holders are being displaced out of the deck. "Of course, the Hill Street Parking Deck is just one option for public parking in downtown. Overall, there are approximately 1,700 public parking spaces in Downtown Champaign and most of them are a very short walk to the most popular downtown destinations."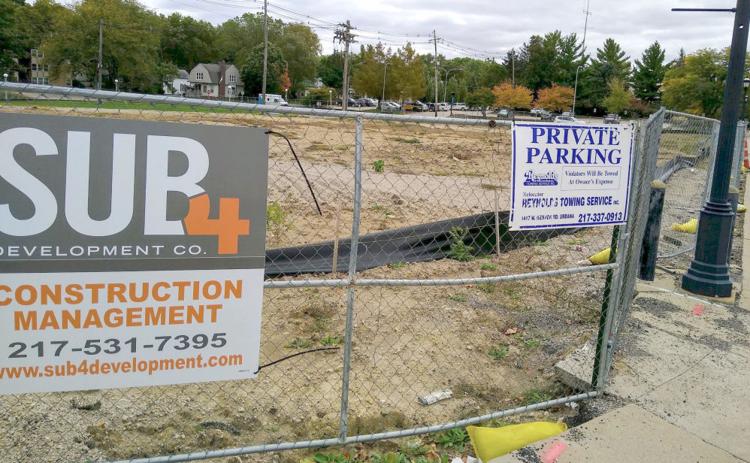 Downtown Urbana development
"Last January, the city of Urbana sold the lot at 200 S. Vine St. — which was estimated to be valued at nearly $1 million — to Chris Saunders of Green Street Realty for $1. (That is not a typo: he paid one dollar for the property.) The projected timeline for his development project was that work would begin in April 2019, and be ready for occupancy by August 2020. Other than demolition of the buildings on the lot, no other work has begun. What's the latest timeline for completion?"
"Green Street Realty's townhome project at 200 South Vine in downtown Urbana is proceeding as planned and designed. Construction is expected to be completed prior to Dec. 31, 2020 as required by the Redevelopment Agreement," said Brandon Boys, Urbana's economic development manager. "Environmental abatement, demolition and initial site prep work has been completed.
"Some utility work and further site prep are expected to occur this fall. City staff is currently reviewing building plans and the developer expects construction to start in the spring of 2020 as soon as weather permits."

North Urbana development
"What's going on with the new truck store construction on North Cunningham? It looks like construction has stopped. Also is there any word of new businesses being built north of 74 on Cunningham?"
Work is proceeding as planned at the JX Trucking site on Cunningham just north of I-74, said Boys. There, JX Enterprises is building a truck service center on the site of a former hotel.
As for other development north of the interstate, "No new other businesses have announced for sites north of 74 on North Cunningham Avenue, but new construction and substantial renovation is underway just south of 74 on North Cunningham for a new El Progreso grocery store as well as an O'Reilly Auto Parts store. These three projects represent over $4 million in new construction," he said.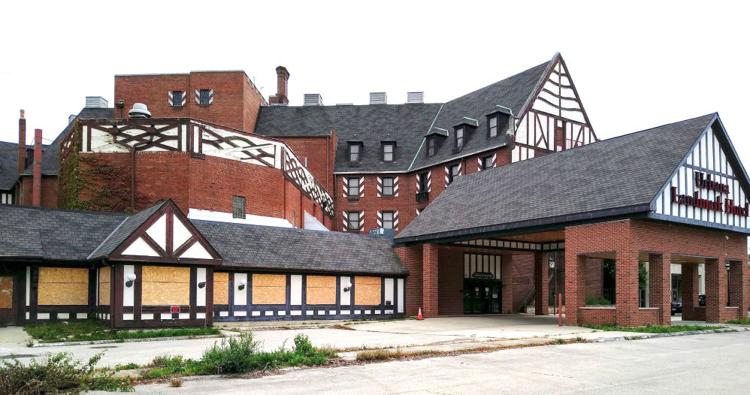 Urbana spending on old hotel building
"How many millions of dollars has Urbana spent on the Landmark Hotel over the years? Wouldn't it have been cheaper to just demolish the albatross?"
Urbana Mayor Dianne Marlin disagrees with your premise.
"It is not 'cheaper to just demolish' the hotel. It's a complicated site," she said. "The city did not get official demolition estimates because no potential developers were interested in new construction. Informal demolition cost estimates were in the range of $4-5 million, due to the fact that this would include demolition of the hotel building, abatement of hazardous materials (asbestos), disposal of debris and site preparation.
"It also would include rebuilding and weatherproofing the northwest corner of Lincoln Square Mall, modifying the HVAC and other systems, and making other necessary repairs to the mall. This is because the mall was built around the front of the hotel in the early 1960s. Demolition of the hotel and repair of the mall wouldn't be the end of public expense either, because any new construction project likely would be asking for incentives in addition to the cleared site."
She said that Marksons Affiliates, LLC has a contract to purchase hotel from X.J. Yuan.
"City of Urbana and Marksons Affiliates, LLC have also signed a Redevelopment Agreement for a minimum $15 million renovation of the hotel for boutique, full-service Hilton Tapestry brand hotel with meeting and conference space. When all of the work is completed and brand secured, the city will issue 10-year bond for $5.5 million, which will be repaid from sales tax and property tax revenue generated by the hotel. This proposal for reactivation is more economically feasible than demolition of the building by the city," said Marlin.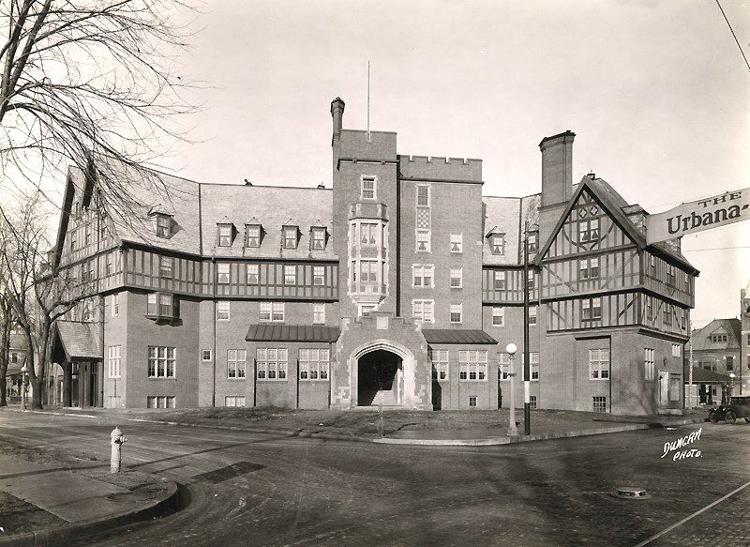 "Since 2002, investment in the Landmark Hotel mostly has been limited to police and fire response to calls for service, and periodic inspection and enforcement of building safety and fire codes. Current owner X.J. Yuan received about $1.2 million in city incentives and reimbursements for eligible renovation expenses after he bought the place in 2010 but he repaid about $1 million of that when it was determined that he hadn't met the terms of the redevelopment agreement," she explained.
Marlin also enclosed a timeline of public involvement in the property from the beginning, based on a property history provided by former Community Development Director Libby Tyler in a memo to former Mayor Laurel Prussing dated April 6, 2017:
1921: Group of prominent Urbana citizens formed corporation to build a new hotel in downtown Urbana.
1922: NE corner of Broadway Avenue and Green Street was chosen as the location. Local architect Joseph Royer designed the Tudor Revival hotel.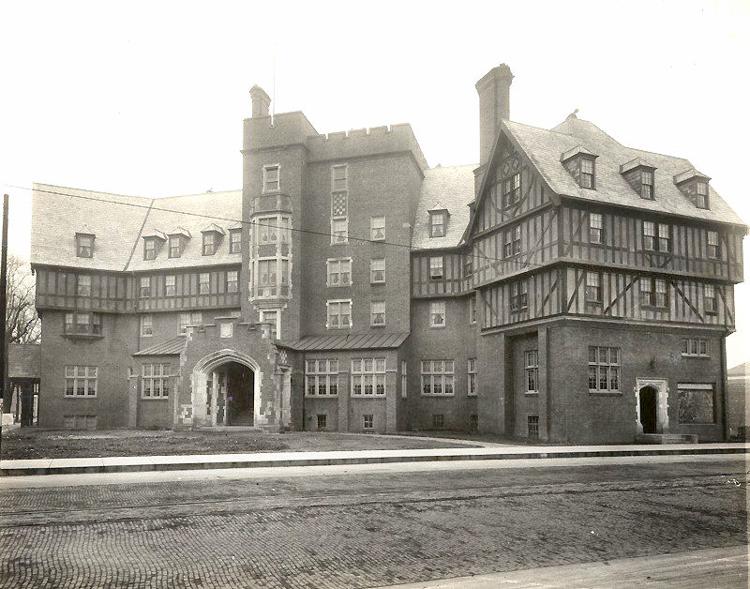 1924: Grand opening of the Urbana Lincoln Hotel. Hotel went out of business and closed for a period of time during the Great Depression.1937-38: Extensive interior renovations were made.
1944: Urbana-Lincoln Hotel Company bought the hotel.
1954: Urbana-Lincoln Hotel Company was dissolved.
1964-65: Carson, Pirie, Scott and Company bought the hotel and became the anchor store for the new Lincoln Square Mall. The mall was attached to the front façade of the hotel.
1976-77: James Jumer bought the hotel from Carson's and renovated the property.
1982-83: Jumer's built an addition to north side of the original hotel, adding 69 guest rooms, a ballroom, indoor swimming pool, and other amenities. City assisted by issuing $3.03 million in 20-year Economic Revenue Bonds backed by Urban Development Action Grant reserves, which were paid off by the developer in 15 years in exchange for additional reimbursements, performance incentives, and parking guarantees.
1982: City issued $2.3 million in 20-year General Obligation Tax Increment Bonds for construction of the parking deck and other public improvements.
2001: Jumer's was reorganized and hotel was operated by Jay Bhaghavan, Inc. as Historic Lincoln.
2000-2008: Hotel was operated by several entities, listed on the National Register of Historic Places, and designated as a local landmark by the City of Urbana.
Late 2000s: Marine Bank foreclosed on the property during the recession and it was purchased by X.J. Yuan, current owner.
2010: City executed Redevelopment agreement with Mr. Yuan to rehab the property. Agreement provided for redevelopment loan and reimbursement of eligible construction expenses for maximum of approximately $1.2 million
2014: Terms of redevelopment agreement were not met.
2015-16: Yuan paid back approximately $1 million, closed the hotel, and moved back to California.
2015-17: Hotel was listed for sale with broker and was under contract for purchase by a developer. Purchase did not go through.
2017-2018: Property went up for auction twice but did not sell.
2019: Property is under contract for sale to Marksons Affiliates, LLC.
Legal marijuana sales
"When pot places start to open next year what is the city doing to stop them from going next to schools? Will they have to be separated and if so by how much space? I don't want pot sold next to my grandkids' schools. This is for Champaign but interested in Urbana too."
Neither Champaign nor Urbana has imposed any restrictions regarding legal cannabis sales and proximity to schools.
But the only licensed dispensary in our area — at 1704 S. Neil in Champaign — is about a mile away from the nearest school, Bottenfield Elementary at 1801 S. Prospect Ave.
There is no state prohibition on cannabis dispensary sales near schools, said Chris Slaby, a spokesman for the Illinois Department of Financial and Professional Regulation.
"The Cannabis Regulation and Tax Act does not establish rules on whether dispensaries must be a certain distance from specific locations other than the 1,500 feet requirement between dispensaries. The Act gives local governments the authority to establish their own setbacks for dispensaries located within their communities," he said.
On the other hand the state's medical marijuana law prohibits siting a dispensary within 1,000 feet of a day care or elementary or secondary school — and all of the recreational marijuana dispensaries approved so far are also medical marijuana dispensaries.
Furthermore, the recreational marijuana law prohibits "an advertisement of cannabis or cannabis-infused product in any form or through any medium" within 1,000 feet of a school, child care center, public park or library.
Pot sales for the new year
"Will I actually be able to buy pot in Champaign on New Year's Day?"
Yes. As you may have read in Thursday's News-Gazette (https://www.news-gazette.com/business/economy/champaign-s-phoenix-botanical-granted-license-to-sell-recreational-cannabis/article_45bf5ffe-3413-5f61-8c23-07cb8735b16e.html), come Jan. 1 you'll be able to buy adult use cannabis at what is now known as Phoenix Botanical Dispensary, 1704 S. Neil St. Champaign.
Phoenix Botanical — which is changing its name to Sunnyside — already sells medical marijuana.But the real capital of legal marijuana in Illinois — for now at least — is Rockford. It has two of the first 11 dispensaries approved for adult use cannabis. The others are in Effingham, Joliet, Mundelein, Naperville, Canton, Buffalo Grove, Elmwood Park and Chicago.
Fast food hopes
"Are there any plans to build a Taco Bell in Mahomet?"
Nothing yet, said Village Administrator Patrick Brown.
"We hear a lot of feedback from residents who would love to have a Taco Bell. We are not aware of any plans but our door is always open and welcoming," he said. "With two interstate exits and more than 15,000 area residents, we think we would be a great market location."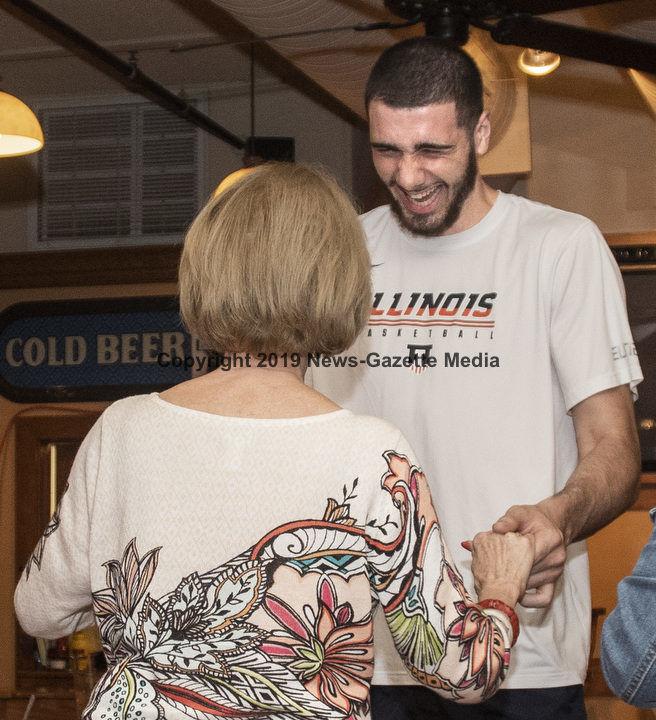 Still undeclared
"(Illini basketball player) Giorgi Bezhanishvili is such an intriguing young man. He knows four languages and gives some of the most articulate and thoughtful interviews I've heard. I know he came into college undeclared, but has he landed on a major to study at the U of I yet?"
Bezhanishvili is still undeclared regarding his major, said UI athletic department spokesman Kent Brown.
"UI students don't have to declare a major until the end of their sophomore year," he said.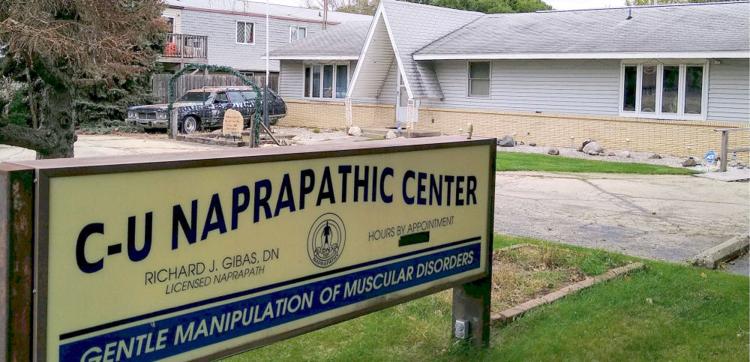 Naprapathic business
"What's the deal with CU Naprapathic Center at 1408 W Anthony Drive, Champaign? I've driven by this business for year and always wondered what it was. Is it actually in business? There has been an abandoned car sitting in the parking lot for years, shouldn't that be removed?"
Dr. Richard Gibas said naprapathy is similar to chiropractic in that it is an alternative method of healing.
"We don't use drugs or surgery. We work more with the connective tissue, with the muscles and ligaments and tendons as opposed to other forms of therapy. We also work with diet change and supplementation. It is in the natural healing arts," he said.
For more information, he said, check out naprapathy.org.
Gibas, who has closed his practice here, said he began in Champaign in 1975.
He said he had to close his practice for health reasons "and unfortunately I don't believe there's anyone else in the area who has come here" to practice naprapathy.
As for the car, it "is not abandoned. It is earmarked for the Champaign County Fair" for the demolition derby, he said. "It belongs to my son. He just needed a place to keep it," Gibas said.
He also has driven in the fair's demolition derby, he said.
"As crazy as that sounds I did it. My sons got me started in the dang thing for crying out loud," said Gibas.
Loud TV commercials
"I believe there is an FCC rule on how loud TV commercials can be. As I recall, the rule forbids the loudness to exceed the average sound level of the program. If I am correct, what is in place to enforce such a rule? It seems to me that the TV commercials blast their intrusions much louder than the program."
There is a rule but it's up to consumers to see that the rule is enforced. It requires that commercials have the same average volume as the programs they accompany.
"The Commission will rely on consumer complaints to monitor industry compliance with the rules. You may report commercials that seem louder than the programming they accompany to the FCC at any time," says the FCC. "This information will help identify possible problem areas and will assist the Commission in enforcement of the rules. Specifically, the Commission will use the detailed information from complaints to identify patterns or trends of noncompliance for a particular station, pay TV provider or commercial."
The commission advises consumers to either file a complaint at this website — consumercomplaints.fcc.gov/hc/en-us — or to mail it to Federal Communications Commission, Consumer & Governmental Affairs Bureau, Consumer Inquiries & Complaints Division, 445 12th Street, SW, Washington, DC 20554.Here's the link to the FCC website where loud commercial are addressed ... fcc.gov/media/policy/loud-commercials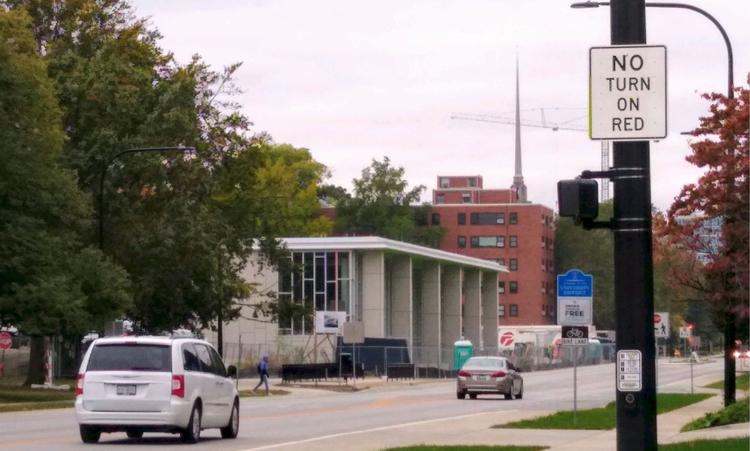 No turn on red
"Curious as to who determines when a 'No Turn On Red' sign is used at certain intersections."
We turned to Kensil Garnett, Region 3 engineer for the Illinois Department of Transportation, for an answer.
"The decision to use turn restriction and other signage resides with the governmental body that has ownership and maintenance of the particular roadway. Typically, this is either the state, county, township or municipality," he said. "The decision about whether it is appropriate to place a 'NO TURN ON RED' sign can be based on a number of factors. The geometry of some intersections may limit the intersection sight distance for motorists to safely perform the maneuver. These signs may also be used when there is an exclusive pedestrian phase or if there is a large volume of pedestrians that conflict with a right turn on red maneuver.
"Additionally, a history of crashes that can be associated to right turn on red movements may also prompt the installation of these signs."
Aquifer level
"With the growth in C-U, and all of he additional towns surrounding supplied by Illinois American Water, and other communities drawing water from the Mahomet Aquifer, I would like to know if the aquifer water level is holding steady or decline. Could the water company show the levels in 10-year increments from 1950 to present?"
The last big study of demands made on the aquifer was done in 2011 by the Illinois State Water Survey. It assessed future water demands and supplies out to 2050.
"None of the current groundwater users in the Mahomet Aquifer could be considered 'at risk' for a future water shortage under the three demand scenarios," the report concluded. "The model budget indicates that the available 2050 water supply for the aquifer as a whole is 2.3 times greater than the projected baseline demand. Hydraulic conditions vary tremendously across the aquifer; therefore, the aquifer-wide budget does not guarantee that the demand from additional high-capacity wells not included in the prescribed demand scenarios will not have unacceptable impacts to private wells or baseflow in small streams."
But the scientists who wrote the report said "additional work is needed to better understand the geology and hydrologic processes throughout the aquifer and in areas where data are limited."
Nursing home taxes
"Now that Champaign County no longer owns the nursing home, when can residents expect the sales tax associated with that to be eliminated? Who decides that? If they had a mind to, could they just decide to keep the tax in place, and use that money for something else?"
There was no sales tax for the nursing home.
Property taxes helped support the facility, said County Administrator Darlene Kloeppel.
"When the county sold the nursing home in April, the county was required to terminate the debt service for the two bonds related to the home. One bond was defeased (paid off prior to due date), and the other bond was redeemed (an independent escrow account was set up to finish making the payments until the due date, as it could not be paid off early). The funds for both of these actions were provided by the nursing home sale and took the bonds off of the county's books, so the county no longer carries debt service for either of the bonds related to the nursing home," Kloeppel said. "The reduction of the first bond's debt service reduced this year's tax levy by $1.5
million (which my staff worked hard to get in this year for the benefit of taxpayers). This reduction amounted to approximately $18 per $150,000 of assessed value for property owners. The second bond was not ever in the levy, as it was an alternative revenue bond, so redeeming it did not reduce taxes.
"Due to the elimination in the second bond's debt service payments of $283,000 from the county's annual budget, the county has some limited capacity each year to replenish other county funds that had been used to supplement nursing home operations. It is estimated this will take five to six years (unless the county experiences new significant growth and barring a crisis which overrides this priority)."
Golden Corral
"Why has it taken so long for Golden Corral to make a move to start building, unless they're planning on moving to Carle at the Fields area or Savoy area? What's the holdup; is that the plan?"
The folks at the Golden Corral have stopped responding to our calls and emails.
Further, the subdivision plat approval for their proposed site in north Champaign — at 1202 W. Anthony Drive — expired Thursday. There's been no movement all year on building on the site. Draw your own conclusions, Golden Corral fans.
Student archers
"Are state champion Unit 4 students able to practice archery at home with their own equipment? Section 23-177(b) of the Champaign municipal code would seem to say no. However, it would also seem to preclude archery at the schools or at a range like Hunters Haven, since it bans the shooting of all bows with no exceptions. Part (a) of that section allows for licensed shooting galleries for firearms. Are the schools licensed as a shooting gallery, and is that how they are able to participate in this sport?"
Thomas Yu, assistant city attorney in Champaign, said that the city does not issue licenses for bow and arrow shooting galleries at schools or elsewhere in Champaign.
"The health and safety regulations of the Illinois School Code (105 ILCS 5/1 et seq.) govern the activities that are allowed or prohibited within an Illinois public school," he said. "The intent of Sec. 23-177 of the Champaign Municipal Code is to prohibit the discharge of bow and arrow shooting in public places that would endanger public safety."