Tom's #Mailbag, April 23, 2021
Submit your questions by clicking here and Tom will have an answer next week
Plenty of business-related questions this week about the Black Dog Smoke and Ale House, Brothers Bar & Grill, Sweet Basil Cafe, Las Palmas Mexican Grill, Ko-Fusion and the former PNC Bank parking lot.
Also, a solar farm at Allerton Park, no home for old encyclopedias, the former Stone Creek golf course and a sad story about an uninhabitable home in Champaign.
The original Black Dog
"Do the owners of Black Dog Smoke and Ale House plan to reopen their Urbana location once the pandemic is behind us?"
"Yes, we do plan to reopen our Urbana location," said Black Dog co-owner Mike Cochran. "We have not set a date."
The Urbana Black Dog is the original, having opened in 2009, six years before the downtown Champaign location.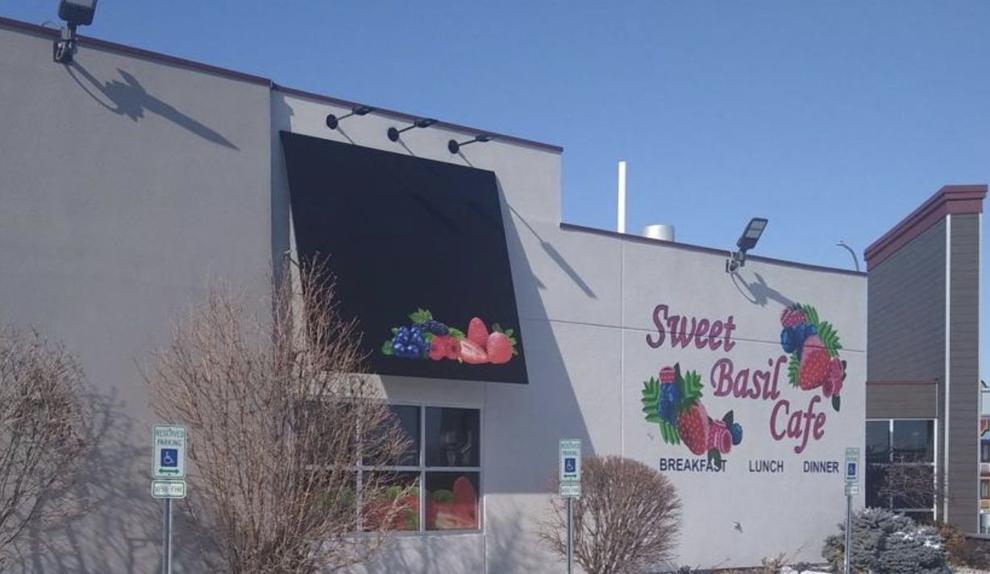 Sweet Basil Cafe
"When will the Sweet Basil Cafe be open in Champaign? I do not find a phone number anywhere for them."
The restaurant at 103 W. Marketview Drive (a former TGI Fridays) should be open by late June or early July, according to Sweet Basil.
Home of multiple restaurants
"It looks like a Mexican restaurant opened on Town Center Boulevard in front of Menards. When did that happen and how many different restaurants have tried that location? It's such a cool building."
The building — which a lot of people thought looked like something out of the 1960s animated sitcom 'The Jetsons' — started in 2000 as a Dog n Suds but that lasted less than two years. In 2009 it became Jason's Balloons & Spoons. In 2014 it became Super Niro's Gyros. And in February 2021 it reopened as Las Palmas Mexican Grill.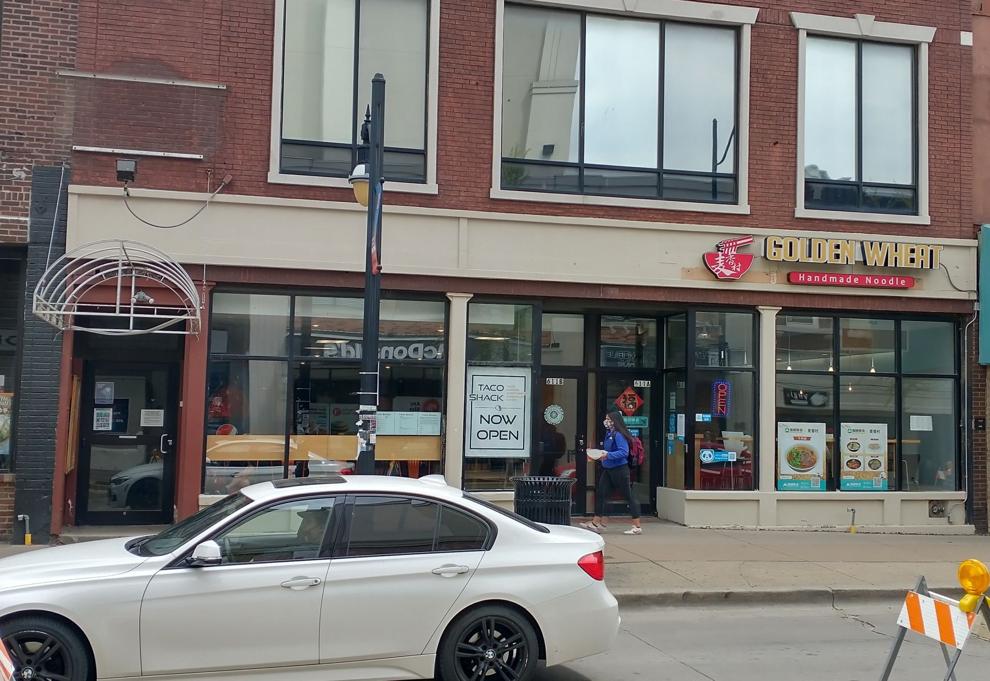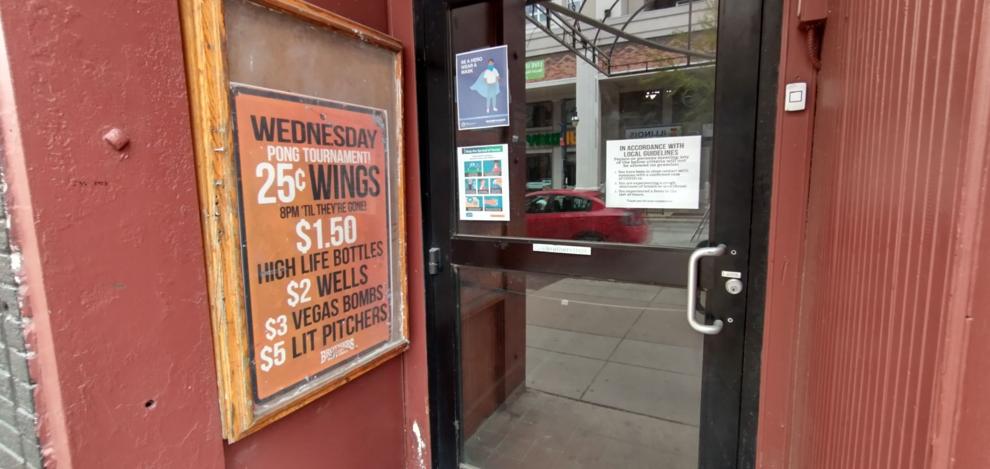 Brothers Bar & Grill
"I noticed Brothers on campus closed permanently. I was curious of the history of that location. Brothers was there for quite a while."
Brothers isn't leaving Champaign, but is looking for a site larger than the location at 613 E. Green St., said Anthony Cortese, chief marketing officer for the LaCrosse,Wis.-based chain of 20 bars and restaurants, most of them in Midwestern college towns such as Bloomington, Champaign, Columbus, Iowa City, Minneapolis, South Bend and West Lafayette. 
"Brothers has been a proud Illini in Campus Town for 20 years, and we hope to be here another 20 years," said Cortese. "We simply outgrew our current space and with our lease now ended, we're looking for a new Champaign location to bring more Brothers amenities to our guests like a patio, a larger floor plan, a kitchen with full food menu and more.
"We are actively searching for a first floor property to rent or own. Landlords, realtors or property owners can contact us directly at brothers-stuff@brothersbar.com."
Before Brothers there was Mabels, a legendary bar and live music club that operated from 1980 to 2000. For the approximately 60 years before that the second floor location had a variety of uses, including the Illinois Print Shop, a Bailey & Himes sporting goods warehouse and the UI visual aids service.
'Wonderful bakery'
"Pre-pandemic there was a really wonderful bakery at 611 E. Green Street, Suite A called the PvP Bakery which was run by some former UIUC graduate students. It doesn't appear to be there anymore. Do you know if the bakery has moved or did it close permanently? Could you provide some history about the bakery?"
We haven't heard back from anyone associated with the bakery to answer your questions, although Google says it is permanently closed.
From PvP's website: "PvP Bakery was founded by a group of University of Illinois at Urbana-Champaign students in 2017. The students were motivated and had a passion to create a bakery that could offer healthy, delicious, and authentic Asian baked goods. After many months of preparation and sampling, the students officially opened the doors of PvP Bakery on February 22, 2019."
If we hear anything, we'll report it in a future mailbag.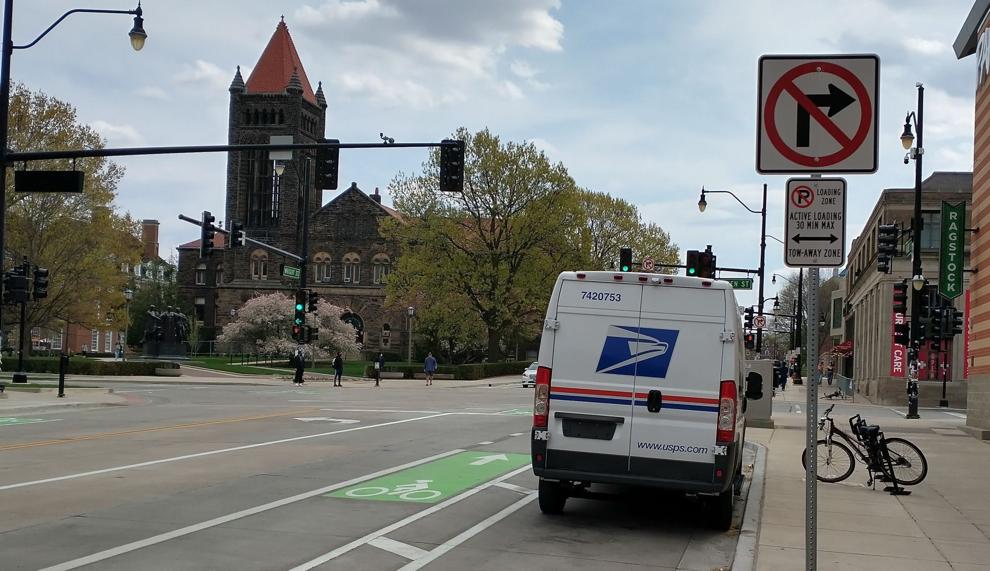 Green & Wright turns
"Southbound Wright Street at Green Street has multiple no right turn signs meaning a driver cannot turn right onto Green Street from Wright. Is this intentional or were the signs left behind from construction restrictions during the MCORE project?"
"This is an intentional design, the 'No Right Turn' sign was installed back with the original Green Street Project, 15-20 years, and has been there ever since," said Champaign Public Works spokesman Kris Koester.
"When the design for the original Green Street project was developed, the decision was made to maximize the space on that northwest corner for pedestrians to gather while waiting to cross Wright or Green. Designs accommodating buses and the typical size delivery truck at the time were looked at, but those alternatives decreased the size of the area available for pedestrian to wait from the original.
"Since this intersection is one of the three busiest on campus for pedestrians (along with Goodwin & Green and Sixth & Armory) the decision was made to prioritize pedestrians over vehicles. This is consistent with all the approved plans related to the campus area. The existing design was chosen, and the right turn was prohibited because anything larger than a typical passenger vehicle cannot make that right turn without encroaching into the eastbound turn lane."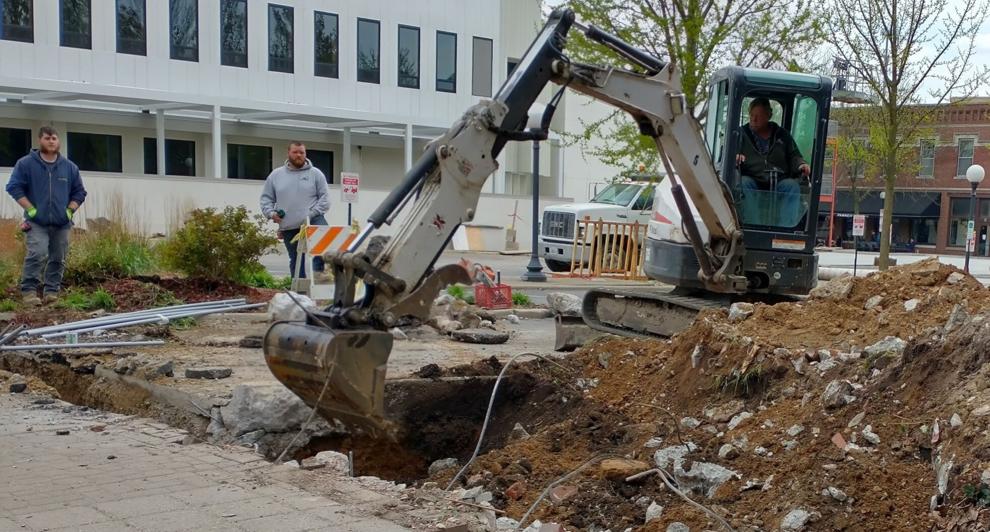 Kaufman memorial
"I heard last night that the ground-level 'memorial' for the Kaufman store on Main Street in downtown Champaign has been destroyed. Can you find out why? Better yet, can you find out why there was apparently no effort to lift it and preserve it? I know plenty of people who will miss seeing it there."
Workmen at the site said that it was broken up among the other construction debris, and that electronic gates would be installed in the parking lot for the new Ko-Fusion, scheduled to operate in the former bank building at 30 Main St., Champaign. 
The small memorial was for the Kaufman's clothing store that once stood at 16-18 Main St.
"We tried but there was no way we could save it," said Janet Bubin, the owner of Ko-Fusion who in 2018 purchased the building. It originally was built in 1909 as the First National Bank of Champaign.
Parkland College election results
"Because of the 12-county district, the news reports haven't been clear about the final results of the trustee election for Parkland College trustees.  Do you know the final results?"
"We do not yet have certified election results," said Stephanie Stuart, vice president of communications and external affairs at Parkland.
There are only a few counties with relatively small numbers of voters in the Parkland district that haven't updated their online election results with official numbers.
Based on the official numbers from some of the more populous counties in the Parkland district — Champaign, Piatt, Douglas, McLean and Livingston — newcomer Maureen Banks has an insurmountable lead for one of the two board seats available. She has 10,097 votes unofficially. The race for the final seat is close between two other newcomers: Jarrett Clem and Brad Uken, with Clem holding a lead of about 400 votes.
Old encyclopedias
"What can we do with a set of World Book Encyclopedias from the '60s with yearbooks through 2015?"
Susan Monte, the recycling coordinator for Champaign County, said she could find only paper recycling-type options available locally.
"I could find no library or book collection initiative that wants or accepts encyclopedias," she said.
"To recycle at the Illini Recycling Drop Off Center: Drop off containers are located on the south side of our Recycling Center at 420 Paul Ave. in Champaign. Old paperback books and hardcover books (e.g., encyclopedias) are accepted provided that the hard-back covers are removed. So, if a book to recycle is a hardback book, please rip cover off and recycle encyclopedia books without the cover.
"Old books (without a hardcover) or paperback books should be placed in the container for newspaper/magazines/catalogues."
ABC Curb-site recycling and most curb-side recycle collection programs locally accept dry encyclopedias or old books. There is no need to remove book covers. Wet books, cardboard, or paper placed in the recycling bin cannot be recycled; only  dry books, cardboard or paper.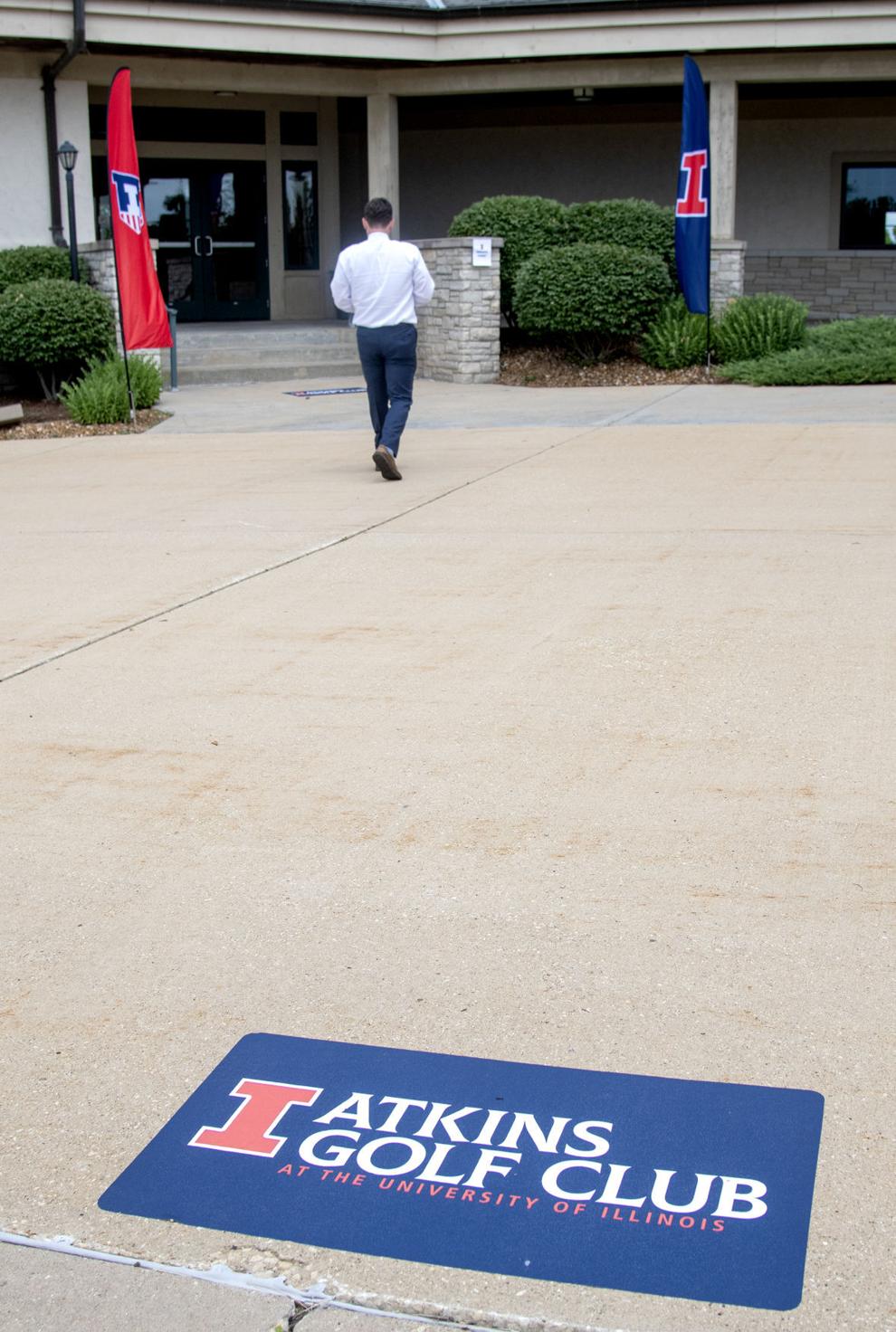 UI property and Atkins
"Does the University of Illinois pay property taxes to Urbana on the Atkins property that was donated to it? More generally, what taxes does the university pay to local governments? Did Urbana take a property tax loss on the donation? Finally, what's the status of opening the course?"
"The Atkins family donated the golf course and associated buildings to the University of Illinois Athletic Department, along with a few undeveloped parcels. These will property be tax-exempt. The majority of the remaining undeveloped residential parcels (approximately 100 parcels) were donated to the U of I Foundation for the purpose of selling the parcels for residential construction," said Urbana Mayor Diane Marlin. "These residential parcels will remain on the property tax rolls.
"Local taxing bodies will continue to receive property tax payments from these residential parcels. The city of Urbana and other taxing bodies supported this gift arrangement because it 1) provided a high-quality course to serve as the home for the men and women's golf teams 2) stabilized the Stone Creek Subdivision and provided certainty for current and future homeowners; and 3) kept most of the property-tax generating parcels on the tax rolls.
"The city is grateful for the generosity of the Atkins family and the collaborative spirit in which the DIA at the University of Illinois worked with the City to develop a plan that worked for all involved."
Regarding payments to local governments the most significant is the $100,000 a year the university pays to the Urbana school district for the education of children of UI students who attend Urbana schools. That agreement has been in place since 1994 and the most recent three-year agreement expires in June, said Urbana schools Chef Financial Officer Carol Baker.
"We are currently in discussions with the university regarding extending our agreement," she said.
As for the reopening of the course, the most recent statement from the UI's Department of Intercollegiate Athletics is that it hopes to have it open for play in late summer or early fall.
Community service
"What happens when someone gets community service? What and where and who monitors it. Lots of trash on North Mattis could be picked up. Asking for a friend."
"Thanks to your reader for the question," said Michael Williams,  director of Champaign County's probation and court services. "Individuals ordered to perform public service work in Champaign County are referred to our office's public service work coordinator, who works with clients to identify public service work opportunities that meet statutory requirements (i.e., 'uncompensated labor for a not-for-profit organization or public body whose purpose is to enhance the physical or mental stability of the offender, environmental quality or the social welfare').
"Many individuals locate appropriate community service worksites on their own, while others are referred to worksites by our (public service work) coordinator. Our PSW coordinator monitors each individual's progress and reports hours completed to the court.
"We are fortunate to have a number of wonderful organizations in Champaign County who provide community service worksites. On average, more than 2,000 public service work hours are completed each month. If your readers have suggestions for public service work projects, they can send those to me at courtservices@co.champaign.il.us."
Allerton Park solar farm
"The University of Illinois makes a huge thing of its 'green-ness,' especially its solar farms. The U of I has installed a decent-sized solar farm at Allerton Park — first phase a couple years ago, the second phase last year. At this point, they are just sitting there because the Department at the main campus responsible for hooking said solar farm up to the Ameren 'net metering' option has so far failed to do so. So they just sit there, doing absolutely nothing. Except being a waste of taxpayer dollars. As one of those taxpayers, I was wondering when they planned to hook those expensive 'paperweights' up to Ameren?"
"Allerton Park's solar array is fully energized and producing renewable electricity for the Visitor Center and Maintenance Complex," said Derek Peterson, director of Allelerton Park & Retreat Center. "The installation is helping Allerton move closer to its goal of achieving carbon neutrality by 2035.
"Due to the current metering setup for the array that only allows for its power to be supplied to that facility, any excess generation is returned to the regional electric grid and the park is credited for that output. Help from the Student Sustainability Committee and a donor contributed to the purchase of the array.
"Future park projects will more than likely include upgrades and adjustments to the existing Ameren metering system, which will allow for the further integration of on-site renewable energy production and expanded usage in other facilities and areas. Several of these proposed sustainability concepts are outlined in the Allerton Park Master Plan at https://allerton.illinois.edu/master-plan/."
Pandemic benefit cards
"A friend and I were talking about the (Pandemic Electronic Benefits Transfer) cards that we received in the mail recently, since our children are students (in the Urbana school district). We do not feel that we need them to feed our own children. But what is the best thing to do with them? Is there a good way we the recipients can use them to help reduce hunger? (For instance, should we use them to buy food at the grocery store and then donate it to a food pantry?) What happens if we do not use them (or voluntarily return them through the DHS website) — where do those unused funds go?"
"These were issued by the Illinois Department of Human Services (IDHS), so I would recommend parents call the P-EBT Helpline at 1-833-621-0737 with questions," said Carol Baker, chief financial officer for the Urbana school district. "There are penalties for misuse of these benefits. I copied the information below from their website FAQs:
 "I received P-EBT benefits for my child, but I do not need nor want them. What do I do?
"If you do not want to use the P-EBT benefits your child is eligible for, you have two options:
"Simply do not use the benefits. Benefits will remain available to you for one year. If you do not use the benefits, we will remove the benefits from the card after one year. However, if your circumstances change over the next year, and you need the benefits, you can use them.
"You can request that the benefits be removed from your account right away. Once we verify your identity, you can authorize this verbally on the phone (1-833-621-0737, available 03/01/2021 ) or use the DHS P-EBT General Inquiry Request and select the subject of 'Voluntary Return of P-EBT benefits.' However, once benefits are removed, they will not be reissued if your circumstances change."
Cardinal Road crossing complete
Champaign Township Highway Commissioner Keith Padgett reports that the railroad crossing on Cardinal Road near The Andersons has been completed. The railroad work has been the subject of several mailbag questions.
Condemned home
"The couple on West Springfield in Champaign that was caught hoarding over 100 neglected dogs back in October 2019, there house has been condemned since November 2019 and is definitely uninhabitable. How are they still allowed to live there? I understand the eviction moratorium that is in place is what I've been told is the reasoning, but to allow people to continue living like this seems recklessly negligent on behalf of the city of Champaign and Champaign County."
"Thank you for this question. The residents in the home your reader is describing are involved in a very unfortunate and tragic situation," said Kathryn Cataldo, an assistant city attorney in Champaign. "The house has been condemned for human occupancy since late 2019, when a property maintenance code violation case was also initiated. Court actions were delayed for many months due to the COVID-19 pandemic, but in December 2020, the city prevailed at a trial on the code violations and the condemnation, and court orders were issued that required everyone living inside the condemned home to move out by February 2021, which was subsequently extended until April 2021.
"The eviction moratorium the reader referenced does not apply to condemned and uninhabitable homes. Unfortunately, due to resource issues, the residents were not able to secure alternate housing, and are now in violation of the court's orders by continuing to live in a home that has been declared and remains unfit for human habitation.
"Physically removing the residents, an older couple, would result in their homelessness, and they are currently on waiting lists for housing assistance. The city has attempted to connect the couple to social services for some time, but with little success. The other alternative, sanctions for violating a court order, are daily fines up to $750 or incarceration, neither of which would solve the housing crisis experienced by the residents. If any of your readers have any suggestions or resources they could offer, I am certain the residents would appreciate them."