Tom's #Mailbag, April 30, 2021
Put Tom to the test by clicking here
Questions about the man who planted more than 6,000 trees in Champaign-Urbana, a solar array on the grounds of the Landscape Recycling Center, fires at the Illinois Fire Institute, the upcoming Cicada show, the future of the Urbana Sweet Corn Festival and all those baseballs tossed into the stands during a typical MLB game.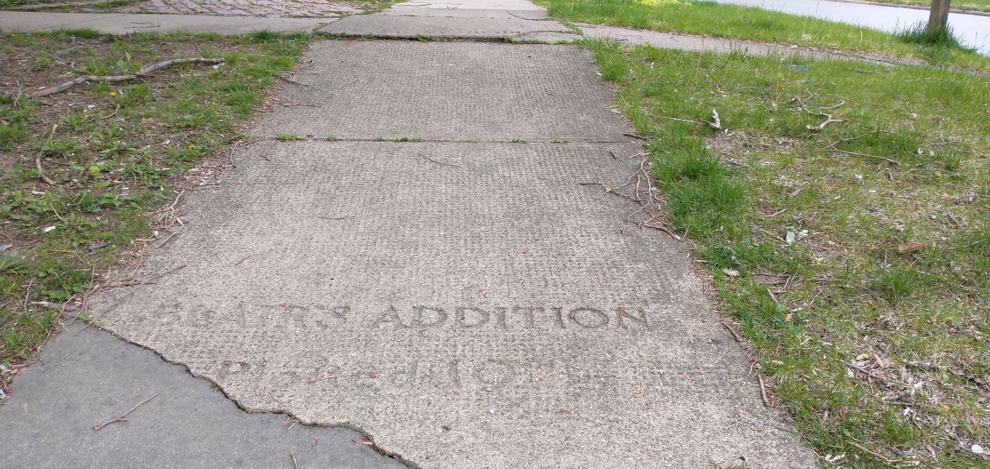 Blair's Addition
"At the southeast corner of Busey & Michigan in Urbana, etched into the concrete, it says 'Blair's Addition.' There are words underneath that that are too faint to read. Do you know what this refers to?"
Blair's Addition apparently was the first name of the subdivision developed by University of Illinois Professor Joseph Blair. It later became known in 1911 as the University Heights Addition to Urbana.
In 1910, according to a February 1937 story in the Urbana Courier, Blair — a professor of horticulture at the University of Illinois — purchased 40 acres of land south of what is now Michigan Avenue that he intended to develop as a model residential section of Urbana. Streets and lots were surveyed, sewage and water lines were installed, streets and sidewalks were built on five "state" streets: Michigan, Pennsylvania, Vermont, Delaware and Florida.
"I had been teaching landscape architecture and city planning at the university since 1896. The purchase served as a laboratory for some of my classes," Blair told the Courier.
Blair built his first house at the southwest corner of Orchard and Michigan. He claimed that at the time there were no other houses within a mile, although that is clearly inaccurate.
Blair said he priced each lot at $2,000 and that sales clauses required that houses had to have a minimum building cost of $7,000.
In 1915 Blair, a native of Nova Scotia who was one of the founders of the Urbana Park District, told the Urbana Commercial Club that the city would reach a population of 100,000 within 10 to 20 years.
Coincidentally in 1921 the Courier happily reported that the University of Illinois was considering building its "mammoth" football stadium on university land south of Blair's Addition because "the proposed Champaign site" wasn't large enough. Obviously it was.
According to the UI, Blair, who died in 1960 at the age of 89, helped design Urbana's Carle Park and is responsible for planting more than 6,000 trees in Champaign-Urbana. Urbana's Blair Park is named for him.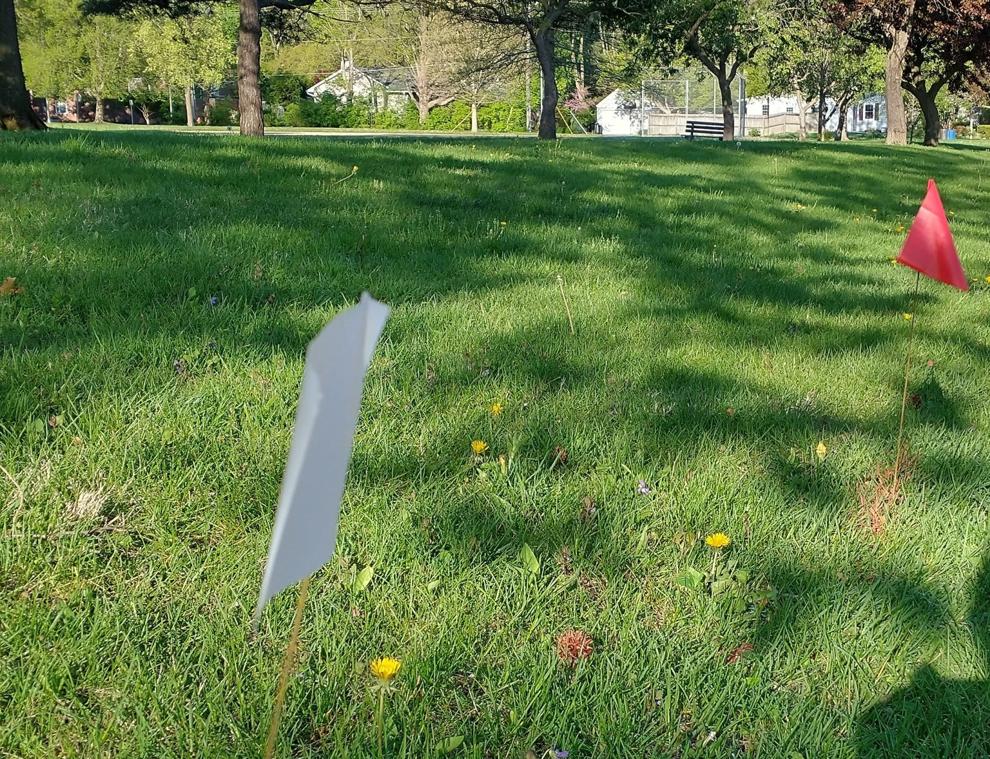 Blair Park improvements
"There are utility locator flags ringing all four sides of Blair Park in Urbana; does this mean that the Park District is going to build the walkways that are part of the Blair Park update this summer?"
Yes, there are a lot of nice, innovative changes coming to the 77-year-old park this year, aided by a $400,000 state grant.
"The Urbana Park District received an Open Space Land and Development (OSLAD) grant from the Illinois Department of Natural Resources. The matching grant and use of our UPD capital improvement funds will allow us to make a number of improvements at Blair Park including: walking paths, a new playground, Zip Line, picnic area, ballfield accessibility improvements, half-court basketball, improved event space, Situ Wall at the tennis court for electronic tennis gaming/other e-games and landscape improvements," said Tim Bartlett, executive director of the Urbana Park District. 
"The new walks on all four sides of the park will allow park visitors to circumambulate the perimeter of the park. The preliminary work is under way and construction will begin in late spring."
An 8-foot-wide multi-use path will be added to the north and west sides of the park — which have no sidewalk or path — to create a perimeter loop trail.
Solar farm at Landscape Recycling Center
"What is the large (and growing) mountain covered with piles of gravel that can be seen from Interstate 74 near the intersection of University Avenue? I think it's part of the landscaping organization there but what is it?"
The property you see on the south side of I-74 just before the University Avenue exit is the city of Urbana's Landscape Recycling Center. And it's being put to a new use.
"We are delighted that someone noticed," said Carol Mitten, Urbana's city administrator. "We have a lease with a solar developer who will be installing solar panels on a portion of the closed landfill. They have been clearing vegetation from the site, and the piles of rock are platforms for solar panel racking that will be installed soon.
"This solar farm on Urbana's closed landfill is offering solar energy subscriptions for low-income qualified households to anyone with an Ameren Illinois account. Folks can determine their eligibility at https://ilsfa.nexamp.com/ameren
MLB baseballs
"In Major League Baseball I notice a lot of players, coaches and batboys/girls throwing foul balls into the stands. Who keeps track of who throws the balls and who pays for them?"
"The shelf life of a baseball in a game is one to three pitches," said Jeannie Griggs of the Chicago Cubs. "We don't keep track of who throws balls into the crowds but we go through about 12 dozen balls during a game. The team that hosts the game pays for the balls in play."
I talked to Scott Reifert, vice president of communications for the Chicago White Sox, while his team was taking a doubleheader from the Detroit Tigers.
"The home team pays for all the balls used in a game at its park. We don't really keep track of how many balls are tossed away during a game or who does it but we figure it we use at least seven to nine dozen balls per game."
Every ball used in a game has been secured and prepared by the umpiring crew, under Major League Baseball supervision, before the game, Reifert said.
Each official MLB baseball costs approximately $10, he said.
Honors for CUPHD
"Is there any plan to honor Champaign-Urbana Public Health District's Julie Pryde and her team? They've done such a great job the last 15 months. They deserve a street named for them. They should never have to pay for coffee or beer in this town again!"
Pryde and her public health staff have received the following accolades:
— Distinguished Service Award from Avicenna Health Center
— Vocational Achievement Award from the Urbana Rotary Club
— Outstanding Public Servant from the Prairie Rivers Network
— Community Impact Award from the McKinley Foundation
— Significant Community Program Award from Midwest Media (for a weekly Urbana Public TV show she does with Elizabeth Hess)
— CUPHD also was recognized by the Governor's Office twice (spoke at two press conferences), when Gov. J.B. Pritzker visited the iHotel mass vaccination site
— Invited by the White House to speak on a webinar about Partnerships with Community and Faith Organizations
— Also, Pryde was Grand Marshal of last fall's Parade of Lights virtual parade in Champaign.
Pryde said she doesn't need free coffee or beer. But she asked, "Please, please, please get vaccinated as soon as possible! That would be much appreciated."
Urbana Sweet Corn Festival
"I saw where the Urbana Sweet Corn Festival has decided to end the festival permanently. Are there chances it will be resurrected in a different form?"
"No final decisions have been made about the Sweet Corn Festival beyond this year," Urbana Mayor Diane Marlin said of the annual August festival in downtown Urbana. "We do know for certain that it will not be held this summer, due to the ongoing pandemic and the closure of the Urbana Business Association. We'll be exploring options for the future."
She said there will be a number of smaller-scale events and activities this summer in-person, virtually or in a hybrid format.
"The City of Urbana Public Arts and Culture Program has awarded $90,000 in grants to 31 different artistic and cultural projects. Other activities such as the Boneyard Arts Festival in April and the Folk and Roots Festival in the fall will be held. The city also is installing four of the popular 'Curbanas' in downtown Urbana for outdoor seating and we've extended the use of public parking lots and sidewalks for outdoor dining, retail sales, and live music. There will be plenty COVID-safe activity in Urbana this summer as we transition out of the pandemic."
She also noted that Urbana's downtown farmer's market — Market at the Square — reopens Saturday.
"And I urge everyone to get vaccinated, if they haven't already done so," Marlin said. "The sooner our community is fully vaccinated, the sooner we can enjoy the people, places, and events that we all love."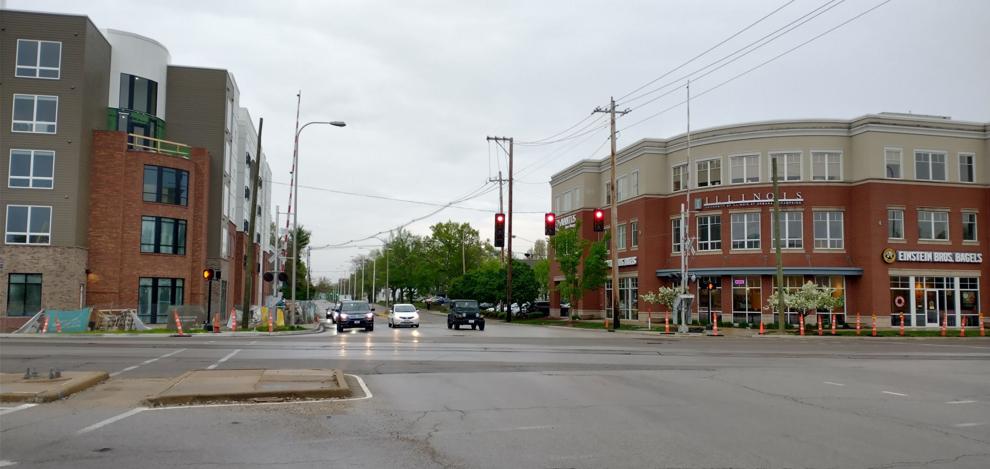 Anonymous intersection
"How come Lincoln and University, the busiest intersection in the area, doesn't have any street name signs in any direction?"
Street name signs will be back in about a month, said Kensil Garnett, Region 3 engineer for the Illinois Department of Transportation.
"The existing mast arms were removed as part of the current construction contract that is taking place on University Avenue and the street signs were attached to the mast arms," said Garnett. "The contractor is in the process of reconstructing the traffic signals and will erect the signs by the end of May."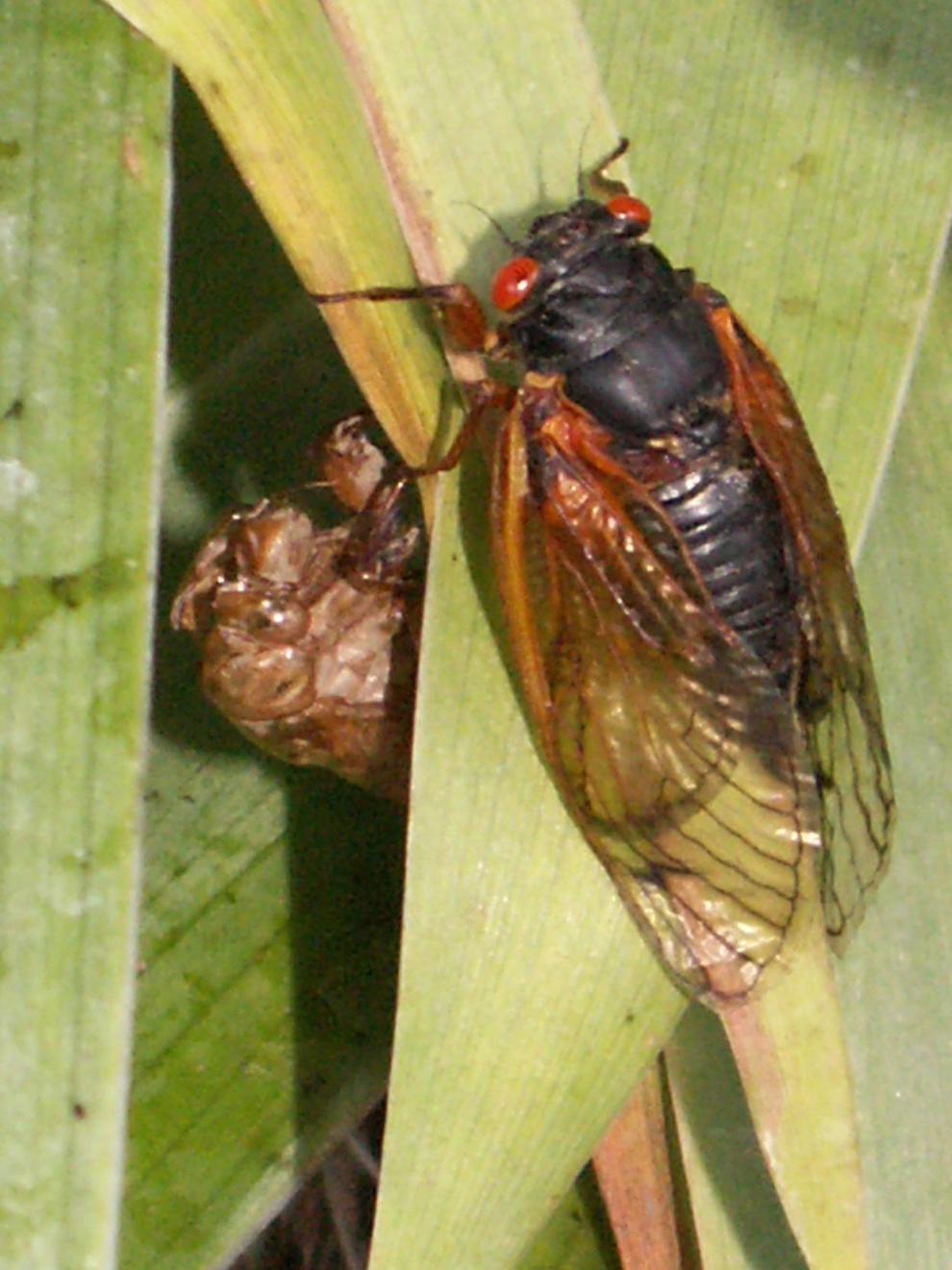 Cicada show
"In about a month, the Brood X cicadas will be emerging from underground after 17 years. Where is a good place to go see (or listen to) this phenomenon?"
Catherine (Katie) Dana, a scientific specialist in entomology and entomology PhD candidate at the Illinois Natural History Survey, said that "forested areas tend to be the best places for periodical cicadas, but I personally prefer mowed parks and more urban areas. This is because the cicadas then can only eclose and inflate their new wings on trees, not other vegetation where they might be less easy to spot.
"Let's just say cemeteries are the best for largely undisturbed ground suitable for their long development time, but parks, rest areas and camping areas are a bit more of a socially acceptable place to view cicadas.
"Last year I drove out to Forest Glen Preserve in Georgetown and saw evidence of a decent number of 'stragglers' or early-birds – so I know they will be there. Other areas to check in Illinois would be city parks in the Danville area, Kickapoo State Recreation Area, or Kennekuk County Park. I often just drive through towns with my windows down to hear where the chorus centers are."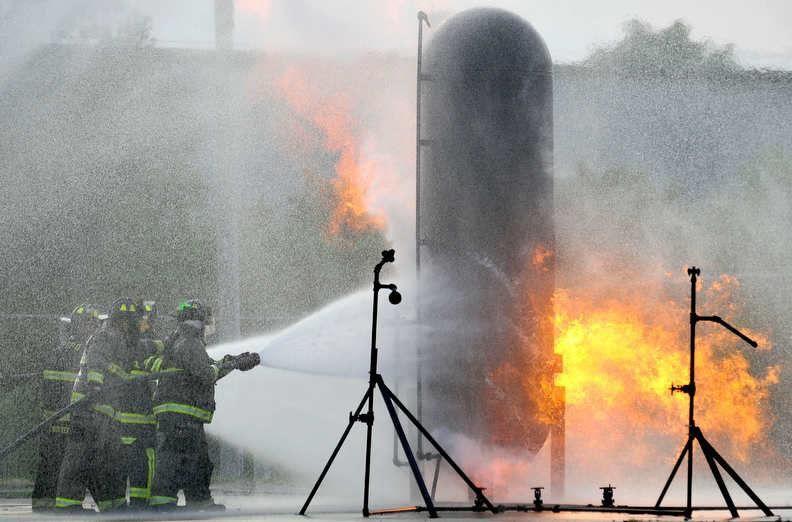 Fire scare
"I almost called 911 about a fire a few weeks ago as I was driving south down Neil Street until I realized the smoke and flames were coming coming from the Illinois Fire Institute training building. How often do our local 911 dispatchers get calls about fires there? Do they get reports every time that old building goes up in flames again?"
Betsy Smith is METCAD Operations Manager and she said it's not the problem it used to be.
"We don't get many anymore, as I think people have gotten more used to seeing the practice burns there," said Smith. "And usually, they let us know ahead of time when they're burning so we can relay that to callers reporting a fire there."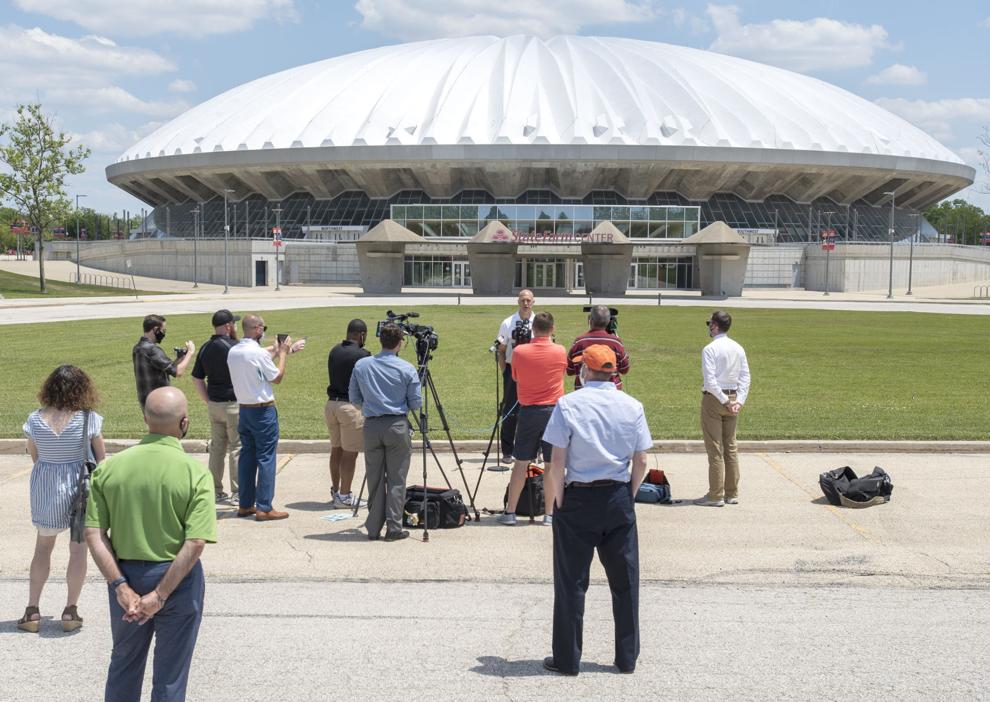 Another year for IHSA tournament?
"Since this year's tournament was canceled by COVID, will Champaign-Urbana get another year tacked on to the end of its contract to host the IHSA (boys) hoops tourney? I sure hope so!"
Yes, said Jayne DeLuce, president and CEO of Visit Champaign County, "the initial agreement to host the IHSA Boys State Basketball Tournament has shifted to 2022-24. We look forward to hosting this tournament for many years to come."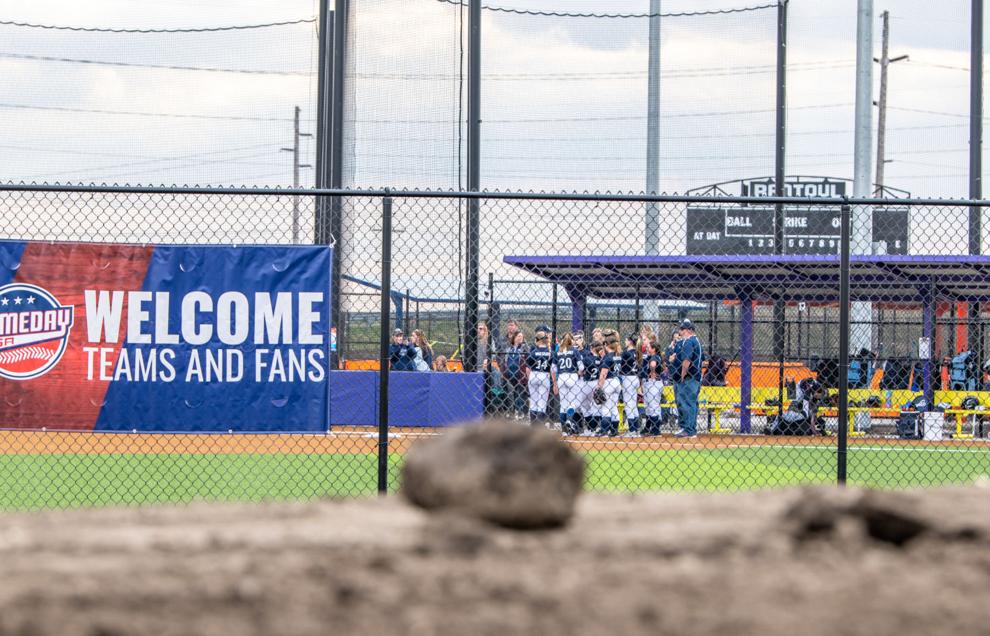 Youth sports tourism
"Curious now that Rantoul is open, will there be youth tournaments in Champaign anymore or did Rantoul take them all. Is Champaign OK with that or mad over lost business? Also any hotels reporting increased traffic the last two weekends that games were played in Rantoul?"
DeLuce said there's plenty of business to go around.
"There will continue to be a lot of youth sport tournaments in Champaign-Urbana, in addition to Rantoul. The goal is to create new and different types of sport tournaments for the entire Champaign County area, resulting in increased visitor spending and tax revenues from hotels, restaurants, retail, small businesses, etc which in turn, benefits our local residents," said DeLuce. "The first two weekends have already shown increased traffic, and we look forward to further branding our community as a premier sports destination. Stay tuned for new sport events coming soon!"
Parkland College election results
Here's a follow-up to a question last week about the final results of the Parkland College trustees election that happened almost a month go. The results are finally official.
The top finishers for two six-year terms were:
Maureen Banks 10,097 votes
Jarrett Clem 8,075 votes
Brad Uken 7,680 votes
James Voyles 6,817 votes.
But Voyles, an incumbent board member from Tuscola, will remain on the board for two more years. He was selected by his colleagues to fill the vacancy left when former trustee Jonathan Westfield resigned in March.
Crifasi's Pizza
"Can you find any information regarding a restaurant called Crifasi's Annex? (Not 100 percent sure of the spelling.) It was a very small pizza place with no more than 5 or 6 tables. The location was about a block west of First Street on either Chalmers or Daniel. Closing date was probably the mid- to late 1960s or early 1970s."
The original Crifasi's Pizza was at 604 N. Cunningham Ave., Urbana.
Only the 1967 Champaign-Urbana telephone directory had a listing for Crifasi's Annex. It was at 60 E. Chalmers St., now the site of a two-story apartment building.
Raising Cane's Chicken
"I hear that a Raising Cane's Chicken Finger restaurant is coming to Champaign. Can you let us know if this is true or not and where it will possibly be located."
Not true.
"At this time, we do not have a location planned for your area," was the response from the Plano, Texas-based chain restaurant."
Old encyclopedias welcome
"That set of encyclopedias (average value of that one, about $50), and the yearbooks ($15 a piece), I would gladly take those off the hands of whoever had them."
— Curtis Sadowski, Loda
Sex offender
"On Friday, April 23, Mary Schenk reported on a man who was sentenced to four years in prison for failing to register a change of address with authorities as a sex offender. A couple numbers in the article stood out to me. This person is 26 years old and was convicted of the underlying offense in 2003. Are these numbers correct? I don't doubt Mary Schenk's accuracy as a reporter, but I'm stunned to hear that someone could be convicted of that offense and then be subject to criminal penalties for the entirety of their adult life when they were only an 8 year old child at the time of the incident."
The man was 36 years old at the time of his sentencing, not 26.
Student death
"My new question for you is about Jacob Schleinz. He was an IU student who fell off a balcony and died on April 2, 2021. What was the outcome of the investigation into his death?"
"At this time," said Monroe County, Ind., Coroner Joani Shields, "cause of death is still pending autopsy and toxicology testing results. It usually takes 4-6 weeks to get everything back."