Questions for Tom's next Mailbag? Just click here
It's Nature Week at the mailbag: 42 acres of sunflowers in Urbana, big trees in Champaign County, tagged geese in Champaign, a mystery on the Kickapoo Rail Trail and a whale that once graced Urbana.
Also, lots of questions about elections and voting, Kamala Harris' brief time in Champaign, a new truck stop in Tuscola, the cost of Champaign police station vandalism and another document shredding opportunity.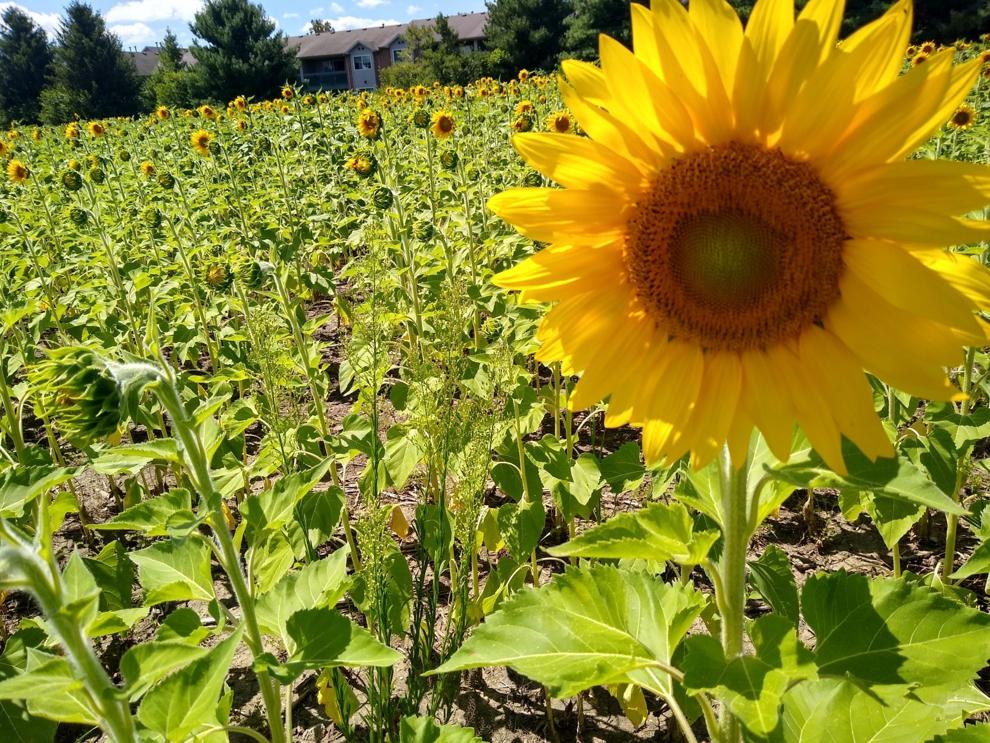 Sunflowers!
"The fields around Stone Creek (subdivision in Urbana) have been planted with sunflowers. They are just starting to bloom. Just curious if was Atkins or the U of I that planted the fields? And what will they do with the harvested seeds? Thanks to the responsible party! It adds beauty to the area and something to enjoy on my daily walk!"
The sunflowers were planted as a transition crop by the Atkins Group, as that acreage goes from being an Atkins property to falling under the ownership of the UI, said Jim Goss, director of farm management for Atkins.
"We didn't do this as a moneymaker," he said. "We did it to bring a little enjoyment to the community during what has been a pretty rough year.
"People are enjoying it. I think it's quite the conversation piece. We see a lot of comments and photos of it on social media so that's great. We even saw a picture of a bride out there."
There are about 42 acres of sunflowers on the Stone Creek property, including a maze cut through the beauties, Goss said.
It's uncertain whether they'll be harvested.
"We got a late start planting them so we don't know if they'll mature. They've got to be 13 percent moisture content to be harvested and we don't know if we'll get there. We also don't know how they tolerate frost," said Goss.
Right now they look great. And we're about eight weeks away from our normal first frost.
Early voting sites
"My question is about voting: I am not immune-compromised, so if it helps not to overload the mail, I am willing to vote in person. However, I don't want to contribute to Election Day crowds at the polls. Where can I go to vote early, and how far in advance is early voting available? Also, if I do request a ballot by mail, would it be possible to just drop it off somewhere rather than mail it?"
The Champaign County Board on Thursday night approved, 15-3, County Clerk Aaron Ammons' list of early voting sites for the Nov. 3 election.
County Board member Jim Goss was among those who voted against the list, noting that the University YMCA site is close to the Illini Union, also an early voting site.
Further it would cost the county $14,000 — a thousand dollars a day for 14 days — to run the YMCA location, he said.
Early voting will begin Sept. 24 at the Brookens Center, 1776 E. Washington St., Urbana.
The following locations will open Oct. 19 for early voting:
— Illini Union, 1401 W. Green St., Urbana
— Activities and Recreation Center, University of Illinois, 201 E. Peabody Drive, Champaign
— University YMCA, 1001 S. Wright St., Champaign
— Parkland College Student Union, 2400 W. Bradley Ave., Champaign
— Meadowbrook Community Church, 1902 S. Duncan Road, Champaign
— Church of the Living God, 312 E. Bradley Ave., Champaign
— Leonhard Recreation Center, 2307 Sangamon Drive, Champaign
— Elks Pavilion, Lake of the Woods Park, Mahomet
— Tolono Public Library, 111 E. Main St., Tolono
— Prince of Peace Lutheran Church, 802 E. Douglas St., St. Joseph
— First United Methodist Church — The Gathering Place, 200 S. Century Blvd., Rantoul
Also, if you request a ballot by mail it can be dropped off in what Ammons called a secure drop box — most of which will have security cameras on them — beginning Sept. 24 at the following sites:
— Brookens Center circle drive
— Urbana Free Library parking lot
— University of Illini Quad
— Champaign Public Library
— Douglass Branch Library
— Sholem Aquatic Center circle drive
— Champaign-Urbana Public Health District office
Ammons also told the county board Thursday night that portable drop boxes would be staffed on Saturdays beginning in early October at sites in Rantoul, Tolono, Mahomet and St. Joseph.
All votes counted?
"Say an election vote count is close — 1,000 votes between the two people on the ballot. And there are only 100 mail-in ballots uncounted. Will the mail-in ballots be opened and counted? Or will the 100 mail-in ballots be left uncounted because they cannot overcome the 1,000-vote difference between the candidates?"
"No, every ballot is counted even if all the races have been decided by margins above the number of outstanding mail ballots," said Matt Dietrich, spokesman for the Illinois State Board of Elections. "They may not factor in changing the winner but we want accurate numbers for the official record."
And as a reminder Dietrich said that this year all "vote-by-mail ballots that are postmarked no later than Nov. 3 and received by Nov. 17 will be counted."
Mail-in ballot requests
"I went to the Champaign County Clerk web site and checked my voter status. It seems that according to them both my wife and I requested mail in ballots on July 22 and those ballots were sent out that same day. We did not request those ballots nor have we received them. After checking with some friends seems like a lot of people have the same issue. Just wondering how this can happen."
Don't panic, said Champaign County Clerk Aaron Ammons. You're going to get a vote by mail application in part because of a change in state law.
"This is an education issue and I appreciate the opportunity to share the answers with the public," he said. "Many voters who are not familiar with vote by mail are confusing the vote by mail application with the actual ballot.
"SB 1863 requires that I send a Vote by Mail application to everyone in Champaign County who voted in either the 2018 General Election, 2019 Consolidated Election, or the 2020 Primary Election and third party groups/organizations also sent out vote by mail applications.
"In an effort to be fair, free and accessible, I made the decision to mail to all registered voters in Champaign County and that is why voters are receiving vote by mail applications even if they didn't request one. When the voter receives the application in the mail they do not have to fill it out if they are not interested in voting by mail, it's optional. If they plan to vote by mail then they can either fill out the paper application and mail it back to us at 1776 E. Washington St. Urbana, IL 61802, or preferably, fill out the online application.
"No ballots have been mailed because we cannot start mailing them until Sept. 24. I strongly encourage voters to call our office 217 384-3724 or email us at elections@co.champaign.il.us if they have any questions, concerns, or ideas. For voters who have access to the internet I also encourage you to follow us on social media because I post videos frequently about the vote by mail process and answer frequently asked questions. Follow us at Facebook.
"I am very happy to see that the voter is using the website www.champaigncountyclerk.com to check their voter status and to follow the mailing process. Thanks for the question."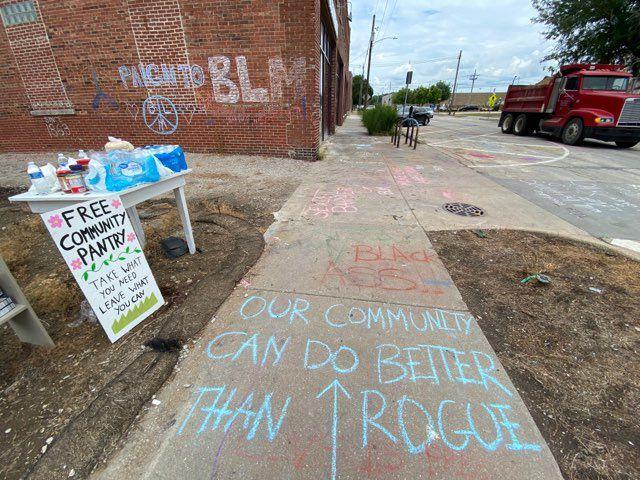 Vandalism costs
"How much has Champaign city spent on removal of the 'graffiti' from around the city so far? I see a lot of chalk but I see a lot of paint too and the glitter is bad for the environment. Has anyone gotten a ticket for painting and glittering all over buildings and the sidewalk and the street?"
Here's your answer from Kris Koester, spokesman for the Champaign Public Works Department:
"The personnel and equipment cost for power washing/cleaning the sidewalks, bike loops, and traffic cabinet at 12 E. Washington St. totaled $1,152, with cleanup occurring on 7/27, 7/31, and 8/3. The personnel and equipment cost for power washing/cleaning the walls and sidewalks at the City Building came to $1,124, with cleanup on 8/12 and 8/19.
"The personnel, equipment, and supply cost associated with power washing/cleaning the walls, sidewalks, doors, windows, and signs at the Champaign Police Department on 8/13 and 8/14 totaled $1,466. Power washing did not remove all of the markings at this location, so additional supplies were needed. The products used to help remove the markings here were a gallon of Ecos Pro Graffiti Remover (price $69/gallon) and 18 cans of Markonex Gel Graffiti Remover (price $5.41/can).
"Total costs for cleanup of the three locations is $3,742; to date no tickets have been issued."
Champaign hotrodding
"There is a lot of joyriding/hotrodding going on in central Champaign on weekend nights, including Sundays. The traffic lights are synchronized throughout downtown streets like Neil, Walnut, Springfield to give these hooligans a chance to rev up and roar. It's extremely dangerous and the police must be aware of it, but I've never seen or heard sirens of the cops after the hotrodders roar by. Can't something be done to lessen this issue? It would seem possible to deter it with some tickets and pull-overs. It's only increased this summer, but it's long been a problem."
"Thank you for sharing your concern. We agree this can be dangerous conduct for the roadways and the public," said Champaign police spokesman Tom Yelich. "Your comment has been passed along to our patrol division to look into it further.
"In the interim, we continue to encourage everyone to report dangerous and suspicious activity to police as soon as possible so we can do our best to respond in real-time. Sharing community concerns and information with us just like you have is very helpful in our efforts to investigate and mitigate issues."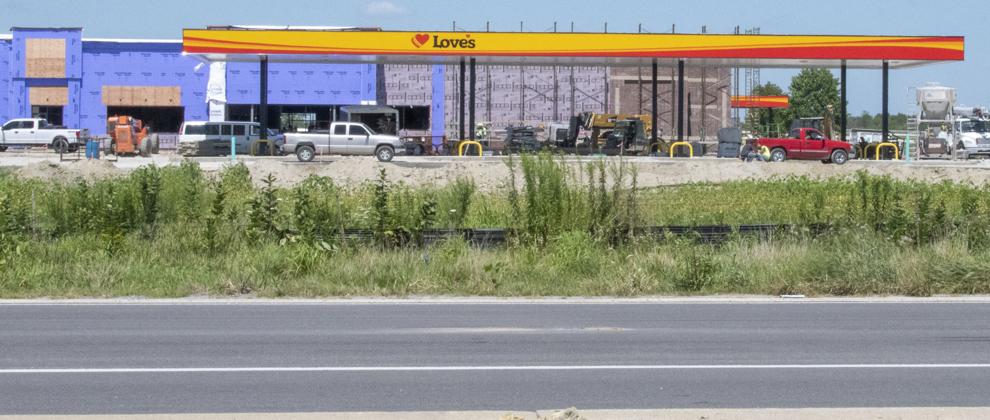 New Tuscola truck stop
"Any idea when the Loves Truck Stop being built along the interstate in Tuscola will open? Does Tuscola really need another truck stop?"
Tuscola City Administrator J. Drew Hoel said, "The end of October has been the target date for opening since construction began, but I'm told the project is currently ahead of schedule. So perhaps a few weeks earlier."
As for whether Tuscola needs another truck stop, I think you can safely assume that Love's — which has more than 520 locations in 41 states — knows what it is doing.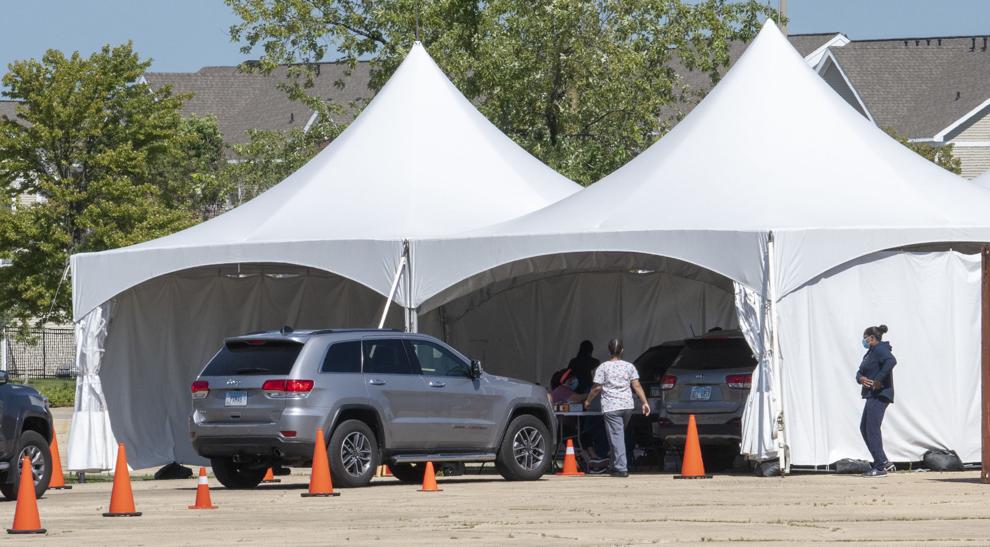 (Sometimes free) COVID tests
"If the COVID-19 tests at Market Place are free, why do they ask for all of your insurance information?"
"The testing site will bill insurance for those who have it," said Julie Pryde, administrator of the Champaign-Urbana Public Health District. "If insurance does not pay, there is no cost to the person testing. Additionally the test is available to all with or without insurance."
Tree records
"I have a few tree questions. specifically record-breaking trees claims. First, one of my daughters claims that there is the oldest of a certain tree in the state in Carle Park, maybe a white oak. Next, I heard a claim from a neighbor about a cottonwood in the backyard in the 800 block of Park Avenue in Champaign being the largest in the state. There is also a very large ginko tree on the corner of Park and Elm. Is there any truth to any of these claims? Does central Illinois have any noteworthy trees?"
Illinois has a Big Tree Register that lists the state's champion trees on a digital map here.
According to the map there are four championship trees in Champaign County:
— a red maple in Champaign's Hessel Park
— a yellowood on the UI campus
— a co-champion northern red oak in Brownfield Woods northeast of Urbana
— a co-champion northern red oak in Trelease Woods northeast of Urbana
Here are links to other lists of notable local trees: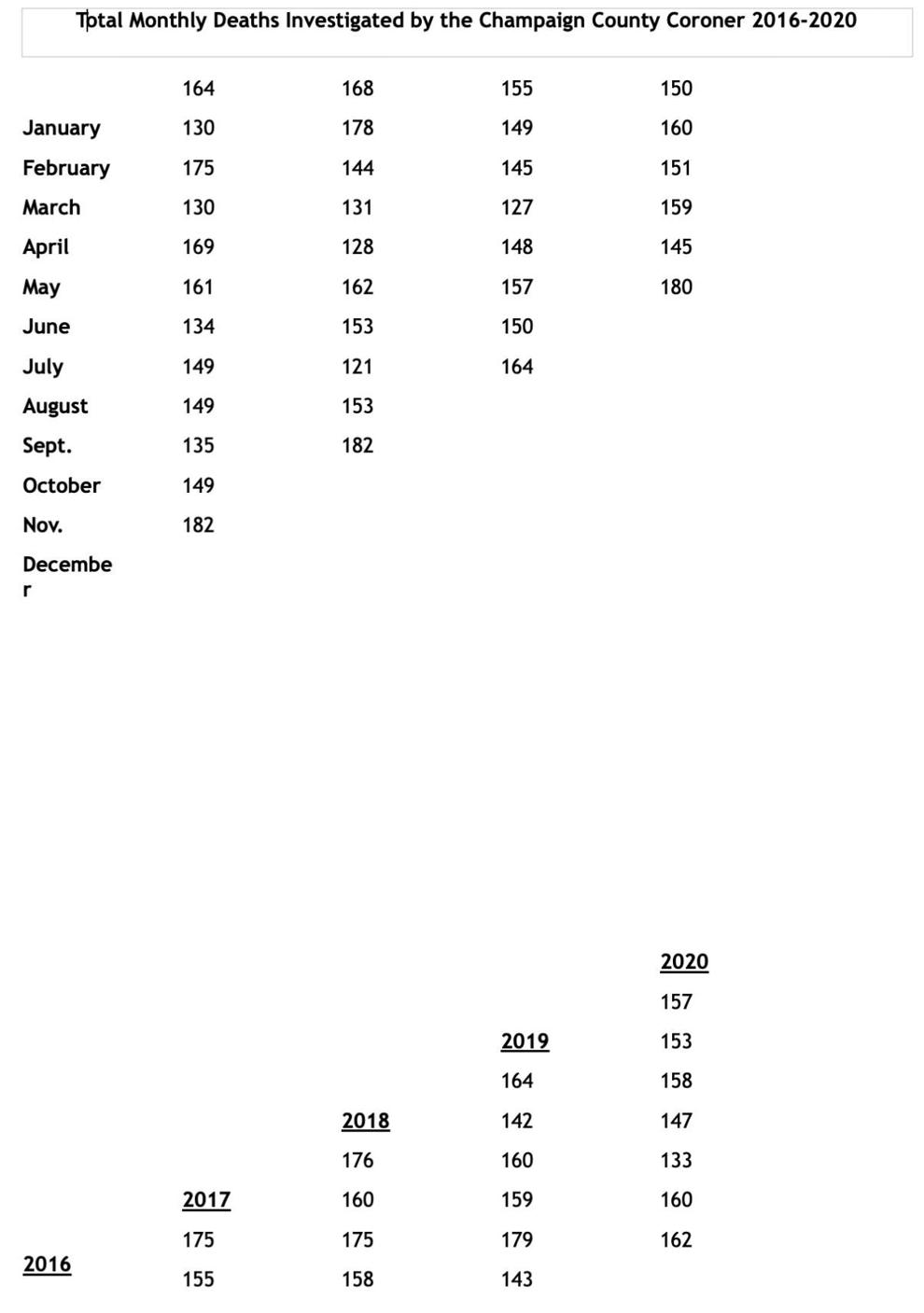 Champaign County deaths
"Now that we're more than halfway through the year how has the virus affected the number of deaths in the county?"
Champaign County Coroner Duane Northrup provided the chart (above) of investigated deaths that shows that so far this year there have been 1,070 investigated deaths — the least since 1,063 in 2016.
Banded goose
"While walking in Mattis Park, Champaign, I noticed this goose with a neck tag. Any idea why the tag and who would have done this?"
Benjamin Williams, urban waterfowl project manager for the Illinois Department of Natural Resources has your answer.
"The DNR is not putting out neck collars on geese during our annual goose round ups. When we round up geese and band them in the summer time (in order to monitor populations), we only place aluminum leg bands with individual ID numbers on their legs," he said. "During the Urbana Park District Charity Harvest, no geese were banded and released (though USDA Wildlife Services did monitor for existing bands on geese).
"Other banding projects may use neck collars as a way to identify individuals, so it's possible the goose is from a location outside of Illinois. In this case, my guess is the goose is part of a research project being conducted by the University of Illinois in Urbana-Champaign. There is a Ph.D. candidate there studying urban/suburban Canada geese and has placed neck collars and some GPS transmitters on geese in Champaign-Urbana. This project has been going on for multiple years, and collars have been placed on geese in the Chicagoland area and in Champaign-Urbana, so most likely it is one of those individuals."
For those who see geese with neck collars, Williams suggests they go to the U.S. Geological Survey's website (www.reportband.gov) to report the collar sighting to the Bird Banding Lab.
"They should be able to look up the goose's history and send a certificate of appreciation for the information. They will then contact the bander and let them know that the band was spotted," he said. "This is an important part of research, as it will give the bander/researcher more information about the bird, it's habits, and life history. Plus the certificates are kind of cool as well."
Kamala Harris in Champaign
"Is it true that Kamala Harris once lived in Urbana on Pond?"
No, but she did live in Champaign.
Seth Fein, publisher of Smile Politely, posted a photo in 2019 of a young Kamala Harris sitting on a tricycle on Pond Street in the late 1960s. But her family was visiting friends at the time.
The mailbag reported last year that after Donald Harris (Kamala's father) earned his doctorate in economics at the University of California-Berkeley in 1966, the family moved to Champaign for a year.
His "biosketch" on the University of Illinois Department of Economics website says: "He went on to Northwestern for one year, U of Wisconsin, 1968-1972, and Stanford, 1972-1998 when he retired to spend more time on developing public policies to promote growth and advance social equity."
According to local city directories the Harris family lived in 1966 at 315 Avondale in Champaign. Sometime later they were at 508 N. Prospect.
"Beached Whale"
"Whatever happened to the big whale sculpture you could crawl through that was in Lincoln Square when it opened?"
You're referring to the 5-ton sculpture "Beached Whale," created by William M. McVey of Cleveland.
About 15 year after Lincoln Square opened the piece was moved to the swimming pool at Crystal Lake Park (the second of the three pools that have been at that site).
"A stone mixture was slithered over a steel frame, but sadly that didn't make the whale waterproof," noted Paul Wood in a 2004 News-Gazette story.
Placing the sculpture by the pool but in the sun really wasn't a good idea, I recall from my days as a young father. Many kids soon avoided the whale after coming in contact with its scorching surface.
Kickapoo Rail Trail sign
"A sign was added this spring to the bridge on the west end of St. Joseph that crosses over the Salt Fork River on the Kickapoo Rail Trail. The sign has been covered for several months now. What do the two signs say and when will they be uncovered?"
The sign recognizes a major donor whose contribution made it possible for us to complete phase one of the Kickapoo Rail Trail," said Mary Ellen Wuellner, executive director of the Champaign County Forest Preserve District, which operates the trail. "We are working to organize an unveiling but the details have not been finalized. We hope to announce it very soon."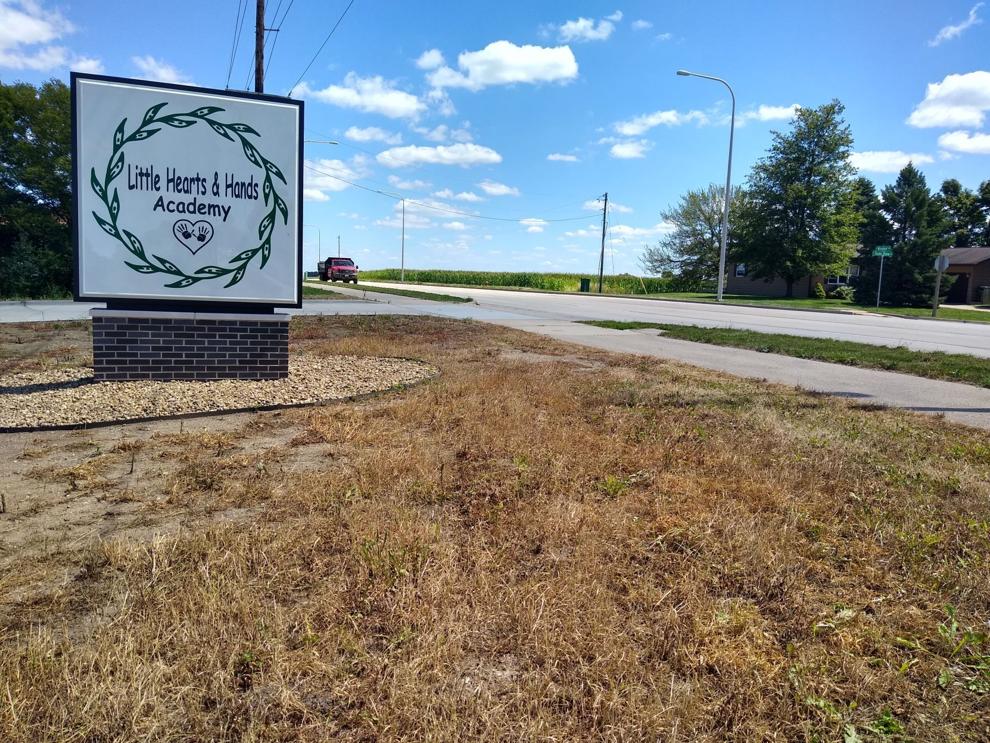 School zone
"Now that Little Heart & Hands Academy on Windsor Road will have a kindergarten class, will some type of 'School Zone' information appear such as signage, a flashing light and/or a lowering of the speed limit? It is currently 40 mph there and cars are usually going by much faster in the time frame for morning drop offs to the facility."
There are no plans for designating a School Zone with signage, lights, or a reduced speed limit," said Urbana City Administrator Carol Mitten. "We anticipate that the vast majority of students will be dropped off on-site."
Earlier this year we talked to John Martinie, senior project manager for the Atkins Group, which built the school for Little Hearts & Hands Daycare owners Terri and Jack Smart.
"We performed a traffic impact study as part of the building permit process and that study included both an analysis of the current facility as well as future possible development on that tract, and neither one of those studies found the need for a stoplight," he said.
School cost cuts
"With the local schools not returning to in-person teaching, how much are they or should they be saving without the need for supporting services; i.e. transportation, food service, various layers of administration, et al. Have any of the local schools laid off or furloughed any employees?"
The Champaign school district has not cut any staff, said spokesman David Brauer, although a hiring freeze has been implemented for some positions.
He said that while there may be some savings from some reductions in support services, the school district is seeing  increased costs for supplies and materials required to support distance learning. Further, he noted, it is still providing food service to our students in need.
Several future school board meetings and finance committee meetings will include discussions of financial conditions.
No employees have been furloughed or laid off in the Urbana school district, said longtime Chief Financial Officer Carol Baker.
"Thank you for your interest in Urbana as we are getting ready to start school next week. At this time, we haven't calculated any savings as we are helping our students and families prepare for remote learning on Monday," Baker said. "We are doing our best to keep all employees working and ready to transition to in-person learning when the time comes. Our food service and transportation departments continue to work hard preparing and distributing meals to our students during remote learning."
Shredding phone books
"I have been doing some cleaning and organizing during the pandemic and have found numerous Champaign Urbana Yelllowbook phone books (2015-2016, 2016-2017, and 2017-2018) plus a bigger Champaign/St. Joe/Savoy/ & Urbana 2015 AT&T Real Yellow Pages phone book. They all have at least some residential phone numbers and addresses. Will anyone locally take them to shred for free? I am concerned if I just recycle them, then the information is not secure. Also, is the Yellow book still physically printed in Champaign-Urbana?"
"The Real Yellow Pages" book is published by Thryv, Inc., a company based in Dallas. I don't believe that the Yellow Pages book was ever printed in Champaign-Urbana.
Prospect Bank is hosting a Shred Day from 9 a.m.to 3 p.m. Aug. 26. The bank is advising people to call ahead if they have more than two boxes or garbage bags of material to shred.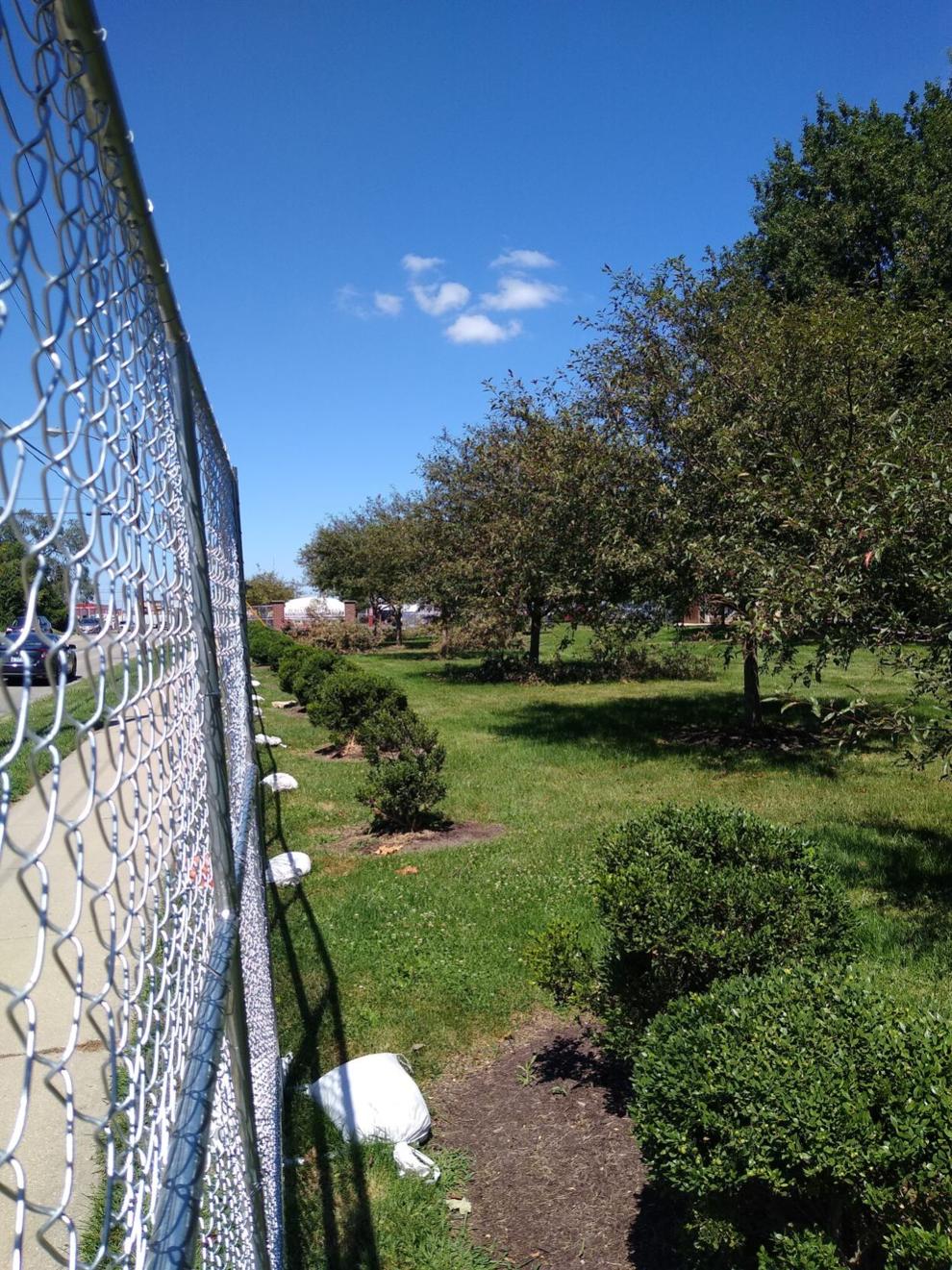 Judah Christian fence
"Why the fencing around Judah Christian School on Prospect?"
The temporary fence is there to allow students and staff to more safely socially distance both for outdoor recreation and for instruction, said Becky Gardner, interim superintendent at the school. Classes begin Aug. 27 at Judah Christian, she said.