Tom's #Mailbag, Aug. 21, 2021
Questions for Tom? Just click here
There are more infrastructure questions this week than a bunch of congressmen clamoring for pork for their districts. We have questions about bike paths, parks, ponds, interstate interchanges, drainage ditches, emergency phones on campus, narrow roadways, brick streets and what isn't allowed on city street rights of way.
Also questions about COVID, July heat, the "ring of poles" in rural Champaign County, cicadas and a new Champaign schools administrator.
'Many, many' COVID outbreaks
"With all the coverage of COVID I've not seen any about the outbreak at (a local agency) in Champaign."
"CUPHD is working many, many outbreaks right now. The only time we go to the media with an outbreak is if it is required because we cannot contact those who may be impacted," said Julie Pryde, administrator at the Champaign-Urbana Public Health District. "It is very important that persons who work with vulnerable populations be vaccinated and masked at all times.
"Our hospital systems are currently at capacity. We need people who have not been vaccinated to do so as soon as possible. We also need all persons to wear masks while indoors.
"COVID-delta is far more infectious than what we experienced last year and earlier this year. It is also hospitalizing more, and younger people. Both CUPHD and other health departments, and healthcare providers all have a finite number of staff and resources."
The New York Times reported Friday that cases in Illinois have increased 44 percent in the last two weeks and COVID-related hospitalizations are up 66 percent in that time.
COVID testing in schools
"Are the Champaign and Urbana school districts taking advantage of the free weekly COVID SHIELD testing/monitoring of all unvaccinated students and staff offered by IDPH? Will all schools be using the system?"
"Yes, we are taking advantage of SHIELD testing for our students and staff at Urbana Middle and Urbana High Schools," said Jennifer Ivory-Tatum, superintendent of schools in Urbana. "SHIELD is only offered in grades three and up. Instead of using SHIELD at elementary, we are piloting rapid COVID testing at three elementary schools (Dr. Williams, Yankee Ridge and Leal) and offering a weekly drive-thru option for families."
In Champaign, according to schools spokeswoman Stacey Moore, the district will "offer a robust testing program for all symptomatic students and staff, regardless of vaccination status."
The district prepared a 26-page "Operational & Safety Protocols" publication, available on its website.
"In the event of an outbreak (as defined by public health officials), the district will utilize screening testing (SHIELD)," said the publication. "We will also continue to monitor transmission levels in the community and may utilize SHIELD or other PCR testing in other circumstances. According to the CDC, 'people who are fully vaccinated do not need to participate in screening testing and do not need to quarantine if they do not have any symptoms.'"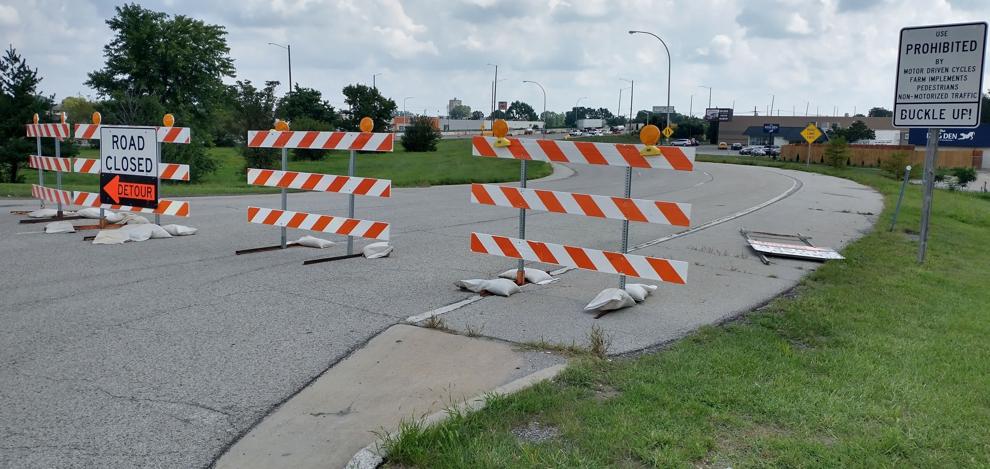 Neil Street & I-74
"When will the I-74 East exit on Neil Street in Champaign be back open? It has been months now that it has been closed with the significant detour to Prospect (which is already too busy). With University of Illinois students coming back and many faculty and staff transitioning back to campus (including me), I really hope this detour ends as soon as possible."
You're going to have to wait about three more months, said Kensil Garnett, the Region 3 engineer for the Illinois Department of Transportation.
"Due to the proximity to the Market Street Bridge reconstruction, it is impossible for us to reopen the ramp until the work is completely finished. The geometrics would require traffic to make an abrupt turn onto the interstate to merge into traffic, which would be unsafe," Garnett said. "This stage of the project is due to be completed by Nov. 24, in which time the contractor will return the traffic pattern of I-74 to its original configuration for the winter, and the Neil Street ramp will be reopened at this time.
"It is important to note that in April 2022, the Neil Street ramp will again be closed for the construction of Stage 2 (westbound side) of the bridges. The ramp will be closed until the project is completed in November 2022.
U.S. 150 improvements
"Does the state have any plans to do anything to U.S. 150 between Mahomet and Farmer City? This road needs attention."
There are three projects in the state's multi-year program (FY22- FY27) for U.S. 150, said Garnett.
"All of the projects are in the FY23 - FY27 portion of the program," he said. "The first project is from the McLean County line to the Piatt County line (4.91 miles) and it is a resurfacing project programmed at a cost of $1,280,000.
"The second project is from the Dewitt County line to the west corporate limits of Mansfield (5.03 miles) and it is a resurfacing project programmed at a cost of $3,700,000. The third project is from Mansfield to Mahomet (5.42 miles) and it is a resurfacing and ADA project programmed at a cost of $5,460,000."
Garnett said that IDOT's operations staff will continue to monitor U.S. 150 "to make sure it is safe for the traveling public."
More on the Bondville ring of poles
"A reader last week asked about the Bondville direction-finding station used to locate submarines and ships. A colleague, one of George Swenson's last PhD students, once mentioned that the site can't be farmed because there's wire mesh buried in the ground that functioned as electrical ground plane for the antennas. That's an impediment for farm equipment."
Here's a collective response from the Grainger College of Engineering at the University of Illinois, by way of Todd Sweet, the department's director of constituent engagement.
"The Department of Electrical and Computer Engineering (ECE) is returning as much land used for the Wullenweber array to crop production as possible. The wire mesh described by the questioner was located around the perimeter of the 20-acre circle," he explained. "Like spokes on a bicycle wheel, cables connected the mesh to a central antenna.
"The cables were buried 24 inches below ground, while the mesh was closer to the surface. Following recent soil samples, we determined the 20-acre plot could be safely farmed starting this season."
Here's a link to more information on the Wullenweber array, written by the late Professor Swenson.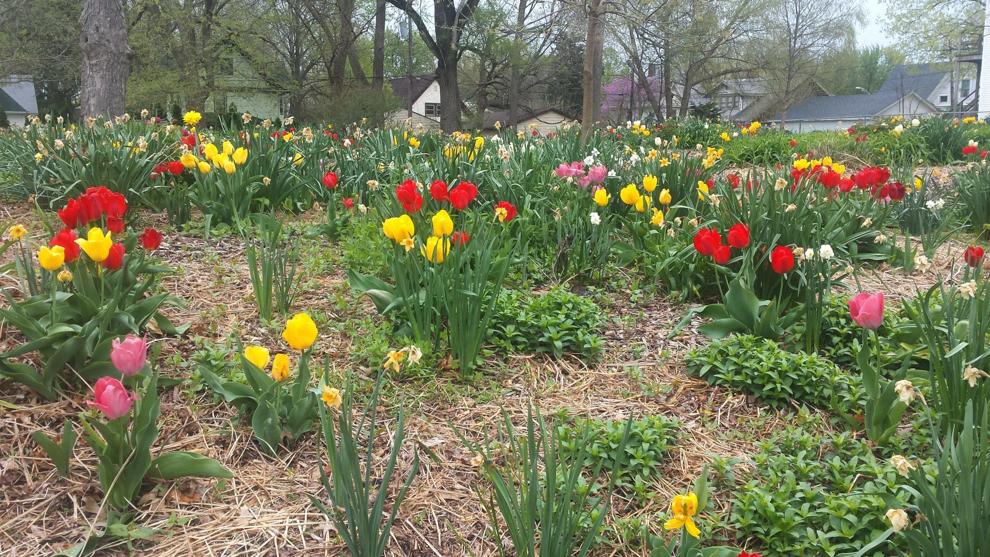 Van Doren Street refuge
"You once wrote about a beautiful neighborhood park of Van Doren Street in Champaign. That lot is in disarray now. What happened?"
I wrote about Kevin Merkle's beautiful garden spot in central Champaign more than five years ago.
Merkle still lives across the street from his garden spot although his house is for sale.
And a few years ago he sold the garden lots to a young couple who said they intended to build a home there. But nothing has happened.
"I'm sorry the neighborhood and the other people passing by have to look at that but I did my part there for more than 20 years," said Merkle.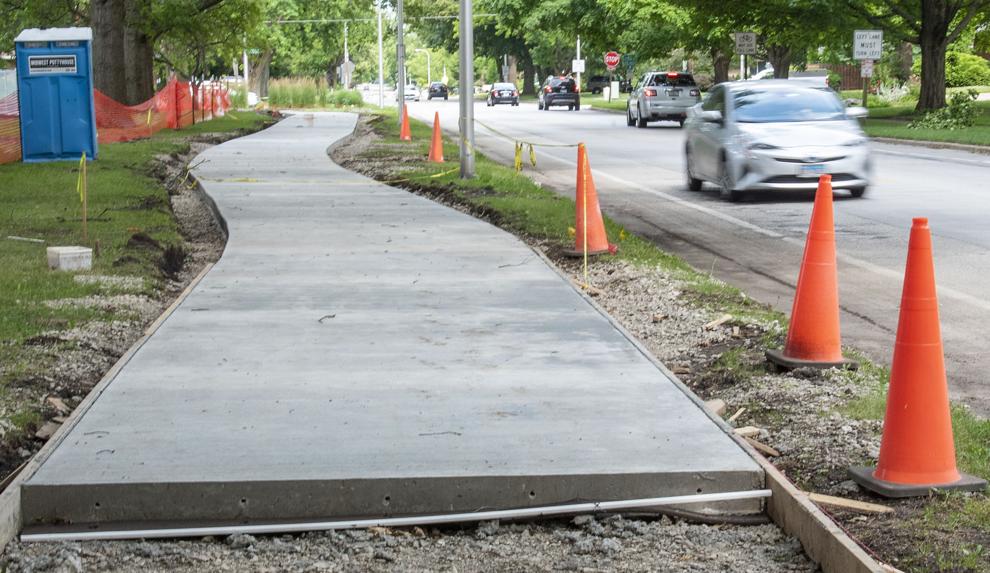 Blair Park work
"As of Aug. 18 it appears that work on the Blair Park improvements in Urbana has stalled. There have been no workers on site for a week. Is there a funding/COVID/labor dispute problem?"
There are no problems, said Andy Rousseau, project manager for the Urbana Park District.
"The contractor for our Blair Park improvements project has been at the site only a limited number of occasions in last week, but has been in communication with the park district on any scheduling adjustments. Much of the crew that was working diligently at the Blair Park site was relocated by the contractor to some projects associated with the Champaign school district improvements," said Rousseau. "Those projects were nearing a stricter timeline with the beginning of the academic year.
"The contractor will be back at Blair Park beginning next week. In other related news, we did receive our playground and challenge course equipment. Installation of those items should begin in the next week or two. Our overall project is still on schedule to finish up this fall."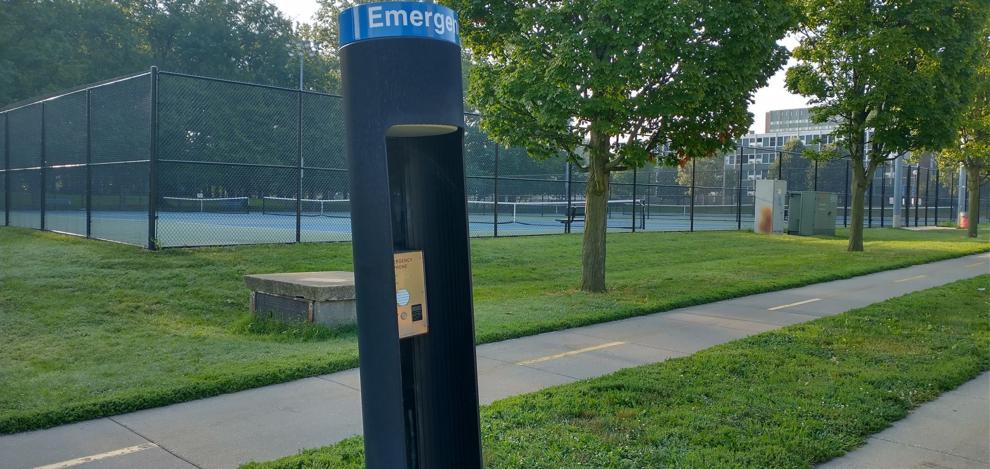 Campus emergency phones
"How many emergency 'blue light' phones are there on campus and how often are they used in an emergency?"
"We have approximately 75 blue light emergency phones in outdoor campus areas, and a couple hundred more inside campus buildings," said University of Illinois Police spokesman Pat Wade. "Most of the indoor e-phones are in elevators. Very seldom are they used in a bona fide emergency. There have only been maybe a handful of emergency calls placed in the past few years.
"However, we do instruct students and others that they can use them to reach the police department in non-emergencies as well, and specifically we tell them that they can use the e-phones to request our SafeWalks service at night. Calls of that nature are far more common, along with an occasional accidental button bump from the elevator phones — which is totally OK, just stay on the line to let us know everything is all right."
Parkland arts channel
"Parkland College TV used to broadcast an Arts Service but stopped some months ago. Why and will it ever resume?"
Classic Arts Showcase is one of the satellite feeds that PCTV uses in its slate of programming, said Stephanie Stuart, who is Parkland's vice president for communications and external affairs.
"Parkland's satellite dishes recently experienced some technical challenges and the college is still looking on a solution to repair them," Stuart said. "While the team at PCTV has been able to restore NASA-TV and DW-TV, they are still working on a Classic Arts solution.
"We appreciate that Classic Arts is popular in the community and hope to have to have this programming restored in the near future. In the meantime, we hope our viewers enjoy the array of original programs produced by our PCTV team and Parkland students."
UI bike path
"The new bike path that runs along the south side of Gregory Hall to the north side of Bevier Hall on the University of Illinois campus has been finished for many months now, but never been painted with border lines or 'bike path' logos so the path looks like a second sidewalk. With campus opening for fall, the bike path has more pedestrians than the real sidewalk to the south. I have witnessed two pedestrian/bike collisions where the path crosses the Main Quad walkways."
"Crews will add markings to that stretch of bike pathway this fall," said Steve Breitwieser of the the UI's Facilities & Services. "This work will occur when performing comprehensive bicycle lane and path painting updates on campus."
Hottest July ever?
"There were news stories last week that last month was the hottest month ever. It didn't seem that hot in Champaign-Urbana."
It wasn't. But globally the National Oceanic and Atmospheric Administration reported that the combined land and ocean-surface temperature was 1.67 degrees Fahrenheit higher than the 20th-century average. It also exceeded the previous July heat record tied in July 2016, July 2019 and July 2020.
NOAA said that the Northern Hemisphere was particularly hot, with land-surface temperatures measuring 2.77 F (1.54 C) above average. At least five heat domes descended on various parts of the hemisphere at once, resulting in consecutive days of heat.
But temperatures in Champaign-Urbana actually averaged one degree below normal in July. The highest temperature all month was a 90-degree reading on July 24. By contrast there were three 90-degree days in June and two so far in August.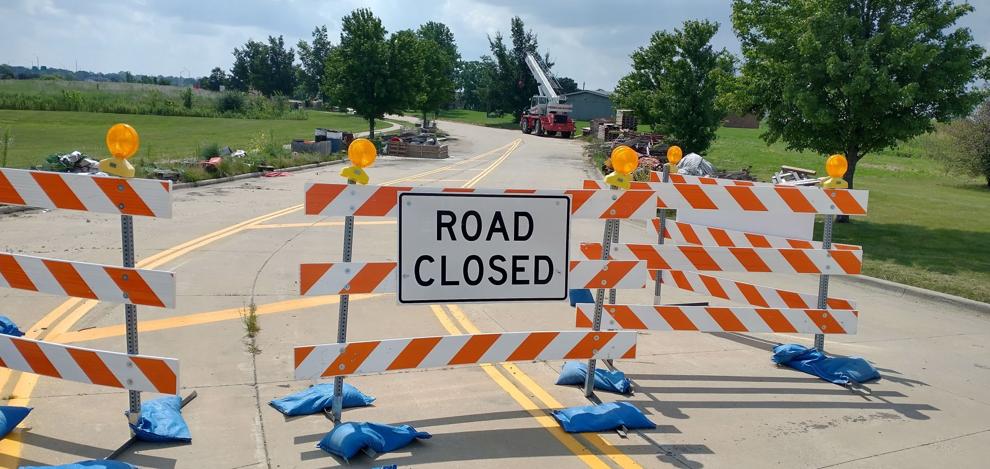 I-57/I-74 interchange changes
"I was wondering why the Midwest Court is closed. It looked like there was road work done on it last fall, but it's been closed from then until now. It also appears more and more construction related materials are getting stacked on it. Isn't that a city of Champaign street? Why would they allow one of their streets to be closed for a extended period of time with no apparent gain to the city?"
The materials you are seeing are being staged for the upcoming I-57/I-74 interchange reconstruction project, which is scheduled to begin next Monday, said Kris Koester, spokesman for the Champaign Public Works Department.
"As a background, the footprint new interchange is larger than the existing footprint. The new footprint of the new right-of-way will encroach into the existing Midwest Court cul-de-sac bulb and about 100 feet west of the bulb," Koester explained. "In preparation for this, the Illinois Department of Transportation purchased this portion of Midwest Court from the city of Champaign in 2019, as authorized in Council Bill 2019-133.
"At a later date, IDOT will design and construct a new Midwest Court cul-de-sac bulb west of the new interchange limits and dedicate new right-of-way and infrastructure to the city of Champaign."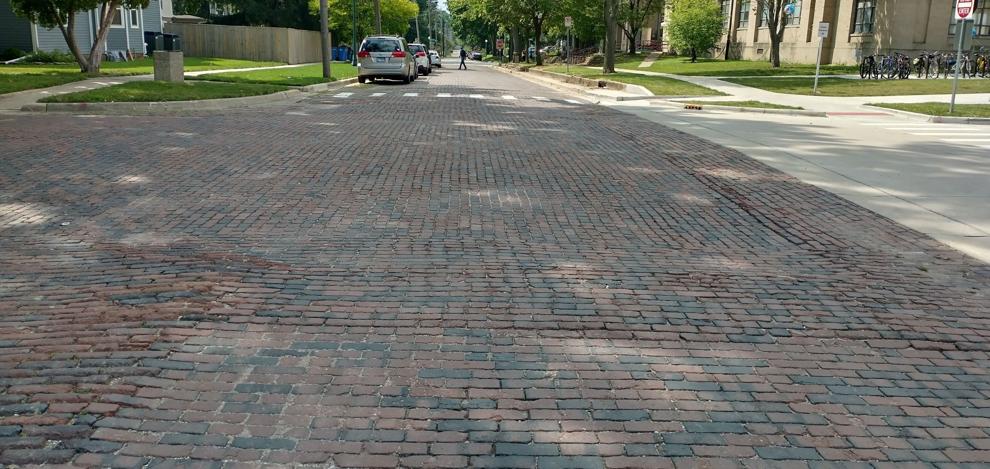 Construction work damage
"Lynn Street between Church Street and University Avenue has sustained some significant damage from the construction work at Central High School. The entire section is like driving on a washboard and there is a dip at the corner or Lynn and Park which will bottom out your car if you travel more than 10 miles an hour. Are there plans to repair the brick street once the construction is done?"
Repairs are coming in 2022.
"As a general statement, brick streets, by their very nature, are not the smoothest ride even when in good condition," said Koester. "The repairs process includes removing the bricks, placing a concrete pavement under the existing brick surface to provide support, and then resetting the bricks on a very thin layer of sand for leveling.
"It is challenging to achieve a ride any smoother than prior to repairs (minus obvious changes such as addressing any large vertical dips or bumps) when resetting these 100-year-old bricks, since they sat in one spot on a more flexible base of earth for that long as the edges and surface wore a certain way.
"When brick streets are repaired it is primarily to address dips, rutting and other vertical deflection issues. Lynn at Park does exhibit these issues and it has been the city's intent to address the intersection, and some other localized areas around Central High School, after the construction activities are complete. With that in mind the 2022 Infrastructure Maintenance Project will include repairs to the intersection of Lynn and Park.
"The 2022 project will also be making repairs to Park Street west of Central, including assessing repair needs at New and Park. If budget allows, other localized repairs may be included."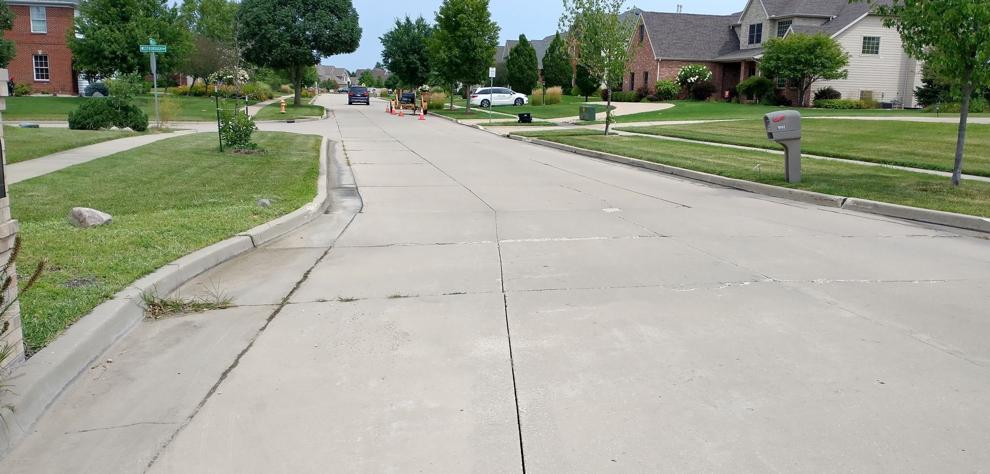 Mullikin Drive shift
"While driving down Mullikin Drive (which runs from Kirby Avenue to Windsor Road in Champaign) the road narrows down right at the intersection of Westborough Drive. Whenever I drive through there I just find that strange it's just in that short area. I just wonder who designed that what their purpose was for that. I don't think it would be to slow traffic since there are still full lanes each way."
There was a period of time where the city of Champaign pushed for "traffic calming" features in new developments, explained Koester.
"Various features were incorporated into several developments around that time. As the subdivisions were built out, the various features were observed to see how they performed," he said. "The intent of the various features was to slow vehicle traffic, as the most common citizen complaint along residential collector streets was/is speeding. Some of the features incorporated into developments around this time and their various levels of success included:
"— narrowing or bumpouts (which also reduce the crossing distance for pedestrians) both along Mullikin, Wynstone and some other locations. Less successful at reducing speeds in lightly traveled residential areas compared to their impacts in areas with consistent traffic (like Downtown or Campustown). No longer recommended in newer developments.
— "a traffic circle at Stonebridge and Strand (in this same area). Due to size, this created some issues with larger vehicles like garbage trucks. More recently, larger roundabouts are utilized in more recent developments like Chestnut Grove.
— "small medians (5 feet wide by 20 feet long) along Boulder Ridge Drive. These created parking challenges, snow plowing issues, and safety concerns. They were eventually removed from Boulder Ridge and have not been utilized in newer developments.
— "wider and longer medians like those on Wynstone and Freedom Boulevard. These have worked well (and provide space for landscaping) and have continued to be utilized in newer developments.
— installation of stop signs at the intersection of two residential collector (the streets that connect to major streets). These have been well received and continue to be used."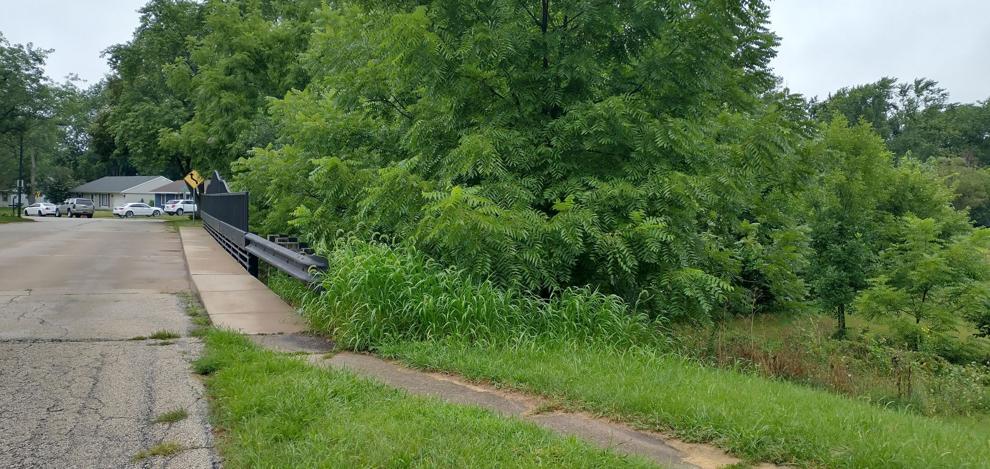 Vegetation obscures creek
"I cross the John Street Bridge near Duncan Road in Champaign. This year the bushes and trees have grown where the creek cannot be seen. Who is responsible for clearing that area? I didn't know if this would stop the water in the creek flow."
The city of Champaign is responsible for drainage in this area, said Koester.
"The city has a vendor who trimmed the area in June around the bridge structures. With the amount of precipitation and warm weather it may be needed again," he said. "The city currently has a purchase agreement for stewardship, to manage the vegetation, invasive species, and trees that may cause drainage blockage or damage engineered structure on the stream banks. Furthermore, the vendor will trim back vegetation at all bridges, pedestrian and vehicular for safety.
"In years past drainage districts would clear cut everything down once a year or once every 10 years, and the goal or the thinking was to move water away as fast as possible, however we have learned over the years that this causes extreme environmental damage downstream and to other bodies of freshwater, and causes severe erosion and bank failure.
"If we practice good stewardship, we can improve water quality by slowing the rate of water reaching the streams, and the native vegetation roots can maintain the banks. The banks are not perfect at this time, but the goal is to practice good stewardship each year. Currently we check for tree limbs that need to be cut, or trees that may cause drainage issues, we check for areas that we can manage invasive species that, out-compete with native vegetation and cause damage to stream banks with poor root structure.
"In this location we have limited access to reach vegetation within our jurisdiction, some homeowners mow to the bank, and others have left the top of bank grow, and with parcel-to-parcel fences access to manage invasive species and other vegetation is limited and will take patience, communication, and extra coordination."
Rules regarding city rights of way
"What are the rules about what is allowed and what is not allowed in the right-of-way in Champaign? There is someone in our neighborhood who has planted trees in the right-of-way but has added bricks and rock. It looks nice but I don't think it is allowed."
Champaign Municipal Code 35-21, prohibits rocks or bricks from being used in the parkway within the dripline of right of way trees, said Harman Jordan, right of way inspector in the city's engineering department.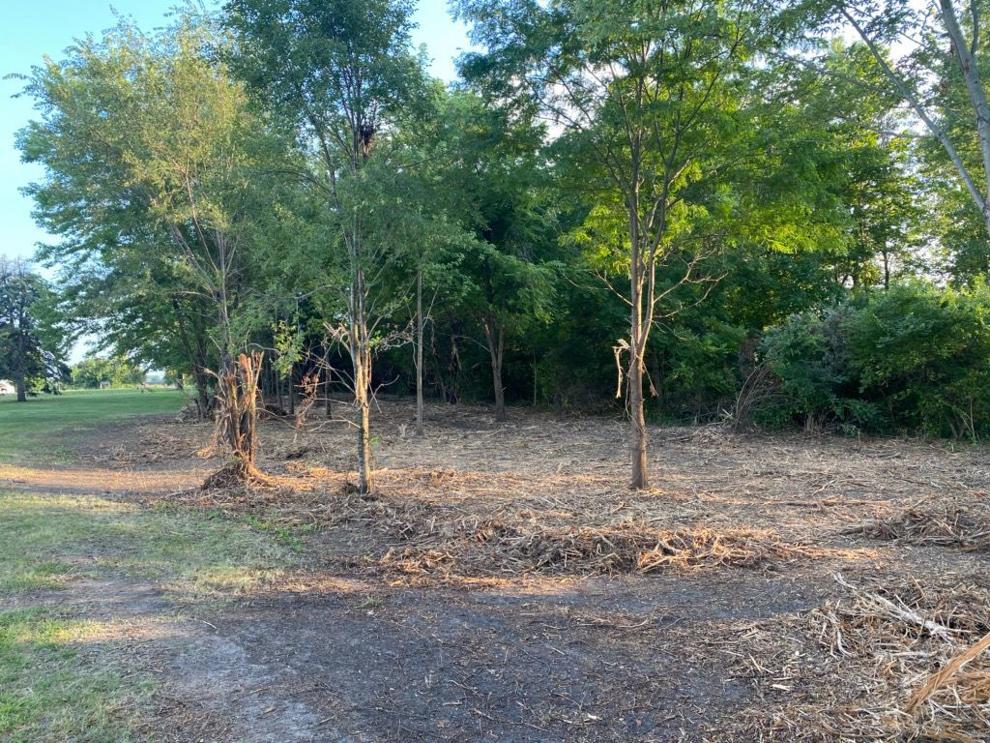 Parkland pond
"A stretch of the path around the pond at Parkland College has been bulldozed. Wondering what they're doing, if it's new construction or some sort of cleanup."
"Along the boundary line between Parkland College and Dodds Park is a wooded area that has grown in with invasive bush honeysuckle and mulberry making access for utility vehicles and along the trail problematic," said Dan Olson, director of operations for the Champaign Park District. "There is not any construction on the horizon. The project was two-fold, to get better access around the softball fields, and to remove and control the invasive species.
"The area was not bulldozed, but park district staff ran forestry mower through the area. The ground often looks bulldozed afterwards because the invasives don't allow understory to grow which makes for a bare ground situation. We left good native trees such as walnut, in place."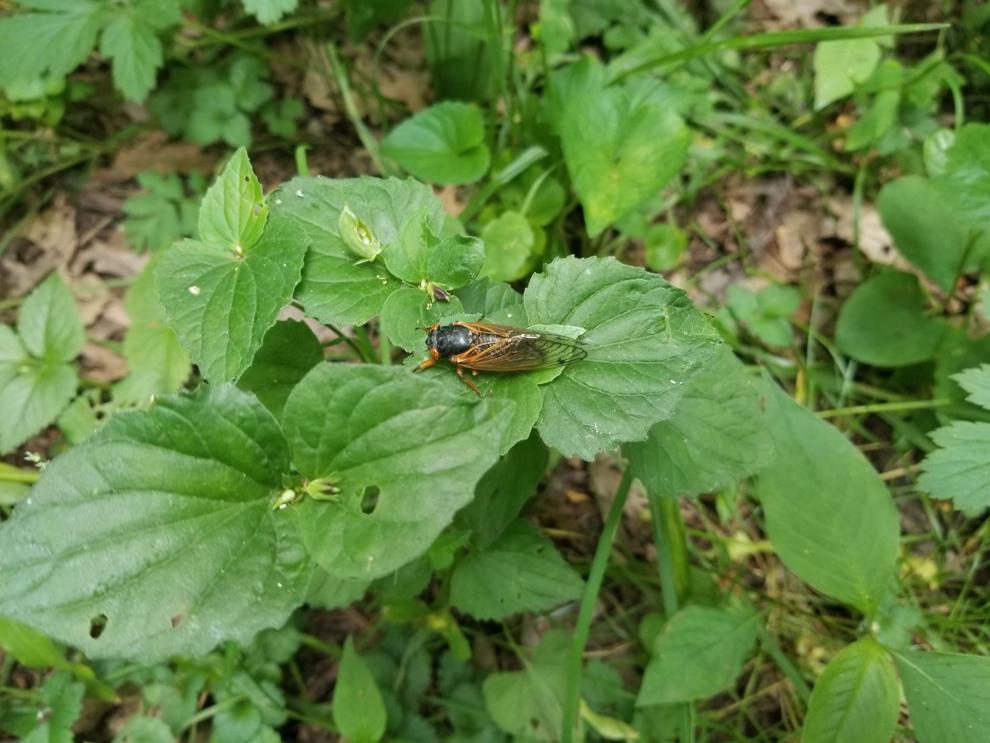 Cicadas in Champaign County
"We had multiple stories back in the spring about the horde of cicadas that would be appearing this summer. They have apparently been in other states, and even other counties in Illinois, but we've never had them, at least not in our part of Champaign County. What happened? Are we on a different schedule than other areas?"
These particular cicadas, the Brood X, generally are found only along the eastern edge of the state, including Vermilion County.
Catherine (Katie) Dana, a scientific specialist in entomology and entomology PhD candidate at the Illinois Natural History Survey, told us last April that "forested areas tend to be the best places for periodical cicadas."
She recommended several places in Vermilion County as likely cicada haunts.
"Last year I drove out to Forest Glen Preserve in Georgetown and saw evidence of a decent number of 'stragglers' or early-birds – so I know they will be there. Other areas to check in Illinois would be city parks in the Danville area, Kickapoo State Recreation Area or Kennekuk County Park," Dana said.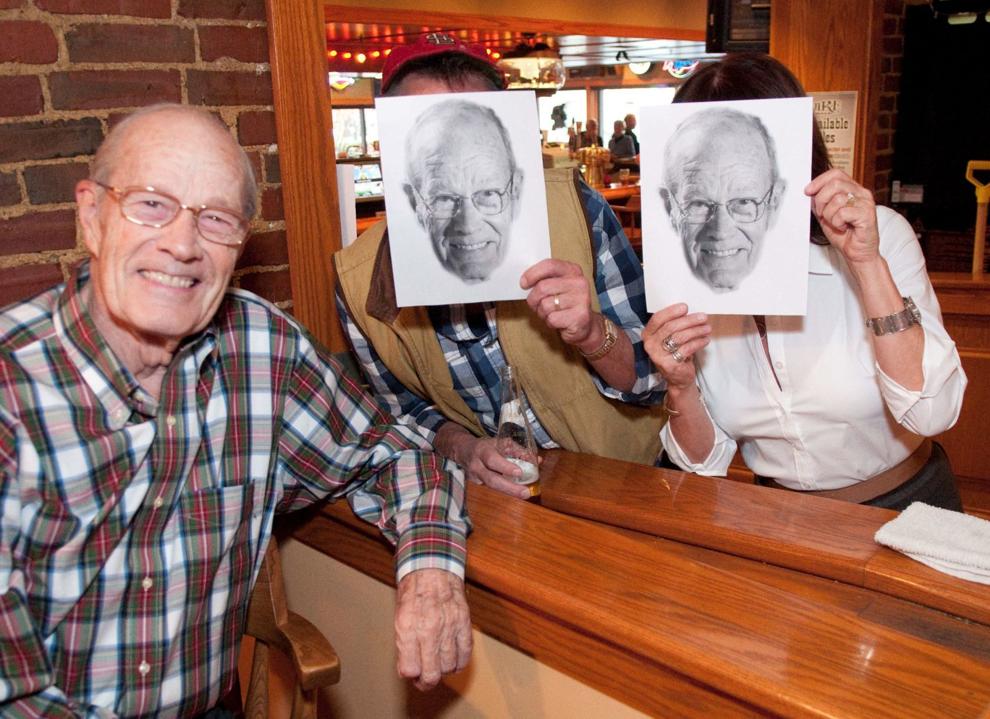 Tate memoirs
"Can we get Loren Tate to write a memoirs? His stroll through Illinois sports history would be a great read."
"Ha ha, not today," was Tate's cryptic response.
Bailey Dee death
"Was an arrest ever made in the murder of Bailey Dee in Atlanta?"
"The case is still being actively investigated but no arrests have been made yet," said Officer Steve Avery of the Atlanta Police Department.
Mr. Dee, 20, was shot to death in late June while outside of a condominium complex in downtown Atlanta. The Champaign Central graduate was one of three men shot, apparently by a gunman in passing car.
Shredding event
"Do you know of any groups having a shredding event anytime soon? They have occurred at various banks around town in the past but I haven't heard of any lately."
We couldn't find any notices about upcoming shredding events. If anyone knows of any in the area, please let us know.
New Champaign schools administrator
"I heard a rumor that (the Champaign school district) hired a new executive director of engagement and social emotional learning who previously served as Unit 5's director of HR and was eventually dismissed for sexual harassment. Do you know if there's any truth to this?"
You're partly right. The Champaign school district recently hired James Harden as the district's director of engagement and social emotional learning.
Harden had worked at the Normal school district until he resigned his human resources and students services position in March 2019. The Normal school board voted to give him about $34,000 in an agreement. After the resignation Normal radio station WGLT reported that three school district employees accused Harden of sexual harassment.
Champaign school board President Amy Armstrong said the board knew of the allegations against Harden when it hired him.
"We are aware of the situation in Normal several years ago," said Armstrong. "Unit 4 conducts thorough reference checks for all new hires and we are confident in our decision to hire Dr. Harden."