Tom's #Mailbag, Aug. 7, 2020
Give Tom a try for yourself. Submit questions of any kind by clicking here
It's another Infrastructure Week at the mailbag, with questions about the big rehabilitation under way at Urbana's Crystal Lake Park, improvements coming to Parkland Way in Champaign, a high-tech camera system in use on Interstate 74, orange-colored lines in interstate construction zones, the status of Cardinal Road west of Champaign, trash dumped on township roads, and another electronics recycling event scheduled for Champaign County.
Also, a huge inconsistency in gasoline prices in Champaign-Urbana, restrictions on children using public libraries, a distressing display of the Illinois state flag and promoting honors for the late, great Lou Henson.
Please stay safe and wear a mask or other face covering to keep others safe.
Crowded libraries this fall?
"With the local school districts strongly (?) considering holding at least some instruction on-line in the fall, is there any consideration being given to the potential problems that would result if large groups of children were just dropped off at the libraries to 'do school' and just hang out all day if both parents work, essentially using the libraries as free childcare?"
Donna Pittman, the director of the Champaign Public Library, said that beginning Aug. 24, all library visitors 15 and under will have to be accompanied by a parent or another adult.
"Our main concern is keeping library visitors and staff safe during the COVID-19 pandemic," she said. "One way we can keep children and young teens safe is to ensure they are supervised by an adult while spending time at the library.
"When school is in session, we have large groups of kids coming to the library when school is dismissed. Last year we saw an average of 200-plus kids in the main library after school. We have a capacity limit in the building due to guidance from public health officials and the need to maintain social distancing. The library cannot accommodate groups, nor can we provide supervision for kids that includes making sure they are wearing masks and practicing social distancing.
"Beginning Aug. 24, all visitors age 15 and younger must be accompanied by a parent or other adult, age 18 and over. This policy will be in effect until our region enters Phase 5 of the Restore Illinois Plan. We understand that kids need the library and they can still visit – with adult supervision that library staff cannot provide."
The Douglass Branch library at 504 E. Grove St. will not be affected by the policy and will operate as usual in terms of use by children and teens, Pittman said. 
"Due to its smaller size, staff is better able to monitor and control number of people in the building, social distancing and the wearing of masks," she said
In Danville the library already has a policy that children 11 and under must have a caregiver present with them.
"A caregiver must be age 16 or older," said Jessica Augustson, community engagement librarian for the Danville library.
"As part of our Phase 4 guidelines, the building is open for browsing, limited computer use, and appointment-only services," she said. "Our study rooms, Teen Zone room, and other general seating areas will not be available until we reach Phase 5."
The Urbana Free Library is operating on a "grab and go" model, said Executive Director Celeste Choate.
"There is a one-hour time limit in the building per day and patrons are asked to expedite their transactions, wear masks, and follow social distancing measures. Also, throughout the Library, furniture has been removed or taped off to promote social distancing. Room capacities are monitored," she said. "The Library's Rules of Behavior state that children under the age of 8 must be under the direct supervision of a parent or caregiver (age 14 or over) at all times."
Further, in partnership with the Urbana school district, Choate said parents of school-age children will receive an emailabout what the library offers "during the Grab and Go service model, that the Teen Open Lab and all other programs are online only for now, and that (Urbana School District 116) students qualify for library cards.
"Many great resources, including eBooks, eAudiobooks, videos, music, and homework help are available online via here."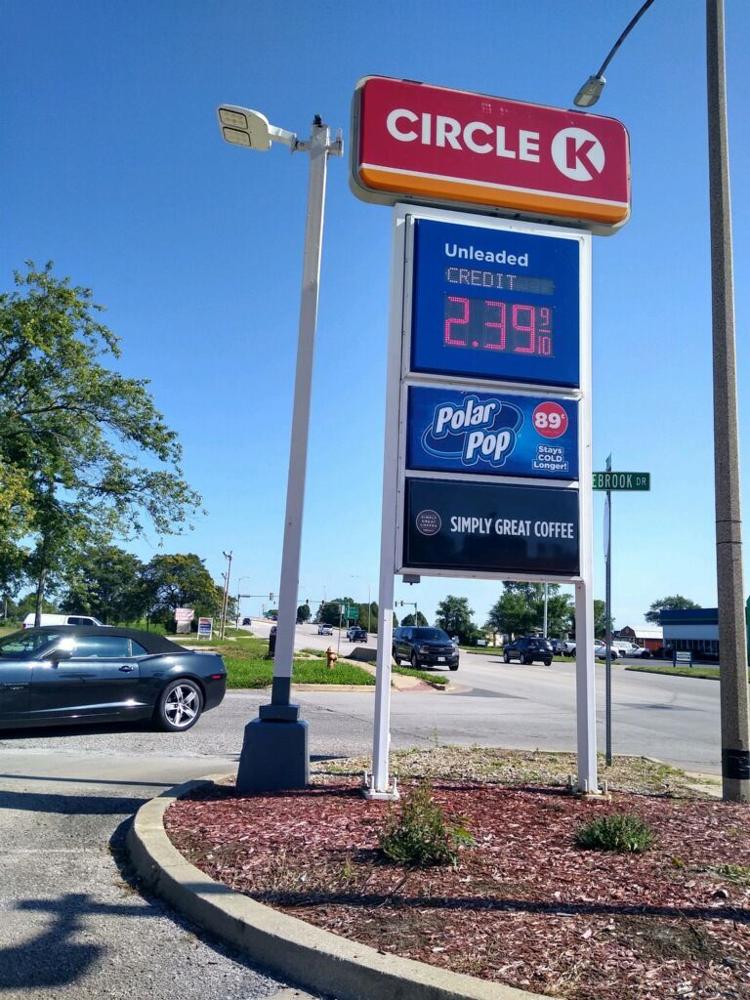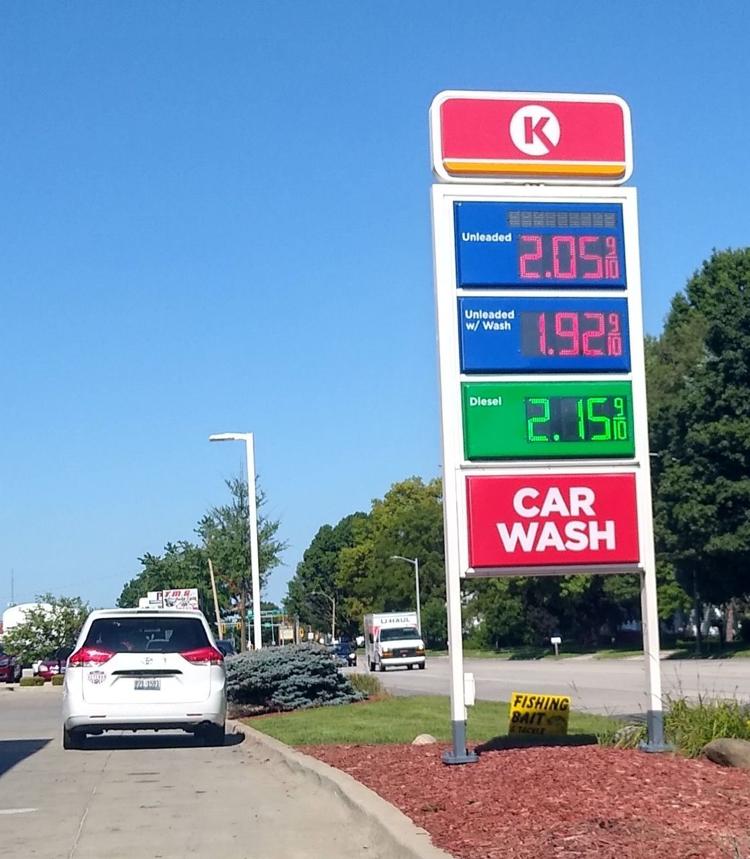 'Amazing' gasoline prices in Champaign-Urbana
"I'm new to the Champaign/Urbana area and have noticed an amazing price swing in gas stations across the area ... sometimes as much as 30 cents or more from station to station.
"Most of these are the same brand of station and was wondering why the wild swing in price. Again, I'm new to the area and when I asked someone I was told, 'We like to gouge visitors coming off the highways around the cities.'
"That's really hard to believe ... is this true? It doesn't seem like that kind of place to me."
The big gasoline marketer in Champaign-Urbana has become Circle K, the huge international chain of convenience stores owned by the Canadian multinational firm Alimentation Couche-Tard.
After I received this question I did a one-hour sample of gas prices Thursday morning at most but not all 18 Circle K shops in Champaign, Urbana and Savoy. I was astounded to see a large spread in gas prices at the shops of the same marketer just blocks apart.
For example gas at the Circle K on U.S. 45 in Savoy was $2.059 a gallon while it was $2.399 at the Circle K stations at Bradley and Prospect avenues in Champaign, at Bradley and Prospect avenues in Champaign and on North Neil Street in Champaign.
It also was $2.399 at the Circle K on the southeast corner of Green Street and Lincoln Avenue in Urbana while the Circle K across the street at the northeast corner of Green and Lincoln was charging $2.289.
Prices at other Circle Ks in C-U were $2.359, $2.299, $2.119 and $2.079 a gallon.
Patrick DeHaan, head of petroleum analysis at the web site GasBuddy.com said the price differences are common and help prove the point that it's important to shop around for less costly fuel.
"The Great Lakes is very competitive when it comes to price. But most stations are either independently owned or 'jobbers' that may own several, so odds are the Circle K locations may be owned by various entities or people," he said. "In addition, some geographic locations may have lower prices — less affluent areas, or be in competition hotspots, while others may not be.
"Many many factors can result in this normal behavior we call the 'spread' and this is common and thus why a vast amount of people overpay on gasoline. GasBuddy's app shows the spread — the low and high price immediately near you — prominently in the app for just this reason.
"It is highly important to shop around as it can save you hundreds on this spread every year."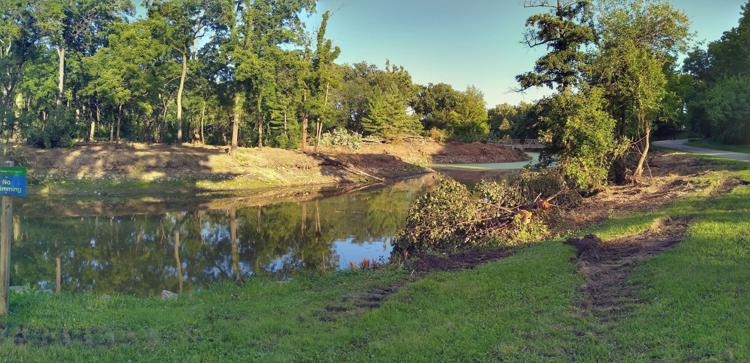 Crystal Lake Park rehab
"What's up at Crystal Lake Park? The lake is almost drained, they built a causeway over to one the islands, the fountain is being torn down, areas of the embankment along the Saline Branch have been cleared and replaced with large rocks, and there are numerous orange fences scattered all over the park in no discernible pattern."
Urbana's oldest park is undergoing a long-planned multimillion-dollar rehab, said Tim Bartlett, executive director of the Urbana Park District.
"The park is well over 100 years old — beginning as Union Park in 1880 — and serving as the District's first park in 1907 when the district was established," he said. "The Crystal Lake Park master plan was updated in 2007-2008 and incorporated all of the improvements as planned.
"To date we have completed several of the planned improvements including: exterior improvements to the Anita Purves Nature Center to create the NaturePlayscape and supporting facilities; new outdoor interpretive exhibits; a new Crystal Lake Park Family Aquatic Center; looping trails throughout the park; general tree plantings and landscape improvements, demolition of the former Operations facility; improvements to the Saline Branch to improve aquatic habitat; rehabilitation of the lake's sediment basin; new signage and benches; and the Park Street bicycle/pedestrian trail to connect Five Points shopping district and Carle Hospital."
Bartlett said upcoming improvements and planning efforts
include:
— a one-way road system to allow cars and bicycles/pedestrians to share the park road;
— improved trails and connections in the park and Busey Woods
— bridge upgrades;
— a new seating plaza along Broadway Avenue;
— a complete lake restoration to improve trees, landscape, water quality, fishing and boating;
— an expanded and renovated deck and landscape at the Lake House to better facilitate rentals and special events;
— road and parking improvements;
— upgraded park lighting, new trees, fencing and landscape improvements between the park and the Fair Grounds;
— new and renovated pavilions including a restroom facility at the NaturePlayscape;
— and a new playground on the south end of the park adjacent to the large pavilion.
"Staff is also working on a plan update to incorporate all of the improvements that have been completed since the 2007-2008 master plan was approved," said Bartlett. "Please check out the Urbana Park District's website to find out more about the improvements, view the videos that tell the stories on each individual project and read more about upcoming plans."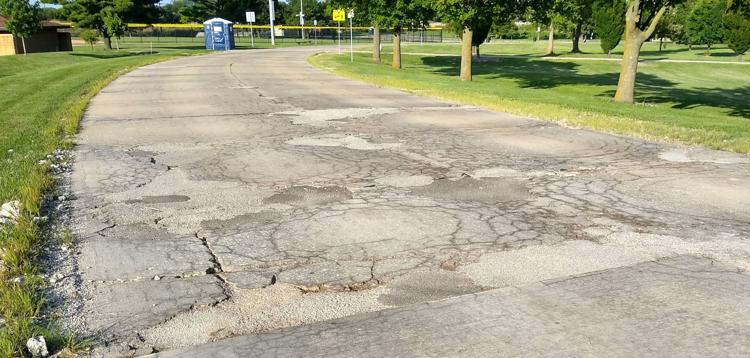 Parkland Way rehab
"Was wondering why the Champaign Park District is trying to improve the softball fields at Dodds Park when the public is not allowed to use them while the road Parkland Way, which we call 'Pothole Way,' cannot be improved before the students at Parkland start school. It is in horrible shape. Our tax dollars need to be used with more common sense priority."
Good news ahead, said Dan Olson, the director of operations for the Champaign Park District.
"Funding for concrete improvements to Parkland Way has been preliminarily approved in our five year budget," said Olson. "With this, the district has allotted money every two years, to replace concrete in three of the most problematic sections of the roadway.
"Construction on the first section will begin next year. For the past three years, the District has spent between $4,000 and $6,000 in materials to fix Parkland Way, which has been essentially filling potholes and improving the shoulder. Drivers will continue to see these smaller fixes on the majority of the road, but will also see sections of concrete removal and replacement. It will be a lengthy process.
"As for ballfield improvements, the district has continued the routine maintenance of the fields, such as mowing, weeding, and topdressing, in anticipation of sports programming and tournaments opening back up. The only improvement being considered at the complex at this time is a renovation of the 3-plex restroom, which is in the architectural and engineering process."
Weigh station on I-74
"I noticed what appears to be a traffic-type camera on I-74 west bound about a mile or so west of the Oakwood exit. Is this in fact a camera? What is its purpose?"
Kensil Garnett, the Region 3 engineer for the Illinois Department of Transportation, said it is a camera.
"The camera is for the Weigh-In-Motion project that was on the Nov. 8, 2019 letting. The intent of the Weigh-in-Motion project is to monitor the incoming truck traffic from the state of Indiana by providing data on this section of roadway, "Garnett said. "A Virtual Weigh Station weighs and measures vehicles automatically and provides vehicle record information to an authorized user either locally or remotely for enforcement, commercial vehicle and traffic data analysis.
"The WIM (Weigh-In-Motion) system is modular in design for ease of service and upgradeability. The camera is capable of taking pictures in all lighting conditions and is capable of full color images during daytime operation, and monochrome (black & white) near-infrared images during nighttime and low light operation. The camera is mounted alongside the roadway on the mainline positioned to obtain the best possible images, detailing their cab and side."
Suggestions for IDOT
"Traveling out of state I've noticed that the lane lines in construction areas are painted orange. What a great idea. Can you pass it on? Also, I love the pavement markings in the lane showing the interstate number, sure helps when in unfamiliar areas."
Kensil Garnett again: "The Manual for Uniform Traffic Control devices requires lane lines in construction areas to be white for lines that can be traversed and yellow for lines that cannot be traversed.
"Our staff in District 5 also reached out to the Central Bureau of Operations about this issue. We were advised that a couple of states have experimented with different colored linework in construction zones and found that when other factors are generally controlled, there is very little difference noted in driver behavior with different colored lines.
"With respect to the interstate shield pavement markings, we have considered these as temporary enhancements for construction projects in locations where two or more interstates run concurrently in advance of a split-like I-57 and I-70 do at Effingham.
"We have contemplated it for projects around Bloomington-Normal for I-55 and I-74 but that route is complicated because U.S. 51 also runs concurrently and would also have to be accommodated. We will continue to consider these for upcoming projects but consider them supplemental to the required signage. We will only consider using them when the signage doesn't seem to be enough as they are expensive to place and difficult to maintain.
Electronics recycling followup
Last week we had a question about recycling an old-school tube television set, and mentioned that there were tentative plans for a communitywide electronics recycling event in October at Parkland College.
It's now scheduled, said Susan Monte, Champaign County's recycling coordinator.
"I received word (Thursday) from Parkland College administrative staff that they will allow the Oct. 10 Residential Electronics Collection event to take place," said Monte. "One stipulation was that the REC event be held entirely out-of-doors. Coordinators are making necessary plans to plan for the REC on Oct. 10.
"The REC event is open to residents of participating communities in Champaign County. Residents must register online in advance to attend. Online registration for the REC event on Oct. 10 begins on Sept. 1.
"To register and for additional information, visit the REC online registration site: www.ecycle.simplybook.me. The latest information about community collection events is available at the Champaign County Environmental Stewards website."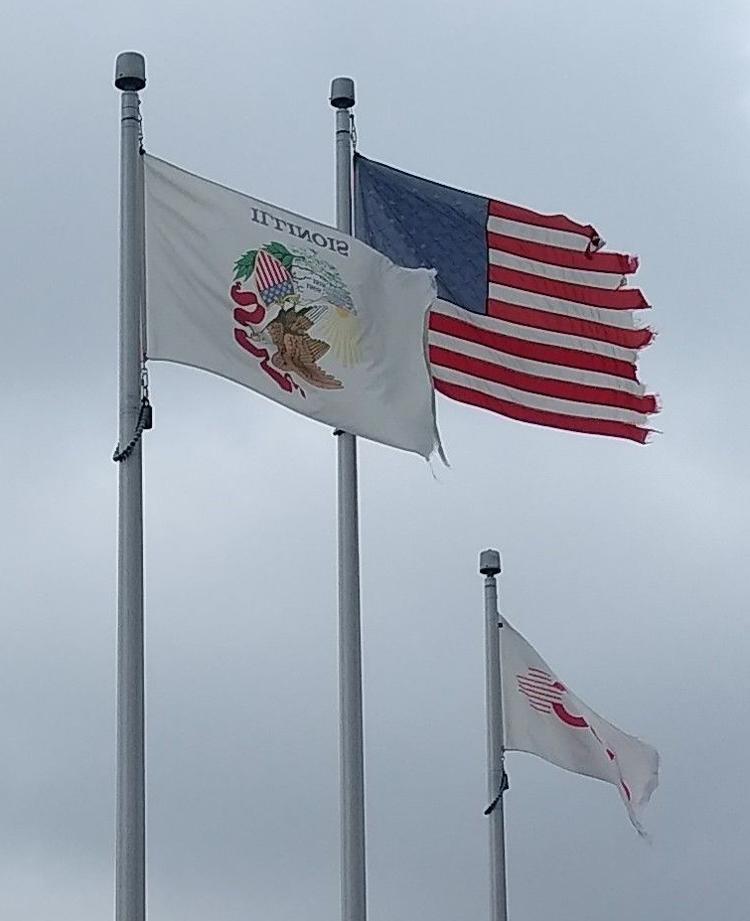 Illinois flag upside down
"Why is the Illinois state flag being flown upside down at the Carle facility on Mattis Avenue south of Kirby Avenue? I look at this everyday and think it is very disrespectful."
"Yikes Tom! Thank you (and the thoughtful reader) for bringing this to our attention," said Carle spokeswoman Jamie Mullin. "Our Facilities team fixed it right away."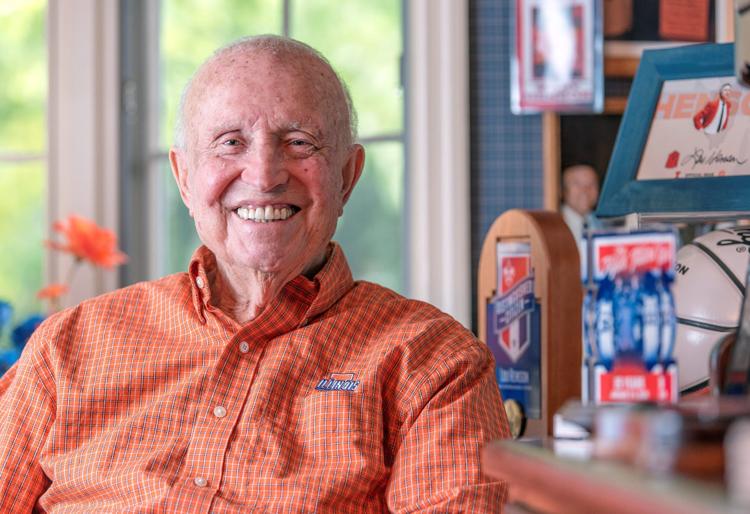 Campaign for Coach Henson?
"How can fans help get a movement started to get Coach Lou Henson in Naismith Hall of Fame?"
From Kent Brown, the associate director of athletics at the  University of Illinois: "We were all saddened by Coach Henson's passing last week. He meant so much to the University of Illinois and the Champaign-Urbana community. The DIA has supported Coach Henson's nomination for the Naismith Memorial Basketball Hall of Fame for many years.
"In fact, Illinois alum Jerry Colangelo is Chairman of the Hall of Fame Board of Governors. Matt Zeysing is in charge of hall of fame nominations for the Hall. In addition to the University of Illinois and New Mexico State already submitting nomination information, there is an active 'Lou Henson for Naismith Basketball Hall of Fame' group on Facebook.
"The Hall of Fame website is Hoophall.com. It would be a great honor to get Coach in there."
Traffic accident protocol during COVID-19
"I have a question about police dispatching during COVID-19. A friend was in a traffic accident in Champaign which, fortunately, had no injuries, but clearly involved damage significantly in excess of $1,500, where a legal requirement to report it to the state kicks in. On the first call to the police, they were advised that the local police aren't responding to accidents of this nature due to COVID-19. Because the state reporting process requires a local law enforcement report to be filed first, they called the police later to attempt to talk to an officer. This time they were told it was too late to do so and it should have happened when the accident occurred. My friend was persistent and was able to eventually talk to an officer and file their report, but it seems like there was a mixed message here. I'm sure an officer would have been dispatched if there were injuries, but what is the right thing to do if there is significant damage to the vehicles involved?"
Your answer comes from Champaign Police spokesman Tom Yelich:
"Thank you for your question. Unfortunately, during the public health pandemic, we had to decrease the amount of calls we respond to in order to help prevent possible community spread of the virus due to the amount of people we encounter throughout any given day.
"It was also necessary to ensure we remain operational and maintain appropriate staffing levels to be able to respond to emergencies and significant threats to life and property. One of the ways we had to decrease our calls for service has been only to respond to traffic crashes involving injury or requiring a tow. If those criteria we not met, we have not able to send an officer.
"Many crashes are actually a civil process handled through insurance companies, and motorists need to exchange the proper information at the scene and contact their respective insurance company. Generally, we would typically respond to these matters, provide customer service and investigate if any violation occurred; however, the insurance companies would still handle the process of damages to the vehicle."
Shootings in Champaign
"The News Gazette reports Champaign has had almost as many shootings so far in 2020 as in all of 2019, and 2019 was apparently a record year. Police recently found a bullet that landed on the street and were trying to figure out when and where it was shot.
"Have Champaign or Urbana used gunshot locating detection systems like Shot Spotter or have they considered those systems that identify shots and the location? How many shootings has Champaign had each year for the last 10 years? (I was not able to find this information.)"
"Unfortunately, shootings incidents have increased in 2020," said Yelich. "Before I share the numbers, it's important to understand how a shooting incident is defined. A shooting incident is defined as any time police find evidence a firearm was discharged, including the discovery of spent shell casings or damage to life or property. It does not necessarily have to mean a person was struck.
"In 2015, Champaign finished the year with 86 shooting incidents; 76 in 2016; 61 in 2017; 76 in 2018; and 100 in 2019. To date in 2020, we are at 103 incidents of gunfire.
"Reducing incidents of gun violence requires a community partnership, and we are committed to working with community groups, neighborhood leaders and social service providers to help identify solutions to our gun violence problem.
"We are always open to adding new technology that we believe is both operationally and cost effective. Recently, we added the NIBIN System as a tool to help investigate shootings. NIBIN, which stands for the National Integrated Ballistic Information Network, allows us to examine and compare spent bullet casings found at crime scenes and from seized guns to allow us to more quickly and efficiently identify guns that may have been used in prior incidents and any possible connections to them."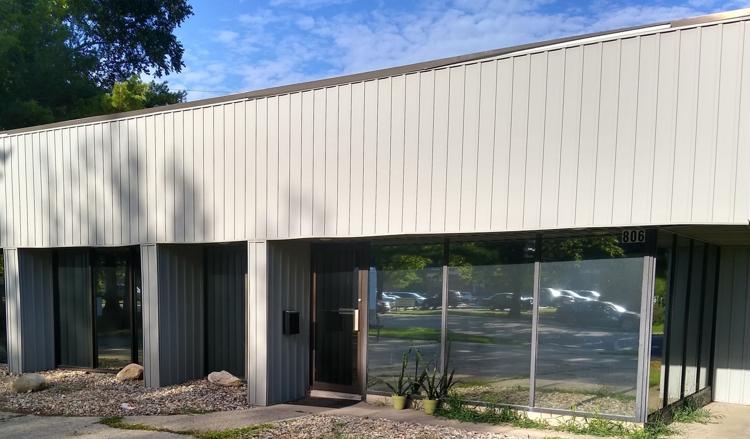 Mirrored facade in Champaign
"What kind of business is located in the mirrored front building locate at 806 S. Mattis Avenue?"
It's the private offices of Undertown, a company that manages musicians and other artists, and KPG Properties.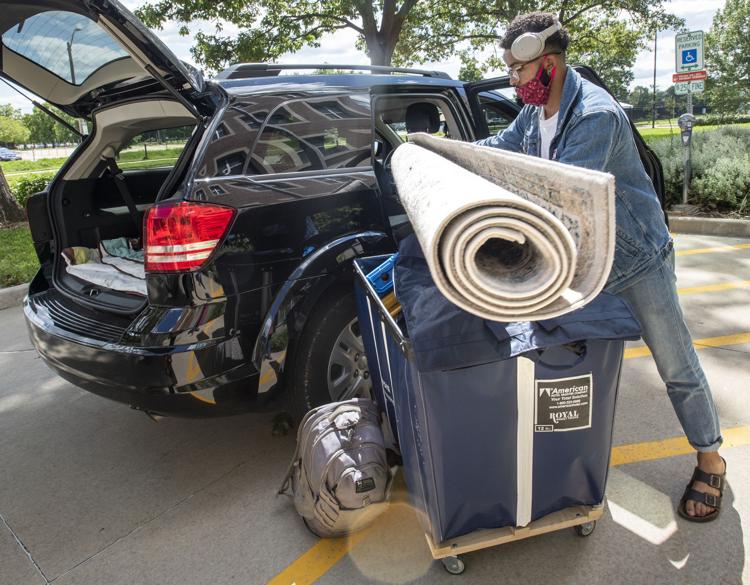 Campus move-in
"What is the (University of Illinois) campus move-in schedule this year? Usually there is two 'set days' but I'm assuming it is more spread out more this year for social distancing."
"To provide a socially distant and efficient Move-In experience, residents moving in this fall are required to select a Move-In Week time slot between Aug. 16-23," the UI said.
Some began to drop off materials in their rooms this week, News-Gazette reporter Ben Zigterman noted.
During drop-offs and move-in, face coverings must be worn, only two people can help and elevators will be limited to one family at a time.
"It's going to be a lot different," Mike DeLorenzo, chairman of the UI's COVID-19 steering committee, said on WDWS' "A Penny for Your Thoughts."
Students will also make appointments to move in during an expanded move-in week before classes begin Aug. 24.
"You'll be limited (in) the number of people that can move in with you, and people will have to sign up for a time period to move in. So it's basically to spread out the move-in process," DeLorenzo said.
Campustown vacancies
"I noticed Bombay Grill on Green Street is gone. It looks to me about one-third or more of the business east of Fourth Street are vacant. That has to be unprecedented."
Perhaps you haven't heard that an unprecedented worldwide pandemic is raging that has shut down  numerous national and local businesses.
That, combined with the usual slow summer traffic on campus and great uncertainty about how many students will be at the University of Illinois this fall and for how long, convinced some businesses to close.
But walking down Green Street one evening this week I was surprised how many businesses are still open.
And Randy Smith, Champaign's building safety supervisor, said there has been new building permit activity in Campustown, including "conversion of the former Urban Outfitters space to office space, the pending opening of the Target retail store, a new Jimmy John's and several other converted spaces to offices and restaurant."
To give you an idea of the impact of the impact of COVID-19 on Illinois businesses, the state reports that sales tax revenue in July was down $12 million or 1.5 percent from a year ago.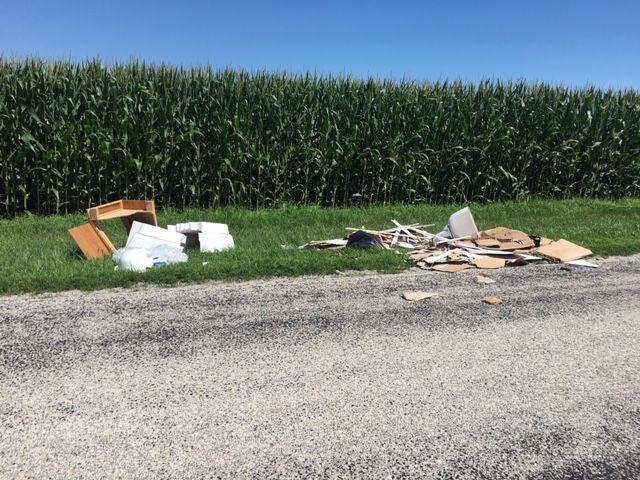 Trash on township roads
"I was driving Kirby Avenue out to Bondville ... and someone has thrown a bathroom remodel out in the country. This is between Rising Road and Barker Road. This is not the first time this has happen. Farther down is another toilet that has been there for a couple of weeks and yard waste. I have seen the Champaign Township clean up when people do this ... it's way too common. It's really frustrating that adults think it's OK to use our fields as their dumpster."
Keith Padgett, the Champaign Township highway commissioner, said he drives the the township's roads every morning "just to see what might be out there. It can be anything from couches to chairs to plywood to a bathroom remodel, which is what this was.
"When we find that stuff we send out a crew to pick it up. I happened to go on that one with a truck and a backhoe."
After that it was taken back to the township offices and tossed into a dumpster.
"I don't know what causes people to think that just because they don't want it they can bring it out to the country and dump it," he said. "It happens way too often."
He estimates he spends more than $3,000 annually to dispose of other people's trash.
Occasionally township highway commissioners can trace debris back to the owners.
"There was an address on the junk and they gave it to the sheriff and he tracked it down and knocked on the door and here's an 80-year-old woman," he recounted. "She didn't take that stuff out there. She had paid somebody to dispose of it. Well they did."
Cardinal Road changes
"I understand why they closed Cardinal Road at the U.S. 150 intersection to Duncan Road. However, one week later they closed Cardinal Road at Staley Road. Why the change? Is Cardinal Road being worked on too?"
No, Cardinal Road is not under construction.
Padgett said Cardinal Road from Staley Road to Duncan Road is his jurisdiction. North and east of that it is Hensley Township.
He said the state is staging all construction equipment used for the U.S. 150/Bloomington Road bridge work on Cardinal Road, necessitating its closing.
"Originally they had a detour (for the west end of Cardinal) to turn north on Duncan and go to 150, turn right and go into town," he said. "But the driving public instead of turning north they turned right and goes to a dead end. After about the 15th car down there the homeowner called me. I told him I'd check with the state. The state decided with my approval that yes, you can go that way and turn left and go to 150. But the better thing is to tell people that it's closed and go up to 150 and turn right and go into town."
Savoy municipal duties
"The News-Gazette has reported the village of Savoy is hiring a village administrator to replace the retired Dick Helton. What are the specific duties of the village administrator and the mayor?"
The village manager, a full-time position, is the village's chief administrative officer and as Savoy's municipal code says, is "responsible to the village board of trustees for the proper administration of all affairs of the village."
The manager hires and fires, prepares the annual budget, keeps the village board advised on financial conditions, supervises purchases, oversees bids and proposals for  services and performs other duties requested by the village board.
The mayor, or the village president, is a part-time position with limited powers, including running meetings, appointing other board members to various trustee committees and naming citizens to various village commissions.
Exclaiming the destruction of weeds
"Looks like the Savoy postmaster finally got his 'higher-ups' to agree to have the weeds pulled from in front of the post office! It's about time! I noticed a civic-minded neighbor pulling weeds there a couple weeks ago and I am glad the post office followed thru from there! We live here and we like our town and our post office to look nice!"
OK, but you get two minutes in the penalty box for too many exclamation points in one paragraph.
Cinderella story, outta nowhere
"Would you please publish the name of the talented, lovely attitude, delightful, youthful, woman golfer (wife, mother, friend, former teacher, grandmother) at Brookhill Golf Course, Rantoul, on a beautiful, sunny Thursday, Aug. 6, 2020, who chipped the golf ball in from 58 yards on Hole No. 8, witnessed by three friends?"
I heard about this about a million times yesterday.
Helene Kacich, and I hope she bought a round or two of beers for the entire Brookhill clubhouse after that shot.