Tom's #Mailbag, Feb. 12, 2021
Yes it has been cold and is expected to get even colder this weekend. But some readers are thinking of sunnier times with questions about the upcoming commencement ceremonies at the University of Illinois, the reopening of a local restaurant, a new solar technology being applied at the Sidney Lu Mechanical Engineering Building at the UI, renewable energy sources at the university and Kofi Cockburn's slam dunks.
Spring commencement
"Any word on the University of Illinois holding graduation in May, something in person?"
Nothing yet.
Commencement and convocations are scheduled for May 15 and 16 (the weekend after Mother's Day this year).
"We are still monitoring state and county safety protocols and developing our Commencement plans accordingly. We hope to announce something within the next few weeks," said Urbana campus spokeswoman Robin Kaler.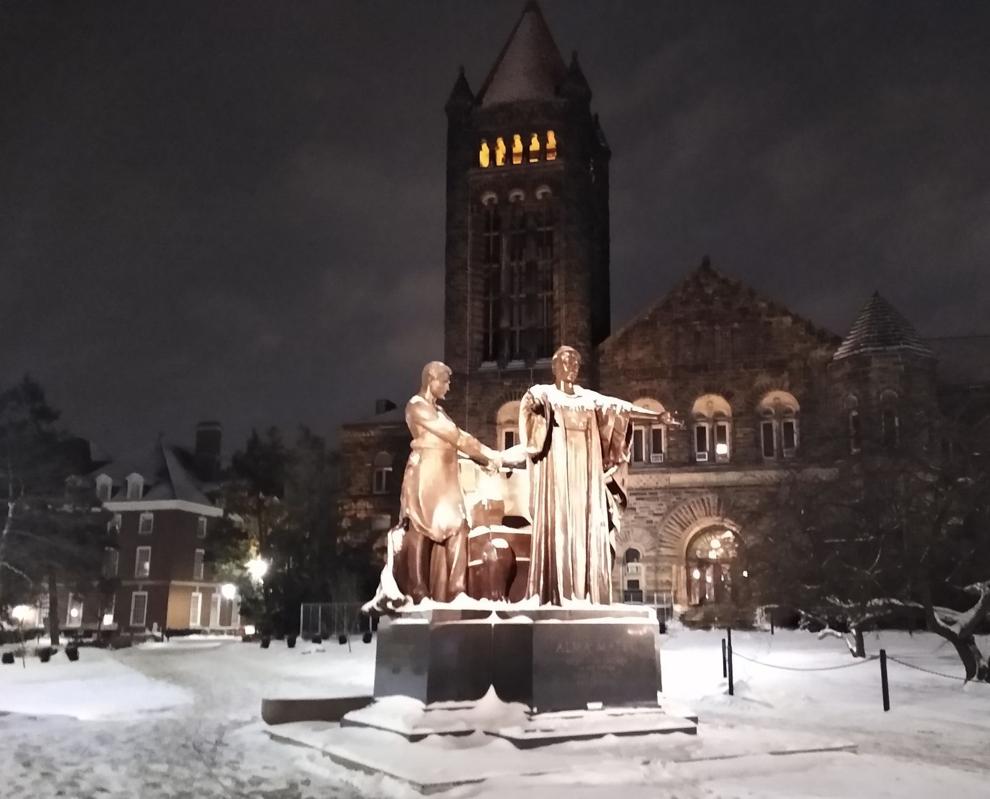 Days below freezing
"It seems like it's been more than a week since it was above freezing. What is the longest period of below-freezing temperatures in Champaign-Urbana?"
Champaign-Urbana temperatures have been below freezing only since late on Feb. 4.
But as you probably know the forecast for through at least next Thursday (Feb. 18) calls for continued frigid temperatures. That would make two weeks of subfreezing temperatures.
But that is nowhere near the record for longest streak of complete days with subfreezing temperatures in Champaign-Urbana: 36, stretching from Dec. 29, 1976, to Feb. 2, 1977.
However, this month so far is tied for second-coldest February in the 133-year history of local weather records. Only February 1905 was colder.
The highest temperature this month has been 37 degrees on Feb. 3. The average high for this date is ... 37 degrees. (By the end of the month the average high is 43 degrees).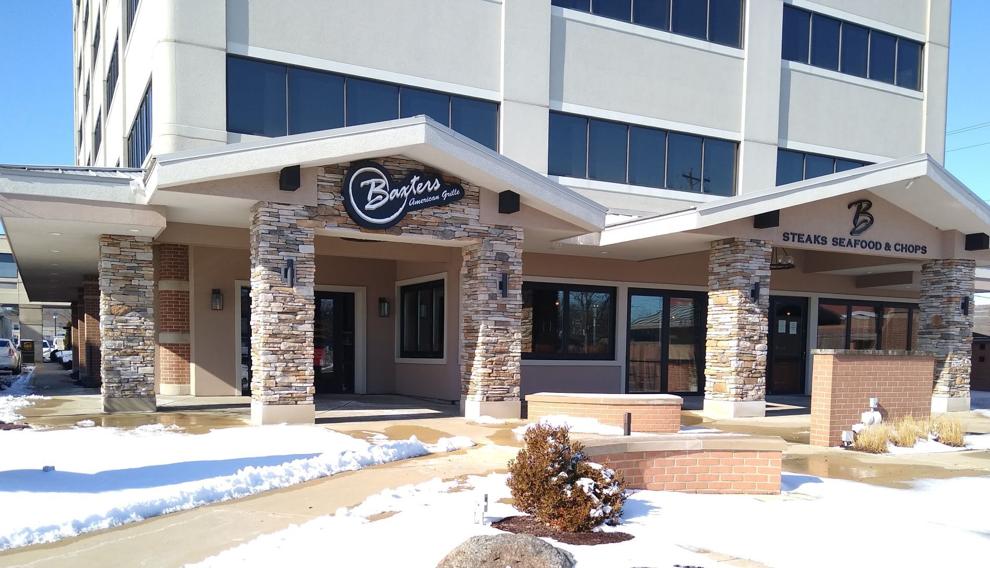 Baxter's Grille reopening
"Just a bit more information about Baxter's American Grille, Champaign. Rod Burchett, an owner of Baxter's, posted on their Facebook page a few days ago that they intend to reopen March 1."
I sent an email to Baxter's website and got this response: "Yes we will be reopening March 1st. Very excited to be back."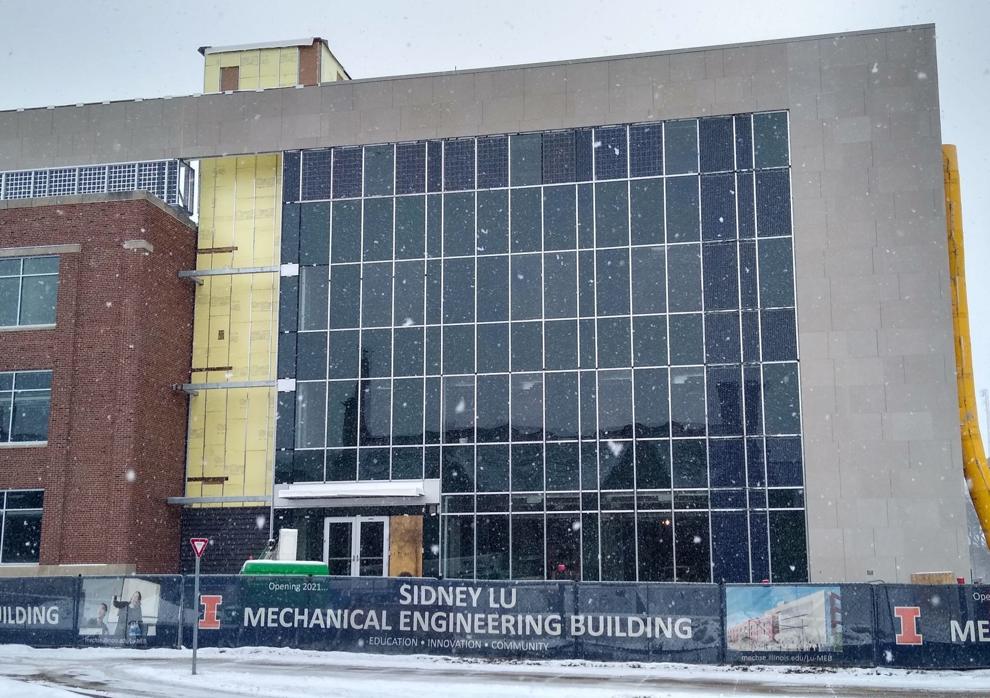 South facade at Lu building
"At the new Sidney Lu Mechanical Engineering Building at the northwest corner of Green and Goodwin, Urbana, the south façade has an intriguing glass — perhaps with embedded solar panels or something like that? What is the product, and what is it's purpose?"
Your answer comes from engineer Damon McFall, director of facilities and operations in Mechanical Science & Enegineering.
"The embedded solar panels are referred to as building integrated photovoltaic (BIPV) panels. This approach utilized on a larger scale can help contribute to the societal goal of achieving net-positive facilities or buildings that produce more energy than they consume," said McFall. "The use of BIPV panels on the Sidney Lu Mechanical Engineering Building will serve as an educational tool for students and faculty to understand the benefits and challenges of integrating solar into the façade of a facility.
"A core imperative for the building was to be a leader in innovation. Thus, the idea to include BIPV was supported by Mechanical Science and Engineering Professor Ty Newell. The project is a first on campus and possibly the only installation of its kind nationally. The state-of-the-art panels have already provided research opportunities to designers, builders, and others.
"The goal is for students, community members, and guests to learn more about BIPV in campus, commercial, and government facilities and pursue building design and construction that meets the International Living Future Institute's Living Building and Community Challenges (Living-Future.org). Once the facility opens this summer, tours will be offered where the public can learn more about the technology."
Trump's salary
"In his letter to the editor (N-G 1/29/21), David Martin states that President Trump 'didn't accept his $1,378,333 in presidential salary over four years,' donating to the Dept. of Health and Human Services, the National Park Service, and combatting the coronavirus. Is this true? Or is there a way to fact check this?"
Various media outlets have reported that Trump did donate his salary for at least his first three years in office.
Here's what Politifact of the Poynter Institute reported: "The Constitution doesn't allow the president to reject his earnings, which originally forced George Washington to accept the first presidential salary, so Trump began donating his salary quarterly in April 2017. The first $100,000 went to the National Park Service, and since then, he has donated to various federal departments.
"Most recently, Trump donated the last two quarters of his 2019 salary and his first quarter of his 2020 salary to the Department of Health and Human Services. The department is working on two issues that Trump designated for the funds: the opioid crisis and COVID-19."
As for his last year in office, there hasn't been any reporting of those four quarters. I have filed a federal Freedom of Information Act request to see if Trump continued the practice but I suspect it will be a long time before I get an answer.
Also, as the Washington Post and others have pointed out, the federal government paid out millions to Trump businesses during his time in office on such things as hotel rooms, conference spaces, alcohol, dinners with foreign dignitaries and Secret Service costs.
Renewable energy at the UI
"How much power is each of the renewable (University of Illinois) sources generating? How many houses can each provide power for? Are there plans to add more than what we currently have? How many years does it take for the cost of each to be paid off? We have a growing interest in this and many homes now also have this."
Morgan White, the UI's associate director of Facilities & Services for sustainability, has all your answers.
As for power generation, she said that the UI's "on-campus solar arrays are now capable of producing over 25,000 megawatt-hours (MWh) per year and we purchase an additional 25,000 MWh/year from an off-campus wind farm in Illinois.
"For a more comprehensive answer:
"The (Illinois Climate Action Plan) 2020, objective 2.3.1 is: 'Use at least 140,000 MWh/year of clean power by FY25.' This objective is about clean power, which is different from clean thermal energy. As of 2020, there are three types of clean power options being pursued or used on campus.
"1. Solar Energy on Campus: installing solar photovoltaic panels on campus property
"2. Wind Energy on Campus: installing wind turbine generators on campus property
"3. Power Purchase Agreements for Clean Energy: purchasing solar or wind power from off-campus
"FYI, Solar Farm 2.0 is projected to produce 20,000,000 kWh/year. It began production at the end of January, so there will only be 5 of 12 months production in the FY21 totals (this current fiscal year)."
As for the number of houses each can provide power for, White said, "At Facilities & Services, we use the US Energy Information Administration (EIA) for the average power use in an American home. It currently says, 'In 2019, the average annual electricity consumption for a U.S. residential utility customer was 10,649 kilowatthours (kWh)."
"Thus, the FY20 clean power use on campus (30,635,993 kWh) was the equivalent of the power needed for 2,876 houses. Once Solar Farm 2.0 is operating for an entire year, that will be about 50,000,000 kWh/year of clean power use on campus, which is the equivalent to the power needed for 4,717 houses."
And about whether more generation will be added, she said: "The recently released Illinois Climate Action Plan 2020 (iCAP 2020) includes a goal for increasing clean power use to 140,000 MWh/year by FY25. We are currently having internal discussions at the University of Illinois about initiating a large off-campus solar power purchase agreement to meet this goal. We are also continuing to pursue clean thermal energy solutions, such as geothermal. Additionally, large construction projects on campus are required by the state law to be LEED certified, and this will often entail the addition of clean energy systems for individual buildings."
The payback period for each of these systems varies widely due to several factors, she said.
"For example, the geothermal system for the Campus Instructional Facility is projected to pay for itself in 28 years, while Solar Farm 2.0 is saving money in year one," said White. "For local projects off-campus these programs are very helpful: the Solar Urbana-Champaign program typically finds solar installations to pay for themselves in six or seven years, and the Geothermal Urbana-Champaign program typically finds a geothermal system at a residential home can pay for itself within 10 years."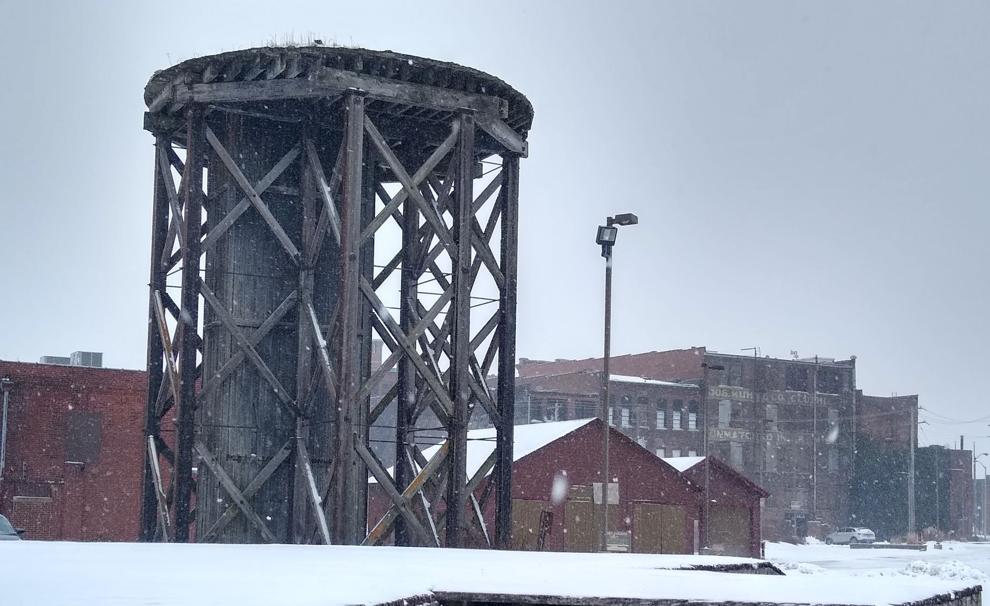 Wooden structure in downtown Champaign
"What is the large wooden platform structure downtown Champaign? Looks like maybe it had a water tower on it in the past but now it looks like it has geese nests."
It was a water tank constructed by the Illinois Central Railroad, mostly for the use of its steam engines. Until about 1915 the IC's roundhouse, repair shops and freight yards were just north of Main Street in downtown Champaign, according to Champaign historian (and city planner) T.J. Blakeman.
Around that time most of the IC's support structures were moved about three miles north, where they still are today, north of Interstate 74.
Blakeman, who also is president of the Champaign County History Museum, said that Dr. William Youngerman, the great-great-grandson of downtown merchant Jos. Kuhn, "has done a fine job preserving these old railroad buildings."
Early film of Urbana
"Per the N-G History column on Sunday Feb 7th, in 1921 the California Moving Picture Company filmed local scenes to be shown at the Colonial Theater in Urbana. Is this available to see today?"
Sadly, no. In fact as readers would learn a few days later in 1921, all of that film was accidentally destroyed in Chicago.
Tom Kuipers, archives assistant at the Champaign County Historical Archives at the Urbana Free Library, said that he doesn't believe the archives has any footage from that period.
"The earliest film we have of Champaign County in the archives that I know of is a short comedy film made by some guys at Chanute Air Force Base in the early 1950s (52' I think)," he said.
"As for early films shot here, there were numerous but no footage is known to have survived. According to Perry Morris, our local theater expert, there was the filming of the municipal Christmas tree in 1915, there were filmed football highlights played at local theaters, and the film 'The City Beyond.' which was done by the News-Gazette and Virginia Theater in 1923, were shot here," said Kuipers.
More on homelessness in C-U
"In the January 29th Mailbag, there was a question on homelessness in Champaign County. Kim (Stanhope) gave a great answer about services for single men and women. I'd also highlight that there is a 35-member consortium in Champaign County — the Champaign County Continuum of Service Providers to the Homeless — which coordinates services for people experiencing homelessness. C-U @ Home is a member, along with the (Regional Planning Commission), Courage Connection, and many others. We do have an Emergency Shelter for Families operated by RPC that can provide services to families experiencing homelessness, and there are other programs as well.
"Folks should always start with calling 211 where the CSPH tries to ensure all of our member agencies keep up to date information about services and how to access them."
Cockburn's dunks
"Have much enjoyed Kofi Cockburn's energetic slam dunks! How many rims and backboards has he injured/broken since stepping foot on campus? Could you have an Illini physics or engineering prof give us some idea of the forces involved?"
Kent Brown, the associate athletic director for media relations, said "Kofi has 'injured or broken' three rims at the Ubben Basketball Practice Facility since he arrived on campus. But I must admit I was worried about the south basket at State Farm Center last Saturday during one of his eight dunks ... which has to be a school record for one game."
As for the physics of a slam dunk, here's a link to a report from Popular Science magazine.
Yawning while asleep?
"After I go to bed, before sleep, I may yawn several times. Do I yawn in my sleep?"
Dr. Daniel Picchietti, a sleep medicine specialist at Carle Foundation Hospital, has some insight:
"Yawning commonly occurs prior to sleep and soon after you wake up. It is a universal human experience and also occurs in most vertebrate species like humans, cats, dogs or horses. However, it almost never occurs during spontaneous sleep.
"There have been many different theories about why we yawn with more or less evidence. Theories like increased brain oxygenation, arousal or cooling of the brain have less validity, however some research points to social communication as a reasoning behind yawning. In many different cultures, it is considered to be a non-verbal sign of sleepiness and boredom, and therefore rudeness. In humans, 'contagious yawning' is common; that is, people often yawn when they see someone else yawn. However, contagious yawning seems to depend on empathy and social competence, and cannot be easily induced in children less than 5 years old."
Panhandling at intersections
"In recent months, I've noticed an increased number of bag ladies panhandling whilst standing or sitting on the concrete curb dividers between lanes at busy intersections in Champaign.
"It seems dangerous to be so close to moving traffic, especially during the winter with snow and ice on the roads. Have the police stopped enforcing the laws against this?"
According to Champaign Police spokesman Tom Yelich, panhandling is no longer a violation of Champaign ordinances after the city council repealed the aggressive panhandling ordinance in March 2019 following a U.S. Supreme Court ruling that changed the ways that cities can regulate speech, including panhandling.
"Essentially, asking for help is protected by the First Amendment and individuals should not be criminalized simply for being in need of assistance," Yelich explained.  "In the interest of public safety, we do have city ordinances to help protect the public from any unsafe behavior, to include standing in driving lanes and disorderly conduct, and these are monitored by police. Especially during inclement weather, it is strongly encouraged for pedestrians to always remain a safe distance from the roadway, and for motorists to maintain a heightened sense of awareness. If we observe any individual putting themselves or others at risk by getting too close to traffic, we will step in to help create a safer environment."
COVID hits Urbana public works
"The city of Urbana mayor and administration have asked for sympathy recently regarding the short staffing of Public Works and the inability to plow snow due to COVID. I am curious to know what HR policies and enforcement measures are in place to ensure social distancing and protect their staff (and taxpayers) from this situation. Seems like this could have been avoided. I would also be curious as to how Urbana's policies differ from those in place in Champaign for Public Works/Operations staff since Champaign doesn't seem to be having these problems. Separate issue (but maybe not) I understand that the previous HR Director for Urbana was never replaced - they absorbed the position into the finance department. Wonderful cost savings measure (which Urbana certainly needs) but perhaps HR is not the place to cut corners, especially in a global pandemic."
Your response comes from Elizabeth Hannan, who is Urbana's human resources and finance director.
"The recent news release was an effort to inform the public that we would not be able to provide our usual high level of service in response to recent snow events," Hannan said. "All City of Urbana employees are required to wear a mask when not in a private space, practice social distancing, and frequently sanitize or wash their hands. An employee's supervisor or manager is responsible for ensuring compliance. In addition, room capacity in conference rooms and common areas has been reduced to allow for appropriate distancing, and most meetings are conducted remotely.
"It is not always possible for employees to maintain six feet of distance, particularly when performing certain tasks. Public Works staff will be reviewing their practices to see if there are additional actions that can be taken to reduce close contact.
"To prevent the spread of COVID, we immediately quarantine employees that may have been exposed at work to avoid spread of the virus. The vast majority of employees who were unavailable to work recently were quarantined and will return to work without testing positive. However, this precaution is necessary to protect other employees in the event they should become COVID positive."
To reduce the spread of COVID at work, Hannn said, Urbana is also implementing rapid COVID testing for all employees to identify asymptomatic individuals who may spread the virus. While that has been a lengthy process, by Feb. 15 all departments will be testing regularly. This should provide additional protection for our staff. (Thanks to C-UPHD staff for their assistance with this.)"
Hannan said that the "reorganization of HR and Finance was not a cost cutting measure — the change was cost-neutral. If anything, it increased resources dedicated to HR because there are now four full-time staff devoted to HR and labor relations, in addition to the department director, who devotes a substantial amount of their time to HR matters. In the past, there were three full-time staff dedicated to HR and an attorney spent part of their time on HR issues."
Those from Champaign County who died in service
"Is there a list somewhere of the veterans of Champaign County who have died in service to their country?"
Every Memorial Day, The News-Gazette runs a list of all servicemen and women from Champaign County who died at war, from World War I through Afghanistan.
Champaign media reports
"I used to read the Champaign Police media report every day it was published. For the past 4-6 weeks it's been unavailable. There is a message at the city website which says: Due to technical difficulties, the CPD media reports portal is currently unavailable. The newspaper and TV stations only post a small fraction of the activity which happens in Champaign on a daily basis. How long does it take to fix a technical difficulty?"
Jeff Hamilton, communications manager for the city of Champaign, has your response:
"Thank you for your interest in the police media reports available on the city's website. The reports were temporarily unavailable due to problems with the computer server used to publish the reports to the public. I'm happy to report that the city's Information Technologies Department was able to implement a new solution and that the media reports are available again on our website."
News-Gazette paywall
"What are 'Premium' articles on News-Gazette.com? As I was reading Tom's Mailbag Feb. 5, I received a notice that I had exceeded the three premium articles allotted me. Guess I will miss the rest of this month's Mailbag."
Yes, there is now a hard paywall at The News-Gazette website, which limits the access of non-subscribers.
"If you don't have a subscription — and they're cheap — it's three articles a month," said Jim Rossow, vice president of news.
There are a few exceptions, including obituaries.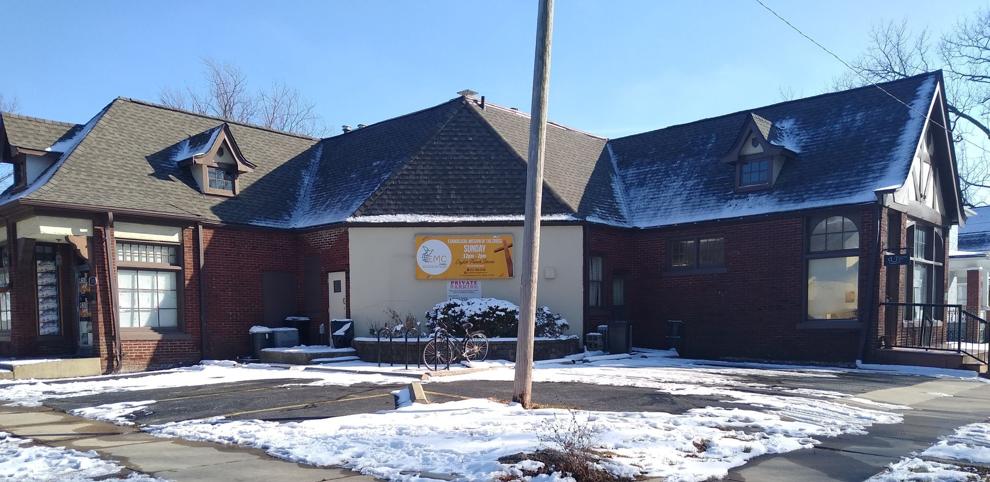 More on Urbana structure
The item last week about the unusual commercial structure at Washington & Race streets in Urbana brought back memories for Roger Francisco, who worked there more than 50 years ago.
"The Washington Street side is where I established a recording studio in the late 60's, when it outgrew my home studio. I sublet it from Bob McCandless, whose photography studio faced Race Street," Francisco recalled. "It grew from recording the band I was in at the time to producing demonstration tapes and records for a lot of local groups (Dan Fogelberg, Marvin Lee, One Eyed Jacks, the Finchley Boys, REO Speedwagon, Candy Foster, All Star Frogs, Bluesweed, to name drop a few). Also produced was a series of live albums for the Red Herring Coffeehouse, and location recordings for many high school band and choral concerts.
"Quickly added was the production of radio and TV sound tracks and music jingles, then corporate video sound tracks in conjunction with local videographers."
Francisco said he passed the studio on to a fellow band member in the mid-1970s when he joined the studio operated by the music group Champaign and also went to work at WICD-TV as news studio crew and weekend weather anchor. He retired from audio/video work in 2016 at the age of 78.