Tom's #Mailbag, July 23, 2021
Submit a question of your very own by clicking here
It's good news week: the Champaign Post Office parking lot is going to get repaired, Li'l Porgy's should reopen by the end of August and the guardians of the Barnhart Prairie may have figured out away around vandalism problems.
Also, how Savoy pairs fire hydrants with streetlights, where Serra Subaru's new cars are hiding, tornadoes in Champaign-Urbana and Little League participation numbers today and 50 years ago.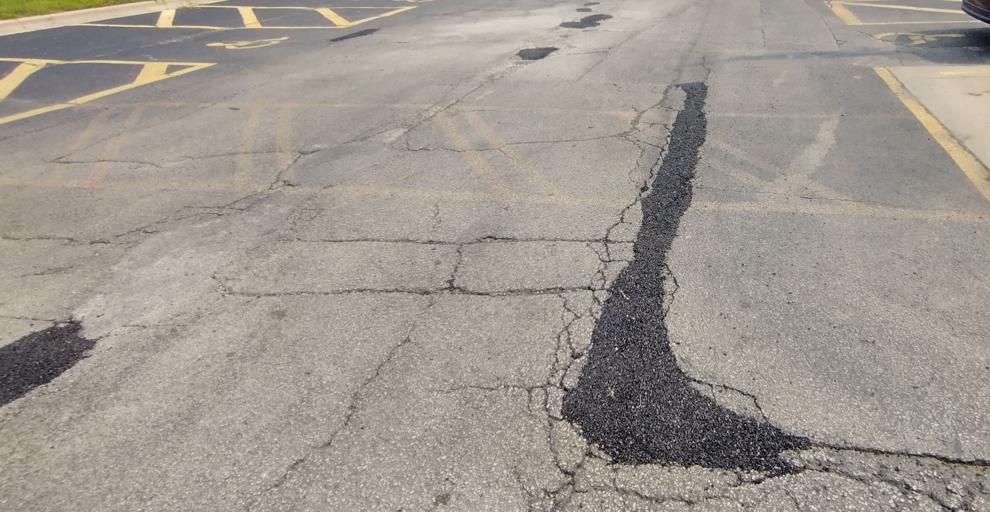 Post office potholes
"Who is responsible for fixing the many potholes in at the Champaign Post Office on Mattis Avenue, the city of Champaign or USPS? When you go to drop off mail you have to dodge the holes in order to get out without damaging your car."
and
"The drive-up lane to the mail drop boxes at the USPS on Mattis Avenue have been in disrepair for quite some time. Currently there is a large pothole directly in front of one of the mailboxes. Are there any plans to have this repaired in the near future?"
Improvements are in order, said Sharrie Johnson, USPS customer relations coordinator for the Illinois 2 District which includes Champaign-Urbana.
"We have begun temporary site repairs as of today 7/20/2021, and expect to be completed by 7/23/2021," said Johnson. "We are also planning to do a complete repaving in the near future."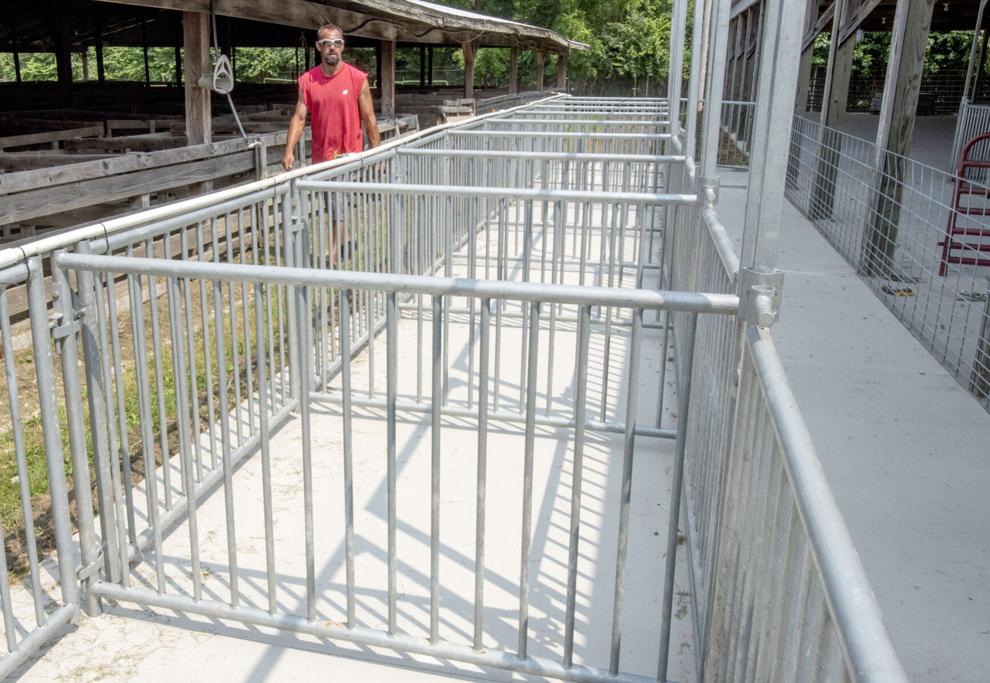 County fairgrounds
"Who owns the Champaign County Fairgrounds in Urbana? Is it actually owned by the county? Does Carle Health pay the county to use the parking lot?"
The 53.4-acre fairgrounds is owned by the Champaign County Fair Association, which is not affiliated with the county government. The association is a registered not-for-profit corporation that was incorporated in 1910. Carle pays the fair association for use of the lot.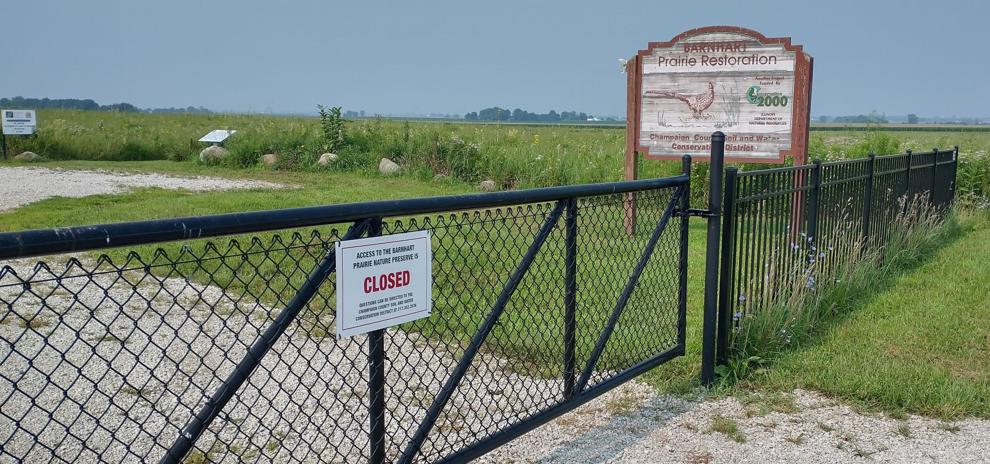 Barnhart Prairie
"Wondering if you can find out any updates on the Barnhart Prairie south of Urbana. We used to enjoy going there but in the last year or so whenever we did, we always found the gate closed. Went by there the other day and it looked like the trails were no longer being maintained. It was always a nice quiet spot and I hope to make it back out there someday."
Amber Barnhart, who is president of the Barnhart Grove Prairie Restoration Project that owns the 100-acre conservation area on Old Church Road, said they've had to change their policy regarding an open area.
"To this reader, a big, warm thank you for being apart of our prairie community," Barnhart said. "We do want to explain why we've been closed as much as we have. In 2020 we dealt wit severe and ongoing vandalism.It was beyond what our volunteers or board of directors could safely manage. It as scary and for the well being of our prairie and the people who manage it, we had no choice but to close.
"The good news is that we have fond a creative way for people to still access our prairie and that is through our membership program. It is easy to apply and then our longtime visitors can still come enjoy the same majestic prairie. Anyone interested in joining (we have a small recommended donation amount but also could be free) can go to httts://barnhartprairie.com/membership. We also have an email address and can field questions at connect@barnhartprairie.co.
"We love well-intentioned visitors, families and researchers alike. We also post our open days on our Facebook page. Our trail and picnic table are waiting."
Olympian Drive
"I enjoy using Olympian Drive as a fast, uncrowded east-west alternative for getting from Urbana to Champaign. I was wondering if there are any plans for enhanced signage at the Lincoln/Olympian Drive intersection in Urbana, and especially if there are plans for lighting there."
"That part of Olympian and Lincoln isn't actually in Urbana city limits but we do have an ordinance that we maintain those sections of those streets," said Shannon Beranek, civil engineer II with the Urbana Public Works Department. "At this time, we don't have plans to do any enhanced signage or lighting near the area."
Green & Goodwin intersection
"At the intersection of Green Street and Goodwin Avenue, looking east, is the right-most lane a turn lane or a bike lane?"
"The eastbound lane of Green and Goodwin intersection is both a turn lane and a bike lane," said Beranek. "The dashed line, colloquially known as 'puppy tracks,' indicate that vehicles may cross over into the bike lane for turning. The reasoning behind this is to help avoid an collision known as a right-hook, which is where a vehicle passes a cyclist on the left and then makes a right turn either hitting the cyclist or causing the cyclist to hit the side of the vehicle due to being too short of time to stop.
"With the dashed line, the standard practice is that if a cyclist is in the lane then a vehicle must merge behind the cyclist to make the turn. If a car has merged over first, checking to make sure no cyclists are already in the lane, then a bike must stay behind the vehicle until it makes its turn."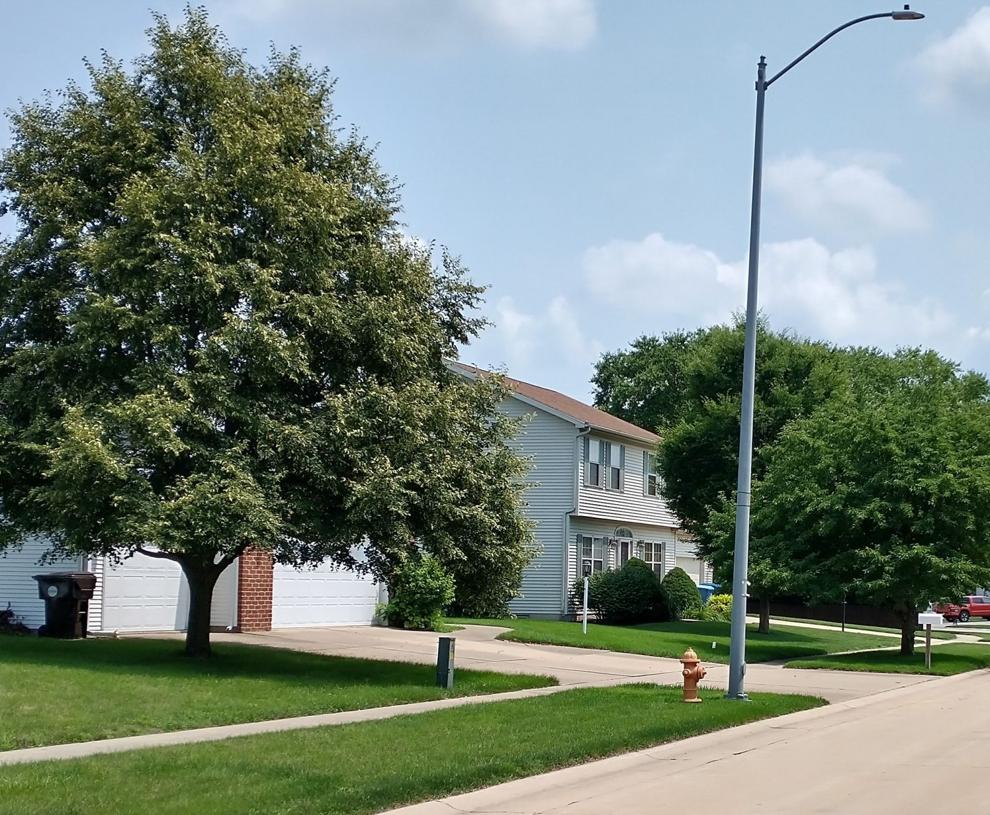 Savoy hydrants
"It seems like there is a street light next to each fire hydrant in Savoy. Is that by design in Savoy? If so, it is quite ingenious. I have not seen that in any other central Illinois town."
That's a sharp observation, dear reader.
"Yes, this was done by design," said Christopher Walton, Savoy's village administrator. "The requirements can be found in the village's subdivision design standards which are located in Title 16, Chapter 16.20, Section 16.20.020(H) of the Village Code. It reads, 'Streetlights are to coordinate with fire hydrant and intersection locations.'
"This was last updated in 2007 but has been in the village code since the early 1980s. I also spoke to Village President (John) Brown, who before taking office was on the village's volunteer fire department. He stated that the goal was to make it easier for firefighters to locate hydrants in emergency situations and to ensure that firefighters could operate in well-lit areas."
Vacant lot
"I'm curious about the vacant land in Urbana near Urbana Estate Apartments. It is bordered by South Smith Road, Rainbow View, East Michigan and Ogelthorpe Avenue. It seems it would be a perfect space for a soccer field or some basketball courts. There are many children in the area who could benefit. Who owns the property and why was it left strangely vacant?"
The property is owned by the Savannah Green Homeowners Association.

Springfield Avenue work
"Springfield Avenue just past the intersection at Duncan & Springfield by Prairie Gardens (west to Bondville) has been barricaded with construction for a few weeks now. I just wanted to know what was being serviced or repaired there, for how much longer it will be and whether it has something to do with the railroad tracks there or something else."
Springfield was closed June 2 for repairs to a bridge over the Copper Slough. The project was expected to take about two months.
Too many rabbits
"There seems to be an overabundance of rabbits in and around my neighborhood (Old Farm). Has there been an explosion of rabbit births this year? They're everywhere and they're decimating many flowering plants. What varieties do they prefer? What plants won't they eat?"
We had a similar question last year and an answer from Samantha Sander, a doctor of veterinary medicine and a clinical assistant professor of zoology at the University of Illinois.
"The rabbit population can fluctuate from year to year and is affected by the presence of predators, availability of food for the adults, and environmental conditions (including temperature and humidity)," said Sander.
She noted that the 2019 Illinois DNR report on the status of cottontail rabbits showed an increase in rabbit populations based on road-kill index (up 11 percent from 2018). But the 2020 IDNR report said that the road-kill index last year was 20 percent lower than 2019 with 1.83 rabbits per 1,000 miles traveled.
"While rabbits can prove themselves to be quite a nuisance in our cultivated backyards, they are an important part of our ecosystem and integral to maintaining the health of our natural spaces. On the bright side, chicken wire fences around gardens and selecting plants less appealing to these species can go a long way to being able to enjoy our outdoor spaces while concurrently allowing rabbits and other species to thrive."
Empty car lot
"Just drove by Serra Subaru in Savoy and the lot is empty! What gives?"
It's not empty. It's just in a different place.
Because of repaving and restriping of the lot south of the dealership and work going on inside the showroom, the Subaru dealership has a temporary sales office in a building behind the Serra Buick GMC dealership and the Thornton's store.
"This is a complete remodel," said Ben Quattrone, managing partner of Serra Champaign.
He said the renovations should be done in about three weeks.

Little League numbers
"I saw in The News-Gazette's 50 years ago section that there were 49 Little League teams in Champaign-Urbana in 1971. I was wondering how many there were this year."
I got an answer from Chris Hundley, president of the Urbana Little League.
He said the Champaign-Urbana Area Little League this year consisted of four different leagues - Champaign East, Champaign West, First String, and Urbana Little League — with 30 teams.
- Three 13-year-old teams
- Eight 11- and 12-year-old teams
- Fourteen 9- and 10-year-old teams
- Fifteen teams for 6- and 8-year-olds
C-U tornadoes
"You've probably answered this many times before, but how many tornadoes have there been in the Champaign-Urbana metro area, say the last 75 years?"
The National Weather Service has a very nice compilation of Champaign County tornadoes between 1950 and 2019.
It shows that there have been 79 tornadoes in the county up to Dec. 31, 2019. Most of them were in rural areas.
But at least 15 struck part of Champaign and at least six struck Urbana.
Only two deaths were caused by Champaign County twisters in the last 71 years (in 1974 and 1996). Sixty-one injuries were reported from the tornadoes, the greatest number being 13 from an F3 tornado that struck Ogden in 1996.
The most intense tornado — as measured by the Fujita scale — was an F4 tornado on March 20, 1976, that the weather service said started in Decatur and traveled 63 miles to near Danville.
It went across Piatt, Champaign and Vermilion counties and caused $2.5 million in damage, mostly in Sadorus and Ogden, and injured 11 people.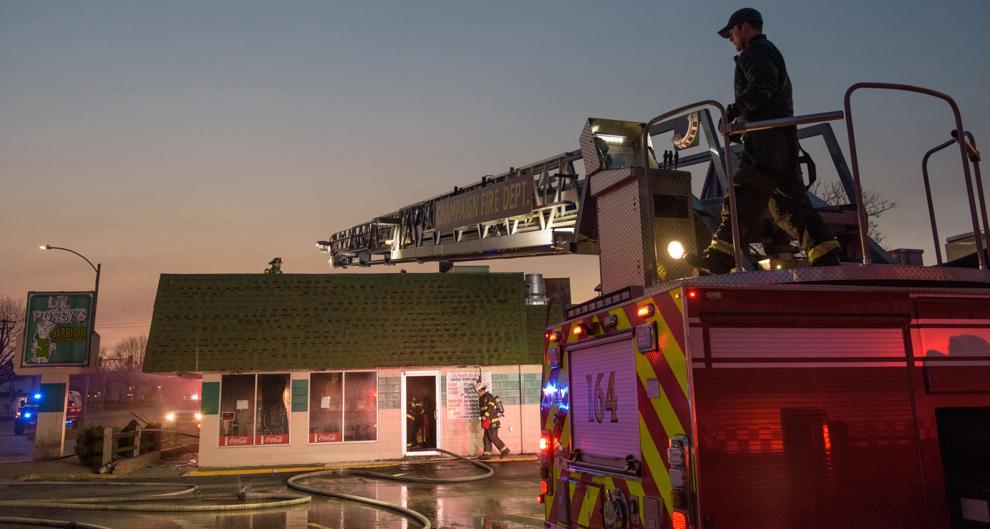 Li'l Porgy's reopening
"When will Li'l Porgy's restaurant in Champaign reopen?"
I talked this week to Kym Enfield, who with her father Bill Van der Wyngaerde owns the business, and she said they hope to reopen in four to six weeks. They recently got a building permit to begin work following a fire on April 3.
Local auto raceway
"There was a small dirt track called the Twin City Speedway that was off of the Dewey-Fisher road. I've found very little information on it. What might you be able to find out about it?"
You're right, there isn't much information on it. The Champaign Motor Speedway, which was seven miles north of Champaign on the Dewey-Fisher Road, was listed only in the 1977 city directory. There were only a few cursory stories in the old Champaign-Urbana Courier about the business, including one from 1975 that quoted owner Bob Greif saying that it lacked a water source. Greif said water was needed to moisten the dirt track and to provide restroom and shower facilities for drivers. He also said that while he had earlier said the track could seat 8,000 spectators its actual capacity was about half that number.
If anyone has any recollections of the speedway, send them to me please.
Unkempt properties
"In regards to the property at 2104 N. Willow Road, Urbana, why the concern over vegetation next to the driveway when the entire lot is a health hazard to residents and children with the animals inhabiting it and spread of disease? Are the laws in unincorporated Champaign County so lax as to allow something like this? And to add to this huge eyesore where housing exists on both sides of the street, you have the rubble from a home two  doors down that exploded this last year and has never been cleared. This is definitely a hazard and a nuisance that attracts scavengers. Surely there is more that John Hall, as the zoning administrator, can do to ensure the safety or nearby residents."
The problem is the county government's narrow regulations covering vegetation management.
"Regarding the vegetation at 2104 N. Willow Road, the only relevant Champaign County regulation is to maintain vegetation within the driveway visibility triangle so as not to obstruct vision and we are following up on that part of the complaint," said John Hall, Champaign County zoning administrator. "Champaign County does not have a landscape maintenance requirement for the rest of the property.
"Regarding the property at 2108 N. Willow Road that was damaged by an explosion on 10/02/20, we have been in contact with the property owner. There was an initial delay on an insurance settlement and it is our understanding that issue has been resolved and the owner hopes to have the property cleaned up soon and we will monitor the progress to make sure it is cleaned up."
Complaint about road project
"Does the Champaign County road commissioner live just south of Monticello Road on Duncan or something? There's a half-mile stretch that is 45 mph and has also been resurfaced at least twice while other sections of the road have not. Just wondering how the decisions to do this sort of work are made, especially since there's a road just north of there (by the radar tower) that is in horrible condition."
This is not a Champaign County project but one by Tolono Township, said Brad Clemmons, the Tolono Township road commissioner.
"The answer to the first question is, no I do not live on Duncan Road," he said. "Duncan Road from Monticello Road south one mile was paved and sealcoated last year. After paving, it must be sealcoated to keep water from infiltration and causing potholes.
"The next two miles of Duncan Road were paved this year and have not been seal coated yet, they are on the schedule to be done as soon as we can get the company back to do it.
"As for who decides what roads get done, that decision rest solely on my shoulders. I would like to explain why these roads where done first. The three miles south of Monticello Road has a large cooperative that not only takes in large amounts of grain but is also a large fertilizer plant with bulk fuel terminal. The amount of larger trucks and large agricultural equipment up and down these roads are very hard on the roads. Rehabbing these three miles first was based on the fact that to fix them now or wait until the road would need a total rehab which would cost double the money.
"Future plans are to pave the two miles north of Monticello Road to Old Church Road. That stretch of road is not perfect by any means but nowhere near in terrible condition. Now, as for Airport Road that dead-ends into the airport. Yes, that road is in need of a major rehab and will be done as soon as the construction of the airport runways is completed."
Clemmons added that "we can only complete as much road work that our budget allows us to complete."