Submit your questions by clicking here
Lots of complaints to the mailbag this week. I'll chalk it up to COVID-19. But if people are this cranky now, how bad is it going to be in December?
Items this week on the looting at Market Place, loud noises heard near downtown Champaign, the return of the weather radio station, geese at Japan House, the Kickapoo Rail Trail, Champaign picnic parks and that bald eagle family near Savoy.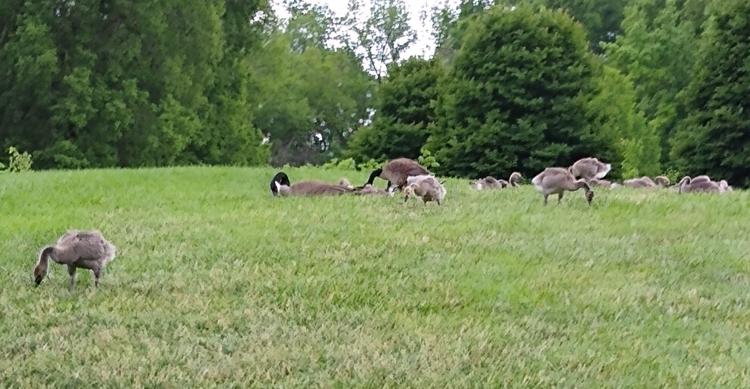 Geese gone?
"I was walking at the Japan House and noticed lots of goose droppings but no geese. Have they moved the geese? I hope so."
Hours after I got this question I hurried over to the University of Illinois Arboretum grounds in hopes of seeing no geese. No luck. There are plenty of the guano machines at Japan House, including many goslings.
There is virtually no place in East Central Illinois near a body of water where they cannot be found.
New street surface
"Springfield Avenue from Lincoln Avenue eastward in Urbana is in pretty rough shape. Are there plans to resurface it soon?"
Reconstruction of the Springfield-Lincoln intersection is in the current year's city budget in Urbana. "We may start the project this fall, but the paving itself won't happen until next year," said Urbana City Administrator Carol Mitten. "We are looking forward to getting started on the Lincoln/Springfield project, but we want to complete the MCORE Phase 5 work first."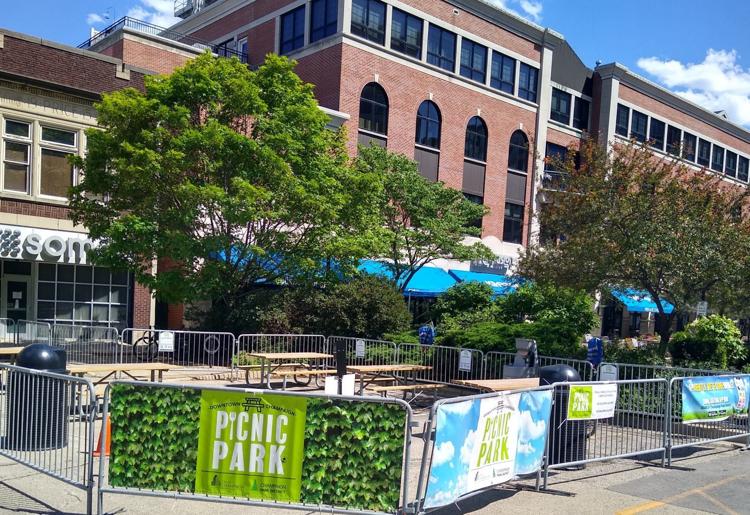 Picnic parks
"I noticed that downtown Champaign has new areas sectioned off with picnic tables and signs identifying them as 'Picnic Parks.' What are these areas for?"
Rob Kowalski, the assistant planning & development director in Champaign, has your answer.
"The city of Champaign and the Champaign Park District have partnered to provide three picnic parks in downtown where anyone can grab carryout from local restaurants and have their own picnic. They are open to the public to use and enjoy. The idea was to help downtown restaurants who were allowed to have outdoor dining last month but obviously aren't able to take as many customers as normal. Carry-out has been very popular for the last two months so this is an invitation to the community to carry-out and still enjoy it in downtown.
"The three picnic parks are located at Chester Street, just east of Walnut, Park Avenue just west of Neil and at the north end of the One Main Plaza in the parking lot where the Farmer's Market is held. They are open daily from 11 a.m. to 2 p.m. and 5 p.m. to 9 p.m. They are equipped with amenities for keeping hands and surfaces clean and the table are spaced at least 6 feet apart. The spaces are monitored by park district staff daily and right now alcohol is not permitted. The picnic parks will be up all summer as an amenity to the community as restaurants are gradually permitted to open with the Restore Illinois plan."
County property complaint I
"A few weeks ago you answered an inquiry about unkempt property on Route 45. My question applies to a different property. Right off of Market Street on Paul. It is the first property on the north side and 'wow' is the only way to describe it. We pass it on our way to the recycling center and always wonder why something isn't being done. Any answers?"
This property is in the distressed Wilber Heights neighborhood, just outside the city of Champaign.
"This is an eyesore that we tried to get cleaned up back in 2015 but then our efforts got diverted to bigger problems," said John Hall, director of the county's Department of Planning and Zoning. "We will have to restart efforts to get this property cleaned up."
County property complaint II
"The property at 2104 Willow Road in Urbana has been overrun for 15 years at a minimum. It's a real eyesore and I can only imagine what times of critters have taken over in this residential neighborhood. You can no longer see the house, just the garages. Why hasn't something been done? The mailbox is wired shut."
Hall said he had not received any complaints about the property until now and "so we will inspect."
At the end of 2019, Hall said, his department had approximately 413 open complaints/ cases.
"Some of those have been contacted but most have not. We cannot keep current on all complaints," he admitted. "We prioritize the properties that we take time to deal with."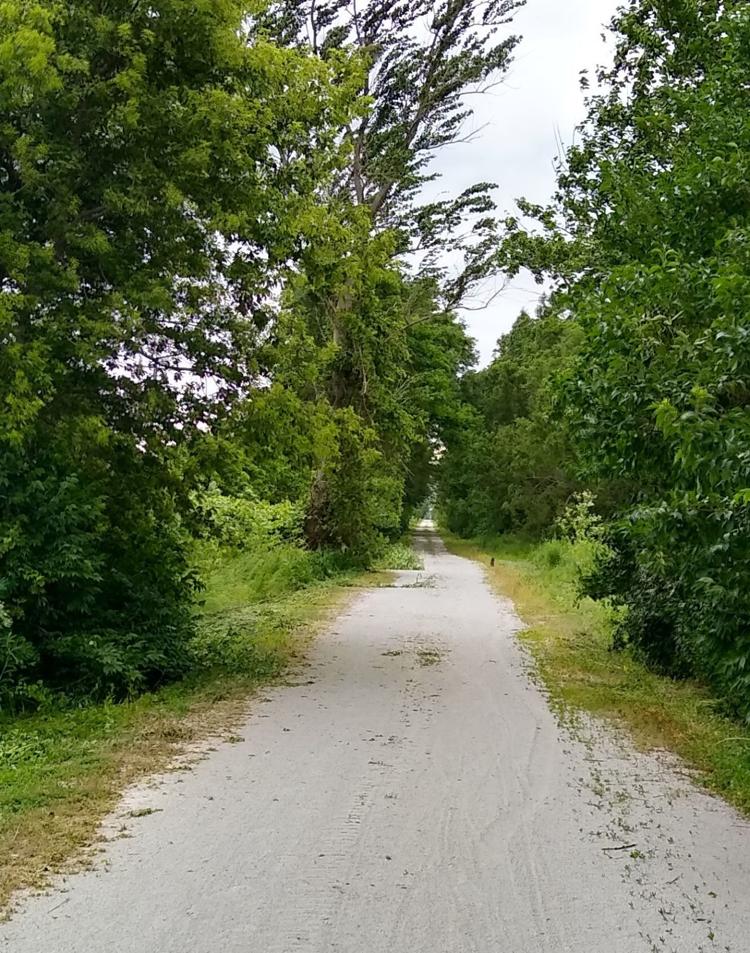 Rail trail complaint
"Who maintains the rail trail? The vegetation is so huge and hangs over the trail making it impossible in places to maintain social distance walking or biking."
"In Champaign County, the Kickapoo Rail Trail is maintained through the efforts of two Champaign County Forest Preserve District departments," said forest preserve district Executive Director Mary Ellen Wuellner. "The Homer Lake Forest Preserve operations department is responsible for the trail infrastructure, including maintaining signs, surface, and fencing.
"The natural resources department works to enhance and expand the natural areas along the trail. There are pockets of good quality remnant prairie and savanna along the trail corridor, and these will be improved over the next several years. The vegetation at the edge of the trail can fall into either category, as the Homer Lake crew mows to maintain the trail edging and the natural resources crew manages invasive plant species in this area. We also utilize trained volunteers to help with trail maintenance and upkeep.
"Staff crews will be working to manage trail vegetation over the next several weeks. Keep in mind, we are a small staff and we do our best to keep ahead of the mowing and trimming of rapidly growing vegetation in all preserve user areas and trails. We appreciate visitor input and observations. Thanks to your reader for writing in and for practicing good social distancing on the KRT."
Weather radio complaint
"I used to listen to my weather radio and even gave them as gifts, but should I just recycle or will they ever work again?"
Hold on, said Chris Miller, the warning coordination meteorologist at the National Weather Service office in Lincoln.
"In response to the question you have in the mailbag - will the weather radio ever work again? The answer is YES. It will be working again and we are planning on it working again soon," he said. "Earlier this year (February) the weather radio was removed from service because of frequent equipment failures and an issue with the tower the antenna was located on. We were told by the tower owner to remove our equipment and find another tower because they had other plans for the tower and associated land.
"At that time, we alerted the public, emergency management officials, and local media that it could be off the air for up to six months while we searched for a tower that had the proper specifications.
"Four and half months later, we have identified a new tower location, and are waiting for lease agreements to be finalized by NOAA headquarters. Once a lease agreement is in place, we will install the transmitter and antenna, and begin system testing to ensure the associated signal is performing at an optimal level. We are expecting this will occur in the next four to six weeks.
"The length of the outage was not related to COVID, but was a normal delay when suddenly having to find a new location that has all of the proper requirements to provide the same level of service. Delays like this in other parts of the country have lasted much longer (up to two years at times), so we are happy that we will be able to get the weather radio back on the air this summer. We definitely appreciate everyone's patience. We have worked with the highest levels of our agency to rectify this situation. We have also been in contact with Congressman Rodney Davis' office to address their concerns and those of their constituents. NOAA Weather Radio service will be returning to Champaign and surrounding counties soon."
Stoplight complaint
"Why doesn't the left lane turn arrow work at the intersection of northbound Neil Street and Kenyon Road?"
"Thanks for letting us know," said Kris Koester, spokesman for the Champaign Publc Works Department. "After testing the northbound left turn we found a problem with the loop detection that activates the left turn signal. We have repaired the detection and the light is working again."
Case v. former Boy Scout leader
"What is the status of the legal case against former Troop 7 Scoutmaster Milton Forsberg? Can you provide contact information for persons who may have relevant information?"
One of Forsberg's representatives is Urbana attorney Steve Beckett.
"All Federal Court cases have experienced delay due to the COVID-19 virus," said Beckett. "Mr. Forsberg's case was continued most recently by general orders of the court.  It is set for pre-trial on July 31 and trial on Aug. 10."
Questions about Democrats
"What is the status of the shoplifting case against (state Rep.) Carol Ammons and why is it taking so long to resolve?
"Second, when former Gov. Rod Blogojevich was sentenced to prison, his wife, Patti was also given a prison sentence due to her part in their criminal activities. However, the judge allowed her to serve her sentence after her husband's was completed so she could stay home to raise their two daughters. Now that the president has pardoned Blogojevich, why isn't she in prison? Was she pardoned as well."
The incident involving Rep. Ammons occurred Jan. 7 and was turned over to the Office of the State's Attorney Appellate Prosecutor in Springfield in late January. It's been there since with no word on a resolution. But as we pointed out earlier this year, some cases that get to the appellate prosecutor's office can take more than a year to investigate.
Regarding the second question you are confusing Patti Blagojevich (who was never arrested) with Sandi Jackson (the former wife of former U.S. Rep. Jesse Jackson Jr.), who was arrested. Sandi Jackson served a year in federal prison.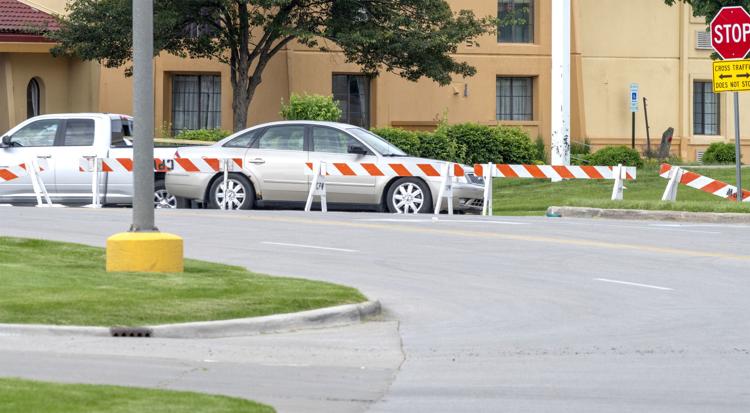 Market Place looting
"I understand the law enforcement knew of the planned riot at Market Place. Why wasn't police presence at the Mall before the 3 p.m. scheduled event? They sure would have saved a lot of destruction."
Champaign Police spokesman Tom Yelich said police had a presence at Market Place with undercover and plainclothes officers at the scene to monitor the situation.
"The group of individuals who had arrived in the parking lot were legally gathered in the parking lot. We made every attempt to provide them the opportunity to lawfully and peacefully protest by affording them the space and respect to do so," he said. "Unfortunately there was never a peaceful protest. It went from a group of individuals gathering together in the parking lot and immediately breaking out windows and looting merchandise. It went from zero to 60 pretty quickly."
Once the looting started, he said that police responded to de-escalate the situation and "protect area businesses from being looted."
Yelich said the entire police force was mobilized and that officers from Urbana, the University of Illinois, Parkland College, Mahomet Police, U.S Marshals, the Champaign County Sheriff's office, the Illinois State Police and conservation police responded.
"We had people going to different parts of the city," he said. "We were staged. We had an immediate response team prepared in the event that this happened. That's how we were able to begin securing businesses immediately."
Yelich said he believes police prevented further looting.
"A lot of businesses were damaged but I think the quick response by Champaign police and all the supporting agencies helped make this incident not nearly as significant as it could have been," he said.
Police are alerted frequently to rumors on social media, he said.
"We look into every rumor, especially if it's one that may jeopardize property or put people at risk," he said. "But the truth is that the majority of rumors we see on social media amount to nothing.
"Like there are a lot of rumors about buses (of troublemakers) coming down from Chicago and people are going to start going into residential neighborhoods. We put something out on social media that we knew there was concern but that we don't fine these rumors credible."
More than 50 businesses were damaged in the looting, he said. If others were affected they should notify the Champaign Police Department.
"There might be some that haven't reached out to us still and we'd like to hear from them. We'd like to check their surveillance cameras and track the damage however we can," he said. "It's fair to say the investigation is still active and ongoing."
Golden Corral
"With the likely demise of buffets because of COVID-19 concerns are you going to miss the regular queries about Golden Corral coming to town?"
No.
But don't bury the GC yet. They're adjusting.
"We have developed new service models to comply with variations in state and local guidelines," the company said. "We are prepared to temporarily provide our guests an enjoyable Golden Corral experience delivered in new ways, including cafeteria-style, where we serve you on our buffet lines, or family style, where our serves bring you an endless buffet of Golden Corral favorites to your table."
On the company's website it shows that most of its restaurants have moved to cafeteria-style, with 11 including Terre Haute, Ind., doing family style, about 40 doing buffet and about 25 operating only to-go, including all eight Golden Corrals in Illinois.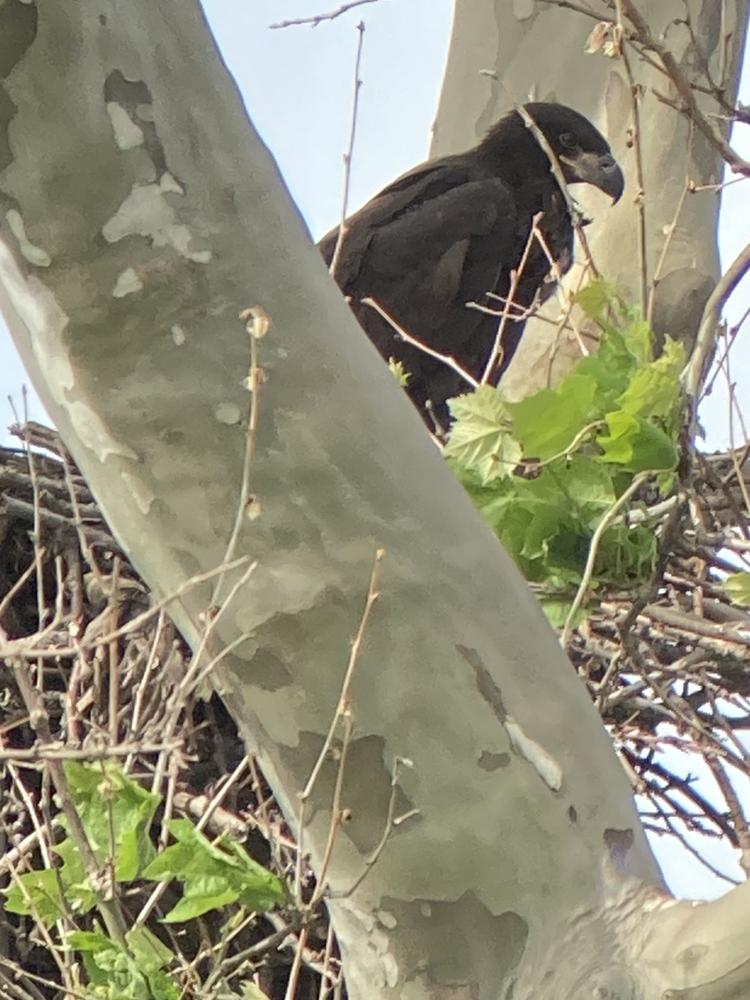 Bald eagle update
We got photos and an update from avian ecologist Jeff Hoover of the Illinois Natural History Survey about the bald eagle family in a tree on the west side of Savoy."Here are a couple images I took today with iPhone through spotting scope. One image is the 'baby' eagle which is now 2/3-3/4 adult size. The other is one of the adults perched nearby."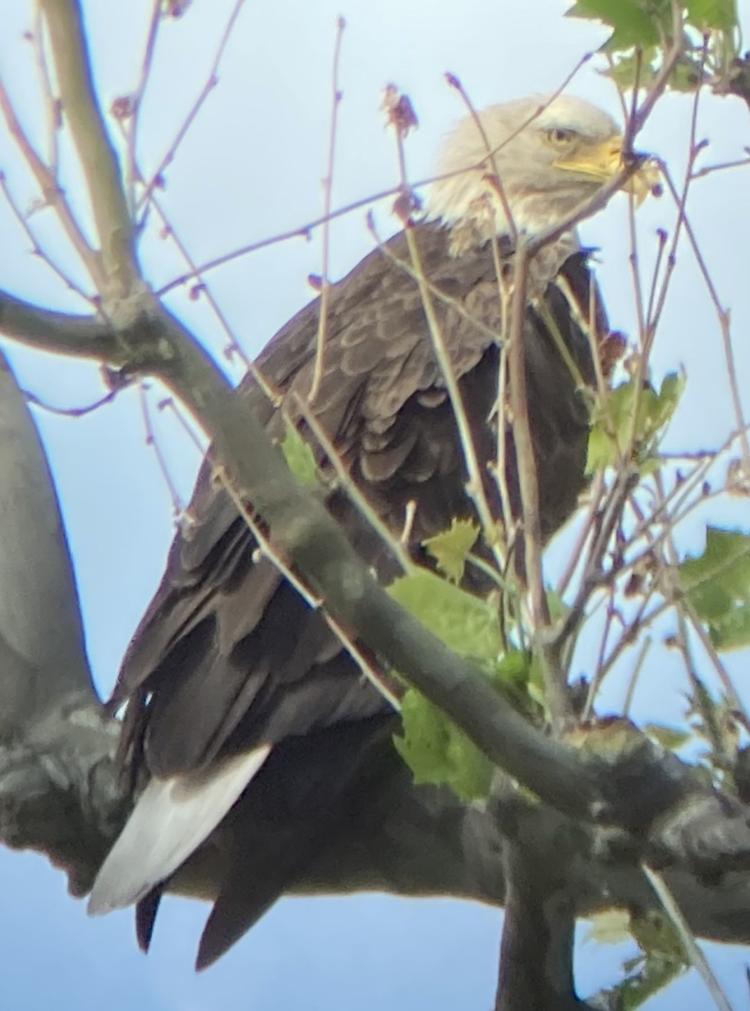 Boomtown
"I wondered if anybody's figured out what's been causing the extremely loud booms near downtown Champaign over the past couple of weeks. They seem to happen at most hours of the day, so construction-related activity seems unlikely. Multiple people have asked about these and I can't seem to find any reports in the news, Twitter or police scanner. A few have definitely been fireworks and were reported as such on the scanner, but radio silence for the big booms."
I checked with both the METCAD 911 system and the Champaign Fire Department and both said they had received no calls about a "loud boom" near downtown Champaign.
COVID modeling
"Do doctors still feel like there will be a COVID uptick again this fall?"
Yes. A model by the Institute for Health Metrics and Evaluation at the University of Washington School of Medicine shows the U.S. death toll could reach 169,890 by Oct. 1. That model shows a second wave of fatal infections, with deaths from the virus falling in July and August before rising sharply at the end of September and worsening through the fall.
Here's a link to the Centers for Disease Control and the various projections of COVID deaths ...
John Hopkins University today was reporting 113,899 deaths in the United States.
We have developed new service models to comply with variations in state and local guidelines. We are prepared to temporarily provide our guests an enjoyable Golden Corral experience delivered in new ways, including cafeteria-style, where we serve you on our buffet lines, or family-style, where our servers bring an endless buffet of Golden Corral favorites to your table.
We have developed new service models to comply with variations in state and local guidelines. We are prepared to temporarily provide our guests an enjoyable Golden Corral experience delivered in new ways, including cafeteria-style, where we serve you on our buffet lines, or family-style, where our servers bring an endless buffet of Golden Corral favorites to your table.