Tom's #Mailbag, June 17, 2022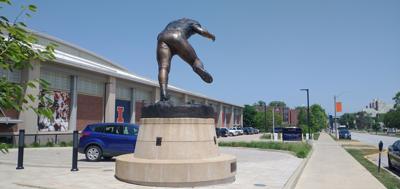 Drop questions into the 'Bag by clicking here
Questions this week about illegal parking in Campustown, the most popular specialty license plates in Illinois, a cluttered yard in Champaign, 100-degree temperatures and the Dick Butkus statue.
Also, the top addresses in Champaign County for METCAD "calls for service," Urbana-Champaign versus Champaign-Urbana, radio station interference and planned developments in Rantoul.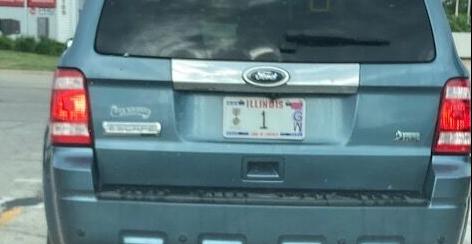 No. 1 license plate
"I was recently at the intersection of Neil and Devonshire when I noticed the license plate in front of me was Illinois plate '1.' I am not a local resident, but in other states this is typically reserved for the governor, a U.S. senator or the like.
"With all due respect, this vehicle just doesn't seem to fit the profile of that type of position. The plate appears to be military series and perhaps Illinois allows multiple use of the same number across different license plate types, but that would seem to be problematic. Any thoughts here or was I in fact behind J.B.?"
You were not behind Gov. J.B. Pritzker. First, the car you were behind had a "military series" plate, not a regular passenger automobile plate. Second, Pritzker doesn't even have regular passenger car license No. 1, said Henry Haupt of the Illinois Secretary of State's office.
Unfortunately, he said, the federal Drivers Privacy Protection Act prevents the secretary of state's office from releasing identities of those with the No. 1 license plates (regular or any specialty varieties) because the request is not traffic or public safety related.
What Haupt was able to tell us, though, is that Illinois has more than 7 million passenger license plates. And there are more than 130 specialty plates that have been authorized by the Illinois General Assembly — including military and collegiate series plates — in Illinois. Here's where to see a complete list.
The top five most popular specialty license plates are:
— Illinois Fire Fighters (31,555)
— Environmental (which features artwork of a cardinal, 24,738)
— Chicago White Sox (24,711)
— Chicago Blackhawks (18,820)
— U.S. Veterans (17,017)
Regarding other professional sports teams with Illinois specialty plates:
— Chicago Cubs (13,577)
— Chicago Bears (8,829)
— St. Louis Cardinals (3,859)
— Chicago Bulls (3,832)
There is, sadly, no Illinois license plate for the St. Louis Blues.
Green Street 'nightmare'
"The city of Champaign re-striped Green Street in Campustown a few months back saying it was to curb unattended vehicles being left in the turn lane. Going down Green on a Wednesday afternoon around 12:30 six cars between 5th and Wright streets sitting in bike lane or westbound lanes with flashers on, causing bike riders to swerve into traffic to avoid parked cars. Can the city do something actionable to solve this traffic nightmare?"
"Your reader is correct that individuals parking in bike lanes along Green Street are doing so illegally," said Champaign Police Patrol Lt. Andre Davis. "The Champaign Police Department and Public Works Parking Division work to proactively police illegal parking throughout the city, but it requires assistance from concerned residents. In this case, a call to our non-emergency line at (217) 333-8911 will notify officers of the need to respond and potentially cite a driver committing a parking offense.
"Proactive patrols occur in this area throughout the day and night, but more pressing calls for service often trump the ability for an officer to stay in one place, waiting for parking offenses for too long.
"Additional assistance in cases such as this will be coming soon as the Campus Police Services Agreement between the city of Champaign and University of Illinois will take effect on Oct. 1. This agreement will allow (University of Illinois Police Department) officers to respond to these quality-of-life concerns inside the Campustown area for an initial period of two years."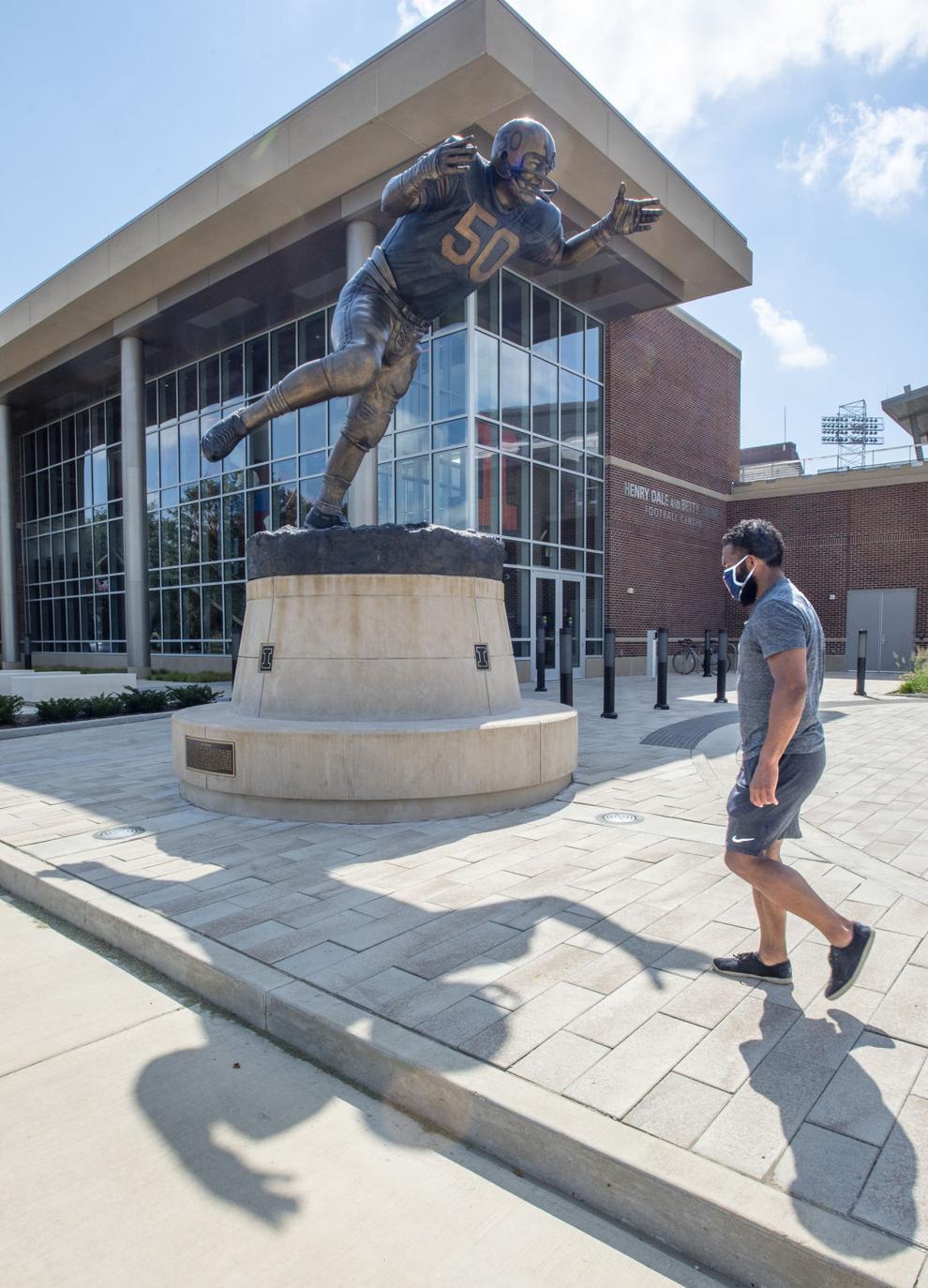 Moving Butkus?
"Has the (the University of Illinois Division of Intercollegiate Athletics) considered moving the Dick Butkus statue over to the west side of the stadium close to the Red Grange statue? I feel no one sees Dick and it is disrespectful in my opinion."
"There are no plans to move the Butkus Statue to the west side of Memorial Stadium. It was placed at the main entrance to the Smith Football Performance Center purposefully to be an inspiration for Fighting Illini players as they enter the facility each day," said Kent Brown, associate athletic director at the UI. "In fact, I would say it is more visible and accessible at the location right next to Fourth Street rather than next to the stadium.
"I see people getting their photos taken at the statue almost every day."
Radio station interference
"Why is there so much radio channel interference near the intersection of Neil Street and Windsor Road? It is almost impossible to get good reception in a wide radius around that area."
"Neil and Windsor is the transmitter site for WDWS/WHMS, and a couple of blocks to the east on Windsor the WILL-AM transmitter site," explained Mike Haile, the retired general manager of WDWS, WHMS and WKIO, but still rockin' it as "Mike in the Morning."
"When those sites were selected in the 40s by each respective broadcaster, it was out in the middle of nowhere, no development around. Eventually Champaign grew south and Savoy north. Any interference can attributed to the quality of the receiver."
Urbana-Champaign vs. Champaign-Urbana
"Most local businesses refer to the area as Champaign-Urbana or C-U, yet the University is at 'Urbana-Champaign.' What's up with that?"
We've answered this question before but this time we're going to rely on an August 2011 research piece by University of Illinois archivists William Maher and Bryan Whitledge.
No single document or an official statement neatly designated the university campus in Champaign County as the University of Illinois at Urbana-Champaign, they determined.
"Although virtually the entire campus was located within the boundaries of Urbana, from the first days of the University print and correspondence materials inconsistently used either 'Urbana' (more common) or 'Champaign' (less common) for the postal designation," wrote Maher and Whitledge. "When President Edmund J. James arrived in 1904, he immediately launched plans to raise the University's national and international prominence, initiating many efforts to strengthen programs, build new research programs, and institutes or formalize departments. While many publications issued by the University continued to list the place of publication as simply 'Urbana, Illinois,' University correspondence issued after 1905 increasingly bore the location of 'Urbana-Champaign' on the letterhead.
"The exact reason is not entirely clear, but one factor may have been that to receive free mailing benefits, postal regulations needed the University to dedicate one address as being its official the address. In late summer and early fall of 1906, the Champaign Chamber of Commerce and other citizens of Champaign had taken issue with the University being designated as being solely in Urbana. Consequently, the issue became a topic of discussion in the editorial and letters columns of the local newspapers with many Champaign boosters arguing that Champaign should be included in the name as well. Urbana boosters retorted that if the bulk of the University (if not all of it) rested in Urbana, then the address on letters should list only 'Urbana.' (Urbana Courier, Sept. 6, 1906, p. 4, col. 1; Oct. 19, 1906, p. 4, col. 2). The Urbana Commercial Club petitioned the Board of Trustees to reject the Champaign Chamber's request, advancing arguments similar to those voiced in the Courier.
"The request was discussed before the Board of Trustees in September of 1906 and was referred to a special committee consisting of President of the Board, President James, and Mrs. Busey. The issue does not appear to have been discussed formally by the board again, but soon after it had been referred to the committee, letters sent from the office of the president carried 'Urbana-Champaign' in the dateline."
In the media as well, "Urbana-Champaign" was used to designate the campus, according to Maher and Whitledge.
"The Chicago Tribune used the term as early as Jan. 5, 1913 to identify Eugene Davenport, Dean of the College of Agriculture, 'a department of the state university at Urbana-Champaign' (Chicago Tribune, January 5, 1913, p. 6). The Daily Illini used the term as early as 1938 to refer to the enrollment numbers of the different University units (Daily Illini, February 13, 1938, p. 1 col. 6)," they noted.
The name "University of Illinois at Urbana-Champaign" was not formally codified until the 1960s, they said.
Bridge work
"What is the anticipated completion date for the bridge deck on County Road 20 (Royal Road) just west of St. Joseph Road (2200E)? Also, as we travel the country road to get around the bridge, we are seeing more construction and road closed signs. Is there a website that lists these road closures and updates for Champaign County roads?"
"The bridge should be open this week, but now we are doing a recycle and overlay on the same road," said Champaign County Engineer Jeff Blue. "It is open during that project with flaggers controlling the traffic."
Blue said there is no website that provides information about road closures but that he sends out press releases on every job the county highway department undertakes.
METCAD calls for service
"Can you find out how many times during the 180 school days for Urbana, Central and Centennial high schools METCAD was called for emergency vehicles (police or ambulance) to assist at those locations since the school districts like to cover fights and other things up from the newspaper & TV. Parents would like to know how safe it is at the schools."
"In order for us to get you accurate data, we first established a date range. The typical school year runs from somewhere around the first week of August through the end of May, so Aug. 1, 2021 to May 31, 2022 was the date range that was used in this data search," said Jeffrey Wooten, deputy director of the METCAD 911 service. "We then filtered our call types that fall outside of the scope of the reader's inquiry, things like foot patrol, traffic stops and other officer initiated activities. The results are as follows:
— Centennial High School had 128 Calls for Service (ranked 29)
— Champaign Central High School had 79 Calls for Service (ranked 56)
— Urbana High School had 52 Calls for Service (Ranked 97)
Separately I asked METCAD for a list of the top 20 locations for Calls for Service during the same period. Here's that list:
1. 82 E. University Ave., Champaign (Champaign police station)
2. 45 E. University Ave., Champaign (Illinois Terminal building)
3. 502 S. Lierman Ave., Urbana (Champaign County satellite jail)
4. 1401 W Green St., Urbana (Illini Union)
5. 109 E. Grove Ave., Rantoul (Rantoul police station)
6. 2610 N. Prospect Ave., Champaign (Walmart Supercenter)
7. 100 S. High Cross Road, Urbana (Walmart Supercenter)
8. 2000 N. Neil St., Champaign (Market Place Shopping Center)
9. 602 W. University Ave., Urbana (Carle Foundation Hospital)
10. 400 S. Vine St., Urbana (Urbana City Building)
11. 108 W. Washington St., Champaign (Washington Square Apartments)
12. 1 Main St., Champaign (One Main Building and plaza)
13. 70 E. Washington St., Champaign (C-U At Home shelter)
14. 845 Broadmeadow Road, Rantoul (Walmart Supercenter)
15. 809 W. Church St., Champaign (The Pavilion)
16. 204 E. Main St., Urbana (Champaign County Sheriff's Office and downtown jail)
17. 500 block Randolph St., Mahomet (Candlewood Estates mobile home park)
18. 211 E. Green St., Champaign (The Red Lion bar)
19. 1200 S. Vine St., Urbana (Vinewood Apartments)
20. 505 S. Dunlap Ave., Savoy (Walmart Supercenter)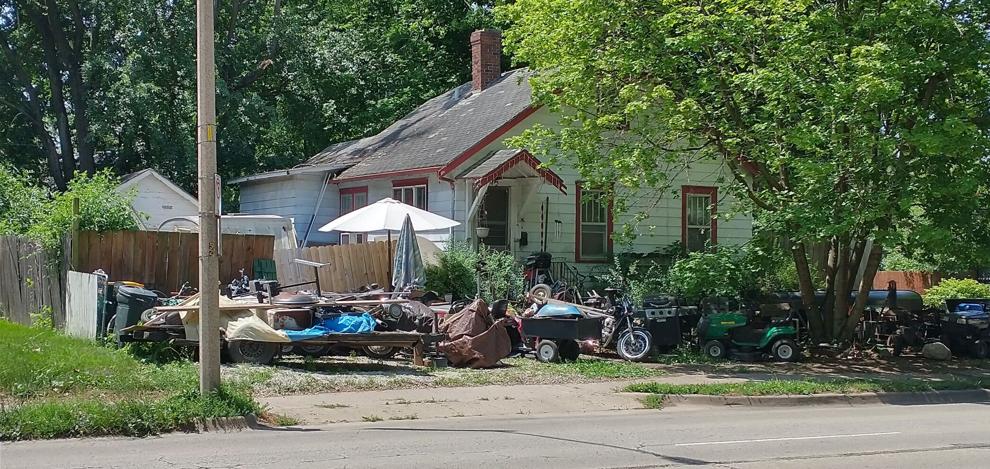 Cluttered property
"There is a property at 503 W. Bradley Ave., Champaign, which looks like a junk yard. There are vehicles, lawn mowers and who knows what else parked in the driveway and all over the front yard. I notified Neighborhood Services nuisance property and selected the option to be notified of the results. I've heard nothing and the amount of stuff seems to have grown. There are rules about what and where you can store things on your property and I doubt what they are doing is within the rules. What gives?"
"I can understand the frustration your reader has with this property. Neighborhood Services Department has had a series of cases at this property," said Tim Spear, code compliance manager for Champaign's Neighborhood Services Department. "In the previous cases, the resident has done enough to meet our minimum standard for the property. The city does not have a requirement for how many lawn mowers are allowed at a property or where lawn mowers can be stored.
"There is currently an active case on the property for inoperable vehicles and refuse / improper outdoor storage. If it is determined that the resident is operating a business out of the property, then more requirements may be applicable.
"I looked back at the most recent case on this property from March 2022. I do see that a follow up phone call was requested. Our customer service model in Neighborhood Services is to provide updates in a timely manner to anyone that requests a follow up on a complaint. I apologize if there was any miscommunication or lack of communication from our staff. If your reader or anyone has a concern that their complaint is not being addressed, I encourage them to contact me. I will look into the concern and I will follow up with more information."
Spear offered his phone number and email address: (217) 403-7070, tim.spear@champaignil.gov
Old Putt-Putt site
"Any update on what used to be the batting cages/ mini golf on Prospect Avenue? Everything looks to have been torn down."
Steve Diveley of Danville, who owns the property, said it is being used by the adjacent Enterprise Rent-A-Car business, and may eventually be used for truck rentals. Enterprise has about four years remaining on its lease. 
Rantoul development
"I was wondering what ever happened to the businesses that were supposed to come to Rantoul by the sports complex? I thought we were supposed to be getting a Starbucks and Jersey Mike's."
"Unfortunately there were some challenges in assembling all of the property necessary for the redevelopment projects at 801 West Champaign Avenue," said Scott Eisenhauer, the Rantoul village administrator. "These challenges delayed the final purchase, which in turn delayed the construction.
"With those issues now fully resolved, the closing on the property is scheduled to occur within the next 30 days with the start of construction likely in the next 60 days. Soon, a full list of tenants for that property will be announced, and we look forward to their openings later this year."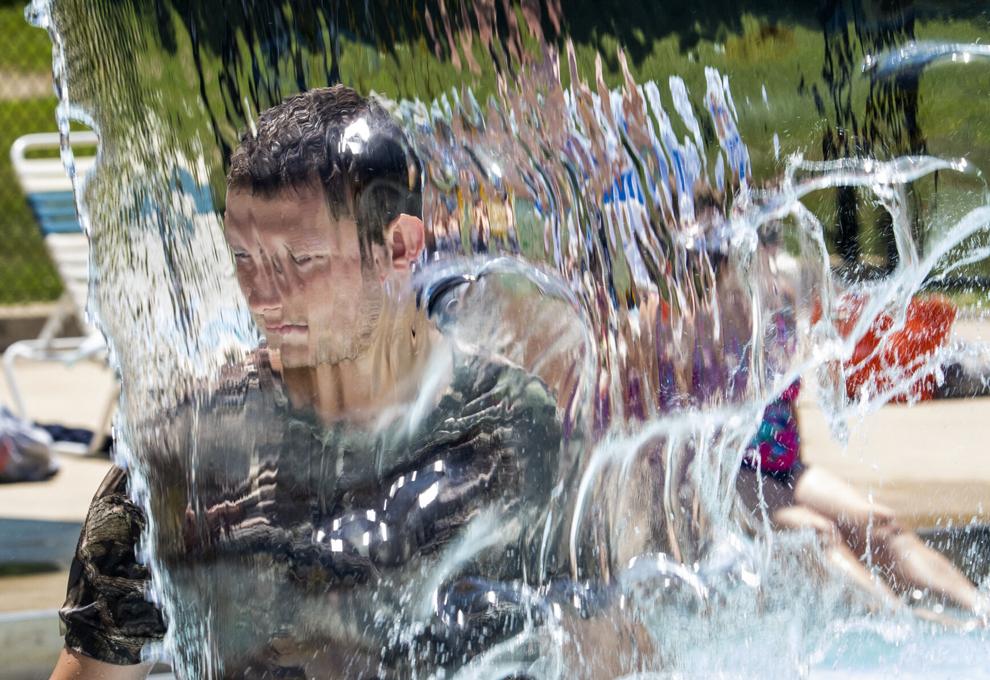 Triple digits?
"With all the talk of 100-degree heat this week did the temperature ever hit 100 degrees?"
Not in Champaign-Urbana. Here are the official high readings for Tuesday, Wednesday and Thursday, as recorded by the Illinois State Water Survey:
June 14: 97 degrees (tied the record for the highest low temperature on that date, 73 degrees)
June 15: 99 degrees (established a new cord high; old record was 97 in 1987. Also tied record for warmest low, 72 degrees)
June 16: 97 degrees (tied the record high and established a new record low, 75 degrees)
Undergraduate library construction
"When should we expect construction fences to go up around the Undergrad Library on campus?"
"Construction fencing is expected to be erected early spring 2023," said Heather Murphy, chief communications officer for the University Library. "Construction is expected to last 18-24 months with the expectation that the Archives and Special Collections building will be open January 2025. However, it could have a soft opening late fall 2024."
I was surprised there is a need for construction fencing since nearly all of the Undergraduate Library is underground.
"Yes, it will be necessary to install construction fencing around the Undergraduate Library building. Extensive work is being done around the outside plaza, as we add a loading dock, a fully-accessible entry on the west end, and look to replace the roof and plaza pavers as well as update the plaza entries," Murphy said. "Fencing will ensure security of the site, but more importantly the safety of students."