Tom's #Mailbag, June 18, 2021
Put Tom to the test by clicking here
Questions this week — a few of them sour — about power outages, tall grass, road construction and suggested road construction, a decaying school building, spending on gun violence prevention, vaccinations on the University of Illinois campus, Juneteenth at the UI and summer band concerts on the Quad.
But first a question and a cheery tale about a unique method of advertising a pest control business in Douglas County.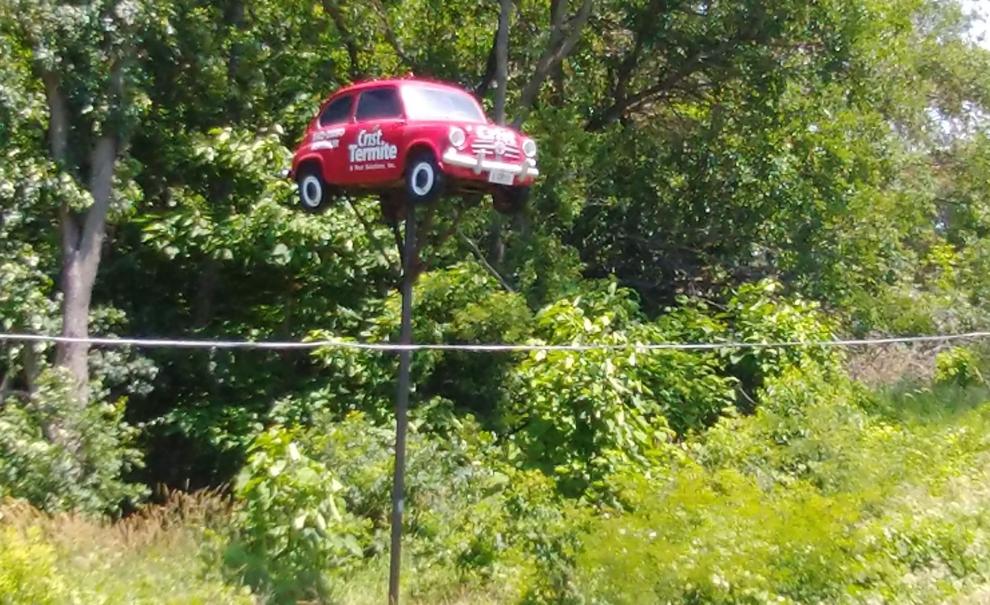 Memorable advertising idea
"For as long as I can remember (at least back to the late 1980s), I recall seeing a car mounted on a pole on the north side of U.S. 36 just east of the Lake Fork River as you enter the town of Atwood. Do you know anything about the history of this? How long it's been there? Has it always been the same car?"
That's an old Fiat and it's been atop that pole since at least 1972, said Dave Crist, the owner of Crist Termite & Pest Solutions, Inc. of Arthur.
"I remember riding around in it when I was a kid and for some reason my grandpa decided to take it off the road and put it on top of that pole," he said. "We had a deal with the lady who owned the land there and she let us put the car up and we gave her a free pest control inspection every year. That's the way stuff was done then."
The car looks shiny and new but it isn't.
"That last time we painted it was about 15 years ago," Crist said. "My brother in law did a great job. He put a new coat of paint on it plus a clear coat and it looks like new."
If cars could talk, he said, that 50 years old-plus Fiat would have a lot of great stories.
Like this one: "There were a couple Amish kids who got up there one night and put a battery in it and somehow and operated it remotely. They sat in a canoe in the river and honked the horn and turned the headlights on and off. It was driving everyone in town crazy for a while."
Decrepit school building
"Is Diamond Grade School on the west edge of Danville getting ready to finally be torn down? All of a sudden there is big equipment parked nearby and the property is taped off with orange tape and many no trespassing signs posted."
"We know that a local trucking company had been talking with the property owner about possibly acquiring the Diamond Grade School site," said Douglas Toole, administrator of the Vermilion County Health Department, which has been trying to persuade the owner of the property to do something about the 93-year-old building.
"The case has not gone to court," Toole said, "and we are hopeful there will be a satisfactory resolution to the situation soon."
UI and Juneteenth
"Will the University of Illinois recognize Juneteenth as holiday when falls on week day going forward?"
Yes, according to an email UI President Tim Killeen sent to students, faculty and staff.
"We are excited to add this to our holiday schedule for June 2022. Details about the observed date will be forthcoming," said Killeen. "I hope you will all join me in applauding our leadership in Washington and Springfield for giving us a chance to reflect and recommit to the goals of equality and justice that we all share."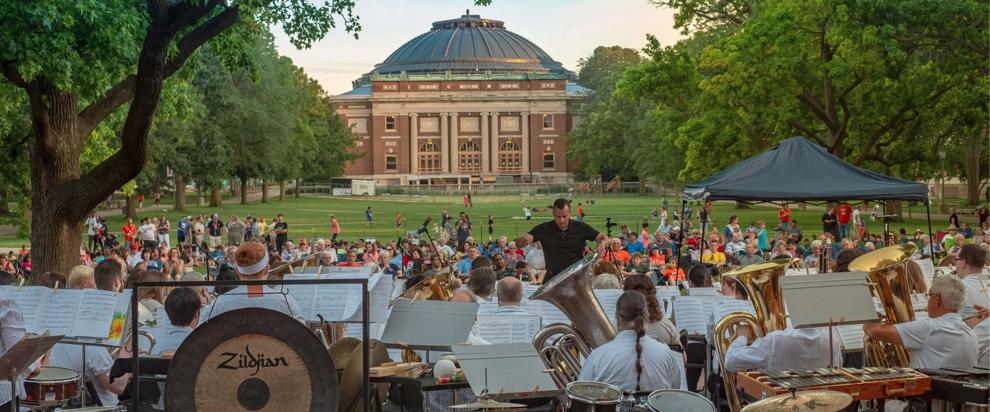 Summer band concerts
"Years ago summer band concerts were held from the steps of the UI Auditorium. Are they still available? If so, what's the schedule?"
"Unfortunately we had to hold off again this year," said Barry Houser, associate director of bands at the University of Illinois. "Will be back in full gear next summer 2022."
UI vaccinations
"Earlier the University (of Illinois) said its goal was to get all students vaccinated for COVID before they left at the end of spring semester, but I have never seen how that turned out. What percentage of students had been vaccinated by the end of the semester? If they fell short of herd immunity, do they plan to require them at the start of the fall semester?"
The numbers are incomplete, said Urbana campus spokeswoman Robin Kaler.
"We are finalizing the technology for people to upload their vaccine information to the Safer Illinois app," Kaler said. "We expect to have much better numbers once that is in place."
For now though, 36,127 people on campus have gotten at least one dose. That's out of 49,782 people at the UI-Urbana who have COVID tested since Jan 1, Kaler said.
— 16,833 undergrads have been jabbed at least once or 67 percent of 25,135 testers
— 6,916 graduate students or about  84 percent of 8,191 testers
— 8,586 staff and faculty or about  77 percent of 11,101 testers
CU Fresh Start
"Since the beginning of the CU Fresh Start program to now, how many people have entered the program, how many have completed the program and of those, how many are still following the straight and narrow? Also during that same time frame, how much money has the city given to that program?"
The Champaign City Council in February heard an update on programs addressing gun violence in the community. Among the programs is CU Fresh Start, which focuses on individuals with a history of gun-related behaviors. It began in 2016. During the 2016-2019 period when Fresh Start had state grant funding, 86 individuals were identified for engagement with Fresh Start through an event called a call-in. Twenty-six agreed to participate in the initiative and 12 remained engaged.
There were no call-ins in 2020 because of the pandemic. Participant engagement continued through custom notifications and referrals, according to the report to the council. Ten individuals were approached to engage with Fresh Start and six joined. In February there were eight individuals receiving intensive case management from the Fresh Start community outreach liaison, six from custom notification and two from previous call-ins in 2016 and 2019.
More recently there have been seven custom notifications delivered. Five participants engaged with the initiative. One participant from 2021 has since reoffended and is suspended pending resolution of those charges.
"Currently there are 10 individuals receiving intensive case management from the CU Fresh Start Community Outreach Liaison," said Mary Catherine Roberson, community relations specialist with the city of Champaign. "Intensive case management includes assessing individual needs, coordination with probation and/or parole and identifying necessary support areas not limited to employment, workforce development, education, transportation and securing personal documentation such as birth certificates, ID cards and school transcripts."
In the recently completed fiscal year the city of Champaign provided $89,973 in funding for a community relations specialist. Other funding for various gun violence prevention programs came from the Champaign County Mental Health Board, federal Community Development Block Grants and members of the Champaign County Community Coalition.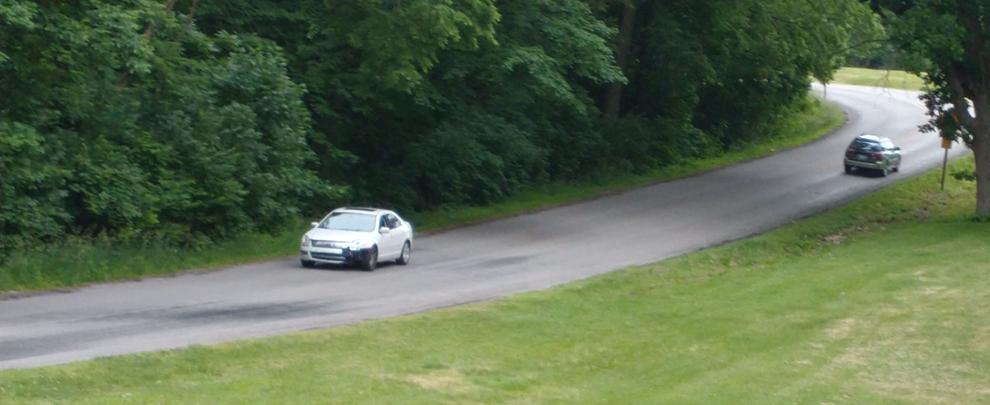 North Urbana road
"Is there a plan to widen, repair or overlay Country Club Road? Traffic has increased and it is horrible shape."
"The city of Urbana only owns, operates, and maintains a portion of Country Club Drive near Cunningham Avenue," said Tim Cowan, Ubana's public works director. "The greater portion of Country Club Drive is owned, operated, or maintained by Urbana Township.
"As of now, there are no major rehabilitation or reconstruction efforts planned in the near future for the sections of this roadway operated/maintained by the city."
Likewise, Urbana Township road commissioner Richard Thompsen said there are no plans to undertake any major renovation of his section of the road beyond "just basic maintenance."
"We are on a very tight budget and for us to put in curb and gutter and asphalt resurfacing would cost more than anything we have," he said.

Parkland numbers
"I would like to know what the enrollment at Parkland College was 10 years ago to the current enrollment. What was the budget for employees 10 years ago compared to today? Last, there seems to be a large number of administration employees hired during the past 10 years too."
"Over the past 10 years, community college enrollment has fallen nationally with Parkland's enrollment following the same trend," said Stephanie Stuart, the vice president for communications and external affairs at Parkland. "In 2011, our enrollment was approximately 16,000 and now hovers above 10,000 students.
While enrollment will have peaks and valleys over time, Parkland's focus remains on helping students achieve their educational goals and live prosperous lives in our community.
"Administrators play a critical role in carrying out this mission. Additionally, the college is managing an expanding portfolio of student supports and regulatory requirements. Over the past 10 years, the number of administrators at the college has fallen from 41 (FY2011) to 29 (FY2022). Many recent hires have been replacements as administrators have retired or moved on.
"During that same timeframe, salaries and benefits have risen approximately 10 percent due to increases and rising costs of health care, from $40.5 million in 2011 to $44.6 million in 2021. Given these shifts, Parkland has actively managed its budget to ensure the institution remains in strong financial standing while maintaining a superior level of quality for our students."
Newspaper editorial board
"Who serves on the editorial board for The News-Gazette that pens the papers editorials?"
The editorial board includes Publisher Paul Barrett, Editor Jeff D'Alessio, Opinions Editor Jim Dey and yours truly.
Mysterious area south of Dart
"What is the wooded area just south of Dart in Urbana?"
We addressed this question in 2017 but it's worth revisiting.
Before Dart Container was in the plant at Main & Lierman in Urbana, it was the home of a Magnavox Co. plant from 1956 to 1972. The company developed, manufactured and tested complex electronics for commercial and Defense Department use.
And, according to a map uncovered by the staff at the Urbana Free Library's Champaign County Historical Archives, there was an area at the south end of the property, near Washington Street, designated "ordnance test area."
The map was prepared by the Harrington, Tideman, O'Leary & Co. real estate brokerage firm of Chicago, presumably shortly after the time Magnavox announced in 1971 that it was closing its Urbana plant.
It corresponds with the location of the heavily forested area now surrounded by soybeans.
After answering the question in 2017 we received a number of emails and letters from readers with their recollections of some of the research that went on at the plant.
Here's one: "In addition to making field radios, there was a 'secret' project called LAD. You had to have a security clearance to work on this project. Of course security at that time meant a tent around the area within the plant and someone sitting at the door to look at your badge and in your purse. It made Impulse Detectors that were dropped in Vietnam to detect the number of troops, etc in the area.
"The area you are speaking about is where these were field-tested by the government. I actually worked the testing unit called 'Go, No Go' (true name). It was last indoor test before being sent out to a testing area to be field-tested. During this time of so many anti-war protests on (the University of Illinois) campus, there were a lot a threats made to Magnavox by these anti-war groups."
WCIA Best of the Class
"I was wondering how WCIA chooses which 'Best of Class' students pictures to put on TV. Are the students for Best of Class submitted by the school districts? I've seen more than one student from Champaign, Uni High and other towns, but haven't seen any from Urbana this year."
"Since 1983, WCIA 3 has recognized area high school seniors through our Best of the Class community project. The students' names with the top GPA of their graduating class are provided to WCIA 3 by the high schools. In the event of a tie for top GPA, the school may provide us all the students that have achieved the top GPA," said Peter Carlson, director of creative services at WCIA. "Over the years we have held the Best of the Class event at the The Mabery Gelvin Botanical Garden in Lake of the Woods Forest Preserve in Mahomet, but due to COVID 19 restrictions, we were not able to hold the event in 2020 and 2021. Instead the students submitted the images we use in the vignettes.
"Urbana High School is represented in Vignette 3 with Theodore Johnson having top honors for that school. All the high schools in the WCIA 3 viewing area were invited to participate. Not all the schools responded with names and not all of the students provided information by the deadline. That said, we are honoring 220 of our local high school students for their academic achievement through this year's Best of the Class 2021.
"The Best of the Class 2021 vignettes will be airing on WCIA 3 and WCIX 49, now through July 4th. The complete list of names along with the video vignettes are available at https://www.wcia.com/best-of-the-class/."
University Avenue rehab
"Renovations have been going on along University Avenue in Urbana for over a year. The only changes seem to be new sidewalks and and new traffic lights, neither of which seemed especially needed. What is the purpose of this boondoggle?"
One person's boondoggle is another person's needed safety improvements.
"There has been a pedestrian fatality and pedestrian injuries in this area. The intent of this project is to improve both pedestrian and vehicular safety on (U.S. 150) from Wright Street to Cunningham Avenue in Urbana and to extend the service life of the pavement structure," said Kensil Garnett, Region 3 engineer for the Illinois Department of Transportation. "These safety improvements will be accomplished through construction of ADA compliant sidewalks and pedestrian ramps, traffic signal modernization, roadway street lighting, curb and gutter replacement, milling and resurfacing, guardrail replacement, raised reflective pavement markers and permanent pavement markings with continental style crosswalks.
"It is IDOT's intent that the project be completed by Nov. 1, 2021. We are going to allow 10 working days after Nov. 1 to complete clean-up and punch list items."
Prospect Avenue widening
"Regarding the widening of Prospect Avenue, are there any laws regulating how close roads can come to homes and how close sidewalks can come to homes and roads? If utilities are moved who pays, the city or state? Any noise ordinances apply?"
"IDOT does not have a policy regarding how close sidewalks and roads can be built near a home or a business," said Garnett. "Department policy indicates the minimum width for new sidewalk is 5 feet. A 2- to 3-foot buffer area between the back of curb and the sidewalk is recommended if there is sufficient right-of-way. The proposed widening on Prospect Avenue will be minimal.
"Some right-of-way and temporary easements will be necessary at selected locations to accommodate grading, traffic signal modernizations, curb ramps, and entrance reconstructions.
"The consultant for this project is in the very early stages of developing the study, so these easements and right-of-way areas are not yet defined. A public meeting is anticipated for this project."
Garnett said that if the utilities currently located on state right-of-way require relocation due to a construction project, the utility company pays for the relocation. If the utility is located within a private easement, the state would pay for the utility relocation.
City noise ordinances for construction will apply to this project, he said.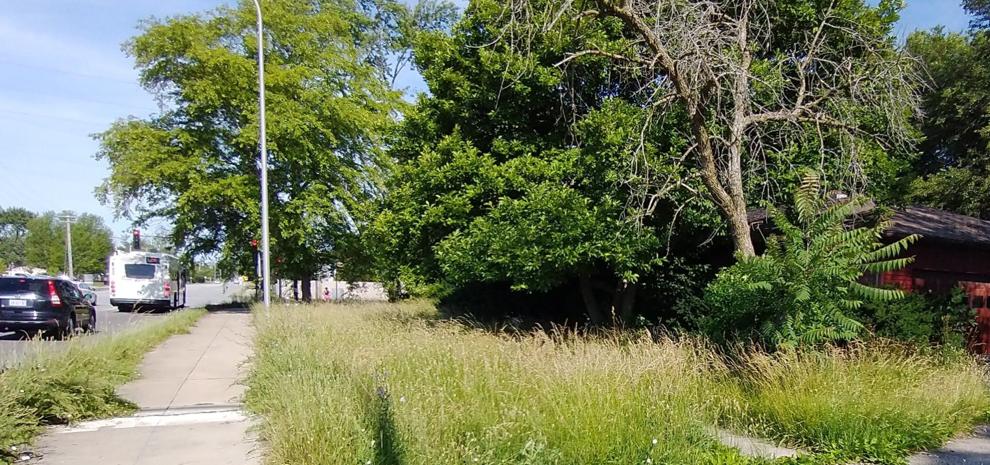 Vegetation complaint
"A home at the corner of Mattis Avenue & Windsor Road has an overgrown lawn. Can something be done?"
"We have received several complaints about this property, likely because it is at a visible location," said Tim Spear, code compliance manager for Champaign's neighborhood services department. "Unfortunately, this property is in a small pocket of properties that is outside of the city limits.
"I spoke with John Hall at Champaign County Planning and Zoning to see if there was anything that his department could do about the tall grass. They do not have an ordinance requiring landscape maintenance, so he was unable to require the grass to be mowed.
"The city's public works is going to mow the parkway at the corner, but that is a very small area. We have a few areas that have Champaign addresses, but are not within the city limits. In these areas we are limited in what actions, if any, that we can take."
Ameren outage
"Ameren lost power in Parkland Ridge and the surrounding subdivisions last Friday morning from about 1:30 a.m. to 6:45 a.m. and after noon from 2:45 p.m. to 4:50 p.m.  and again Saturday morning. When I get a text from Ameren it says the cause was 'undetermined.' The person I talked to on Saturday afternoon said the Friday afternoon outage was due to a 'high tension transformer failure' in which they had to move heavy equipment to install a new one. What I'd like to know is where the transformer was replaced and the exact cause of the failure. One thing I know about Parkland Ridge is there are quite a few residents who are supported by electrical oxygen concentrators, and depending on their Medicare and supplemental insurance policies they often are refused a backup oxygen concentrator in case of this type of emergency. If our electrical grid is subject to continuous failures for various reasons, maybe Ameren will be responsible for consequences."
"Thank you for your question. We recognize any type of service disruption is an inconvenience," said Ameren spokeswoman Marcelyn Love. "We had a primary wire fail in the morning and a transformer on the same line fail later that afternoon which led to the two outages on Friday. On Saturday, a second wire failed affecting the same area.
"The transformer on High View Court was replaced and service to all customers was restored the same day.
"Our intention is to repair any bad sections of cable this week and completely replace these sections of cable within the coming weeks to ensure we can continue to provide quality service to our customers."
Carle at the Fields businesses
"With COVID restrictions lifting, are there more retail plans for Carle at the Fields? Jimmy John's recently opened and it has been very busy so it seems that additional offerings would be well-received."
"As far as Carle at the Fields, we have gained a lot of momentum again with COVID restrictions being lifted. We have signed a few new leases but the tenants have not done press releases yet so I cannot disclose the details just yet," said Shannon Collins, commercial broker for Green Street Realty. "However, we are in the architectural and permit process and hope to have a few of these open by Fall 2021. We continue to get interest and sign leases, so the growth and offerings at this development will be available sooner than later."
We can tell you that an Overtime Nutrition coffee shop and juice bar is under construction in one suite.
COVID and the Social Security fund
"How have the half million COVID deaths nationally affected the Social Security Trust Fund? Also, are insurance company payouts and profits affected?"
The Wall Street Journal reported last week that "the near-term finances of the federal government's retirement and disability programs appear to have weathered the storm better than many policy analysts had predicted—taking some pressure off the Biden administration and Congress to reach a long-term solution to keep them solvent.
"A faster-than-expected economic recovery has bolstered the payroll taxes that help finance the programs. And new benefit claims for disability insurance, which typically jump when the economy is weak, declined for some groups as the Social Security Administration's field offices remained closed.
"'I don't think it's going to be as big of a hit as many people, including me, feared a year ago,' said Kathleen Romig, a senior policy analyst at the Center on Budget and Policy Priorities, a progressive Washington think tank."
Social Security trustees are expected to release a new estimate that incorporates the most recent economic data but have delayed the update that typically comes in April as they gather more information.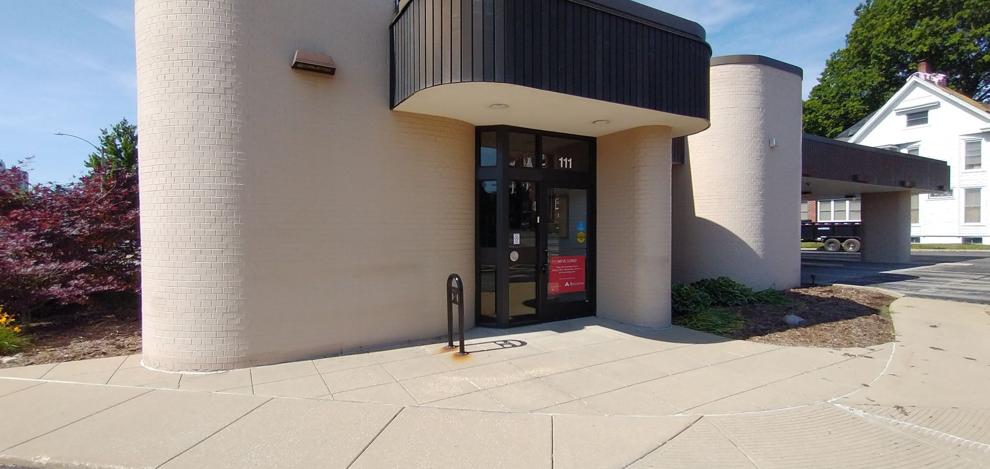 Bank closure
"Has the Regions Bank on State Street in Champaign closed?"
Regions Bank has withdrawn from the Champaign market. The State Street bank closed May 21, according to Kim Borges at Birmingham, Ala.-based Regions.
"As a normal course of business, Regions consistently evaluates its branch network strategy. Based on factors such as customer volume, as well as the ability for people to meet more of their banking needs through our enhanced digital services, we identified certain locations for consolidations that took effect May 21," said Borges. "Consolidating a branch is never taken lightly, and the decision to consolidate our Champaign location was very difficult; however, this decision was only made after a careful analysis of factors including customer traffic, consumer demand, new technology, and more.
"Our team has worked with customers on an individual basis to address their questions and help provide a smooth transition. And, as always, Regions' comprehensive services remain available around the clock at Regions.com and through the Regions Mobile App."
Former Danville Gardens Too site
As a followup to a question from last month, the city of Champaign has issued a building permit for 1413 N. Prospect Ave., Suite 3, the former site of Danville Gardens Too. You'll never guess what's going in ... a video gaming facility.