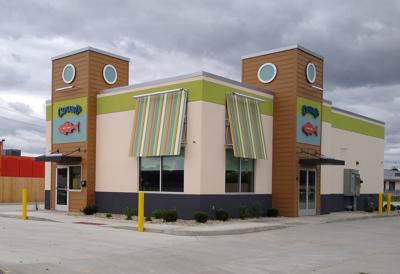 Have a question for Tom? Just click here
Questions this week about a delay in roadwork on the west side of the Bradley Avenue bridge over I-57, why there are delays in the construction of a parking lot at Urbana's Leal Park, delays in the opening of a fast food restaurant in Champaign.
Also, the future of the old Washington School building in Urbana, landscaping for the UI's expanded solar farm along Curtis Road in Savoy, complaints about the Champaign drivers examination facility, COVID-19 testing for UI staff this fall, why there are more Carle AirLife flights and the uncertain future of McDonalds Play Places.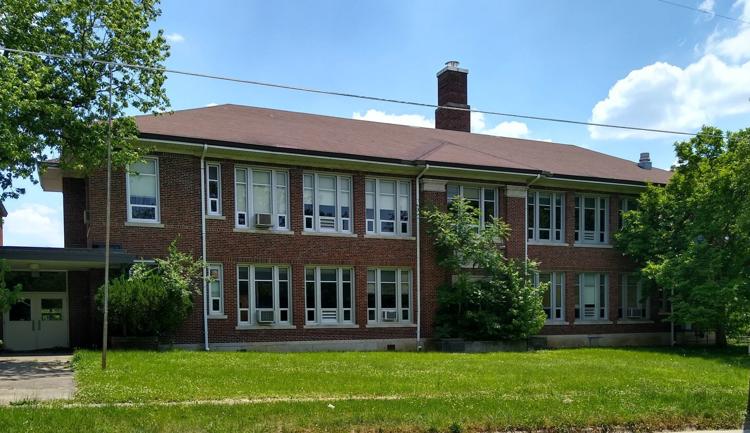 Urbana's Washington School
"Urbana's Washington School on North Broadway Avenue was sold two years ago but nothing has happened short of mowing the grass. Any update?"
Matt Cho, who purchased the building in 2018 for $75,000, said he has no plans "at the moment."
"It's in the back of my mind," said Cho, who has other local business interests. "But I'd be interested in partnering with anybody else who is interested in the building, or any developer who has an interest in it."
The Washington School building, built in 1925, is located on a 3.5-acre lot at 1102 N. Broadway Ave., across from Crystal Lake Park.
Roadwork delayed
"I am writing to follow up with a question on the Bradley Avenue reconstruction (bridge, etc.) I thought we were informed earlier in the year that Bradley Avenue would be repaved from Duncan Road to the bridge on the east side and then from the bridge to Staley Road on the west side. They have already painted new lane markers on the 'old' bad surface on the Bradley Avenue pavement. What are the plans, if any remain on this project or is this considered done?"
"Earlier in the year we did have plans of moving forward on this project during the 2020 construction season. However, due to the revenue impacts of COVID-19, the budget was reduced and the project delayed," said Kris Koester, spokesman for Champaign's public works department.
"Staff will rescope the project the fall. Based on the pavement condition ratings, the top priority is a mill and resurface of the pavement on the west side. Right now that work is anticipated for 2021. With that being said, during Tuesday's city council meeting the upcoming budget was discussed and approved. It was mentioned that the budget is still a work in progress and we do not yet know if any planned projects will be further impacted.
"Unfortunately the pavement work on the east side of Interstate 57 was a casualty of the first round of revenue impacts and will be delayed to a future year."
Facility complaint
"Why does the Secretary of State's office in Round Barn feel no obligation to enforce of rules of social distancing and mask wearing at its facility – even among its own staff? A nearly 3-hour experience (on Tuesday, June 16) involved no enforcement of social distancing or mask wearing while waiting outside, and no enforcement of wearing masks inside – despite it being announced on a least a dozen flyers posted around the waiting room. People walked in with no masks, and staff with no masks said and did nothing. Even people behind the desk often wore no mask – despite people talking near them and around the plastic barriers. Some staff wore face shields, but several staff wore no face covering. This office should be self-exemplary, but instead is the most risky COVID-19 experience I've ever had. I felt vulnerable the entire time.
"It only takes casual observation to conclude that the way the office is run creates a public health hazard."
Henry Haupt, a spokesman for Illinois Secretary of State Jesse White, said he had not heard similar complaints before about the Champaign drivers license exam station.
Haupt said that staff members are required to wear a mask unless they are medically unable to do so.
"To be thorough, the Director of Driver Services is reminding the employees at the Champaign facility about wearing masks," Haupt said. "We have employees who walk the line outside to help ensure not only social distancing, but also to answer questions and to ensure we are properly limiting the number of people inside a facility at one time. They remind customers to wear a mask."
Haupt said it is important for people to know that they can go to www.cyberdriveillinois.com and conduct business online, especially when renewing vehicle registration stickers.
"They can renew online and avoid waiting in line. More Illinoisans are taking advantage of our office's online services. To renew vehicle registrations online, residents need their registration ID and PIN, which are located on their renewal notice and registration card - which most people store in their vehicle's glove compartment," he said. "We also continue to remind customers that our office extended expiration dates for driver's licenses/ID cards and vehicle registration stickers until Oct. 1, 2020.
"This extension also covers those who have June and July expiration dates. As a result, expired documents will remain valid until Oct. 1, so customers do not need to rush into the facility.
"Lastly, customers who must visit a facility are asked to be patient due to expected heavy volume and to be prepared to wait outside in various types of weather. This is due to social distancing which limits the number of people inside a facility at one time.
Missing Captain D's
"Any word on when Captain D's plans to open?
and
"Non-Golden Corral question ... is there an update on the opening of Captain D's on Prospect?"
and
"Last I heard, the Captain D's on Prospect was supposed to open in January. It's now June, and they don't seem to be open. Will it?"
I'm not sure what happened to prompt a flurry of questions about a fast food chain based in Nashville whose nearest outlet is 145 miles away in Greenwood, Ind., but it happened.

The restaurant is slated to open in Champaign toward the end of July, said a Captain D's spokesperson for the restaurant chain.
"The opening date was pushed back due to COVID-19."
UI staff testing
"If the University of Illinois does bring students back (which we know they will for the money) will the trades people and others on campus working now be tested as well?"
"Our plan is to provide COVID-19 testing for all of our students, staff, and faculty. We are also working with healthcare partners to increase access to COVID-19 testing for the broader Champaign-Urbana community," said Robin Kaler, spokeswoman for the UI's Urbana campus.
More Carle helicopter flights
"We live in the direct flight path for the medevac helicopters going to Carle. Normally, I hear one and think 'how wonderful someone is getting needed medical care.' Recently, it seems like there's been a big increase in the flights, and they often seem much lower than before. There have been a few days here and there where it seemed like maybe there were practices or something going on, as there have been concentrated period of lots (solidly for an hour or more) of flights—or so it seemed. I did not time them."
Carle AirLife is flying more in recent weeks, which is common for this time of year where there are more needs for accident response, said Jennifer Hendricks Kaufmann at the Carle Foundation.
"Our flight path depends on the weather, so there are times when our pilots must fly a little lower. Safety of the crew, the patient and the community is always our top priority," she said.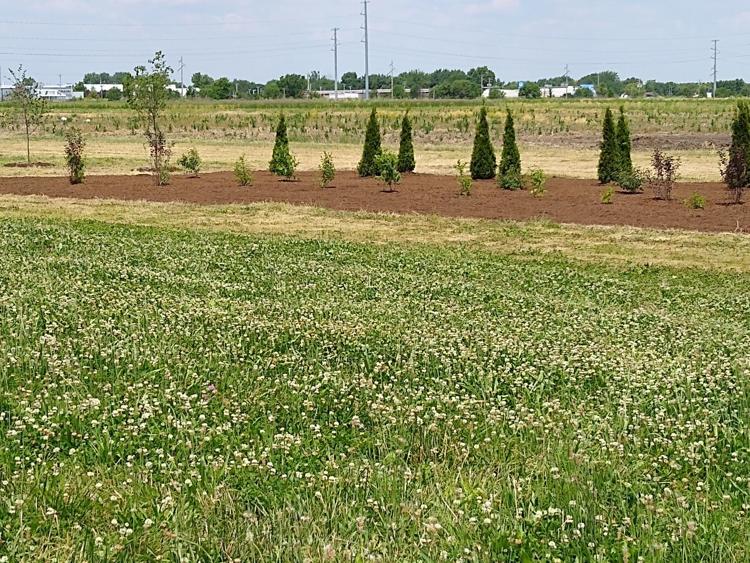 Curtis Road landscaping
"Curtis Road from Neil Street and First Street in Savoy,  why are they planting several rows of tree and bushes?
The work underway in that location is for a landscaped buffer between the University of Illinois' Solar Farm 2.0 site and the village of Savoy, said Morgan White, associate director for sustainability at the University of Illinois.
"Since the start of the project, the university has incorporated the feedback of nearby residents and businesses in planning aspects to ensure that area is aesthetically pleasing and limits the future visibility of the array directly from Curtis Road," she said. "The buffer was designed by the University Landscape Architect at Facilities & Services, Brent Lewis, and it consists of native trees, shrubs and perennials specifically selected for their aesthetics and pollinator benefits.
"The trees were funded by the Student Sustainability Committee, and the remaining costs were provided by Facilities & Services and the Institute for Sustainability, Energy, and Environment.
"This extensive buffer planting, along with the 54 acres of native perennials and grasses under the solar panels, will help to establish a diverse pollinator habitat and strengthen ecosystems for local and migratory birds and insects, including butterflies and bees. This effort supports the university's commitment as a 'Bee Campus USA,' proving progress in awareness, native plant landscapes, and safe pest management.
"When completed, the site will also serve as a demonstration for pollinator-friendly solar arrays, following the requirements of the Pollinator Friendly Solar Site Act, of which the university has taken the lead in creating."
Infant items to be donated
"Where in C-U can I donate a sealed container of baby formula? Are there any organizations that will take diapers from an opened package?"
The Crisis Nursery at 1309 W. Hill St., Urbana, will accept the formula, said Rachael Graham, director of development and communications at the agency.
And Salt & Light, with locations in both Champaign and Urbana, will accept the diapers, said staff member Theresa Heater.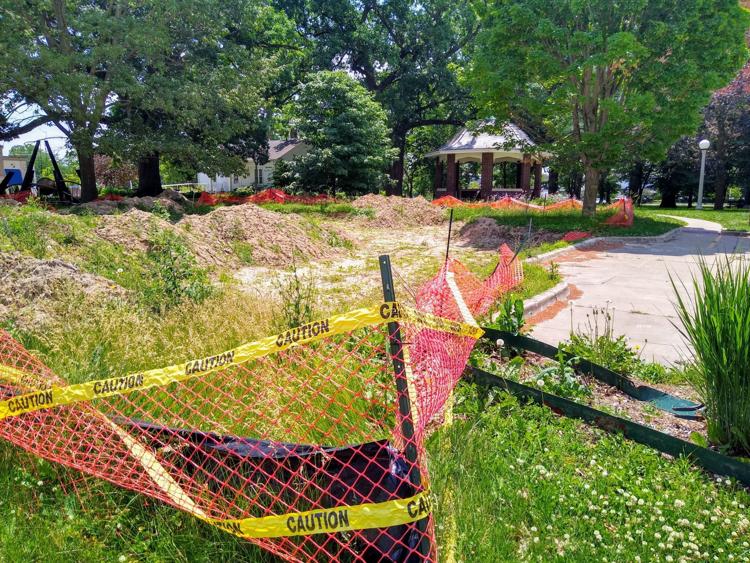 Leal Park work
"The front of Urbana Park District's Leal Park has been torn up since at least nine months. What is happening there and when will it be completed?"
Part of the history of Leal Park is that it was used as an early cemetery prior to the land being transferred to park lands, although little is known about that early history, said Tim Bartlett, executive director of the Urbana Park District.
"The current parking lot called for a planned expansion that originated in the early 1980s — to allow an expanded parking lot to the east side of the current lot as access needs increased at the park," Bartlett explained. "However, as the excavation was further in process, archeologists noted that some fragments and outlines of previous layered materials appeared and caution was recommended to not create any unnecessary disturbance.
"No human remains were located but the work was halted in order to do more investigation. The end result is that the Urbana Park District worked with the state of Illinois to place a covenant on the park for any future excavation work.
"The UPD would seek approval prior to any further park excavations in the future. The board approved the covenant at the regular June 2020 board meeting. The parking lot work can resume as soon as the contractors can reorganize on site and continue their work. The plan is to have the parking lot completed in a few months.
"Some additional work around will be needed as the University Avenue/U.S. 150 road improvements will be moving eastward in their construction zone.
"Additional bicycle and pedestrian lanes will be constructed on the north side of the park as part of the IDOT work. The Urbana Park District does not know what the state IDOT will do regarding any of the agreements that the park district provided in our covenant with another state division or if they are subject to any of the limitations in their work. The UPD is pleased to have resolved the issue and we have a clear path going forward on any future development or improvement needs.
McDonalds Play Places
"What is going to happen to the McDonalds Play Place on Marketview due to this pandemic?"
The same thing that has been happening since mid-March. It is closed.
And it will remain closed for the foreseeable future.
Joe Erlinger, president of McDonalds USA, said last month that when restaurants reopen for dine-in service new procedures would include:
— closing some seating and tables to accommodate social distancing
— more frequent cleaning of high touch surfaces, including tables
— continued care efforts, including crew members wearing masks or face coverings, and gloves, and making masks available for customers in municipalities where they are required
— keeping Play Places closed and modifying our dine-in beverage procedures to minimize contact.
A notice on the company's web site says this: "In compliance with state and local social-distancing requirements to help reduce the further spread of COVID-19, McDonald's Play Places are temporarily closed."
The company has offered no hints on if or when they'll reopen the Play Places.
Chinigo paintings
"What is going to be done with Mrs. Chinigo's paintings in the Stevick building?"
The paintings done by the former publisher of The News-Gazette, Marajen Stevick Chinigo (1912-2002) likely will end up with the Champaign County History Museum at the Cattle Bank in Champaign, said John Reed, the past  CEO of News-Gazette Media, the former publisher of this  newspaper.