Tom's #Mailbag, June 25, 2021
More questions this week (19) than the number of pitchers (4) it takes to throw a Cubs' no-hitter.
Questions about the only legal fireworks tent in the county, the first McDonald's in Champaign-Urbana, changes coming to Clark-Lindsey Village, an unusual piece of art with a message, residency requirements for Champaign city employees, sidewalks on the Mattis Avenue bridge over Interstate 57, Champaign's McKinley Field and a text message scam.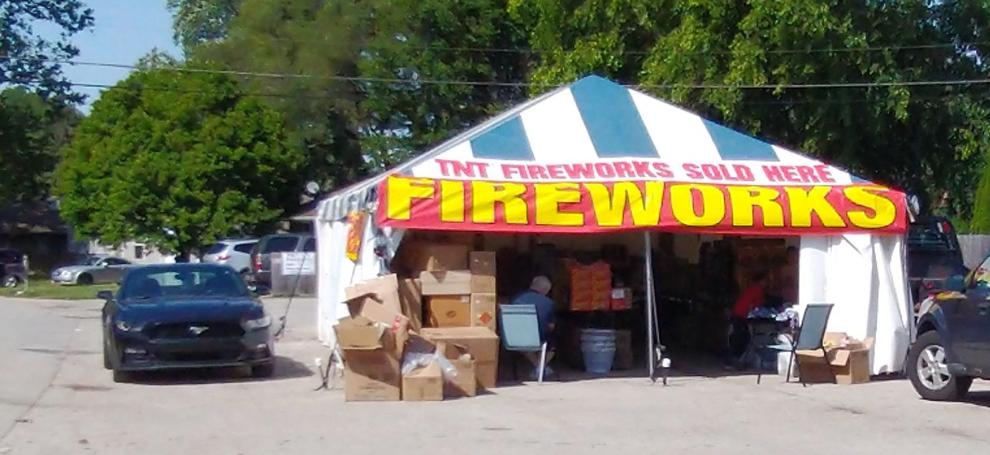 Fireworks tents
"Does anybody know of any firework tents that are in Champaign? I'm looking to buy fireworks and I was just trying to figure out where the tents are because I live in Rantoul."
"We have been more careful this year on firework sales stands," said John Hall, director of planning and zoning for Champaign County. "We have permitted only one and that is at 1314 West Anthony Drive, Champaign." (That's in the parking lot behind Kemper Industrial Equipment).
Another applicant was denied this year "because we had had problems with that sales stand last year so we decided to not approve it this year."
First local McDonald's
"When was the original McDonald's at Five Points built? Did the sign say 'Hundreds of Thousands Sold?'"
The first McDonald's in Champaign-Urbana opened at the northeast corner of the Five Points intersection in June 1956. That was a little more than a year after Ray Kroc opened his first McDonald's in Des Plaines, Il.
The Urbana store was one of just 12 McDonald's to open nationwide in 1956. The others were in Chicago, Skokie, Waukegan and Joliet, along with Hammond, Ind., Dallas, and Los Angeles, Torrence and Reseda, Calif.
The Urbana franchise owners were friends Paul White, Robert Wenger, Gust "Brick" Lundberg and W.K. Davidson. In 1955 they paid $950 for the franchise ($9,542 in 2021 dollars).
I could find no photos of the original sign at the Five Points McDonald's.
Clark-Lindsey construction
"What kind of changes are going on at Clark-Lindsey Village in Urbana?"
Preliminary and final planned unit development cases for significant construction at Clark-Lindsey will come before the Urbana Plan Commission on Thursday, July 8, said Katherine Trotter, a planner for the city.
"Clark-Lindsey Village, Inc. and RLPS Architects have applied for a preliminary and final residential mixed-use Planned Unit Development to allow for new campus development for the continuing care retirement community at 101 West Windsor Road," she said. "The site is zoned R-3, Single and Two-Family Residential. The new development would include two new independent and assisted living apartment-style buildings, two new independent living villas, an expansion of the social center, partial demolition of the nursing care facility, with upgrades to one wing, a new grounds building and additional parking.
"The request includes waivers to allow two new building heights to be built to 43 feet, which exceeds the 35-foot maximum, and for additional monument and building signs on the proposed assisted living and independent living buildings. The request also includes two waivers previously approved by the Planned Unit Development in 2015 (Ordinance Nos. 2015-06-060 & 2015-06-061). Those waivers would allow for a street width of 25 feet, and allow pavement for parking access to encroach into the required front yard along Race Street."
Champaign employees living outside Champaign
"I noticed that (slain Champaign Police Officer Christopher) Oberheim lived in Monticello. How many Champaign police officers (as well as other city employees) are not residing in Champaign, and why are they not required to?"
"Thank you for your inquiry," said Jeff Hamilton, communications manager for the city of Champaign. "The city of Champaign requires city department heads and other key staff to reside within the Champaign city limits, however, most staff positions do not have a residency requirement.
"The city of Champaign presently has 561 employees (including the Champaign Public Library and METCAD). Of that number, 84 police officers/command staff, and 267 other city employees do not currently live within the Champaign city limits, but instead live close by in Urbana, unincorporated parts of the county, and in other nearby communities.
"To encourage police officers to live in Champaign, the city offers a one-time, $3,000 residency incentive bonus to police officers who reside within the city limits."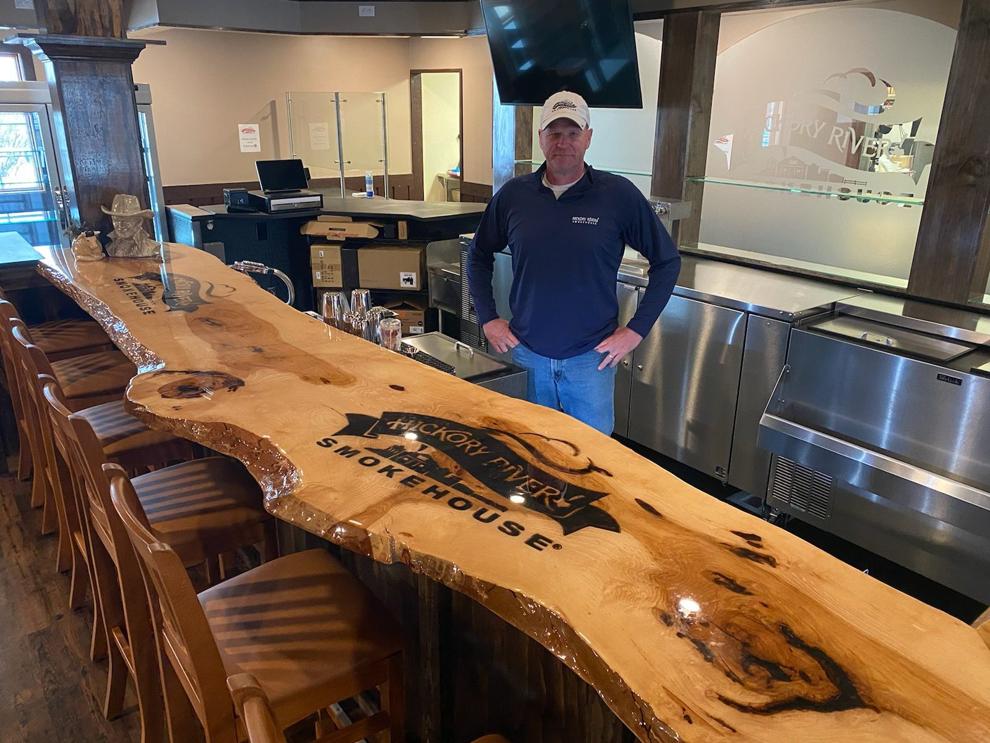 Hickory River west
"Can you update us on the status of the Hickory River going in at Carle at the Fields? Seems like work has been going on but no signs of an opening."
"Obviously the COVID-19 government shutdown delayed this project for over a year. We are finishing the interior buildout plan revisions that reflect our updated service model (order/pay first), and will then go out for bids," said Mike Madigan, who owns the Hickory River franchise for central Illinois. "Construction material costs are skyrocketing, so I hope the bids allow the project to be feasible.
"If so, we will move forward with the buildout and hopefully be open before the end of the year."
Football at McKinley Field
"So will football games be played at night at the new field next to the Mellon Building this fall? Or is the neighborhood still complaining about traffic and noise?"
"Football games at McKinley Field will be played pursuant to the agreement that the district has with the city of Champaign," said Champaign school district spokeswoman Stacey Moore. "Specifically, freshman and sophomore games will be played at McKinley and varsity games will be played at Tommy Stewart Field. Unit 4 has not received any complaints from neighbors regarding traffic/noise."
More on Champaign graduation costs
"You mentioned Unit 4 graduation and the cost to rent from Pagetech (great deal, I think). What was the cost to do past graduations at Krannert and the State Farm Center to Unit 4?"
"In 2019, Unit 4 Schools paid $10,478.09 to host graduation ceremonies at Krannert and the State Farm Center," said Moore.
That's compared with the more than $25,000 paid this year for the contract with Pagetech Limited to provide an outdoor venue for graduation ceremonies.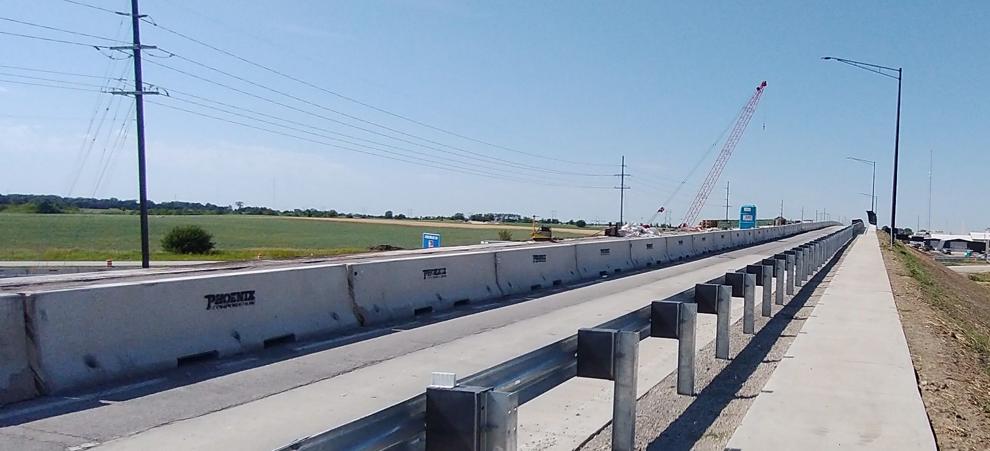 Sidewalk to I-74 overpass
"Driving across the new Mattis Avenue bridge over I-57, I noticed they built a sidewalk on the east side of the bridge. How are pedestrians suppose to get to this sidewalk as the guardrail runs in front of it the entire length of the sidewalk and past where the sidewalk ends? It's not like the sidewalk was built all the way to Interstate Drive where pedestrians could access it."
"There will be sidewalk on both sides of the Mattis Avenue bridge over I-57 and it does not go to Interstate Drive," said Kensil Garnett, Region 3 engineer with the Illinois Department of Transportation. "We will building approximately 203 feet of sidewalk prior to the bridge when heading north and approximately 135 feet of sidewalk after crossing the new structure.
"The city of Champaign will have to do a project that connects the sidewalk to Interstate Drive."
Big I-57/I-74 interchange project
"What were the results of the June IDOT bid letting of the I-74 and I-57 interchange project?"
"The low bid read for the I-57/I-74 project (contract #70B99) was $125,800,347.16 and was made by William Charles Construction Company, LLC and White Construction, LLC as a joint venture," said Garnett.
William Charles Construction is based in Rockford. White Construction is based in Clinton, Ind.
Text message scam
"I got a text message on my phone that read, 'Illinois Department of Transportation, You need to validate your Driver's license information for us. Visit (phone number) to validate instantly.' Is this real or a scam?"
I reached Henry Haupt at the office of Illinois Secretary of State Jesse White — the office that handles drivers licenses, not the Illinois Department of Transportation.
"We have issued two separate press releases, one on May 26 and another — a reminder — on June 11. (See below links). We have also provided alerts through social media," said Haupt. "These despicable fraudsters cast a wide net — not just in Illinois — but throughout the country.
"Secretary White continues to remind residents to be on alert for multiple scams claiming to be from the Secretary of State's office seeking personal information to defraud Illinoisans. Secretary White has zero tolerance for fraudsters who prey on people in desperate times.
"Our office is working with the Illinois Attorney General's office to protect Illinoisans from falling victim to these fraudulent schemes. These texts and emails are scams and recipients should not click on any links or provide any information. Visiting these various fraudulent websites could place malware on the recipients' devices or trick them into disclosing sensitive personal information. The Secretary of State's office never requests personal information, like a Social Security number, via text message or email.
"Delete the text or email. Do not click on them and do not provide any of your personal information."
Links to the press releases from the Secretary of State's office are here and here.
Open tracks
"Is either the Urbana High School track or the Illinois track off of Florida Avenue open for community members this summer? In past years they would sometimes put out open hours, but I haven't seen them this summer."
Neither is open.
"Wieneke Track is not open to the public," said Kent Brown of the University of Illinois Division of Intercollegiate Athletics.
"Unfortunately, we have not released any public track hours during COVID times. I'm anticipating this to remain this way through the summer," said Urbana High School Athletic Director Steve Waller.
UI Credit Union hours
"Can you find out when the U of I Credit Union on First Street will return to its pre-Covid hours of drive-through closing at 7 p.m. Monday through Friday and 3 p.m. on Saturdays. I thought with the state in Phase 5, most places would go back to pre-Covid policies, that is of course if they have enough staff."
"These will be our new permanent hours. We noticed that we did not have a demand to be open from 7 a.m. to 7 p.m. which is why the hours changed," said Natalie Harness of the U of I Community Credit Union.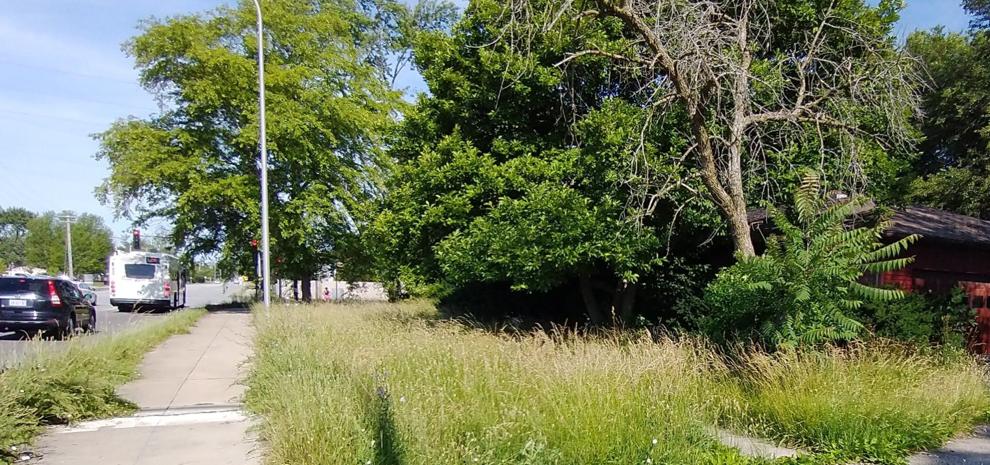 Unmowed yard
Champaign Township Supervisor Norman Davis wrote to report that the home at 1710 W. Windsor Road — the subject of a mailbag question last week — is in his township and that he had contacted the heirs of the original property owner to inform him of its condition.
"He informed me that someone was living there, but that he would have it taken care of," Davis said earlier this week. "He will have two weeks before we contact him again, then one week beyond that, and then we will go in and do a clean up for him.
It didn't come to that, Davis said Thursday. The property owner had the grass cut.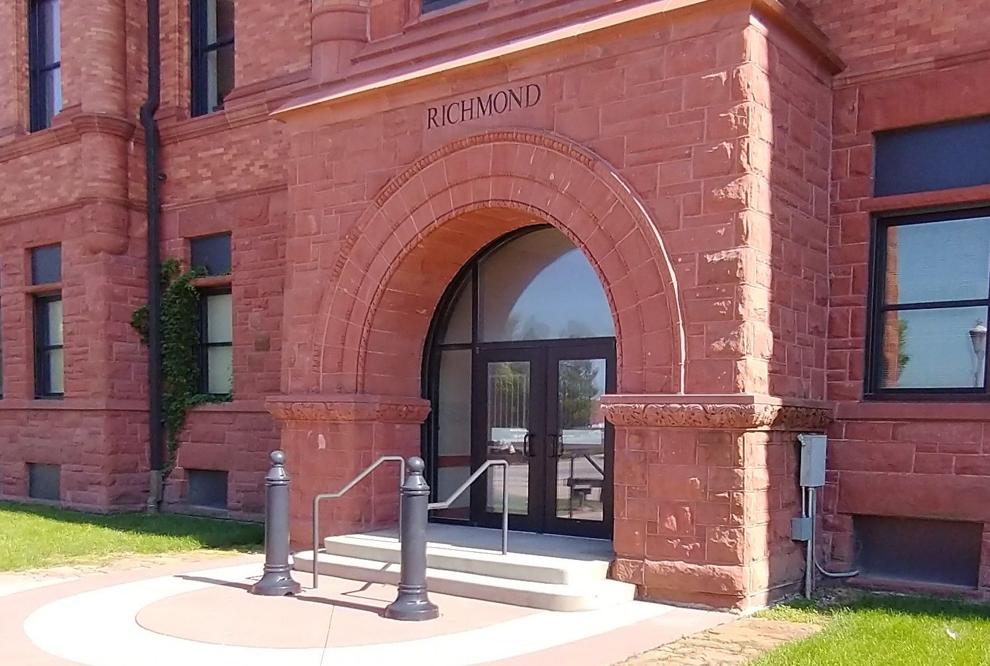 Courthouse recognition
"Why does the Champaign County courthouse say Richmond above its front door?"
The late Jack and Marjorie Richmond of Champaign in 2004 donated $400,000 toward a campaign to restore the Champaign County Courthouse clock and bell tower to its original height of 125 feet.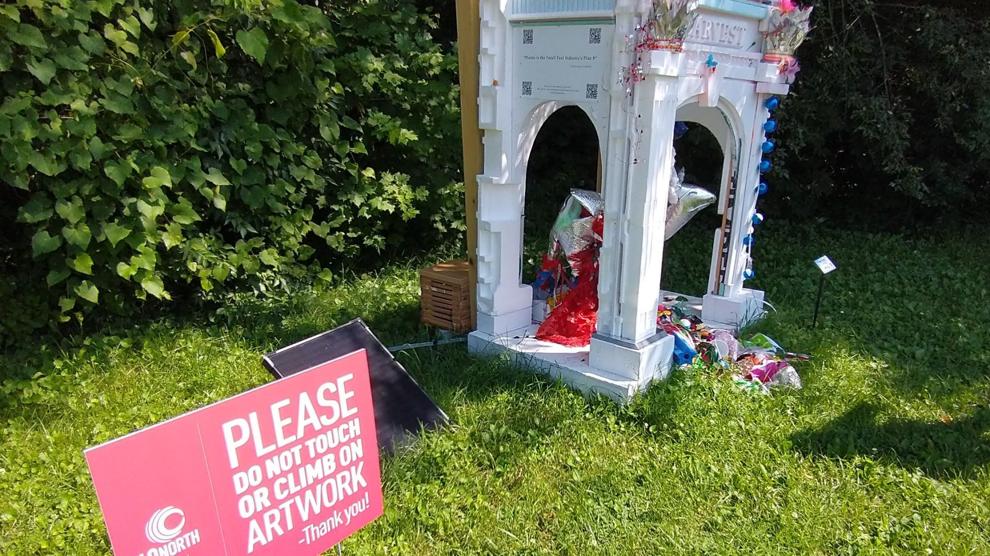 Unusual artwork
"What is the decoration/piece of art that has been displayed along the south side of East Main Street near Smith Road in Urbana?"
and
"What is the 'altar' all about where Smith Road dead ends into Main Street, Urbana. I enjoy seeing new things but would like to know about it."
It's a piece by artist Kim Curtis called "Harvest A Monument to Plastic Waste."
On her website Curtis wrote: "According to its Greek and Latin etymology, a monument's purpose is to "advise," to "remind" and to "warn." This monument is no different. It addresses a problem we've all seen in our landscapes and in the news: the decades-long increase in plastic pollution has now reached a crisis point. Icebergs and beaches, wildlife and our own human reproductive systems; everything in our closed system is being adversely affected."
The piece in Urbana's Weaver Park is part of the Boneyard Arts Festival.
Curtis said it is "built exclusively out of selectively culled refuse, primarily white styrofoam and the silver metallic interior of coffee bags."
Dead birds
"In the past week, I have come upon a dead large hawk (that has been a member of the Stone Creek neighborhood at least three years, a dead blue jay and and dead red winged black bird. None of these were shot or bitten by anything. There was no trauma or blood present. This makes me a bit worried thinking there is something going on in the environment near or in Stone Creek that is killing these animals and is not good for humans as well."
"I am not aware of anything unusual like that happening widespread. I am not aware of people poisoning birds and that assortment of birds, a red-winged blackbird, blue jay and hawk would not likely share the same diet or food items," said Jeff Hoover, an avian ecologist at the Illinois Natural History Survey.
He invited Nohra Mateus-Pinilla, a wildlife disease specialist and a veterinarian at the natural history survey, to offer her input.
"I have not heard about any mortalities," she said. "One thing that I can offer is that if anyone finds a fairly fresh dead bird, it can be submitted to the College of Veterinary Medicine Diagnostic laboratory.
"The person submitting the bird will have to fill out a form – and they can give the laboratory my name and email. The laboratory will contact me – and I can cover the expenses of any diagnostic work on dead wildlife. I cannot cover 'captive wildlife.' It also helps if the person submitting the samples send me an email – so that I can keep track on the case – if we need to do so."
Homeless defendants
"I've seen three criminal cases in the last few days where defendants listed the homeless drop-in center as an address. Is this a change in how things are reported, a fluke, or is there some other explanation? I don't recall seeing court cases that list the homeless shelter as an address, and now there are a string of them. I recall occasionally seeing cases list a defendant as homeless."
The address listing comes from court records.
Tuscola golf course
"I keep reading about an uptick in golf nationwide. So I ask, is the course in Tuscola still in danger of closing, as was the rumor here. Lately we've heard housing has picked up again around the course and business is better."
The Ironhorse Golf Course in Tuscola is doing well, said general manager and head PGA professional Doug Bauer.
"Ironhorse is prospering. The golf course is in wonderful shape and business has never been better," said Bauer. "Very proud to be a part of such a turnaround and the sky is the limit at Ironhorse."
Office II
"What happened with the remodeling of the Office II in Country Fair? Is that project still happening?"
A building permit for an addition/alteration to the property at 302 S. Country Fair Drive was issued last month. A final plumbing permit was issued earlier this month.
And the Illinois Liquor Control Commission OKd a renewal of the business' liquor license last month.